Contributed by The Lost Koy
Calaguas Island is one of my 2015 priority destinations. Why?
Because…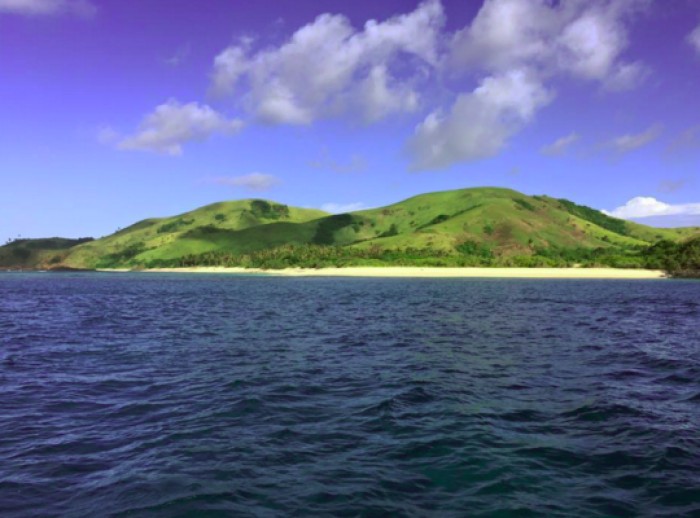 Island view from our boat – one of the Calaguas Group of Islands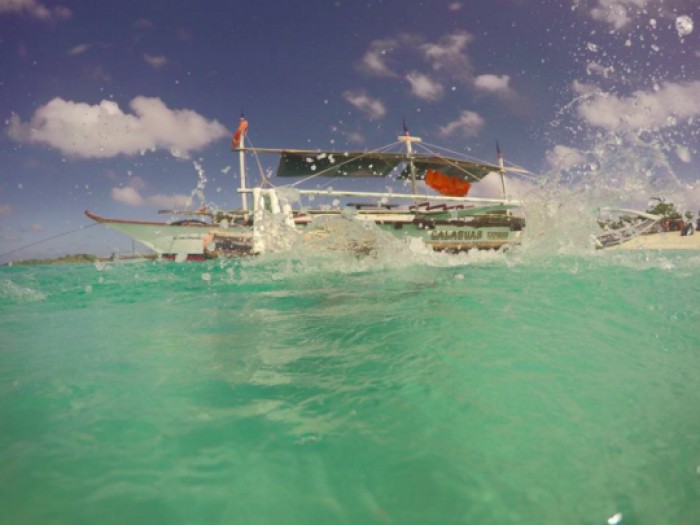 My favourite shot
When I haven't set my foot on this island, when all I can do was day dream about it, I google it. Really. Google images of Calaguas Island will mesmerize you. With its different shades of blue that gets bluer and bluer when you look at it while (imagine) resting your feet on the sand. Fine, white sand.
It also gives you a time to disconnect with your social media world and connect with yourself more as it offers zero mobile signal.
People say, it's the unspoiled version of Boracay, like early 1990s.
With these, I started planning my Calaguas itinerary (and could no longer wait!)
There are many Calaguas tours being offered online for PHP 3,500 per pax inclusive of van from Metro Manila but they require at least 10 pax. When I tried to invite friends months prior the trip, only 8 confirmed, so we opted to go via DLTB bus. (But when the tour was almost a week near, two more friends joined!)
Also read: 20 Best Islands in The Philippines for Beach Getaways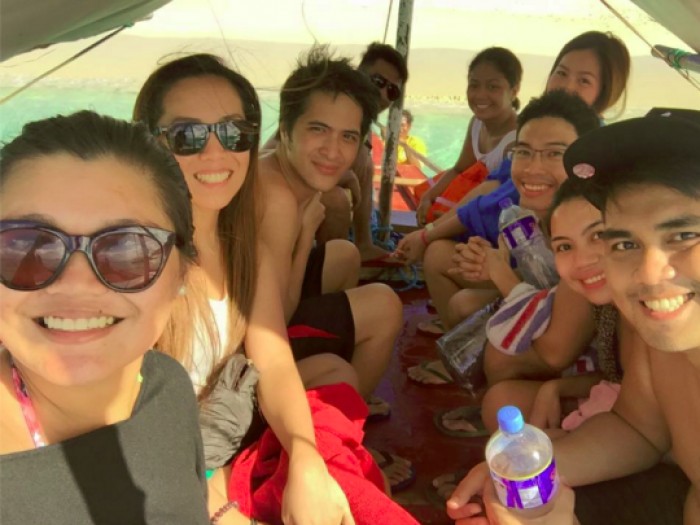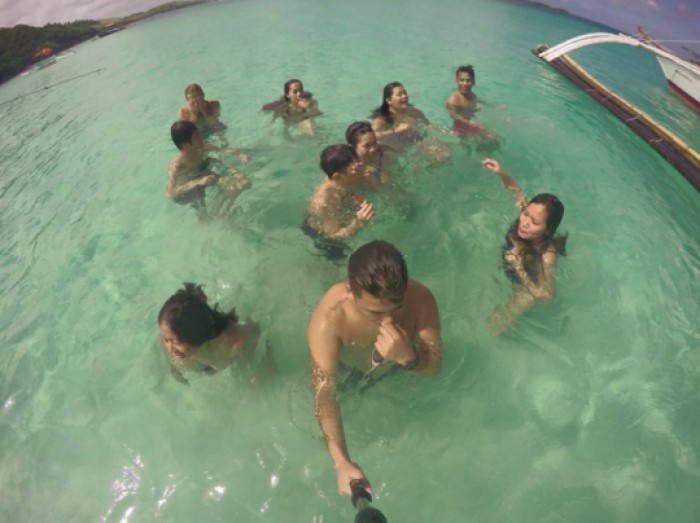 The complete gang (The Bunks)
Please note that we had our trip during the APEC Summit holiday, November 16, 9:00 pm to November 19, 4:00 am.
One of my friends found a Calaguas tour package offering  the below inclusions for PHP 2,300:
Roundtrip transfer from Jollibee Daet to Vinzons Port
Roundtrip Boat transfer from Vinzons Port to Calaguas Island
Tents (good for two per tent, depending on how many travelers)
Full board meals (with fruit dessert and gallons of drinking water
Tours
Assistance in buying bus tickets back to Manila
Water fee (CR usage)
Once we confirmed our tour package (they don't require down payment), we reserved our Greyhound bus tickets going to Daet at DLTB Pasay at PHP 650 per person. Although there are cheaper bus seat options, we chose the Greyhound seats because it is reclinable and has a pull out foam for your legs, making it so comfortable. The trip will last for 10-12 hours and I wanna stretch my legsss, you know! It also has its own CR so no stopovers required! Tip: Reserve your tickets as early as possible, especially if you plan on going during declared holidays. Seats get sold out easily.
Things to bring
Swimwear
Basic Toiletries
Wet wipes
Blankets and jacket
Extra food and water
Underwater Camera and extra batteries (you don't wanna miss those perfect momenst!)
Two sets of clothes (sleeping clothes and clothes going home, you'll spend your day in your swimsuit, anyway)
Day 0
We arrived at DLTB Pasay at 9:00 pm with our backpacks, cameras and bus tickets. But since it was the start of APEC Summit, buses from Cubao could no longer pass by the stretch of EDSA. So one of DLTB officers instructed us to join the bus going to Batangas, where our bus will wait for us (just sharing our experience, don't mind this!)
Day 1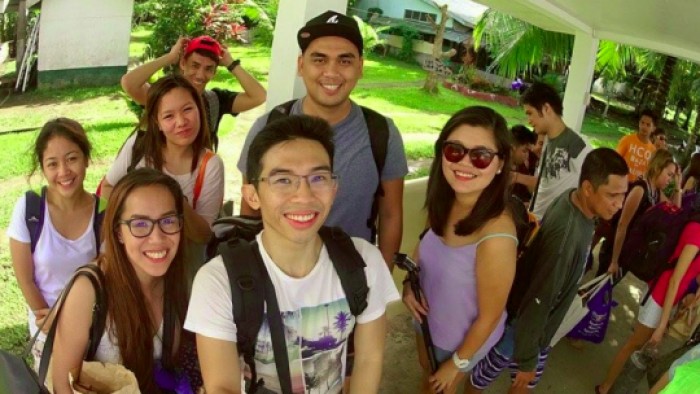 Photo taken at Vinzons Port
At 12:00 am, our bus arrived shortly after we were dropped off in Batangas. We made ourselves comfortable by covering ourselves with blankets and jackets (Tip: the bus gets really cold, better be prepared!) I wasn't sure what time I fell asleep but I woke up at 8:00 am when we arrived in Daet.
From Daet terminal, we rode a tricycle to Jollibee Daet as instructed by the tour guide. We had heavy breakfast to last until our next meal, when the tour guide arrived. He instructed us to ride a jeepney that will take us to Vinzons port, travel time is approximately 30 minutes.
When we arrived in Vinzons Port, we waited for our boat. We put our belongings inside huge plastic bags so it won't get wet during the boat ride. Tip: Keep the plastic bags because you're going to use it again. 
The tour guides also collected the money amounting to PHP 650 to buy our bus seats going back to Manila. At 9:00 am, when everything was settled, we hopped into the boat with totally no idea how wild the waves will be.
It took us 3 hours to reach the island! The trip was so bumpy and we all got wet due to the strong waves we encountered, there were passengers who had to throw up, and some, like me, got dizzy. Tip: Take some motion sickness tablets 1 hour prior to your boat ride.
…..But the boat ride was all worth it when we had a glimpse of the island! It was so beautiful and unspoiled and inviting. Way better than those Google images I used to fill in my daydreams!
Also read: 7 Strangely Formed Islands in the Philippines You Probably Didn't Know About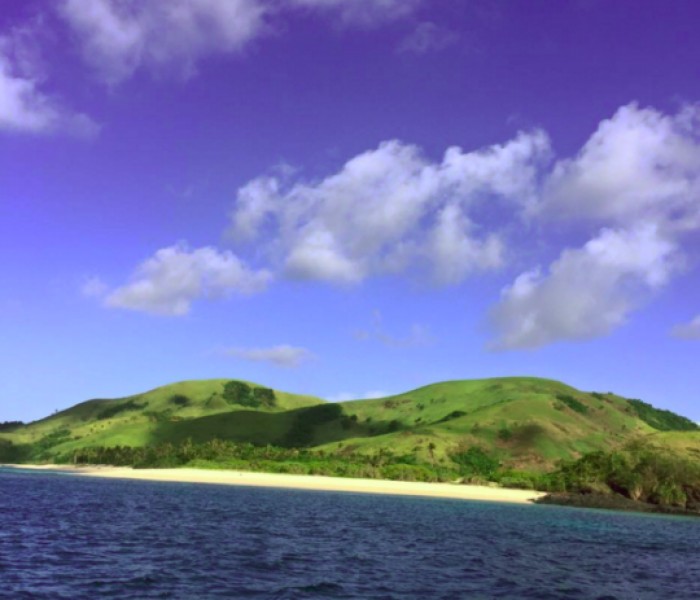 View from the boat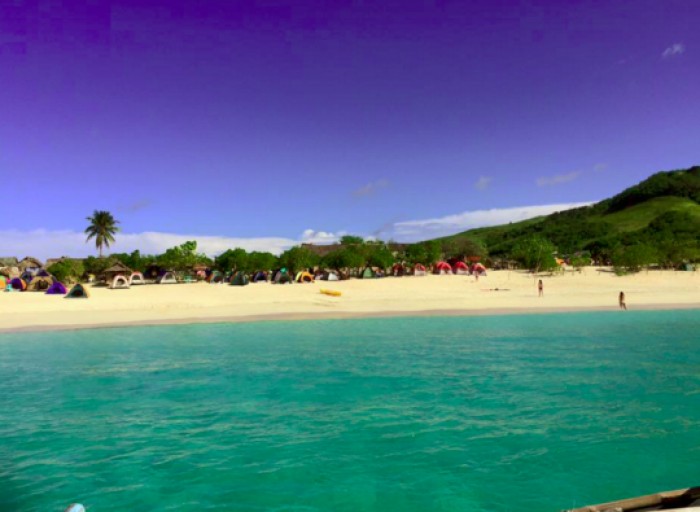 It might look like there are a lot of campers on the island, (looking at this photo, there are more than 20 pitched tents), but when we got there, it didn't bother us at all!
At 12:00 pm, we alighted the boat and we were guided in our cottage where we rested. The tour package, even if in small groups, includes a cottage where you can stay and dine and drink and rest. After sometime, our lunch arrived.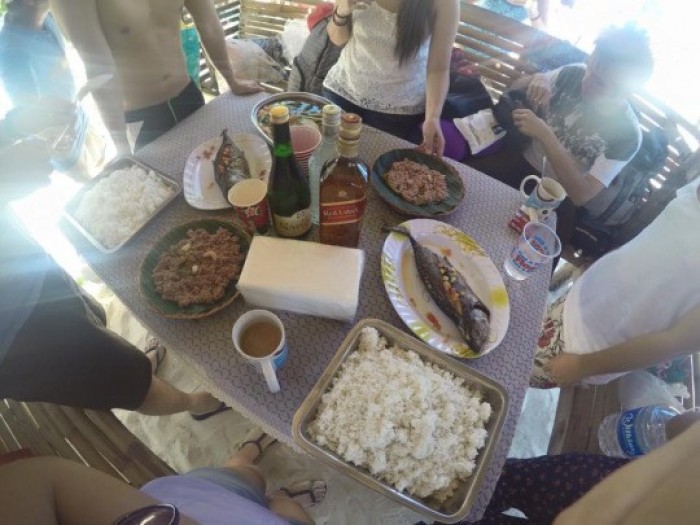 First set of meal – Rice, Grilled Fish, Sinantolan and Sinigang na Hipon
Food was really good and more than enough for the 10 of us, half being boys with large stomach capacity. We even shared some of our food with Henry, a European backpacker who eventually joined us in our entire trip.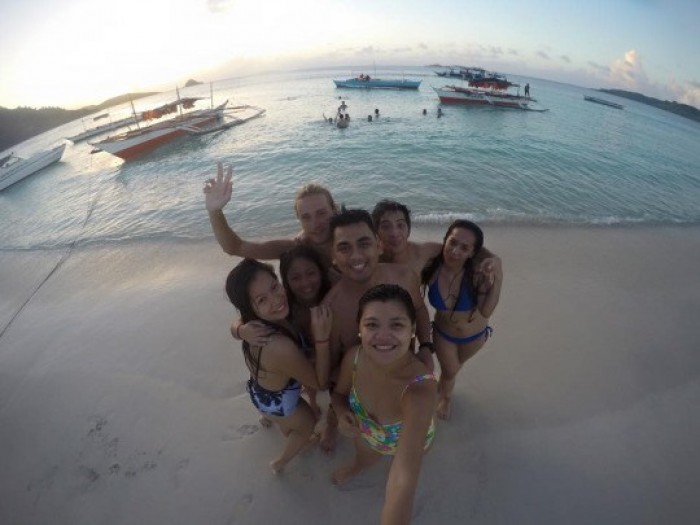 Meet Henry (The white guy waiving his hand)
At 2:00 pm, the tour guide instructed us that the first island tour will start at 4:00 pm. Some of us decided not to join because the island is so beautiful on its own, we just wanted to swim in it and play in the sand.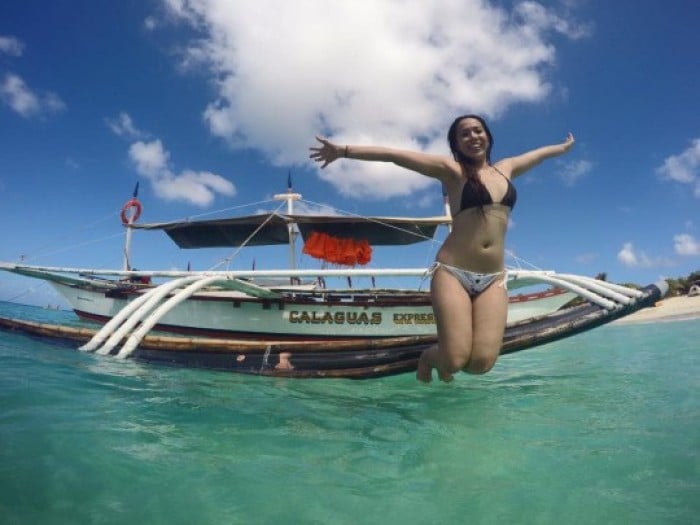 My sexy and beautiful friend obviously enjoyed her jump!
At 7:00 pm, dinner was served. Still, the food was awesome and more than enough for 11 of us!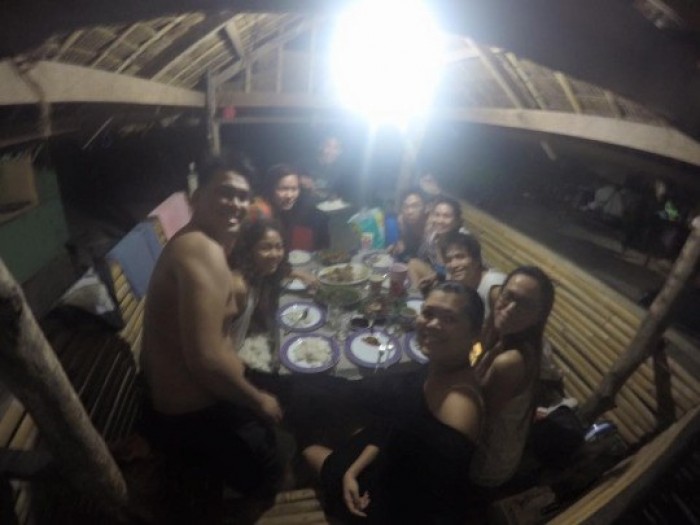 At 8:00 pm, we stayed in the cottage and had some drinks. Good thing there are many stores in the island offering snacks, chips, coffee, chocolate drinks and booze. They also accept cellphone charging for PHP 50.
From the blogs that I read, they mentioned that at 12:00 am, lights will be turned off. But it was already 2:00 am when we decide to sleep in our tents yet, the lights were still on.
It is important to note that there are several comfort rooms on the island, unlike other campsites, Calaguas is already very open to modern-day campers. Water to be used for washing and cleaning is always available. For DIY campers, it has a PHP 70 fee.
Day 2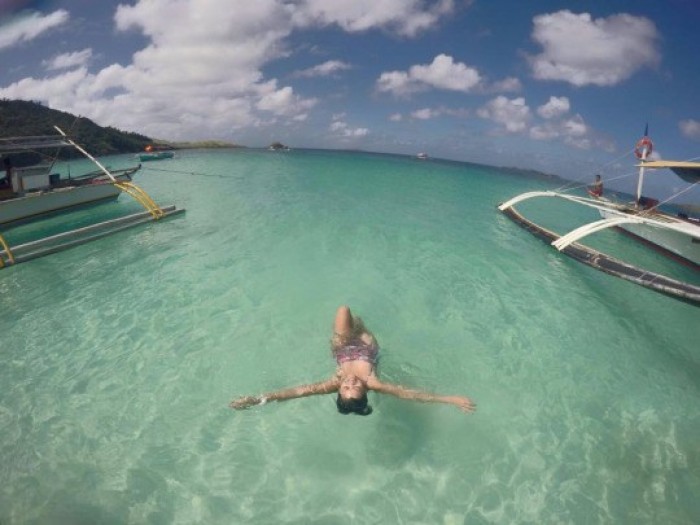 The following morning, I woke up at 5:30 am but the sun was already up. I wasn't able to see sunrise, but at least, the island wasn't crowded yet. I immediately changed in my swimwear and took a dip in the cold waters.
While I was resting on the sand, I heard the tour guide collecting campers who would like to join the second island tour. Only two from our group decided to join the tour, and they were back at 8:00 am.
When they arrived, we ate our breakfast.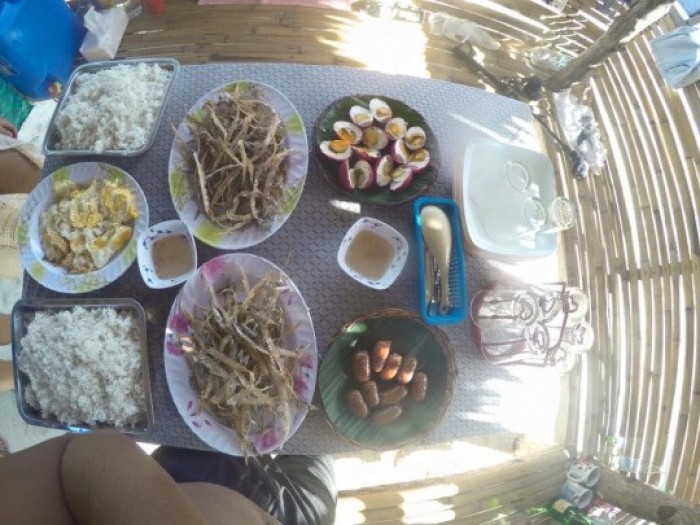 Breakfast – Rice, garlic longanisa, dried fish, salted eggs, scrambled eggs
At 10:00 am, tour guide started preparing our lunch. They went to our cottage to collect the tour fee. They also advised us to take a bath in Vinzons Port because our clothes might get soaked again during our boat ride back to the port.
At 12:00 pm, we had lunch and started packing our stuff. We inserted all our belongings again inside the huge plastic bag and at 2:00 pm, we loaded it in the boat. This time, the boat was smaller than our previous boat. The trip back to Vinzons lasted for two hours, one hour shorter than expected. The waves were calmer and we didn't get wet at all! I guess, smaller boats are safer and more comfortable. It also just go where the waves go!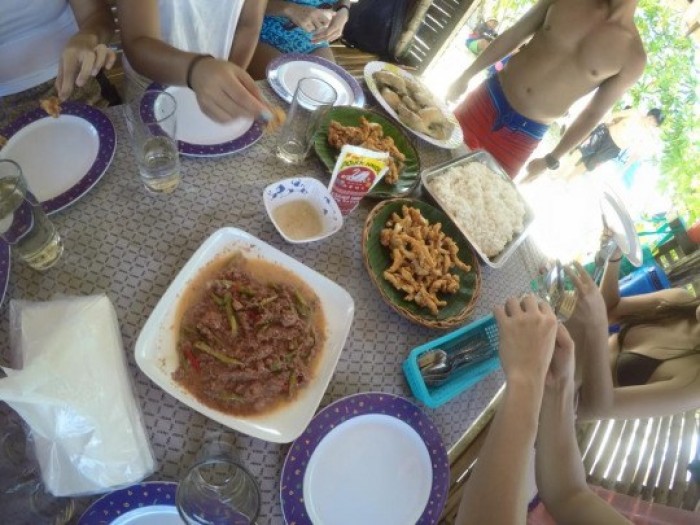 Lunch – Rice, Bicol Express, Calamares and Chicken
At 4:00 pm, we arrived at Vinzons port and took a shower. At 5:00 pm, we were ready to go back to Daet to wait for our 9:00 pm bus back to Manila.
We had dinner in one of the restaurants in Daet and at 8:30 pm, we went to the terminal to catch our bus.
At exactly 9:00 pm, the bus started moving and I didn't realize I slept the entire trip that I woke up when we arrived in Pasay at 4:00 am.
Also read: 15 Secret Beaches in the Philippines You Probably Didn't Know About
Below is the breakdown of expenses:
DLTB Bus fare to Daet – PHP 650
Calaguas Tour – PHP 2,300
DLTB Bus fare to Manila – PHP 650
Other food and drink expenses for in between meals – PHP 300
TOTAL = PHP 3,900 per person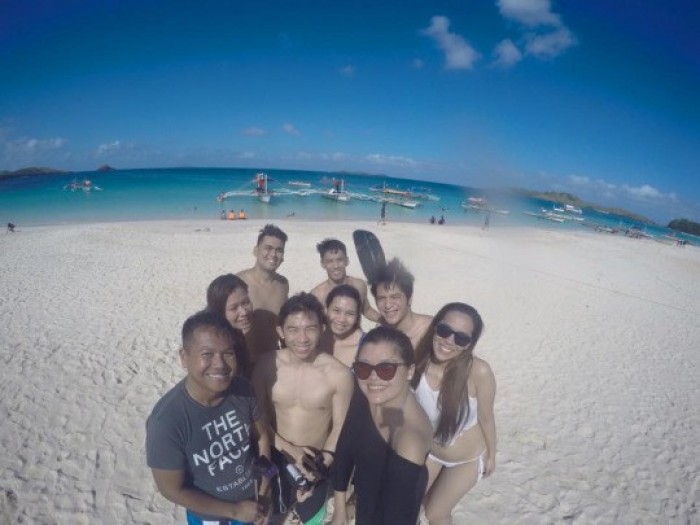 Sir Noli in black The North Face shirt
That sums up our Calaguas Itinerary! Hope this is helpful and inviting enough for you to start inviting your friends to spend the next holiday in Calaguas!
If interested in the Calaguas tour package that we had, please contact: Noli Bajarin: +63917 959 5985
Will I come back? Definitely yes, with a heart! <3
'Till my next destination,
Koy