A modern wonder of contemporary living, Bonifacio Global City has steadily developed into a major hub for work and leisure in Metro Manila. More than a business and residential district, BGC boasts a buzzing nightlife scene with its bars and clubs. While most party animals head to this area for a wild night out, there are tons of chill spots perfect for chillnuman sessions with friends. Looking for a more relaxed atmosphere for cocktails and conversations? Here are some of the best BGC bars for retired clubbers! 
Also read: BGC Restaurants: 12 Chill Dining Spots in Bonifacio Global City
Best BGC bars for evening cocktails and great conversations
1. Tipsy Pig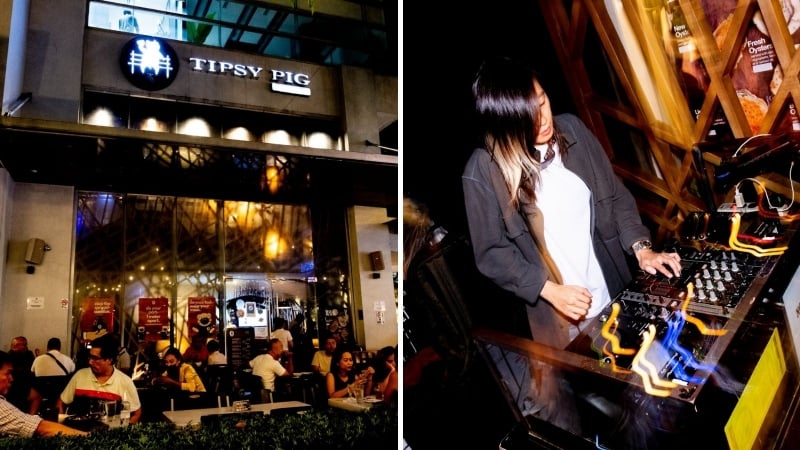 Are you on the lookout for the perfect chillnuman spot that serves up delectable grub? Gastropub Tipsy Pig might just be one of your go-tos in BGC! They serve up dishes that pair well with pretty much any booze of your choice. Take your pick among buffalo wings, rib-eye steak, beer can chicken and more. Here, they also hold live DJ sets and acoustic performances to liven up your dining experience. Note, though, that most Friday nights are typically jam-packed with people. 
For more information, visit Tipsy Pig's official Facebook and Instagram pages. 
2. The Back Room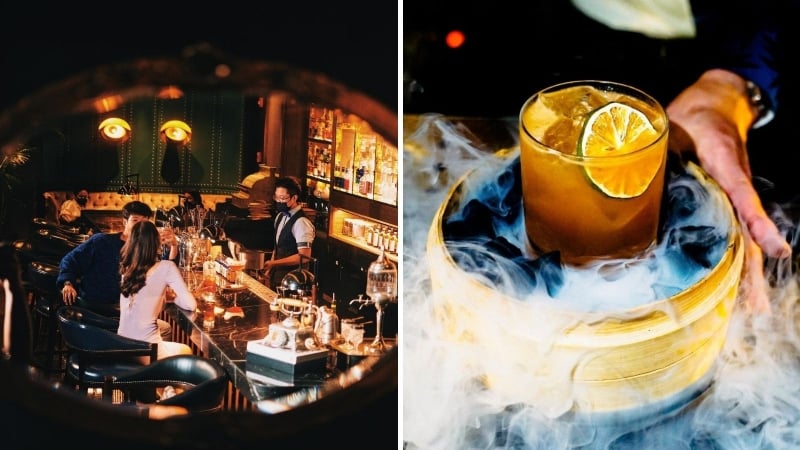 For a classy evening out, step into The Back Room: a sophisticated speakeasy tucked away in Shangri-La Hotel at The Forth. With its intimate ambience, elegant 1920s decor, and great music, it makes for a relaxing evening in BGC. As for its collection of liquor, night owls prefer its homegrown G&T. However, its selection of creative distillates inspired by the Prohibition era is definitely worthy of your attention. 
For more information, visit The Back Room's official Instagram page. 
3. Bank Bar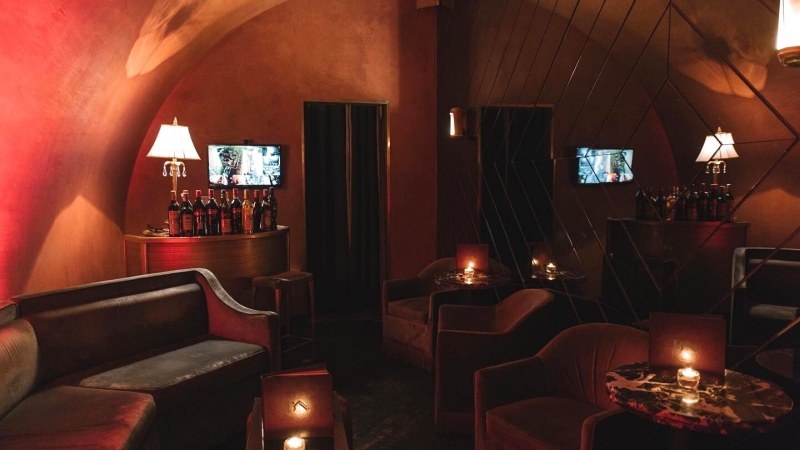 Hidden behind a typical 7-Eleven convenience store, Bank Bar remains to be BGC's best-kept secret. Despite its relatively small space, this underrated gem boasts high ceilings, comfy lounge chairs, and ambient lighting. What's more, it houses an expansive bar where you can watch its team of skilled bartenders in action. 
Here, you can take your pick among their selection of mixed drinks or ask the bartender to whip up something that'll suit your preferences. As for bar chows, choose among their Asian-fusion dishes like kung pao noodles,  beef salpicao rice, kimchi pajeon and more. Ultimately, Bank Bar makes for a top-notch drinking den for retired party animals. 
For more information, visit Bank Bar's official Facebook and  Instagram pages. 
Also read: Nightlife in Manila: 10 Speakeasies You Have to Check Out
4. Elbert's Upstairs Bar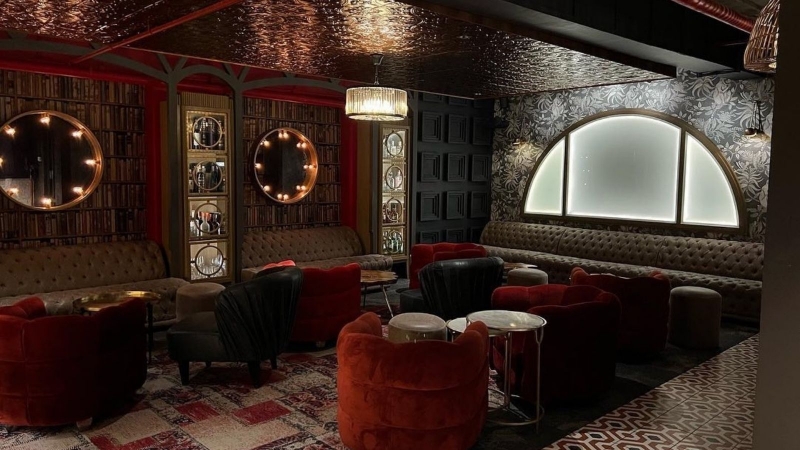 Elbert's Upstairs Bar is a swanky, vintage speakeasy atop the best-loved ramen joint Mendokoro Ramenba. After indulging in a hearty bowl of noodles, consider treating yourself to Elbert's handcrafted cocktail creations. With its welcoming atmosphere, relaxing music, and comfortable seating, this bar lets guests have meaningful conversations. Looking for something to munch on? Their charcuterie board features thinly sliced meats and premium cheeses, making an appetising snack! 
For more information, visit Elbert's Upstairs Bar's official Facebook and Instagram pages. 
5. Cork Wine Bar & Shop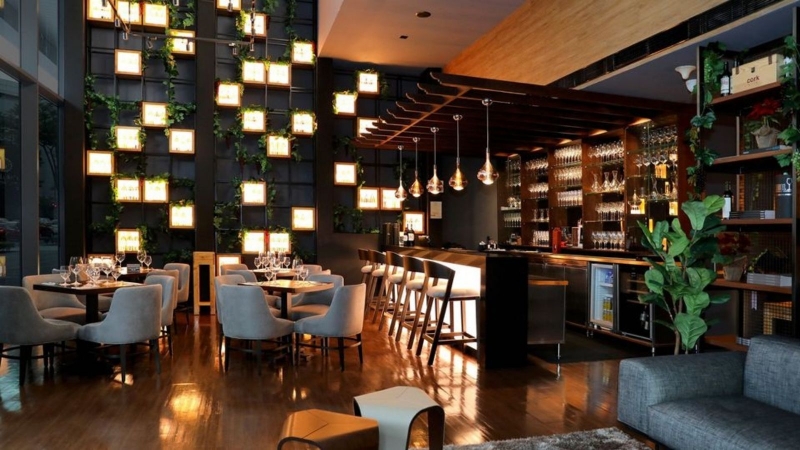 For retired partyphiles, nothing might seem more enticing than a bottle of fine wine. At Cork Wine Bar, customers can take their pick among a variety of wine bottles from acclaimed vineyards across the globe. Not only do they offer an exquisite selection of vinos, but they also have a well-curated food menu. That said, Cork and Wine Bar also makes for a prime dining destination worth visiting!
For more information, visit Cork Wine Bar's official Facebook and Instagram pages. 
6. Tomatito Manila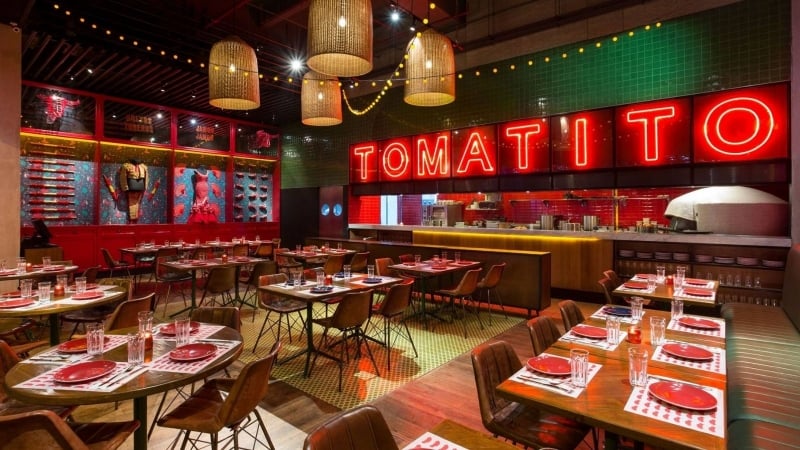 Tomatito Manila is a tapas bar inspired by the '80s pubs in Spain, while still incorporating contemporary elements into both its food, drinks, and interiors. With only three branches across Asia, its design "reflects an evolution of the concept with a sexy common note." As for its menu, Tomatito features staple Spanish dishes like paella and tapas, which pair well with their creative cocktails and fine wine.
For more information, visit Tomatito Manila's official Facebook and Instagram pages.
7. Wildflour BGC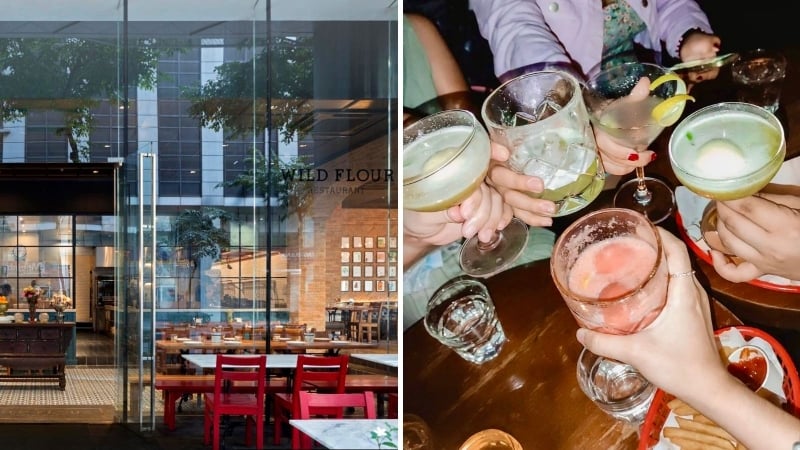 Welcome the weekend with a cocktail in hand at Wildflour in BGC! This popular brunch spot serves some of the best bread, pastries, and all-day breakfast options in the morning. But, it also transforms into a vibrant retro bar by sundown. Catch Friday Retro Nights at this lowkey late-night enclave and get your groove on to live DJ sets.
For more information, visit Wildflour Restaurants' official Facebook page.
8. Rue Bourbon BGC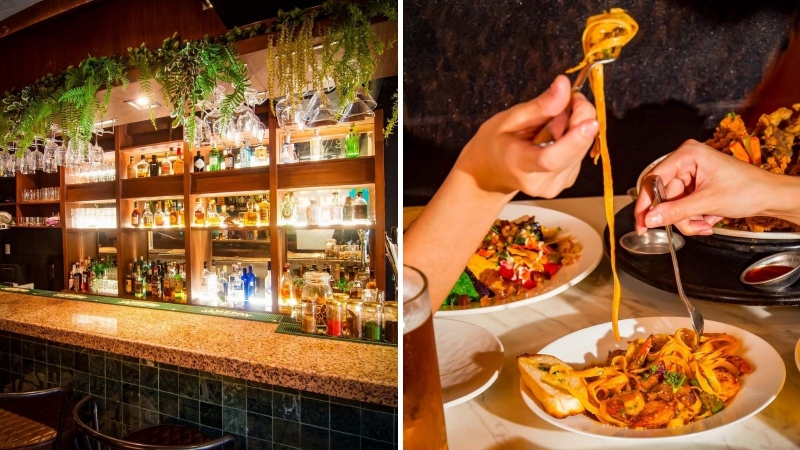 Of course, this list of BGC bars wouldn't be complete without the ever-so-popular Rue Bourbon! Designed to mirror the vibrance of the Mardi Gras festival in Bourbon Street, New Orleans, this gastropub knows how to make any night fun and unique. Beyond its vibe and interiors, its dining selection and revolutionary Caramel Beer are absolutely noteworthy. 
For more information, visit Rue Bourbon's official Facebook and Instagram pages.
9. Straight Up Bar at Seda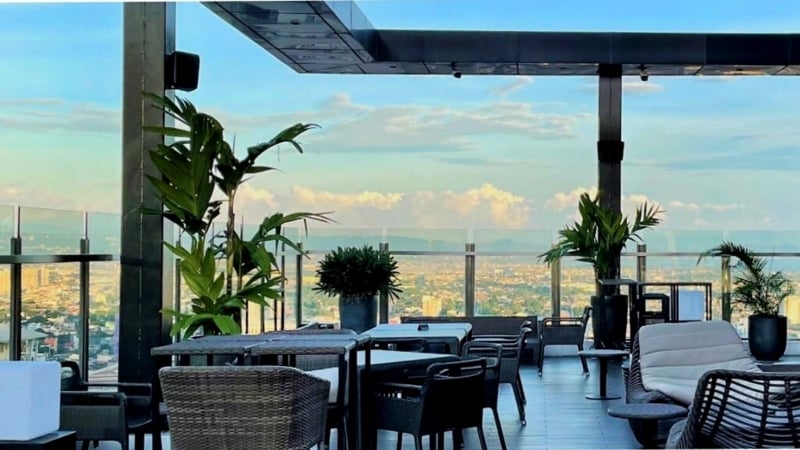 Nothing beats a rooftop bar with stunning cityscape views, don't you think? For your dinner date plans, consider Straight Up Bar at boutique hotel Seda. With its quiet atmosphere and al fresco dining setup, it offers a tranquil and intimate evening with your special someone. Food-wise, its menu comprises international and local eats, but you can simply opt for a light snack and a refreshing drink. 
For more information, visit Straight Up Bar's official Facebook page.
10. The Hotel Bar at Pink's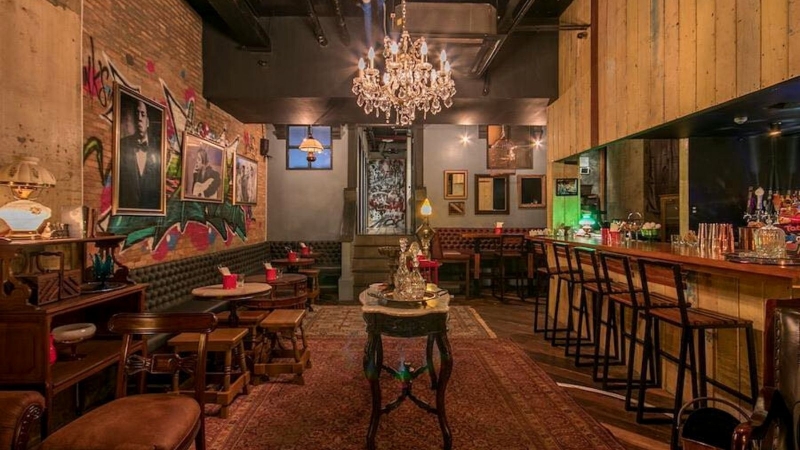 The Hotel Bar at Pink's is a dimly-lit speakeasy hiding behind Hollywood hotdog joint Pink's in Shangri-la, The Fort. With its fashionably designed interiors and cosy ambience, it offers the perfect hideout for small groups and intimate gatherings. Sip on ice-cold mojitos, piña coladas, and other refreshing beverages while chowing down on some juicy hotdogs or burgers! 
For more information, visit The Hotel Bar at Pink's official Facebook and Instagram page.
Also read: 10 Exciting Things to Do and Places to Visit in Manila at Night
While clubs may be the name of the game in the nightlife scene, these chill BGC bars offer an intimate and relaxed environment. Already know where to head to after a long work week? Perhaps you wish you catch up with a few friends you haven't seen in a while? Wherever this list takes you, we hope you'll have a delightful evening out. Cheers!