Contributed by KaTravels
The moment we booked our ticket from Bali to Yogyakarta, we already know it would be a unique experience for us. Though when our friends ask us, what cities are we doing with our Tricity and we say, we're doing Bali-Yogyakarta-Kuala Lumpur, the immediate response that we get is… "Yogyakarta? Where's that?" I also got to admit that I've never even heard about it too, not until our planning stages for our tricity last April. Some of you might have even heard of it just now. But trust me with this one, an adventure is truly waiting for you and your friends in this wonderful place in Indonesia.
Also read: Highlights of Our Tri-city Trip: Bali, Yogyakarta & Kuala Lumpur
Yogyakarta is a city on the island of Java in Indonesia. It is also known as Jogjakarta and it's pronounced with the "J" and not with a "Y".
We departed in Bali at 7.20am and arrived in Yogyakarta at 7.30am via AirAsia. We bought our ticket from Bali to Yogyakarta for ₱2,200 each. Note that Yogyakarta, Indonesia is one hour behind Bali, Indonesia. Flight time is one hour and ten minutes.
We only have one destination here since we only have until the afternoon to get back to the airport and catch our flight to Kuala Lumpur. After tons of research, we found this A-M-A-Z-I-N-G place…. it's called Borobudur Temple.
Borobudur Temple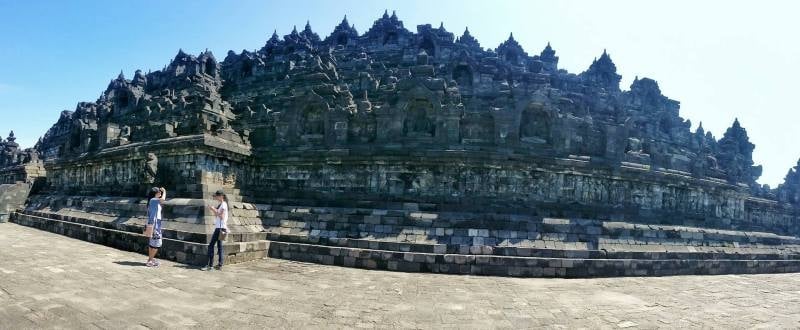 Entrance fee: IDR280,000
COMBINE/COMBO TICKET (2 in 1, ticket) = IDR420,000 for Borobudur & Prambanan temple. Prambanan temple is closer to the airport. However, we did some research and most of the reviews tell us that Borobudur is more worth our time so we have to choose between the two temples. If you got more time to spare in Indonesia, maybe you can try them both and buy this combine/combo ticket.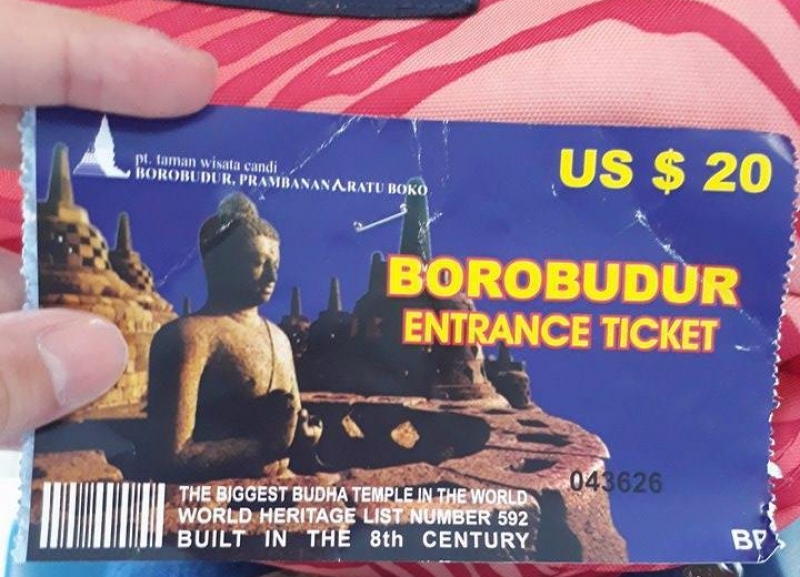 Tip: As soon as you go out of the airport, there will be a lot of cab drivers roaming around, telling the tourists to hire them to get to Borobudur Temple "at a very reasonable price". Some will offer you IDR300,000 for a car-for-hire but this is actually quite expensive than we thought it could be. I did some research before coming here and the reasonable price that we can get is just around IDR200,000. Some might even offer you higher than IDR300,000.
A guy offered us to hire him to go to Borobudur Temple for IDR300,000 but I told him that it's too expensive. He asked me how much am I willing to pay, and I said IDR180,000. He said no but he said he can only get it down as low as IDR200,000, so we agreed! By the way, IDR200,000 is already a deal. He brought us to Borobudur Temple, waited for us at the parking lot for about two hours, then brought us back to the airport. So if someone offered you IDR200,000 one way, don't be fooled! The price is already good for a back and forth ride to the airport. Though we gave him an extra IDR 60,000 because we arrived at the temple grounds at around 11am and we felt bad about leaving him at lunch, so we gave him some extra money for him to buy himself some food. Plus! He's really nice and friendly so we really don't mind paying him extra.
After we bought our tickets, we were given a bottle of water each, and my friend, Ellika who's wearing shorts was asked to wear a sarong. While me and my other friend, Erika, were wearing pants so we were not required to wear one. They were not strict when it comes to what the tourists wear, they just simply ask you to wear a sarong if they think you need one before entering the vicinity of the temple.
You would also be offered an English-speaking tour guide which costs IDR100,000 good for one hour, for groups of four persons max. We did not take it though. Haha! (cheapos).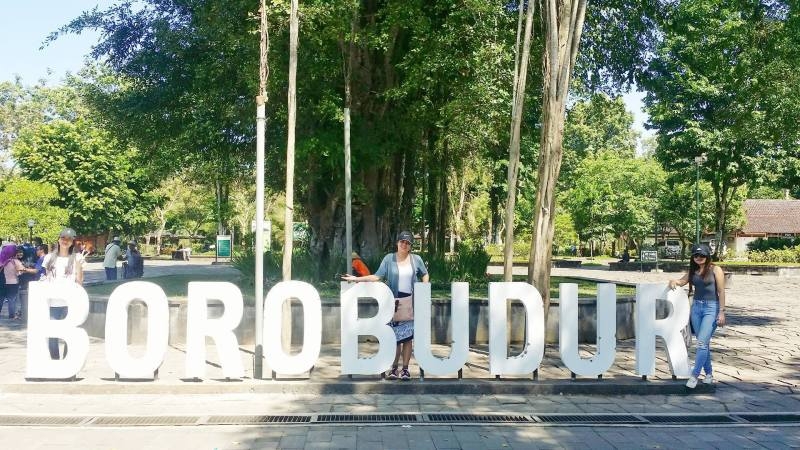 It is summer when we went there so we advise you to wear a cap because it was so freaking hot at that time, but it was so worth it! We didn't hike all the way up to the temple right away because we were fascinated by the field that was just in front of Borobudur Temple. We decided to take photos first.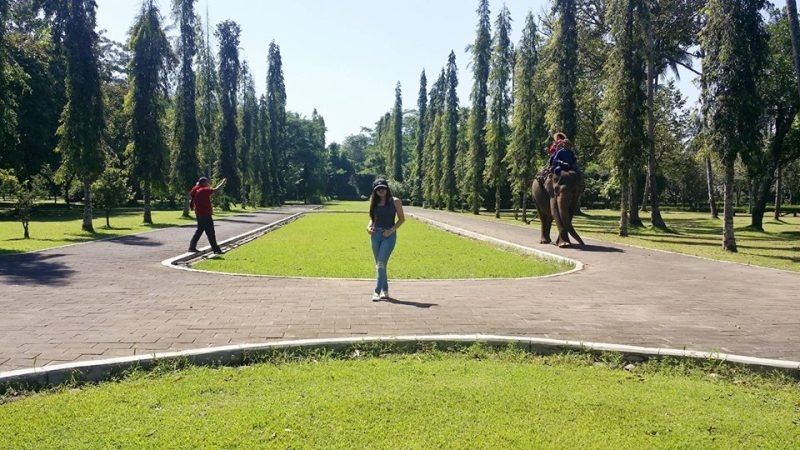 One more tip? If your friends don't exert effort as much as what are in these photos just to get a good picture of you, leave them behind.

#TeamEffort hahaha kidding! It kinda gives me the feeling of being inside a European Palace's garden or something. Plus! There are also elephants roaming around the area, I guess you can have the experience of riding one, of course, it's not free, you have to pay for it. We didn't ask how much though because we didn't even think about riding one.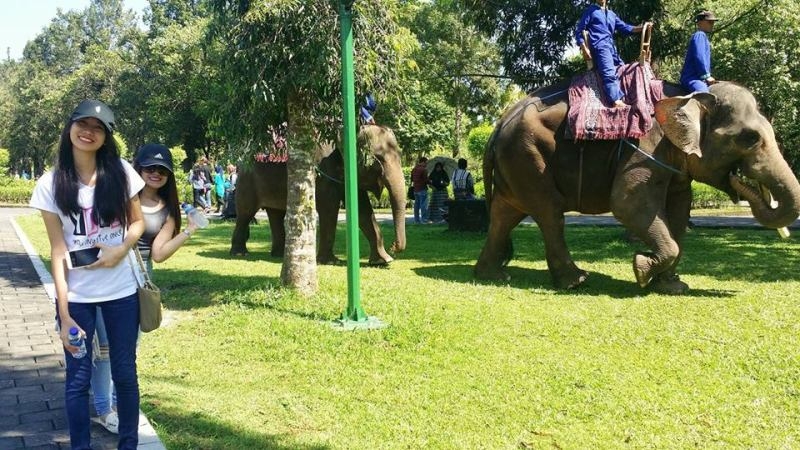 After 30 minutes, we decided to continue our journey all the way up the temple. We couldn't help ourselves but be amazed by how beautiful and unique this place is.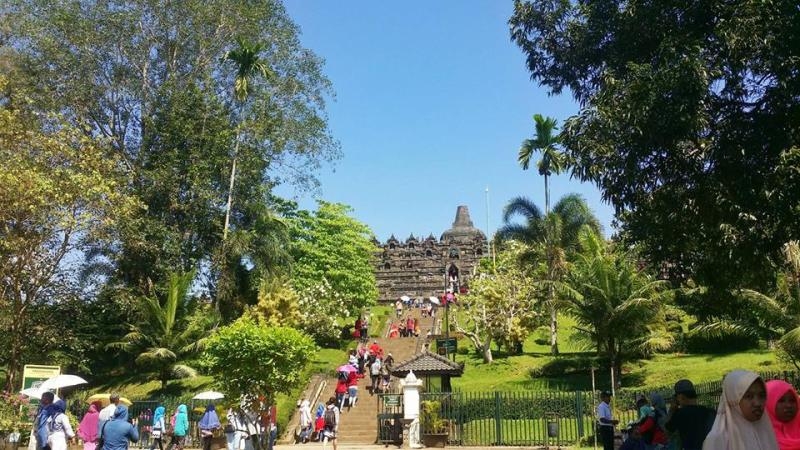 It was just a 3-5 minutes hike all the way up the stairs to reach the foot of Borobudur Temple. When you reach the foot of the temple, you will be welcomed by this view: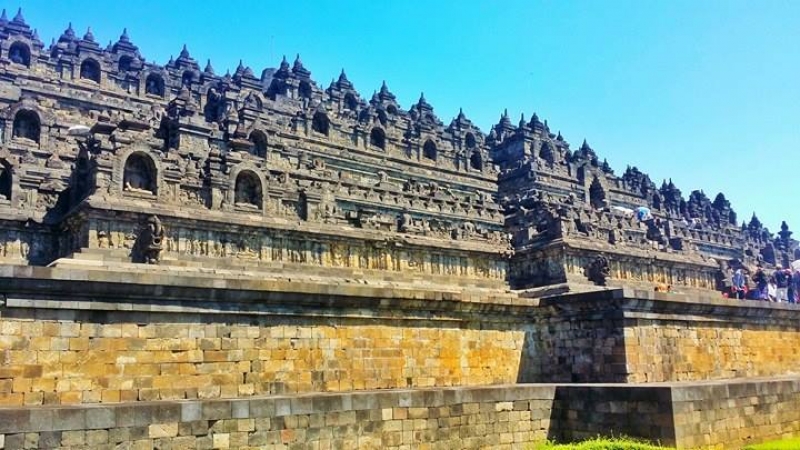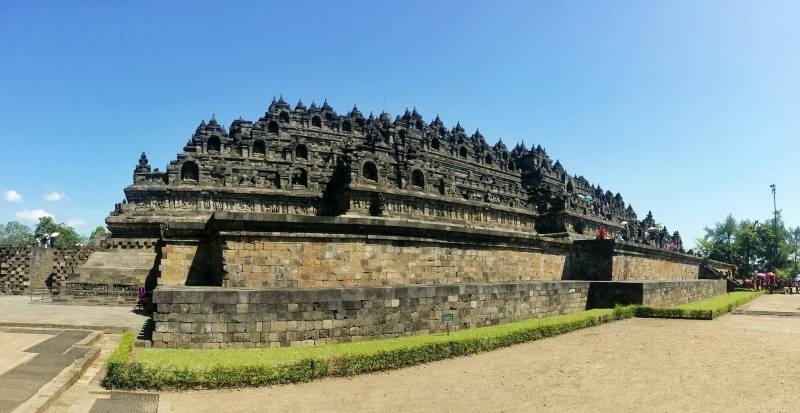 This is by far, the greatest Buddhist temple that I've ever been to.
It is one of the most beautiful and best heritage sites in the world which is a recorded history that UNESCO World Heritage recognizes. It is the largest Buddhist structure in the world and has been recognized as the largest historical relic ever made by man.
It represents the existence of the universe. The Borobudur Temple perfectly reflects the Buddhist cosmology, which divides the universe into three separate levels. The three levels are Kamadhatu (world of desire), Ruphadatu (world of forms), and Arupadhatu (world of formlessness).
Kamadhatu represented by the base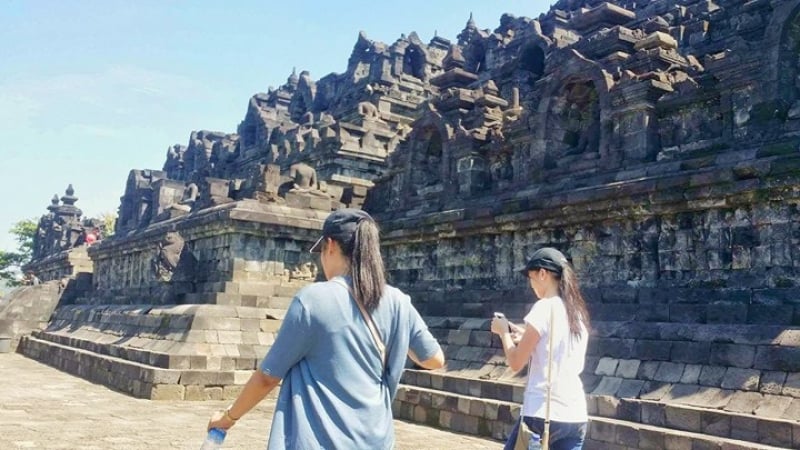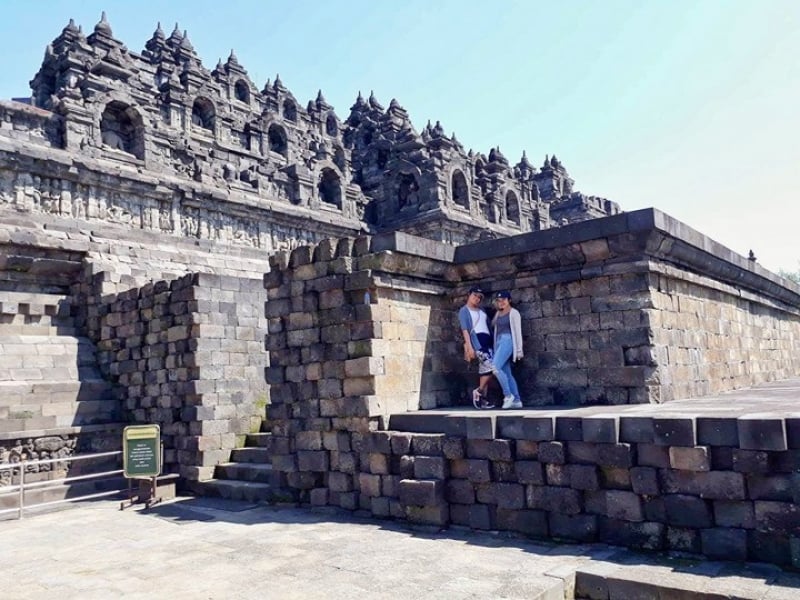 Ruphadatu represented by the five square platforms (the body)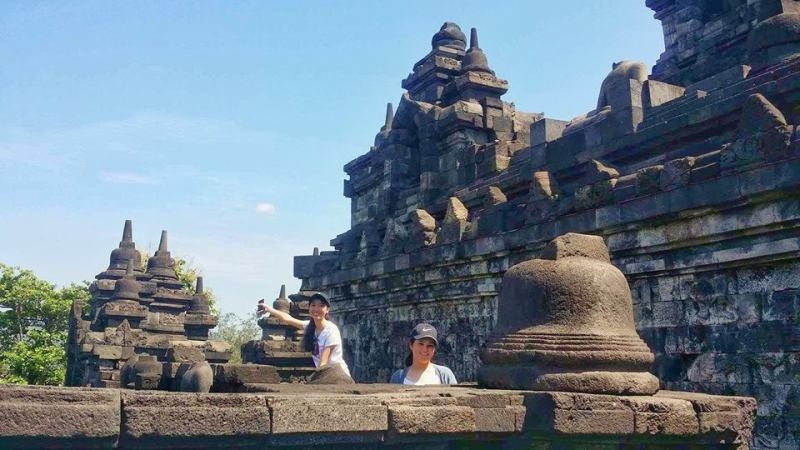 Arupadhatu represented by the three circular platforms and the large topmost part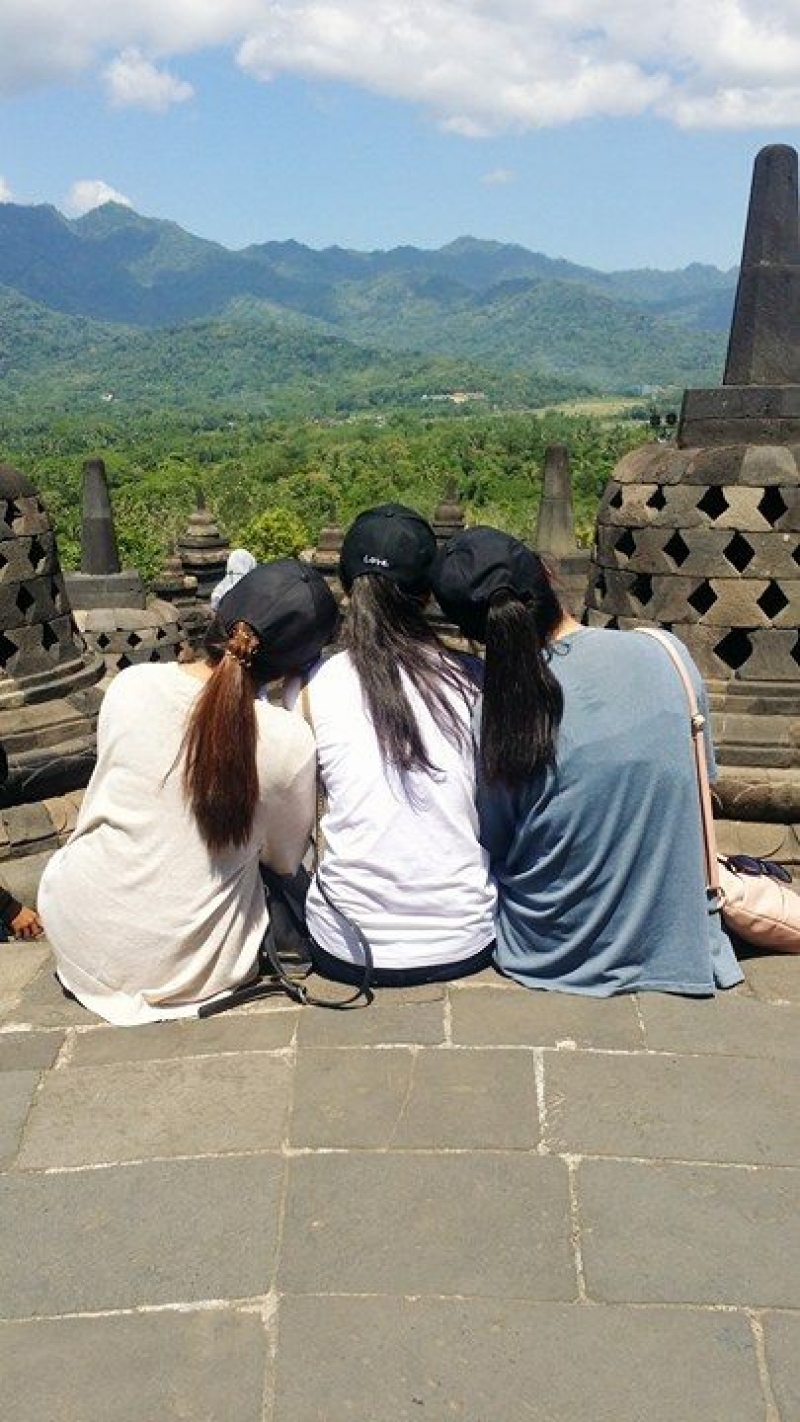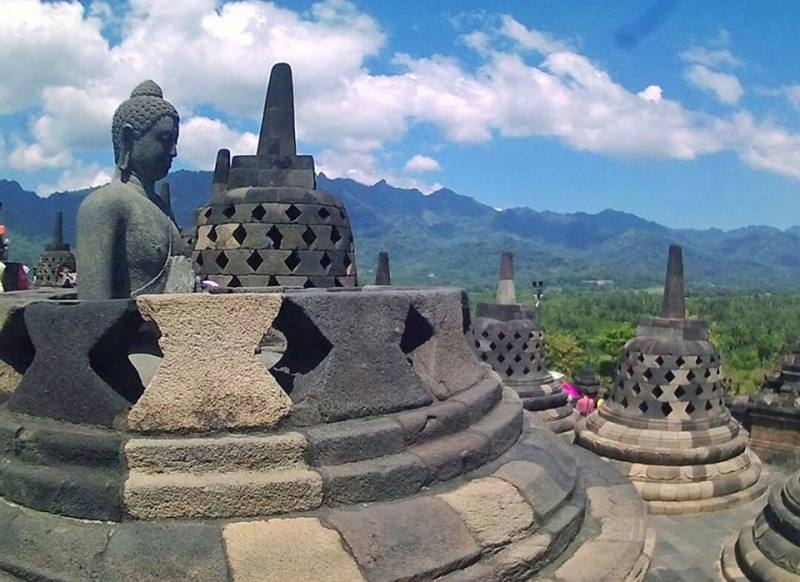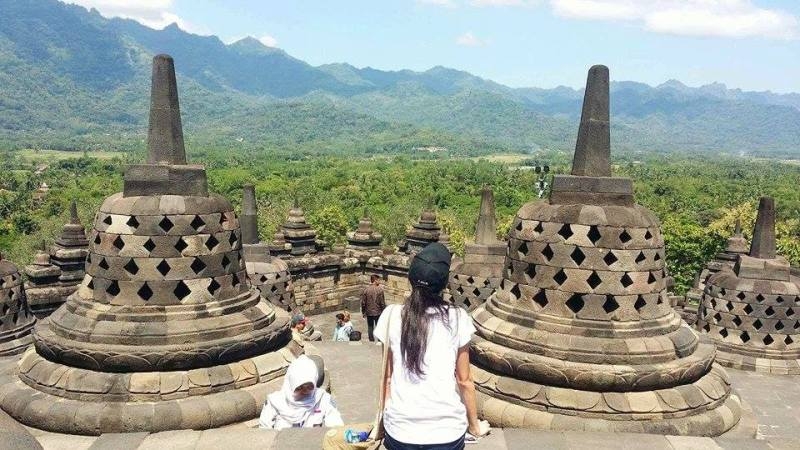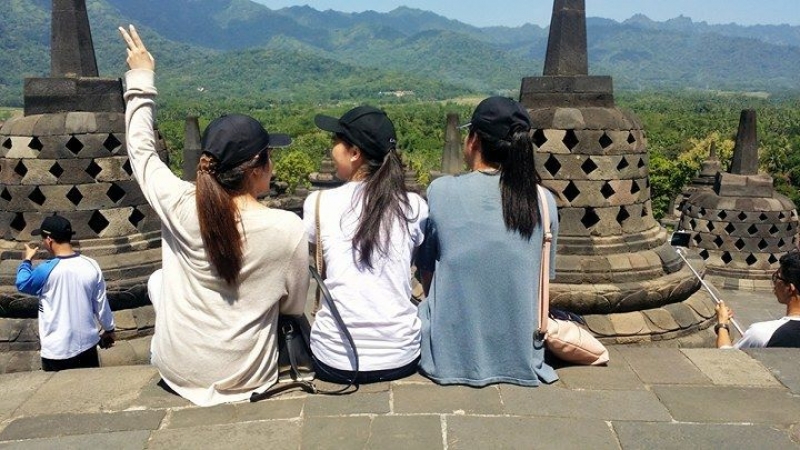 We spent just roughly an hour and a half touring the whole vicinity of Borobudur Temple. We wanted to stay longer though it was so hot at that time. Seeing this view and considering this is a once in a lifetime experience, it is definitely worth it! The hike all the way to the top is not that hard. It is an easy-climb but there were a lot of tourists at the moment when we went here.
Here are some tips to get you oriented when going to Borobudur Temple:
It is advisable to go there early morning or late afternoon. We went there at noon and it got really really really hot. We don't have a choice though as I've mentioned before that we only have a few hours to spare in Yogyakarta.
Bring a cap and wear comfortable clothes. A sarong will be advised for you to wear though before entering the vicinity of the temple if you are wearing shorts.
The entrance and exit of the temples are two different gates. Also, at the temple itself, the entrance and exit stairs are different. You will be guided though by the locals who instruct the tourists on where to exit.
It is a 2km walk along the exit path of this temple which is full of vendors that can be really aggressive and try to sell you souvenirs which are overpriced, especially if they know that you're not from Indonesia. The average cost of a ref magnet in Indonesia is just IDR10,000. Some might offer you IDR50,000 and say that because you're from (insert your country), they'll just give you the ref magnet at a very low price of IDR50,000, which is definitely NOT true. Just politely say no and they'll try to lure you into buying the stuff buy slashing the price into half OR until they give it to you for just IDR10,000-15,000. We learned this from our experience!
Also read: 10 Incredible Things to Do in Yogyakarta on Your Very First Trip
So, there you have it! If anything is unclear or if you have any questions, don't hesitate to comment down below, and I'll try my best to answer it. Do your #SquadGoals and have fun in the wonderful world of Yogyakarta, Indonesia! ❤