In this world of Minecraft and Pokemon Go addiction (nope, catching Pokemon characters outside the house doesn't really count as an outdoor experience), getting your kids to explore and appreciate the outdoors can be a tough challenge for many parents.
Also read: 10 Eco-Tourism Parks in the Philippines for Your Next Family Outing
How do you teach your kids to learn to stand in awe at the beauty that surrounds them instead of allowing them stare at the television or tinker with their gadgets the entire day? Well, bring them to any of these beautiful outdoor spots in Cebu and they will love the experience, for sure!
Zoos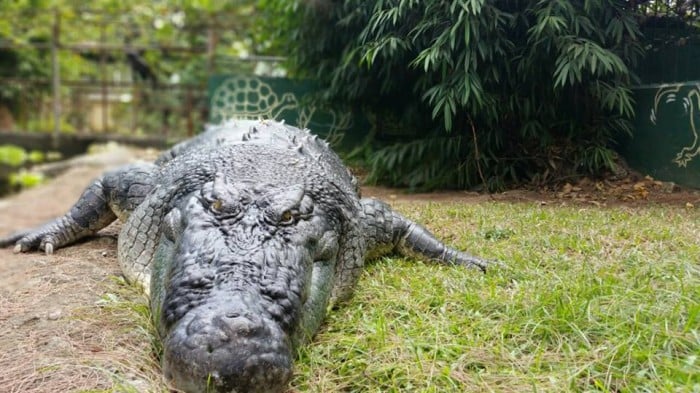 Image credit: Crocolandia
If you have kiddos — and kids-at-heart — who love animals and the wildlife, the zoo is the best place to escape in.
Cebu offers a handful of such places including Crocolandia in Talisay City, which is around 30 minutes away from Cebu City proper. As the name suggests, it is the best place to see crocodiles but you can also check out the Philippine deer, bearcat, leopard cat, owl and a few other species of birds in the area.
The government-funded Cebu City Zoo, located in Woolbright Drive, Beverly Hills, is also another option. The place is considered home by Boggart, the tiger, as well as a few other mammals, rodents, birds and fowls and fish and reptiles.
If you don't quite like to go far, the Rainforest Park in Mabolo is yet another great alternative. They have an oceanarium and an aviary but its most popular attraction is the jungle adventure, which is a rope and adventure course perfect for getting everyone to do some physical activities!
Also read: 12 Kid-Friendly Parks and Play Spaces in the Philippines
Go Karts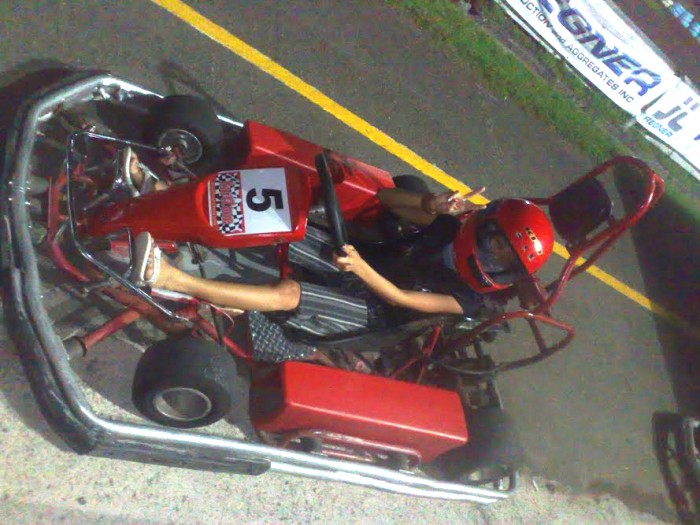 Image credit: Chill and Travel
There are two major karting sites in Cebu: Funland Talisay in Talisay City and Kartzone in Kasambagan, Mabolo.
Funland Talisay  comes with bulkier-looking karts that are perfect for younger kids. Aside from the karts, the place also has a few other outdoor activities such as a mini basketball shooting range, swings, slides and even a merry-go-round. Plus, it is located right next to Crocolandia so you can visit both places in one go!
For those wanting to try out a more hardcore kart and track, you can head over to Kartzone in Kasambagan, Mabolo. The place is popular for kart rentals at ₱400 for 8 laps, and is also a venue for motor racing events.
Outdoor Camping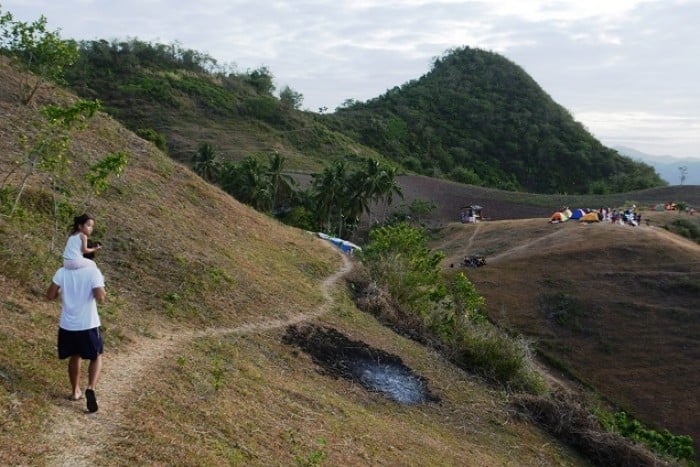 Image credit: Hey, Miss Adventures!
Not a lot of families are probably aware that you can take your kids to numerous places around Cebu for camping. Whether you decide to go for beaches or mountains is totally up to you guys — or you can do both, too!
Among the best and friendliest places to try when tagging kids along are Osmeña Peak (also the highest point in the province) and Mt. Naupa in Naga. The former takes only about 20 minutes to get to the top while the latter takes around 30 minutes to an hour of uphill walk — and you can set up camp right away. The hike provides a good opportunity for everyone to stretch their muscles!
Also read: Why Camping is Good for You and Your Family
Glamping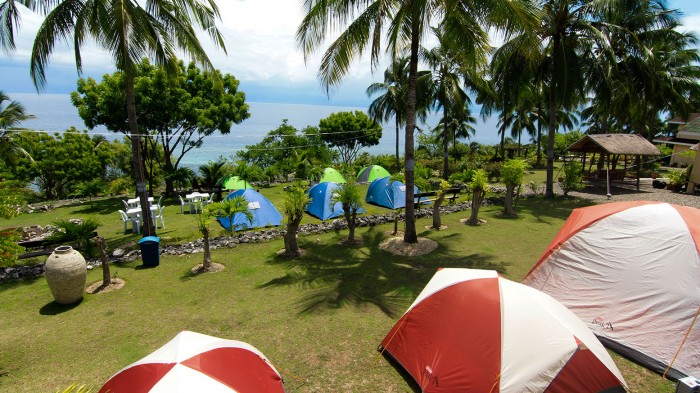 Image credit: Terra Manna Beach Resort & Camping
If you are unsure on how your kids might react to being placed in the 'wild', you can get their feet wet by trying out glamping first.
Glamping means glamorous camping, which is pretty much the same as real camping except you get a much more pampered experience. Although you do sleep in a tent, you do get access to modern comforts such as a well-maintained campsite, fluffy pillows and even food at the nearby restaurant.
You can experience glamping at Terra Manna Resort in Badian or at the Bluewater Sumilon Island Resort.
Water Slides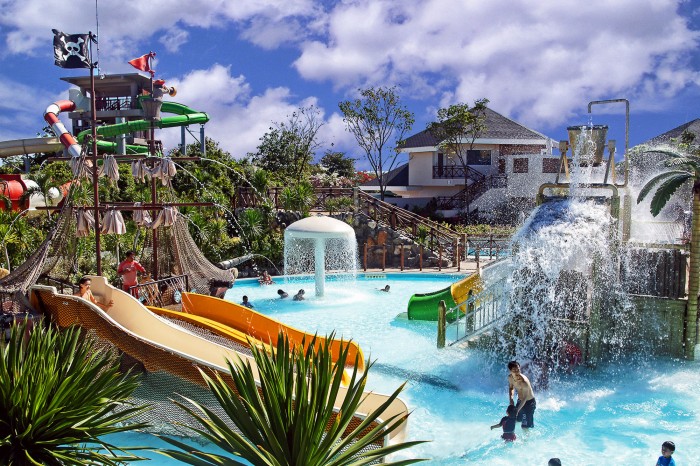 Image credit: Jpark Island Resort
If you have kids who aren't scared of water and heights, visiting JPark Island Resort and Spa in Lapu-Lapu City to try out their themed pools and water slides is a great idea. The park is the only one of its kind in the island and is one of the things you shouldn't miss when visiting Cebu.
JPark offers themed pools ranging from 1.6 feet to 5 feet in depth. As for the adrenaline junkies, there is the 120-metre-long Open Body Slide, 156-metre-long Tube Slide and the 48.31-metre-long Space Bowl.
Also read: Coolest Staycation Ideas in Mactan, Cebu
Sky Experience Adventure
 Image credit: Jerick Parrone
For kids who just aren't as confident in the water as they are 'in the air', the Sky Experience Adventure at the Crown Regency Towers is a must-try activity in Cebu.
The hotel is well-known among local and foreign tourists for its one-of-a-kind adventure which includes the Edge Coaster, Sky Walk Extreme, Tower Zip, Paramount Climbing Wall and many more. If that doesn't sound like much of an experience, wait until you find out where all of these activities are done: the Sky Walk is located at the 37th floor, or around 126.55 metres above the street, and involves walking on the outer rim of the building. The rest of the activities are done even higher up around the tower.
Playgrounds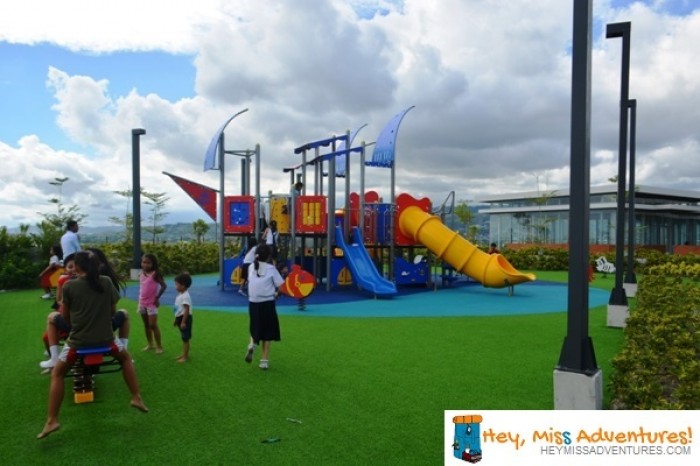 Image credit: Hey, Miss Adventures!
The last few options were a little exhilarating so if you would just like to mellow it out, head on over to any of the parks and playgrounds around the city. Unfortunately, there aren't a lot of them around — but if your kids are itching to go somewhere safe and fun, check out The Playground at the roof deck of the SM Seaside City Cebu. Aside from the slides and climbing areas, there is also a Water Playground for the little ones to enjoy.
Another place that you could try visiting is the West 35 Eco Mountain Resort, located in Gaas, Balamban, where kids can enjoy their small playground after the family has had a sumptuous lunch.
Also read: Finally, An Itinerary That Will Keep Every Single Member of Your Family Happy
Kids do love exploring the world around them, they just need a little push and encouragement and it's up to the parents to do just that.
What are you waiting for? Head on to these outdoor spots and have a grand time with your kids!