Featured image credit: Rusdhi Mohamad
I went to the Malaysian city of Kota Kinabalu at 23, and it was fascinating. The dramatic jungles, striking wildlife, bustling markets, effervescent people — I'd give anything to experience them all again! But for now, allow me to help you plan your DIY Kota Kinabalu trip. It's about time you put this underrated city in Malaysia on your travel bucket list, don't you think? And not to worry, there are plenty of things to do in Kota Kinabalu; you'll find something to get busy with no matter what your cup of tea may be!
Why Kota Kinabalu?
Kota Kinabalu, or KK for short, is one of many underrated ecotourism destinations in Southeast Asia. Although small (it's only about half the size of Metro Manila), the city takes pride in its unique blend of coastal and wilderness attractions that truly deserve all the protection they can get. With plenty of urban and rural-based adventures to offer, there's no doubt Kota Kinabalu makes a fantastic destination for budget and DIY travellers, whether solo or in groups!
Also read: Having a Blast in Kota Kinabalu Without Hiking or Beach
Tip #1: How to get to and get around Kota Kinabalu
Let's start with my favourite part about Kota Kinabalu — the city is but a two-hour flight from Manila! Meaning, cheap flights to Kota Kinabalu are within your grasp all year round. From as low as ₱2,500 round-trip, you can fly directly from Manila to Kota Kinabalu via Cebu Pacific, the Philippines' largest carrier. You'll be departing from the Ninoy Aquino International Airport Terminal 3 and arriving in Kota Kinabalu International Airport Terminal 1. Flights operate three times a week, too. Convenient!
BOOK YOUR FLIGHT TO KOTA KINABALU HERE
Getting around Kota Kinabalu is equally simple, with buses being the main mode of transportation. A one-way fare costs as low as RM2(₱24), and bus stops are strategically spread out throughout the city. But if you can, it's best to just avoid them on your DIY Kota Kinabalu trip. Why? Because Kota Kinabalu is small enough as a city to get around on foot! Hotels, restaurants, malls, travel agencies, as well as local city attractions are centralised, making it easy for you to visit them without spending a single ringgit (Malaysia's local currency).
Tip #2: Where to stay in Kota Kinabalu
Good news! Did you know that Kota Kinabalu appeals to both budget backpackers and luxurious holidaymakers? That I can vouch for after actually seeing the place with my own eyes. Hence, debunking my own myth that the city is only ideal for solo kuripot travellers like me! This makes figuring out where to stay in Kota Kinabalu a lot easier.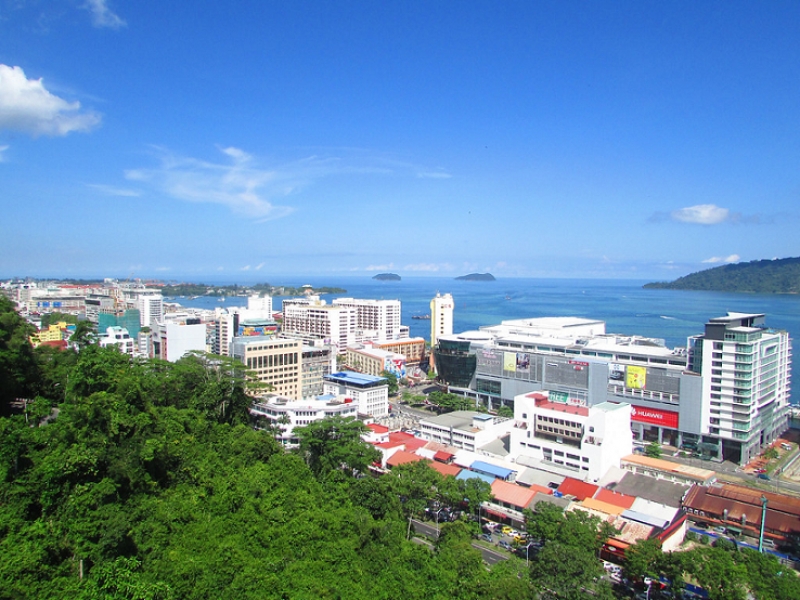 Budget travellers, expect to pay at least ₱300 per night for a quality air-conditioned dormitory room which comes with complimentary breakfast (emphasis on air-conditioned because it tends to get really warm in the city). Recommended accommodations that fall under this category include Homey Seafront Hostel, Vibrant Hostel, Jk Capsule Hostel, Skypod Hostel, and the latest addition is the Toojou Social Hostel. It just so happens, all of them are located in the Central Business District of Kota Kinabalu! If you want to get away from the heat, drive north towards the Mount Kinabalu National Park area where scenic mountain chalets prevail. Do check out Jungle Jack's and Kinabalu Mountain Lodge — I stayed in both and they did not disappoint!
If budget isn't much of your concern, then by all means, book a room in one of the luxury resorts in Kota Kinabalu. Any of them will provide you with great views of the city, the ocean, the jungle, or the mountains! There's Shangri-La Tanjung Aru which has its own open yoga pavilion. It also has the advantage of being a mere 10-minute drive from the airport! Then, there's Le Meridien Kota Kinabalu and Hyatt Regency Kinabalu, known for their accessible waterfront location and Malaysia-inspired spa treatments, respectively. When deciding on the best places to stay in Kota Kinabalu, don't forget to modify your search according to your preferred amenities!
Tip #3: Where and what to eat in Kota Kinabalu
Like Penang in Mainland Malaysia, Kota Kinabalu is big on its local cuisines, many travellers just don't know it yet! But don't expect to find typical Malaysian dishes here. Rather, a mixture of Malaysian, Singaporean, Indonesian, and yup, Filipino. Speaking of the latter, would you believe that Kota Kinabalu has its very own Filipino Market? From the seafood dishes down to the vendors — nearly everything is proudly Pinoy!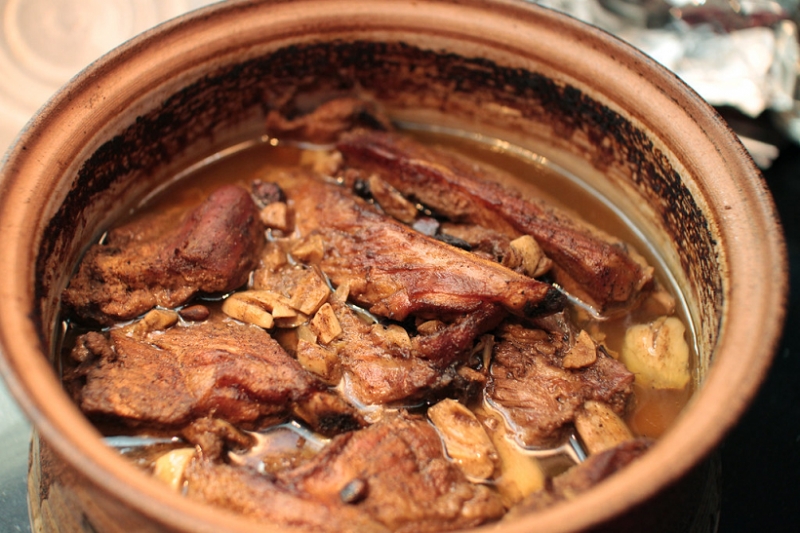 More of a restaurant person? Don't sweat it. At Kota Kinabalu, all your local and international cravings shall be satisfied either! Say you only intend to visit for a short time, your checklist should include Yu Kee for their Bak Kut Teh, a popular pork meat soup in Kota Kinabalu, Yee Fung for their laksa, Kedai Makan Islamic Restoran for their roti cobra, and Kim Hing Lee Kopitiam for their san nyuk men.
Tip #4: Where to go in Kota Kinabalu
So little city, so many places to go to! That's basically Kota Kinabalu. For shopping and eating, definitely go for the Central Business District and Kota Kinabalu City Waterfront as these are where most malls and markets in Kota Kinabalu are (more about those in a while). Beach and island life lovers, take your pick from the nearby Tanjung Aru Beach or the beaches at the offshore islands of Mari Mari Sepangar, Sapi, Manukan, Sulug, Mamutik, and Gaya. Snorkelling and diving in Kota Kinabalu? These islands will take care of that for you, too.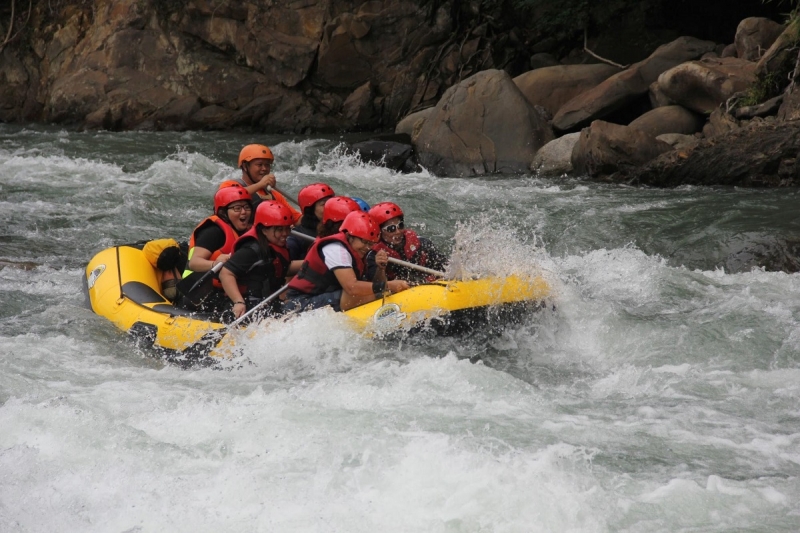 Meanwhile, for history and culture buffs, I suggest paying a visit to the Kota Kinabalu City Mosque, Sabah State Museum and North Borneo Railway. Each of them gives you a glimpse of KK culture while providing you with amazing Instagram-worthy opportunities! For a dose of nature and adventure, head to the nearby district of Beaufort for the Klias River Cruise, the towns of Kota Belud for the Kadamaian White Water Rafting and Kundasang for Kinabalu National Park. Technically, they're located outside of the city but they make for amazing side trips from Kota Kinabalu!
Also read: Exploring Sabah: Attractions to Visit and Things to Do
Tip #5: Sample 4-day DIY Kota Kinabalu itinerary
With my very own DIY Kota Kinabalu itinerary, I explored Sabah's capital city for a total of 11 days, with plenty of time to breathe! Here's what I've come up for a 4 day DIY Kota Kinabalu itinerary, great for your first visit to the city!
Day 1: Getting to know Kota Kinabalu City
Start your Kota Kinabalu trip with a morning hike to Signal Hill Observatory Platform. At 100 metres, it is the highest point in Kota Kinabalu, thereby offering great panoramic views of the city and nearby islands! To get here, walk towards the direction of Atkinson Clock Tower, the oldest standing structure in the city. Follow the trail nearby for about 15 minutes until you reach the deck. It'll be easier for you to plan your DIY Kota Kinabalu itinerary for the rest of the day once you get on top! Or, if you're feeling a little fancy, why not book a one-hour aerial sightseeing tour of Sabah?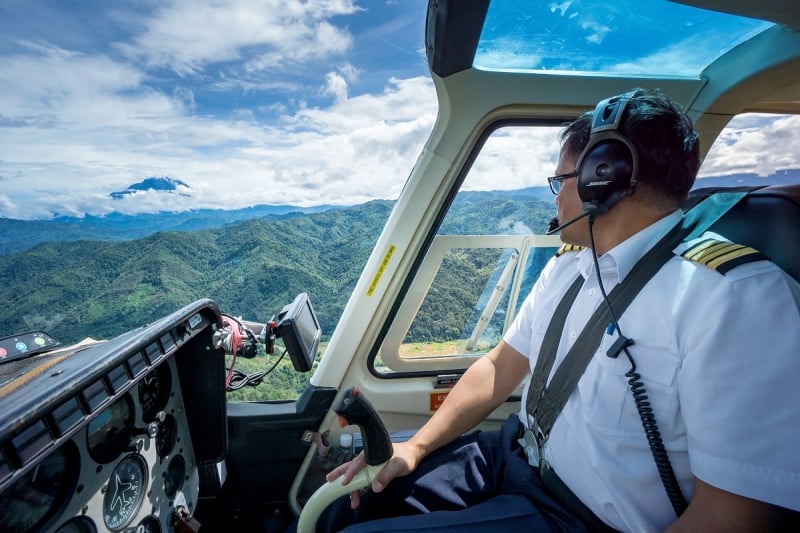 Then, take a taxi or ride a local bus to the Kota Kinabalu City Mosque, otherwise known as the "floating white mosque" of Kota Kinabalu. It literally stands in the middle of a man-made lagoon about 5 km north of the city centre. As in other places of worship, be sure to cover up. You can rent a special piece of clothing called Tudung at the registration area, or buy your own from one of the city markets. The mosque is open to the public. However, international visitors must pay a small fee of MYR5 to enter. Finally, wrap up your day with a magical sunset cruise along the South China Sea! You can book your cruise tour at any travel agency or hotel in Kota Kinabalu.
Day 2: Adventure in the mountains
Wake up early in the morning and rent a car to take you to the adjacent town of Kundasang, home to the world-famous Mount Kinabalu. The earlier, the better, as Malaysia's tallest peak is only visible for a few hours each day, usually in the morning!
That said, ask your driver to bring you to Desa Cattle Dairy Farm, which is sort of Malaysia's take on New Zealand and Switzerland. With the majestic Mount Kinabalu in the background, this 199-hectare farm may just be one of the most scenic farms you'll ever see in Asia! Get up close and personal with the cows, then drop by the on-site souvenir store to try the farm's signature products. Do take this time to snap photos of Mount Kinabalu before the clouds take over!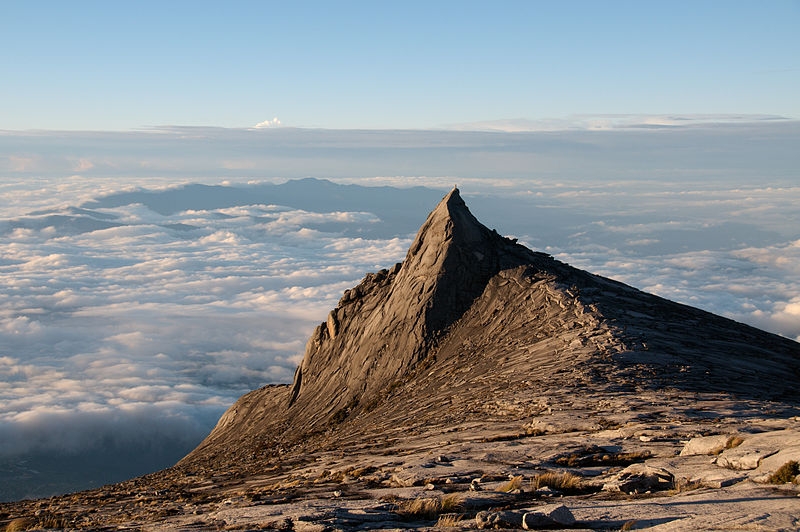 After lunch, make your way to Kinabalu National Park, one of the first UNESCO World Heritage Sites in Southeast Asia, and the first one in Malaysia! The entire park grounds measures 754 sq km, but a leisurely walk around key areas like the Botanical Garden and nature paths like the Silau Silau Trail will usually do for any first-timer. If you're down for thrills, how 'bout climbing to the peak of Mount Kinabalu or Maragang Hill, one of the newest hiking destinations in Kota Kinabalu?
Day 3: Soak in the sun on the islands
From the mountains to the sea — it's time for a day tour to the offshore islands of Kota Kinabalu! Most hotels and hostels offer island hopping packages, but for the purposes of this DIY Kota Kinabalu itinerary, you can simply head to the Jesselton Point in the city centre and do everything on your own. The process is pretty straightforward, after all! After buying your tickets from your chosen company, (RM30 or ₱360 for a return trip to an island of your choice, RM10 or ₱120 for each additional island added), hop on your boat and enjoy your destinations one by one, and most importantly, at your own pace.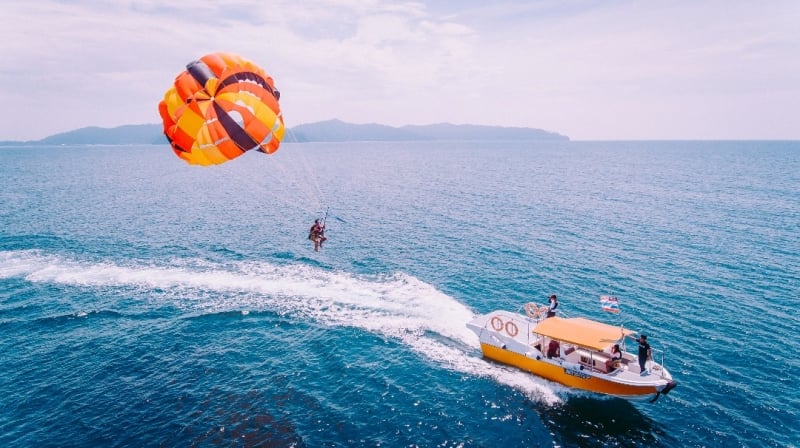 The best overall islands to visit are Mari Mari Sepangar Island, Sapi Island and Manukan Island. All of them provide great opportunities for diving and snorkelling. You can also do other activities such as taking a banana boat ride and speed boat parachute, but you'll have to pay extra to do so. Take note that aside from the boat tickets, you need to spare a conservation fee of RM10 (₱120) for each island you visit. Also, be sure to leave Jesselton Point before noon and end your tour by 4pm due to the fixed boat schedules — unless you're willing to spend the night on one of the islands!
Day 4: Shopping and free day for everyone!
In case you didn't catch that, shopping is a thing in Kota Kinabalu! From local crafts to luxury souvenirs, you're guaranteed to take more than just a piece of ref magnet or shawl with you home. Open from 6am to 1pm, Gaya Street Sunday Market offers a range of affordable products including clothing, antiques, fruits, herbs, and local crafts. As the name suggests, Gaya Market only happens every Sunday. Do take this into consideration when planning your DIY Kota Kinabalu itinerary! Otherwise, there's also Centre Point Sabah for more affordable buys, and KK Times Square, Suria Sabah and Oceanus Waterfront Mall for all your splurge-worthy needs.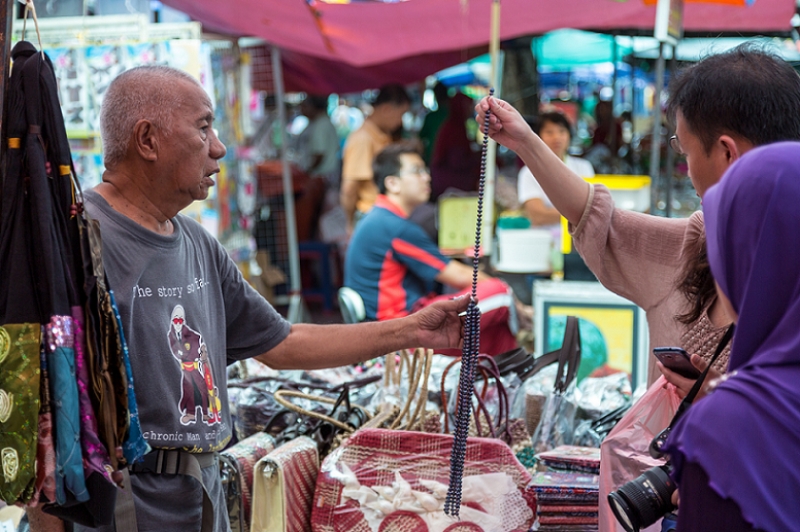 Depending on your schedule (and energy left), you can also squeeze in one more day tour from the city centre. I recommend either taking the North Borneo Railway or the Klias River Cruise. North Borneo Railway is a must-try for those who want to experience Sabah's rural areas while "travelling back in time" onboard a refurbished 1900's steam train. You get a complimentary Tiffin-style colonial lunch, too! Meanwhile, Klias River Cruise is a bit farther south of the city, and makes for a wonderful quick tour to those who have a penchant for fireflies, monkeys and just about anything "jungly". Tours are often offered anywhere in the city and they usually include a buffet-style dinner in a native village.
Tip #6: Estimated expenses
After going through the above DIY Kota Kinabalu itinerary, by now you're probably thinking, "How much will I spend in Kota Kinabalu?". Save for the shopping and eating, you'll need to shell out at least ₱10,000 to tick off all the places and activities I've mentioned. Of course, feel free to adjust this budget according to your final itinerary! As for travelling from Manila to Kota Kinabalu, leave that to Cebu Pacific, the Philippines' largest carrier. They have cheap flights to Kota Kinabalu three times a week!
BOOK YOUR FLIGHT TO KOTA KINABALU HERE
Mountains, farmlands, islands, rivers, hot springs, jungle — Kota Kinabalu has them all! What's even better? The city is a quick two-hour flight from the Philippines. With those in consideration, I absolutely see no reason for you not to visit Kota Kinabalu. As well-rounded as it is, you'll barely have enough time for everything. But if you're just looking to get a taste of this world-class ecotourism destination for your first visit, then this DIY Kota Kinabalu trip guide is certainly for you.
---
Brought to you by Cebu Pacific.