Few things are more comforting than freshly baked goodies. Whether it's a soft, gooey cookie or some delicious bread and pastries — we're totally all for it! But with the ongoing community quarantine, it's hard to come by these comfort foods nowadays. Fortunately, several shops and bakeries are still up and running, along with some much-need cookie and/or bread delivery services.
And so, we've narrowed down the best cookie and bread delivery options around Metro Manila. Better bookmark this list for when you're craving some cookies and bread, but can't leave the house (for whatever reason, even once the lockdown is over). Life is too short to miss out on fantastic baked delights! 
Cookie shops offering Metro Manila delivery
1. Apéritif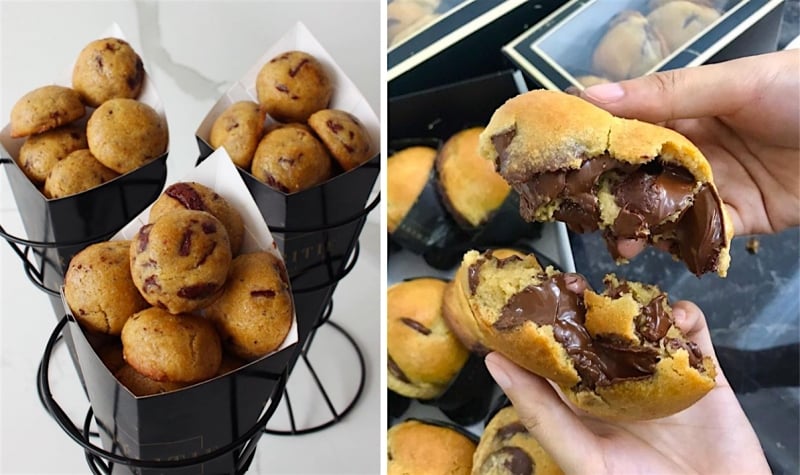 Besides their heavenly graze boxes and other customised offerings, Apéritif also has Ooey Gooey Chocolate Chip Cookies. And truth be told, the name says it all! They also offer bite-sized Ooey Gooey Cookie Nibblers for those who want an illusion of having self-control even when it comes to sweets. (Wink, wink!)
Get your dose of these mouth-watering goodies, even during community quarantine. Metro Manila residents can either order online either on their official site, or via GrabFood and Foodpanda delivery. 
For more cookie delivery info, click here. 
2. Mo' Cookies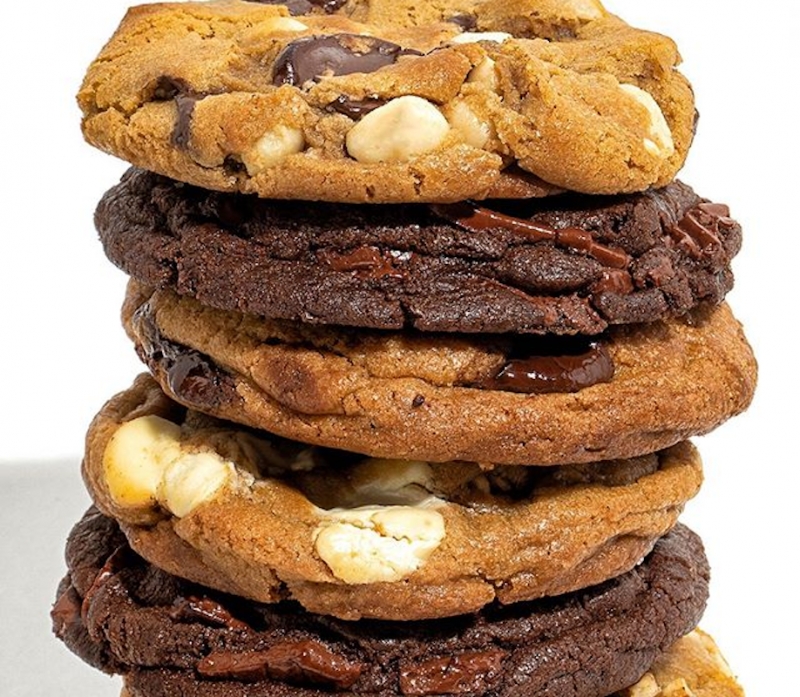 Arguably the most popular cookies in town, Mo' Cookies offers thick, chewy goodness that's literally bigger than your palm! It's the cookie not just of your childhood dreams, but also your adult foodie fantasies. And yes, you can still satisfy those cravings right now! 
The Chocolate Chip and South Cotabato Chocolate Fudge cookies are available for delivery via GrabFood and Foodpanda. You can also order directly from Mess Hall, a.k.a. the HQ cafeteria of The Moment Group.
For more cookie delivery info, click here. 
3. Twenty Four Bakeshop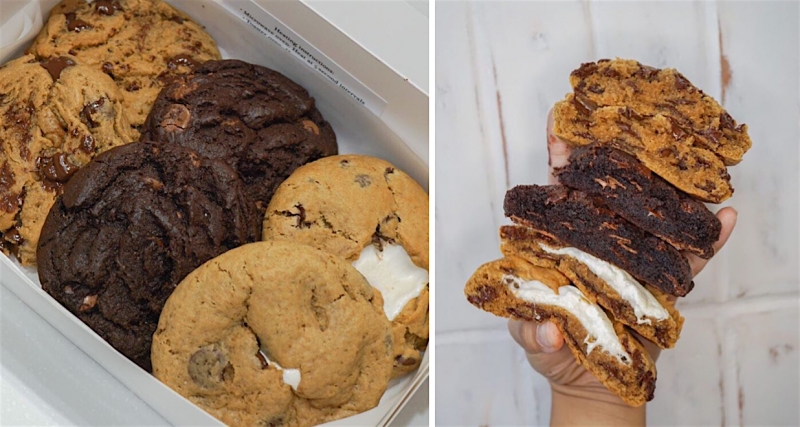 You've probably stopped by Twenty Four Bakeshop while strolling around One Bonifacio High Street. Aside from their lovely, pastel-filled decor, the smell of freshly baked cookies is enough to pull you from wherever it is you're headed. 
And don't even get us started on their über-Instgrammable offerings! The Campfire S'mores, Triple Chocolate, and Reese's Peanut Butter are all must-try flavours. Though their physical store is closed in the meantime, Twenty Four Bakeshop is offering limited-time delivery within Metro Manila. 
For more cookie delivery info, click here. 
4. Moloko Handcrafted Cookies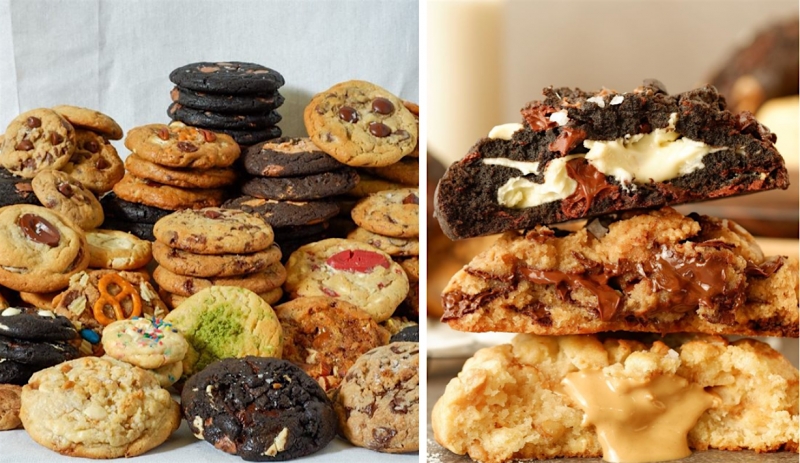 In the vast sea of homegrown cookie shops, Moloko Handcrafted Cookies stands out for its mesmerising #foodporn-filled IG feed and unique cookie flavours. Apart from that, these cookies are made with premium ingredients! There's the classic Ghirardelli cookie, as well as the more offbeat Dark Chocolate Tahini, Pistachio, and Caramilk Cheesecake variants. 
Try out all these, even when you're stuck at home, by ordering directly from this cookie shop. Their preferred delivery service, Lalamove, should have a box (or five) by your doorstep in no time! 
For more cookie delivery info, click here. 
5. FluffYummy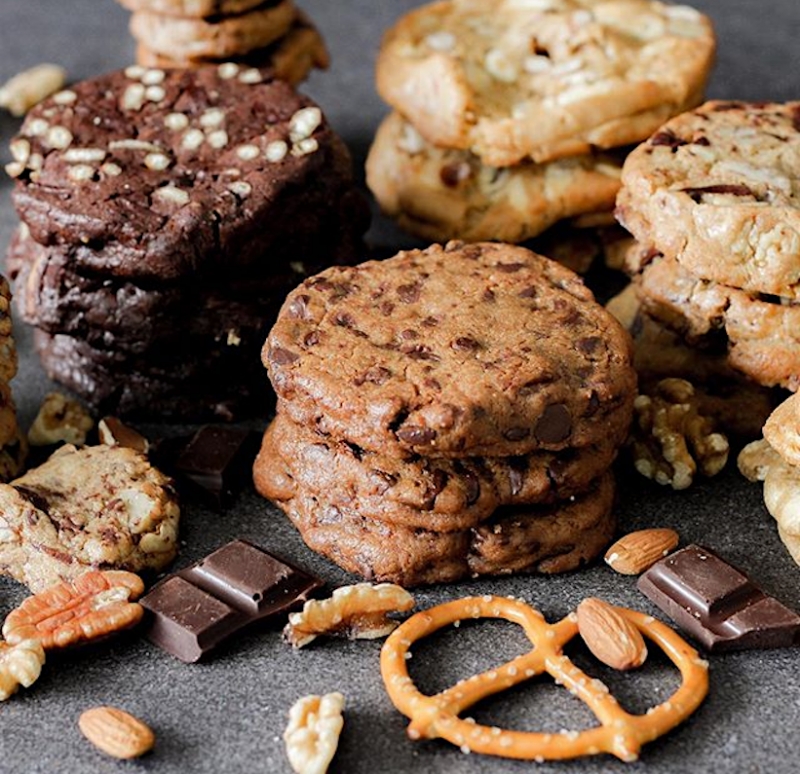 FluffYummy is best known for its New York-style cookies: crisp on the outside, chewy on the inside. These baked goods are specially made by renowned pastry chef, Kevin Ibert. Try out the yummy, best-selling variants like the NYC Dark, White Chocolate Chip with Almond, and DC Pretzel cookies. They also offer bite-size versions of these on a 20-piece tin! All these are available for delivery via their Instagram page. 
For more cookie delivery info, click here.
6. Notorious Treats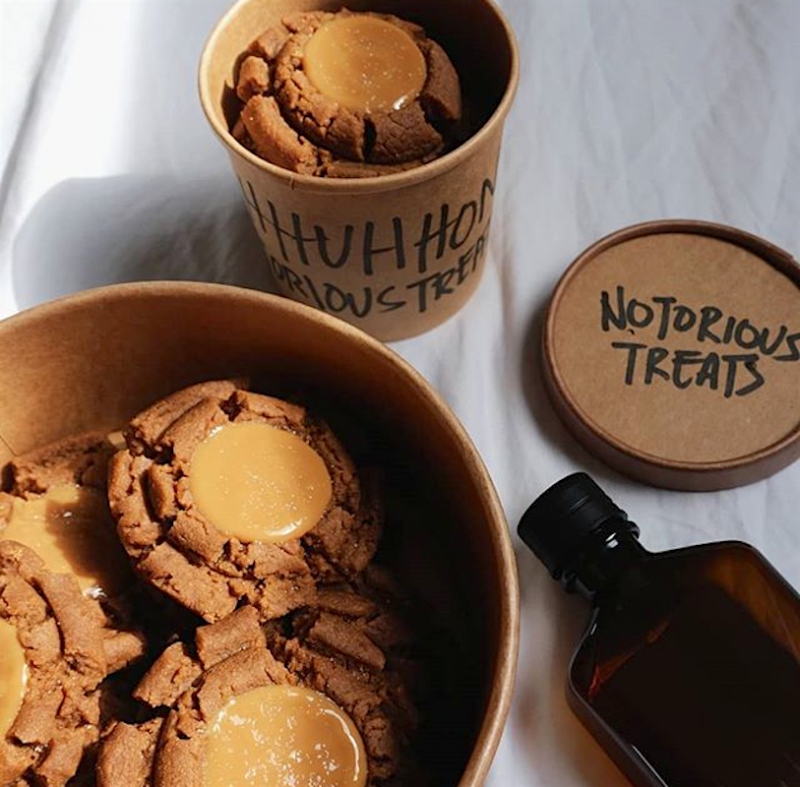 Not that we have anything against the classics, but sometimes you crave a cookie that's beyond the usual chocolate chip. Preferably, something that you haven't tried before. Well, that's when Notorious Treats comes in! 
Try out their Shorty de Leche cookies and prepare to be amazed. These brown-sugar shortbread confections are topped with gooey homemade dulce de leche and Himalayan pink salt. These also come in cute, mini versions called Lil' Shorties. Hungry yet? All you gotta do is slide into Notorious Treats' Instagram DMs to place your order. 
For more cookie delivery info, click here.
7. Nyala's Homemade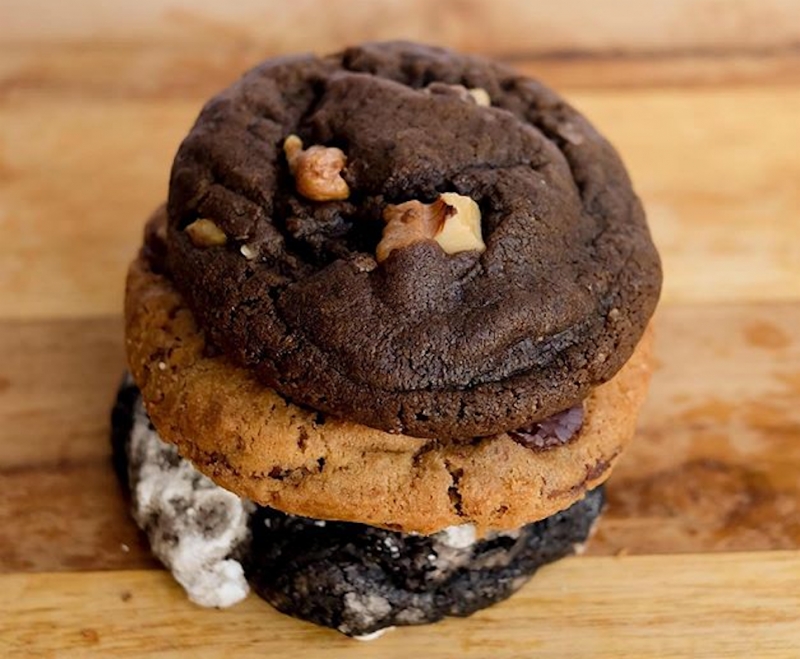 True to its name, the owners of Nyala's Homemade offers freshly baked cookies straight from their family kitchen. Oh, and Nyala is actually the name of one of their doggos — cute! But okay, let's go back to the cookies. Take your pick between the classic Chocolate Shard and the Espresso cookies (have it plain or with mix-ins). They also have the Kudu Krinkle, crinkles made from Dutch and Belgian black cocoa. 
Enjoy these with a tall glass of cold milk or a cup of coffee! Cookie delivery is per batch, usually every week, via their Instagram page.
For more cookie delivery info, click here.
8. Dolcebella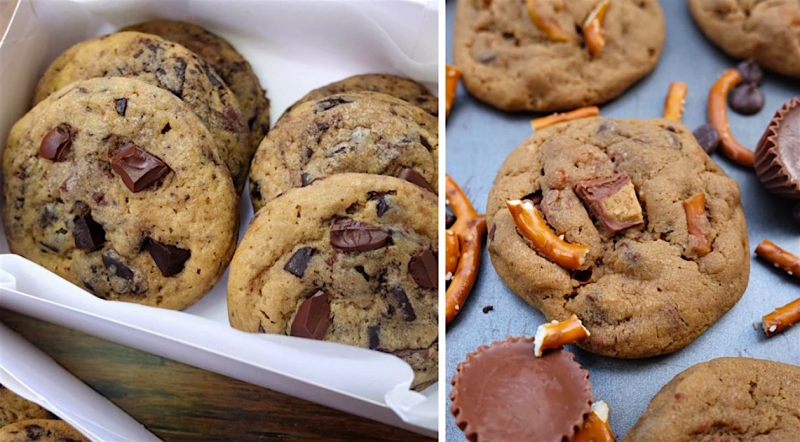 With a name literally translating to 'sweet beautiful,' Dolcebella offers a sneak-peak into what you're in for!  Choose from cookie variants like the decadent Chocolate Chunk and Triple Chocolate, the healthy(-ish) Oatmeal Chocolate, and the unique Peanut Butter Pretzel. 
Apart from these, you can also try their revel bars, marble brownies, and brookies. When it comes to baked sweets, you might as well go big or go home (oh wait, you already are). That said, go on and order directly and then have it delivered via Grab or Lalamove, on a cash-on-delivery basis!  
For more cookie delivery info, click here.
9. Scout's Honor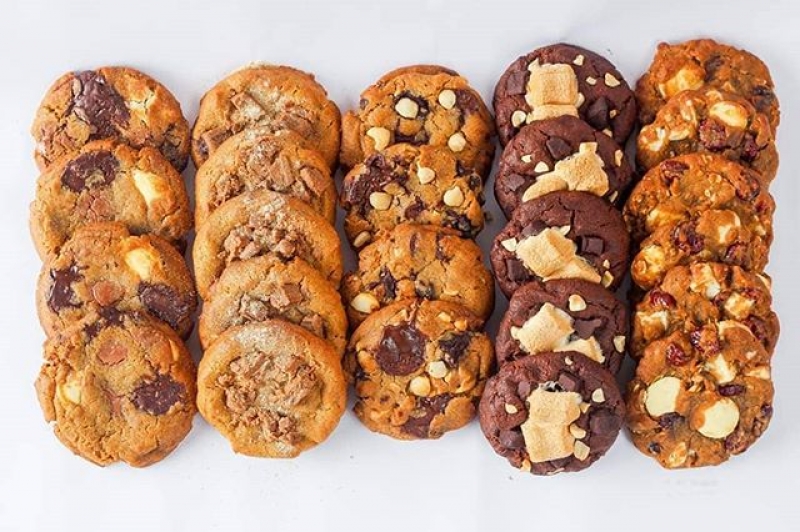 Scout's Honor is well-known as the brainchild of renowned Pinoy pastry chef, Miko Aspiras. And guess what? You can still have your fix of their delish cookies despite community quarantine! 
They have a handful of one-of-a-kind variants that are hard to find elsewhere. But if you have to pick just one, then we recommend the 1969 Cub Scout cookies! It's made with a chewy Horlicks cookie dough and chocnut pieces, and topped off with Horlicks powder. Order these via FoodPanda, or have 'em picked up via Lalamove or Grab. 
For more cookie delivery info, click here.
10. Eric Kayser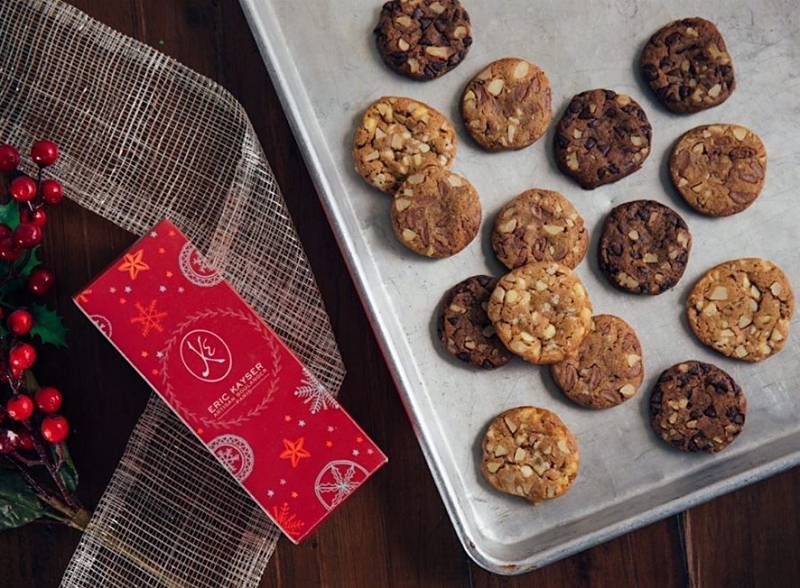 While this famous French boulangerie offers a variety of bread, it's best known for the cookies! Chunky, fudgy, and gooey with a crisp bite — Eric Kayser cookies are best paired with a tall glass of milk for a full experience. Their classic Milk Chocolate and Dark Chocolate, and White Chocolate Chip cookies are all a must-try! 
Eric Kayser is accepting orders for both cookie and bread delivery in select areas and villages around Metro Manila. 
For more cookie delivery info, click here.
11. Ben's Cookies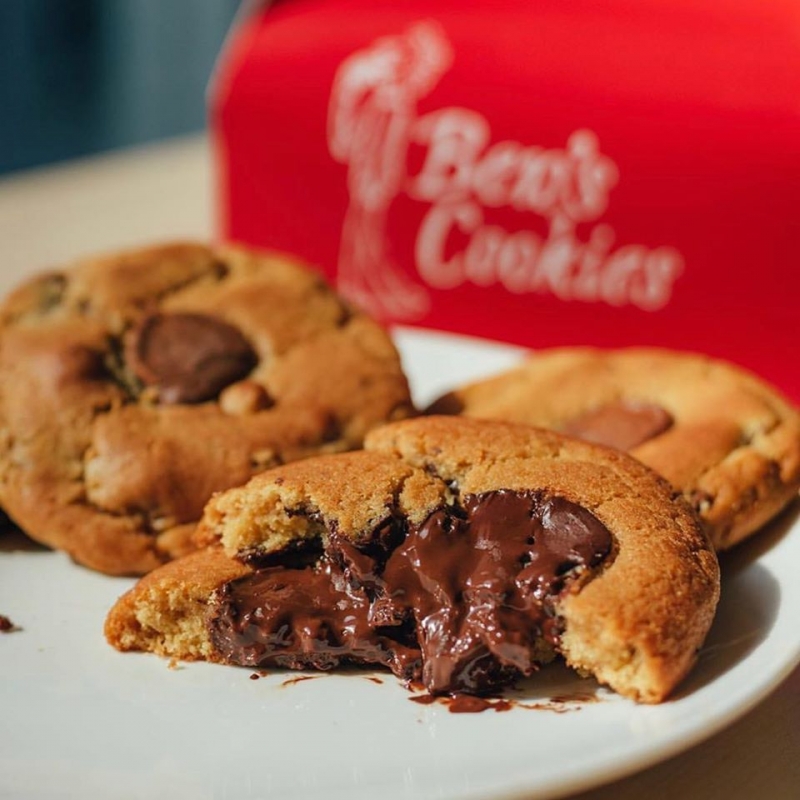 This world-famous cookie shop from the United Kingdom caused quite a craze when it arrived on our shores. Ben's Cookies may seem like your usual chocolate chip type that are far and many, but don't be fooled! There's a reason why many lined up in their first Metro Manila store, especially during its first few months. And so, it's a great thing that you can still enjoy their mouth-watering goodies, even during community quarantine! 
For more cookie delivery info, click here.
12. Golden Cookie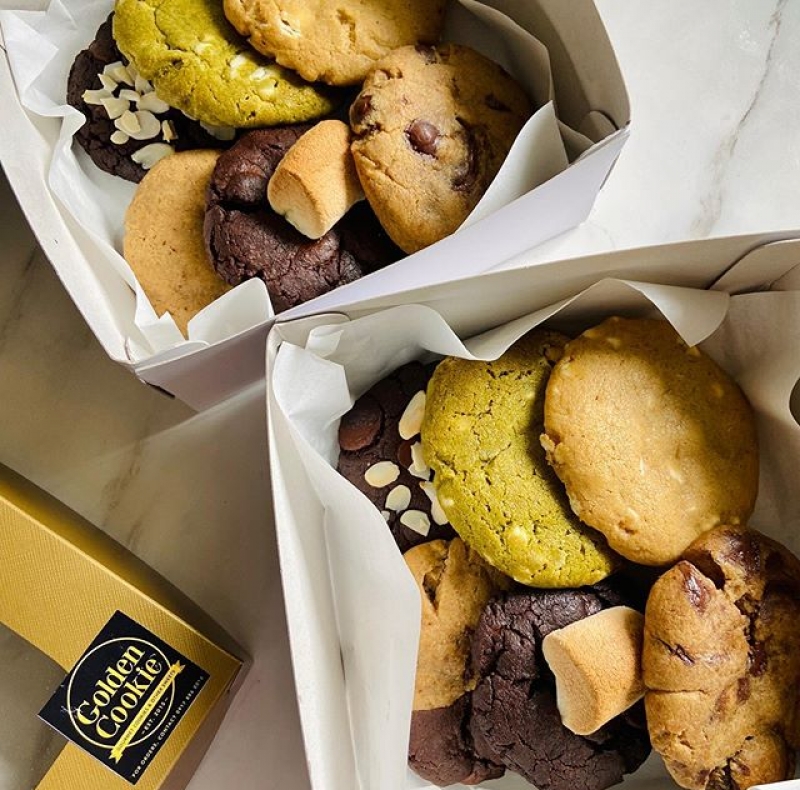 Golden Cookie's standard are buttery soft-baked cookies that remind you of pure comfort.  Though if you prefer yours crunchy on the outside but chewy on the inside, you can customise your order upon request!
Take your pick among their bestselling variants: Matcha, Brookie, Red Velvet, and White Macadamia. You can also opt for either large, regular, or miniature sizes for these. So, go ahead and order via their Instagram page to satisfy those cravings! 
For more cookie delivery info, click here.
13. The Little Kitchen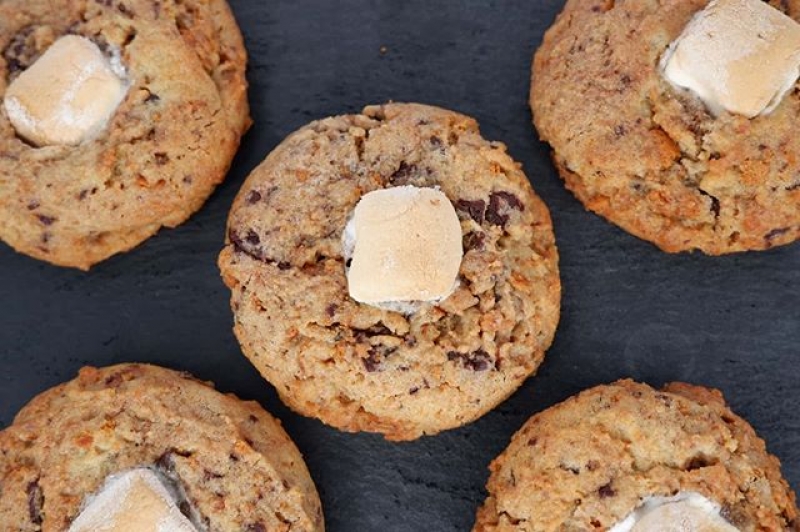 Brighten up your day with cookies from The Little Kitchen, which delivers on select dates around Metro Manila! While their Chocolate Chip cookies are a no-fail classic, the S'mores Chocolate Chunk is also a must-try. The latter features a mix of crushed graham crackers and dark chocolate chunks, topped off with gooey marshmallow. Oh, and we recommend pairing their cookies with your daily iced coffee for kicks! 
For more cookie delivery info, click here.
14. Overdoughs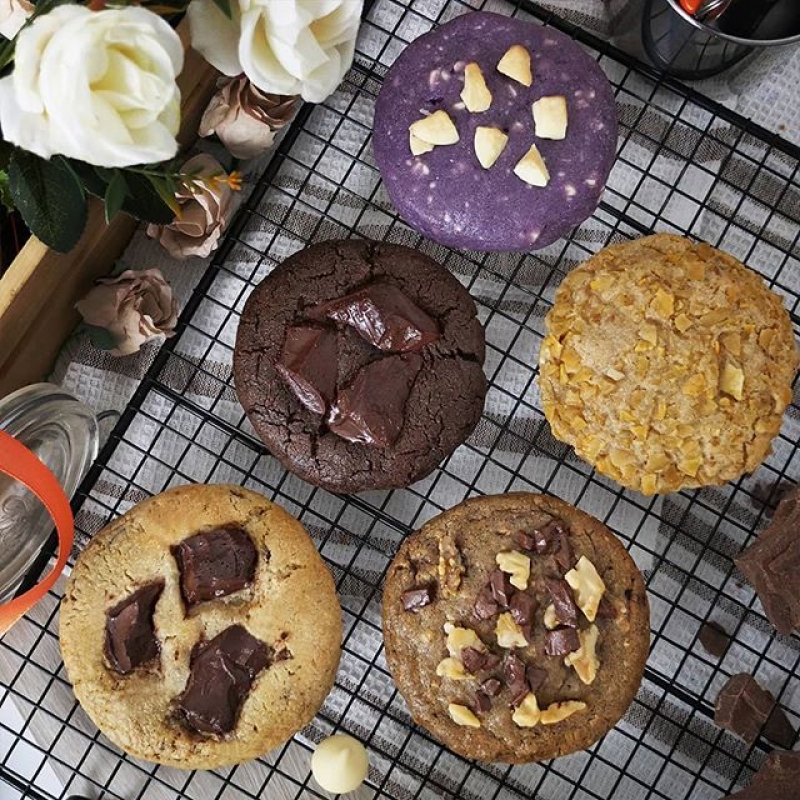 On normal days, you'll find a handful of Overdoughs stalls all over Metro Manila. And as far as speciality cookies go, theirs are more on the wallet-friendly side that doesn't compromise on quality! For palm-sized cookies, we recommend their OD Choco Chunk and Barako Mocha, while for the mini-sized ones, opt for something different with their Ube White 2.0 and Calamansi Cream Cheese. 
You can also order Fry-at-Home Choco Chip Cookie Dough that comes in 40 pieces, which you can share with the whole household! Furthermore, a portion of each cookie delivery goes to deaf scholars. 
For more cookie delivery info, click here.
15. Quinn's Bakery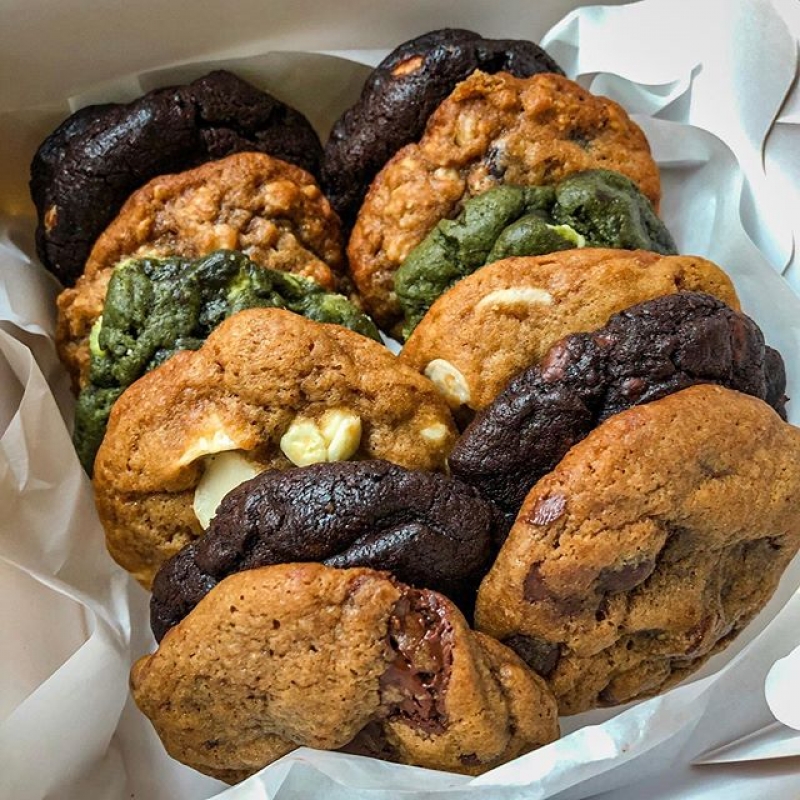 If you like your cookies half-baked and utterly soft and chewy, then Quinn's Bakery is your best bet. For serious chocoholics, we recommend the Triple Chocolate Chip, which has a decadent cocoa-filled dough and a hefty amount of chocolate chunks inside. For something a bit different but still familiar and comforting, there's the Dark Peanut Butter Chunk, which is sweet, bitter, nutty, and buttery — all at the same time!
Unfortunately, their classic Chocolate Chip is already out of stock until the end of ECQ. But hey, that's probably a sign that you should order ASAP! Who knows how many other cookie lovers are waiting to get their hands on these goodies as well. 
For more cookie delivery info, click here.
Also read: 12 Best Cookies in Manila and Where You Can Find Them
Bakeries offering pastry and bread delivery
16. Wildflour Café + Bakery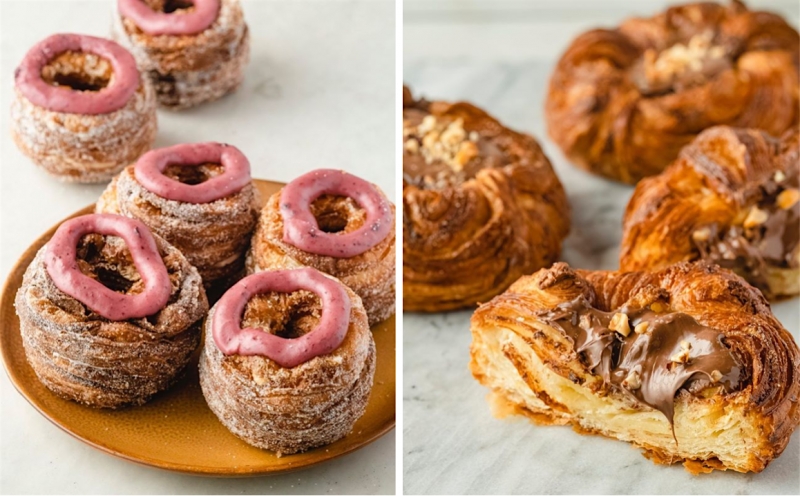 You can't talk about Metro Manila bakeries without mentioning the all-time hit, Wildflour. Part-café, part-bakery, it's as synonymous to cosy tita brunches as it is to mouth-watering baked goods. And thank the food deities, its branches in BGC, Podium, and Rockwell are open for delivery!
Their menu changes daily, so we recommend checking their Wildflour To-Go Instagram page every so often. This is also where you'll be placing your orders anyway. Keep an eye out for must-try pastries like their pain au chocolat, Kouign-Amann, sticky buns, and of course — the OG cronuts. We haven't been this excited for bread delivery until now!
For more bread delivery info, click here.
17. TinaPay Online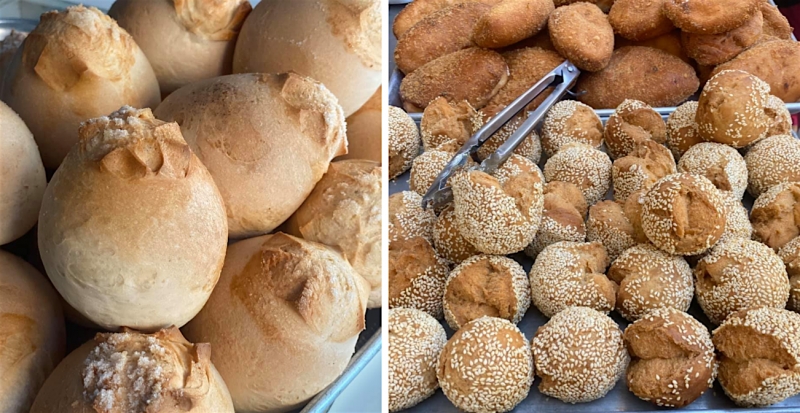 TinaPay Online brings freshly baked bread to those who live in Manila, San Juan, Mandaluyong, Pasig, and near Sta. Mesa areas. They have a minimum of 20 pieces per preorder — but after trying out their bread, you'll realise that 20 pieces are way too generous! Opt for distinctly Pinoy options like putok, binangkal, egg pandesal, and pilipit with ube filling.  
For more bread delivery info, click here.
18. The French Baker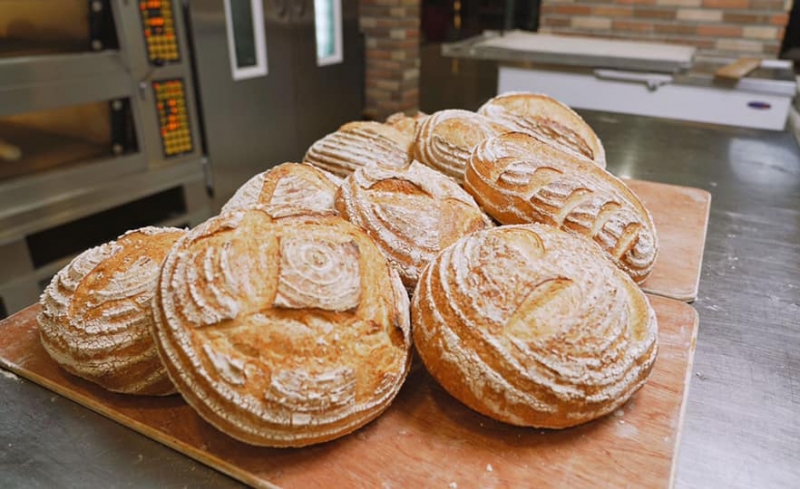 The French Baker is here to make sure that you'll never run out of yummy bread! Stock up on breakfast staples and merienda faves, like their multi-grain bread, baguettes, garlic bread, and coffee bun. They have select branches open in Pasig and Quezon City, from which you can order via GrabFood and Foodpanda. 
For more bread delivery info, click here.
19. 28 Derby Bakery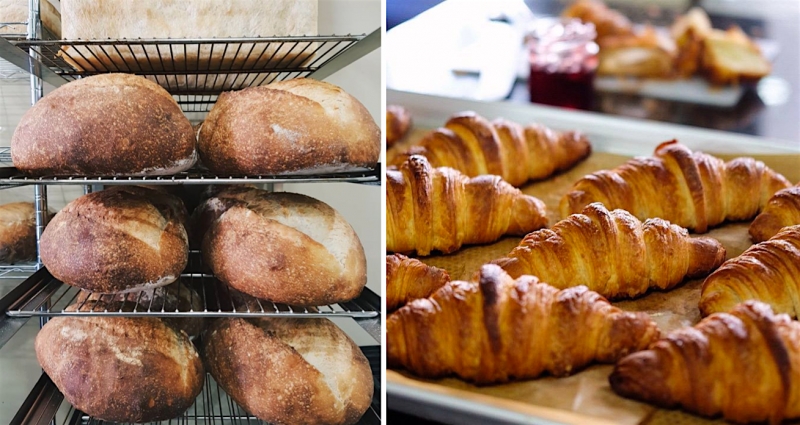 This artisan bakery offers some of the best sourdoughs in town! Aside from the countless people we know who swear by it, 28 Derby Bakery also supplies leading homegrown coffee shops like Yardstick and Habitual Coffee. (If their coffee is good, then that means their bread must be good too, right? Yes indeed.) 
Aside from the sourdough, we also recommend their croissant, ciabatta, and brioche feuilletée (a brioche-croissant hybrid). You can order all these directly on their social media platforms!
For more bread delivery info, click here.
20. Hearty Bread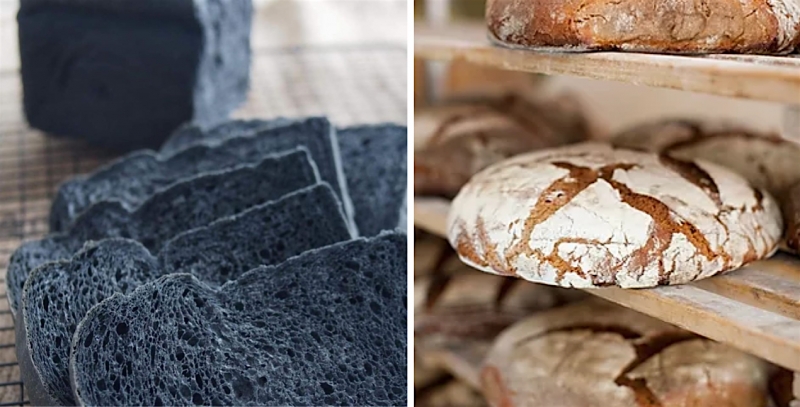 Craving carbs but don't want to stray too far from your diet? Then Hearty Bread is your best bet. Their lineup is equally unique and healthy. And unlike most artisan bakeries, they put the nutritional content at the back of the packaging! What a game-changer, we know. 
We can't get enough of their Banana Sourdough, Pumpkin Carrot Sourdough, and Charcoal Almond loaves. They have different branches all over Metro Manila — from Alabang to Katipunan — most of which are open and available for bread delivery. 
For more bread delivery info, click here.
21. Trigo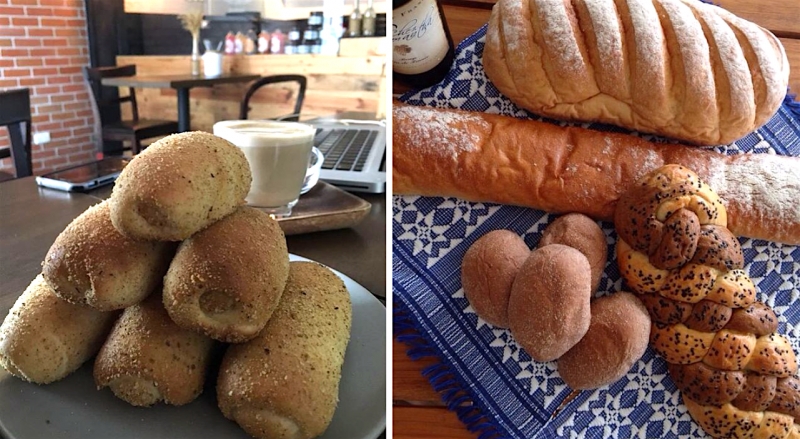 Trigo literally translates to 'wheat,' and you can bet that it takes its wheat creations quite seriously. Don't believe us? Try some of 'em out, even during quarantine! We recommend starting with some brioche, Spanish bread, and any (or every?) pandesal variant. 
Order directly from their website, where you'll also find the whole menu. Heads up, though — with so many great options, you might take longer to choose than usual! 
For more bread delivery info, click here.
22. Conti's Bakeshop & Restaurant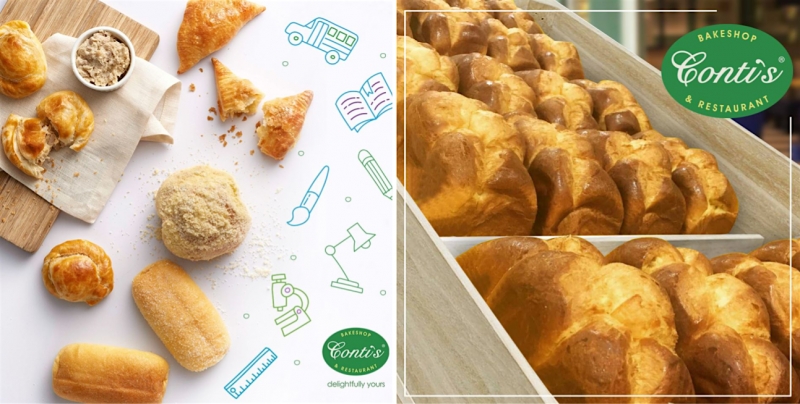 Aside from their crowd favourite cakes, Conti's is also known for their hearty meals (some of which they offer in frozen, ready-to-reheat versions) — and their yummy bread and pies! You can order directly from select branches that are currently still open, or via GrabFood. 
Our top faves include the classic brioche, the sweet cheese puffs and ensaymada, and the savoury chicken pie. As they're perfect for both breakfast and merienda, you'll definitely want to stock up on these all quarantine long. 
For more bread delivery info, click here.
23. The Rolls Kitchen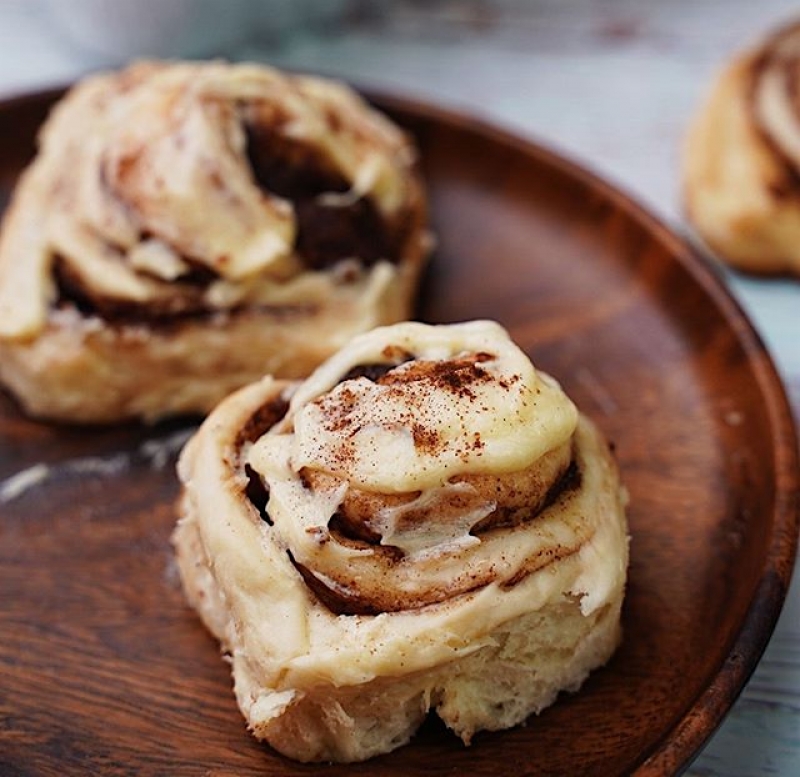 For something beyond your usual bread delivery this ECQ, how about some delightful homemade cinnamon rolls? And for that, The Rolls Kitchen is your best bet! You can be sure that it's baked fresh each time. Oh, and don't even get us started on their signature cream cheese frosting — just the thought of it is enough to make you drool!
They're also waiving the delivery fee for a limited time, so better get on that order stat!  
For more bread delivery info, click here.
24. The Gourmet Breadhouse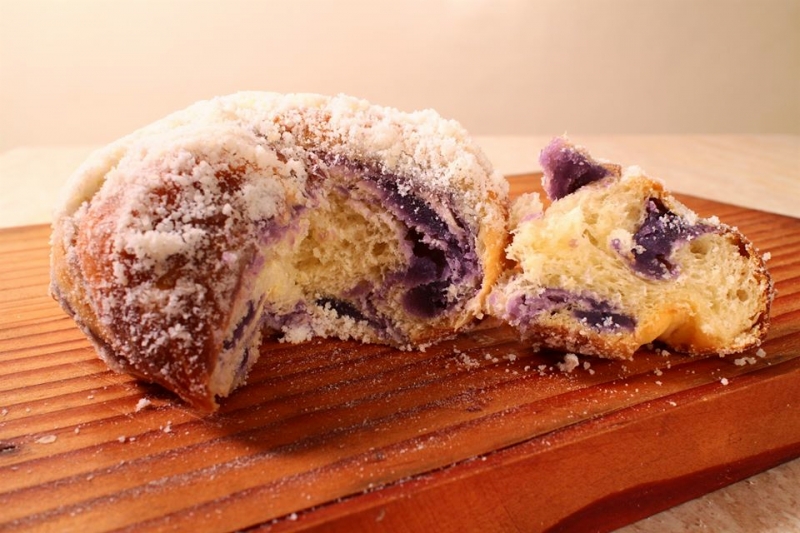 The Gourmet Breadhouse is reminiscent of a neighbourhood bakery from your childhood that offers carbo-loaded comfort. Whether it's good ol' pandesal and croissant for breakfast or scrumptious pastries for merienda, this homegrown bakery has it all!
We recommend their ensaimadas that have yummy flavours like ube, salted egg, and even bacon! Though, if you prefer something on the less sweet side, their sourdough, croissant, and focaccia herb bread are also worth stocking up at home. 
For more bread delivery info, click here.
25. Panaderya Toyo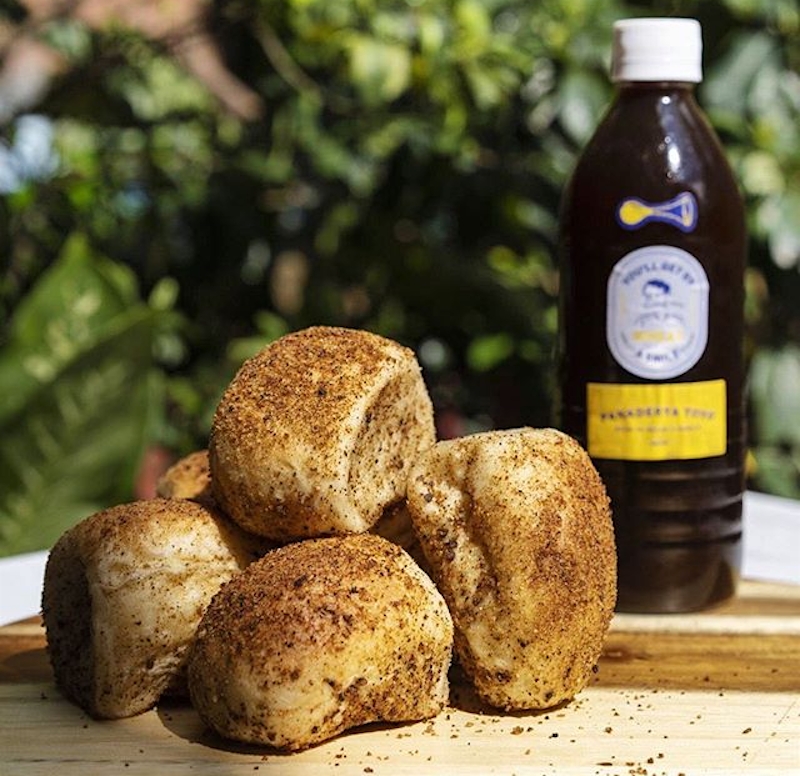 Of course, who can forget Panaderya Toyo? It is, after all, from the same owners of internationally acclaimed Toyo Eatery! For starters, they offer the best pandesal you can ever try in Metro Manila. It has a mildly bitter crust and subtly sour interior, both of which surprisingly work great together amidst the tender, tasty dough. It's clearly unlike any other pandesal you've had before.
As of now, the options for bread delivery are the Potpot Pan de Sal, Leche Pan, and Tocino Balikbayan. You can have these picked up from their store in Karrivin Plaza via your preferred courier. 
For more bread delivery info, click here.
Also read: 11 Yummy Filipino Desserts We'll Probably Crave All Summer Long
Who says you can satisfy your cravings during a lockdown? These super-efficient shops' cookie and bread delivery options say otherwise. Don't forget to share your food photos and stories with us afterwards. Tag us on Instagram at @tripzillaph!
P.S. — Before enjoying your freshly baked bread and cookies, don't forget to tip the drivers generously. Oh, and do wish them a safe day ahead as well. It pays to be extra kind, especially during these tough times!