After a firefight between the Maute group and the Philippines' government forces ensued Tuesday night (May 23), President Rodrigo Duterte declared Martial Law in the entire island of Mindanao.
Martial Law is the imposition of military powers to civilian functions of the government, especially during disasters, or in this case, invasion. This is not the first for the Philippines, though. In 1972, President Ferdinand Marcos declared Martial law because of the threat of communism, which lasted for 20 years. In 2009, then President Gloria Macapagal-Arroyo also declared Martial Law because of the gruesome Maguindanao massacre, but it only lasted for a few days.
How is the 1972 Martial Law declaration different from the current? Check this infographic from PRISM: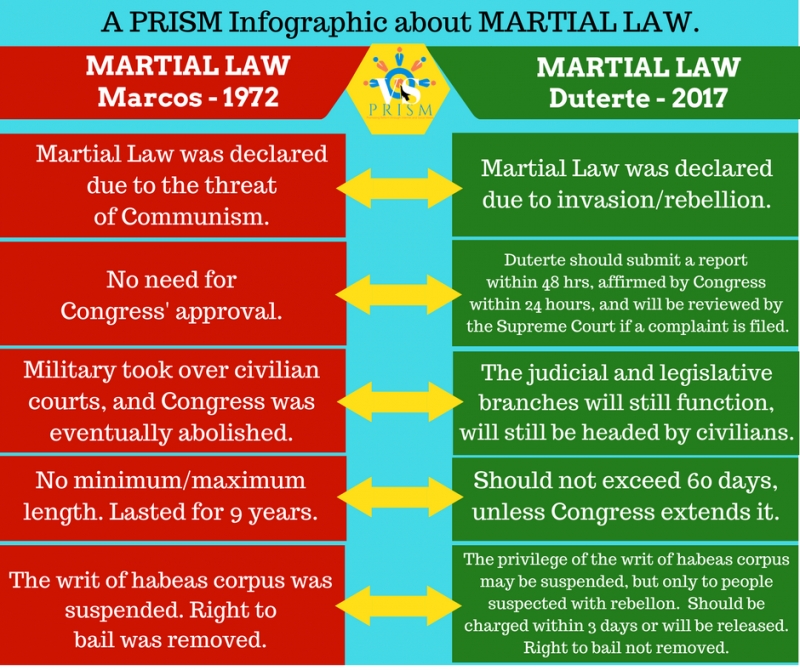 After the declaration of Martial Law in Mindanao, Mayor Sara Duterte-Carpio immediately ordered a lockdown for the entire City of Davao, the President's hometown.
She advised Davaoenos to stay at their homes especially if they have nothing important to do outside. She also warned the public to avoid travelling to the city unless its urgent. Mayor Duterte-Carpio made this pronouncements during a press conference in Davao, Wednesday (May 24) dawn.
Similarly, the City Government of Cagayan de Oro has declared Red Alert and will take precautionary measures to ensure that the terror attacks will not happen inside the city.
Let us all pray for Marawi and Mindanao.