Contributed by The Travel Debugger
When I booked roundtrip plane tickets from Manila to Dumaguete in one of Cebu Pacific's seat sale, I really don't have an idea what to see and do in Dumaguete. We were supposed to book a trip to Taiwan, but due to budget constraints, we thought it's not yet time.
When the trip is getting nearer, I found myself researching for activities to do, how to get around, where to stay, etc. I found out that it's possible to go to Siquijor and Oslob for whale shark watching. I was ecstatic. Siquijor looks mystifyingly beautiful and to swim with the whale sharks is a once in a lifetime experience. Then I also found out we can go to Apo Island and do some snorkelling and swimming with the turtles! It made me more excited but I didn't completely include it to our Itinerary since I heard the boat ride cost PHP 2,000 for 4 persons (there are only two of us travelling). I was hesitant at that time but fortunately, Harold's Mansion is offering a package tour to Apo Island (including food, water and snorkeling gears) for PHP 1,000 each! I thought that's a better deal than DIYing the trip and take chances if someone can share the boat ride expenses with us.
Also read: I Travelled 4 Days in Dumaguete, Oslob and Siquijor for Only PHP 5,827 (All-In)
Of course, not all Itineraries are followed. On our 3rd day after the Apo Island trip, we decided not to pursue with the Whale Shark watching in Oslob on our last day. First of all, we're dead tired snorkelling, and second, we agreed that it's much better if we just go to the Public Market, try some delicacies then buy silvanas at Sans Rival. And whatever silent debate there is in the Whale shark watching, we decided to just be neutral with it. I guess there will be some other time or place to try it.
In this post, we are sharing our itinerary, expenses, budget, guides and our amazing adventure in Dumaguete and Siquijor. Hope this can help you in your future trip there. Read on folks!
Our Itinerary
Day 1 (Jan. 22)
7:30AM – Depart from MNL to DGT (Supposed to be 7AM, flight's delayed)
9AM – Arrive in DGT
10AM – Ride ferry from Dumaguete Port to Siquijor Port
11:15 – Arrive Siquijor Port
12PM – Arrive Charisma Beach Resort (We were able to check-in at 2PM)
We just chilled at the beach and pool all throughout the day
Day 2 (Jan. 23)
7:30AM – Start Siquijor Island Tour
7:45AM – Old Enchanted Balete Tree (Fish Spa)
8:15AM – San Isidro Labrador Church and Lazi Convent
8:45AM – Cambugahay Falls
9:30 – Salagdoong Beach
12PM – Check-out Charisma Beach
12:30PM – Boat ride back to Dumaguete Port
2:30PM – Check-in Harold's Mansion
2:45PM – Eat at Neva's Pizza
4PM – Quezon Park/Belfry Tower/ Catherine of Alexandria Cathedral
430PM – Eat at Sans Rival
4:50PM – Rizal Blvd (Tempura Eating)
Day 3 (Jan. 24)
7AM – Depart from Dumaguete to Apo Island
9:40AM – Start Snorkeling
5PM – Rizal Blvd again
6PM – Dinner at Jo's Chicken Inato
Day 4 (Jan. 25)
7:45AM – Dumaguete Public Market
8:10AM – Silliman University Anthropology Museum
12PM – Check out Harold's Mansion
12:10PM – Lunch at Foodnet
12:30 – 2PM – Standby at Rizal Blvd, 7-11, bought Silvanas at Sans Rival
2PM – Go to Sibulan Airport
5:30PM – Depart DGT to MNL
7PM – Arrive Manila
Transportation
Going to Dumaguete from Manila (and vice versa)
We booked roundtrip plane tickets from Cebu Pacific at PHP 1,476 each (including seat selection fee, no check-in baggage) during their seat sale. Both flights got delayed by 30 minutes or so. It's the first time in our experience with Cebu Pacific that the flights got delayed.
Also read: Dumaguete to Siquijor 4-Day Itinerary: Top Things to See and Do
Going Around Dumaguete
From Sibulan Airport to the town proper, a special tricycle trip cost PHP 100 to PHP 120. Going around the town is just the standard PHP 8 tricycle fare or you can also just walk to your destinations. That's what we did on some occasion.
There are also the Ceres Buses that can take you to other places in Negros Oriental like Bais and Manjuyod.
Going to Siquijor
Go to the Dumaguete Port and buy the earliest ride to Siquijor port. We took the GL Lines ferry boat for PHP 130 each plus a terminal fee of PHP 15 each.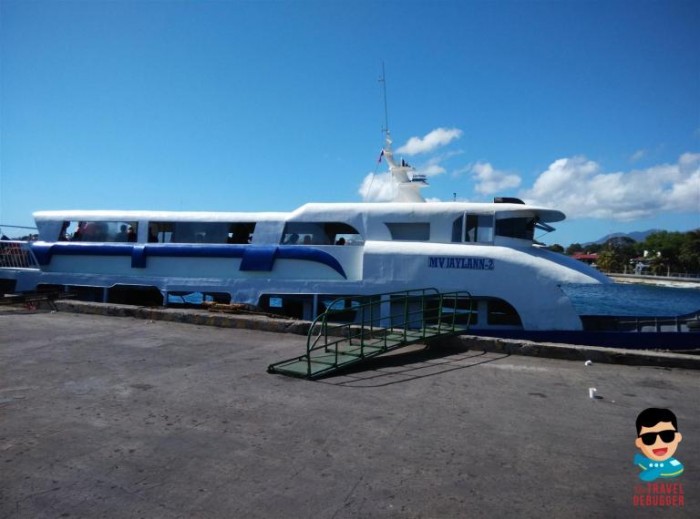 We boarded a fast craft ferry boat to Siquijor owned by GL Lines
Going around Siquijor
Upon arrival in Siquijor port, there are tricycles waiting at the terminal willing to take you to your destination for a special trip. We really didn't want to take it since it cost PHP 250 fare to San Juan Beach but they showed us their tariffs and it got us to agree. Upon arrival in Charisma Beach Resort, the receptionist told us that we should've rode a tricycle near the market where locals ride too. It will only cost us PHP 25 each to San Juan Beach (13KM). I guess for short distances, you will only pay PHP 8 for a tricycle ride.
For the Island tour, I'll explain it later in the Tours section.
Going back to Dumaguete from Siquijor
Well, we learned our lesson from our first day and on our way back to Siquijor port from the resort, we just flagged down a tricycle and just paid PHP 25 each.
We booked the earliest ferry tickets at the Siquijor port (Orlines) for PHP 120 each. There's a terminal fee of PHP 14.
Accommodation
In Siquijor
Charisma Beach Resort – 1 Night for PHP 1,400 in a beach front native bamboo fan room
I wanted to give my wife a laid back, lazy and comfortable stay in Siquijor. It should be like a mini-staycation for us. So when I found this room at Charisma Beach at an affordable rate, I immediately booked it.
The room was above our expectations! The queen sized bed is really big and there are two single beds outside our room ideal for taking a nap at the front of the beach. The toilet is clean and the water's strong. During the night, it was sooo quiet and peaceful. Time really is slow at this part of the world and we felt like we slept for 12 hours or so.
They also have a pool where you can take a dip. It's a nice addition to the resort so if you got bored beach bumming, then try relaxing in the pool.
The staffs are really friendly and accommodating too. We have no complaints whatsoever in this resort. Highly recommended!
We booked online through Paypal on their website.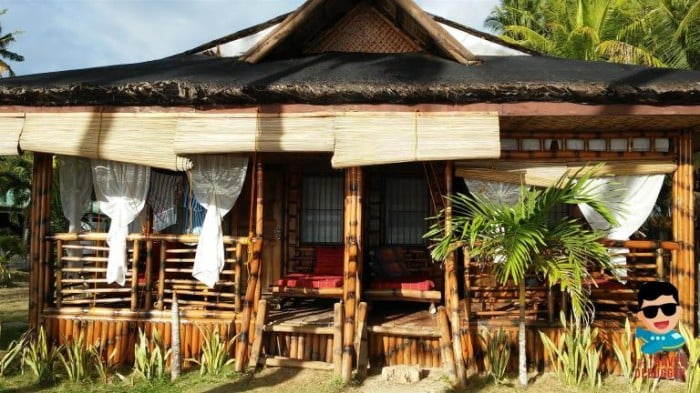 Our room is a native hut made of bamboo.
In Dumaguete
Harold's Mansion – PHP 800 per night for 2 nights (Private air-con room)
We didn't have high expectations on our stay in Harold's Mansion. For PHP 800 per night for a private air-con room, we just expect to have a nice clean bed to sleep at and a functioning air-conditioner.
Well it's good that they have a LED TV, hot and cold shower, but we didn't expect that they have free breakfast, too! Though it's just bread, toast, tea and coffee… it's still free! Plus, the drinking water is free, too. So you can fill your bottle or jug anytime.
Our only concern is the sink and the towels. The sink is clogged so we didn't use it again. The towels we "rented" (for a PHP 500 deposit but refundable upon check-out) stinks of cigarette smoke. That's what you get when you forgot to bring your own towel.
But it's still a nice stay as it is cheap with very nice location and they have great affordable packages to Apo Island and others.
For booking, you can contact them at their mobile: 09173024455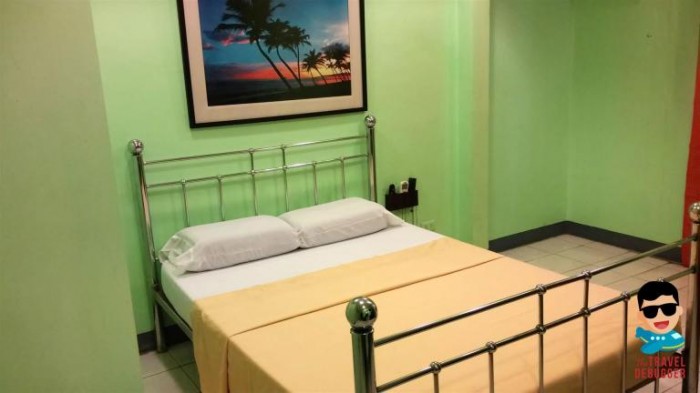 Our Private air-con room in Harold's
Tours
In Siquijor
We contacted Kuya Luloy as suggested by one of the members of Backpackers of the Philippines in Facebook for a half day Island Tour that consist of:
Old Enchanted Balete Tree (PHP 5 entrance fee each)
San Isidro Labrador Church and Lazi Convent
Cambugahay Falls (PHP 20 parking fee)
Salagdoong Beach (PHP 25 entrance fee each)
We explained to him prior to our trip that we require a tricycle for the tour, not a motorbike. But on his arrival at our resort, he still brought a motorbike with him. Good thing he asked a friend of his to take us on a tour in a tricycle.
Also read: How to Spend 3 Days in the Mystic Island of Siquijor
After the tour, we told the driver that Kuya Luloy and I agreed with PHP 800, but I think Luloy told the driver it's for P1,000. So we just haggled if he is okay with PHP 800. We're thankful he agreed.
All the places above are very nice, but we love Cambugahay Falls and Salagdoong Beach the most. We wanted to stay more at those two places, but due to time constraints, we have to cut it short. We started the tour at 7:30 AM and finished at 10:45 AM.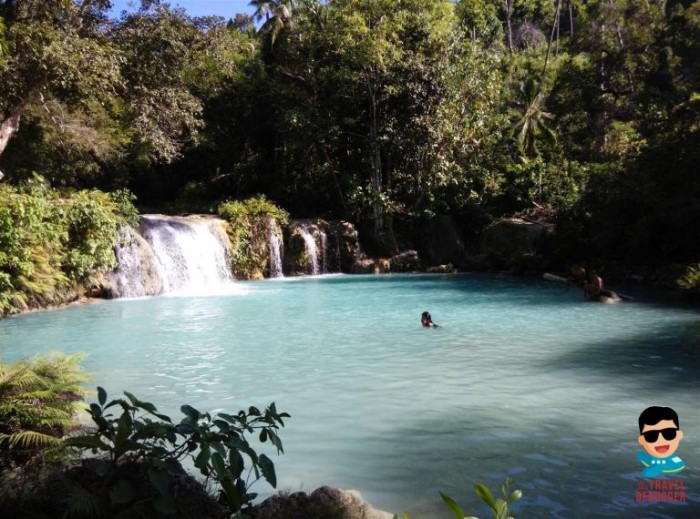 Majestic Cambugahay Falls
Tip: If you have a whole day for the Island tour, I suggest you spend more time at Cambugahay Falls and Salagdoong, especially Salagdoong. When we went there, it was low tide so I didn't get to jump at the cliff or slide down.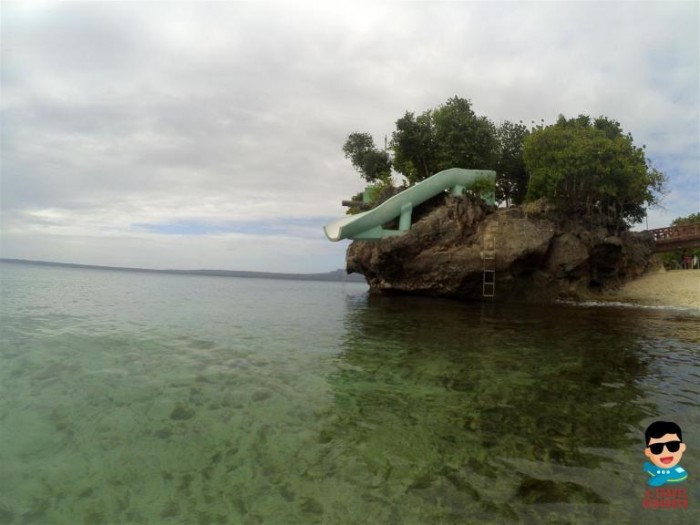 Salagdoong Beach
In Apo Island
We availed the Apo Island snorkelling package at Harold's Mansion for PHP 1,000 each inclusive of food, drinks, land transfer (to/from Dumaguete and Dauin), boat ride (big boat) to Apo, guide and snorkeling gears.
The experience was amazing and it brought out the adventurous side of my wife again. She never thought she would be able to snorkel in deep sea in her entire life but she did it! All she needs is a little push from me.
We saw sea turtles, clown fishes (Nemo), beautiful corals and volcanic bubbles. But aside from snorkelling, what made it more fun is the overall vibe in the boat where we get to chat with other travelers, the staff and just had fun.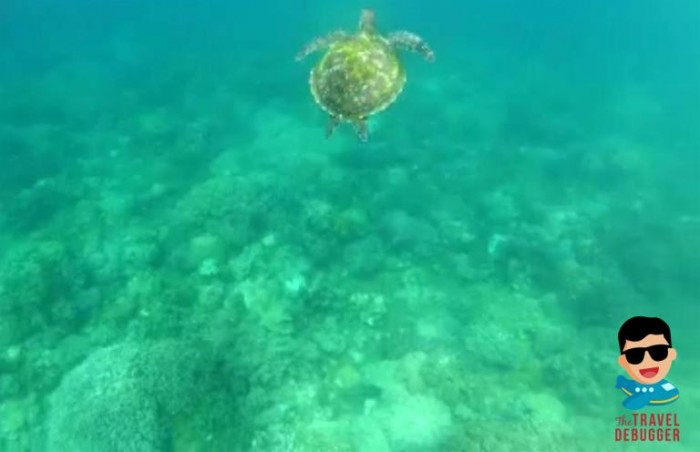 Hey there Raphael!
In Dumaguete
You can easily roam around Dumaguete either by walking or take a tricycle ride. Take a leisurely walk in Rizal Blvd, educate yourself at the Silliman University Anthropology Museum for an entrance fee of PHP 50 each (Photos are not allowed), listen to a mass in Catherine of Alexandria Cathedral or just simply eat around the city.
Also read: 15 Experiences You Must Have in The Philippines
You can also go to Twin Lakes and Casaroro Falls.
Food
Eat like a tourist
We ate at the following:
Neva's Pizza – Great and affordable pizza and pasta! We ordered the Kuripot Italian Sausage pizza for just PHP 115 and a shrimp and mushroom pasta for PHP 85. The difference between the Kuripot pizzas and the special pizzas is the cheese. The Kuripot pizzas are sprinkled with cheddar cheese while the special pizzas are sprinkled with mozzarella.
Sans Rival – Yummy desserts! Everybody knows this. When you are in Dumaguete, be sure to take home some silvanas with you!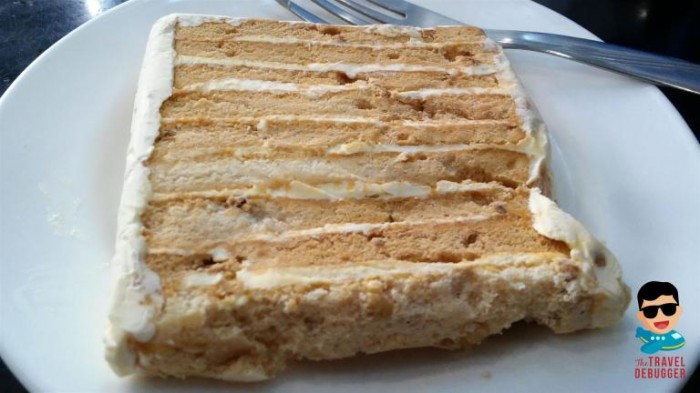 A slice of Sansrival is all you need
Jo's Chicken Inato – Their Inasal is good, but admittedly, I found Mang Inasal's inasal better. We also didn't like their Halo-halo that much. Still a great choice for dining in! Maybe we'll try other dishes next time as the price is also affordable.
Eat like a local
Around 5:00 PM in Rizal boulevard, there are vendors setting up tables and chairs for you to dine and eat tempura and balut. They offer kikiam (PHP 4), squid balls (PHP 4) and squid rolls (PHP 5). We particularly love the squid rolls. For PHP 4 to PHP 5 each, it's a great merienda.
Just near Harold's mansion, there is an eatery called Foodnet. We ate lunch there on our last day. The food is really affordable and tasty for PHP 30 to PHP 40 for one viand. You would know that the food's good when lots of locals (especially students) are eating. That's the case in Foodnet.
A trip to the Public Market is also nice. Try their Kabog (made from Millet) in the Painitan area where locals eat their breakfast. We also bought 1/4 of chicharon for PHP 120 which taste really great and not salty.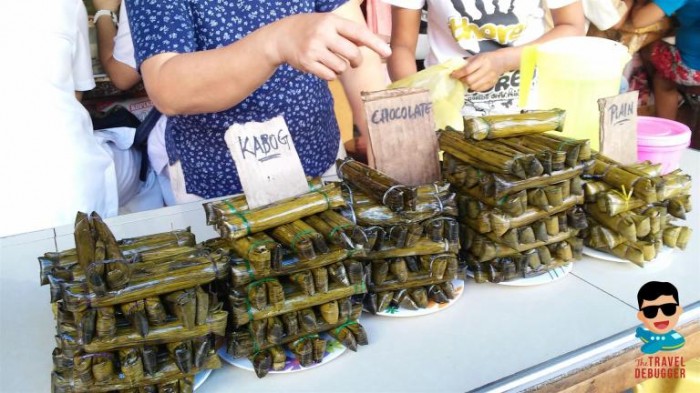 Try this at the Public Market!
Eat like a pauper
We didn't plan to eat out in Siquijor so we brought our own food there like canned goods, bread and cup noodles. Our plan worked since the resort offers Western food at Hotel prices. We also didn't want to go out of the resort just to eat so it's a nice plan to just pack your own food and lessen the cost.
I'm just not sure if you can cook your own food at Charisma but maybe you can in other resorts.
Expenses
Here is a summary of our Expenses for our 4 days trip in Dumaguete and Siquijor. Please note that shopping items and souvenirs were not included as this may vary per individual preferences. Food and drinks are shared between the two of us.
Dumaguete Siquijor Expenses
For a total of PHP 11,331 (PHP 5,653 each) for this experience, it is very well worth the cost. You can lessen the cost if you'll just stay at a dorm room in Siquijor or a non beach front room (But I tell you, the beach front room is fantastic). Also take the tricycles that are just passing by in Siquijor and insist for a non-special trip.
Also read: 15 Totally Underrated Destinations in the Philippines
For souvenirs, a fridge magnet cost around PHP 35 to PHP 50. A bracelet with your name hand painted in it is PHP 20. A box of Silvanas is PHP 140.
Hope this post helps you and inspires you to go to these places. Be not afraid of the mystical island of Siquijor as it is very beautiful. Be brave to conquer Apo Island and swim with the turtles (they're really cute!).  Be yourself in Dumaguete!
Feel free to drop by a comment or ask questions and I'll try to help you as much as I can.