Contributed by A Mary Road
UPDATE: I'm no longer an Au Pair but am still travelling at the moment.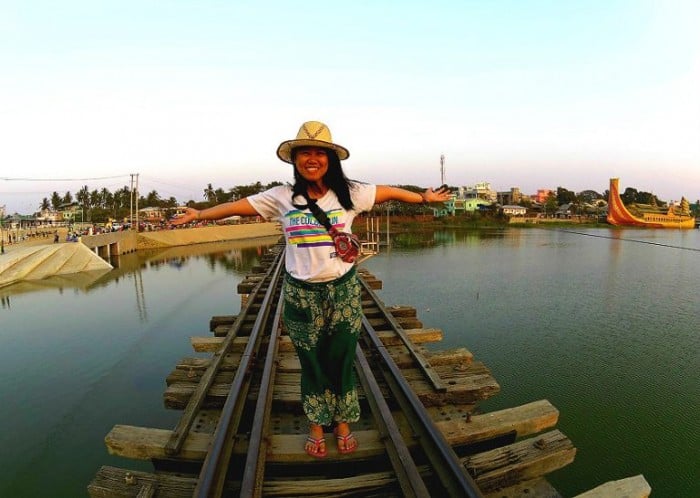 I started my travels as an expat working as an Au Pair in Denmark. Au Pair? What is that? Is it some kind of a food? Keep reading as I unfold how I, a young Filipina, started travelling.
I have been working as an Au Pair for 20 months now. I can say that this is the best way to start if you want to travel while you are in your mid-20s but are broke! Why is it that not so many Filipinos knew about this?!
Also read: 9 Ways to Get Free Accommodation While Travelling
I met plenty of Pinays as an Au Pair in Denmark, most of them coming from the Visayas. I wondered why people from Manila and other parts of the country do not know about this.
My sister got this program offer but she couldn't go. So, she asked me if I wanted to give it a try. While working as an Au Pair, I've come to realise that I also wanted to travel, learn a new language, meet new people, and experience a lot of new things!
It can be a bit scary; being away from your family and living with strangers is no joke. However, remember that you can always change your plans, go home or do something else. You only get one life, so enjoy it!
So here I am, I want to share my experience and convince young Filipinos to try this and gain experience from it.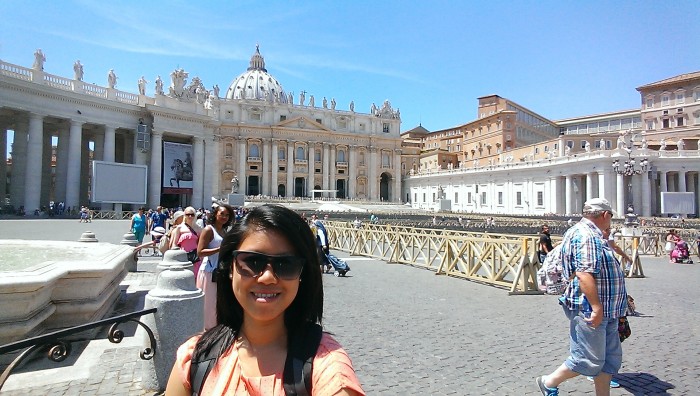 What is an Au Pair?
According to Google, an Au Pair is a young foreign person (typically a woman) who helps with childcare and/or light housework in exchange for food, accommodation, opportunity to learn the language, travel, and some pocket money. This arrangement is most popular in Europe and in the United States.
Filipinos can't be Au Pairs everywhere, but there are a few amazing countries that we can go and see the world! A few examples? There's Denmark, Norway and the Netherlands.
Also read: How I Did My Dream Europe Trip for Less than ₱100,000 (All-In)
What are the benefits of an Au Pair?
Between Denmark and the Philippines, the Au Pair scheme is not categorised as work. Instead, it falls between work and study. The purpose of this program is for cultural exchange between two different nationalities.
Among the things you will get from being an Au Pair include the chance to:
go abroad and travel
learn a new language
be exposed to a new culture
get five weeks paid holiday, once a year
It is important to remember that an Au Pair is not:
a maid or a housekeeper
a form of cheap labour
a slave
Requirements to be an Au Pair in Denmark:
Note: This may differ from country to country.
You must be 18-29 years old (both years included) at the time of application
You must not be married or be in a cohabiting relationship or a registered partnership
You must not have any children
You must not be expecting a child
Normally, you must not previously have held a Danish residence permit
You must not previously have stayed in Denmark as an Au Pair with different host families for more than a year
You must not have the same nationality as one or more members of the host family
You must not be related to one or more members of the host family
You should speak English
How long can an Au Pair stay with their host family?
In Denmark, an Au Pair can stay from six months up to 24 months maximum. However, if things don't go well with the Au Pair and the host, both parties have the opportunity to change an Au Pair or change a host. You are not obligated to finish the contract.
I changed once not because I didn't have a good relationship with my previous host but because I felt that the job was a bit too easy for me. It will be good if you want to change hosts then search for a new host within the same country you are already residing. You will have the chance to meet them (the new host) in person instead of try to see a good connection between you and the host you are talking over the computer. Don't be afraid to talk to your host, that's the best way to have the great experience being an Au Pair.
How much is my pocket money and who pays for airfare and insurance?
As an Au Pair, you get free accommodation, food and necessities at home. That's why even though your pocket money as an Au Pair is not a lot, it is still enough. When I started as an Au Pair I received DKK3,200 (~₱22,983) per month and after a year it upgraded to DKK3,260 (~₱23,414).
Good news! Since July 2015 all upcoming Au Pairs will receive DKK4,000 (~₱28,728). The airfare going to Denmark will normally be shouldered by the Au Pair. While the airfare going back home will be paid by your host if your home country is outside the EU (like my situation).
Insurance is one of the best factors: your host will pay this as long as you are staying with them. It covers everything from health insurance, travel insurance, accident insurance and even death insurance (not trying to scare you, but you are the one who will benefit from this).
In my opinion, the Au Pair opportunity is a great deal. I lived with a foreign family and I learned a lot from them. They were very open, sweet and like family to me. Even though I did not get much for my pocket money, I was able to save up so I can travel. I have travelled to Italy and France since I started to be an Au Pair. I was also able to come home for a visit after my first year.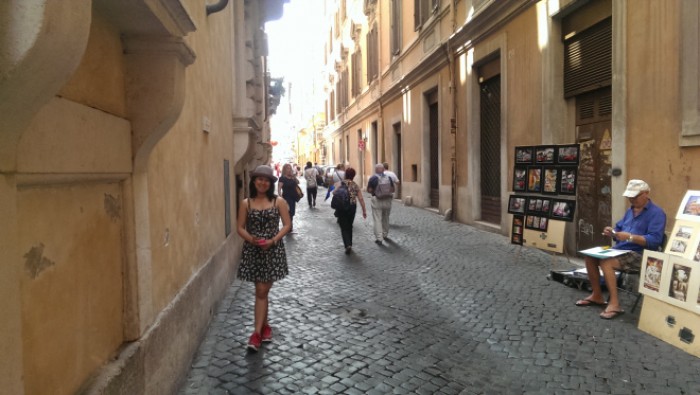 Me standing in a street in Rome, Italy
Also read: How Travel is Changing Me
Nothing will be easy in life but you have the control of yourself and the decision of what you want to do. It might be a little hard because, in the Filipino culture, we are expected to help our family, but it is still manageable. If you know what you want to do, start choosing your way to your goals and dreams.
Come out from your comfort zone and challenge yourself!