It's summertime, and you know what that means — inevitable sweltering heat. *Insert "oh no" groans here!* Add the fact that we live in a tropical country, where even other times of the year feel like summer, too. I suppose the bright side here is, there's always an excuse to have cool and refreshing treats. Fortunately, this is something that our local food scene has a lot of! 
There's truly no better way to beat the heat than with some cold summer treats. (Well, maybe aside from having our aircon on full blast, but you get what I mean.) That said, here are some of the best, yummiest, and coolest Filipino desserts to enjoy this season! Prepare for some serious sugar cravings ahead…
Also read: A Taste of the Philippines: Top 10 Food Destinations for Travellers
1. Sorbetes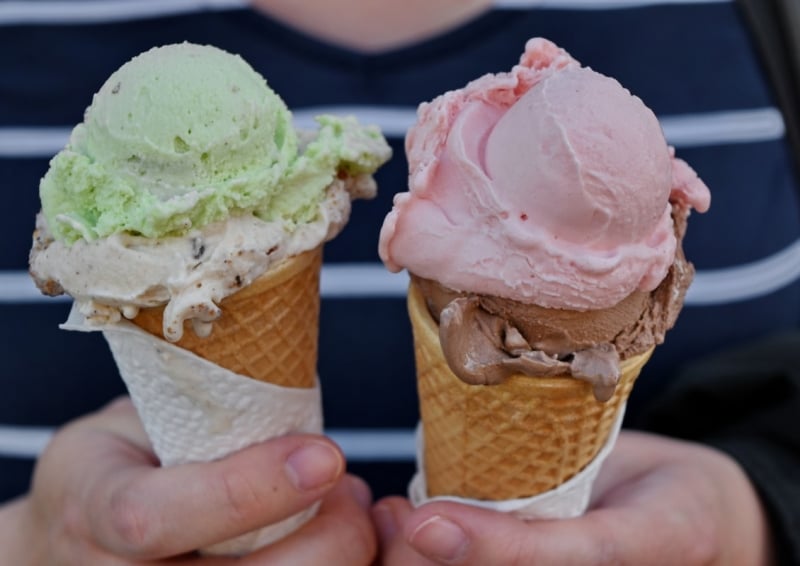 Otherwise known as 'dirty ice cream' (which it really isn't), sorbetes has been part of many a Filipino childhood through the years. Who could forget rushing outside their homes upon hearing the sound of manong sorbetero's handbells? What sets this classic Pinoy dessert apart from regular branded ice cream is its taste and texture. 
It's traditionally made from carabao milk and served in small scoops on wafer or sugar cones. But if you want a truly local twist, you can put the scoops in between a bun, like how some vendors do it! OG sorbetes flavours include cheese, mango, and chocolate. Though in recent years, there have also been newer flavours like cookies and cream,  avocado, and macapuno! 
2. Mais con yelo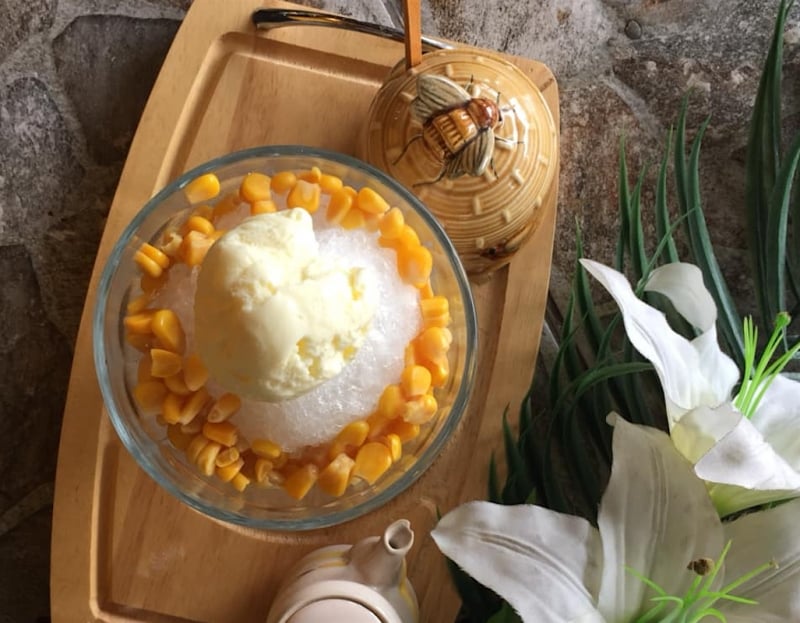 Mais con hielo essentially means "corn with ice" in Spanish. It consists of steamed corn kernels, shaved ice, sugar, and evaporated or condensed milk. But don't let the minimal ingredients fool you! It's one of the most flavourful Filipino desserts that's perfect for the hot weather. You can even sprinkle some cornflakes for added crunch! 
3. Avocado con yelo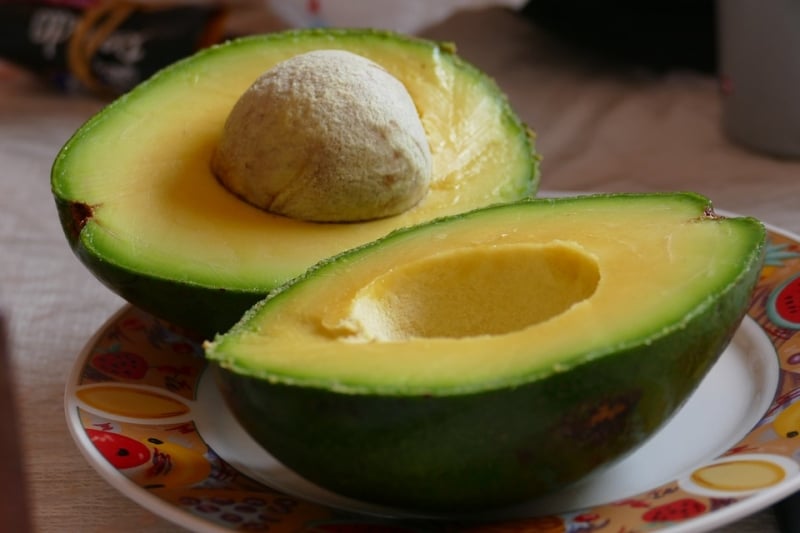 Avocado con hielo is quite similar to mais con hielo, except this one is more creamy than crunchy.  It's sort of like the snack or dessert version of avocado shake — made even sweeter with condensed milk! When slicing the avocados into smaller pieces, make sure to keep them chunky. You can also mash them up a bit, for a creamier overall taste! Avocado toast who?
4. Ice scramble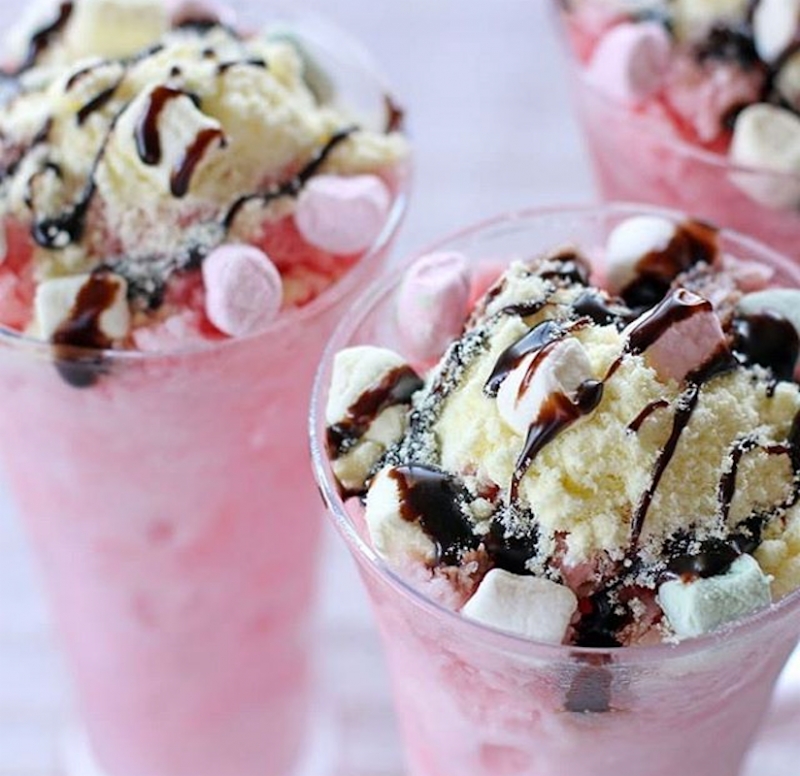 You either know about and like this Pinoy dessert or you don't, there's no in-between! Commonly referred to as 'iskrambol,' it primarily consists of milk, shaved ice, sugar, banana or vanilla extract, and various toppings. These toppings often include powdered milk, marshmallows, strawberry and chocolate syrup, pinipig (pounded rice flakes), sago, and sprinkles. You then mix 'em all together, hence the name: ice scramble. You can either make your own at home or head over to your neighbourhood street vendor! 
5. Sago't gulaman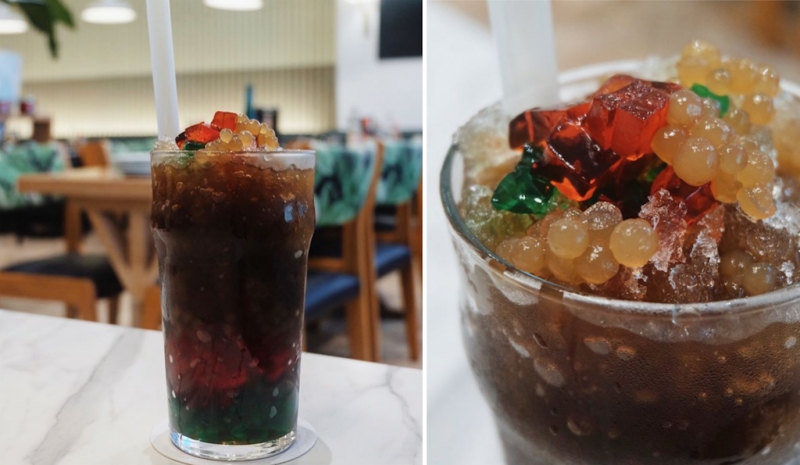 Ah yes, sago't gulaman — a.k.a. the king of all Pinoy palamig (refreshments). Its straightforward name says it all: a mix of sago (tapioca pearls) and gulaman (gelatin) with caramelised brown sugar and lots of ice. Add a few drops of vanilla or pandan extract if you're making it at home! Though if you prefer the ones from your neighbourhood store, best to pair it with savoury street food like isaw, kikiam, and fishballs. Yum! 
6. Guinumis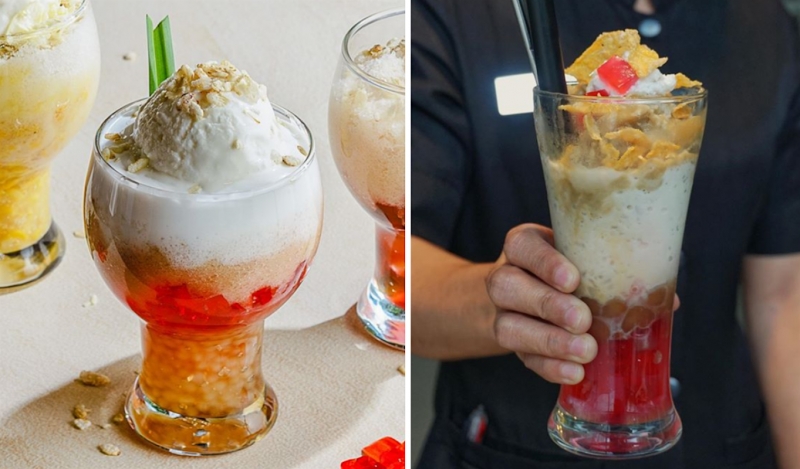 Guinumis is essentially a more elaborate version of sago't gulaman, with some resemblance to halo-halo. Nonetheless, it's one of the yummiest Filipino desserts you can ever try! It includes coconut milk, sago, gulaman,  toasted pinipig, caramel syrup, and pandan leaves — all mixed with shaved ice. Feel free to add a scoop of macapuno ice cream for a stronger coconut flavour!
This signature Pinoy dessert-slash-cooler perfectly blends creamy, sweet, and toasted flavours. Many provinces, as well as homegrown restaurants, have their own rendition; but hey, who says you can't concoct your own at home? 
7. Ube halaya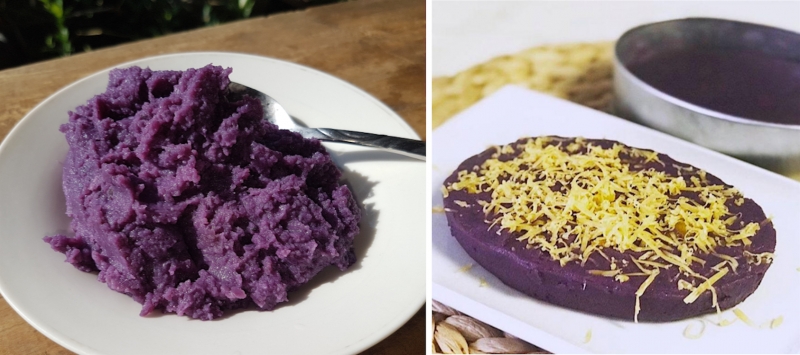 Ube (native purple yam) has gained well-deserved popularity in recent years. Aside from its vibrant hue, it features a sweet, mellow taste with subtle vanilla and nutty undertones. And nothing celebrates this unique flavour quite like ube halaya! 
This thick, creamy dessert consists of ube pudding, butter, sugar, and three kinds of milk: condensed, evaporated, and coconut. It often has grated cheese on top, for further goodness. Refrigerate it for a few hours for a cool summer treat! You can also use it as a base for other Filipino desserts and pastries. 
8. Mango float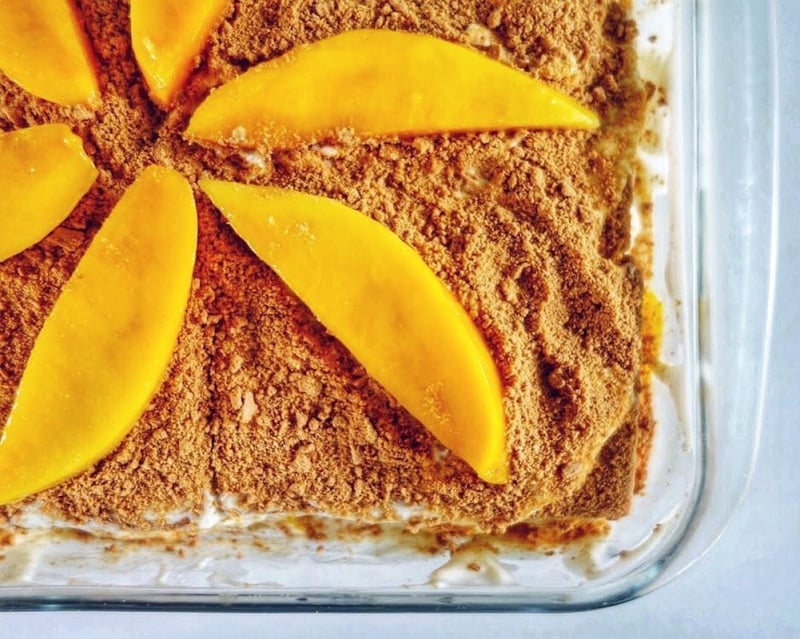 Who else remembers watching an M.Y. San Grahams commercial as a kid, where a woman briefly demonstrates how to make mango float? Its easy, no-fuss recipe all the more adds to its crave-worthiness. Otherwise called mango graham cake, this Pinoy dessert is made with layers of graham crackers, whipped cream, condensed milk, and ripe mangoes. Chill it for a few hours for a cake-like consistency. Alternatively, you can also put it in the freezer and serve it like ice cream! 
Make sure to use ripe Philippine mangoes, which have a juicy, sweet taste unlike any other. And the best part? Summer in the Philippines also happens to be mango season! So, better make the most out of it — and whip up as many mango floats as often as you can. 
9. Turon a la mode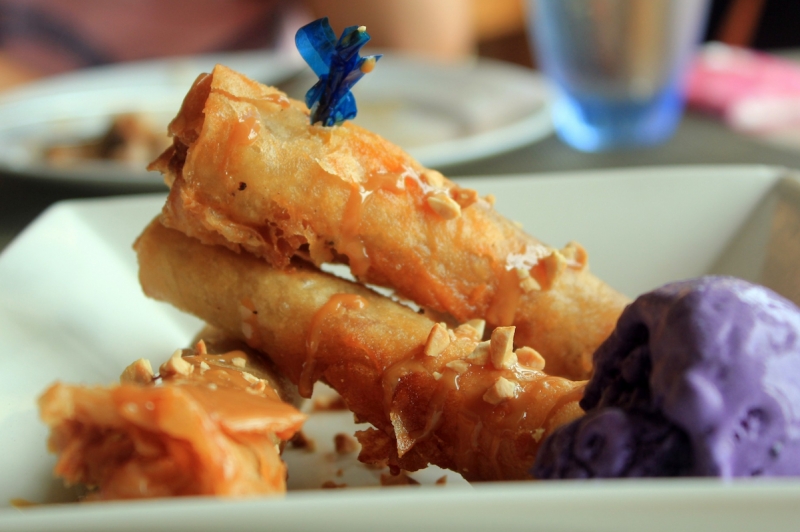 Turon is a popular fried snack made of brown sugar-glazed bananas and/or langka (jackfruit) slices, all rolled in lumpia wrapper. Best to eat it fresh off the pan, and then add a scoop of ice cream. Don't forget to drizzle with chocolate or caramel syrup. Or if you're feeling a bit extra, you can top it off with crushed cashew nuts. And voila — you have yummy turon a la mode! 
10. Buko pandan salad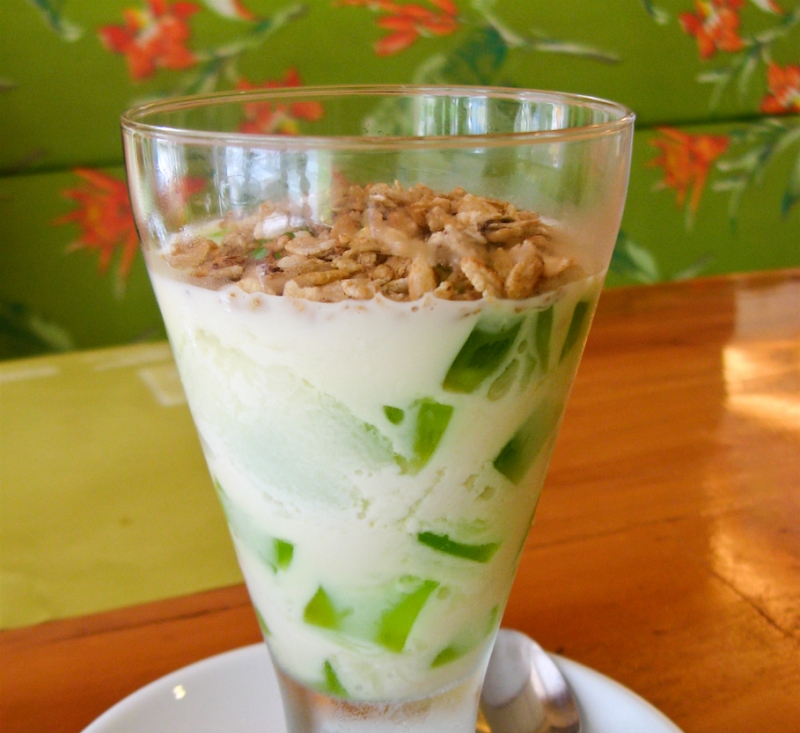 Have you ever seen a dominantly green salad that actually doesn't include any veggies? Well, that's buko pandan salad for you! Its basic recipe makes it quite a hit — especially when it's summer and you just don't want to, like, move around so much. All you need are buko (young coconut) shreds, pandan leaves, gelatin, cream, and condensed milk. Feel free to add some pinipig, nata de coco, and kaong for more chewy goodness. Refrigerate for a few hours and serve chilled! 
11. Halo-halo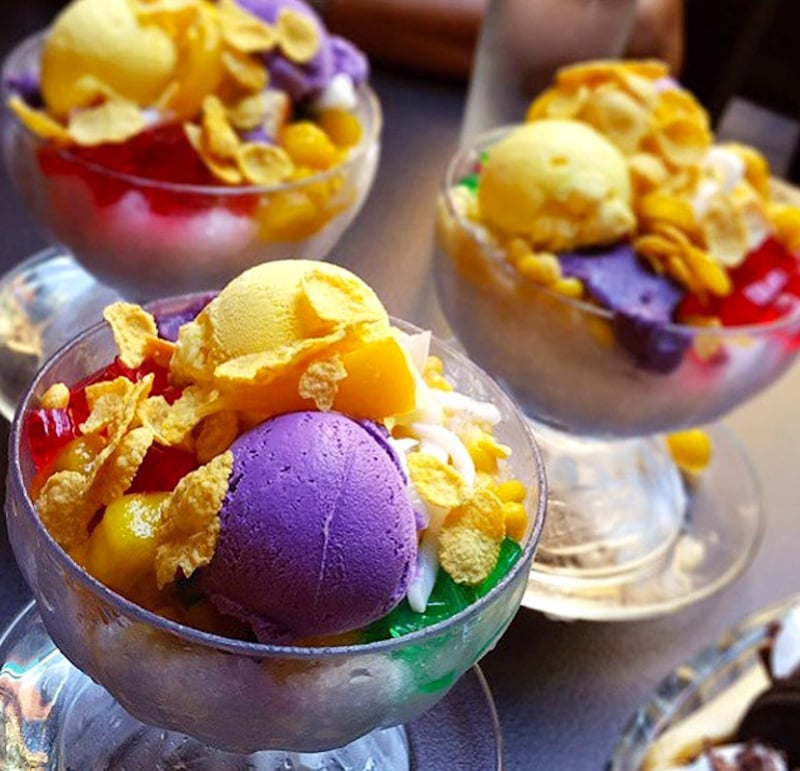 And of course, you can't forget halo-halo: the Filipino dessert to end all Filipino desserts! Literally translating to "mix-mix," it's a colourful mishmash of different local ingredients and crushed ice. Apart from being an iconic summer treat, it's also one of the most distinct Pinoy concoctions ever. (Kung hindi ka pa nakakakain ng halo-halo, Pinoy ka ba talaga?)
Similar to guinumis, it has different versions depending on locality and/or personal preference. But the general formula includes: a starchy base like ube or red beans; sweet fruits like langka, saba banana, and coconut slivers; add-ons like sago, kaong, and gelatin; and evaporated milk — lots and lots of it! Best to top it all with some pinipig, leche flan slices, and a scoop (or two) of ube ice cream. How's that for variety? 
Also read: 10 Best Filipino Dishes To Keep Foreign Friends Hooked on Pinoy Cuisine
If this doesn't make you want to head to the kitchen and whip up some of these, then I don't know what will! Which of these signature Filipino desserts are you craving the most? (I know, I know, it's hard to choose just one.) 
Don't forget to share with us your food photos and stories afterwards! Tag us on Instagram at @tripzillaph, and use our hashtags #TripZillaPH and #MakeTravelHappen!