One of the biggest challenges when travelling to a foreign country, or even just interacting with a different nationality, is the language barrier. One wrong interpretation and reply could get you lost, confused, and maybe even frustrated. Although the struggle is a constant one, the most you can do is to suck it up and laugh at it. Besides, everyone experiences it, including the person who speaks differently from you. Here are instances maybe you can relate to!
1. Answerable by a yes or a no…NOT!
"When we went to Macau and attempted to cross the border to China via the Gongbei Port in Zhuhai, we approached an officer and asked how to get to the Immigration Office. He replied 'Yes, yes!', and that's it! He said nothing afterwards. We were left clueless on what to do and where to go."
Also read: 9 Struggles Filipinos Travelling Abroad Totally Relate To
2. I have failed you Mother Earth! I have failed you!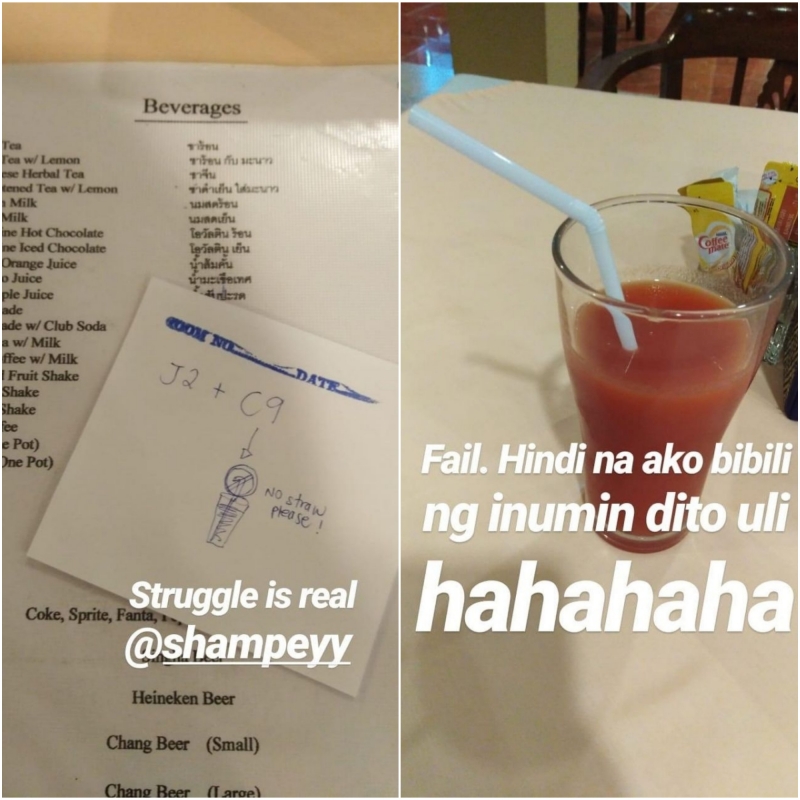 "As an environmental advocate, the biggest problem I have during trips is how much waste I produce. It's easier for me to explain why I refuse single-use plastics when I'm in the Philippines, but I'm still trying out different methods in foreign-speaking countries. Last month in Thailand, I tried drawing out my 'No Straw Please' request on a piece of paper because the waitress couldn't understand me when I spoke in English, hand gestures and all. A few minutes later, she arrived with my order, and it still had a straw. She mistook what I said with 'No Sugar Please.' So there I was, sipping a bland drink, all for the love of Mother Nature."
3. When they only know how to greet you in English…
"In Vietnam, the Airbnb we booked provided airport transfers. Upon arriving, our designated driver started speaking to us in English so we assumed that he was fluent in the language. It turns out he only knew a few phrases.
After he asked if our flight was okay and if we needed to pass by a convenience store, we started asking him questions: "Has it been raining frequently?" "How far is the nearest convenience store?" "How long will the drive be?" We were wondering why he wasn't responding and we thought it was a bit odd. We actually started to think that we might have done something to offend him because he looked a bit flushed.
When the stoplight finally turned red, he raised his arms and shook his head vigorously while saying no — his way of telling us he didn't speak English and could not understand our questions. We apologised and he laughed it off. He told us to message the owner of the Airbnb for all our questions instead."
4. Thank you, Google Translate!
"While in Vietnam, one of the places I went to was Bắc Kạn province, which is not really a usual destination for tourists. It's more of side/day trip so there's not a lot of people who speak English there. Still, I stayed for three days and my friend from Hanoi who grew up there suggested I explore the place with her friend, who speaks zero English. So for two days, we went around together with only Google translate. Legit pasahan kami ng phone when it's our turn to speak. Probably the only time na ginagamit namin boses namin tuwing magkasama is when laughing."
5. Poke!

"In Taiwan, I stayed in a dormitory that's popular among locals who move to the city to study or work. By the end of my trip, dahil clingy ako even though I didn't make friends with them, I gave them food as farewell gift lang. Then one of them sobrang natuwa so we added each other on Facebook kahit he doesn't speak English. Turns out mas clingy siya sakin and for six months now, we keep in touch via the 'Poke' feature of Facebook. Like we don't talk at all, pero we do it every day just to remind ourselves na hindi pa nagkakalimutan I guess. Haha."
6. Just another day in the office…
"For someone like me who is working in a Japanese-owned company, talking with Japanese people is part of my job description. This can be very challenging especially when I need to talk to my Japanese boss who does not speak nor understand much English. A good example would be every time I try to present a proposal to him. There are just words, phrases and sentences that he can't understand. Thus, as my way of letting him understand me, I try to act out the things I want to say in the form of hand gestures."
7. When hand gestures backfire…
"When I went backpacking in Germany, I was so excited to try one of their most famous delicacies: the sausage. Back in Manila, I would always order a German sausage with a Bavarian sweet mustard when I'm eating in a German restaurant. So, when I actually got the chance to eat in an old authentic German restaurant in Hamburg, I pointed and read the Weisswurst (white sausage) in the menu and said "und susser senf (and sweet mustard)" while making an action of a small bowl using my hand. Not very confident in my ability to speak the words in German but trying my best to appear local, I said it in a low and soft voice. The waitress seemed to have understood it so I thought everything was okay, until she brought back my order with no sweet mustard but with an extra…. saucer."
8. Para kaming mga bulag…
"In 2012, my friend and I went to Japan for a summer internship, equipped only with a crude knowledge of the Japanese language. Three weeks in, we wanted to try this famous patisserie called Tsumagari. We went to the general location posted on the Internet, but weren't sure where exactly it was or what landmarks to watch for. We kept reading Hiragana and Kanji characters to look for those that spelled "Tsumagari". For a long time we paced back and forth looking for the sign. Finally, we found it — not in Kanji or Hiragana — but in English."
9. Typical cab trouble!
"I went to Bangkok with my class for a conference. We were going to the downtown area to explore, so we rode the most convenient mode of transportation for us — cabs. Now, since we didn't speak Thai, we showed the cab driver where we wanted to go via our phones. Since we were a pretty big group, we were in three different cabs and we noticed that even though we were going to the same place, our rates were so different from one another. Because we couldn't speak the language, we couldn't raise our concern and talk to the drivers regarding them using longer routes which made the metre go up."
10.  Had to go pee!
I was in a big mall in Bangkok and I had to go pee. I was quickly mulling over how I would ask where the restroom was so I would be understood better. For some stupid reason, I resolved to ask by saying "Where's the C.R.?". I thought the abbreviation of Comfort Room was simple enough to understand. But the girl who I asked only laughed nervously and shook her head. I should have said "washroom" instead of "C.R.". Silly me…
Also read: 15 Struggles of a First-Time Filipino Traveller Abroad
As hard as you try to overcome the language barriers when you're travelling, sometimes no amount of preparation is going to cut it. I guess it's safe to say that you'll always need a little bit of luck aside from research when dealing with different languages. We definitely hope that luck is on your side the next time you talk to someone who speaks a foreign tongue!