Featured image credit: Alden Richard's Official Instagram
This is the only movie that can make the words "I don't love you" sound romantic. Blame it on the chemistry between Ethan (Alden Richards) and Joy (Kathryn Bernardo). Director Cathy Garcia-Molina was able to bring out the best in them considering they come from different love teams of the rival networks, ABS-CBN and GMA. Alden rose to fame with Maine Mendoza in GMA 7's #AlDub, while Kathryn is the other half of ABS-CBN's Daniel Padilla, her reel and real-life boyfriend.
Hello, Love, Goodbye follows the lives of Joy Marie Fabregas, a hardworking no-nonsense OFW who has the busiest schedule on earth, and Ethan del Rosario, a happy-go-lucky bartender and a ladies' man, who has all the time in the world to pursue Joy. Their story is one filled with struggle, misunderstanding, to eventual acceptance and love. Here are more Hello, Love, Goodbye lessons on life and travel you should know!
It's not always rainbows and butterflies
View this post on Instagram

We salute all hardworking OFWs who have to juggle more than one job just to make ends meet.  In the movie, Joy in particular, barely had time to rest, let alone, eat at a slow pace. Like many OFWs, she kept up a strong front, hiding the stress that often went undetected during video calls with her family in the Philippines. Who knows what other hardships OFWs could be concealing just to provide for the basic and material things that their families need back home? #truthhurts
Travel or living overseas might sound convenient but you pretty much get the real picture in the movie. There are struggles and realities abroad that nobody normally talks about.
Living like a local
It was reported that the actors were told not to get in touch with their loved ones back in the Philippines during their shoot in Hong Kong. Additionally, some dialogue was spoken in Chinese to show how OFWs adapt to the local culture. Scenes with OFWs consisted of actual OFW extras so that the actors could interact and understand them more deeply. These things added rawness and authenticity to the film. Likewise in travelling, it always pays to travel less like a tourist and more like a local. 
Knowing your priorities
Ethan came from a relationship where he prioritised the girl he fell in love with which compelled him to sacrifice his family's needs. Joy, on the other hand, put her family first causing her to sacrifice her relationship. But that's how life is. When you prioritise something above another, you win some, you lose some. 
Same with travelling — you have travel goals, and sorting your priorities will help you achieve these goals even though they may come at a cost. You might even want to consider some life investments before you jump into the travel bandwagon.
Self-love is not being selfish
Joy showed us her selflessness because, in every decision she made, she always prioritised her family. We tend to put other people first before ourselves. Hit pause, then reflect on the last time you decided to choose yourself. Don't feel guilty — go out there, travel, and live the life you deserve.
On letting go and moving forward
This movie taught us that we can't ask the person we love to choose between a career or relationship. Both parties will just end up in frustration and heartbreak. If what you both had was truly love, then you'd allow the other to grow even without you. You would set them free. (Raise your hand if you're part of the female population who got teary-eyed in this part of the movie!)
When travelling, you sometimes fall deeply in love with the place (or even with a stranger). Yes, travel sepanx is real, but don't allow that clingy emotion to get the better of you. There's still so much more of the world to see, and you won't be able to do that if you're stuck in one place. Besides, you can take a piece of your favourite place with you in the form of memories and souvenirs!
There's more to a destination than what you know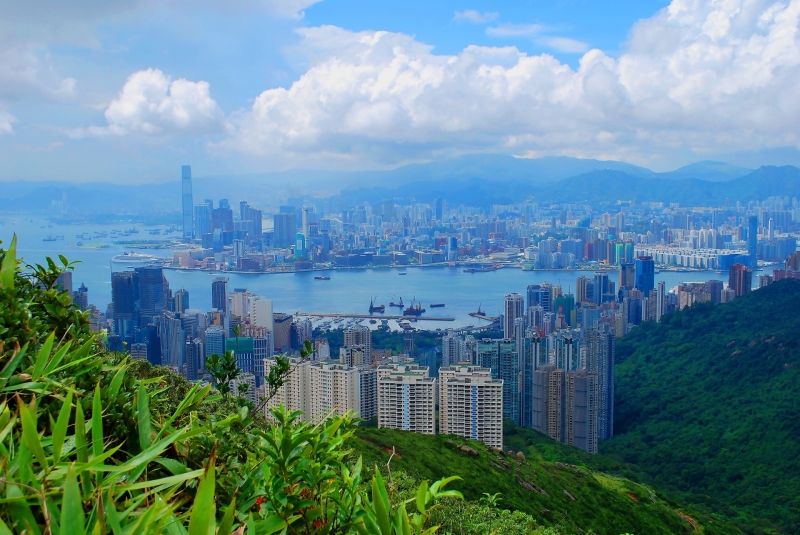 In the movie, Hong Kong is stripped of the glamour and excitement it's typically known for. The movie shows the raw and #unfiltered side of HK where OFWs are not allowed to take two legal jobs, where employers own half of the domestic helper, and where an OFW's salary is sometimes haggled just so they can keep their job.
On a positive note, Hong Kong was also the place of self-discovery, possibilities, and a newfound love for both Joy and Ethan. It's where enduring friendships were made, and a beautiful love story began. This, perhaps, made all the struggles and sacrifices worth it, especially for Joy.
View this post on Instagram
It all began and ended at the airport. Let me leave you Joy's closing hugot.
"May mga lugar na pangmatagalan. May mga lugar na dinadaanan lang. Parang Hong Kong. Katulad ng tao. May mga taong dumadaan lang sa buhay natin. May mga taong babaguhin ka pang habambuhay. Ikaw iyon Ethan. Salamat." 
Editor's Note: As of this writing, there are still ongoing protests in several parts of Hong Kong. Malacañang has already issued a travel advisory for Filipinos. Read our Hong Kong protest coverage for the latest news and updates.