Seeking sustainability even in entrepreneurial endeavours is not exactly a new concept — especially in Hong Kong, where the government has drawn up plans of achieving zero-net emissions by the year 2050. That said, Hong Kong has been making strides in positioning itself at the forefront of sustainability efforts in Asia. But what exactly fuels eco-forward economic growth? Is there a way to strike that perfect balance between thriving economically and safeguarding the Earth's longevity?
We take a look at three of Hong Kong's lauded examples of sustainable business to give us a sneak peek into a core element of green ventures — something that's intrinsically basic to human beings yet so overlooked: genuine care. Now more than ever, in their search for environmentally responsible profitability, Hong Kong creates an atmosphere that cares just as much for the planet as it does for the people, their livelihood, and their culture.
As seen through the operations of a closed-loop bar, a Michelin Green Star restaurant, and a zero-waste grocery, we'll discover how sustainable businesses in Hong Kong create a radical culture of care that redefines the way people consume; hence, a ripple effect that perhaps starts with a simple purchase — a drink, a dish, or maybe even some groceries — but ends up flourishing at home.So, the next time you travel to Hong Kong, why not make a conscious effort to support its sustainable businesses? Who knows, that trip might just be the spark you need to care a little more about the Earth, too.
Penicillin: a "closed-looped" bar along Hollywood Road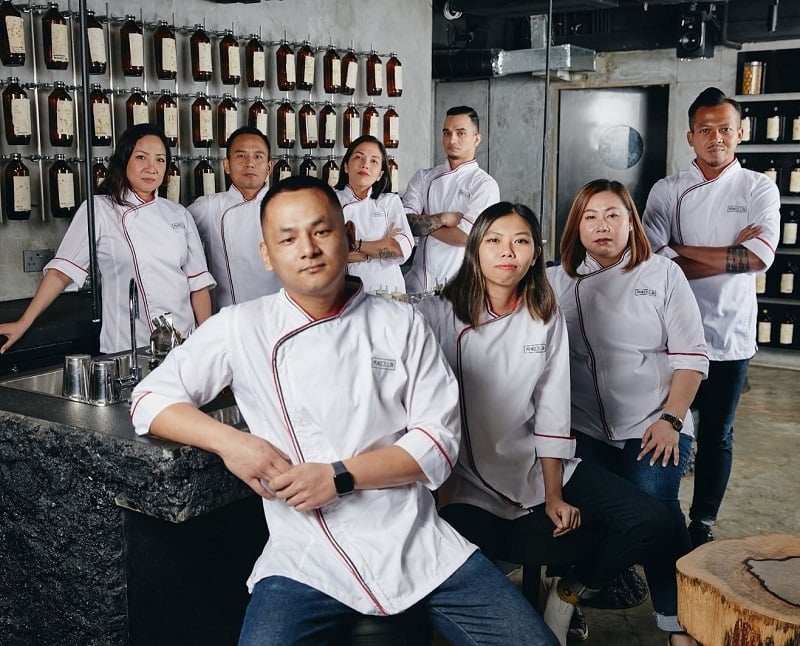 Named after miracle medicine developed by physician-scientist Alexander Fleming in the 1920s, Penicillin — a "closed-looped" bar in Central, Hong Kong — embodies something quite similar: a cure to the ever-growing problem of waste management in the food and beverage (F&B) industry.
Penicillin was a pandemic baby, so to speak. The great minds behind it, Agung Prabowo and Roman Ghale, brought the entire concept to life with their wives Laura Prabowo and Katy Ghale. Agung and Roman hold titan status in Hong Kong's bar scene, having been with The Old Man Hong Kong — a mainstay on Asia's 50 Best Bars and its first placer in 2019. In 2020, The Old Man Hong Kong placed second on the list; so when the duo opened Penicillin later that year, it created quite the buzz. People were curious to know what Agung and Roman were brewing this time around.
To everyone's surprise, they put the spotlight on eco-forward practices in F&B. In fact, they did this so well, Penicillin was given the Ketel One Sustainable Bar Award in 2021 by 50 Best and its sustainability partner, Food Made Good Global.
Rethink the rubbish bin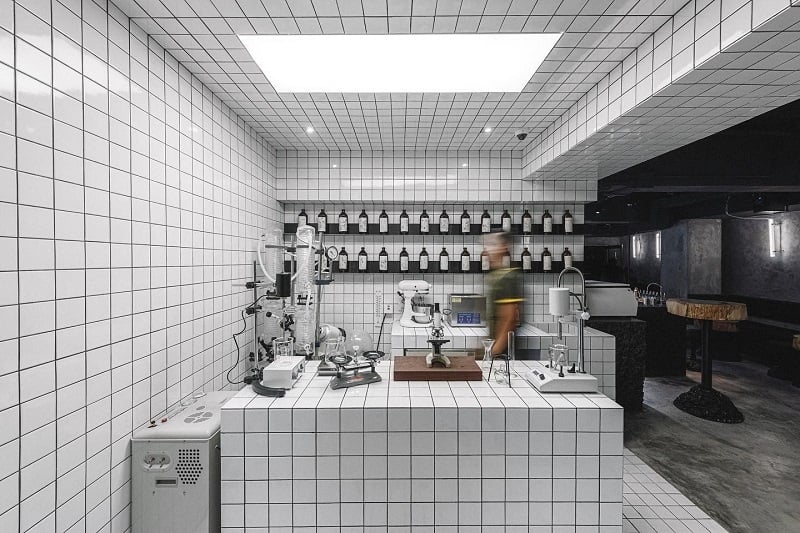 At the core of it, Agung tells 50 Best that the pandemic really pushed their reinvention and that he invites colleagues in the industry to "get to know the real meaning of sustainability." Agung found this by committing to mindfulness; he always reminds his team to "think twice before putting anything in the rubbish bin." After all, Penicillin operates on a closed-looped model, where the goal is to eliminate waste by reusing, recycling, and upcycling, and not breaking the rhythm. 
More and more, rethinking the rubbish bin became a way of life for the team at Penicillin. You'll see it at the main bar, with wooden furnishings made from trees toppled over by past typhoons or items taken off the hands of restaurateurs who had to close shop. The rest of Penicillin's closed-loop identity rests in its kitchen, laboratory, and fermentation room. The last two are where most of the magic happens; and by magic, we mean the science-based processes (like fermentation) through which food scraps are processed for ingredient reuse and safe consumption. 
The road to going "scrap-less"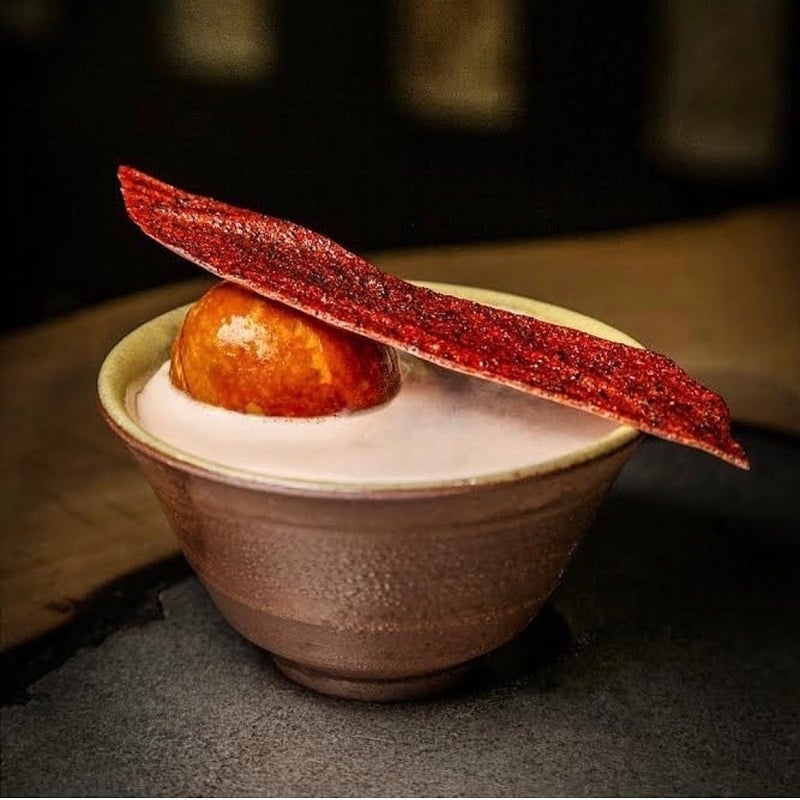 On the road to minimising its carbon footprint by aiming to go "scrap-less," Penicillin also paves the way for the invention of ingenious ingredients. Take, for example, upcycled vermouth and fruit pits that double as yummy ice cubes. In the same vein, Penicillin is no stranger to foraging for ingredients around Hong Kong and sourcing local as much as they can.
Taking things a step further, Penicillin partnered with ecoSPIRITS, a circular alcohol distributor based in Singapore that eradicates the need for single-use glass. Through ecoSPIRITS, Penicillin is able to cut back on the packaging waste. To top it all off: Scrap ingredients from Penicillin's sister bar, Dead&, never go to waste because they're transported directly to the former's laboratory and fermentation room.
Who would have thought scrap cocktail ingredients could also star in bar chow? Pair your drinks with Penicillin's roster of "Lab Food" — such as Ultrasonic Fries and Koji Fried Chicken (KFC) — to see how the dishes' flavours live up to their groovy names. 
Visit Penicillin
Top tip for your visit to Penicillin: Order the cocktail One Penicillin One Tree. For every glass that's ordered, Penicillin plants a native tree in the endangered Kalimantan rainforests of Borneo, Indonesia. A third-party organisation called Green Steps Group lets you track your contribution to the rainforest and updates you with proof of planting. Plus, you get to taste Penicillin's signature "climate-positive" concoction that brings together the tartness of apple skin whisky and homemade apple cider, the cooling creaminess of sherbet and burnt milk, and the herbal notes of turmeric. Cheers!
Address: Amber Lodge, L/G, 23 Hollywood Rd, Central, Hong Kong
Roganic: a Michelin Green Star restaurant at Causeway Bay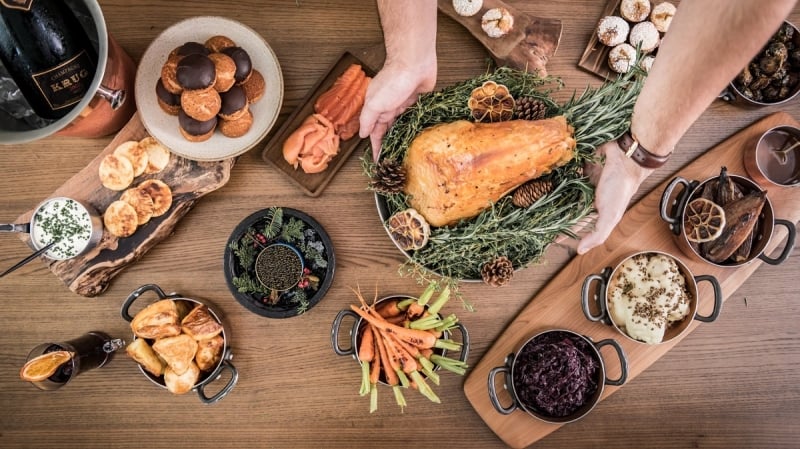 Chef Simon Rogan is no stranger to the culinary world with two Michelin stars under his belt, and he brings his brand of fusion delights to Hong Kong — with an insatiable appetite for sustainability. His restaurant Roganic, located in Sino Plaza at Causeway Bay, was awarded by Michelin thrice in a row from 2020 to 2022, when it was among the first few brands in Asia to receive a Michelin Green Star. In case you were wondering, yes, it's the same highly coveted Michelin Star that's made even harder to attain since it takes into consideration a restaurant's eco-friendly practices. 
Right off the bat, Roganic's posh, forest-inspired interiors make its pro-environment stand known. It offers quite the contrast to Sino Plaza's very commercial appeal, and this is perhaps a sneak peek into how Roganic marries cosmopolitan living and curated mindfulness in the kitchen. You'll see raw ingredients in full display, in glass jars and bottles — a hint of the seasonal flavours you're bound to come across in Roganic's ever-changing menu.
Keep sourcing close to home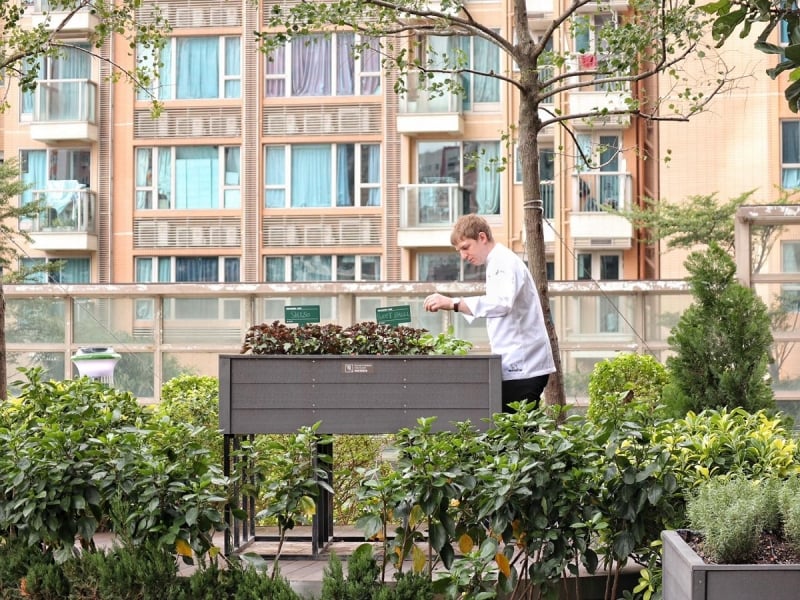 It's only natural that Roganic powers its seasonal menu with local, seasonal ingredients. If they don't grow the ingredients themselves, Roganic makes sure it's sourced near where they are to help cut back on the carbon emissions caused by food transport. Plus, its farm-to-table approach allows Rogan and his team to support livelihood in the New Territories. Roganic's head chefs not only helm the kitchen; they also take time to personally roam Hong Kong in search of unique, homegrown ingredients that give their dishes distinct flavour profiles.
Therefore, dining at Roganic is, in a way, a gastronomic tour of Hong Kong's farms. And the menu's seasonality assures you that you'll taste a different side of Hong Kong with each visit. Much like how Roganic's citrus-cured salmon or soda bread and cultured brown butter lingers on the palate, these signature creations might just want to make you stay longer in Hong Kong just to see (and taste!) more of the city.
Also read: A Guide to the Best Cycling Trails in Hong Kong
Bringing together like-minded folks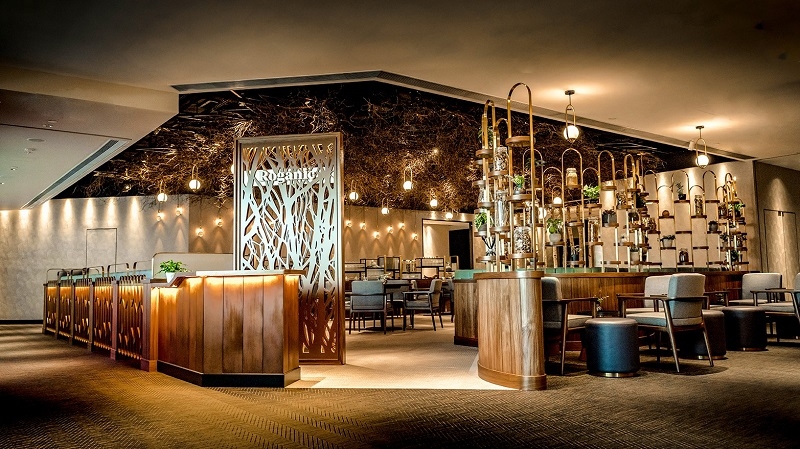 In October last year, Roganic brought together chefs who advocated for the same cause: sustainability in the kitchen. They hosted a luncheon as part of a series titled, "Roganic and Friends of Sustainability," where the restaurant spearheads exchanges on climate change and how the F&B industry can help. Amazingly enough, Roganic sourced ingredients for this event from farms "within a 160km radius" of Hong Kong; it was their way of telling people that it is possible to source closer from home — even in Hong Kong, where about 90% of its food is imported from abroad. Restaurant owners and foodies alike just need to know where to look.
Of course, Roganic also makes an effort to rely less on plastic. Case in point: They employ a plastic-free filtered water system, care of the water purification company, Nordaq.
Visit Roganic
Top tip for your visit to Roganic: Whether you opt for the Short Tasting Menu (nine courses) or the Full Tasting Menu (12 courses), pay attention to the friendly staff who know the dishes and tipple by heart. They will tell you where ingredients were sourced, so take notes in case you'll want to go on farm tours in Hong Kong. Alternatively, grab the opportunity to converse with Roganic's head chef by getting a seat at the Chef's Table!
Address: Sino Plaza, UG/F 08, 255 Gloucester Rd, Causeway Bay, Hong Kong
Slowood: a zero-waste grocery with branches across Hong Kong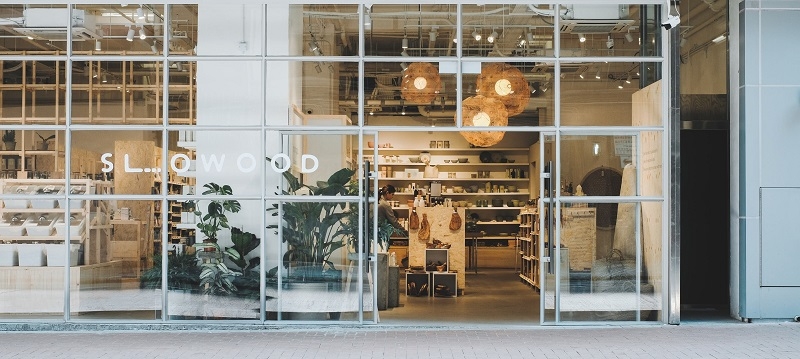 For most people, the only thing that's stopping them from making more sustainably sound lifestyle choices is the convenience of accessibility. Slowood, a zero-waste lifestyle hub and grocery store with branches across Hong Kong, takes care of this major hurdle. Slowood founders and husband-and-wife tandem Jeff Chen and Dora Lam know this very well because they struggled with the same exact thing before their daughter was born.
Wanting the best for their firstborn, Dora was looking to source only organic, food-safe, and non-toxic items in time for the baby's arrival. The only problem was, they had to run around the neighbourhood and head to different stores just to get their groceries done. Even then, it wasn't an assurance that stores had what they needed in stock. Thus, the first-time parents' lightbulb moment; inspired by a zero-waste community store they encountered in New Zealand, Jeff and Dora went to great lengths to put up their very own sustainable concept store in Hong Kong. Along with their daughter, Slowood was born.
Make sustainability accessible, homey, and chic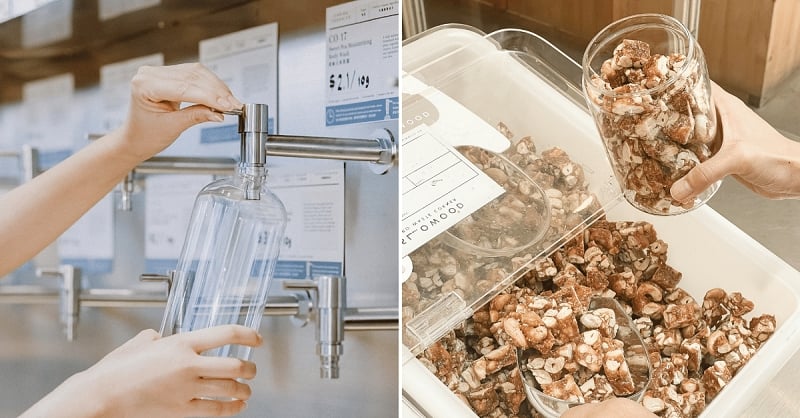 Now, Slowood has four branches across Hong Kong that cater to major areas. In effect, the brand has created a community that cared more about what they were putting on their skin; how their food was being processed; or the ways their home decor impacted the environment. Slowood carries a multitude of products, from raw ingredients, pre-prepped meals and skincare to ocean-safe cleaning agents and even herbal health supplements. It continues to expand and evolve to become that one-stop-shop for everyone — the perfect springboard for beginners making the sustainable switch and a haven for those who've been this lifestyle-specific for a while now.
Additionally, Jeff and Dora stress the importance of "selling" the lifestyle. Sustainability doesn't sacrifice aesthetic or fulfilment in self-care, as seen in Slowood's Muji-esque look and speciality items.
Partnerships for the environment
True sustainability cares for the Earth just as much as it uplifts business owners and end-users; this is why Slowood offers in-store and online shopping, and a delivery service that accounts for your carbon footprint. Through its delivery partner EcoCart, Slowood helps make your orders carbon neutral by offsetting carbon emissions caused by product transportation. After your items are delivered, EcoCart computes carbon emissions and Slowood makes donations to environmental projects, thus making your order carbon neutral.
Slowood has also created a platform where green brands can confidently reach their target market. It has even launched a blog that shares stories of mindful and innovative sustainability. The dream is to keep growing this community that cares more about sustainability in Hong Kong, and that in doing so, other businesses and brands will take a step forward in the same direction; for starters, ditching single-use plastic, eating organic, and supporting local brands.
Visit Slowood
Top tip for your visit to Slowood: If you're travelling around Hong Kong, include all Slowood branches in your itinerary and make an eco-trip out of it! It'll be fun checking out what each location has to offer, with product stocks varying from branch to branch. Who knows, this sustainable business might just give you the confidence to start your own green initiative back at home.
Addresses: 
Kennedy Town
Shop 1-3, G/F, The Hudson 11 Davis Street, Kennedy Town, Hong Kong
Discovery Bay
Shop Unit No.151, 1/F, DB Plaza (Block C) Discovery Bay
Shatin New Town Plaza
Shop 247, Level 2, New Town Plaza I, Shatin, New Territories
Central Market
Shop 231-233, 2/F, Central Market, 80 Des Vouex Road, Central
Now that you've had a preview of Hong Kong's sustainable businesses, you'll know where to go the next time you're here. But, the journey to caring more for the Earth is far from over; in fact; we've barely begun. If, from a single transaction, these eco-enterprises are able to send a clear message about sustainability even on nights out or during a quick grocery run, then we're already on our way to a greener, brighter future.
Also read: Lai Chi Wo: A 300-year-old Hakka Village That Has Mastered Living in Harmony With Nature
For more information, visit Hong Kong Tourism Board's official website, Facebook, and Instagram.
---
Brought to you by Hong Kong Tourism Board.