Hong Kong and Macao? Not the cheapest destinations for a Filipino traveller — I'm sure many of you are well aware of that by now. Having said that, the fact that both East Asian territories are visa-free and a mere two-hour flight from Manila are enough reasons to visit them for a quick holiday abroad. Interestingly, I've visited both cities quite a few times within the last four years as a budget backpacker, and survived.
No, I'm not rich, nor do I have other people sponsoring my trips. I'm also not here to tell you that it's possible to live off on ₱5,000 for five days exploring these cities (save that for these places in the Philippines). Rather, by taking a few Hong Kong-Macao budget tips like the following, you can spare a few thousand pesos while still experiencing the best of what these world-class destinations have to offer.
Also read: Crossing the Hong Kong to Macao Bridge by Bus: A Quick Guide
Hong Kong budget tips

Stay in Chungking Mansions (or Mirador Mansions)
Okay, to those of you who've been to or have at least read about either of these places, hear me out. They may not have the most glamorous hotels in Hong Kong, but if you look closer, some of the accommodations there aren't actually all that bad. Of the five hotels I booked, only one of them proved to be a nightmare. For your peace of mind, choose the Pay Later option when booking through third-party sites so you can at least see what your hotel is like in the flesh before sleeping in it. Also, several of the staff there are Filipinos!
Get an Octopus Card
Upon arriving at Hong Kong International Airport, get an Octopus Card immediately. Not only will you get automatic discounts on trains and buses, but it will also make it easier for you to keep track of your money! An Octopus Card is basically like our very own Beep Card, except that you can also use it to pay for goods at select stores in Hong Kong, including convenience stores.
Limit your stay on Hong Kong Island
If you're a first-timer in Hong Kong, chances are you have Victoria Peak or Times Square on Hong Kong Island in your itinerary. If you do, then stick to those two places as much as possible. Hong Kong Island is the more luxurious side of the city, and it's nearly impossible to find budget stores, restaurants, and activities in the area.
Dine in local eateries
By local eateries, I mean places that don't normally cater to tourists but are still found in touristy places. They include restaurants where their menus are written completely in Cantonese and the staff don't speak a word of English. That said, make sure to have your Google translator ready if you haven't learned basic Cantonese phrases yet.
Macao budget tips

Take the free shuttle buses
I didn't believe and follow it completely the first time. But for my second visit to Macao, I'm proud to say I didn't spend a single cent on transportation while exploring the city (I was also travelling with a hitchhiker then)! Take note, though, that by taking these buses, you'll really have to research and plan your itinerary well. Also, be prepared to do a lot of walking, as the pick-up and drop-off points are fixed and they're not always close to the attractions you might be planning to visit.
Cut your travel dates
Here's a no-brainer, but really, if there's any place where you ought to spend less time in for a visit, it's Macao. As one of the world's smallest territories, it's highly plausible! When you see fellow travellers staying in Macao only for a few days or hours, you know that it's not just because it's easily accessible as a side destination from Hong Kong. For my first visit, I stayed for three days, and I can say that it's just enough to see the city's highlights.
Stay in Rua de Felicidades
Many visitors know it as a popular place for buying tasty Macao souvenirs. Being one of Macao's most historic streets, it also serves as the home of the city's last remaining budget guesthouse, Sanva Hospedaria. It's far from your typical hotel or even a standard hostel. However, the property offers the cheapest known guest rooms in Macao — ideal for budget travellers who wish to stay for more than a day. With Sanva Hospedaria's long history, it provides the experience of being in a museum and accommodation in one!
Get a free taste of Macao delicacies
Around Senado Square, Macao's most famed tourist hotspot, you'll notice quite a few stores selling Macao delicacies. Before buying them (mind you, they don't always come cheap), take advantage of the stores' free samples so you don't end up wasting your money on something you might end up disliking in the end. That's how I did it, so I was able to use my money on foods that I actually enjoyed!
Other Hong Kong-Macao budget tips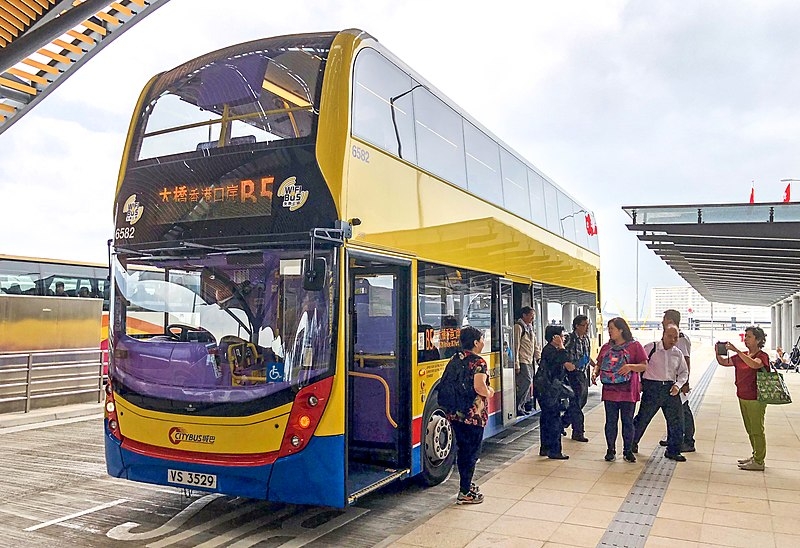 Watch out for seat sales
Again, a no-brainer. But if you watch closely for seat sales by the Philippines' top airlines, you'll notice that flights to Hong Kong and Macao are usually some of the cheapest. Nowadays, they can go as low as ₱2,500 for a round-trip economy ticket, inclusive of the standard 7-kg free baggage allowance and a few other fees. When not on sale, you can still spot round-trip fares beginning at ₱5,000 (join Flight Deals – Philippines on Facebook if you don't believe me!).
Take the bus option to cross, not ferry
Thanks to the new Hong Kong-Zhuhai-Macao Bridge (HZMB), travelling between Hong Kong and Macao is now more affordable! A one-way fare is only around ₱450 — less than half of the price of ferry tickets. What's more, the bus option takes only 30 to 45 minutes!
Try Couchsurfing
Unlike Vietnam, Thailand, or even Siargao, meeting and eventually hanging out with fellow budget travellers is almost unheard of in Hong Kong and Macao. However, the Couchsurfing communities in both cities are enormous. If you're confident enough, you can try crashing at a local's place for free. You can even get an insider's tips for travelling to Hong Kong and Macao like a local! It goes without saying, but be sure to do a thorough background check on your host before agreeing to stay!
Also read: Spending Christmas in Hong Kong & Macau for Only ₱14,000
All set to discover Hong Kong and Macao on a budget? As long as you keep these Hong Kong-Macao budget tips in mind, you can kiss overspending in these fabulous destinations goodbye!
---
Featured image credit: orpheus26 via Canva Pro