If you're a diehard travel enthusiast, surely you must have fantasised about visiting every country in the world before hitting a certain age. You might have even heard about a certain exclusive club that honours those privileged enough to have come close to accomplishing this exceptional feat. For a Philippine passport holder, it may be easier said than done. But is it impossible? Perhaps not…
Meet Katrina or 'Kach' Medina Umandap, half of the dedicated duo behind the successful travel blog Two Monkeys, and now, the lifestyle and sailing platform, Mr. and Mrs. Howe. She has just become the first ever sole Philippine passport holder to become a member of the coveted Travelers' Century Club, which is "a nonprofit social organization representing world travelers who have visited 100 or more of the world's countries and territories". Yes, a hundred!
Earning her "star"
In a post dated 26 Jan 2019, Kach shared the good news via one of her blog's Facebook page. It contained none other than the official certificate Kach received upon her acceptance to the club which is based in California, United States of America.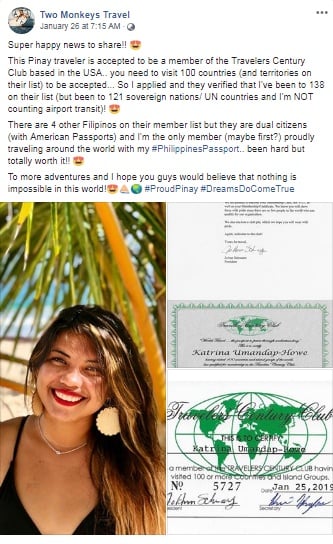 As of writing, the post has garnered over 5,000 reactions from Facebook users. "There are four other Filipinos as their members but they are American, Australians… mostly dual citizens originally from the Philippines but holding and using non-Philippine passports on their travels", shares the former Overseas Filipino Worker who started travelling full-time in 2013, when she was only 24 years old!
Also read: Meet the Pinay Hitchhiker Who Travels the World Nearly for Free
Kach learned about the club through one of her aunts, just after she ticked off Antarctica, her seventh continent, from her list in 2016. "When I checked their website, I filled out the form and realised that I've been to 138 of their 'territories' on the list. The club recognises more than 300 territories as opposed to the United Nations' list". She is now one of roughly 1,400 travellers who are currently a member of the group.
From employee to full-time backpacker…
Exactly how Kach managed to travel to all those countries without a full-time job nor a permanent residence? Well, let's just say it didn't happen overnight. But working in Kuwait and Iraq for four years provided her with just enough funding to start a life of travel, and eventually get to where she is now. (Fun fact: Kach graduated with a BS Economics degree from the University of the Philippines-Los Baños!)
"I quit my corporate job in the Middle East at the age of 24 in 2013 with US$10,000 savings after working for four years there. I set aside US$5,000 to pay my condo mortgage and US$5,000 for the travel fund of my initially planned six months backpacking stint in South East Asia and South America."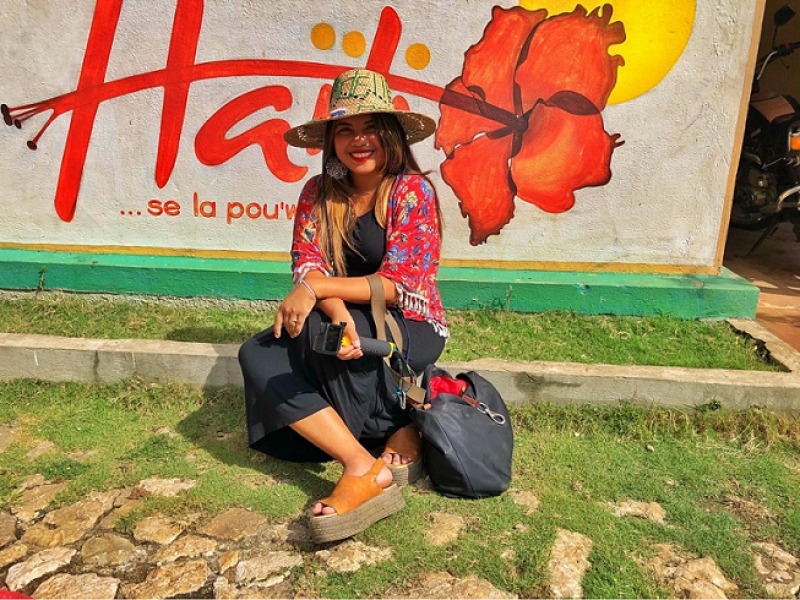 As for visa applications, Kach has also had her share of hits and misses with embassies throughout the world. But being away from her home country for a long time ultimately worked to her advantage, thanks to her impressive travel history at a young age.
"It's quite a struggle for me to apply for visas as a long-term traveller", she confesses. "I don't have a 'home address' or residency whenever we enter a new country." However, things took a really surprising turn when Kach mustered up the courage to visit the US Embassy while travelling in Bogota, Colombia to apply for a US Visa.
"I thought I wouldn't get approved because I was on a free tourist visa in Colombia. I was only there for two months. I was single (Jonathan was only my boyfriend that time) and only 26 years old. And to my surprise, I was granted a 10-year visa that changed everything for me."
… to sailor and sought-after blogger!
As others would say, the rest was history the moment she had the all-important US Visa stamped on one of her passport pages. "I was able to visit more countries in Central America and the Caribbean. I entered the USA where I was able to apply for my Schengen Visa, UK Visa… and I even applied for my Australian Visa online while in Argentina. Then and there, I learned that I could apply for visas anywhere".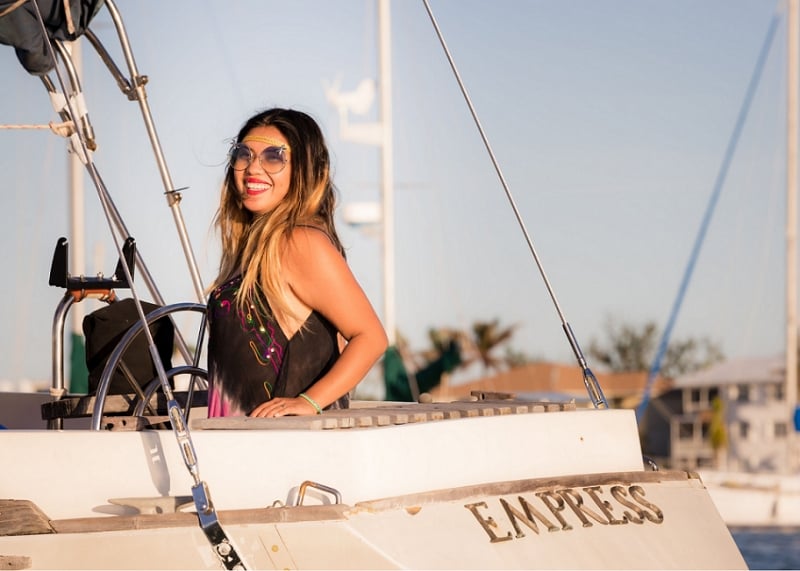 Kach went from backpacking and hitchhiking in Southeast Asia to being a prominent blogger. Every now and then, she gets paid to fly to a new country and review luxury hotels. If not, she helps her now husband, Jonathan, in operating their sailboat in the Caribbean. But she isn't stopping just yet. After all, she's only about to turn 31 years old this year!
So what's next?
"I'm aiming to visit every country in the world before I turn 35". But even she has to admit that things may not be like they were before. "It's just so much hassle now getting a visa because of not having any residency in any country, which worked before but not in the countries where I plan to visit next."
Thankfully, this is where being a member of Travelers' Century Club might just come in handy for Kach because of her new connections. "The next few countries I'd need to visit would need me to apply for a visa, have sponsors and invitation letters, while some are considered dangerous. Going with a group would be better!"
Also read: Top 20 Travel Blogs in the Philippines to Inspire Your Wanderlust
Aside from this, Kach and her husband are also planning to sell their sailboat for two years to find a new home. "We're selling the boat to move to Europe with our two cats and where we plan to buy a property and process getting a home address and residency that could help me get my visa for Western and Central Africa". (Fun fact: Their 37-ft sea home has brought them to places like Florida, The Bahamas, Turks & Caicos, Dominican Republic and Puerto Rico!)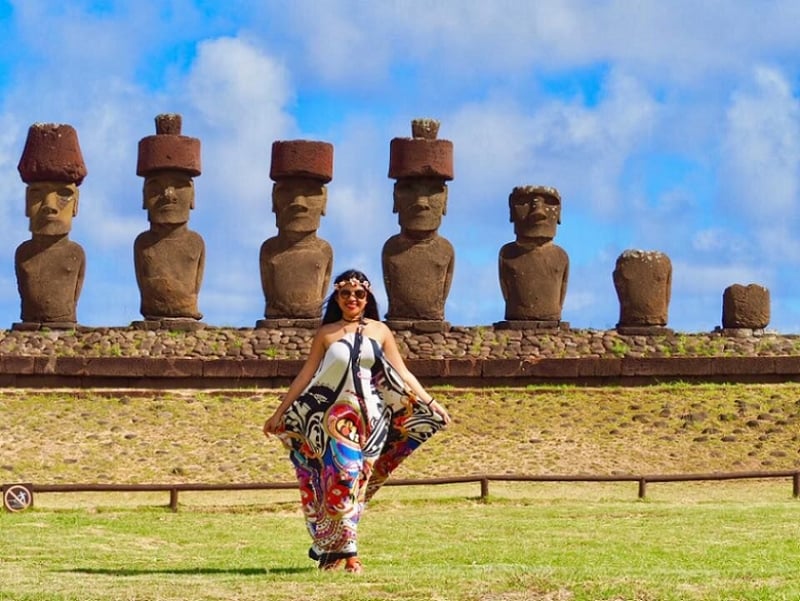 After that, Kach will be exploring more of Asia in the Central and Southern areas, as well as the Pacific Islands. Sailing will just have to wait after she finally completes her mission of visiting every country in the world!
Message to Filipino travellers
It's not easy for Philippine passport holders to travel to foreign countries, let alone to make it to over 100 of them in less than a decade! Kach's advice? "Never give up on your childhood dreams. Your current situation might not be where you want to be, but always remember, everything happens for a reason. Dreaming big is good and don't listen to naysayers when they tell you that you're too ambitious. Go change your life this 2019, it's your time to shine!"