If fast food is your guilty pleasure, then I'm pretty sure you've already found yourself fantasising about eating all the KFC, Jollibee, or McDonald's your heart desires. We think unlimited fried chicken, mashed potatoes, fries, and dessert sounds like the ultimate dream!
Even though it might sound like such an ingenious idea, we don't come across a lot of all-you-can-eat fast food restaurants, especially here in the Philippines. Perhaps because it's too much of an MSG overload? But hey, as long as you take good care of your health, I'm pretty sure you can afford to treat yourself every once in a while!
The next time you decide to indulge in some sinful yet irresistible goodness, you might want to let your cravings take you all the way to Tokyo. Why? Well first, Tokyo is always a good idea. Second, the city just opened an all-you-can-eat, all-you-can-drink KFC buffet restaurant on 13 November 2019!
Also read: Japan Travel 2020: Here's Why You Should Make It Happen
KFC buffet restaurant opens in Tokyo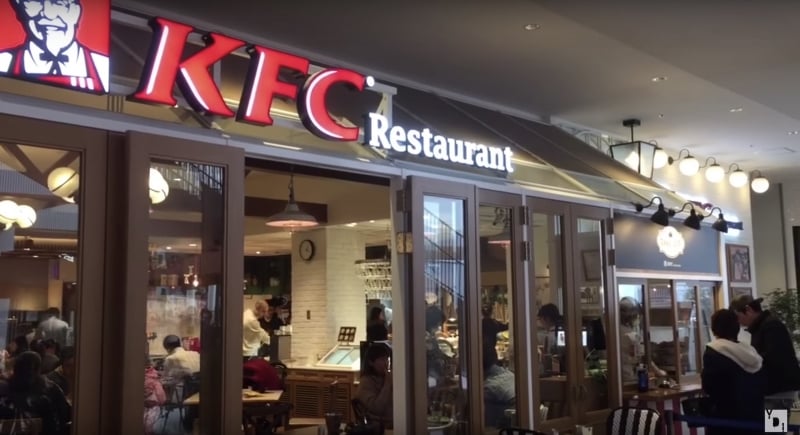 It actually came as a big surprise to me that the Japanese are, apparently, really big fans of KFC. (They already live in the land of delicious bites like sushi, ramen, and sashimi, after all! Who knew they were big fast food lovers?) Because of this, locals are no strangers to the idea of an all-you-can-eat KFC experience. In fact, it's a seasonal offering you can enjoy at selected stores around Japan!
On top of that, Osaka is actually home to Japan's first KFC buffet restaurant, which opened its doors back in 2017. Clearly, it was a hit — because now, Tokyo residents (and visitors like you and me!) can have their fill of their favourite KFC dishes all year 'round! 
Not your typical KFC
If you were imagining a regular KFC joint offering unlimited servings of your chosen menu items, then you thought wrong. KFC Restaurant (yes, KFC buffet restaurants actually have a — slightly — different name) is all that, and more.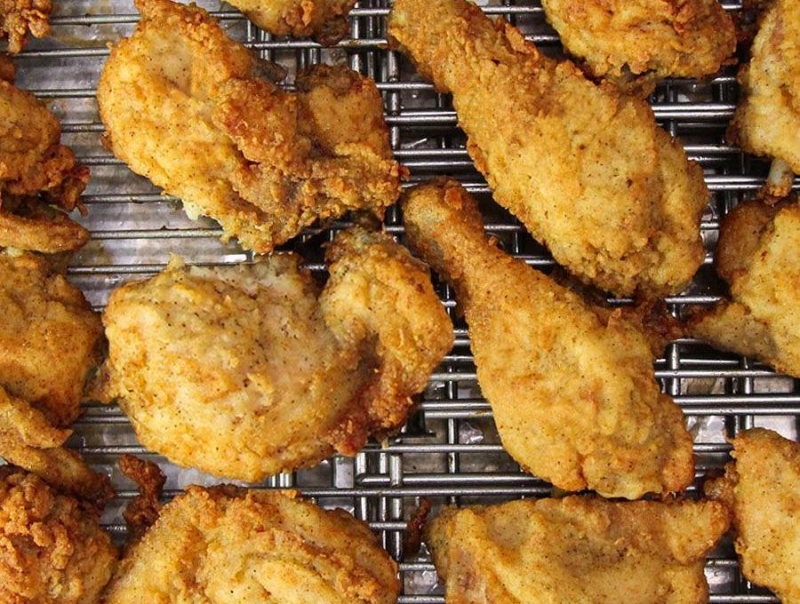 The first thing you'll notice about it is that it doesn't look like your typical branch. Instead of being welcomed by KFC's signature white and red interiors, you'll find that the restaurant is designed in warmer tones, and is decked with wooden tables and comfy, padded chairs!
Secondly, their menu will surprise you — in the best way possible, of course. As we'd all expect, KFC Restaurant's buffet offerings include endless servings of our favourite dishes: KFC's famous original recipe fried chicken, chicken tenders, mashed potatoes, fries, and coleslaw. But it doesn't end there! Diners will also be treated to mouth-watering menu items that are exclusively available at KFC's buffet restaurant.
Exclusive KFC Restaurant offerings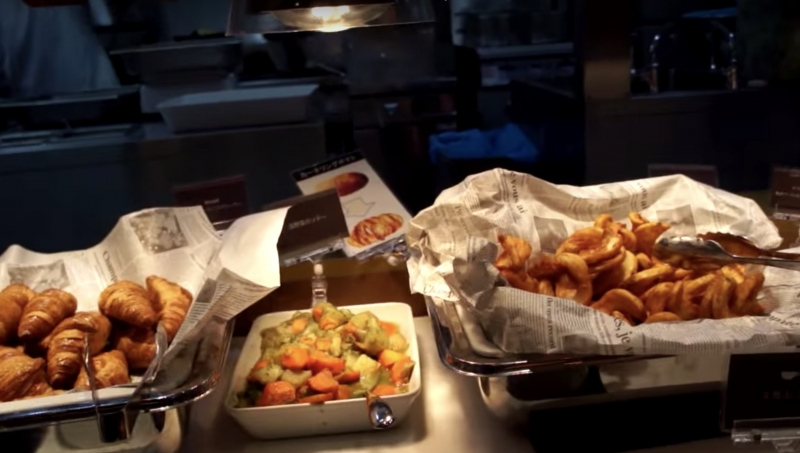 There's a salad bar, a whole station dedicated to sides, and a dessert bar. At the sides station, you'll discover many other food items you can enjoy with your chicken: soup, biscuits, rice, buttered croissants, garlic bread, and curry — yes, curry. We hear KFC chicken and curry actually make quite a delicious pairing! You can either dip your chicken into the curry like a sauce, or treat the curry like a soup and top it with bits of chicken. It might sound a little weird, but it's supposedly a must-try!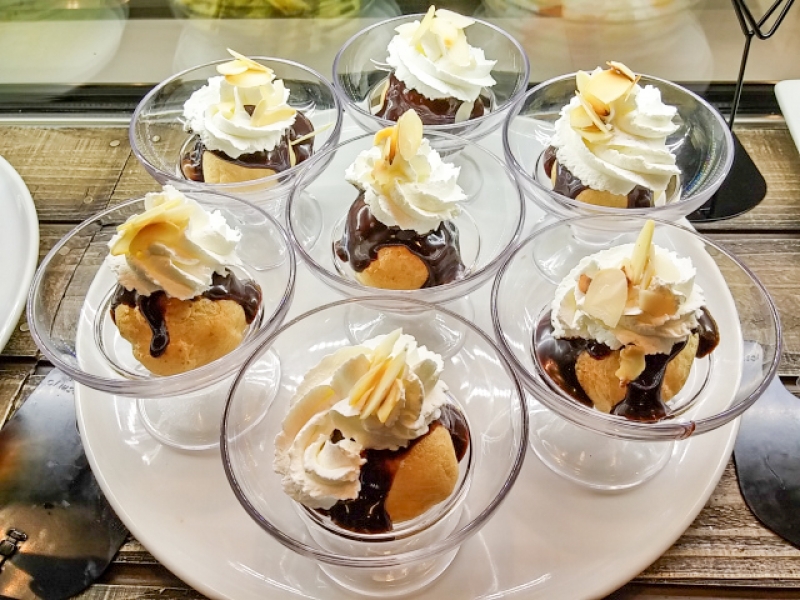 The buffet spread also includes interesting menu items like prawn gratin, Tandoori chicken, rotisserie chicken, chicken paella, and meat lasagna. To cap off your meal, you can enjoy coffee jelly, different kinds of cakes, and various flavours of ice cream.
Plus, there's a soda station, too — did we mention the buffet is also all-you-can-drink? For an additional fee, you can even avail of unlimited booze!
Know before you go
Planning to indulge in some KFC buffet goodness?  Here are some pertinent details you should keep in mind before heading there for a hearty meal!
Where to find it
KFC Restaurant is located in Tokyo's Machida neighbourhood, specifically at the Minami Machida Grandberry Park shopping complex.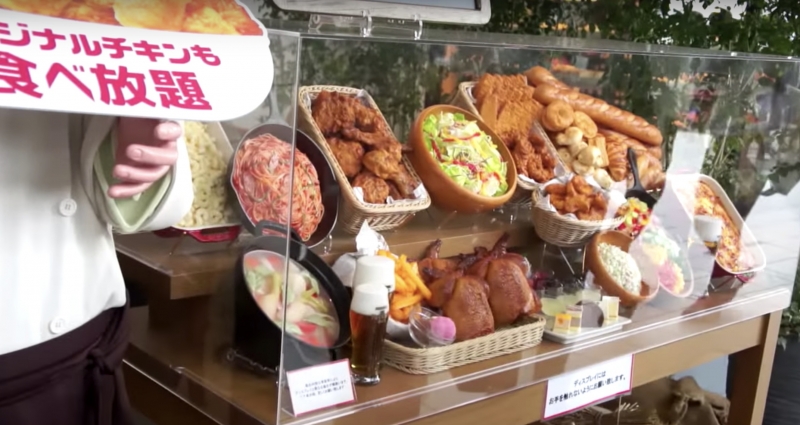 Opening hours
The restaurant is only open at 11am to 5pm (lunch) and 5pm to 10pm (dinner). Diners can take advantage of the all-you-can-eat, all-you-can-drink lunch buffet for 80 minutes; meanwhile, dinner buffets can be enjoyed for as long as 90 minutes!
Once you've decided whether you'd like to come by for lunch or for dinner, make sure to arrive ahead of time — long lines are to be expected. The good thing is, they have an automated queuing system, so you're free to walk around while waiting. You'll receive an alert on your phone once the restaurant can accommodate you and your party!
Pricing
Here's how much it costs to dine at KFC Restaurant:
For lunch: ¥1,980 for adults, ¥980 for elementary school students
For dinner: ¥2,580 for adults, ¥1,280 for elementary school students
Regardless of whether they're coming for lunch or for dinner, customers below elementary school age will only have to pay ¥480. Children three years old and below may dine for free!
Lunch and dinner buffet fees include access to the all-you-can-drink soda menu. For an additional ¥1,250, you can also enjoy their available alcoholic beverages.
Also read: Top 10 Buffets in Tokyo from Sukiyaki to Desserts
Fast food lovers, unite! We wonder where else KFC will be opening their buffet restaurants. Can the Philippines be next in line, please?