Contributed by Chinitowander
The first time I saw photos of the rare pink sand beaches in the Philippines, I knew I had to visit them soon. The most famous pink sand beach in the Philippines can be found in Zamboanga. However, having a caring parent prevents me from flying all the way to Zamboanga. It made me look for an alternative instead. And there, I read about Matnog, Sorsogon that also showcases these rare coloured beaches.
Also read: The Pink Islands of Sta. Cruz, Zamboanga City
This year, I was able to get a promo airfare from Cebu to Legazpi via Cebu Pacific. Knowing that Sorsogon is in the Bicol Region and approximately three hours away from Legazpi, I made sure to include a day trip to these one-of-a-kind beaches.
Matnog, Sorsogon does not only have one pinkish sand beach, but three! I was quite excited to finally see it.
How to get there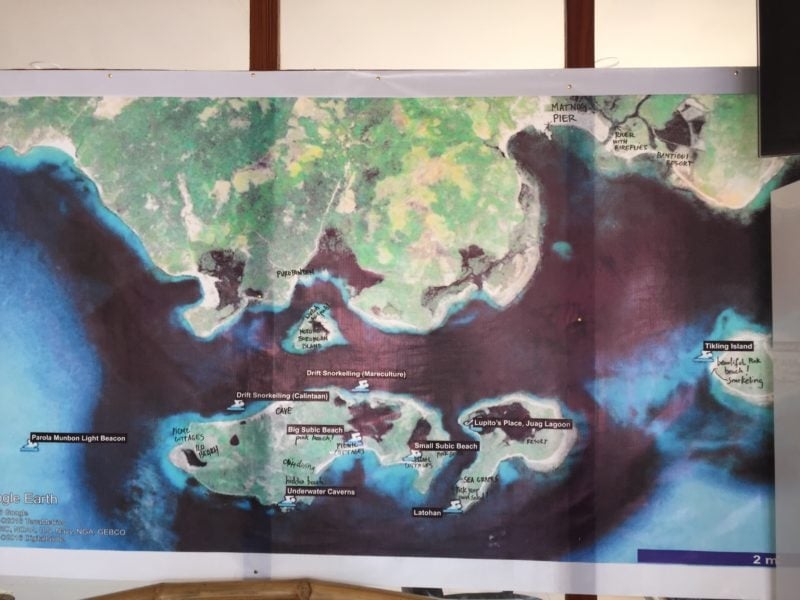 I scheduled my Matnog, Sorsogon trip on my third day in Bicol. Matnog, Sorsogon is the southernmost part of Luzon. Please take note about the schedules and the routes as public transportation going to Matnog is quite limited. There are few ways to get to Matnog.
Cebu to Matnog
If you're coming from Cebu, this is the quickest way for you to get to Matnog:
Take a plane to Legazpi. Before, direct flights from Cebu to Legazpi are a bit expensive, but not anymore as long as you book it a few months in advance. When you're in Legazpi already, you may take these options:
Option 1:
If you're coming from the Airport or your Hotel/ Inn, take a trike to the Legazpi Grand terminal. It costs ₱50.00 for the whole trike up to three persons.
At Legazpi Grand Terminal, you may take a Bus enroute to Bulan. First trip to Bulan is at 6.30am with 30 minutes interval for the next bus to leave. Tell the driver or conductor to drop you off at Trece. Landmark will be the Lions Club Monument located at the intersection between Bulan and Matnog. Fare is about ₱148. Trece is about 30 minutes away from Irosin, so if you hear the conductor shout Irosin, remind him that you will be alighting at Trece.
From Trece, cross the side where you can find a small sari-sari store where there are tricycles on stand by. Wait for a jeep bound for Matnog. Fare for the jeep from Trece to Matnog costs ₱30.00 per person. However, you might have to wait for the jeep to arrive since there are only a few jeeps that pass by.
Alternatively, once you arrived in Trece, you can hire the trike all the way to Matnog. Prepare your haggling skills. Trike fare ranges from ₱150-200 per trike maximum of five persons. If there are other passengers who will be going to Matnog, you might want to talk to them and combine a group of five so you can split the cost.
Option 2:
If you're coming from the Airport, take a tricycle to the Daraga-Matnog Buses. Tricycle fare ranges from ₱50-80. But, if you're coming from your hotel in Legazpi, you might want to take Loop 1 or any Jeep that goes to Daraga. Fare for the jeep is ₱15 per person. If you're coming from your Hotel in Daraga, just ride a tricycle to the Daraga-Matnog Buses. Trike fare costs ₱20-40. Buses going to Matnog start as early as 4.30am with 30 minutes interval after.
Manila to Matnog
If you're coming from Manila, you might want to hop on a bus bound for Matnog in Alabang (fronting Starmall/ Metropolis), Cubao (fronting Alimall) or Pasay. Look for bus companies such as Philtranco, DLTB, RSL, or Raymund Bus.
Buses usually leave Manila at 4pm,, 5pm and 6pm. Fare is around ₱900-1,200php.
If you miss these buses going to Matnog, you can take the bus that goes to Samar, Tacloban or Davao. These buses will stop by at the Matnog Pier before boarding the ferry boat. Otherwise, just take a bus going to Legazpi. Once you're in Legazpi you may follow the above instructions.
Arrival in Matnog, Sorsogon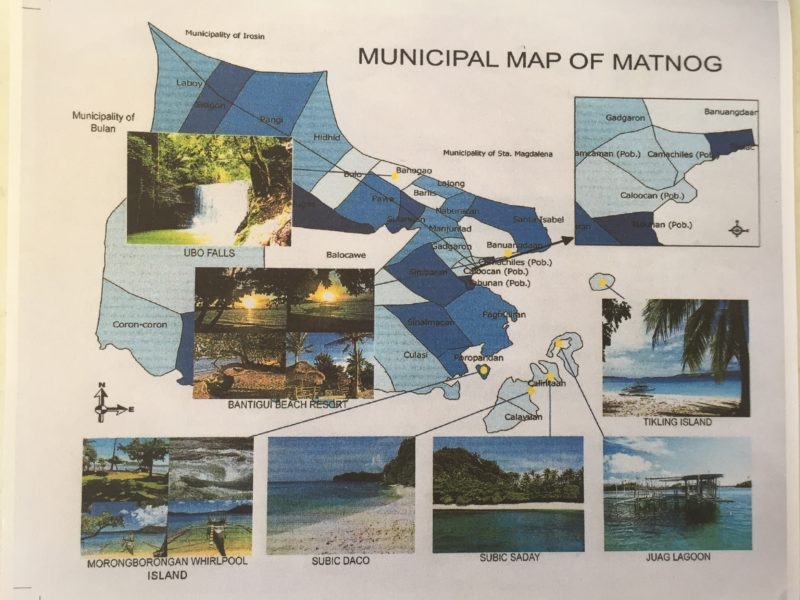 Once you are nearing Matnog, tell the driver to drop you off at the Municipality Hall.
Engaging in an island hopping tour in Matnog has been slightly changed due to the new administration. An Official Tourism Office is now implemented that regulates boatmen to cater island hopping tours.
You have two options when getting a boat in Matnog for the island hopping tour:
Option 1: You can head straight to Matnog Tourism Office to register and hire a boatman for your island hopping tour. The contact person of Matnog Tourism Office is Sir Eddie Chua. Contact #: 0917-316-7741 . Although I would personally not recommend getting a boatman from the tourism office due to a bad personal experience. The boatman I had wasn't accommodating. He did not even encourage me to go diving at the underground cave which should be the highlight of the tour as per Sir Eddie Chua, instead he just said "Madaming tao sir, punta na lang tayo sa Juag lagoon tas uwi nah.(There are so many people sir, let's just head directly to Juag lagoon, then let's go back). I have to give my honest opinion here so that travellers like you who are reading this will be fully aware and avoid a regrettable experience.
Option 2: Contact Kuya Eddie Evasco. Cell #: 0926-140-4577. Eddie Evasco is the former President of the Boat Operators in Matnog. I would personally recommend him as he is very accommodating, and I can really feel that his boatmen are more experienced than Option 1.
I personally regretted that I went to the Tourism Office because I was not able to wait for Kuya Eddie Evasco's arrival. He was supposed to fetch me near the Municipality Hall, but it was scorching hot that day. I was expecting that Kuya Eddie is part of the tourism office so I went there. The boatmen in the tourism office are somewhat new and do not even know how to accommodate their guests. It might not be all boatmen but this was my personal experience. There's this negative vibe feeling. They haven't given me adequate information about the tour. Sigh!
Also read: Bicol Adventure: 3 Days in Albay & Sorsogon for Less than ₱4k Each
Notes
Both operators have the same rate. Day trip costs ₱1,600 per boat good for 10 pax while ₱2,000 per boat for an overnight stay.
Registration Fee is ₱50 for locals, ₱40 for senior citizens and ₱300 for foreigners.
The island hopping day trip will let you visit three spots: Tikling Island, Juag Lagoon for the fish sanctuary, Calintaan Island for the Subic Beach (known for its Pinkish sand beaches) and the underground sea cave.
The island hopping tour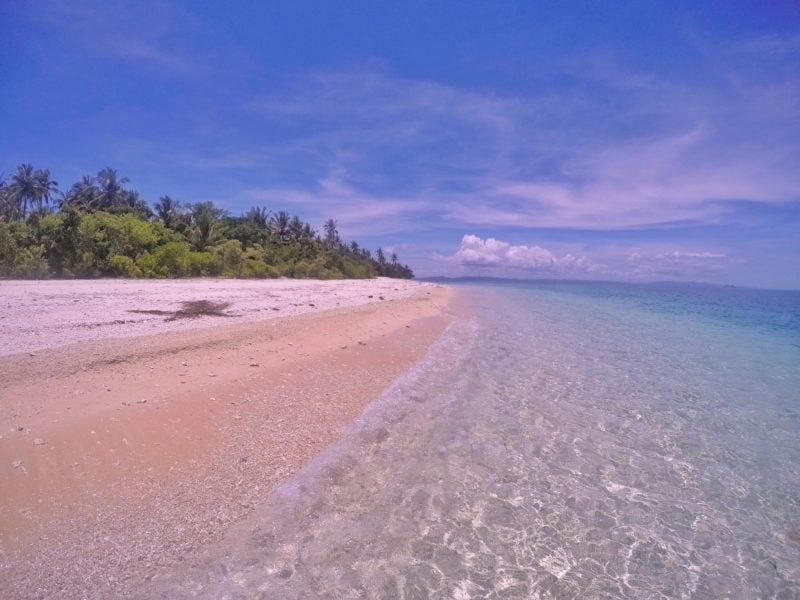 First stop: Tikling Island which is around 10-15 minutes boat ride from the Port. Tikling Island is one of those islands that have pinkish sand beach. Despite Tikling Island not having as pinkish sand as Subic Beach, it has its own charm. Less crowd and more privacy, especially if you will walk towards the tip of the island.
Second stop: Juag Lagoon where Juag Fish Sanctuary is located. It is a privately owned sanctuary. There was no entrance fee but they will let you buy a cup of fish food for ₱100. Before, the sanctuary lets you swim with the fish. The owner will even swim with you with the fishes, but sadly, not anymore. They no longer allow visitors to swim with the fish which made it the first let down in my island hopping trip as I was excited to be swimming with the different species of fish. There was nothing much to do here, honestly. Just feeding the fishes and then you will be off to your third destination. They will only allow you to stay at the lagoon for around 20 minutes.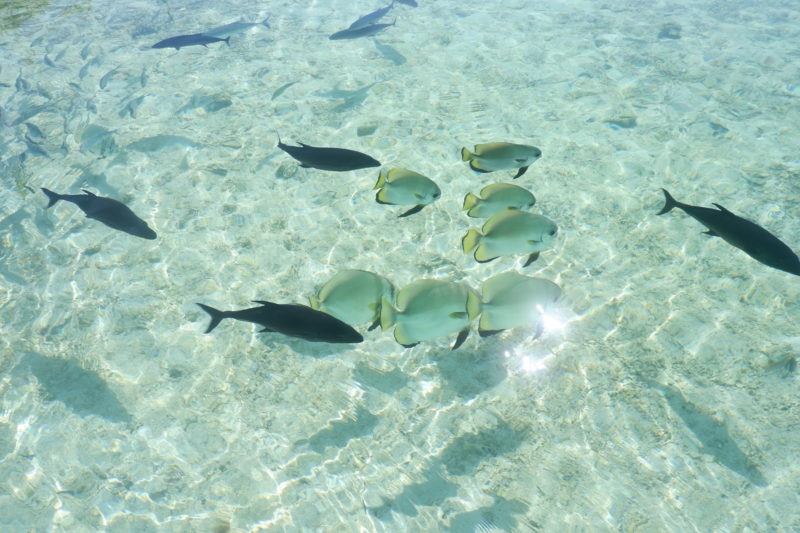 Next is the Calintaan Island where you can see and experience one of the rare pink sand beaches in the Philippines. There are  two pink sand beaches in Calintaan Island: Big Subic Beach and Small Subic Beach.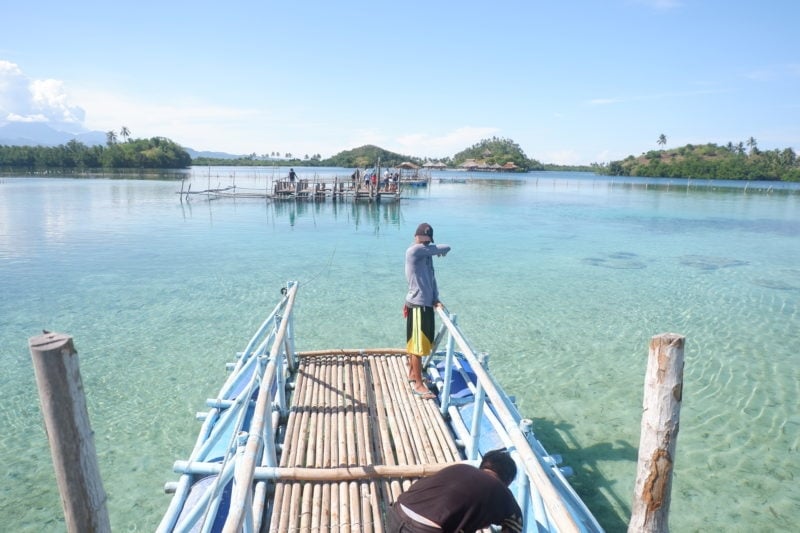 When I arrived at Big Subic Beach, it was crowded already and take note, I went there on a weekday. This is the place where you can have your lunch. Cottages for rent, sari-sari store where you can buy canned goods and even fresh seafood and some grilling station. I did not bother renting a cottage since I was not that amazed by the beach because of the crowd. But what's surprising is that when I took a quick plunge, the water was really cold. It was like plunging in a waterfall.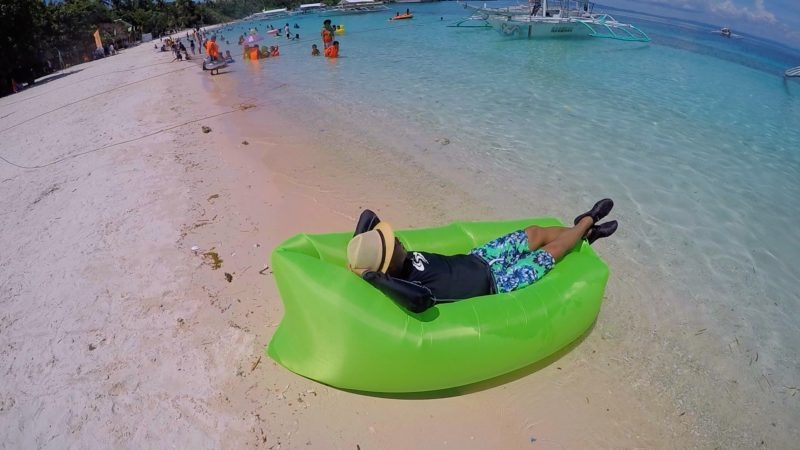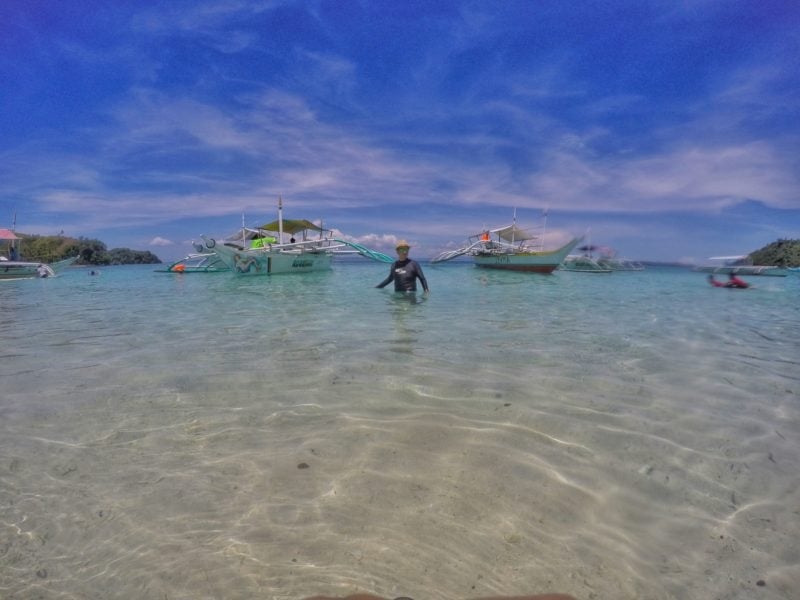 After having lunch, I went to the so called Underwater Cavern as my last stop, but when we got there, the boatman just told me the thing he shouldn't be uttering. Oh well.
I went back to the Port to catch my ride back to Legazpi.
How to get back from Matnog to Legazpi
Option 1:
Take a jeep located beside Matnog, Municipality Hall to Sorsogon. Inform the driver that you will be alighting at the Sorsogon bus terminal so you can catch a bus going to Legazpi. Fare is ₱90 per person. Last trip will be at 4pm. From Sorsogon Bus Terminal, take a bus going to Legazpi. Last bus trip going to Legazpi is at 7pm. Alternatively, you can also take the Vhire in Sorsogon City. Again, you may ask the driver of the jeep to drop you off at the Vhire terminal to Legazpi. Fare of the vhire is ₱90.
Option 2:
From Matnog, take a trike back to Trece to catch a bus from Bulan that will pass by Trece junction. Another option is to take a jeep from Matnog going to Irosin/ Sorsogon and alight at the Trece Junction. Last Bus Trip from Bulan will be at 5pm, so you need to be at the Trece Junction before 5.30pm. Trike fare is around ₱150-200 for the whole trike. Once you're at the Trece junction, wait for the bus coming from Bulan. Bus fare from Trece to Legazpi is around ₱150.
Also read: Revisiting Sorsogon, Bicol's Spirited South
Tips
You may buy fresh seafood from the market and let the boatman cook it for you. Be sure to buy charcoal as well. For a more stress-free experience, there are actually fresh seafood and some canned goods that are for sale in Subic Beach at an affordable price where you can let the owner of the sari-sari store cook it for you. There's no cooking charge for the food, just donation.
Cottages are available in Subic Beach (dako). Rate is ₱400 (day use) or ₱600 (overnight). To save you some money, you may want to just stay at the boat, and eat there instead of renting the cottage if you are travelling solo. If you are in group, then you can rent a cottage and split the cost.
Always be 30 minutes ahead of the bus schedule.