Any K-pop fan wouldn't doubt for a second that stan Twitter is the go-to place for fanmade crack edits, memes, and endless banter. It's a safe space for fans to talk about their idols and connect with others through their shared interests. The Internet is pretty cool for that — bringing people together! 
One of the many perks about being a K-pop stan is seeing other talented and creative fans render your favourites into art masterpieces. And of course, the BTS ARMY is known for being just as talented and creative as the boys of Bangtan. Here are some Pinoy BTS fan artists you should definitely check out on the gram! 
Also read: K-Pop Merch PH: Where to Buy Official Merchandise 
Filipino BTS fan artists to follow on social media
1. @deinsborja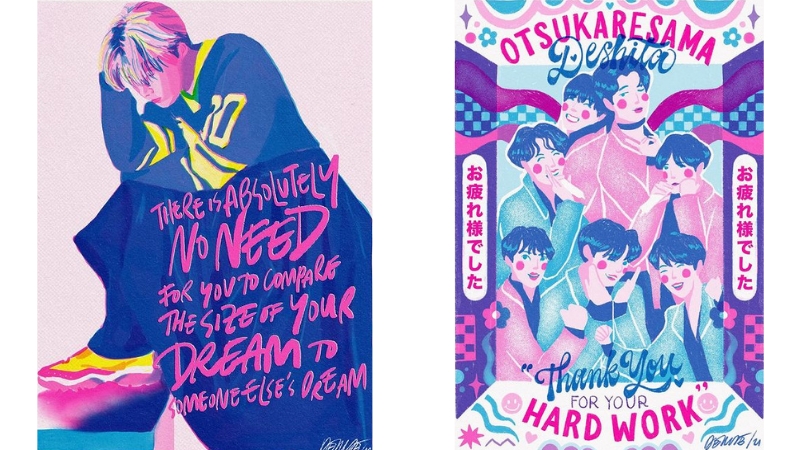 Often experimenting with lettering and digital illustration, Denise Borja aka @deinsborja combines these mediums and techniques to recreate the Bangtan Boys while adding her own unique style. Her earlier works feature other icons and celebrities illustrated using watercolour, while dabbling with typography on the side. Now, her more recent works are focused on BTS' comforting music and beautiful messaging.
For Denise, being continuously inspired by different art forms (film, television, and music) has always been the driving force of her growth as an artist. This encourages her to further develop her style and collaborate with other BTS fan artists. All of these while sharing amazing fan art that fellow ARMYs get inspired by, too! 
For more information, visit @deinsborja on Instagram and shop her fan art here.
2. @chickensutock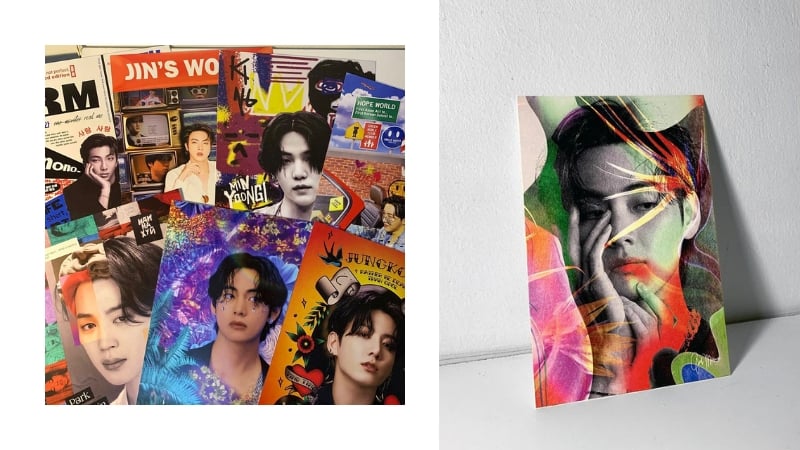 Known for her quirky binder covers and eye-catching sticker sheets, Gab Mesina aka chickensutock is definitely helping ARMYs up their study desk game! If you love stationery items, personalising your space, and BTS memes, then you'll always anticipate her stuff! Surely, lots of die-hard fans would absolutely love the inside jokes and iconic phrases she incorporates in her fanmade merch.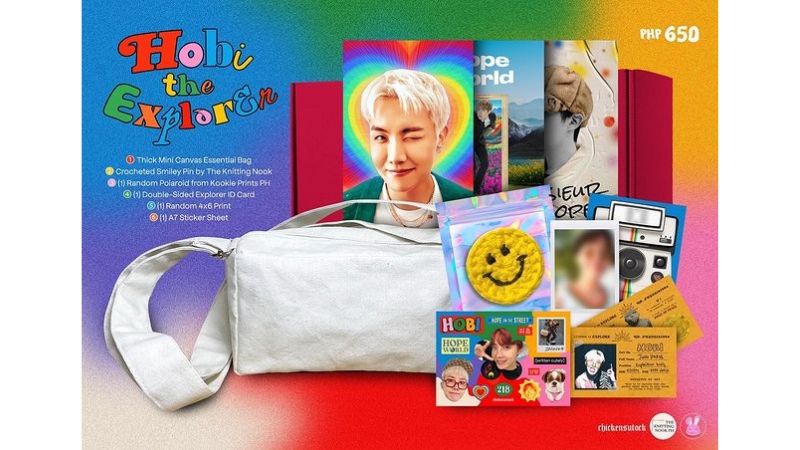 She's all about experimenting with different graphic design techniques and art styles that make her pieces unique every time. Besides bold and colourful binder dividers, stickers, and prints, she also started to include kits inspired by the members' birthdays as part of her fanmade merch. These kits contain cute little knickknacks, accessories, and fan art created exclusively for ARMYs. What an exciting (and super extra) way to celebrate the Tannies! 
For more information, visit @chickensutock on Instagram and Twitter. Shop their fan art here. 
Also read: Where to Buy Fanmade BTS Merch That Every ARMY Will Love
3. @artsbyfelix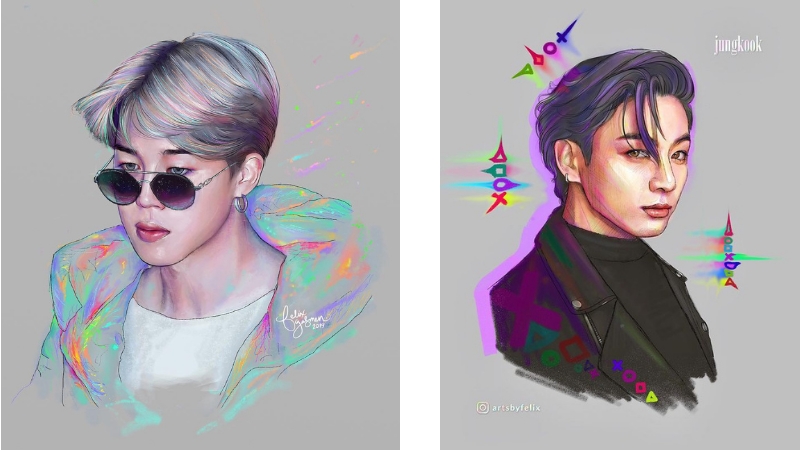 If there's anything Felix Gasmen aka @artsbyfelix should be known for, it's definitely creating superb digital portraits! Not only is he recreating BTS and other icons, he's adding his own signature style with every piece. Like most fan artists, he also takes a lot of inspiration from existing photos. You'll notice hints of colour and other elements that add more pizazz to his work to breathe new life into these pictures.
Besides rendering your faves in a more traditional art style, he has always been open to collaboration. From creating album art for bands to doing portrait commissions for friends, Felix always strives to produce quality art inspired by others and for others. His passion for art and his growth mindset as an artist shows in his work, and we love to see it! 
For more information, visit @artsbyfelix on Instagram and shop his art here. 
4. @ulsiart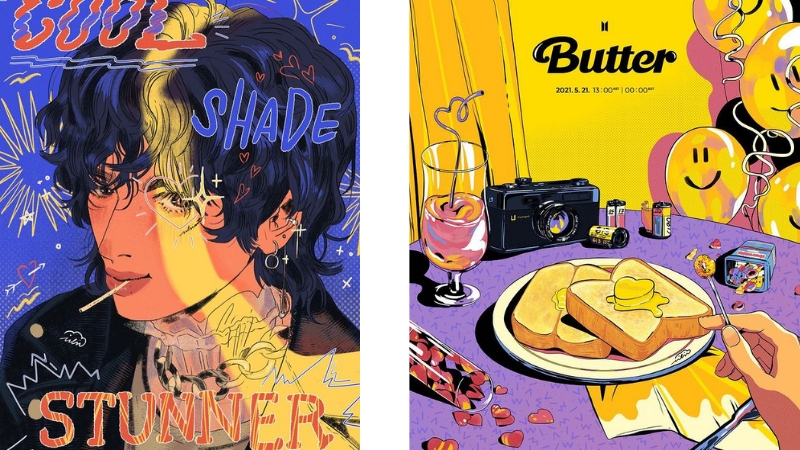 Enid Din aka @ulsi.art is a freelance illustrator and designer, popularly known in the world of K-pop stan twitter. You'll just know it's her work on the feed when you see it! Although she may not have one distinct art style, one of the most admirable things about Enid is that she loves changing things up. She's all about experimenting with different art styles and mediums to make her work more dynamic and unpredictable.

With almost 50,000 followers on Twitter and a continuously growing audience on Instagram, Enid is using her artistic sensibilities and sense of community to connect with others. That being said, her art truly adds life and vibrance to both digital and physical spaces. If you want to see Bangtan in animated and whimsical fashion, you don't want to miss out on Enid's work! 
For more information, visit @ulsi.art on Instagram and Twitter. Shop her art here. 
Also read: Space of BTS' Pop-up Manila Now Open in SM Megamall
5. @yooniechums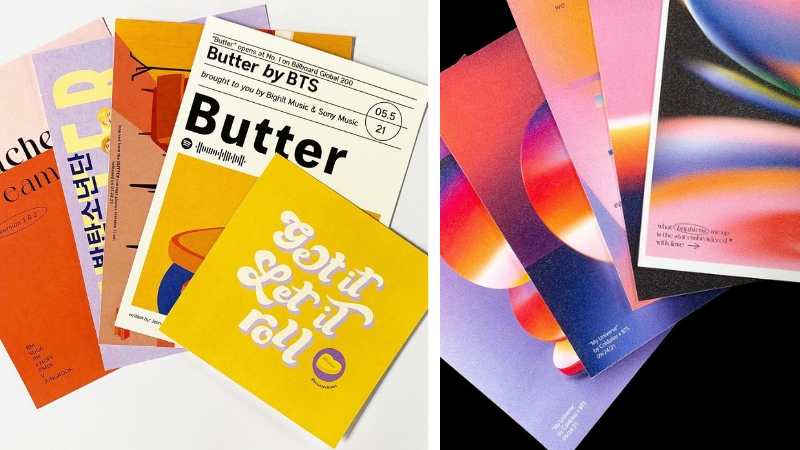 If you're a fan of graphic design trends and all things BTS, then you'll easily fall in love with Yooniechums! She loves creating fan art and merch inspired by the boys' comforting messages, healing lyrics and iconic phrases. Each piece is perfect for decorating your personal space, and they also serve as little reminders to help you get through the day.

Yooniechums is open for commissions while running a little local shop managed solely by her. Her fanmade merch ranges from art prints and stickers to tote bags and t-shirts. If you appreciate more subtle yet charming BTS designs, her stuff is definitely worth adding to your cart! 
For more information, visit @yooniechums on Instagram and shop her art here. 
6. @serdnaaifos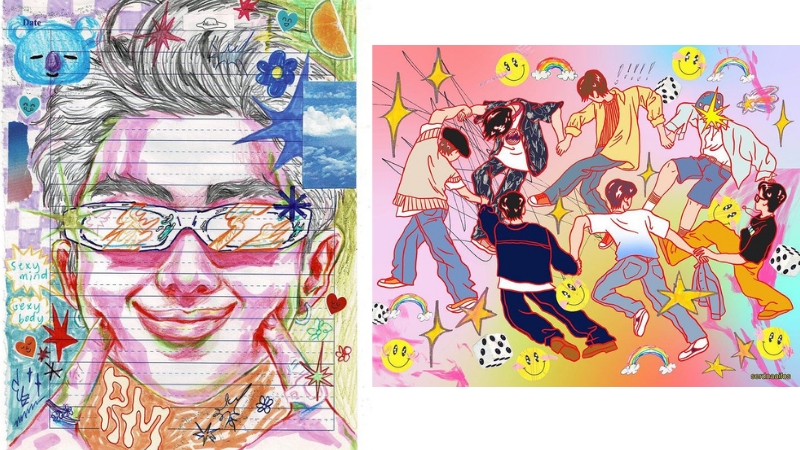 Sofia Andres aka @serdnaaifos is serving you mixed media and digital art realness! She uses a combination of traditional and digital mediums to create most of her BTS inspired pieces. Her artwork ranges from paintings and illustrations to collages and graphic design. 
You'll know if it's Sofia's fan art on the feed because of her distinct signature art style: vivid colours, quirky design elements and lots of doodles. If you follow Sofia on the socials, then you probably recognise her most popular work yet: Dynamite as Matisse's Dance. If not, then be sure to check out her art accounts for more Bangtan core artwork! 
For more information, visit @serdnaaifos on Instagram and Twitter. Shop her art here. 
Also read: Support #artph: 18 Young Filipino Illustrators to Commission for Portraits
7. @thelonelypintor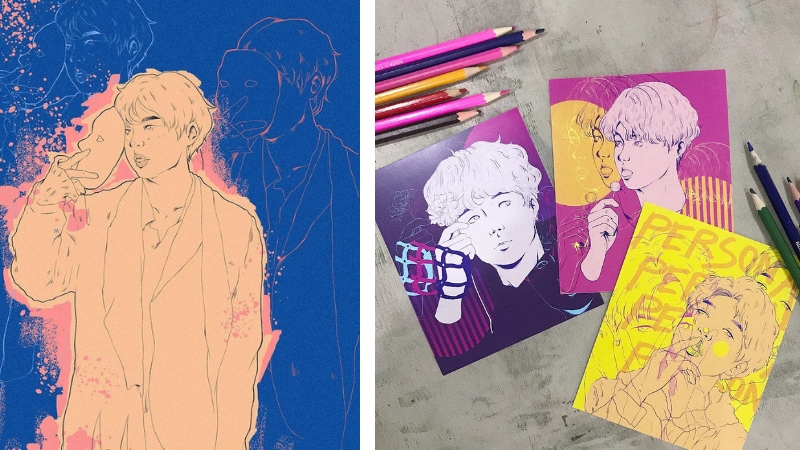 The best part about fan art is that there aren't any rules! BTS fan artists are free to reimagine and recreate the Tannies however they like. This gives fan artists more variation to their work and a lot of room for experimenting with different art styles and mediums. If there's one thing you need to know about Chai aka @thelonelypintor, then it's her ever-changing artistic expression.

Chai is an illustrator and graphic design artist who loves creating anime and BTS fan art online. From time to time, she'll incorporate original designs to change things up a bit on her art page. She also creates fanmade merch like acrylic keychains, sticker sheets, and art prints that all come in a variety of styles. Additionally, if you're looking into having some original artwork done in her iconic style, she's also open for commissions! 
For more information, visit @thelonelypintor on Instagram and shop her art here. 
8. @meream_art or @peregrina_ph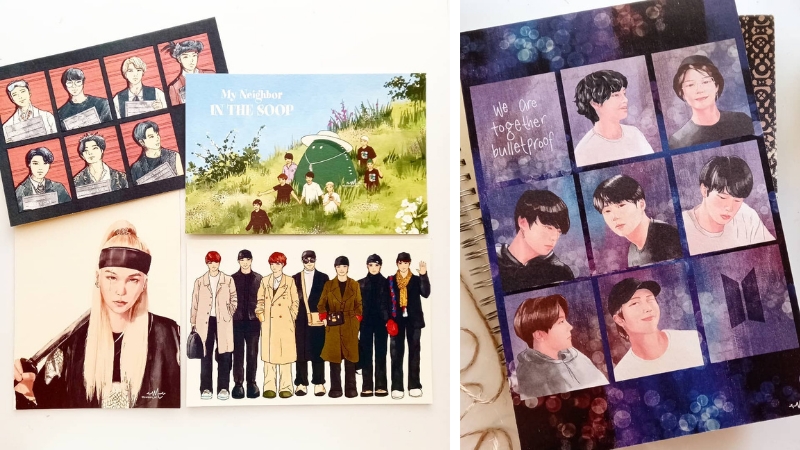 If you're a Studio Ghbili enthusiast, then you'll absolutely appreciate the works of Meream aka @meream_art on Instagram. With almost 20,000 followers, Meream's art features a watercolour art style inspired by classic Studio Ghibli fashion. There's no better way to describe her aesthetic than simply beautiful and effortlessly calm. 
Meream also runs another separate art account called @peregrina_ph, which is mainly dedicated to her handmade miscellany and paper goods. Her fanmade and original merchandise ranges from sticker sheets and art prints to postcards and bookmarks. If Meream's art could taste like anything, it would be a warm cup of coffee with a sweet pastry on the side!
 For more information, visit @meream_art on Instagram and shop her art here. 
Also read: Studio Ghibli Food Recipes: How to Make the Delicious in Ghibli Movies at Home
9. @_ariesaa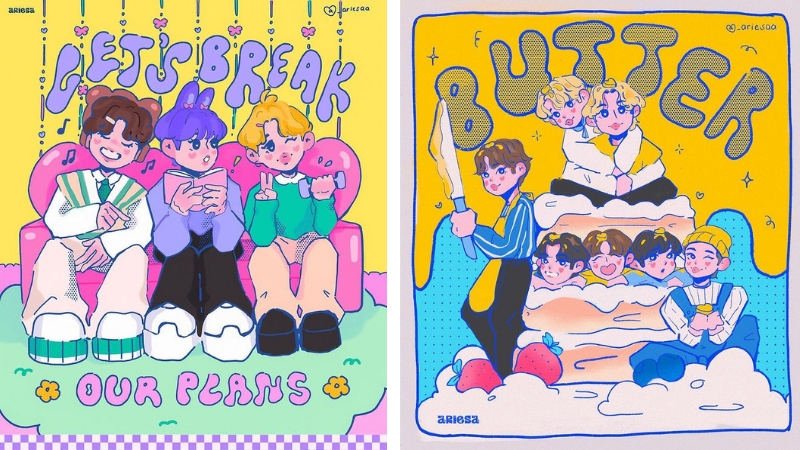 Ari aka @_ariesaa is a freelance illustrator, small shop owner, and full time student studying arts and design. She loves creating original work and fan art inspired by BTS, utilising funky colour palettes and a unique cartoon style. Ari also designs fanmade BTS merch, ranging from laminated art prints and holographic stickers to memo pads and acrylic keychains. 
Besides all things Bangtan, she is also heavily inspired by Genshin Impact and Studio Ghibli. This allows her to reach and connect with other people who share similar interests. Ultimately, for Ari, the best part about being an artist is being able to share her craft with the world and seeing other people get excited when they receive their packages. 
For more information, visit @_ariesaa on Instagram and Twitter. Shop her art here. 
10. @marcela_suller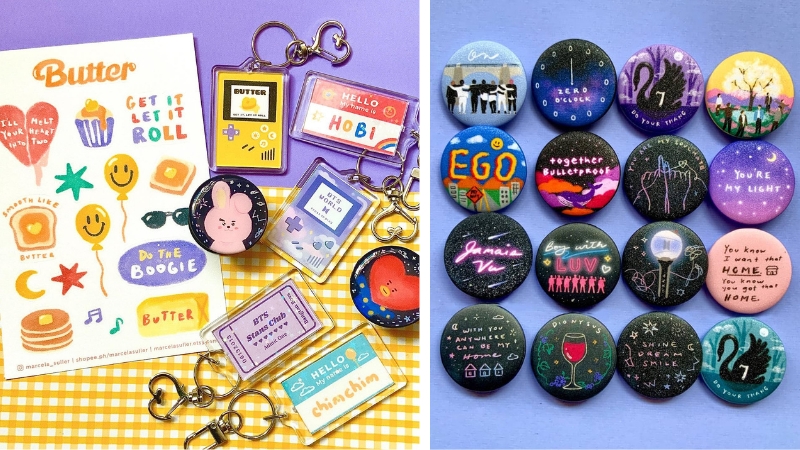 Everybody knows that it's hard to resist entering art supplies stores like Common Room PH or Craft Central. If you're a frequenter of these shops, then you'll most likely find Marcella Suller's fan art and merch here! Don't have these craft shops near your area? No worries, her stuff is available on her online store for both local and international ARMYs!

Decorate your tote bag with BTS pin-back buttons, and personalise your bullet journal with adorable BT21 stickers. All of Marcella's fanmade merch are made with original designs and illustrations inspired by BTS and other K-pop groups. 
For more information, visit @marcella_suller on Instagram and shop her art here. 
Also read: These Scented Candles Are Inspired by BTS & Their Songs
Fan art, fan edits, and fanmade merch are the most popular ways any fan can express their love and admiration for their favourites. In this way, they're expounding on the fandom itself, inspiring others, and continuously developing their craft. What's not to love about these BTS fan artists?