So you finally decided to join the whole biking bandwagon and learn biking in Manila. Guess what? You are not alone! Considering the many benefits biking offers these days, from affordable transits to enhanced fitness, along with the countless bike stores in Manila, there's no better time to start practising how to work those two-wheelers than, well, today.
But first, where should you do it? Are there free spaces where you can learn biking in the National Capital Region? Best of all, are they conducive to both young and old learners? All these questions led us to compile the following list of the best places to learn biking in Manila, no matter how old or young you may be!
Also read: We Deserve a Bike-Friendly Metro Manila, Now More Than Ever
Learn biking in Manila at these places
1. Bonifacio Global City (BGC)
No longer does BGC just stand for one of the best dining destinations in the Philippine capital. Recently, it's become among the more bike-friendly spaces and best places to learn biking in the region. On Sundays, the National Bicycle Organization organises two-hour bike lessons for both children and adults. Although not free, it's available for only ₱300, good for two people!
The lesson comes with a free bicycle rental. And if you learn fast (the NBO says it's possible in under 30 minutes), you can continue using the bicycle to get the hang of biking in BGC to prepare you for other biking routes in Manila. The lessons take place between 9am and 5pm at 31st Street beside Track 30th Park. You can reserve a slot here.
2. Robinsons Place Manila
For those who prefer to learn biking in Manila the quieter way (a.k.a. away from all the vehicle and human traffic), consider bike lessons on a rooftop. This is offered at The Tracks MNL in Robinsons Place Manila, also by the NBO. The lessons follow a 'no alcohol spray and face mask, no biking policy', so be sure to bring them to avoid any problems.
Unlike in BGC, the NBO bike lessons in Manila take place every Saturday and Sunday at the mall's sixth-floor open parking space. It's open from 9am and 7pm. During this time, you may be sharing the space with experienced cyclists who'd rather spend the day biking away from the city's congested streets. For more information or reservations, go here.
3. Circulo Verde
Would you rather learn biking in Manila in private than out in the open? Then head to The Bike Playground in Circulo Verde, Bagumbayan in Quezon City. The facility has been around since 2017 and remains an institution for bikers who prefer a controlled environment for their activities. But what you might not know is that it also offers bike lessons and coaching!
Open from Tuesday to Sunday, between 8am and 5pm, The Bike Playground takes pride in its beginner and advanced lessons facilitated by a certified professional MTB instructor. For those with zero biking experience, rates start at ₱750 for two hours. They also teach basic techniques and advanced drills for ₱750 per hour and ₱1,000 per hour, respectively. Book a class here.
4. University of the Philippines (UP)
UP's expansive campus in Quezon City boasts of the 2.2-kilometre Academic Oval fit for many kinds of outdoor activities, biking included. Outside this area are a few lesser-known Manila biking destinations with enough space for those beginning their cycling journey. Among them are the Science Complex and Heartbreak Hill.
Although you won't find any formal bike lessons or coaches here, the university's perfectly safe biking trails will prepare you for fun do-it-yourself bike lessons, if not with a learning companion. Small biking communities also abound in these places; and oftentimes, they're more than happy to teach you a technique or two without spending a penny!
5. Intramuros
Intramuros has been a fixture among Manila biking enthusiasts thanks to the Walled City's ease of access. Behind the stunning buildings and quaint cafés are abandoned parking spaces, empty alleyways, and miniature gardens ideal for individuals who want to take their time with laid-back bike lessons. If it helps, Instagram-worthy spots are everywhere, too!
The historical attraction in Manila is also home to Bambike, which promotes sustainability in biking through their bamboo bikes. The social enterprise also offers eco bike tours in Intramuros, which are another great way to learn biking. A lot of the time, you'll be surrounded by fellow learners who make the most of the tour's slow-paced itinerary.
6. Emerald Avenue, Pasig City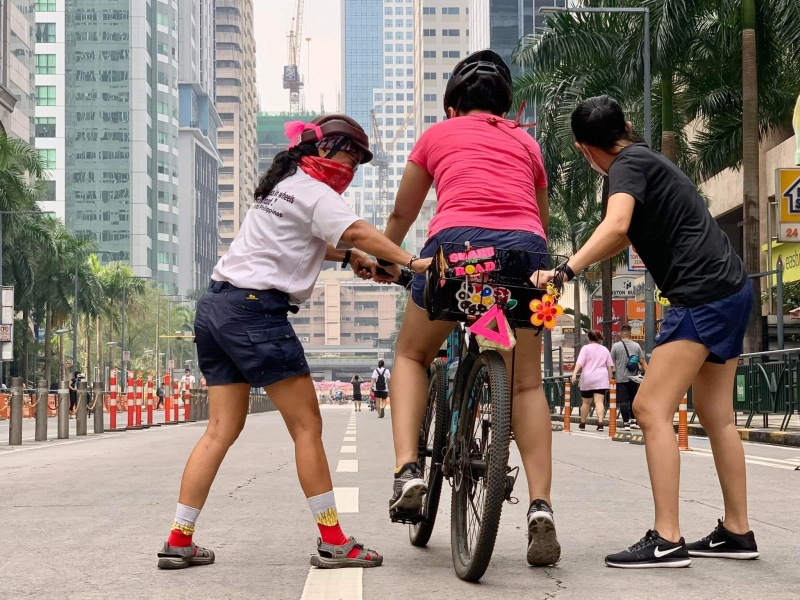 With consistent fuel price hikes in the country, biking has become a likely option and an accessible alternative for transportation. Not long ago, local cycling communities partnered with Pasig City's transport development and management, to organise free bike lessons. Biking advocacy groups like Bicycle Friendly Philippines and Pinay Bike Commuter Community spearheaded their first run last 19 Mar 2022.  Here, first-timers and volunteer instructors gathered around the carless Emerald Avenue in Ortigas to kick off their pedalling journey. 
Beyond teaching Filipinos how to balance and shift gears, Pasig City hopes to help more people save costs, time, and the environment. On top of that, the shift to sustainable transportation has led to a growing community of friendly and supportive individuals. Keep your eyes peeled for updates and announcements on the official Pasig Transport Facebook page. 
7. Esteban Street, Makati City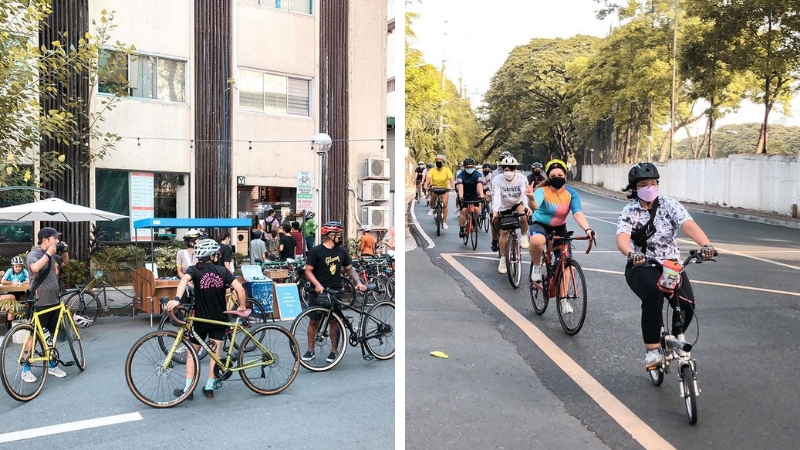 A number of bikers have frequented Esteban Street in Makati City for its welcoming cyclist community and coffee culture. What once started as a small group of friends with a shared passion for bikes and brews has flourished into an ever-growing club of like-minded individuals. Hence, the birth of the lively Esteban Cycling Community. 
Apart from cycling and coffee, a major motivator for the club was the peak of the pandemic. Since taking public transportation became a health risk due to compact spaces and poor air ventilation, biking became a better option among commuters. When restrictions began to ease, they started to organise small group rides and fun-filled events to foster the community spirit. 
Ultimately, the Esteban Cycling Community hopes to be an open and safe space for everyone and anyone — no exclusive memberships and applications fees. For more information on their events and initiatives, visit their official Instagram page. 
Also read: What I'm Learning So Far From Biking in Manila This Quarantine
While some might prefer to learn biking in Manila with a proper coach, others would rather learn on their own or with a friend. Either way, these places around the Philippine capital will provide you with the tools, knowledge, and sometimes even just a safe environment so you can do it properly. Pretty soon, you'll find yourself enjoying the benefits of biking like everyone else!