For Filipinos who love travelling to Japan, we've rounded up the places in the Philippines that look similar to the Land of the Rising Sun or draw inspiration from Japanese aesthetics. After all, Japan may be famous for its flower parks and fields, but so is the Philippines.
But let's get one thing straight. Although certain places in the Philippines might look like Japan, we believe these tourist attractions are worth visiting for their own sake — not only because they resemble several foreign attractions. Still, it helps to know that you don't have to board a flight to Japan to see bamboo groves or fields of flowers. In fact, a taste of Japan might be somewhere even closer to home. 
Also read: 18 Stunning Places in the Philippines That Look Like Foreign Destinations
1. Haight's Place = Hokubō in Okayama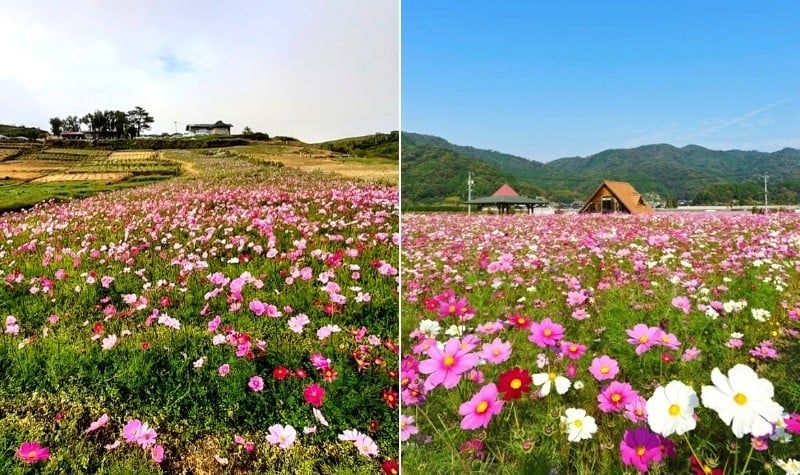 Did you know that someday, it might be possible to find cherry blossoms in the Philippines? In 2016, the Japanese embassy offered sakura trees as gifts to the province of Benguet. Located in Atok, a 100-hectare farm called Haight's Place grows these delicate trees in a cold climate, where the caretaker Edward Haights hopes they might someday thrive and bloom. While the cherry blossoms have not yet reached their full height, visitors can still enjoy the sight of cosmos flowers blooming across the farm — just like in the town of Hokubō in Okayama Prefecture in Japan. 
2. Bilar Man-made Forest in Bohol = Sagano Bamboo Forest in Kyoto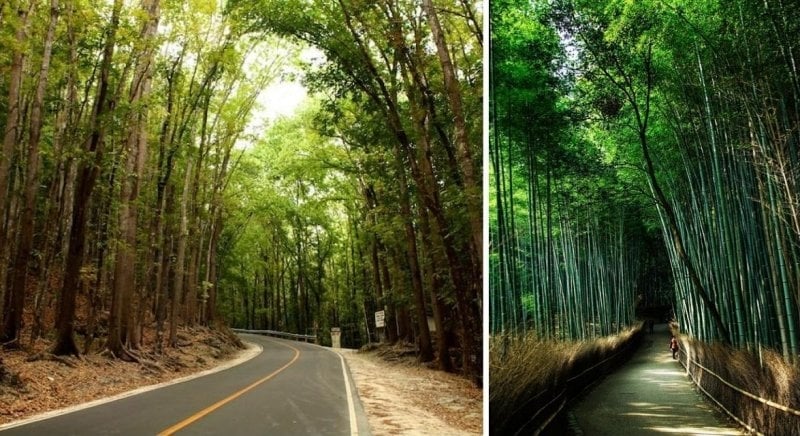 We dare you to capture a photograph of Bilar Man-made Forest and tag your geolocation as the Sagano Bamboo Forest in Kyoto. Save for the painted yellow line on the road, your friends probably wouldn't know the difference! Situated in Loboc, Bohol, this two-kilometre path of mahogany trees offers a refreshing place for visitors to take a break and breathe in the fresh air. 
3. Mt. Mayon in Albay = Mt. Fuji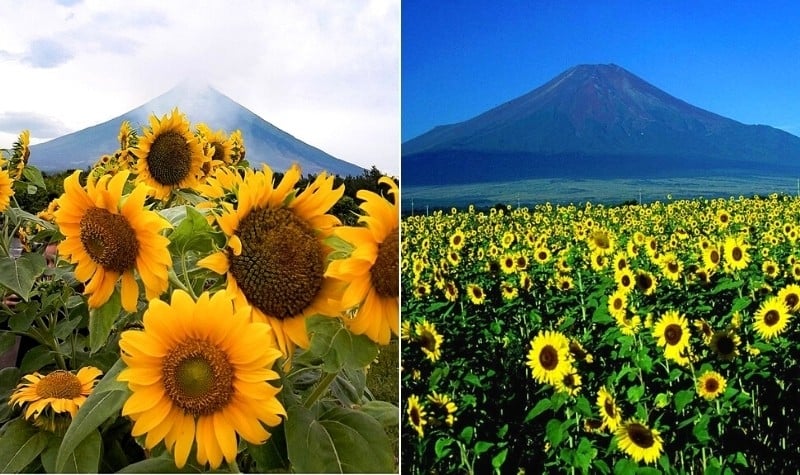 What do Mt. Mayon and Mt. Fuji have in common? These two volcanoes are known for near-perfect symmetry of their cones, which is why Mt. Mayon in the province of Albay is occasionally thought of as the sister of Mt. Fuji. Both are famed for their majestic beauty, surrounded by flower parks and fields. 
As you explore Albay, you might also stumble upon beautiful sunflower farms with a view of Mayon in the distance. Capturing photographs of the floral scenery around the volcano is a close experience to witnessing the snowy peak of Mt. Fuji rising over the sunflowers or shibazakura. 
4. Little Tokyo in Makati = Tokyo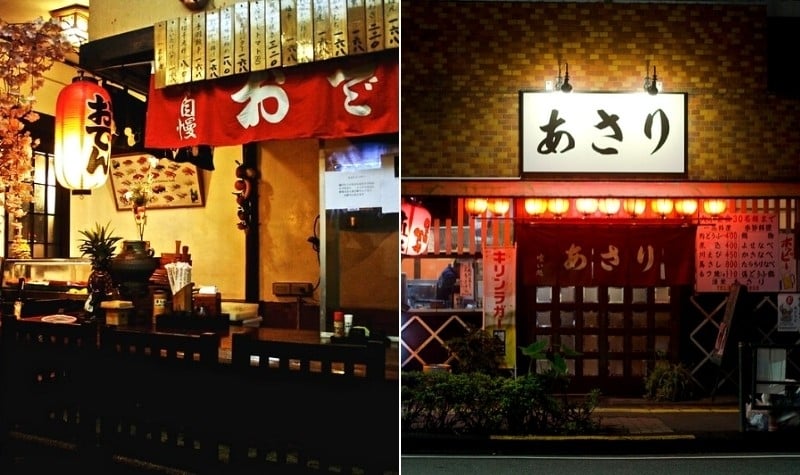 Treat your tastebuds by paying a visit to Little Tokyo in Makati City! As the name suggests, this compound at Pasong Tamo is home to authentic and delicious Japanese restaurants such as Izakaya Kikufuji and Seryna. This way, you can satisfy your Japanese food cravings in the Philippines, whether you're craving fresh sushi or melt-in-your-mouth beef. Get ready to see many Japanese expats dining at these restaurants — that's how you know you're in the right place.
5. Nihon Koen in Los Baños = Nezu Shrine in Tokyo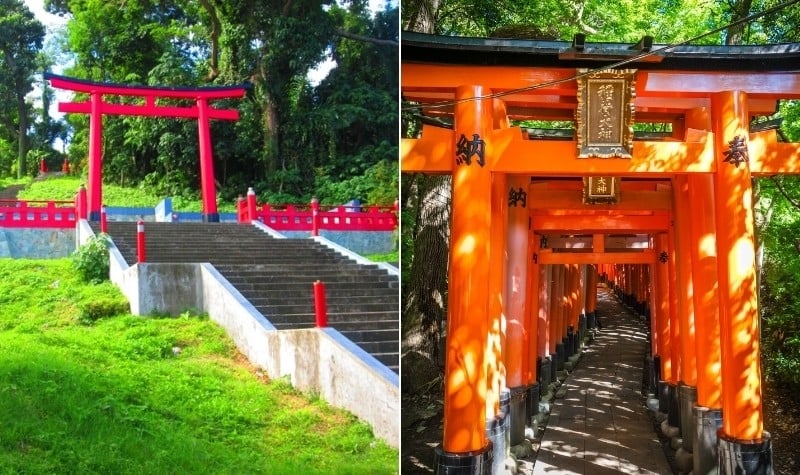 At the University of the Philippines Los Baños (UPLB), the Nihon Koen (Japanese Park) mimics a traditional Japanese garden that's known fondly among students as the "Japanese Steps." Complete with a vermillion torii gate, this park offers a fond reminder of the many shrines that can be found across Japan, such as Tatsuta Shrine in Nara, Nezu Shrine in Tokyo, and Fushimi Inari Shrine in Kyoto. Enjoying a walk around the trees and watching the fireflies at night are some of the relaxing activities that people love to do at this park in Los Baños.
6. Bamboo Eco-Park in Baguio = Arashiyama Bamboo Grove in Kyoto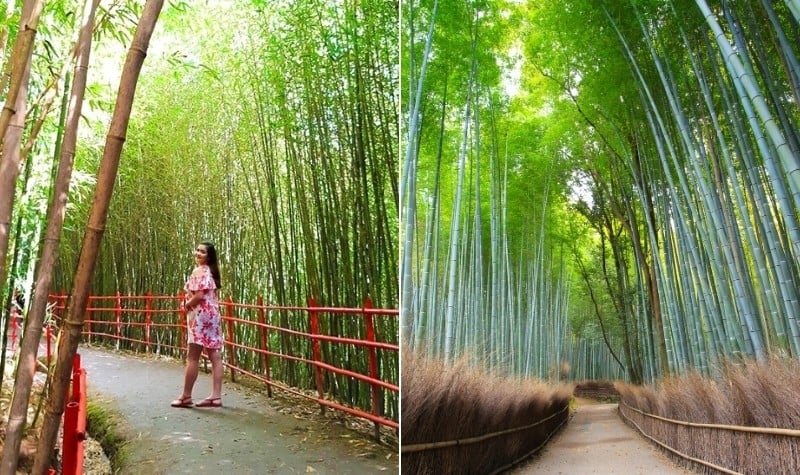 Often called "Little Kyoto," the Bamboo Eco-Park at the St. Francis Xavier Seminary bears a striking resemblance to the Arashiyama Bamboo Grove in Kyoto. Located in Pacdal, Baguio, this verdant park is perfect for a leisurely stroll down the path between the swaying green stalks. When sunlight pours in through the bamboo trees, the park has an atmosphere of zen that feels very Japanese. That local tourists vandalised the bamboo trees when the park re-opened, however, is where the similarity ends. 
7. Coron Bay in Palawan = Kabira Bay in Okinawa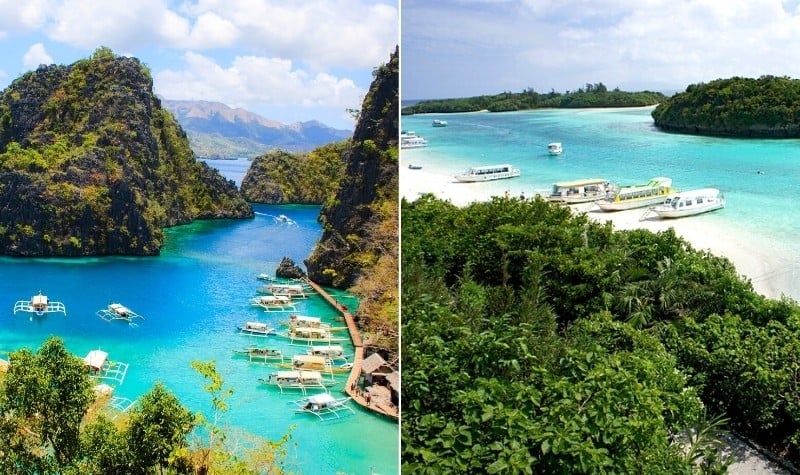 Rock formations? Check. Stunning turquoise waters? Double-check. White stretches of sand that make you want to pack your things and move there permanently? Triple checks! For beach bums and adventurers, Coron Bay in the Philippine province of Palawan and Kabira Bay on Ishigaki Island in Okinawa Prefecture offer world-famous dive sites and boat tours for sightseeing. If there's any Japanese prefecture that resembles the tropical paradise of the Philippines, it's definitely Okinawa.
8. Basco Lighthouse in Batanes = Hirakubo Lighthouse in Okinawa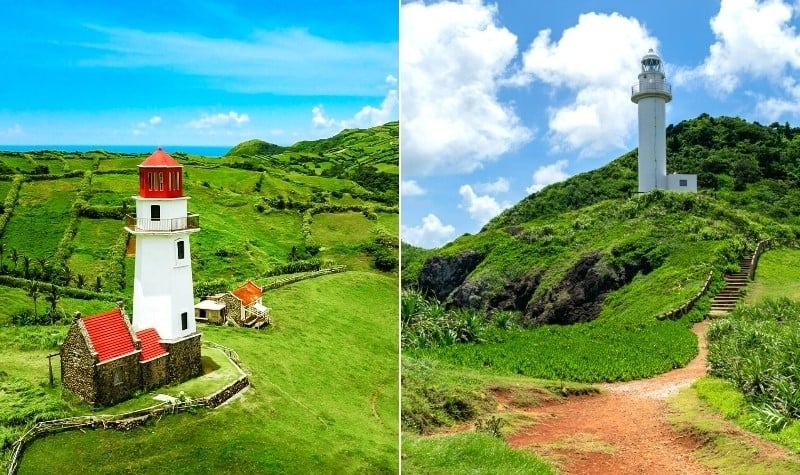 Known as the "Home of the Winds," the northernmost province of Batanes teems with rolling hills, lush fields, and a pristine lighthouse in the town of Basco. Likewise, the northernmost tip of Ishigaki Island offers magnificent views from the observatory point of Hirakubo Lighthouse. Both of these gorgeous lighthouses overlook the wide blue sea.
Also read: Why Okinawa is on Our List of Destinations When It's Safe to Travel Again
If you enjoyed these breathtaking places in the Philippines, then you might also want to check out our coverage on tropical attractions in the Philippines that will remind you of Bali.
---
This article was originally published on TripZilla.