A few years back, my family had this crazy obsession with reusable bottles and tumblers — insulated ones especially. They wanted them in different shapes and sizes for all their various needs: for school or for work, for my brother's football games, for my dad's motorbike excursions, for my mom's spinning classes, for the car, for home… The list goes on!
As for me? I didn't care at all. I stuck to my trusty old plastic bottle (that was, admittedly, falling apart). "Who cares if my water doesn't stay cold for 24 hours, or if my bottle isn't stylish? Water is water," I thought to myself. I accepted the insulated bottles and cute tumblers I received as gifts, but I never thought I would grow as attached to them as my family did!
Also read: Pinoy Traveller Must-Haves: 16 Eco-Friendly Travel Items
A newfound appreciation for reusable bottles
And then I joined TripZilla Philippines. On my first month with the team, I went on my very first hike. We trekked up Taal Volcano — and as a beginner, I was prepared with all the essentials. Of course, a giant bottle of water was one of them. And boy, was I glad that I decided to pack one that was insulated! On top of that, the team has taught me just how important it is to eliminate the use of single-use plastics whenever possible, especially when travelling.
Ever since then, I grew more attached to my reusable bottles and tumblers. They've travelled with me throughout 2019 and you better believe I'll be taking them along with me on all my future trips! If you haven't gotten on board yet, then I think it's high time you do, too!
Best insulated bottles and tumblers for your 2022 travels
1. Acqua Bottles x Ocean Care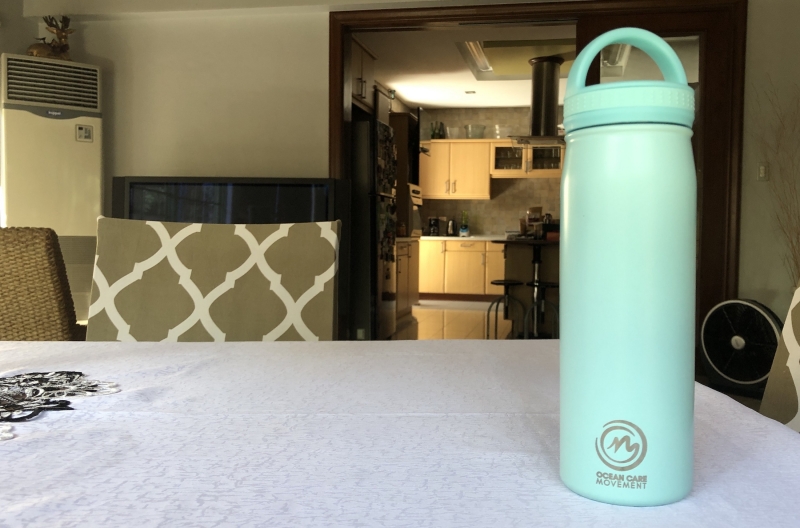 There are many reasons to love these pretty, pastel-coloured insulated bottles. They're affordable, they do a great job at keeping drinks hot or cold, and they come with handles. And on top of that, purchasing one of these bottles aids a valuable cause, too!
A collaboration between Acqua Bottles and Ocean Care Movement, these 500-mL bottles help raise environmental awareness and allow us to move toward sustainable living. With every bottle purchased, we help decrease single-use plastics, keeping the seas (and in turn, ourselves) healthy and clean. What's not to love?
Where to buy: Get in touch with Ocean Care Movement through their official Facebook page
2. Healthy Human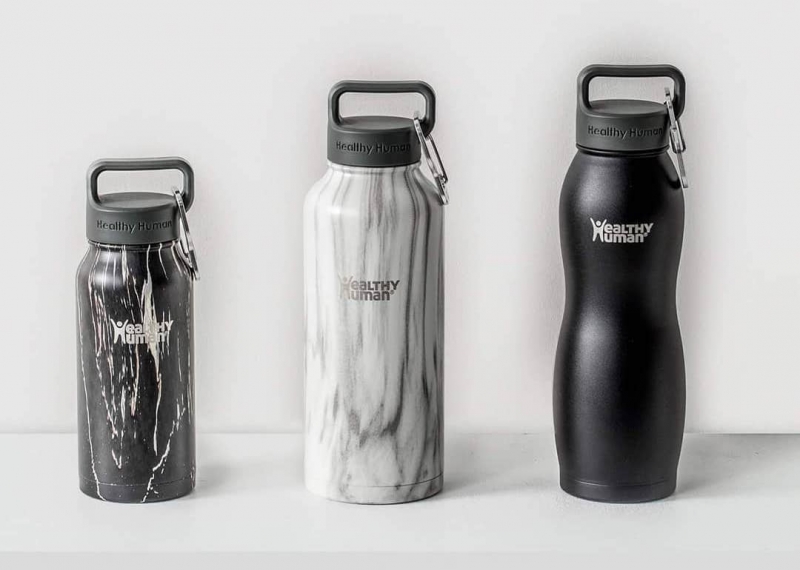 I first laid my eyes on Healthy Human's vacuum-insulated bottles while strolling through the aisles of Rustan's Department Store. They caught my eye with their sleek marble-like designs, trusty handles, carabiners — and best of all, their (relatively) wallet-friendly prices!
I love that they come in lots of different sizes — even one small enough to fit nicely in my bag. An added plus? It doesn't get my things wet, either! On the other hand, the bigger sizes are great for hiking trips, road trips, and visits to places where you're likely to spend an unnecessary amount on bottles of water.
Where to buy: Lazada Flagship Store, Rustan's Department Store, Robinsons Department Store, or S&R
3. Klean Kanteen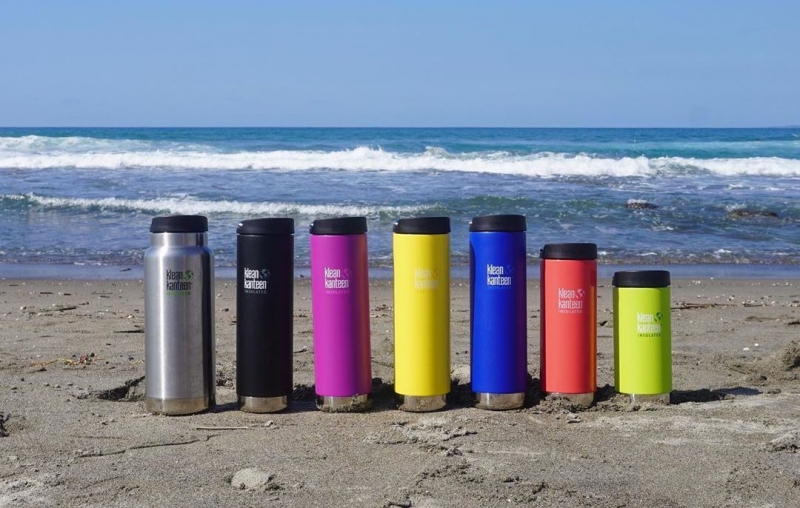 When it comes to keeping drinks iced or piping hot for extended periods of time, Klean Kanteen is definitely one of the #OG brands who've come up with this technology. So, it probably goes without saying that their reusable bottles and tumblers are among the priciest on this list.
But if you think the splurge is worth it, then why not? Klean Kanteen has lots of options for you to choose from: from simple single-walled tumblers, to vacuum-insulated bottles that keep your drinks hot for as long as 38 hours and cold for 135 hours. They come in a range of shapes and sizes, too — you'll surely find something to your liking!
Where to buy: Lazada Flagship Store, Klean Kanteen in Power Plant, True Value, Rustan's Department Store, or Certified Calm 
Also read: 10 Expensive Travel Items You Won't Regret Buying
4. S'well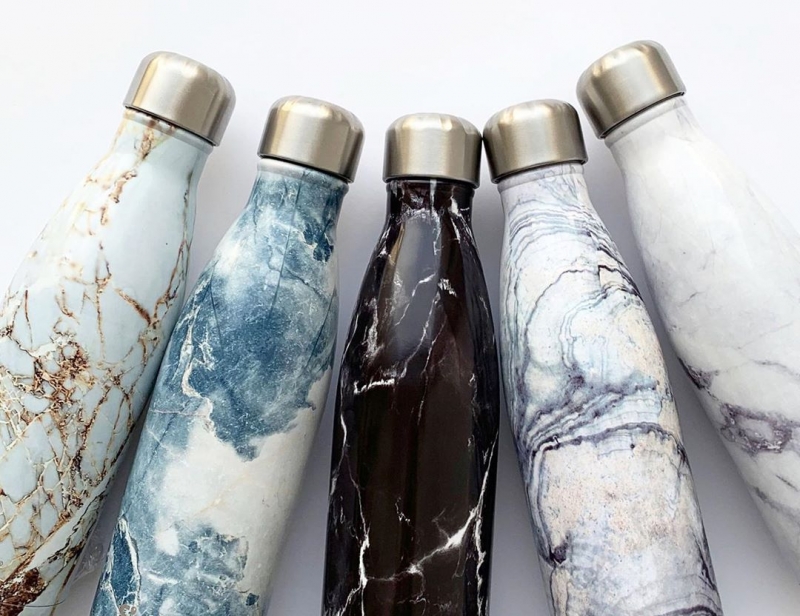 Here's another option for those who prefer to stay hydrated in style! S'well's are among the first vacuum-insulated bottles I truly got interested in, and it's not hard to understand why. Just look at their gorgeous designs! If you're a fellow kikay traveller, these beautiful reusable water bottles will certainly inspire you to take them with you wherever you go.
Where to buy: Rustan's Department Store or Lococo
5. Miniso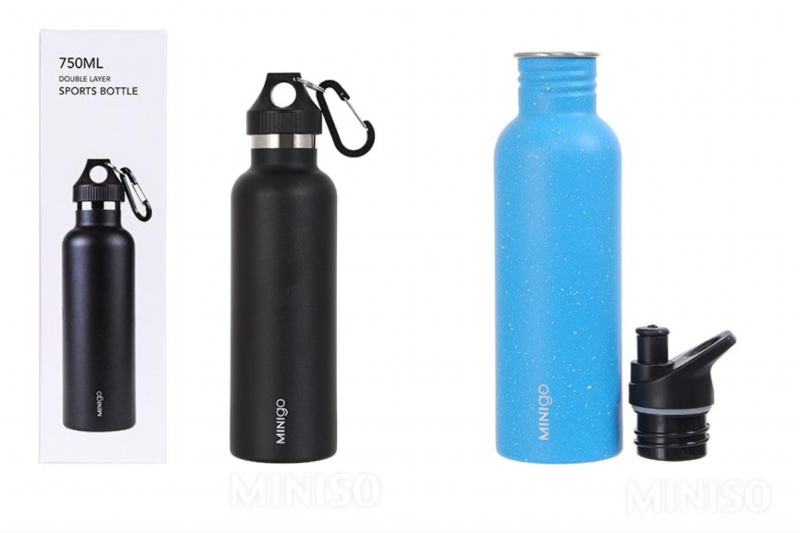 I'm all about cheap purchases — and I love them even more when they turn out to be of great quality! For those on the lookout for a vacuum-insulated stainless steel tumbler that won't break the bank, give Miniso's a try. They're simple, sleek, and come in several sizes. You can even choose between one that comes with a sports cap, or another with a wide mouth and carabiner for easy handling!
Where to buy: Miniso or Lazada Flagship Store
6. bkr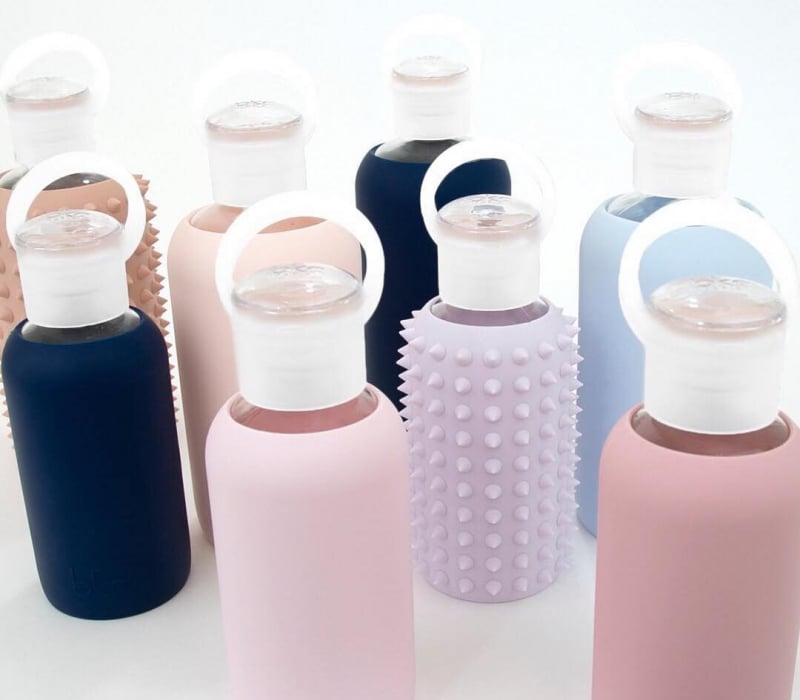 Are you one of those people who think their drinks taste different in stainless steel or plastic bottles? I certainly used to be one of them. Here's the solution: Choose a reusable glass bottle like those from bkr. While they might not be able to keep beverages hot or cold for as long as other insulated tumblers, your drinks will taste absolutely perfect!
Not just your regular glass bottles, bkr's come with a chic upgrade. Recognised for their stylish designs, signature small mouths, and easy-to-grip silicone sleeves, they've become quite popular in the fashion industry. Not only will they keep you hydrated, they're also perfect for your Instagrammable #flatlays!
Where to buy: BeautyMNL, Sephora Philippines, Zalora, Beauty Bar, or Rustan's Department Store
7. Domace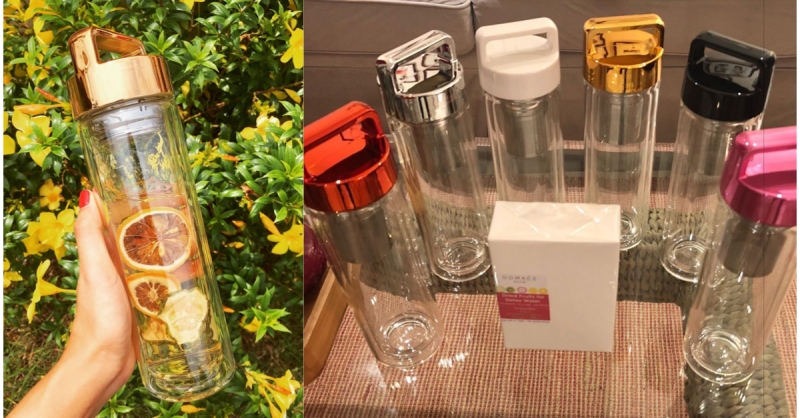 With such basic yet beautiful designs, Domace's double-walled glass tumblers are pretty hard to resist — especially for those who love tumblers that come with built-in tea infusers and strainers! Not exclusively for tea drinkers, they're also good for holding water, coffee, and detox water.
While the idea of carrying around a 410-mL glass tumbler might be daunting, they do come with trusty handles. Plus, simply not wanting to break yours just might be enough to remind you to grip it with care!
Where to buy: Domace official Instagram page, BeautyMNL or Bliss Yoga Manila
8. We & Co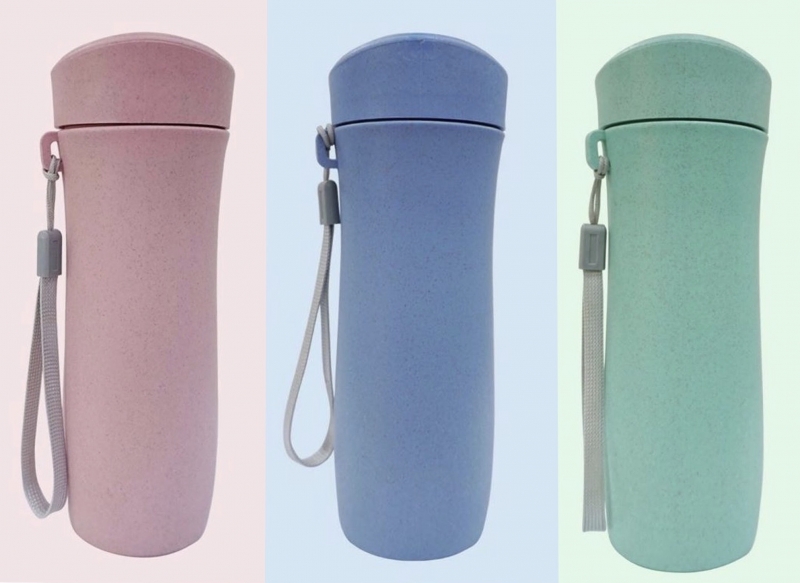 Not into carrying around heavy stainless steel bottles? We & Co.'s cute, lightweight tumblers are perfect for minimalists who are always on the go! Made with wheat straw, they are an eco-friendly and compostable alternative to plastic bottles. Opt for the double-walled tumblers if you'd like your drinks to stay cold or hot for longer periods of time!
When you opt for We & Co.'s tumblers, you aren't just helping save the environment — you're saving yourself the extra cash, too! They're among the most affordable items on this list of reusable bottles and tumblers.
Where to buy: Our Source or G Stuff
9. Frank Green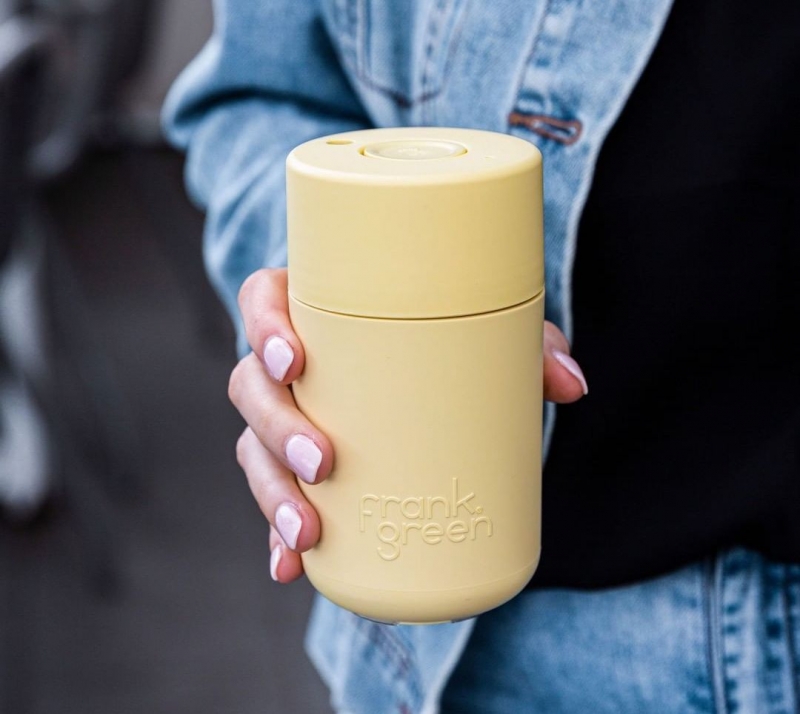 Frank Green's reusable bottles and tumblers are all the rage in Australia — so much so that these products even have 'tap to pay' variations! (Sana all.) 
The brand is particularly known for their stylish double-walled cups, which come with lots of special features. Each cup has a special button for opening or closing the spill-proof lid. Their outer material allows for easy gripping, and they've also been designed to accommodate coffee sizes from your favourite cafés, ranging from small to large orders! For extra insulation, opt for Frank Green's triple-walled ceramic and stainless steel cups or bottles.
Tip: For an extra fee, you can even have your cup or bottle personalised!
Where to buy: Honest Environment
10. The Bamboo Company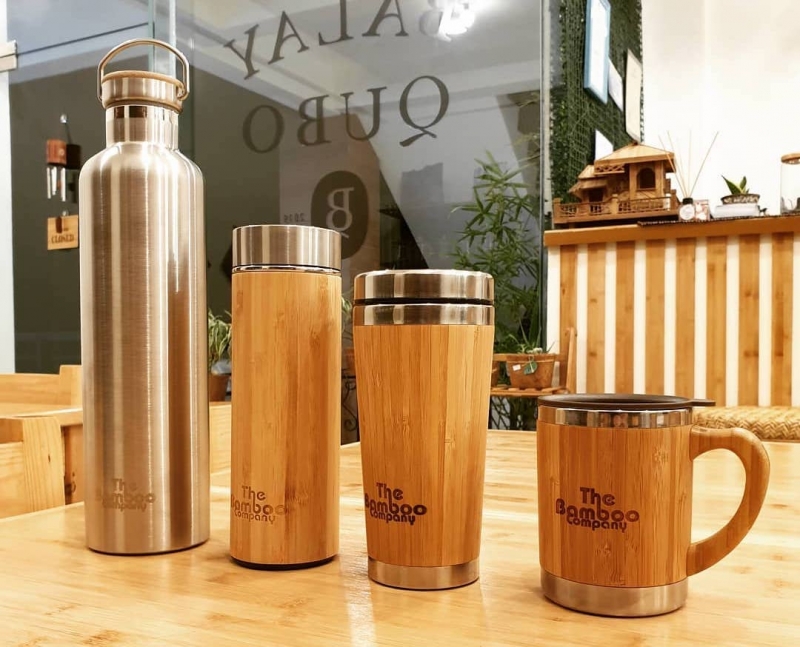 How about a reusable bottle or tumbler with a local twist? I just love that those from The Bamboo Company are designed with both stainless steel and sustainably sourced bamboo! You can even choose among their range of styles, from double-walled coffee cups and tumblers to vacuum-insulated bottles.
Not only are they functional and pretty to look at — they also help fund a valuable cause, in partnership with Balyena.org. With every purchase of the Lakbawayan Tumbler (second from the left in the photo above), you help protect the country's dolphin and whale communities!
Where to buy: The Bamboo Company's official website, Lazada Flagship Store, or Balay Qubo 
Also read: 10 Best 1L Insulated Tumblers (That Aren't Kleen Kanteen or Hydro Flask)
So, which reusable bottle or tumbler will you be taking along with you on your 2022 travels? Here's to a more sustainable and travel-filled year ahead!
---
This article contains affiliate links. When you make purchases through these links, we may earn a small commission at no additional cost to you.