Contributed by Wander with MI
Capiz is a small province located in Western Visayas, Philippines. Usually, this place is not among the first destinations in your mind whenever you visit the country. But what you don't know is that, despite being small, there are still loads and exciting things that you can do here.
There were a lot of misconceptions before that tagged the province as home to the aswangs (mythical creatures), but the real reason why Capiz is getting the attention of people is due to its abundant marine life, which is why Roxas City, the capital of Capiz, is dubbed the "Seafood Capital of the Philippines".
Also read: Captivating Capiz: Roxas City & Panay Municipality in a Day
When I married my husband, a trip to Capiz (particularly in Roxas City) at least once a year should not be missed. This is the place where he grew up and where his family still resides. During our vacation here last August, I thought of listing some activities that you can enjoy, so you can consider visiting Roxas City on your next trip to the Visayas.
1. Hang out at Baybay Beach
Baybay Beach is a seven-kilometre stretch of fine and dark coloured sand. Located just a few minutes drive from the city proper, this place is a favourite among locals and tourists. Some activities that you can do here are swimming, relaxing, hanging out with families and friends, watching the sunset or eating fresh seafood in various restaurants located along the beach.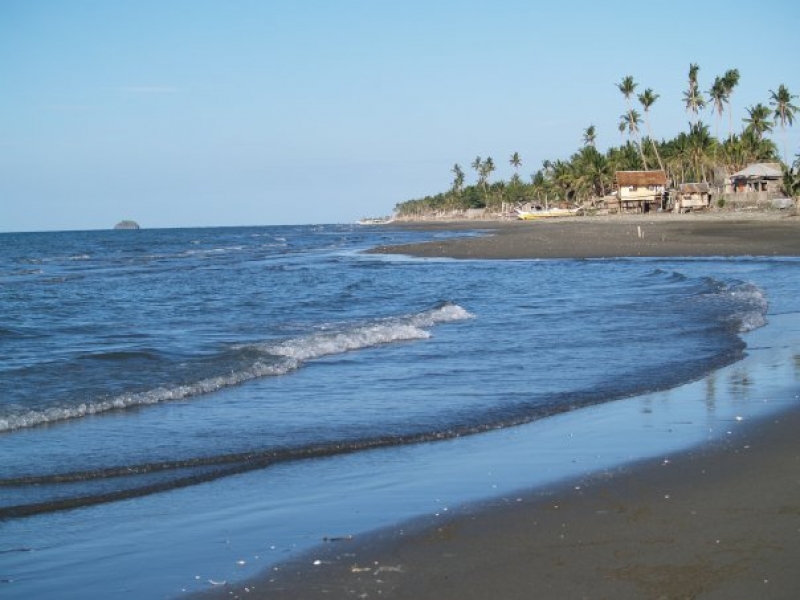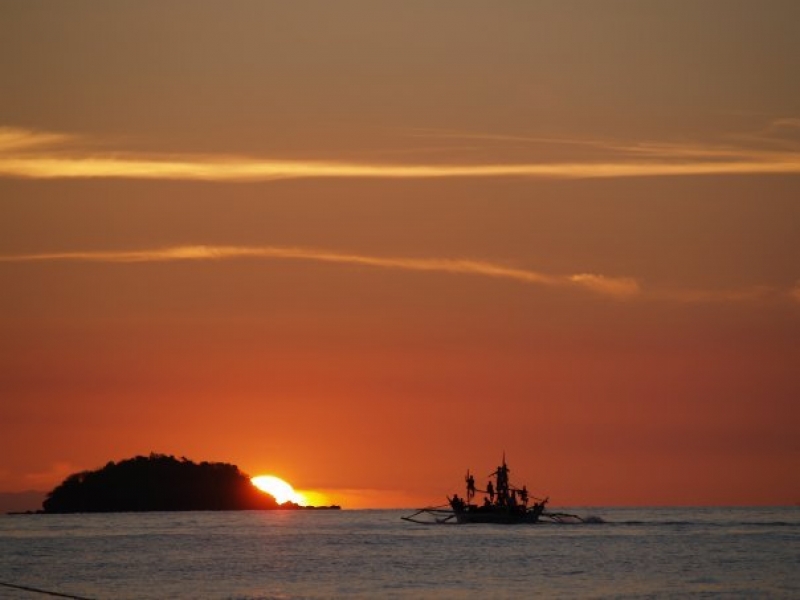 2. Indulge in seafood
A visit to Roxas City won't be complete without trying its freshest and tastiest seafood. There are a lot of varieties that you can choose from, but one of the most unique ones that can be found here is a shellfish called Diwal or Angel Wings. It is called such because once you open it, you will see that the shell looks like the wings of an angel. Sadly, we didn't get to try it when we were there since it was not the season for them.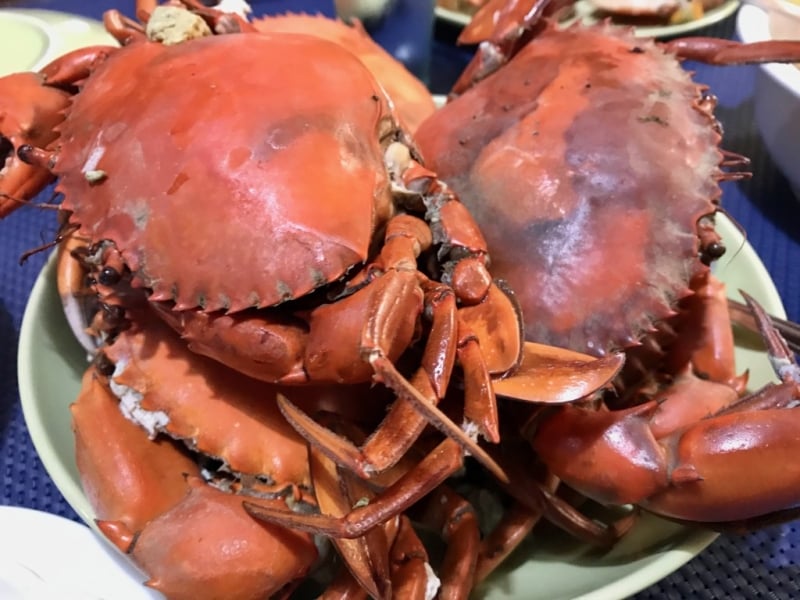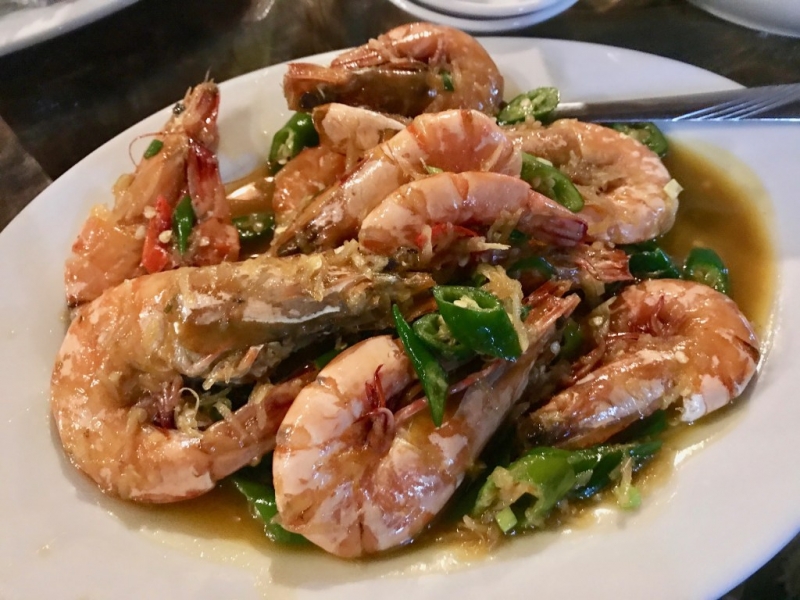 There are many restaurants all over Roxas City that offer seafood, but the best place is Baybay Beach. There's a strip of restaurants and stalls along the beach that offers paluto, wherein you will buy the seafood fresh and it will be cooked right away depending on the dish.
3. Stroll around the city centre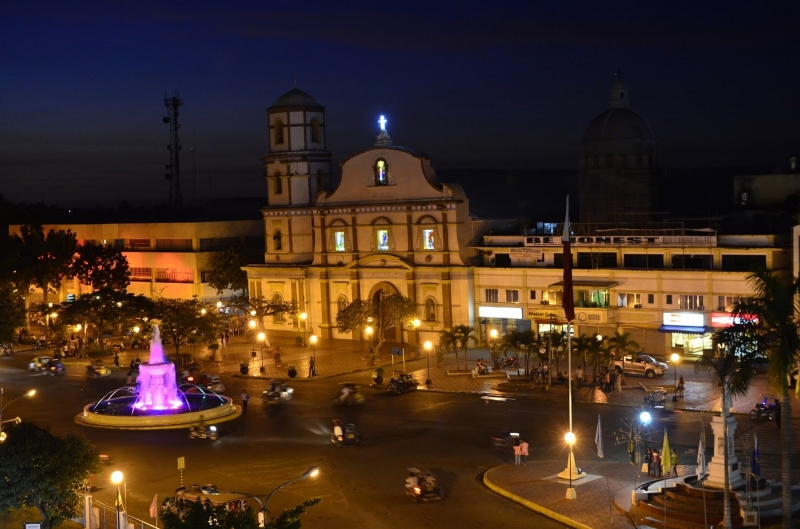 Just like in any other province in the Philippines, the city centre of Roxas is mainly comprised of the church, city hall, plaza, museum, hospital, schools and market.
Among the points of interest that you should visit include:
Immaculate Conception Metropolitan Cathedral – one of the oldest churches in the country.
Panublion – a small museum (used to be a water tank) that houses some important artefacts and documents that reveal how Roxas City was before, at present and its vision for the future.
City Bridge – built in 1910, this bridge crosses the Panay River and connects the commercial centre of the city to the main plaza.
4. Visit the shrine of the Sacred Heart of Jesus
Completed during 2015 and situated at the top of a hill, the gigantic statue of the Sacred Heart of Jesus, measuring 132 feet, is presumed to be the tallest of its kind in the Philippines.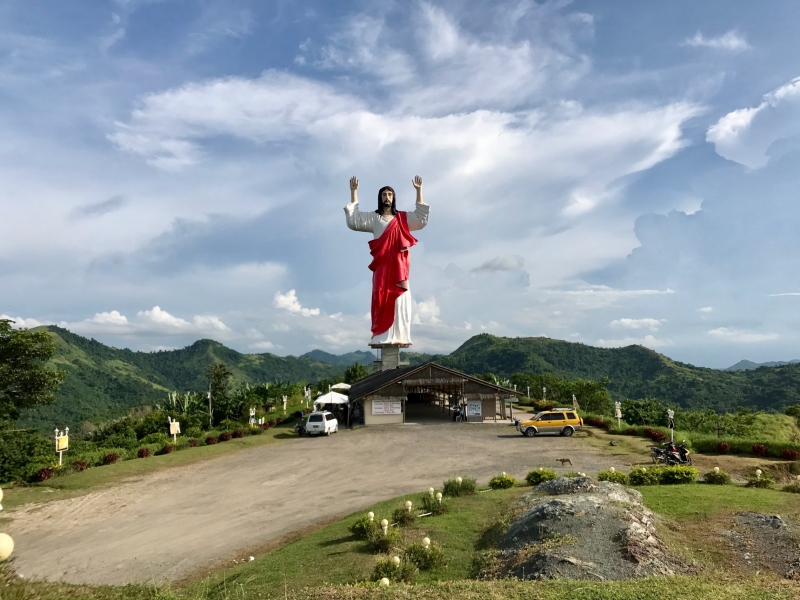 A church can be found right at the foot of the statue where visitors can pray, reflect, light candles or attend the ordinary and healing mass. One can also relax, walk around and feel the breeze as the place is surrounded by hills and trees. The place also offers a breathtaking view of the city.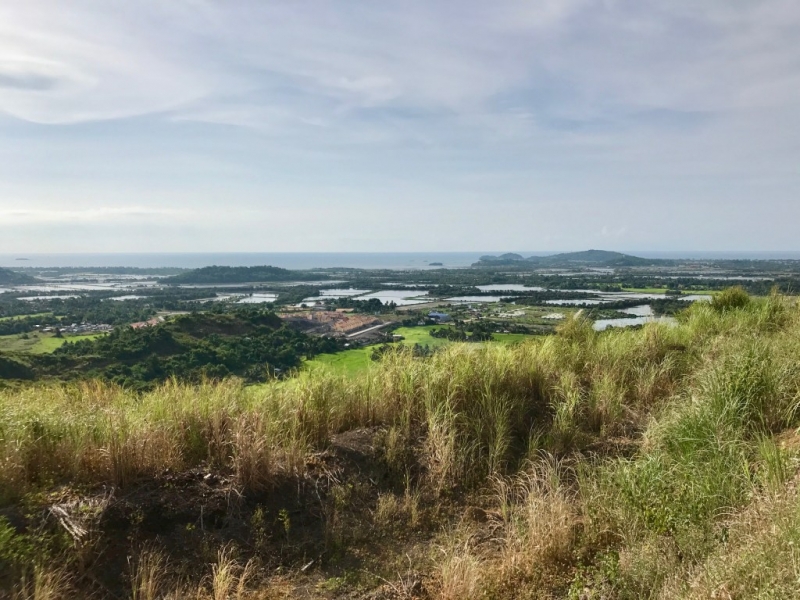 This religious attraction can be reached by riding a car or bigger vehicles, as the road leading here is rough and a bit steep. Tricycles might have a hard time getting through it. I've seen some visitors who managed to walk up the hill just to see the image of the Sacred Heart of Jesus.
5. Enjoy the scenic view while dining at Cafe Terraza
Just a few kilometres drive from the Shrine of the Sacred Heart of Jesus is a hilltop dining destination called Cafe Terraza. It is a restaurant that does not only offer great food, but also the perfect ambience and scenic views that will complete your dining experience.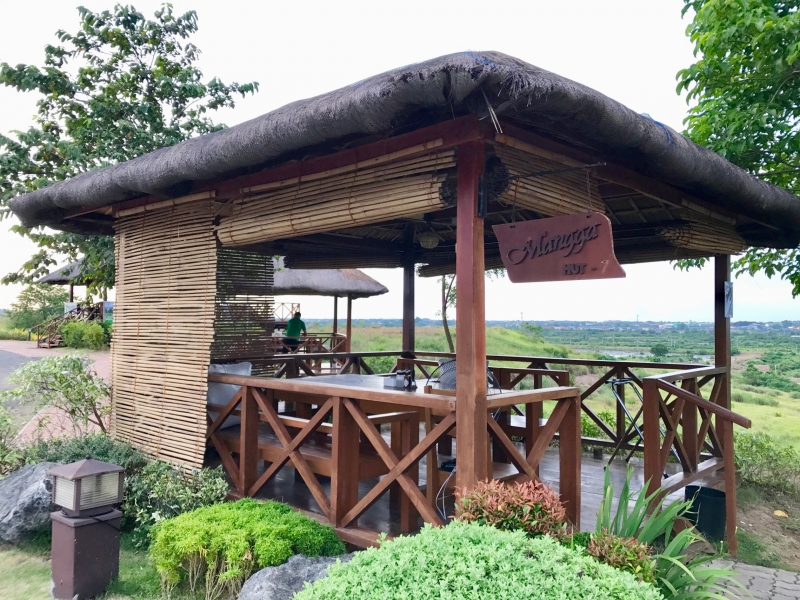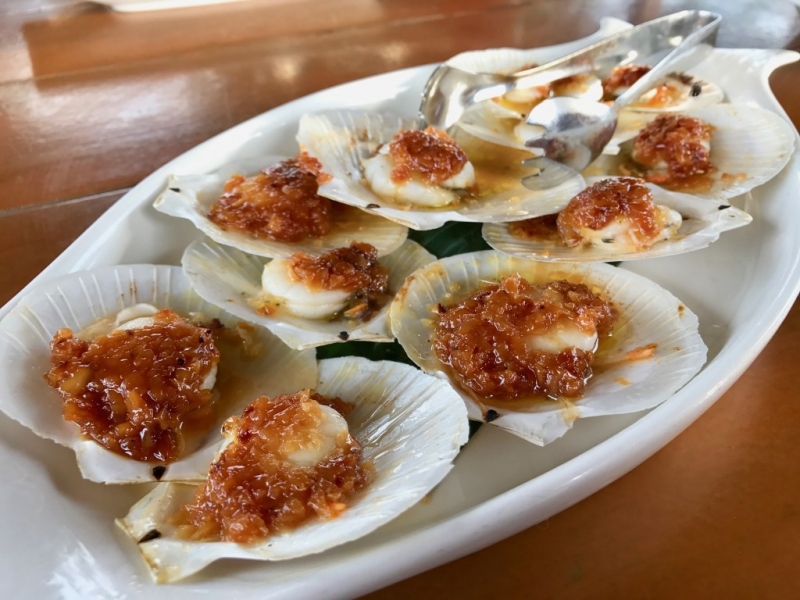 Before dining, you may also opt to try the zip-line, which is located just beside the restaurant. It may not be longest and highest zip-line I've seen, but I guess it would still give you a bit of excitement.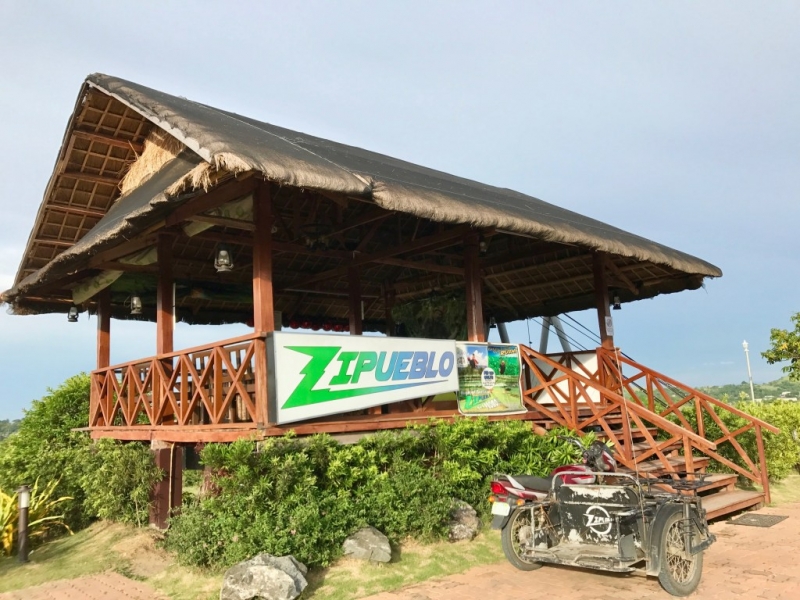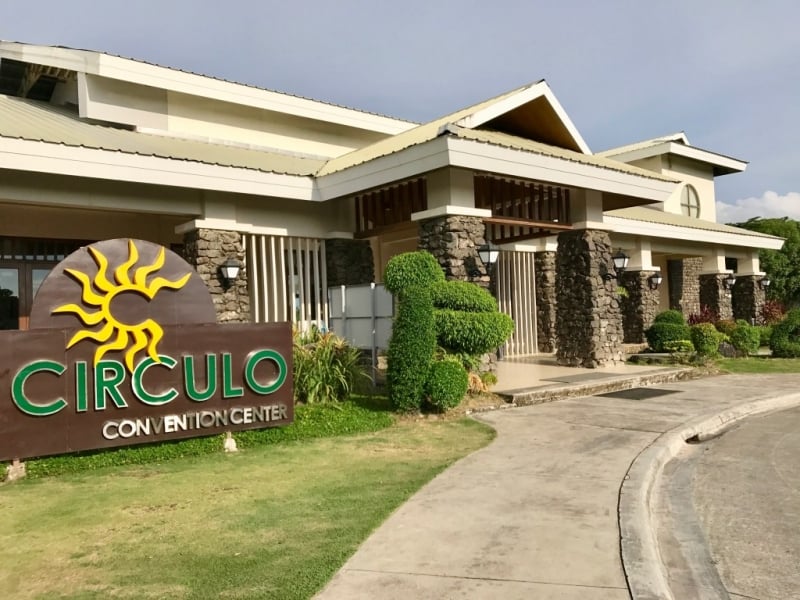 Cafe Terraza is located in Pueblo de Panay, a newly developed area that offers commercial, residential, religious and tourism-oriented facilities.
6. River cruise at Palina Greenbelt Ecopark
Palina Greenbelt Ecopark is an attraction located at Barangay Cagay, which is a few minutes drive from the city proper. It offers a scenic and relaxing cruise along the clean waters of Palina River where you can see the mangroves along the side as well as some fish ponds.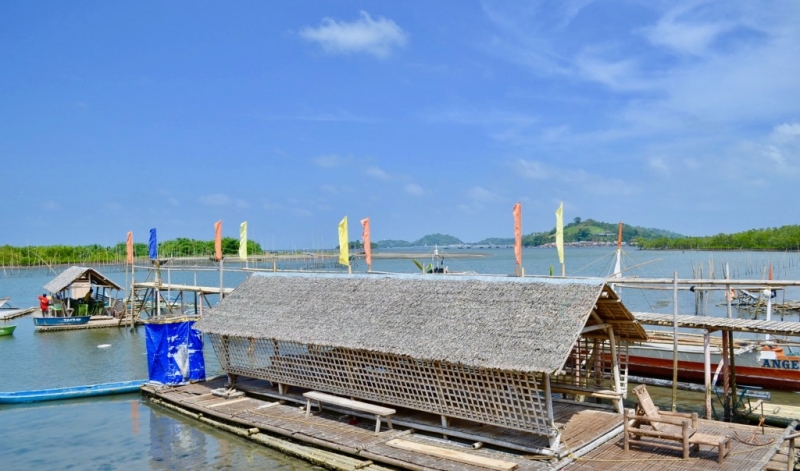 While on board the river cruise, you can also avail other services such as a foot spa, manicure and pedicure, or you can request some meals to be served. However, this should be requested in advance.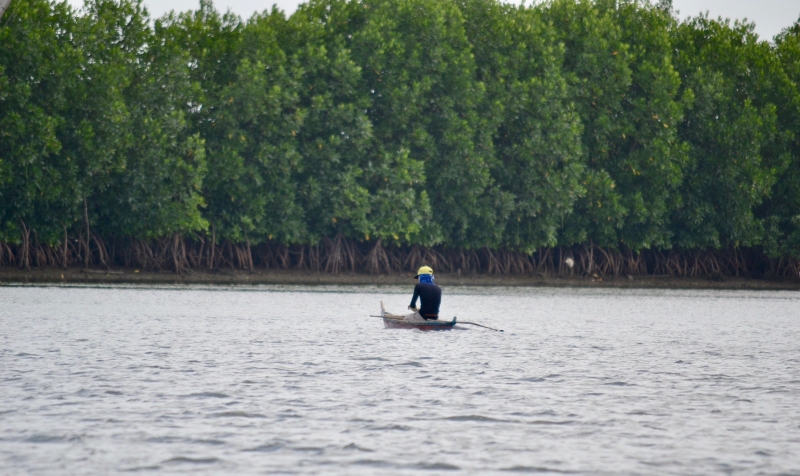 We didn't get to do this during our last trip in Roxas. These pictures were taken in 2014 when we first tried it. I have no idea how much it costs now, but you may call them at (036) 621-5918 / +63948 131 4147 / +63910 609 7475 for more accurate information on the rates.
7. See the biggest bell in Asia at Sta. Monica Church
Sta. Monica Church is a Baroque-style church built from coral stones. It is actually located in Pan-ay, another municipality of Capiz. Although not situated in Roxas City, I have included it on the list because it is just a short drive from there. Plus, this is where my husband's clan originated. Apart from that, the Church also houses the biggest Christian bell in Asia, which I believe is a must-see if you are visiting the province.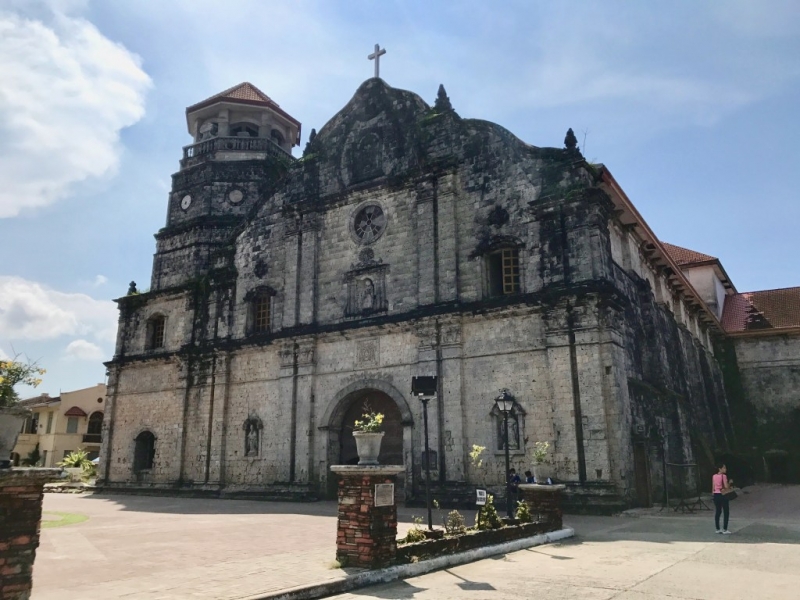 The bell, also known as Dako Nga Lingganay, is made from 70 sacks of gold coins donated by the people of Pan-ay. It measures 7ft in diameter, 5ft in height and weighs 10,400kgs. When it rings, the sound can be heard from several kilometres away.
In order to see the bell, you must climb a steep flight of stairs. But for those who cannot make it, you can just check out the replica located at the side of the church.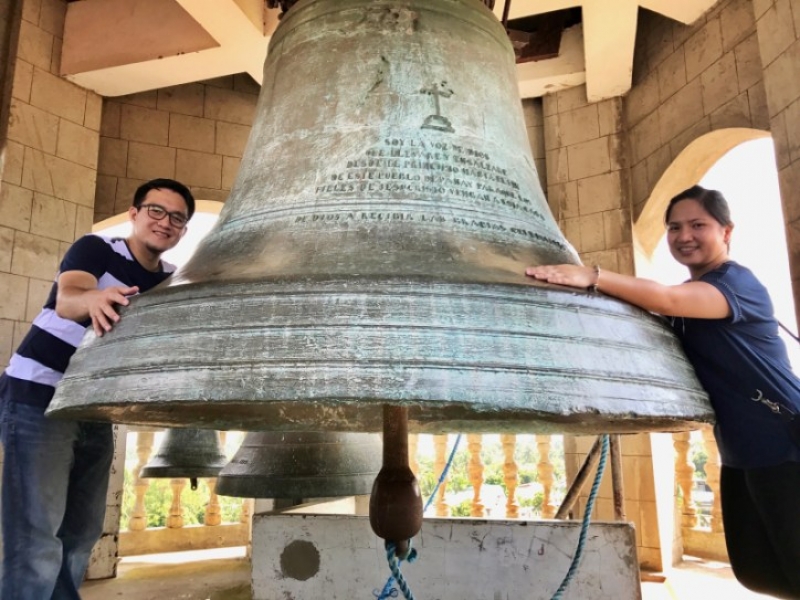 It is necessary that you book a guided tour from the Parish Office before heading to the bell. Although it is entirely free, I suggest you give some tip (if you can) to the tour guide. No guided tours will be conducted if there is an ongoing mass inside the church. The visiting hours are as follows:
Monday to Saturday – 8 to 11am and 1 to 4pm
Sunday – 10am to 12pm and 1 to 4pm
Getting around
Tricycle is the usual mode of public transportation in Roxas City. You can either do single trips or you can hire them for one whole day and just negotiate the fare with the driver.
There are also travel agencies that offer tours around Roxas City and Capiz. I kept on reading great reviews about Las Islas Travel and Tours.
Where to stay
We don't stay in hotels whenever we visit Roxas City. But some of the most recommended places to stay are San Antonio Resort, Roxas President's Inn and Espacio Verde Resort. You may also check out the list provided by the Roxas City Government.
Also read: Why I Fell in Love with Roxas City, Capiz