It's an exciting time for Pinoy sports lovers. The 30th Southeast Asian Games (2019 SEA Games) are already fast approaching! Between 30 November and 11 December 2019, a total of 56 sports events are scheduled to take place right here in the Philippines. And here's some more great news for those of you who've been counting down to the event: You can start purchasing your tickets as early as 3 October 2019!
Also read: Travel Opportunities Can Look Forward to This 2019
Where and how to get tickets to the 2019 SEA Games
Tickets are now available on smtickets.com and all SM Tickets outlets. As of now, you can already get tickets to the opening ceremony at the Philippine Arena in Bulacan and selected sports in Clark and Metro Manila! These include three-on-three basketball, billiards, swimming, and men's football.
Currently, the tickets being sold are limited to general admission, upper box, and lower box seats. But here's the best part — prices start as low as ₱50! Now, that's not a bad price to witness history, am I right?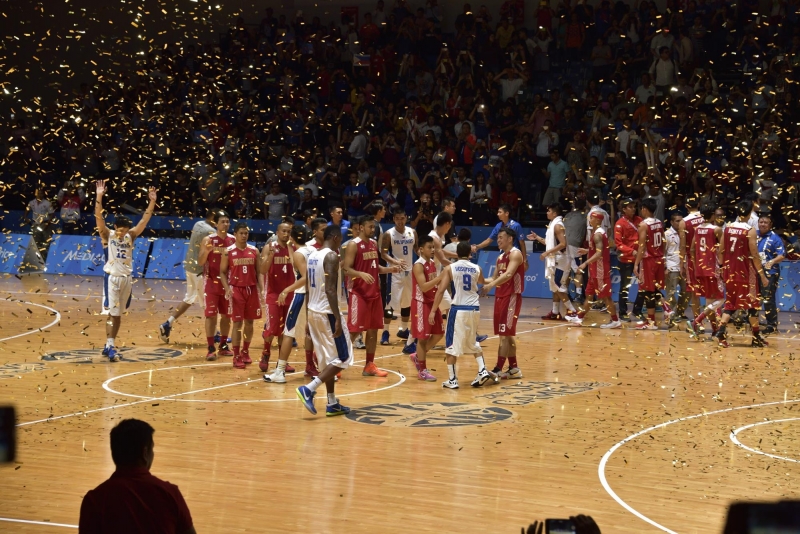 Hoping to sit closer to the front as you cheer for your favourite players? Don't worry — you don't have to wait much longer. All seat categories will go on sale starting 15 October. It's time to set your alarms!
You can find the available selection of sports and their corresponding venues and prices in the infographics below: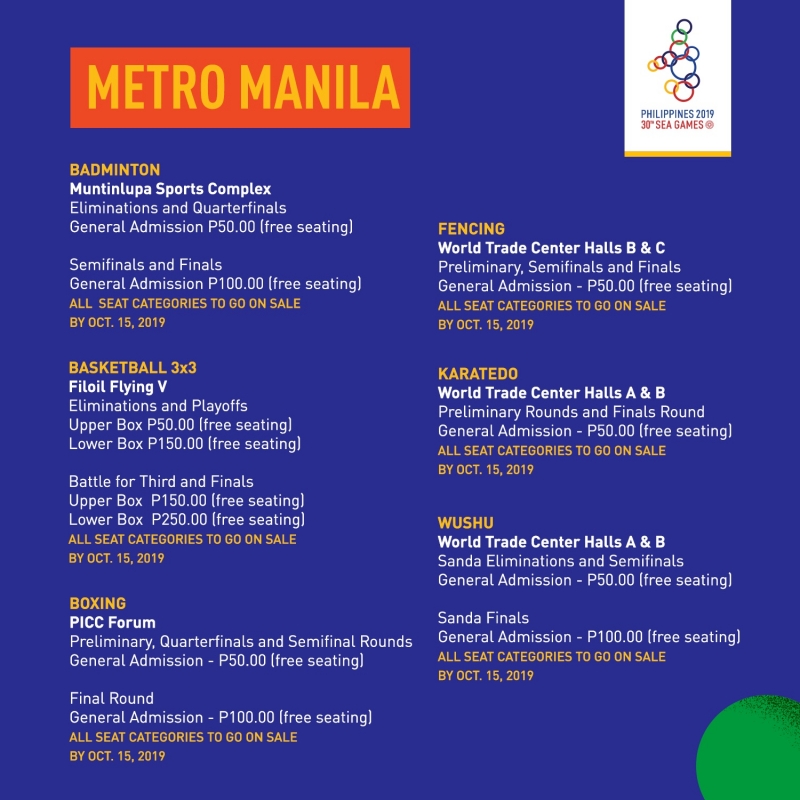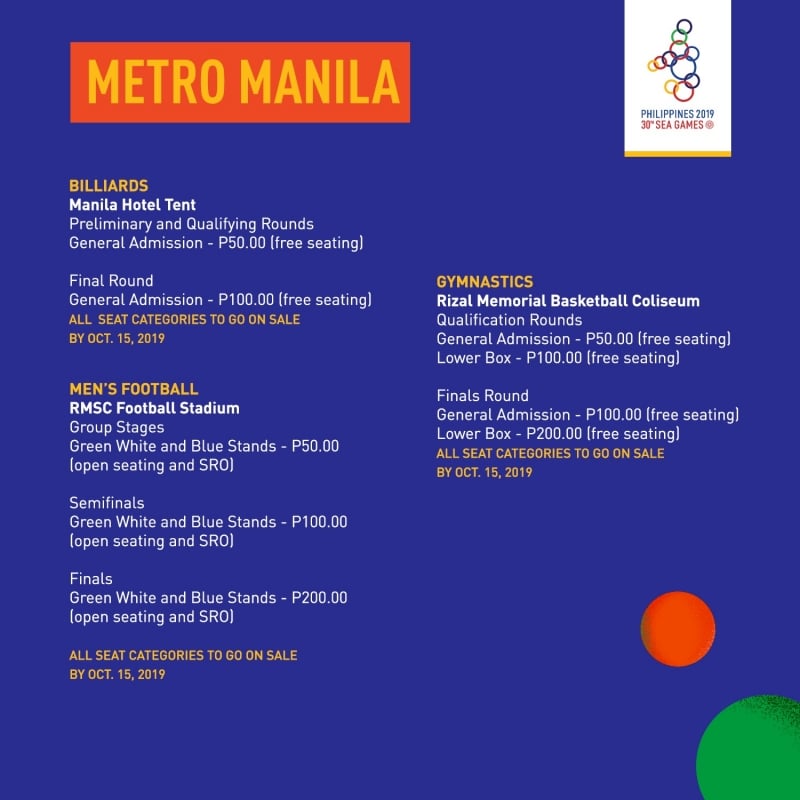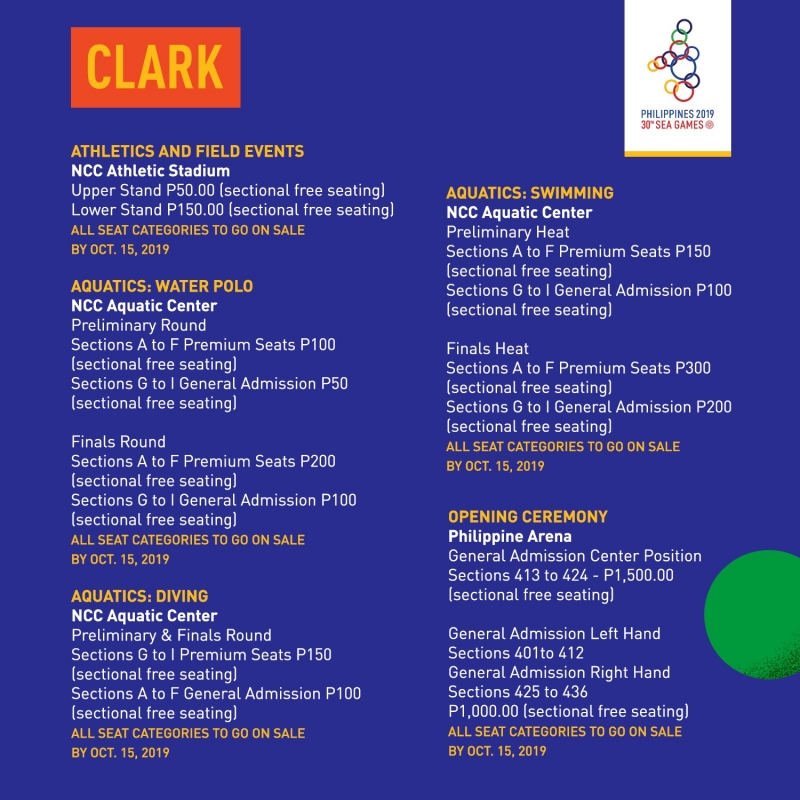 Setting up for the events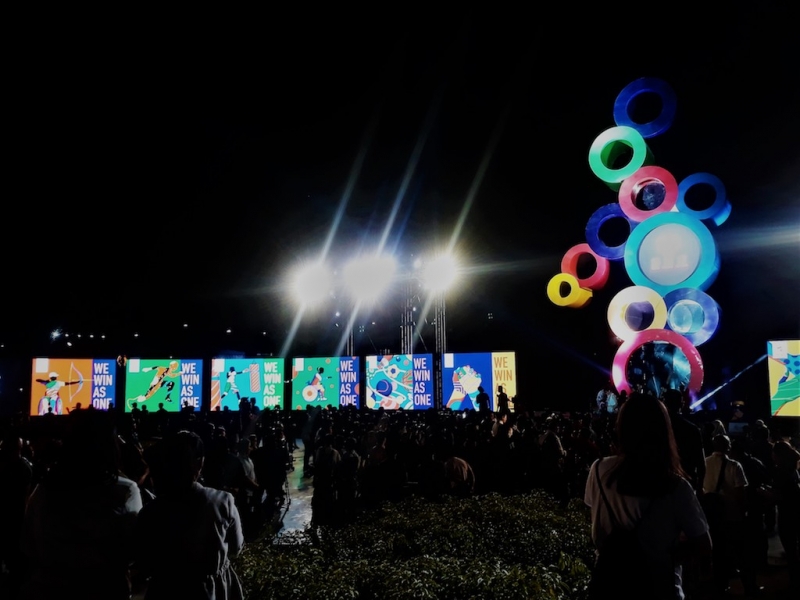 To build our excitement for the upcoming SEA Games, the organisers have treated us to sneak previews of some of this year's venues. Those who aren't big sports fans have admitted that these have definitely gotten them hyped up for the nearing multi-sports event!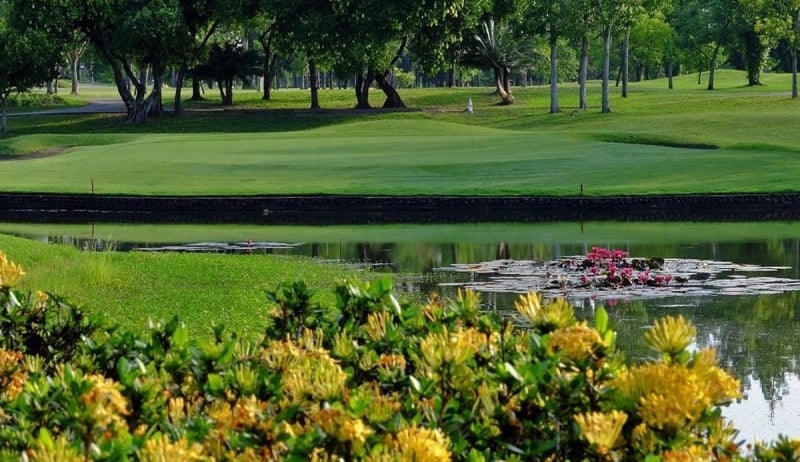 Besides sports arenas and football fields, the games will also be held at the beautiful new Aquatic Center in New Clark City and the lush greens at Luisita Golf & Country Club! Having seen just a slice of what they have prepared, we can't wait to see the rest that they have in store for us.
Also read: 8 Best Destinations in Southeast Asia for the Water Sports Enthusiasts
Score your tickets ASAP! We'll see you at the 2019 SEA Games!