Pinoys rejoice! South Korea and Japan are reopening to tourists this June 2022. Aren't you all excited? While waiting for the official details on how to apply for the respective tourist visas, here's something to excite you even more — a list of places where you can recreate your favourite K-drama and Japanese anime scenes. Ready ka na bang kiligin ulit?
Save more, travel more with ShopBack's Travel Thursdays.
When you book on 2 June 2022, you can enjoy upsized cashback from Agoda (8%), Booking.com (10%), Trip.com (7%), Hotels.com (4%), Expedia (4%), Singapore Airlines (1%), Etihad (2%), and Malaysia Airlines (2%).
In addition, you can get as much as 5% cashback when you book on Klook on June 6, and KKday on June 2 and 6 via Shopback.
Keep an eye out for the 50% flash deal, too! When you spend ₱1,000, you get ₱500 back. How cool is that?
Must-visit K-drama spots in South Korea
There's tons of K-drama filming locations in South Korea; so much so that it would take another long article to put them all together. However, we've done the research for you and made this summary of the most popular K-drama filming locations every Pinoy fan should visit.
Also read: Ready for Revenge Travel? Even Better with Money Back — Here's How!
1. Nami Island, Chuncheon, Gangwon Province
Filming location of Winter Sonata (2002)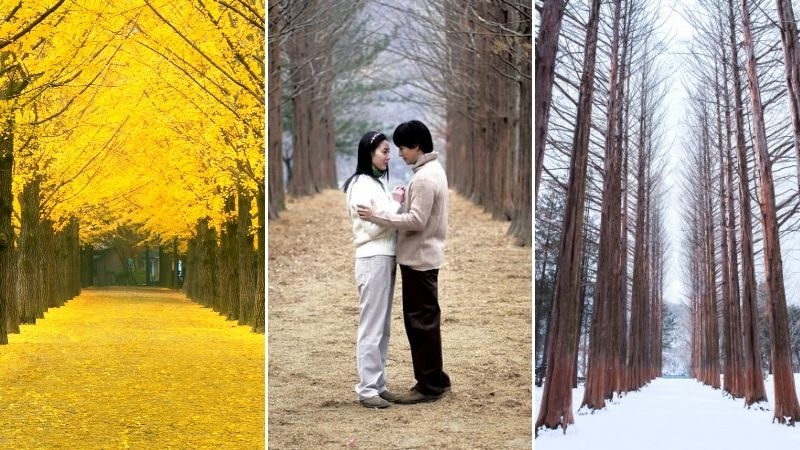 No hardcore K-drama fan should miss Nami Island, the filming location of the Korean romance drama that started it all ⁠— Winter Sonata. Strike a pose at the Pine Tree Lane where the couple Kang Jun-sang / Lee Min-hyung (Bae Yong-joon) and Jeong Yoo-jin (Choi Ji-woo) had their first kiss. Then, continue to Metasequoia Lane to see the statues that immortalised the couple's iconic scene.
It's best to visit Nami Island during autumn (September to November) when the landscape turns magical in golden yellow. But, if you really want to recreate your own Winter Sonata scene here just like in the drama, try visiting in winter (December to February). Just don't forget to layer up.
Tip: Book your Nami Island tour on Klook via ShopBack and get as much as 5% cashback.
2. Jumunjin Breakwater, Gangneung, Gangwon Province
Filming location of Goblin (2016)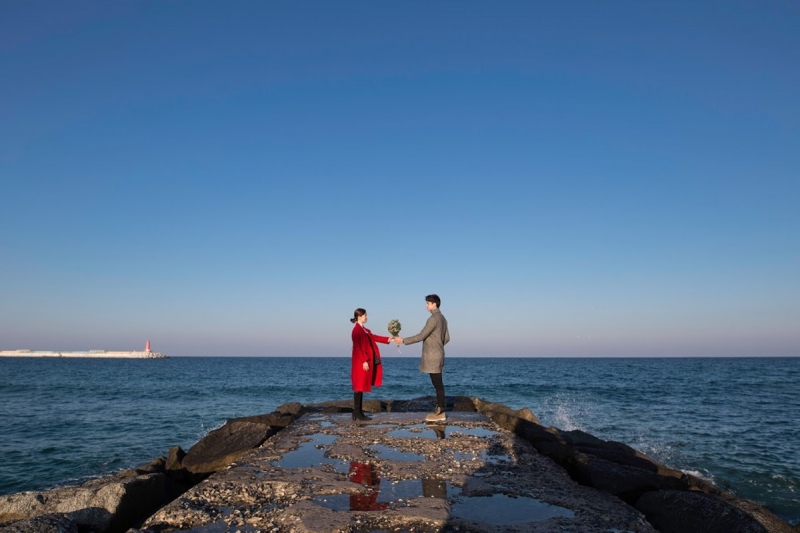 Who could ever forget the memorable scene where Kim Shin (Gong Yoo) and Ji Eun-Tak (Kim Go-Eun) first met at Jumunjin Breakwater? Many fans flock here to reenact the scene. If you're one of them, don't forget to don a red scarf to make it even more realistic.
Also read: This Pinoy Couple Recreated K-Drama Scenes in South Korea
Jumunjin Breakwater is located in Jumunjin Beach in Gangwon Province, the very same area where the BTS bus stop is also found. Why not hit two birds with one stone by visiting both places while you're here?
3. Hallasan National Park, Jeju Island
Filming location of Crash Landing on You (2019-2020)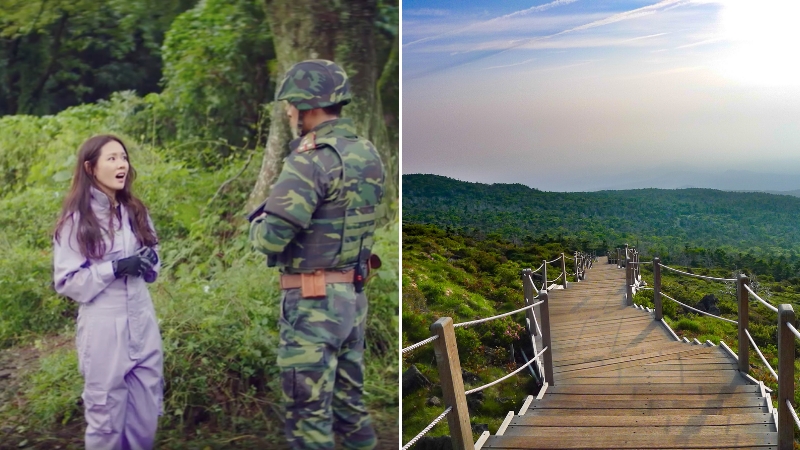 The Ri-Ri couple crash-landed in the hearts of many Pinoys (ours included!) in 2020. The crash landing scene of Yoon Se-ri (Son Ye-Jin) was actually filmed in Jeju Island's Hallasan National Park instead of North Korea's DMZ.
Also read: Filipinos Can Visit Jeju Island & Gangwon Province Visa-Free This June 2022
What's so special about CLOY is that after becoming a worldwide craze, Hyun Bin and Son Ye-Jin turned into a real-life couple. The pair announced their relationship on 1 Jan 2021, and finally got married on 31 Mar 2022. We bet you *screamed* when you heard about the news, too!
4. E-World, Dalseo, Daegu
Filming location of Weightlifting Fairy Kim Bok Joo (2016)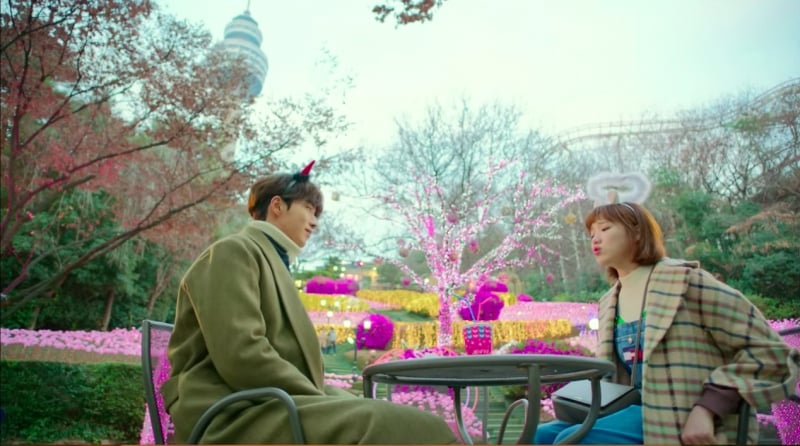 In the 12th episode of K-drama Weightlifting Fairy Kim Bok Joo, Kim Bok-joo (Lee Sung-kyung) and Jung Joon-hyung (Nam Joo-hyuk) went on a date with friends at E-World where they held hands for the first time. The kilig scenes in this amusement park will have you giggling, laughing, and crying all at once.
And since you're already here, go up E-World 83 Tower to get a panoramic view of Daegu City.
5. N Seoul Tower, Seoul
Filming location of My Love From The Star (2013)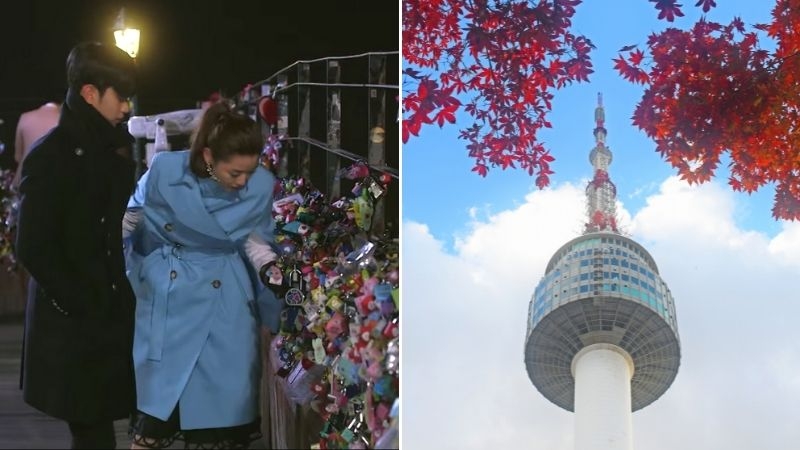 N Seoul Tower has been featured in many K-dramas, but the romantic scene on My Love From The Star is probably one of the most unforgettable. The top star character Cheon Song-yi (Jun Ji-hyun) took Do Min-joon (Kim Soo-hyun) to the top of N Seoul Tower to lock their love on a padlock. Don't you wish to do the same with your sweetheart?
Also read: Things to Do in Seoul: Para sa Mga Kinain-na-ng-Kdrama
Located on Namsan Mountain, N Seoul Tower is the first general radio wave tower in South Korea, broadcasting signals for KBS, SBS, and MBC.
Tip: Book your hotel near N Seoul Tower on Agoda, Booking.com, or Hotels.com via ShopBack and get up to 10% cashback for your stay.
6. Sogeumsan Suspension Bridge, Wonju, Gangwon Province
Filming location of It's Okay to Not Be Okay (2020)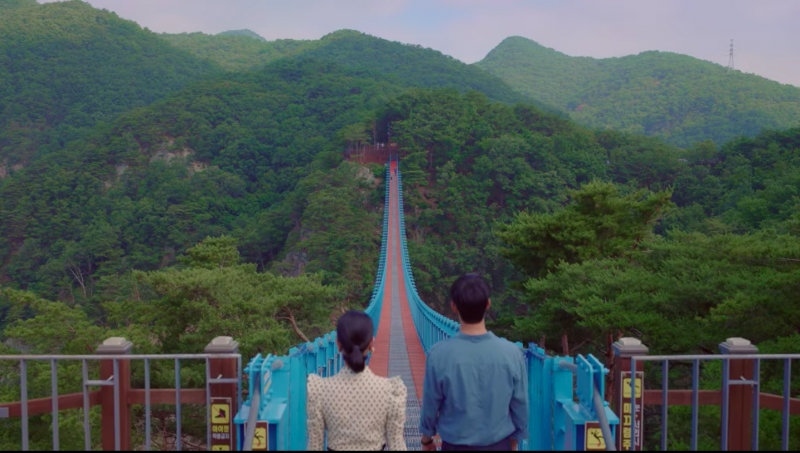 On episode 9 of It's Okay to Not Be Okay, Moon-young (Seo Ye-ji) and Gang-tae (Kim Soo-Hyun) went on a day trip where they crossed Sogeumsan Suspension Bridge in Wonju, Gangwon Province. In this cinematic scene, Moon-young asked Gang-tae to give her a piggyback ride because she's scared, but ended up crossing the bridge on her own anyway.
Who won't be afraid of crossing a bridge that's 100m high and 200m long? It's South Korea's longest and largest pedestrian bridge, after all! Let's see if you can recreate the scene without trembling.
7. Sabang Memorial Park, Pohang, North Gyeongsang Province
Filming location of Hometown Cha-Cha-Cha (2021)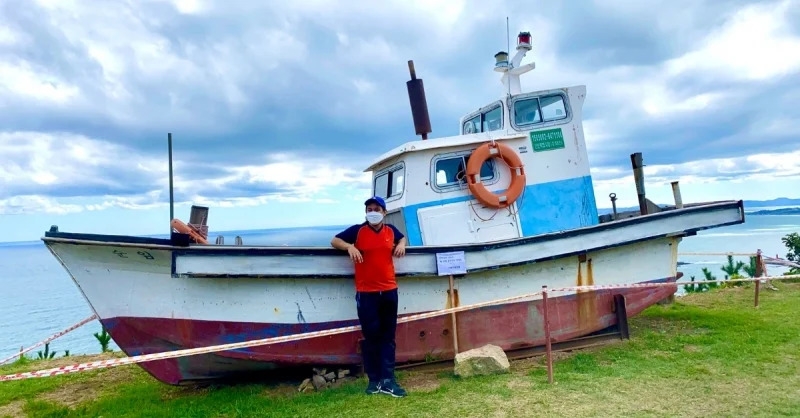 This Filipino went all the way to Pohang, a city in North Gyeongsang Province, to visit Hometown Cha-Cha-Cha's filming locations. A notable site is the Sabang Memorial Park where a boat sits on top of a hill. This is where Yoon Hye-jin (Shin Min-a) and Hong Du-sik (Kim Seon-ho) met many times and took their pre-wedding photos. We can't help but turn green with so much envy for this lovely couple.
Pohang is a three-hour bus ride from Busan. So, if Busan is part of your Korea itinerary, why not side trip to Pohang to visit Hometown Cha-Cha-Cha's filming locations? Who knows, you might bump into the Chief Hong of your life!
Inspired to visit all these filming locations in South Korea? Check out ShopBack's Travel Thursdays campaign to save and get your money back for your Korea accommodations on Agoda, Booking.com, and Hotels.com, as well as tours and activities on Trip.com, Klook, and KKday.
Must-visit anime places in Japan
Aside from K-drama, Pinoys are also addicted to Japanese anime. In fact, we've learned a number of Japanese words and phrases by binge-watching some anime series. If you are an otaku, here's a list of anime places in Japan you should definitely visit soon.
8. Ghibli Museum, Tokyo
For Studio Ghibli films (1986)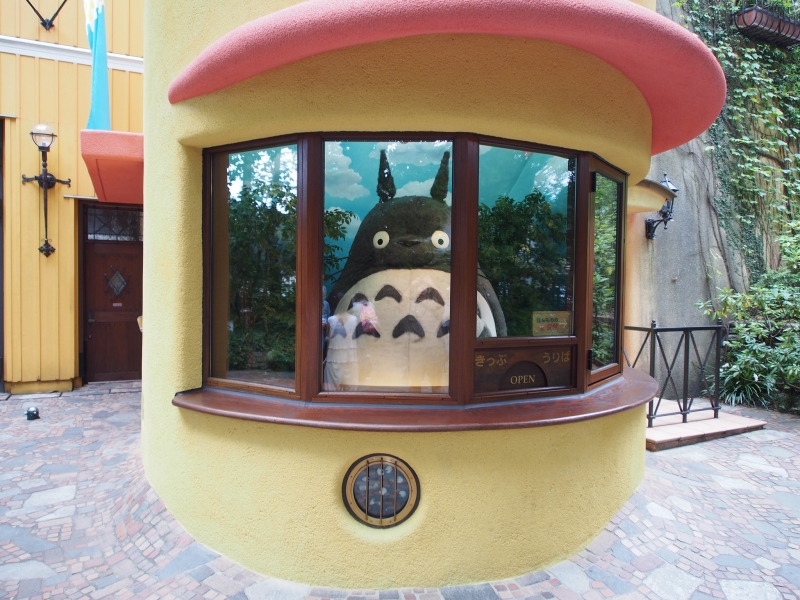 While waiting for the Studio Ghibli Theme Park to open soon, Ghibli fans can visit the Ghibli Museum in Inokashira Park in Mitaka, Tokyo first. Here, you can spend a magical day filled with inspiration from the award-winning Studio Ghibli animated films such as My Neighbour Totoro, Princess Mononoke, and Spirited Away, to name a few.
Inside, you can discover interesting anime exhibits, watch special film showings, and enjoy the playful installations and colourful structures. The museum was designed by Hayao Miyazaki himself, the creative genius behind all these enchanting characters loved by millions of fans all over the world.
Also read: How I Spent a Magical Day at the Ghibli Museum in Tokyo
9. Shinjuku, Tokyo
For Kimi No Na Wa (2016) and Godzilla (1954)
Shinjuku is a special ward in Tokyo known for its bustling entertainment, shopping, and business centres. Several scenes from the famed anime film Kimi No Na Wa were inspired by the cityscapes of Shinjuku. In fact, this Filipino visited the real-life locations of Kimi No Na Wa, which were mostly found in Shinjuku.
Do watch out for Godzilla atop the Toho Cinemas building as you stroll around Shinjuku as in the one pictured above.
10. The Gundam Base Tokyo
For Gundam series (1979)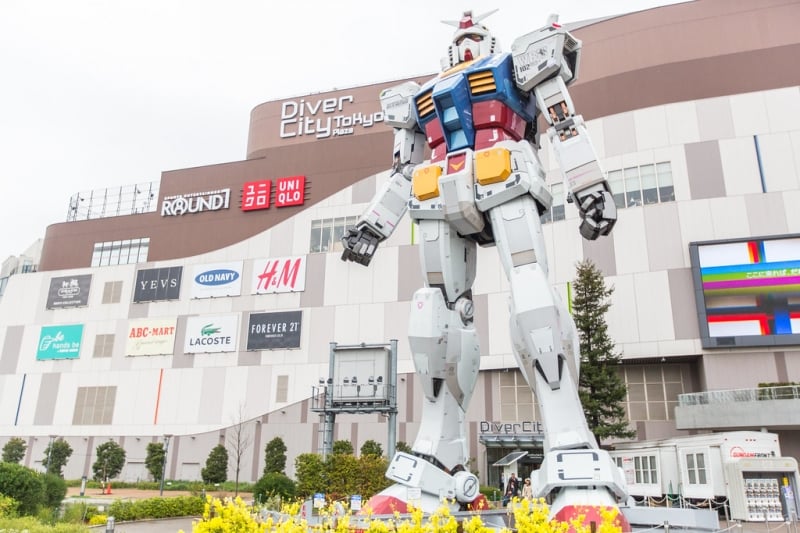 You are living under a rock if you haven't heard about Gundam. First released in 1979, Gundam is one of the oldest and most popular anime series of all time. Gundam fans should definitely visit The Gundam Base Tokyo in Diver City Tokyo Plaza.
Snap a photo of the life-sized Gundam statue, and shop for your favourite Gunpla (Gundam plastic model kits). They even have older Gunpla models from the 1980s and 1990s. You can also observe and learn how the model kits are assembled here.
11. Pokémon Center MEGA TOKYO
For Pokemon (1997)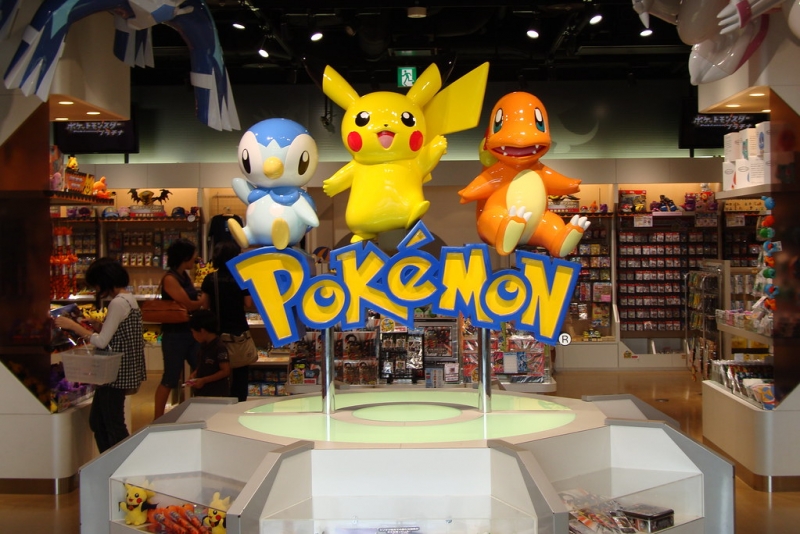 Who doesn't love Pokemon? Since its release in 1997, this wildly popular video game and animated series gained huge success and fandom worldwide. For avid fans, you gotta catch your favourite Pokemon character at Pokémon Center MEGA TOKYO in Sunshine City, a huge shopping and amusement complex in Tokyo.
From plush toys to souvenir items to goodies, the extensive array of Pokemon merch here will have you squealing and saying "I choose you!".
12. Tokyo One Piece Tower
For One Piece (1997)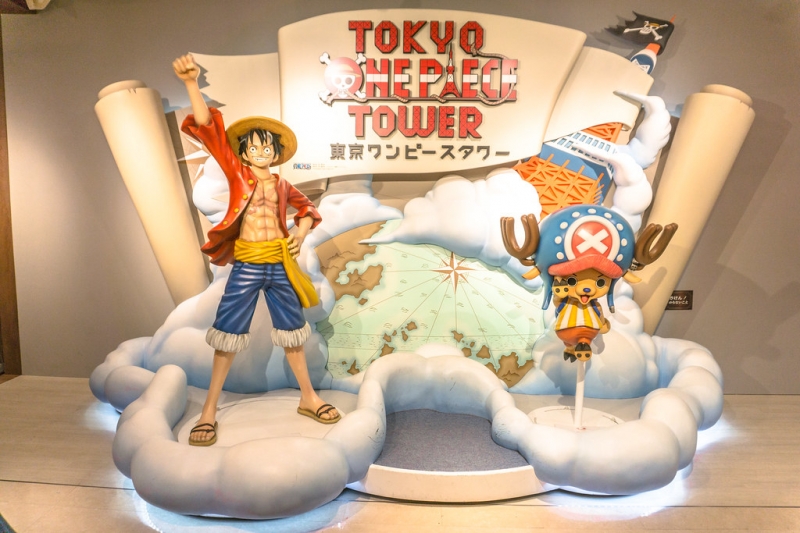 Opened in March 2015, Tokyo One Piece Tower is an indoor theme park inside Tokyo Tower. It is dedicated to the popular Japanese manga and anime series One Piece. Currently, there are 20 seasons with over one thousand episodes, but it's not too late to join the craze as the series hasn't come to an end yet.
"Gomu Gomu no Rocket" your way to the world's one and only One Piece theme park, and see your fave characters like Luffy, Zoro, Chopper, Nami, Nico Robin, Sanji, Usopp, and many more. You can even watch a live stage show to fully immerse yourself in their whimsical world.
13. Akihabara Street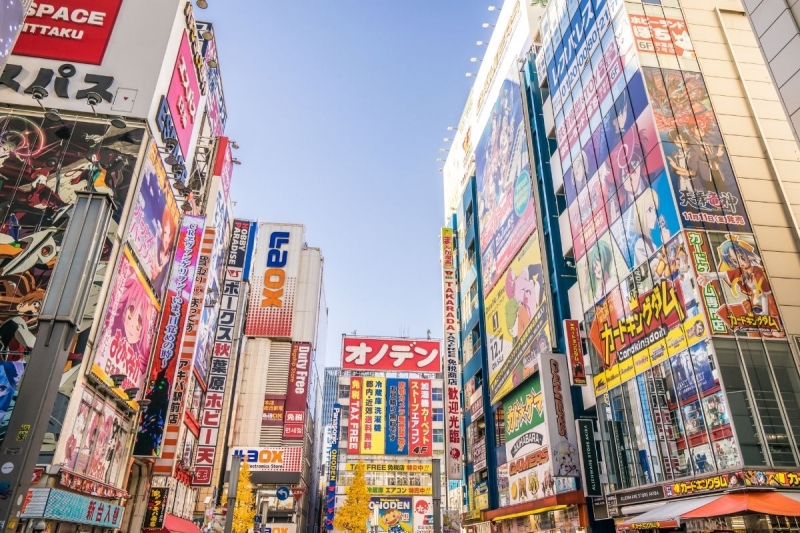 Every Japanese anime and manga lover should not leave Japan without visiting Akihabara Street, Japan's anime and manga capital. This bustling neighbourhood around the Akihabara Station in Tokyo's Chiyoda ward has plenty of anime stores, arcade games, electronics, maid cafes, and more! Don't come here empty-handed because you'll surely find a kawaii item you can't resist splurging on.
That concludes our list of top anime spots to visit in Japan. Which one will you visit first?
As you plan your trip to South Korea or Japan, take advantage of ShopBack's Travel Thursdays campaign where you get upsized cashback for bookings made via the platform. Users who grab the flash deal via the ShopBack app will get as much as 50% cashback on Agoda, Booking.com, Hotels.com, Trip.com, Klook, KKday, and many more! Do watch out for ShopBack's 6.6 deals if you haven't finalised your travel plans yet.
Ano, kitakits nalang sa Korea and Japan soon?
---
Brought to you by ShopBack.