There are countless things to do in Singapore; from strolling along the shores of Sentosa, bar-hopping among Asia's top-rated bars, to riding a hot-air balloon at Marina Bay. The city-state evidently has it all. Of course, it's hard to fit all of these must-try activities in a single trip. But there's one that nobody should dare miss: dining at the hawker centres in Singapore.
Hawker centres are the beating hearts of daily Singaporean life. Every day, people from diverse ethnic and socioeconomic backgrounds share this social space to take a seat and enjoy a no-frills, affordable dining experience. It breathes life to the city's multicultural identity, with fusion cuisines served at the centre table of every hawker centre. 
Also read: How to Travel to Singapore From the Philippines on a Budget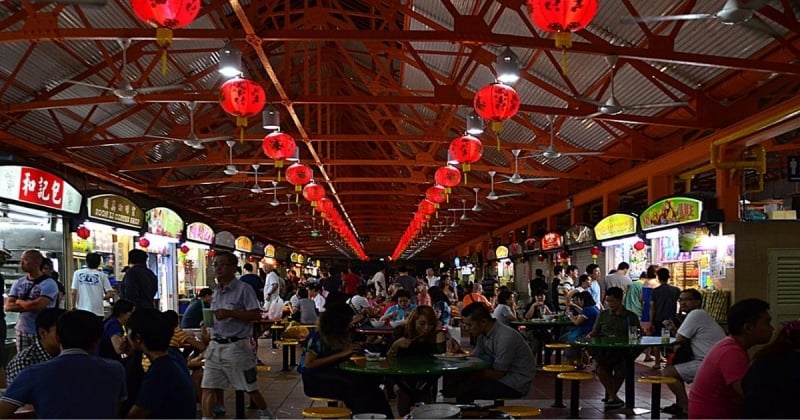 In 2020, Singapore's hawker centres were added to the UNESCO List of Intangible Cultural Heritage. Despite getting their roots from undemanding and modest street food, many have proven to be comparable to the more upscale restaurants. For locals, hawker centres aren't just mere food hubs; these are almost like an extension of their home — especially if they grew up in a neighbourhood that's close to one. No matter where life takes them, they'd still come back for a nostalgic taste of their hometown.
Planning to get a taste of a hawker culture in Singapore? You'd want to do your research with over a hundred options all over the Lion City. Don't fret,  'cause we've done it for you! Here's a list of the 10 best ones that both locals and frequent visitors swear by.
Also read: Singapore-Philippines VTL Guidelines & Requirements
Best hawker centres in Singapore to fill your cravings to the brim
Some hawker centres are found in the less touristy residential areas, while others came together to serve workers near labour districts. What these usually have in common is their share of experience. Most Singapore hawker food stalls are run by families, with special recipes passed down from one generation to another!
1. Tiong Bahru Market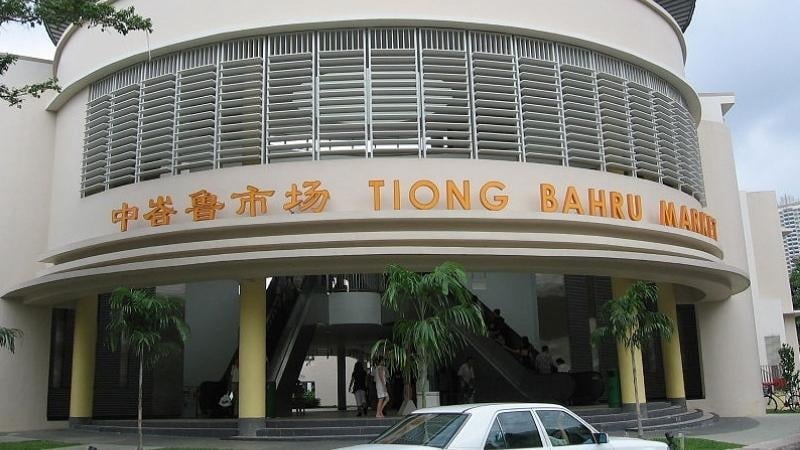 When talking about the best hawker food in Singapore, we cannot leave out the classic Hainanese chicken. It's almost impossible to find a hawker centre without a single stall dedicated to it. So, if you're looking for the best one, search no further. In Tiong Bahru Market, you can find the famous store of Tiong Bahru Hainanese Boneless Chicken Rice. It's a Michelin Bib Gourmand awardee, and undoubtedly so good that it has several branches even outside the country. 
The best thing about hawker centres in Singapore? You don't have to stick with one stall! For instance, you can buy one meal and then check out some beverages from another kiosk. Try the renowned Teck Seng Soya Bean Milk: an invigorating drink made from scratch by an owner with 34 years of experience under his belt.
2. Amoy Street Food Centre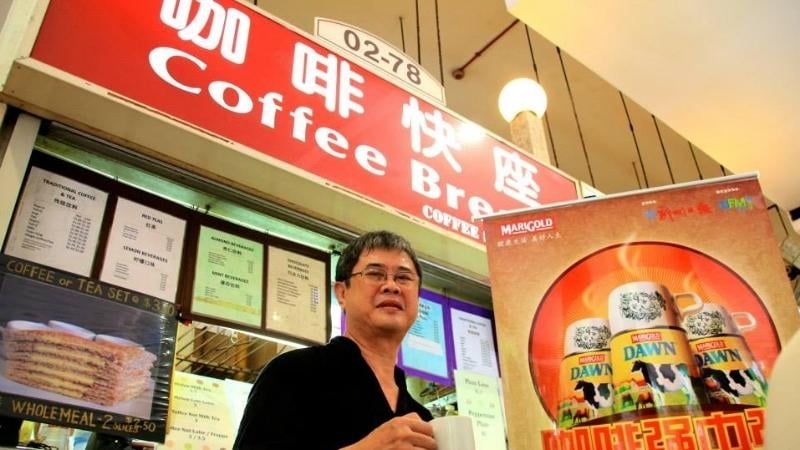 Dying for a cup of coffee or two? Make a beeline for Amoy Street Food Centre and look for Coffee Break. This dainty cafe is a famed hawker in Singapore, making traditional Nanyang brew coffee since 1935. It's said to be so expertly brewed that drinkers must be warned: Take a sip, and you may never want to drink instant coffee again. It's that good. 
While you're at it, try some beef noodles at Hong Kee Beef Noodle. It's also hailed a Michelin Bib Gourmand stall, and has been operating for almost sixty years, so there's no refuting its timeless quality.
3. Maxwell Food Centre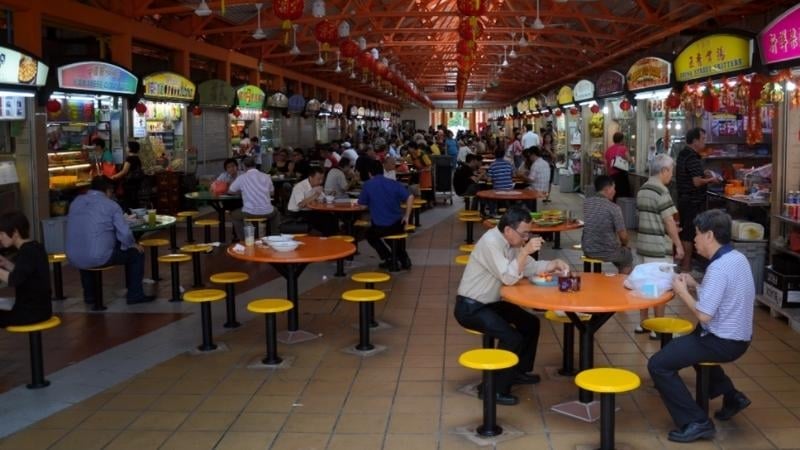 When talking about hawker centres in Singapore, no list would be complete without Maxwell Food Centre. Crowded stalls are a usual sight, and many believe that it's the best hawker centre in Singapore. Rightfully so; Maxwell is the epitome of a perfect hawker centre — affordable food with unlimited options. Thai, Japanese, Indonesian, Chinese, you name it! 
You can even find ham chee peng here, aka the Chinese version of fried doughnuts. Of course, there's Hainanese chicken as well. Head over to Tian Tian Hainanese chicken and find out why it gives other hawker centres a run for their money.
4. Old Airport Road Food Centre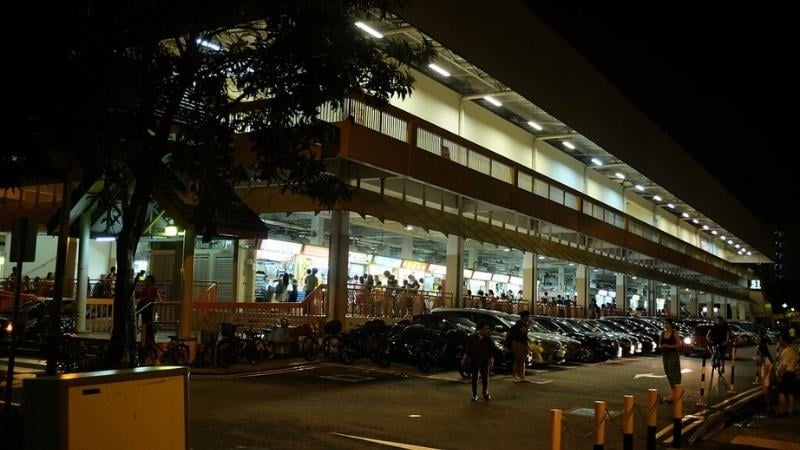 Craving Cantonese-style BBQ pork? Stop by Roast Paradise at the Old Airport Road Food Centre. While Roast Paradise has been open since the 1970s, it only started operating at the Old Airport Road in 2016. Nonetheless, it has garnered quite the following, and many repeat customers have raved about its char siew. 
These pork strips are slow-roasted for three hours and infused with smoky aroma flavours. The meticulous cooking process caramelises the skin while keeping the pork's juices intact. (It may not be the healthiest of food options, but you'll regret not tasting it at least once in your life.)
White bee hon is also worth mentioning — a noodle meal usually served with seafood and white gravy sauce. It's a local favourite, and long lines at white bee hon kiosks are to be expected, especially on weekends.
5. East Coast Lagoon Village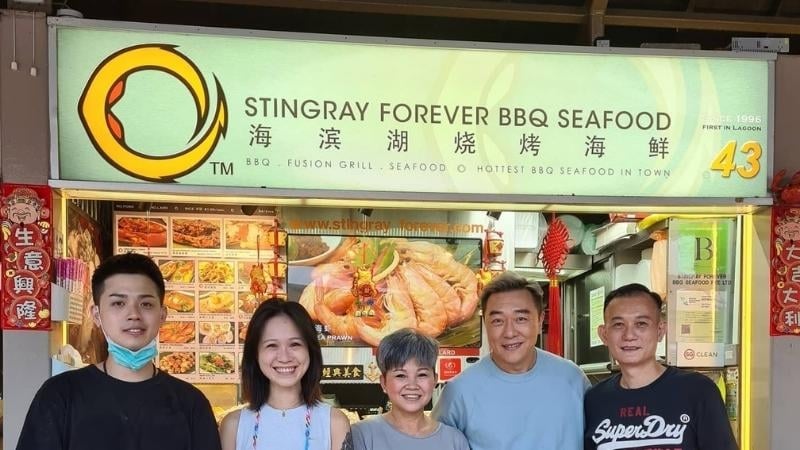 Have you ever tried eating a stingray? Well, if you'd like to, head over to East Coast Lagoon Village. Stingray Forever BBQ Seafood offers a variety of seafood dishes; such as crabs, crayfish, squids, prawns, and stingrays. For a minimum of S$12, you can tick stingrays off your food bucket list.
Should you want something familiar to calm your nerves and bones after an arduous tour, East Coast Lagoon got you covered. There are still many food options available there. A pro tip from locals: Look for stalls serving wanton noodles! Don't miss the opportunity to taste the saporous explosion with every bite of wanton and meat in their noodles.
Also read: How Singapore Prevails as a "City in Nature" With Flowers All Over the Island
6. Serangoon Garden Market and Food Centre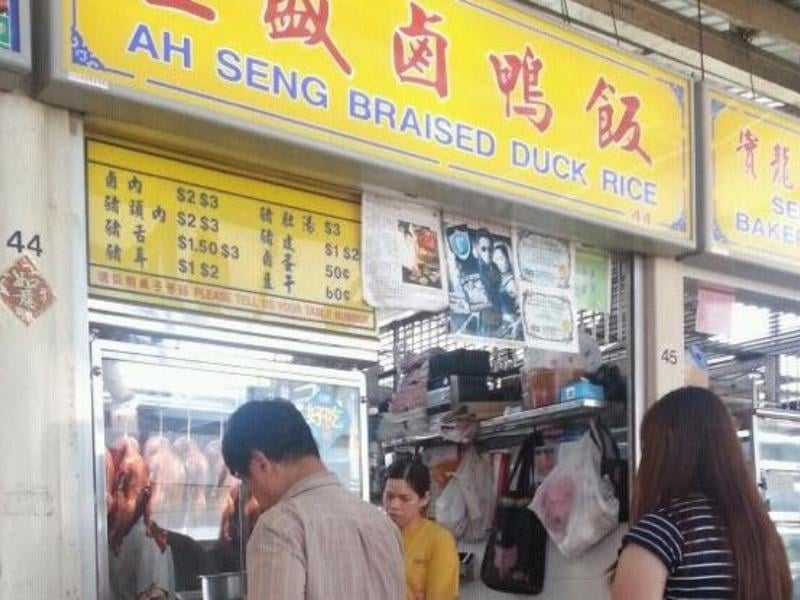 The sight of roasted duck displayed on food stalls will surely get your appetite going. Serangoon Garden Market and Food Centre is a refuge for people seeking to eat succulent duck rice meals and steaming hot porridge. 
However, if you see long lines during your visit centre, it's probably for Garden Street Kway Chap. Founded in the 1940s, they're famous for their rice noodle sheets and braised meats. If you want to take a sip of a silky, herbal soup of kway chap, then this Singapore hawker centre should be your top choice.
7. ABC Brickworks Food Centre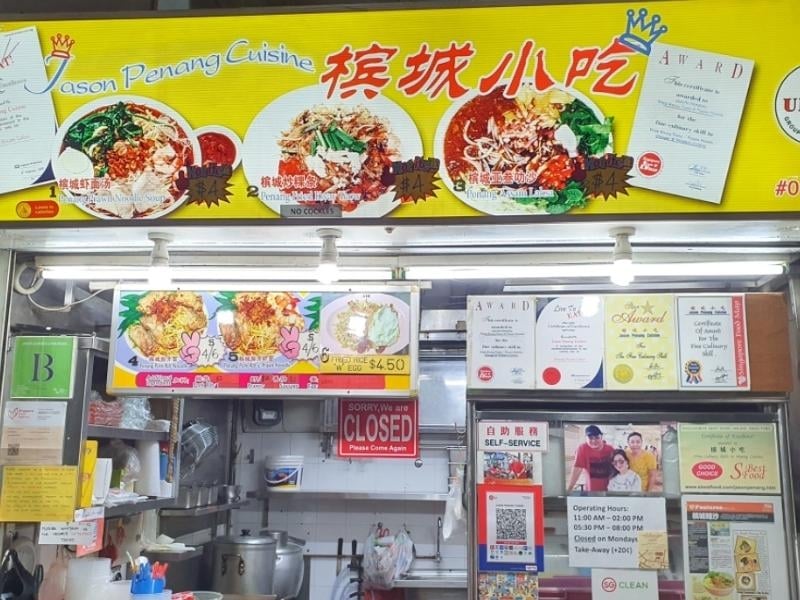 Craving a bowl of laksa? Try a different kind at ABC Brickworks Food Centre. Jason Penang Cuisine serves a mean Penang Assam Laksa, a sour and spicy noodle soup with an added assam ko (tamarind) and mackerel flakes. 
Laksa has a robust flavour that'll likely leave an aftertaste. To remedy that, consider getting a dessert at Jin Jin. Try their chendol and durian-mango ice cream! These are highly recommended by locals because of their soft, creamy, and delectable taste.
8. Chomp Chomp Food Centre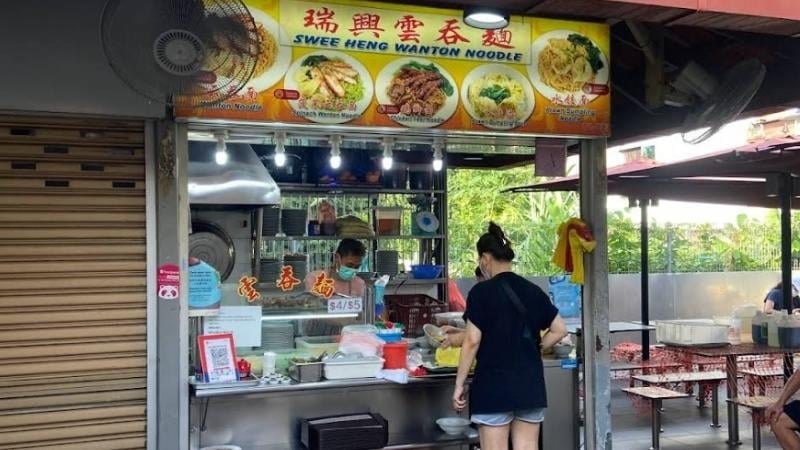 Ever heard of Hokkien mee? It's a stir-fried seafood noodle popular in Southeast Asian countries, especially in Singapore. Hokkien mee doesn't look as striking as other noodle counterparts (due to its rather blank, yellowish colour), but don't be mistaken. At Chomp Chomp Food Centre, two popular stalls — Ah Hock and Chia Keng — serve Hokkien mee that locals travel miles just to taste.
Not fond of seafood on noodles? Pick a food stall at Chomp Chomp Food Centre that serves satay noodles instead. These are usually combined with silky peanut broth and chewy rice noodles. 
9. Balestier Food Centre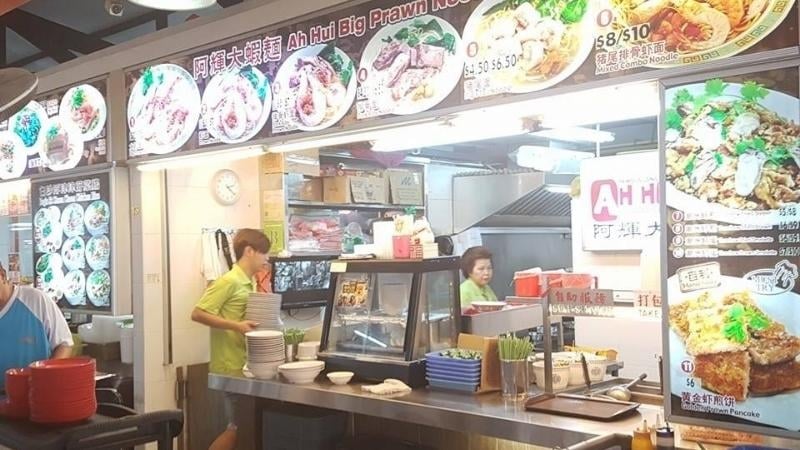 Balestier Food Center should be your go-to spot if you think Thai food is the answer to your growling belly. From pad thai to prawn cakes, it's a Thai cuisine haven. Other than that, you can also find plenty of other interesting Singapore hawker food stalls here. 
For instance, fancy a unique Asian-Western fusion of a spaghetti curry at Albert Western Food? If you're looking for a quick bite instead, head over to Boon Pisang Goreng. They sell bang-for-the-buck snacks such as curry puffs and the rare nian giao (Chinese year cake).
10. Bukit Timah Market and Food Centre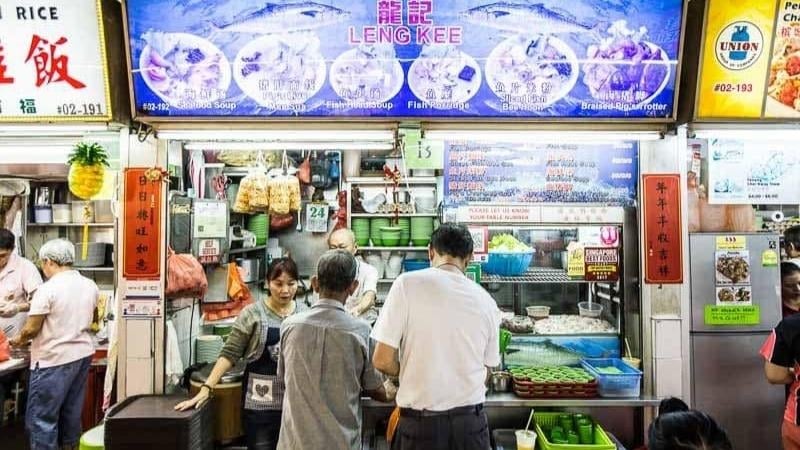 We're not saying we're saving the best for last, but  Bukit Timah Market and Food Centre may very well end up as such — especially with the famous Leng Kee Fish Soup. This stall has been operating since 1997, where long queues are regular, even on weekdays. They serve fresh and tender fish slices plunged in a rich, aromatic broth, turning into a light yet flavourful soup. Take one sip of this ambrosial dish and you'll feel overflowed with nourishment. 
Also read: Top 15 Things to Do in Singapore & Around Sentosa — UPDATED for an Exciting Stay!
Our cravings are growing just by writing this list, so we're sure you are too! For your next Singapore travel itinerary, don't forget to add at least one of these dining spots for a meal you'll never forget.
Aside from trying out the best hawker centres in Singapore, consider adding more must-try activities from this list!
---
Featured image credit: Nate Robert | Flickr. This article was originally published on TripZilla.