Contributed by The Wise Living
Want to increase your chances of South Korea Tourist Visa approval? In this South Korea visa guide for Filipinos, I will share five tips to help you get one step closer to that goal.
Having applied for a South Korea Tourist Visa twice now, and also being approved twice for a multiple-entry visa, I strongly believe that you can easily get approved as long as your requirements are complete and true, and you follow these five effective tips.
Also read: Obtaining Japan and Korea Tourist Visas: A Right or A Privilege?
1. First timer? Ask for five to ten days only
If it's your first time travelling to South Korea, don't get too carried away on your visa application. Most people I've talked to who were approved said they only put five to ten days in their application, to lessen the risk of them overstaying.
Also, the consul considers your budget stated in the form and if it's in sync with the budget in your bank certificate. Yes, even if you think you can spend only ₱20,000 for a two-week vacation in Seoul because you'll be doing budget travel, it's still more prudent to think in terms of what the consul will think.
If you can't afford to put in a lot of money in the bank, it's safer to state you'll be staying for less than 10 days only.
2. Show money: How much should it be?
If you're applying for a South Korea tourist visa on the 28th day of the month, for example, putting a large amount of money on the 8th day of the same month so that you'll have a bigger amount is inadvisable. It can be seen in your bank statement!
Don't be concerned about 'how much' your money should be. Instead, be concerned about how long you've had your bank account and how active it is!
It's preferable that your bank account has been active for one year or more. Most consuls would also give you plus points if they see that your bank account has frequent transactions. This means that you're actually using your bank account, and it's not just for show. Better if it's a payroll account so there are consistent deposits every 15 days.
Another frequently asked question when applying for a South Korea visa for Filipinos is about the pocket money.
A good guideline for pocket money is US$100 (₱5,000) per day of your stay in Korea. Add airfare (₱10,000), accommodation (roughly ₱3,000 per night) and a budget for a buffer (₱2,000), so it'll total to roughly ₱10,000 per day. You should have the following budget if you're staying for:
Three to five days: ₱30,000 to ₱50,000
Six to ten days: ₱60,000 to ₱100,000
If you're staying for only five days and your bank certificate shows ₱500,000, that will be suspicious and may not get you an approval. Why so much money for only a few days, my friend?
3. Travel history
If you've travelled to other countries before, this would really increase your chances of being approved for a South Korea Tourist Visa. Make sure to attach your old passport IF it contains stamps from your previous travels.
On another note, some travellers I've talked to have never been to any country before, so the final decision still depends on the consul. I'm just saying this would help if the consul saw records of you leaving the country, and coming back with no problems.
4. Completely filled out application form
Most Pinoys I've talked to already know the requirements for applying for a South Korea Tourist Visa. One of their most common problems is filling out the visa application form.
In this South Korea visa guide, I'll show you exactly how I fill out my tourist visa application form. If you don't know how to fill out the form, better take a look:
Page 1 — Personal details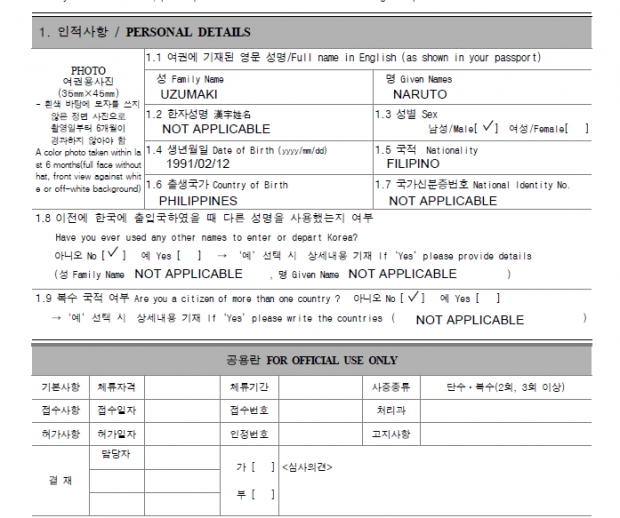 Page 2 — 사증발급인정서 발급내용 / Details of visa issuance confirmation
Simply leave this blank. For your passport information, please check the details on your own passport. This is just a GUIDE on filling out.
For family applications, documents for proof of relationship is a must. (e.g. Marriage Contract, Birth Certificate)
Next is Page 3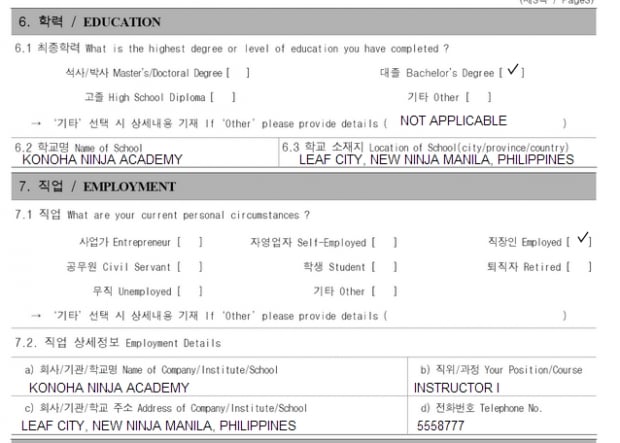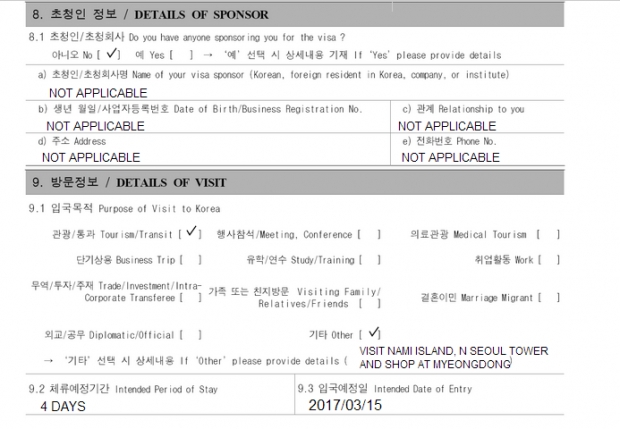 You're almost there, we're here on Page 4!
Don't forget, the paper size should be A4.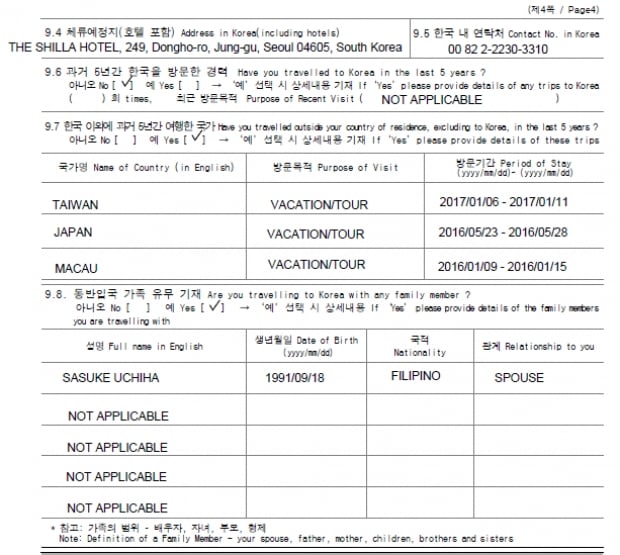 And Page 5, which requires simply your signature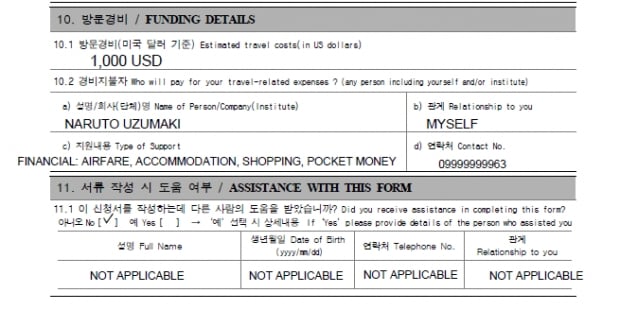 5. Strong ties to the Philippines: What will make you come back home?
After staying in South Korea, what will make you come back home in the Philippines? No, this is not a Miss Universe question. Saying "my family" or "my amazing life partner" just won't cut it.
You need to provide a strong, hard evidence that you will come back once vacation time is over.
Employee: Certificate of Employment, Income Tax Return
Student: Certificate of Enrollment, School ID
Business owner: DTI or SEC Registration, Business Permit
Overseas Filipino Worker: Tax-exemption form from BIR
Freelancers: You'll be treated as self-employed, and self-employed people need to file and pay for taxes as well. Frequent traveller ka ba? If you've travelled as a tourist to OECD-member countries within the last five years, you're exempted from submitting your ITR.
BONUS: Take advantage of promos by the Korean Embassy!
No South Korea visa guide will beat the official embassy's reminders. And I'm glad that the Embassy of the Republic of Korea in the Philippines has several updated announcements.
For example, I was lucky enough to be given a multiple-entry tourist visa just because I have a Gold BDO credit card. I wouldn't have known about this if I didn't visit their website, so stalk the official website of the embassy here!
Are you applying for a South Korea visa for Filipinos? Let me know if you have any questions and I'll do my best to answer them based on my own experience.
Also read: New Korean Visa Application Through Travel Agencies Starting July 2018