Contributed by Wandering Soul Scamper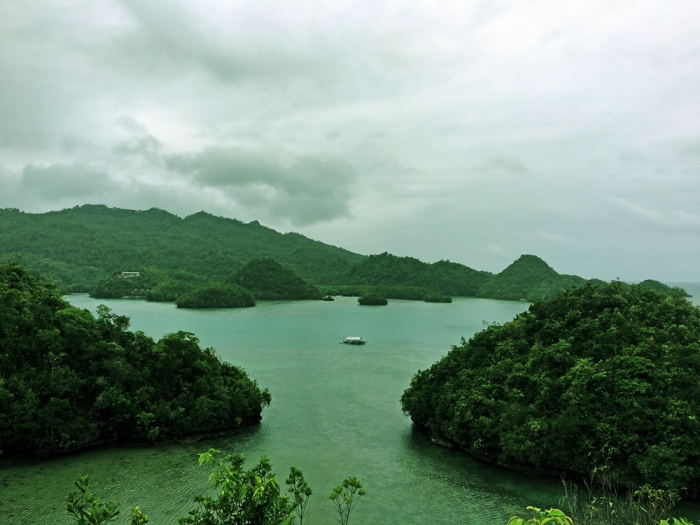 Tinagong Dagat, formerly called as the Isla Bonita, is located in Sitio Latasan, Sipalay City, Negros Occidental. Sipalay is one of the most visited places in Negros Occidental due to its tourist spots. Sipalay boasts its pristine beaches and attractive diving spots like Nataasan Beach Resort, Perth Paradise Resort, etc. These spots continue to fascinate the tourists that flock the secluded town all year round.
Also read: Sipalay City: The Serene Jewel of Negros Occidental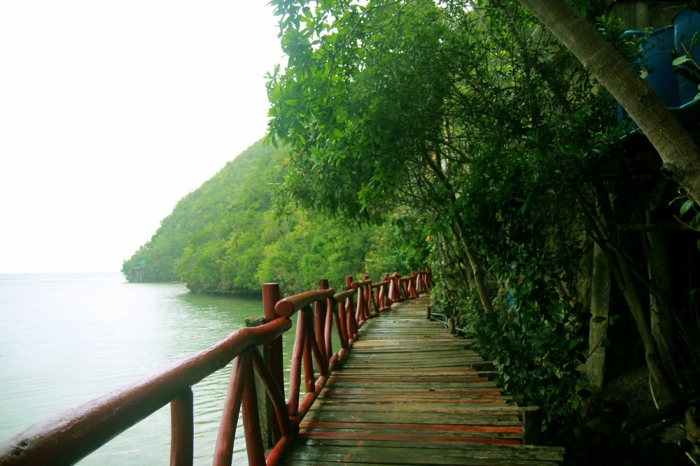 Tinagong Dagat is one of the tourist spots in Sipalay that draws tourists every now and then. Burrowed on a picturesque setting, a resort surrounded by islets is really an amazing vista. You will definitely love the panoramic islets and the peaceful seclusion that this place has to offer its guests. Tinagong Dagat has islets similar in structure to that of the Hundred Islands in Pangasinan.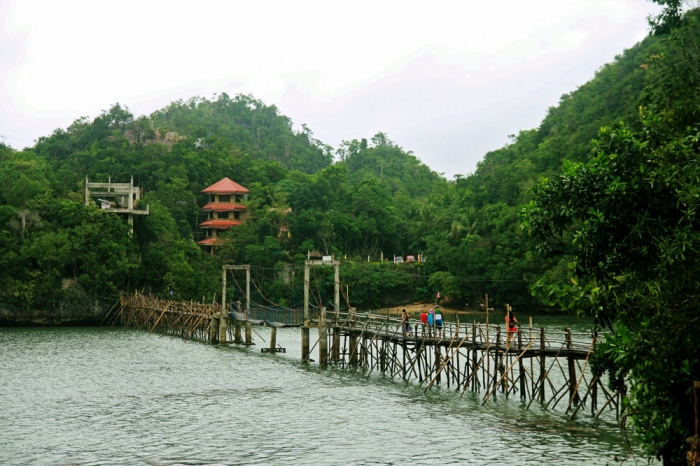 Tinagong Dagat islets are connected by bridges wherein you can just walk from one islet to another. I really love bridges, so the excitement of walking and playing on all those bridges was heightened when we arrived at the resort.
The bridges are made of wood and bamboo except for the longest one which is made of wood but with a concrete support in the middle.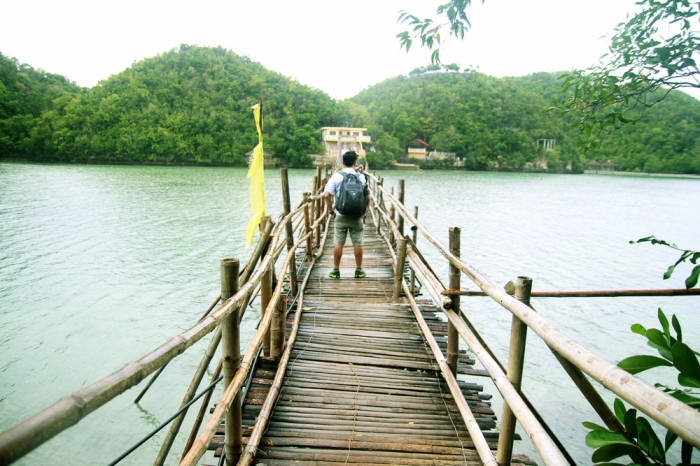 Among its islets is a viewing deck. To reach the viewing deck you need to cross those bridges first. The deck is located on top of the third islet with the highest elevation.
Let's cross the bridge when we get there!
Despite the heavy rain, our adventure continued. Yes, during our visit, we were blessed with rain. But that did not stop us from exploring the islets. We were literally walking under the rain and enjoyed every bit of it like the children that we used to be.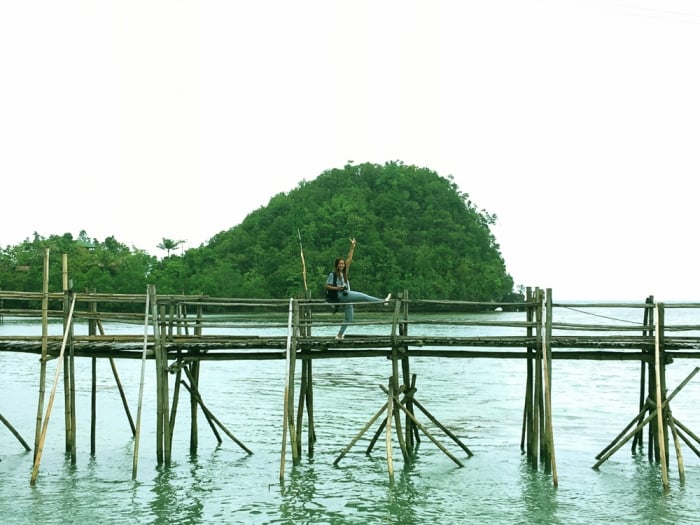 It was quite a challenge for us to cross those bridges under the rain because the pathway was a bit slippery. But it really was fun!
Also read: Negros Oriental 2-Day Itinerary: What to See and Do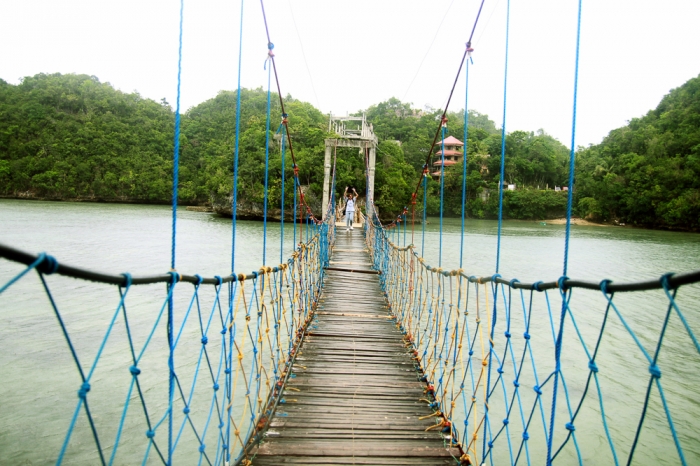 The cottages
Most of the islets have cottages built on it. There are few open cottages that are built right above the waters. Some cottages have rooms for guests too and the resort has an infinity pool. One of the pools is located right below the pathway going to the viewing deck. Unfortunately, they were doing maintenance tasks thus the pool was emptied.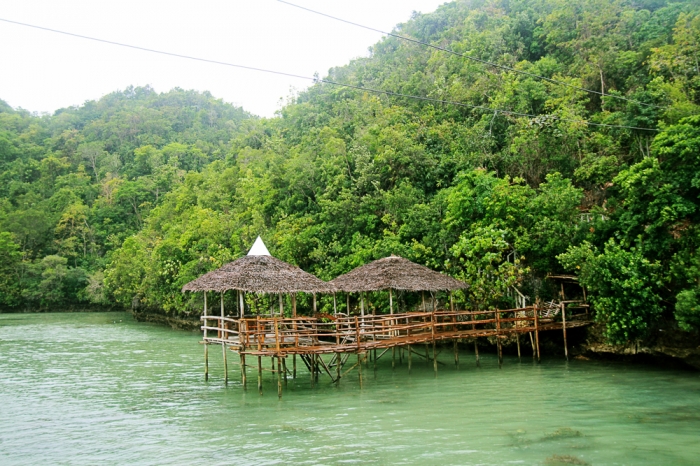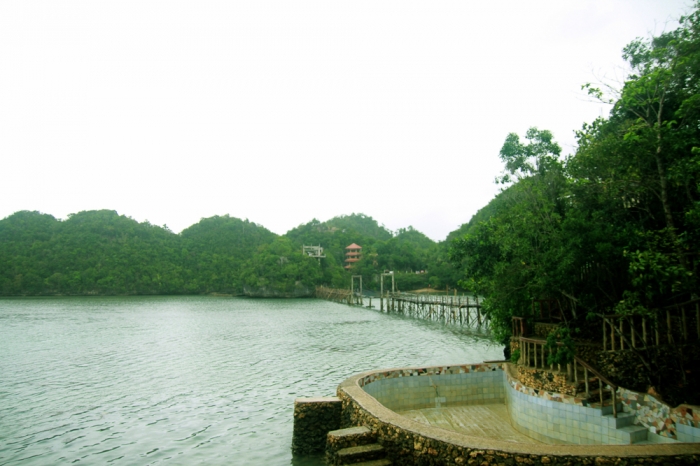 The jaunt to the viewing deck
The viewing deck is the highest point among the surrounding islets in the resort. In going to the viewing deck, you will have to endure walking on a concrete path going up. Note that the deck is just less than a hundred steps from the base of the islet but it can be tiring for those who are not used to an ascent walk.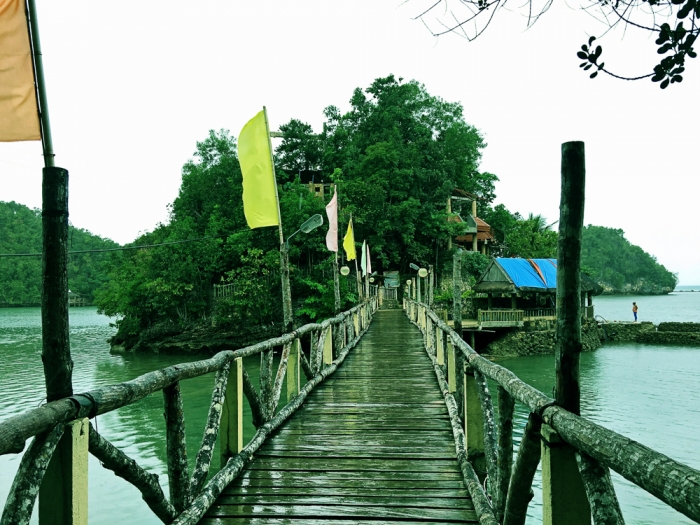 On the shoulder of the islet is a mini viewing spot of the islets on the other side. It has benches installed in the viewing spots too. So if you're tired of walking upstairs, you can have a quick stop and pretend to take pictures or videos. It's a good alibi to have a quick rest, right?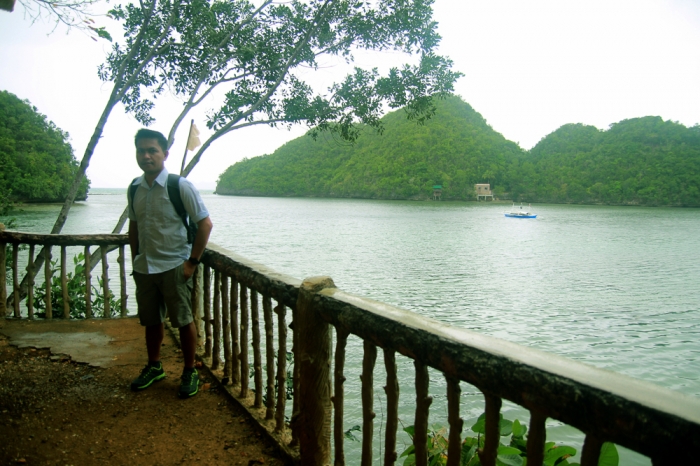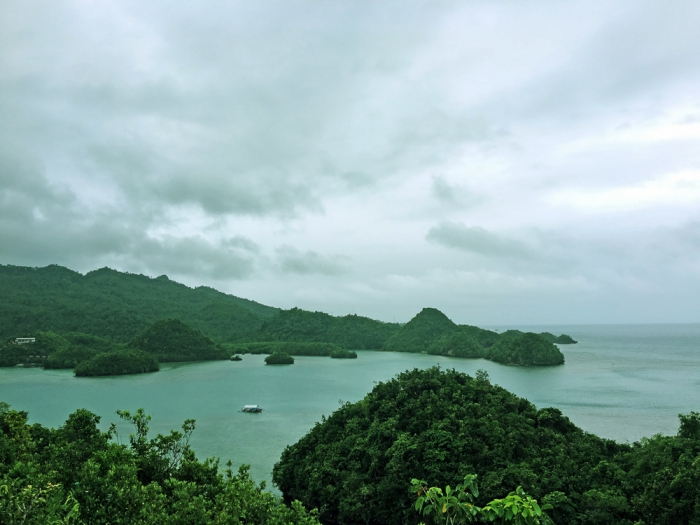 The view on top
The view on top is simply breathtaking. That view has made this ordinary-looking place into an extraordinary one. It's really mind blowing to see those bridges connecting each of the islets. It made me realise that without those bridges, I may have had a hard time paddling my canoe just to reach the islets including the one where I currently stand.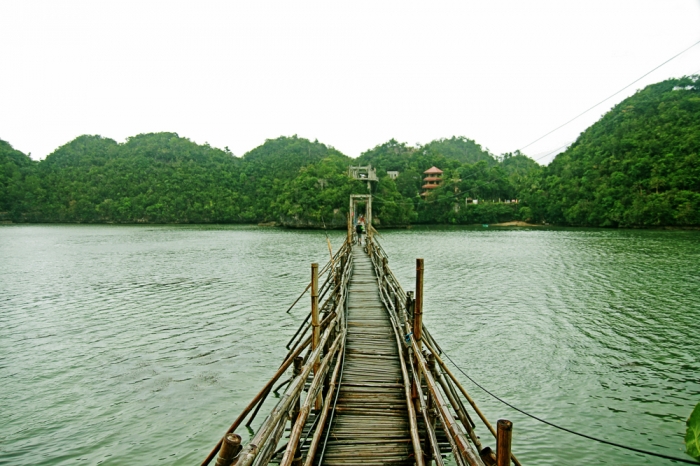 The impeccable scene made me realise and ponder the relevance of "build bridges, not burning them".
We spent a few minutes on top, living the moment and taking a few pictures for keepsake or for blog purposes. What I really loved about the place is its being well-maintained. The place is clean, no trash lying around the area. It's really heart-warming to know that responsible tourism is being practised in this magnificent tourist spot.
Also read: Exploring Iloilo's Islas de Gigantes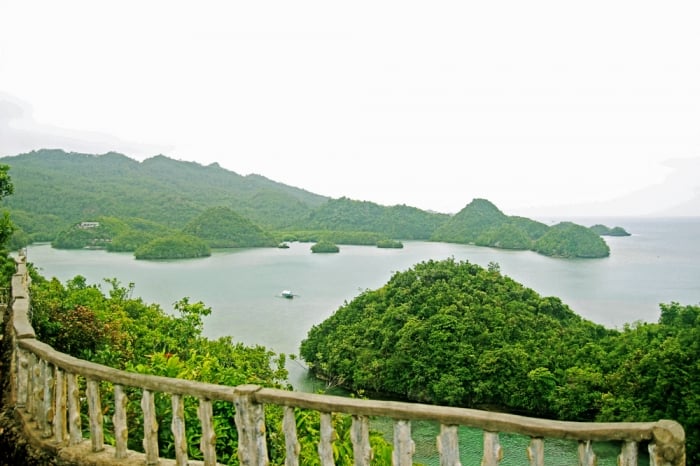 There are a few houses on the islets that I can see. I'm not really sure if the houses are residential, though.
After the rainy exploration of Tinagong Dagat, we continued our trip to Sipalay City to catch the last bus going to Dumaguete. Too bad, we did not have much time to try their amenities like bamboo rafting, kayaking and island hopping. Well, at least I have reasons to go back.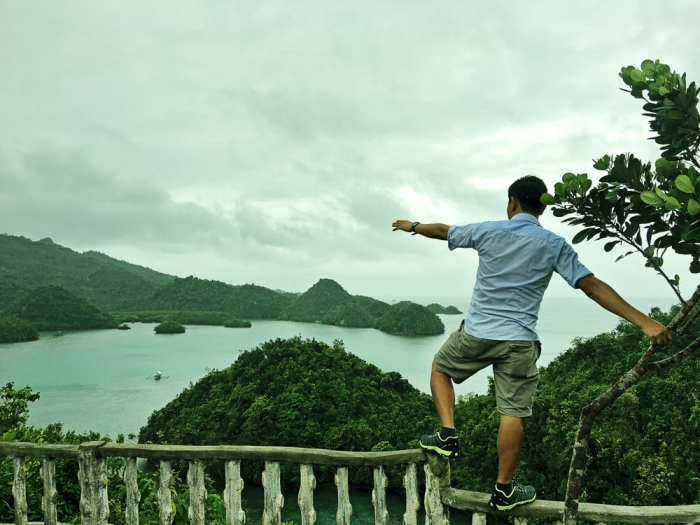 Have you been to Tinagong Dagat? How was your experience? Is it worth a revisit? Leave your thoughts in the comment box below.
Entrance fee: ₱30 per head (sight-seeing only)
Tinagong Dagat amenities:
Bamboo Rafting
Island Hopping
Kayaking
Boating
Karaoke Machine
Room rates:
₱1,650 – Good for 4 (Maximum of 9)
₱1,350 – Good for 4 (Maximum of 7)
₱1,200 – Good for 4 (Maximum of 5)
Extra heads (in excess of 4) – ₱200/head
*Air-conditioned Rooms
*Free use of Pool
*Hot and Cold Shower
*Cable TV
For reservations call:
Val Campillanos – 0920-902-2300
Dahlia Campillanos – 0920-947-3036
Getting there
From Sipalay Public Market, hire a tricycle going to Tinagong Dagat Island Resort. Tinagong Dagat is located just along the way going to Perth Paradise Resort. The travel time is around 15 minutes and the fare is ₱300 per ride. In our case, our starting point was at Nataasan Beach Resort when we were on our way back to Sipalay Public Market.
Tips
There are a lot of tricycle drivers who will offer to fetch you to any resort and diving spot. So finding a transport is not a problem in Sipalay. But make sure to have an agreement with the driver to fetch you and bring you back to the market as transportation from the resort is quite a challenge.
The rate is somewhat standard. The fare is per tricycle ride is ₱300-450 depending on which resort you would go to. One trike is good for 3. So expect to have ₱100-150 fare one way per person if you're in a group of three.
Be prepared for a bumpy ride ahead as the road going to some resorts might be very rough like the one going to Perth Paradise. Note that tricycles are not allowed to go up near the gate of Tinagong Dagat, only private vehicles are allowed.
Also read: Scenic Inter-Island Connections in the Philippines Worth Trying Out
To maximise the places in your list, be mindful of the time spent in each spot as they can be far from each other. Taking travel time into consideration would be of great help in your fun-filled adventure.