Compact yet comfy. Cosy but not cramped. Cute without being cluttered. Truly, tiny houses are an exercise in creativity. It's not easy to fit all the essentials in these pint-sized dwellings — and to make them look so artfully designed is even more impressive. We've rounded up a couple of the best tiny houses near Manila for a spontaneous weekend getaway. Each one comes with limited space, but they pack a big punch, from a charm-filled cabin for two to a tiny home cleverly designed to fit an entire family.
Also read: 5 Airbnb Trailers in the Philippines For the Van Life Experience
Best tiny homes near Manila
1. This off-grid cabin in Tanay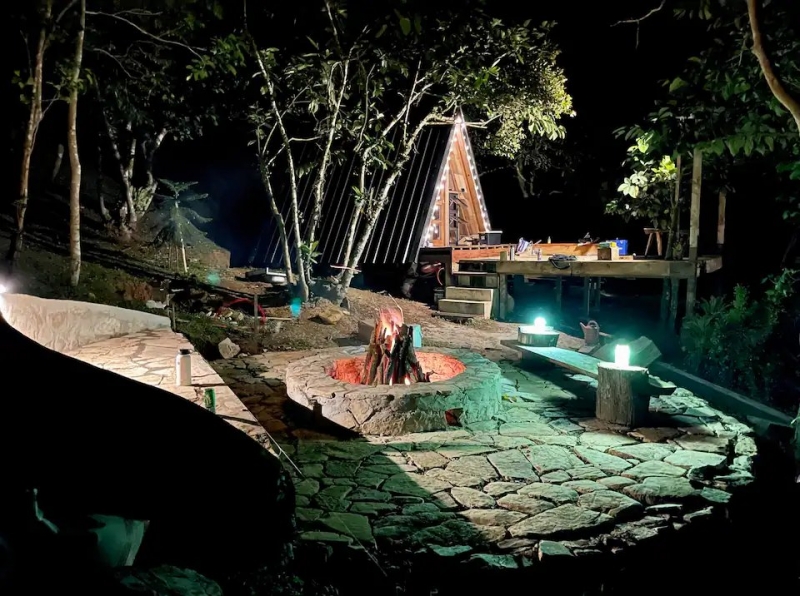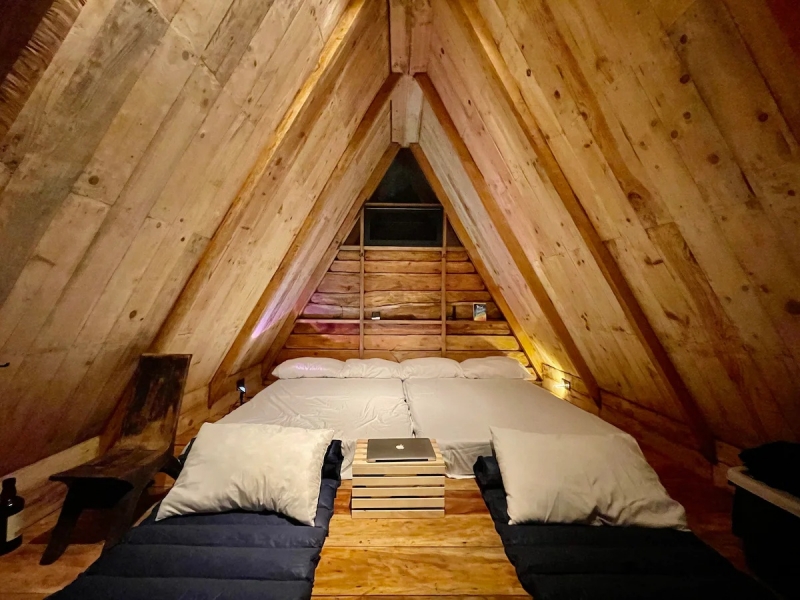 Listing name: Off-Grid Tiny Cabin and Campsite
Listing type: Tiny home
Max. no. of guests: 16
No. of bedrooms: 1 
Find your way into nature at this cosy A-frame cabin in the foothills of the Sierra Madre Mountain Range. Surrounded by lush forests and tranquil ponds, it's a tranquil escape that's especially suited to stressed-out metro dwellers who want solitude and relief. Indulge in a good book, swap ghost stories over the fire pit, or hang out on the deck until the wee hours of the night. 
While the property is sprawling, the cabin is petite. There's only space for up to six people inside, but the Airbnb hosts can set up spacious tents for additional guests.
Also read: 12 Airbnbs in Tanay That Are Perfect For a Weekend Getaway
2. This boho-style sanctuary in Silang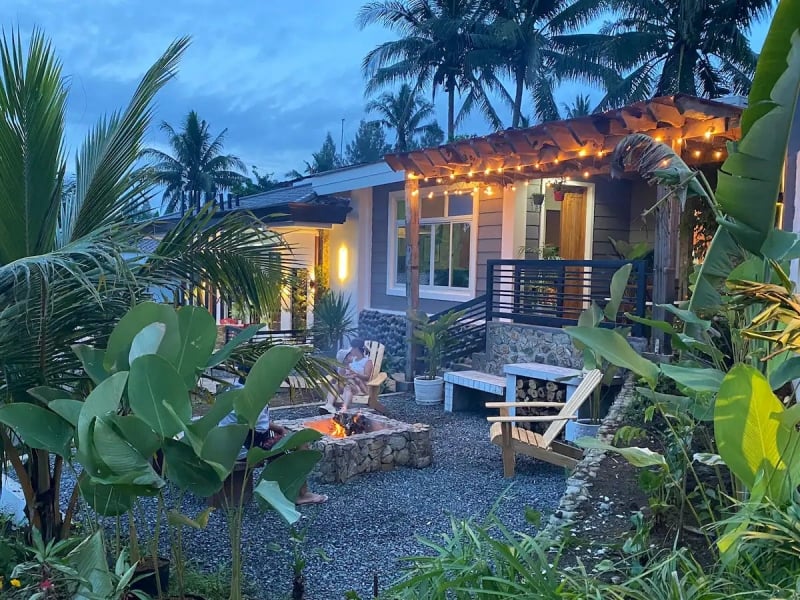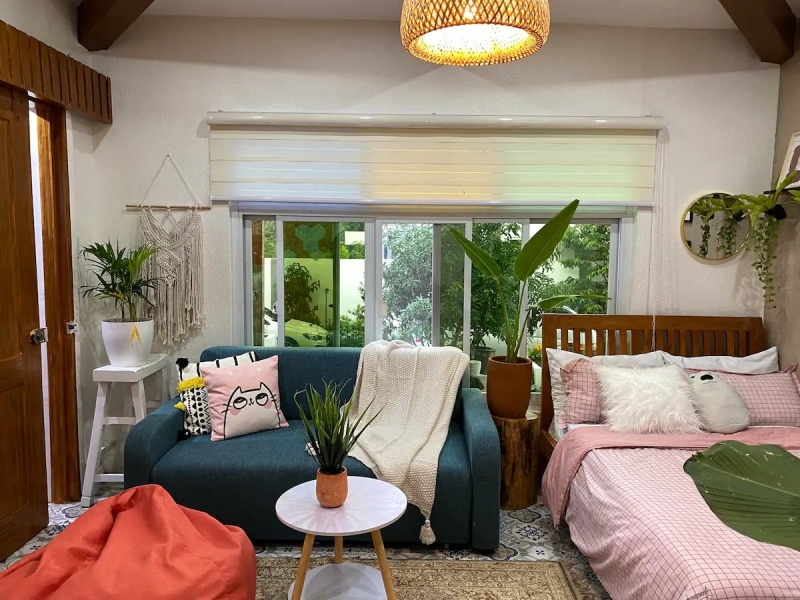 Listing name: Nordic Boho Tiny House 25 sqm for 2-5 pax, PS4
Listing type: Tiny home
Max. no. of guests: 5
No. of bedrooms: 1
This picturesque mini house is nestled in Nordic Homes Resort whose accommodations include three charm-filled tiny homes and a main house with three bedrooms. Our pick is this bohemian-inspired home that's more spacious than it looks from the outside.
Expect a fun-filled vacation in this tiny Airbnb; despite its diminutive size, it has plenty of entertainment options, including a PS4, a television with Netflix, and WiFi. For some old-fashioned fun, there are board and card games. A hot tub, a bonfire, and massage services are available at an additional fee, as well as a common pool for guests of Nordic Homes Resort. Plus, this house is only five minutes away from Tagaytay.
Also read: 10 Cosy Airbnbs & Vacation Rentals in Tagaytay For Your Next Out-of-Town Trip
3. This cosy Laguna villa with a private pool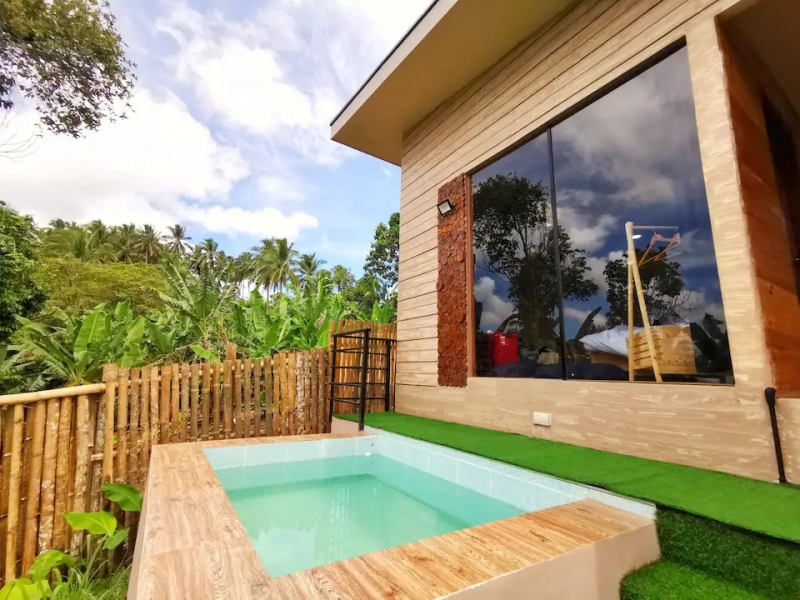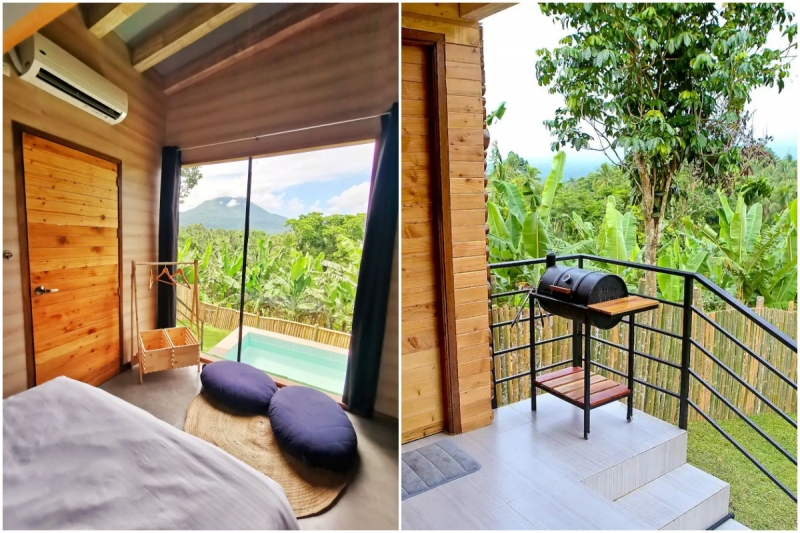 Listing name: Woodgrain Villas I (2023 PROMO!)
Listing type: Tiny home
Max. no. of guests: 6
No. of bedrooms: 1 
A perfect barkada escape, this tiny villa lets travellers bask in fresh mountain air and pretty views of Mt. Banahaw. Tiny? Sure, but this villa still fits up to six guests comfortably, with a plush double bed facing the scenic outdoors, plus a sofa bed and two additional mattresses on the loft.
It's hard to imagine a more serene hideout than this Airbnb. Tucked in the forests away from the bustling metro, you and your friends can talk, play, and sleep in peace. Take a dip in the small outdoor pool or bond with pals on the veranda. At night, enjoy the sight of a starlit sky.
4. This modern farm stay in Cavinti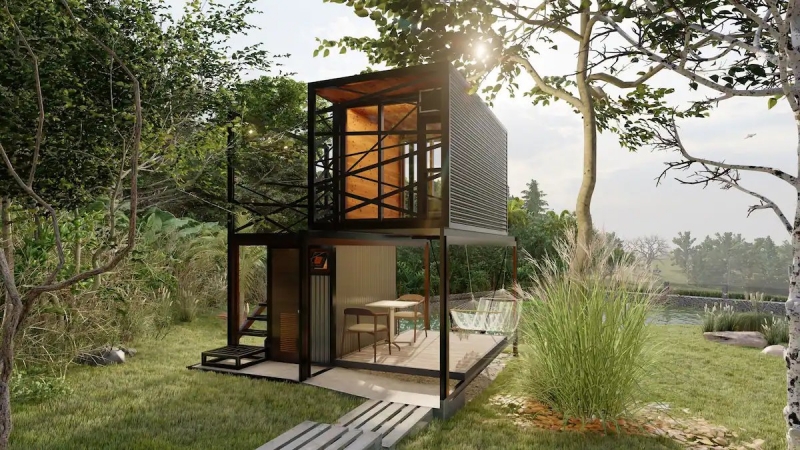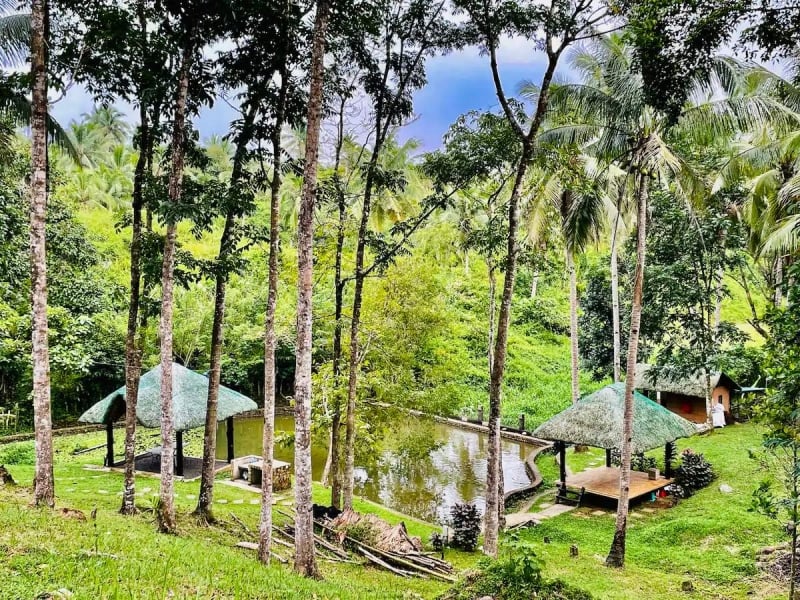 Listing name: A1 Forest Hill Tiny House Glamping Farmstaycation!
Listing type: Farm stay
Max. no. of guests: 2
No. of bedrooms: 1 
Whisk away your partner on a romantic farm stay at this quiet little spot. Or, you can go on your own, for a much-deserved solo sojourn to unplug and unwind. Either way, discover a minimalist retreat on a free-range chicken farm. 
A part of the Nest-T-House Community, this modern tiny cabin is on a remote corner of the property — arguably the best area of the farm, actually! Step on the open-air lounge deck on the main floor, then head to the second level for the sleeping area. Lovely views of the fish pond and surrounding farms promise a picturesque backdrop for your Instagram posts.  
5. This tiny house on wheels in Alfonso, Cavite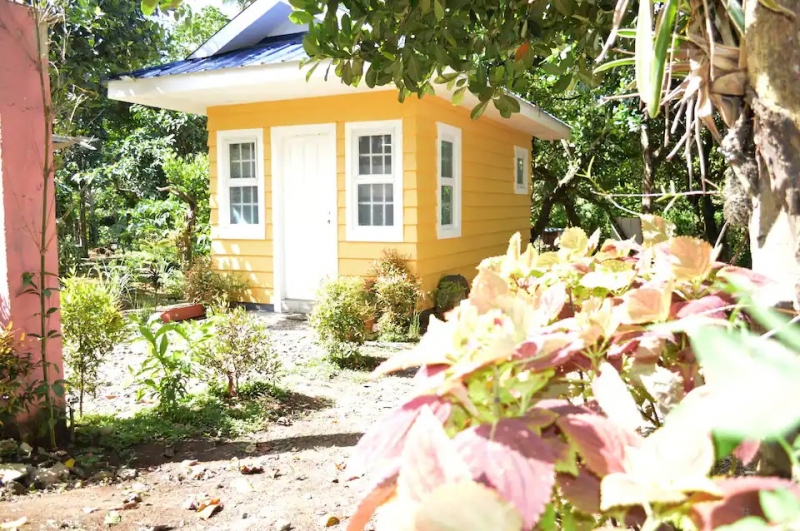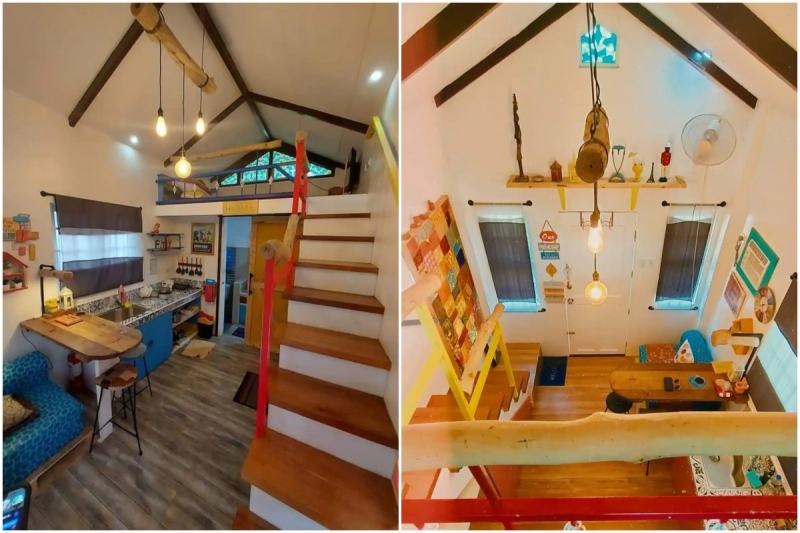 Listing name: SunShine Tiny House
Listing type: Tiny home
Max. no. of guests: 4
No. of bedrooms: 1 
Even just a glimpse of this brightly coloured tiny house puts us in a good mood! Sunlit, airy, and reasonably priced, the cottage is definitely worth considering for small families looking for their next staycation spot. Every part of the vibrant home is lovingly designed, with the furnishings and décor handcrafted by the owner and his family.
Other notable features include a private kitchenette, a private bath, and access to an outdoor kitchen and a dining table.
Part of a newly opened bed and breakfast in Alfonso, Cavite called Madeline's Ville, this cheery Airbnb is only one of three tiny houses on the property. Others are the Earth Tiny House and BlueSky Tiny House.
6. This clifftop beach house for scuba diving in Anilao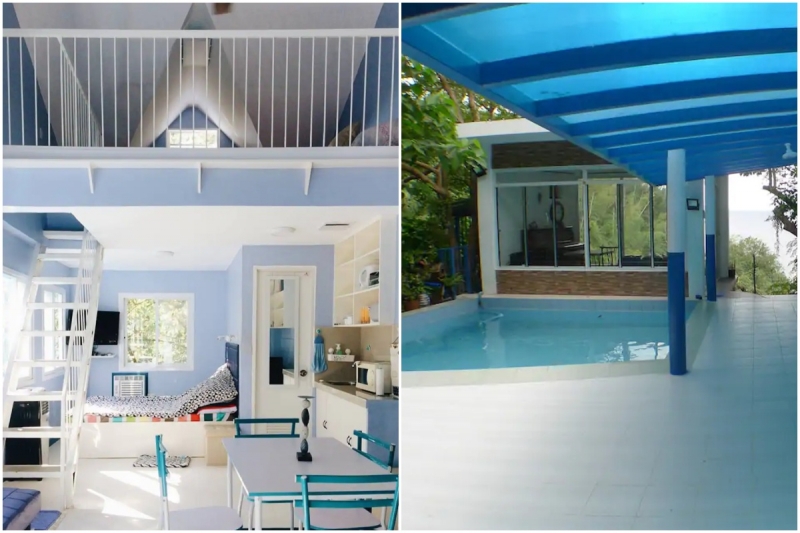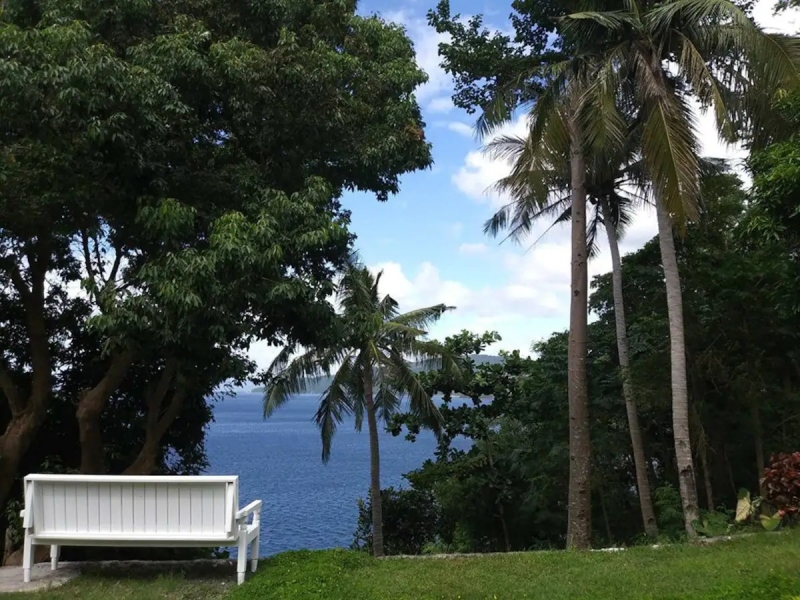 Listing name: Anilao Cliffhouse
Listing type: Entire home
Max. no. of guests: 9
No. of bedrooms: 1 
Is the sea calling? Batangas is the go-to destination for many metro folks, and this cool clifftop abode is one of the tiny houses near Manila especially fit for sun-seekers. Not only can guests enjoy unspoiled views of the forests and ocean, but this Airbnb also gives you easy access to Anilao diving spots which are some of the best in the country.
Even if it's a tiny home, Anilao Cliffhouse is spacious enough to host up to nine guests at a time. Beds in the main living area, the loft, and the music room, plus a sofa bed, guarantee that everyone has a place to rest after a full day of diving, snorkelling, or swimming. The rental also features a couple of outdoor hangout spots, from a bench under the mango tree to the bonfire area for roasting marshmallows at night.
Also read: 18 Airbnbs & Vacation Rentals in Batangas for Quick Escapes
7. This cosy tiny home for groups by Caliraya Lake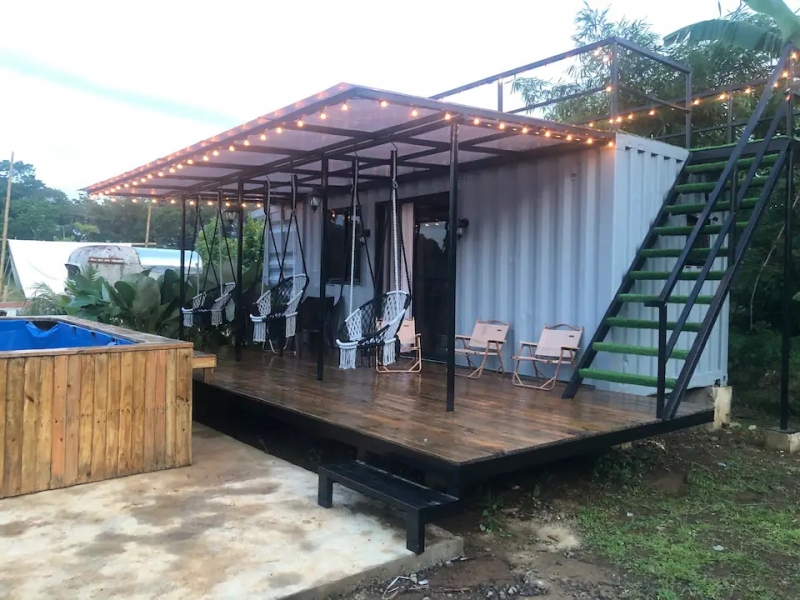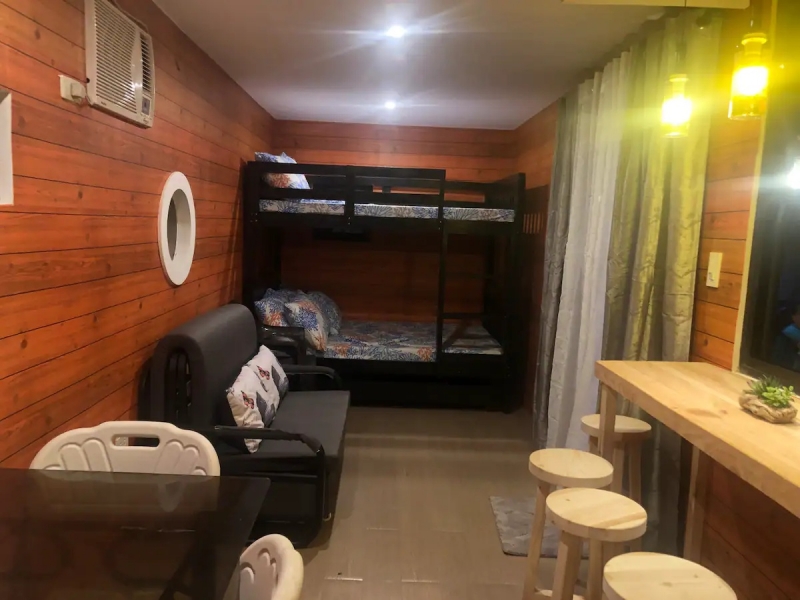 Listing name: Caliraya Lake House -A delightful 1 BR Tiny House
Listing type: Tiny home
Max. no. of guests: 8
No. of bedrooms: 1 
This dreamy lake home is one of the tiny houses on Airbnb converted from shipping containers, and the designers managed to make it as cosy and Insta-worthy as possible. Travellers can look forward to a delightful glamping experience here, with a private mini pool and a picture-perfect deck for basking in the fresh air and sunshine.
If you're in town for Caliraya Lake, you'll be happy to note that this tiny house is only a quick stroll away. Kayaks are available to guests.
8. This Bali-inspired hut in Angeles, Pampanga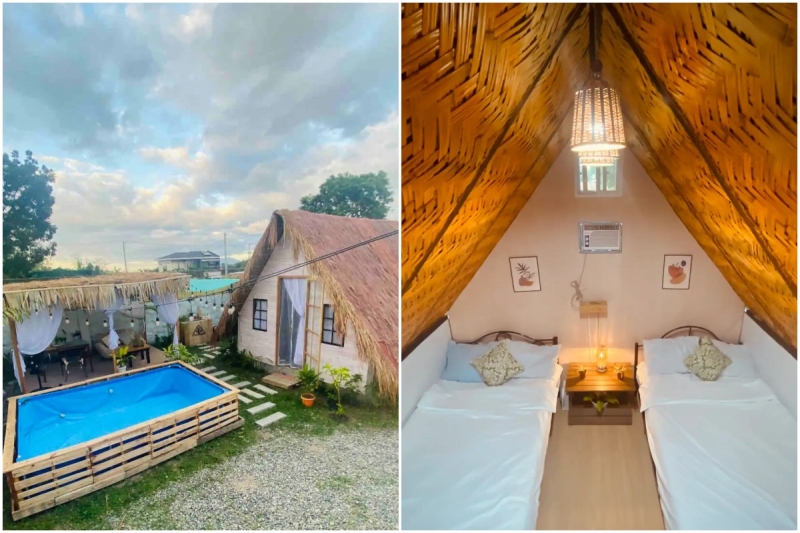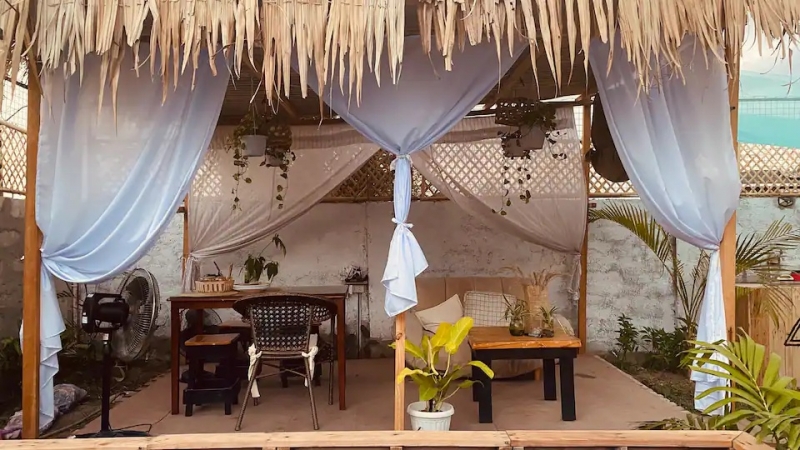 Listing name: Bali-inspired 1-bedroom hut with pool
Listing type: Hut
Max. no. of guests: 4
No. of bedrooms: 1 
Bring your Bali dreams to life at this Instagrammable cottage in Angeles. Affectionately called Casa Cabana, the Airbnb highlights the joys of indoor-outdoor living, with an outdoor lounge and dining space, and even an open-air Bali-style shower.
The tiny house is fitted with all the creature comforts, including a coffee station, air-conditioning, outdoor Bluetooth speakers, and free WiFi. Before leaving, don't forget to snap photos for your social media feed at the Insta-ready spots on the property, from the poolside lounge to the softly lit exterior at night.
9. This super-cute tiny apartment in Subic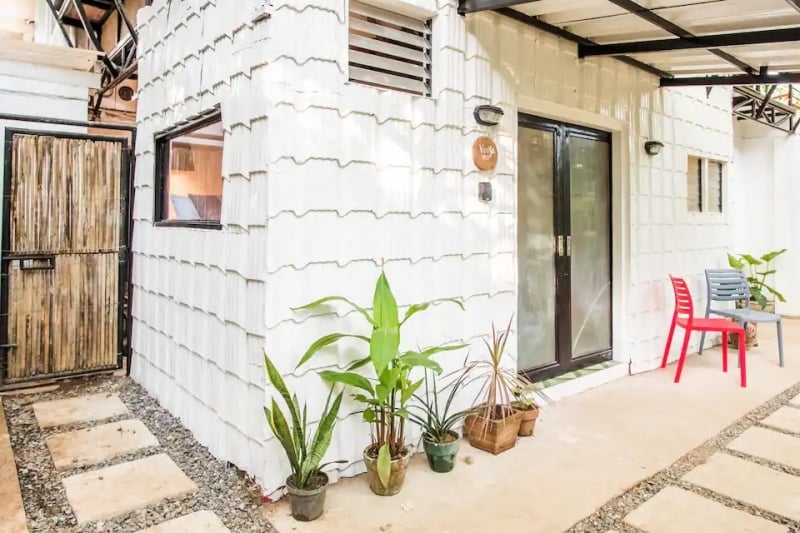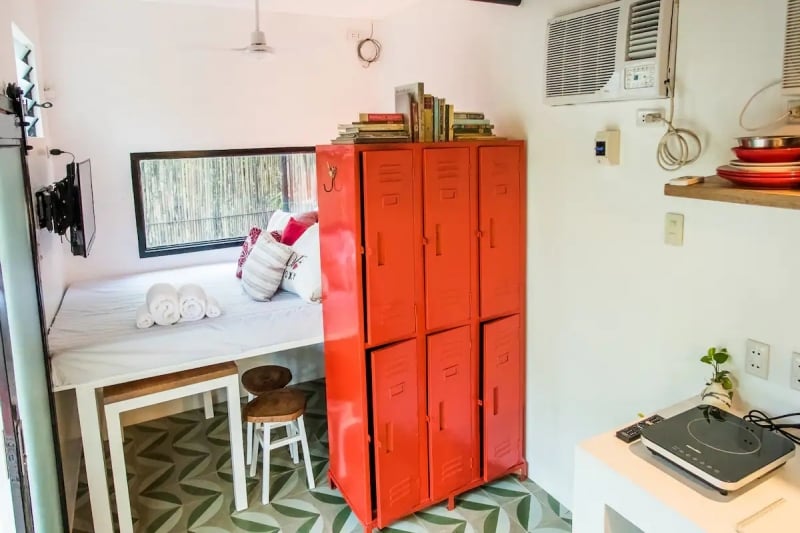 Listing name: Virya Nest SRR in SBFZ: Pet Friendly Tiny Home
Listing type: Entire guest suite
Max. no. of guests: 2
No. of bedrooms: 1 
A petite apartment in Subic, this 12-square-metre hideout is a smartly designed tiny home. It comes complete with all the trimmings you'd expect from picturesque tiny houses, including a pint-sized but fully equipped kitchen, a cosy shower area with a basin for half baths, and even a work-ready desk that can be stowed under the bed to conserve space. 
As a bonus, every stay includes free breakfast, with guests given peanut butter, bread, champorado, and eggs, plus coffee, tea, and juice. Kick back in the lounge chairs, swing seats, and hammock on the shared roof deck, a space that you don't just share with Nest guests but also with tropical birds and monkeys.
10. This surf-inspired loft in Baler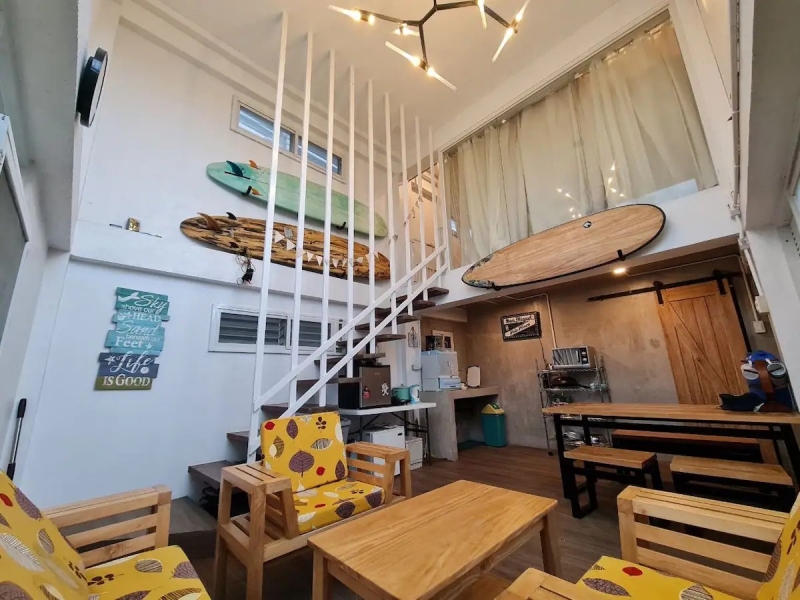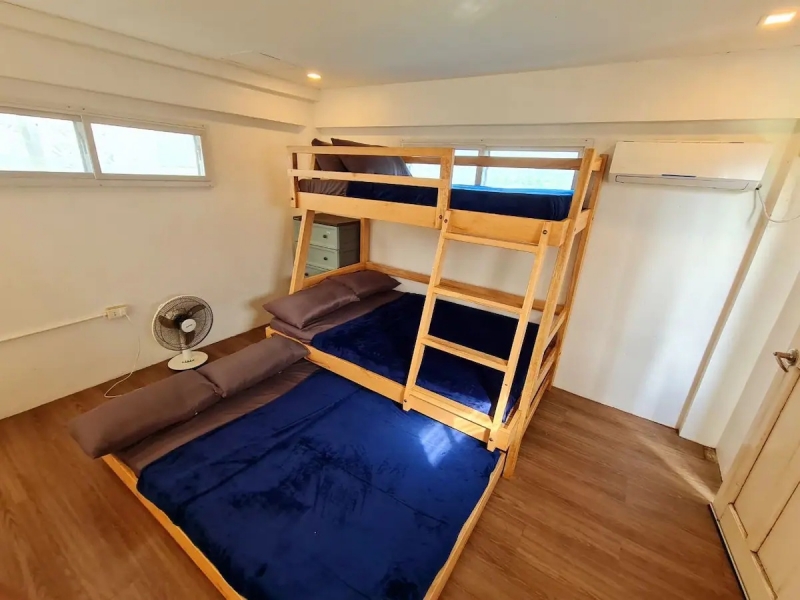 Listing name: Cozy, beach-inspired tiny house w/ mountain view
Listing type: Tiny home
Max. no. of guests: 6
No. of bedrooms: 1 
Travelling to Baler to surf? Rest well after catching waves in this beachy dwelling that lets you feel like a local in the surf town. Colourful furniture, surfboards on the wall, and views of the provincial landscape — this is certainly a one-of-a-kind stay for up to six travellers. Our personal favourite spot: The breezy patio for hearty breakfasts while watching the sunrise.
Surfers appreciate Airbnb's location, just a short tricycle ride from the famous Sabang Beach. The town centre is within walking distance of the house.
Also read: Best Surf Spots in the Philippines & Where to Stay
There you go, our favourite tiny homes near Manila that are perfect for your next mini vacation. After all, good things come in small packages, right?
Got a property you'd like TripZilla to feature? Inquire with us here.
---
This article contains affiliate links. When you book through these links, we may earn a small commission at no additional cost to you. All images courtesy of the respective property listings.