A strong travel history is a key requirement in most visa applications, and it's not hard to understand why. Having previous travels as a tourist not only shows that you're capable of travelling per se, but that you've consistently followed immigration policies locally and abroad. In fact, some travellers who don't have enough savings or lack at least one document can still increase their chances of visa approval by successfully proving this during their application. Well, I got news for you. It's actually easier than it looks!
Also read: Easiest to Hardest Visa Applications According to Filipino Travellers
Book international destinations during seat sales
Unfortunately, to have a strong travel history means having several trips abroad instead of local ones. Even if you've spent the last decade travelling to all 81 provinces in the Philippines, that won't be much help in front of consuls.
Travelling abroad may be a lot more affordable these days, but it doesn't hurt to take advantage of those occasional seat sales offered by budget airlines. Only by doing this consistently will get you a good number of stamps on your passport without going broke. Doing a weekend trip might be too quick (and frankly wasteful of that ₱1,620 travel tax), so go for three to four-day itineraries. Remember, the fewer days you put in on a single country, territory or state, the more stamps you get in the long run.
Keep exploring your previous destinations
What if the only country you can go to on a budget is Vietnam, Malaysia or Thailand? That's perfectly fine. These destinations usually offer inexpensive round-trip flights from the Philippines (on sale or not) as well as accommodations, food and tours that go well with a tight budget.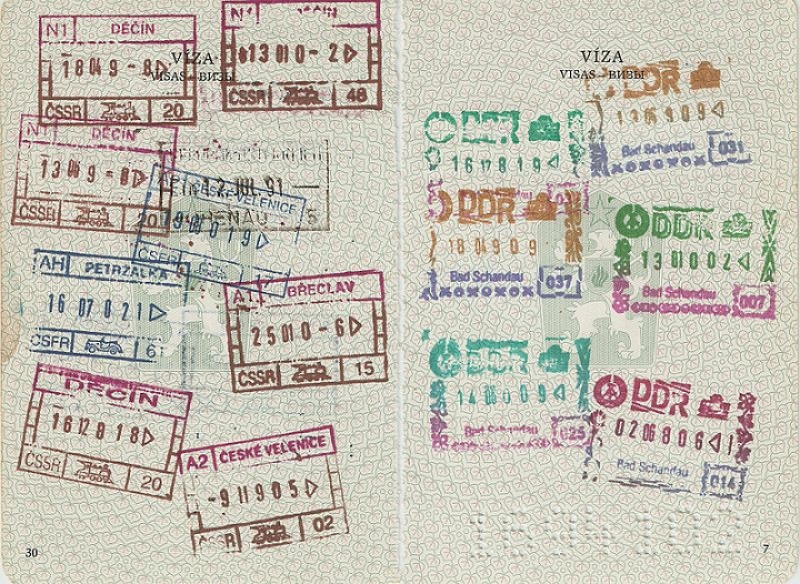 Sometimes, consuls won't bother reading your entire list of visited countries and only do a quick review of your passport pages for stamps or visas on arrival. If you aren't capable of travelling to a new destination yet, always consider going back to the places you've been to. My guess is that most of us who say we've been to a certain country have only explored a small fraction of it in reality. For instance, many travellers only visit Kuala Lumpur on their visit to Malaysia or Ho Chi Minh in Vietnam. These countries have a LOT more to offer. Take this chance to veer away from your usual destinations and explore other traveller-friendly ones in a single country.
Temporarily avoid countries that don't issue stamps
If all you want is to earn more stamps to quickly fill up the pages of your passport, then you should know that some countries nowadays no longer issue stamps. Instead, you'll receive small slips of paper upon passing immigration, or nothing at all. These countries include Hong Kong, Macau, South Korea and even Australia.
The good news is that a lot of these countries don't require you a visa in the first place. On the other hand, those that do should well be on the top of your must-visit list. Again, this is only for the purposes of your visa application to prove your travel history, and having several stamps on your current passport is the best way around it. The next couple of things consuls will probably be asking you for are your old passports and travel photos. We'll get to one of them in a second.
Finally, document your trips as much as you can
Okay. Worst case scenario, the cheapest flight tickets you can find are for Hong Kong or Macau. You can only go as far as to receive a piece of paper that's just as easy to lose as those tickets you get from riding buses in Metro Manila. In addition, the only passport you've ever owned is the one you currently have. That leaves you with just one other option — photos.
Regardless of what other people say, taking photos is now an indispensable part of travelling for many of us. In this case, they'll actually come in quite useful, rather than as mere souvenirs. Having those travel photos handy, whether on your smartphone or as printouts, can eventually salvage your application in case the consul asks for them. Because they sometimes do, just like immigration officers!
Also read: 10 Things You Should Never Do in Any Visa Application
Building your travel history might be one of the easiest ways to score points with consuls, but you'll also have to work hard enough for it. Thankfully, it doesn't necessarily involve exhausting your travel fund (or Heaven forbid, having to forge your travel documents out of desperation). It's about knowing the best travel opportunities so you can, in turn, use them to your advantage for your next trip to an embassy.
---
Facebook image credit (L-R): BreizhAtao; dimarik|Canva Pro