Contributed by Eden Ramos
Europe is my ultimate travel destination and I think, most people would love to travel in Europe too. In 2017, I had a chance to just do it! And the best part is, I got to do it with my whole family.
My family and I, with the little budget that we have, travelled in the United Kingdom for a 20-day vacation in October 2016. This was our first travel outside of Asia. We enjoyed every bit of that trip so much that we keep on talking about it whenever we have time to have a family lunch. Early last year, over lunch, my mom opened a topic about wanting to travel in Europe. Since I am always the one who plans our trip, my brothers challenged me to create an itinerary with less than ₱200,000 budget each given all the places that they want to visit. Paris, Spain, Italy, Netherlands, and Switzerland are their top picks. It was a casual conversation turned into reality after a week when an airline offered a seat sale to Paris! This is where the planning started.
Also read: How I Did My Dream Europe Trip for Less than ₱100,000 (All-In)
Europe is THE ultimate travel destination and with the countries that my family wants to visit, I can say that those 5 countries pretty much covers Europe. But since I had the luxury to plan out the trip and I have this thinking that we might only be able to travel in Europe once, I decided to challenge myself more and create an itinerary that will cover more countries in Europe while still staying within budget. It was not easy planning the trip since we are talking about Euros! I researched a lot whenever I had the time. I read different travel articles, travel tips, and travel itineraries. It was when I made a 1 month, 10 countries, 15 cities itinerary when I felt that triumph! And made myself believe that yes, you don't need a huge amount of money to travel Europe. Planning (and A LOT of research) is key. Plus, making sure to get your mind and body ready for a lot of thinking and walking!
In this article, I'll be sharing our travel itinerary plus some quick tips on how to enjoy Europe without spending too much, tips on what to eat, and tips on other facts the might come in handy.
Day 0: Flight to Paris
Day 1-3: Paris, France
We booked everything online before arriving in Paris. We rented a pocket WiFi to easily navigate all the places that we want to visit. We picked up the pocket WiFi in the airport and easily navigated our accommodation. We rested the whole day and just brought store bought food for dinner.
Tip # 1: Rent a pocket WiFi. It's cheaper, faster, and unlimited!
Tip # 2: Always ask for the nearest supermarket. Supermarket foods are way cheaper than restaurant bought food. Supermarkets in Europe have many variations of ready to eat food that you just have to heat – rice meals, pasta, and sandwiches, to name a few.
We started our tour in Triomph De L'etiole. This is the most strategic place to begin the trip since it is at the centre of the city. From here, we walked going to Place De La Concorde, Grand Palais, Tuleries Garden, and Louvre Museum via Avenues Des Campis-Elysees.
Tip # 3: Opt to walk. Paris is a beautiful city. Walking in the streets of Paris is a tour in itself. Almost everywhere you go is a tourist spot. Opt to walk to not miss anything.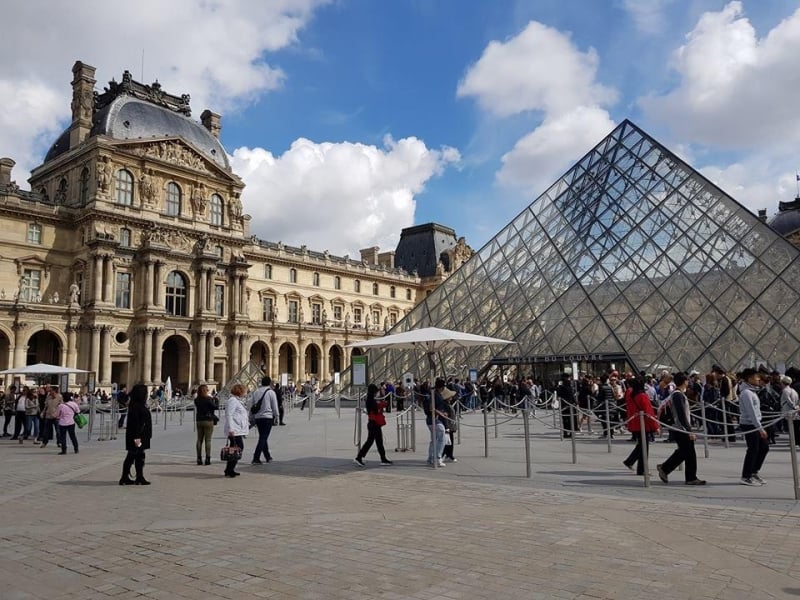 In the afternoon, we rode the bus going to the Eiffel Tower. We stayed there for a few hours to see the Eiffel Tower light at night. It was worth the long wait. We did not went up the tower since the line was too long. Instead, we decided to look for a higher ground near the tower to have that Instagram photo captured.
Tip # 4: Picture from a distance. Eiffel Tower is a huge tower and having someone capture a picture of you near the tower is a bit of struggle. Eiffel Tower is best captured from a distance. Walk for a few minutes going to the building in front the tower to have a full view of it.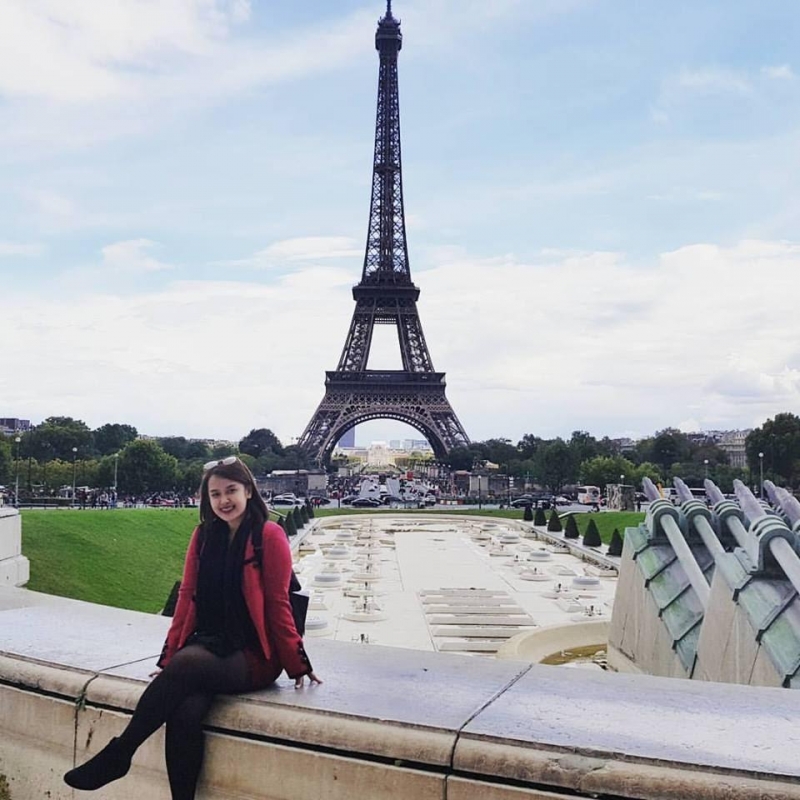 A few blocks from our accommodation is the famous, Sacre-coeur. It is hard to pronounce as it is hard to climb up the stairs going to the church. Haha! But once on top, a breathtaking view of Paris welcomes you. Not to mention, the entrance in Sacre-coeur is free of charge, too. There are also a lot of restaurants at the back of the church.
Tip # 5: Take the Tram. If climbing the stairs is hard for you. A tram at the left side is available for a small fee. But still walking up is the best way.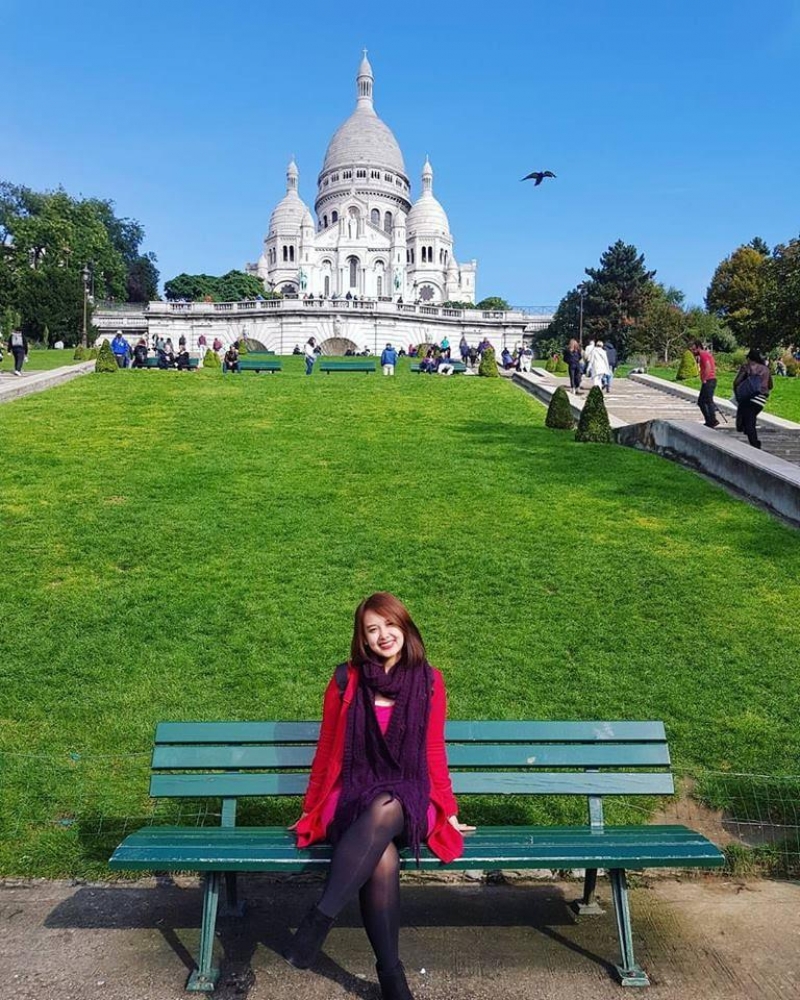 We rode the train going to Notre-Dame. Entrance to Notre-Dame is free of charge. There is also a mini Park in front of it where you can feed the pigeons for that Instagram story of yours. We spent our afternoon in a café near Notre-Dame just to relax and enjoy Paris the way Parisians do, with coffee and crepes!
Tip # 6: Choose restaurants a few blocks away from the tourist spots. This is a no-brainer but I just felt the need to reiterate this. Restaurants near tourist spots can be really expensive. Walking a few blocks away from the tourist spots can fill your tummy with delicious food that is cheaper.
We ended the day by just dropping by the famous Moulin Rouge before shopping near Anvers station for affordable souvenirs.
Tip # 7: Shop for souvenirs in small streets. Just like the restaurants, souvenirs in small streets are less expensive that the ones that are being sold near the tourist spots.
Day 4: Luxembourg City, Luxembourg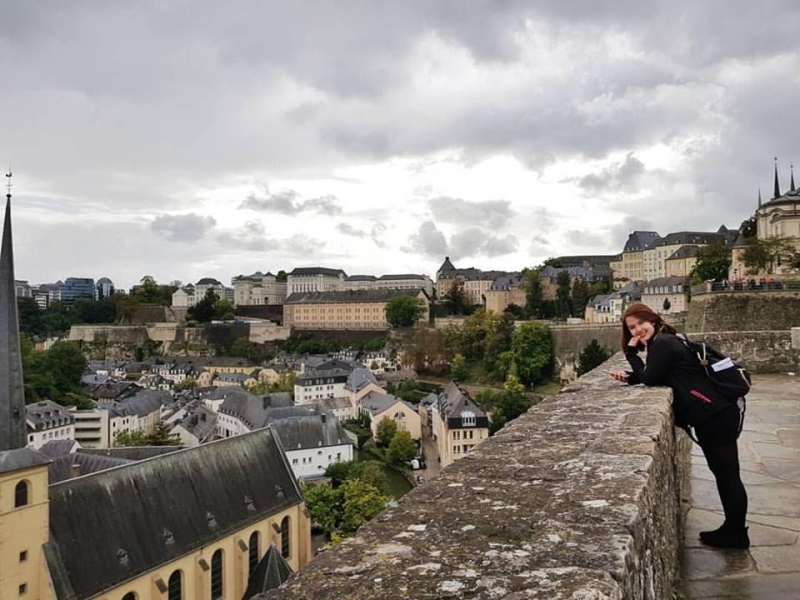 The next morning, we rode the train going to Luxembourg, a small country in Europe, for a quick day tour. The city is very easy to navigate since it's small and we have our pocket WiFi. We only stayed for a few hours before catching our train going to Brussels, Belgium. In those 4 hours, we were able to visit Europe's most beautiful balcony, Chemin De La Corniche. We were also able to visit Place De La Concorde, The Grund, and Casemates Du Bock.
Day 5: Brussels, Belgium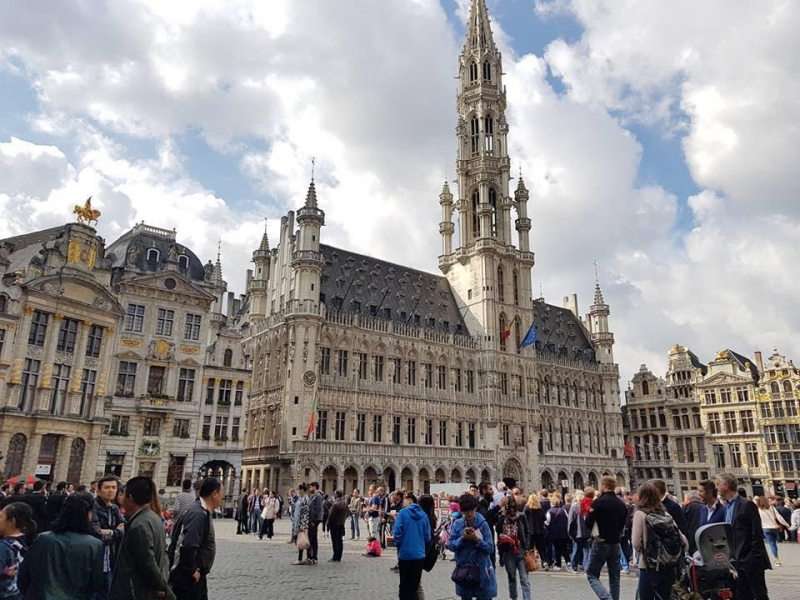 The Grand Palace is the most visited tourist spot in Brussels. It's a square plaza where the Town Halls can also be seen. This place lights up beautifully at night.
Brussels is a small city. Walking is the best way to get from one place to another. A few minutes walk from Grand Palace is their famous landmark, Mannekin Pis. It's a small mannequin of a peeing boy. Although it is not much to see, tourists gather around the mannequin to have their picture taken. The streets going to the mannequin is where the famous Belgian waffles and chocolates are being sold at a reasonable price. There is also a girl version of this mannequin, Ilot Sacre, which can be found in a narrow street few blocks away from the Mannekin Pis. A few minutes' walk will bring you to Jardin Du Mont Des Arts and Place Royal.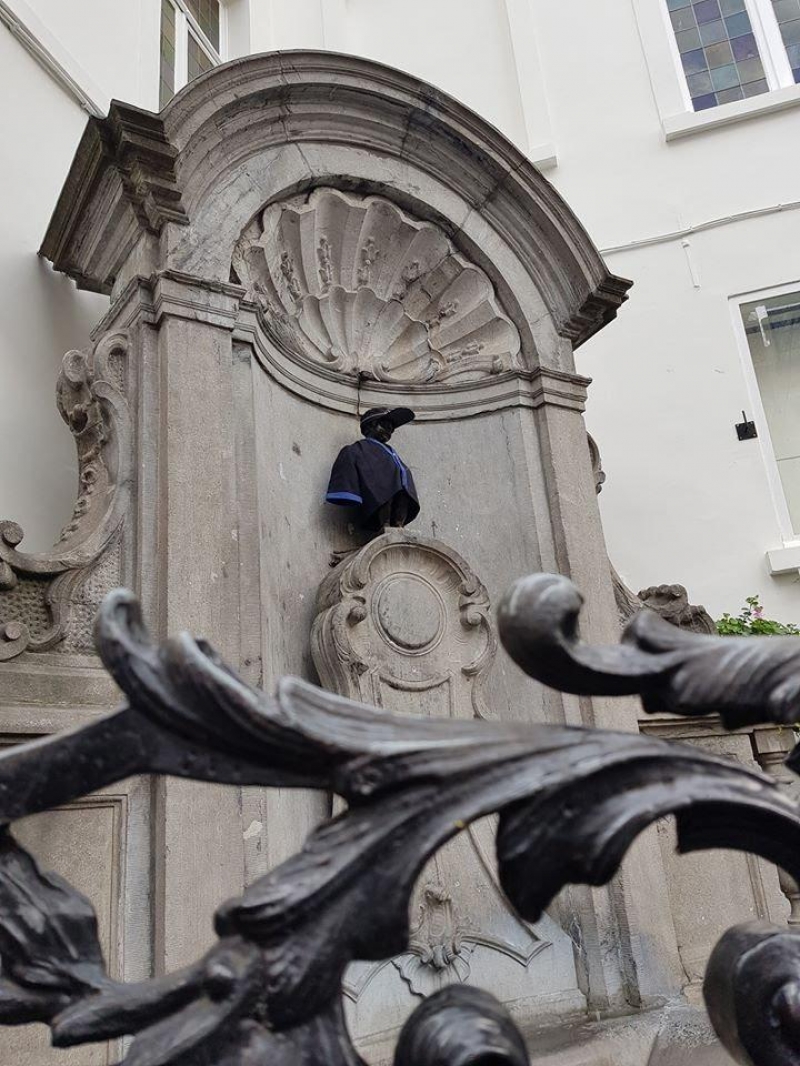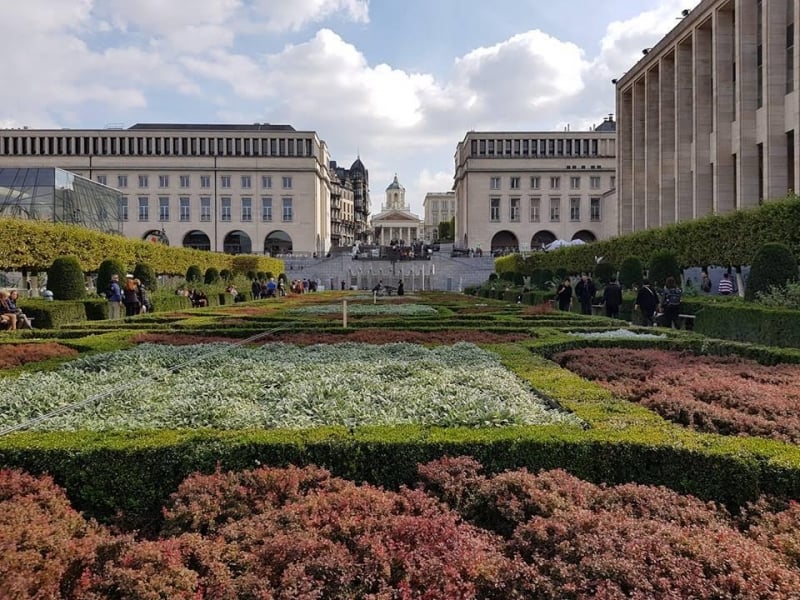 Day 6-7: Amsterdam, Netherlands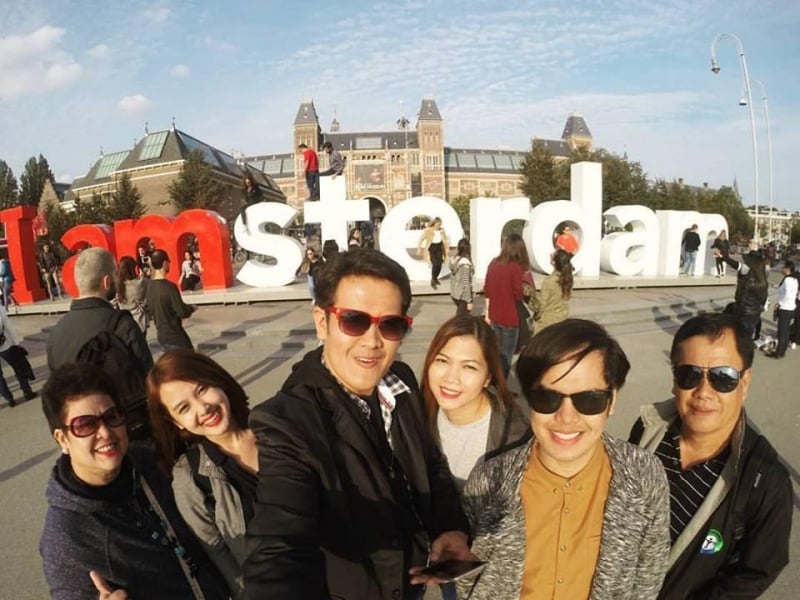 Amsterdam is a must-see city in Europe. You will definitely fall in love with this city in an instant. It is alive both in the morning and at night, giving tourists two different views of Amsterdam. In the morning, we visited the Rijksmuseum, where the IamAmsterdam sign can be found. There is a large open space in front of this museum where a lot of tourists and locals can relax. The Van Gogh Museum is also near Rijksmuseum. Not far from this area is the Leidseplein Square where shopping stores and restaurants can be found.
On the other side of Amsterdam (near the train station) is an area called Dam Square. This is similar to Leidseplein Square but more alive at night since the Red Light District is near the area. A lot of tourists roam around this area at night to window shop and enjoy the view of the girls and the night life. Haha!
Tip # 8: Taking pictures is not allowed while window shopping at night. "Window Shopping" is a term used to refer to looking at girls in glass doors in the The Red Light District.
Tip # 9: Cannabis is legal. It can be found anywhere in Amsterdam and it comes in different forms – ice cream, lollipops, among others. The smell of cannabis is everywhere. So if you want to try it, then this is your chance.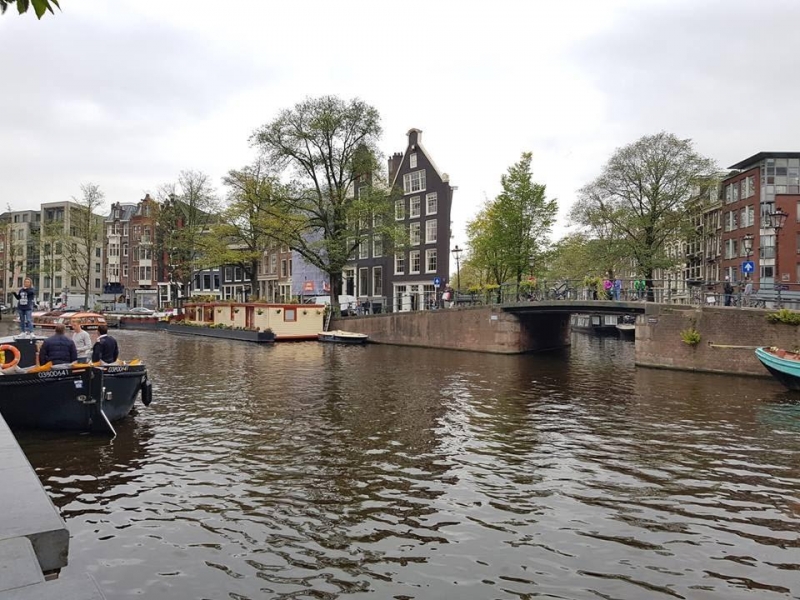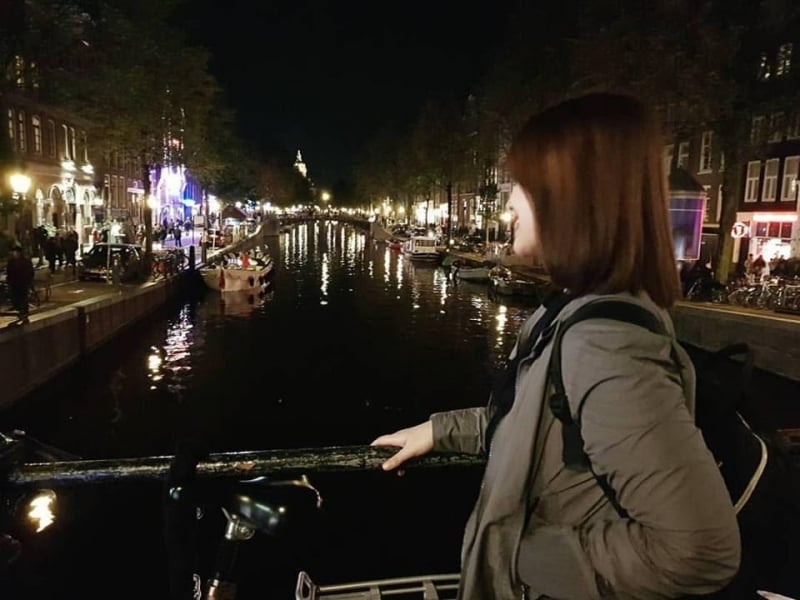 The canal houses in Amsterdam are like doll houses. They are tall and narrow. The façade are just so incredible to look at. Anne Frank House is also one of these houses. On our second and last day in Amsterdam, we just went to Anne Frank House and roamed around the city of Amsterdam by foot, ate fritters and cheeses, and just admired the lively city of Amsterdam. And yes, we went back to The Red Light District again.
Tip # 10: Fritters in cone. This is a must eat in Amsterdam. Frites or fries are served in a cone shaped paper with a small fork to easily carry around the city while walking. Buying one big order of frites is more economical when eating in group. The number one frites called Mannekin Pis is located in the central road near the train station.
Day 7-9: Berlin, Germany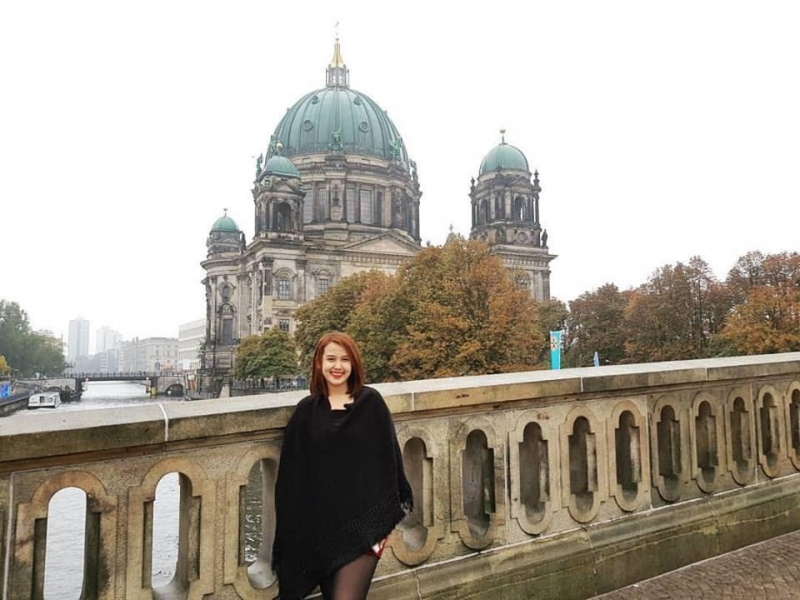 It was raining when we went to Berlin. We stayed in our room the whole day and just bought food from the supermarket. Germany was our 5th country and compared to the first 4 countries, it is surprising to notice that Berlin is cheaper, in terms of transportation and food.
Tip # 11: When buying chocolates or any souvenirs to take home in your country, buy in Berlin/Germany. Everything is at least 30% cheaper than any other country in Europe. Aldi and Lindl are the best supermarkets to go to.
We started our tour by visiting the Neptune Fountain. From here, you can see the Alexanderplatz on right side and the Berliner Dom on the left side. These three famous landmarks are just a few minutes' walk away. The Berliner Dom is a huge cathedral surrounded by museums, DDR Museum, Altes Museum, Neues Mueseu, Alte Nationalgalerie, and Deutches Historisches Museum. This area can already fill your Berlin Tour. But of course, we have to visit the Brandenburg Gate which is a good 20 minute walk if you walk via Unter Den Linden. Upon entering the gate, the left side will bring you to the holocaust memorial.
Tip # 12: Brezels and Currywurst are must eats in Berlin. Once in Berlin, try their Currtywurst which is a sausage cut into small bites with curry sauce and curry powder. This comes with a piece of bread too. It is best to eat Currywurst with brezels and pretzels.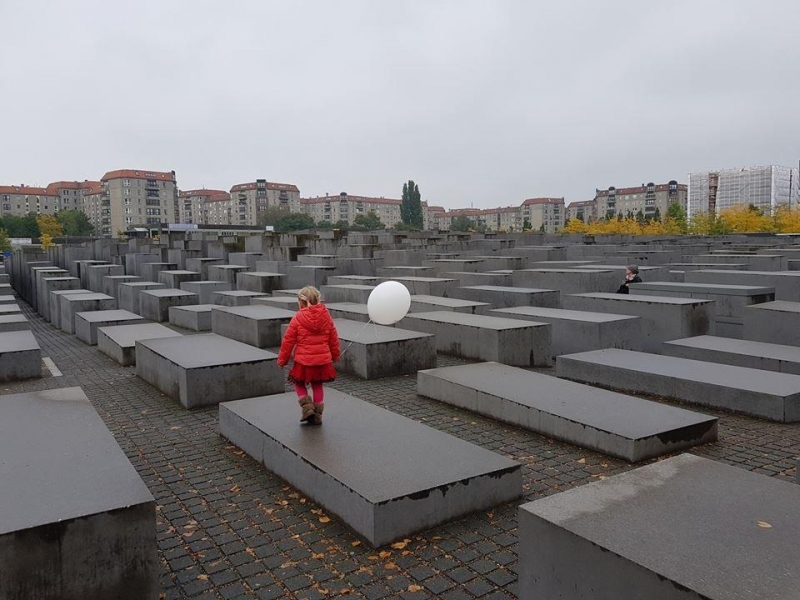 From the Holocaust Memorial, take the bus or Uber going to Topography of Terror. This is a free indoor and outdoor museum dedicated as a warning from history. This is where a piece of the Berlin Wall can be found. A few minutes' walk will bring you to Checkpoint Charlie where men in uniform are ready to take a picture with you.
Tip # 13: Take photo from a distance. In checkpoint Charlie, there is a charge if you take a picture with the army men. To save money, you can just take a photo from a distance.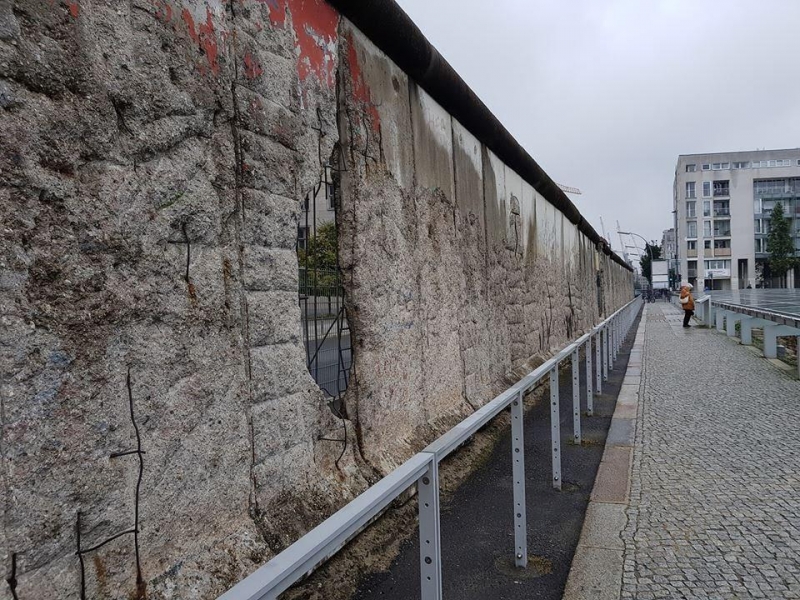 Tip # 14: Berlin is my least favourite city but after actually visiting Berlin, that perception changed. Berlin is clean, safe, and everywhere you look is just so beautiful. Plus, they have the best and most respectful people. Berlin is a must visit city in Europe.
Also read: Europe on a Budget: DIY Travel Guide for Filipinos
Day 10-11: Prague, Czech Republic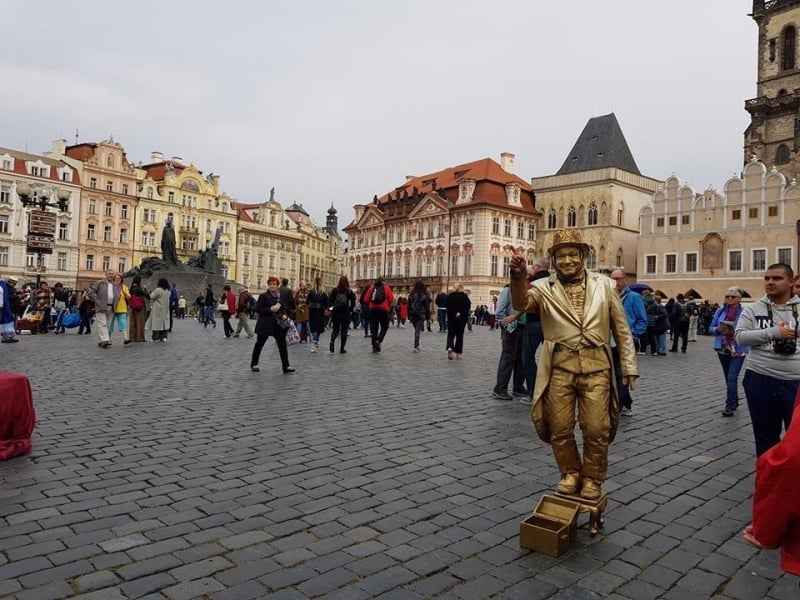 A four-hour train ride from Berlin is Prague. There are a lot of tourists in this city compared to Berlin. It is a beautiful city, but tourists need to be very mindful since there are a lot of scams for first timers.
Tip # 15: Do not exchange your Euros to Czech Korunas/Crowns. Czech Republic has a different currency. But they also accept Euros. It is best to just use Euros. But if you really want to exchange it, look for money exchange stalls where it says 0%. Do not exchange your money in the train station as they charge you with a huge commission percentage.
We rented an accommodation in the Old Town Square to easily go to their tourist spots. The Old Town Square is an open space surrounded by houses. There are a lot of street performances happening in the square. There are also some stalls of food where you can buy the Tradelnik and Prague Ham.
Tip # 16: Tradelnik are the best pastry. Tradelnik is a chimney cake which is best eaten with nutella or vanilla ice cream or both! It is being sold everywhere in town.
Tip # 17: Old Prague Hams are too expensive. Make sure to ask how much first before buying because what they put in their price menu is different from what they will actually give you. Think first before buying or you might lose a lot of money for a piece of meat.
The Astronomical Clock and Church of Our Lady Before Tyn are inside the Old Town Square. We started our day by spending a few hours in this area before heading to Charles Bridge. The Charles Bridge is easy to navigate if you are coming from the square because all tourists are heading to that same direction. Once in the bridge, souvenir sellers and painters are everywhere. A few minutes' walk from the bridge is the Prague Castle where you can enter free of charge.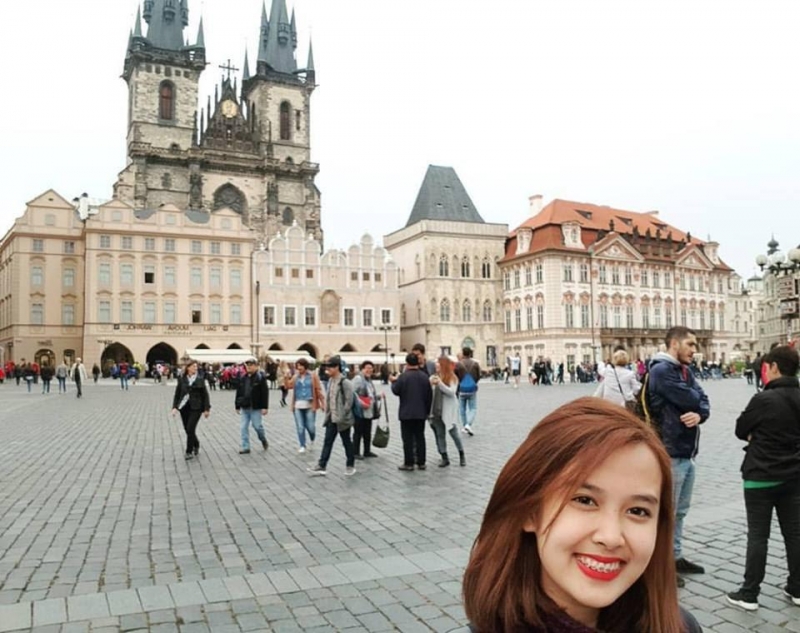 Church of Our Lady Before Tyn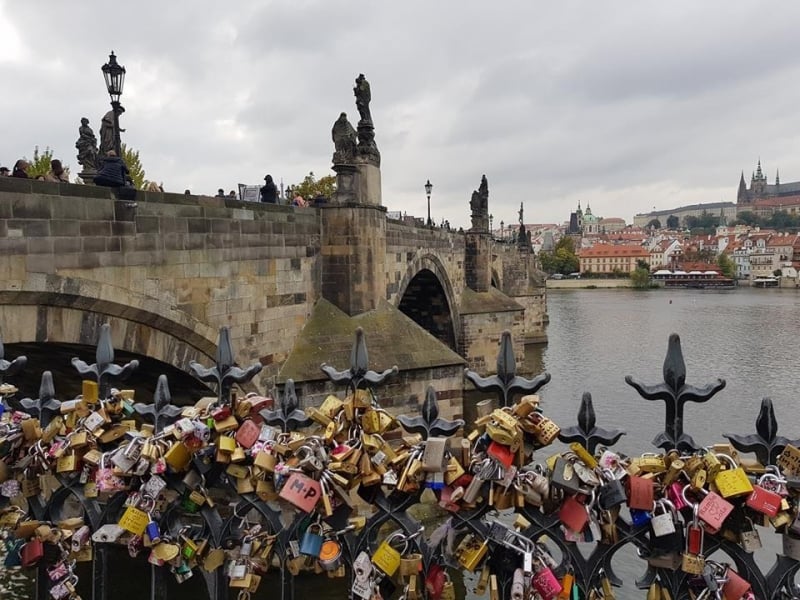 Charles Bridge
Day 12-13: Vienna, Austria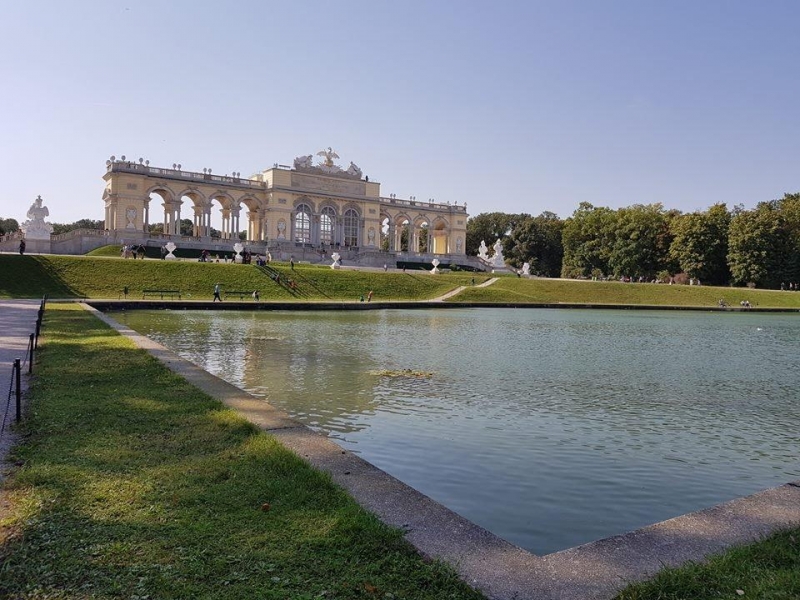 Another four-hour train ride will bring you to Austria. I can describe Austria as a peaceful city. There is not much tourist and you can barely see people walking in the streets. We first visited the Narsmarkt on our first day. It is a long market in the middle of two streets where different spices, sausages, and other products are being sold.
Tip # 18: Avoid taxis as much as possible. Taxis are everywhere but so are buses and trains too. Some taxi drivers will take the long route just to get more money. Avoid taxis as much as possible to save money. Austria has a good train and bus system that you can utilize.
You will need at least 4 hours to tour the whole outside of Schonbrunn Palace. The palace is so huge that you will actually get tired of walking. There are a lot of tourists in this area.
Tip # 19: Going to paid areas of the palace is not recommendable. Your eyes will be already full by just visiting the outside of the palace.
Ride the train going to the other side of the city where Hofburg Palace can be found. Upon entering the Hofburg Palace, a public space called Heldenplatz is also a must see as this open space is surrounded by other museums. Graben And Kohlmarkt are located just a five-minute walk outside Hofburg Palace. It is a busy area where there are a lot of shopping stores and restaurants.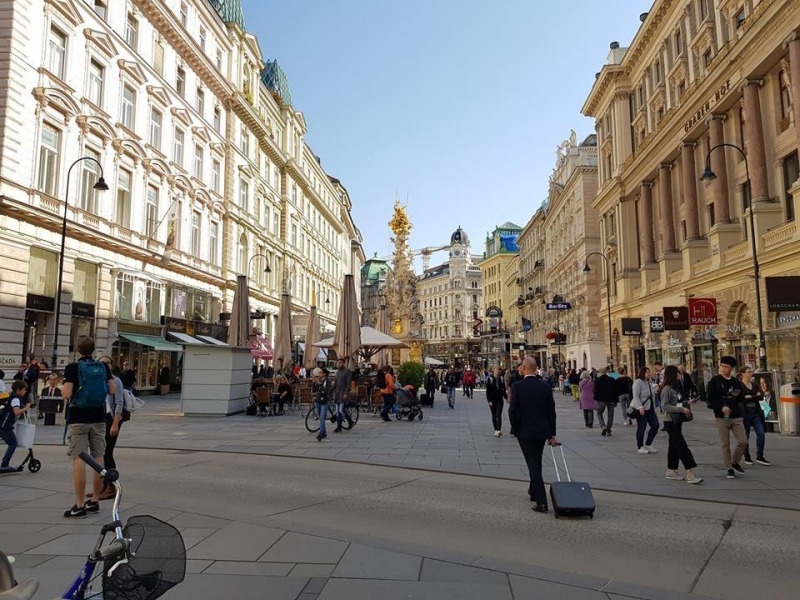 Tip # 20: Taste Vienna's Sausage. Sausages are being sold everywhere. Try buying at least once to compare Vienna's sausage with other types of sausages.
Day 14-15: Lucerne, Switzerland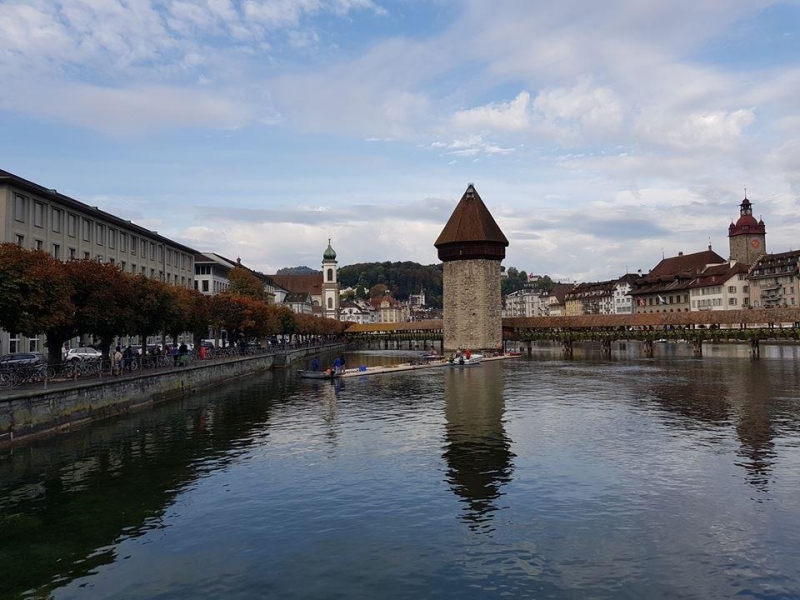 Lucerne is a small city in the heart of Europe. It is a nine-hour train ride from Vienna. It's far but I can say that it is worth the long travel. Outside the train station is where the Chapel Bridge is, the oldest wooden bridge in Switzerland. A two-minute bus ride will bring you to the Lion Monument. These are the top two landmarks in Switzerland.
Tip # 21: Switzerland is expensive. We know for a fact that Switzerland is expensive but we didn't know that it will be very expensive. All food items are twice or thrice the price of the same food we bought in other countries. Even their Swiss Chocolates are expensive.
Tip # 22: To save cost for transportation, try asking your hotel to give you the free tourist transportation pass. This will save you a lot of money as this pass will give you free ride to all buses in your whole stay in Lucerne.
Day 15: Engelberg, Switzerland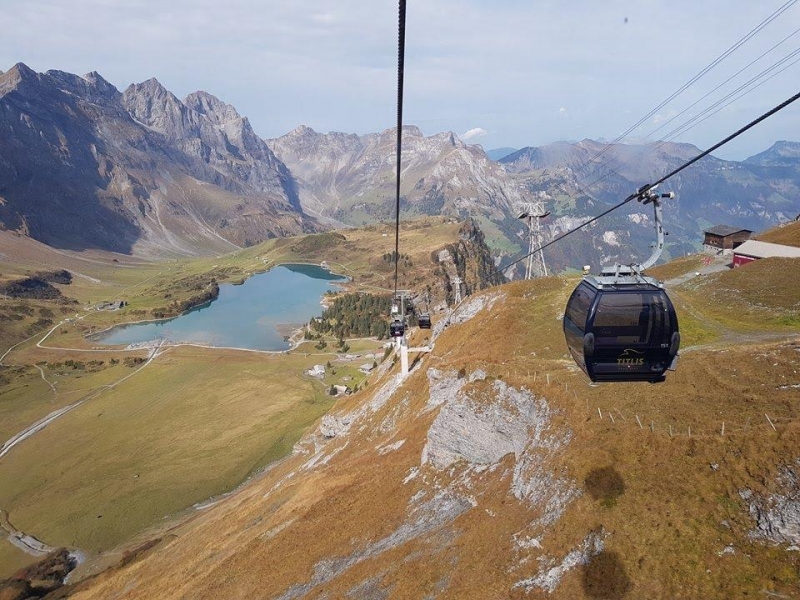 We went to Lucerne as this is the nearest city going to Engelberg where we are really planning to go. Mount Titlis is located in Engelberg. This mountain is part of the Swiss Alps which has a snow glacier all year round. There are three levels of cable car before reaching the 10,000 feet high mountain. The first level will bring you to Lake Trubsee which has a Jurassic Park movie full to it, in a good way. The second level, you will need to transfer to a bigger rotating cable car where at least 50 people can fit at a time before finally arriving at the top of Mount Titlis where you can literally say that you have set foot on a Toblerone. At the top, different activities are available to further elevate every tourist's' experience.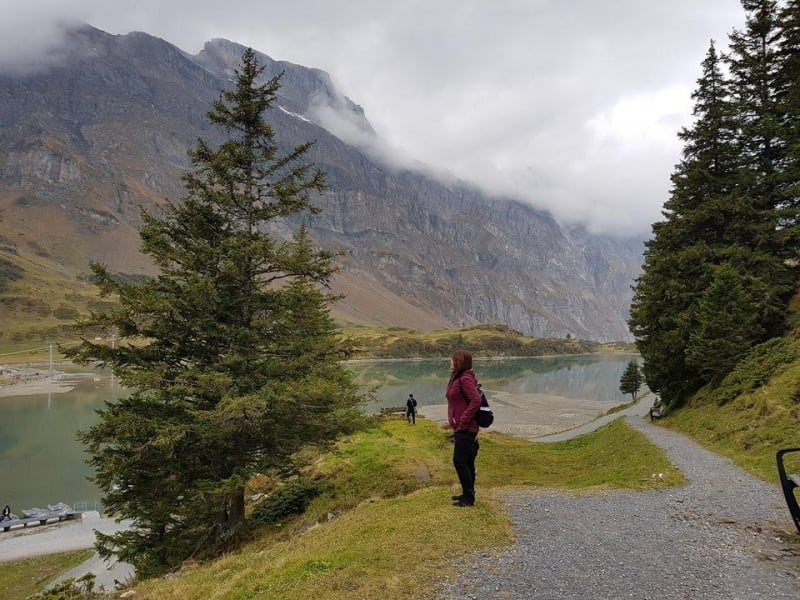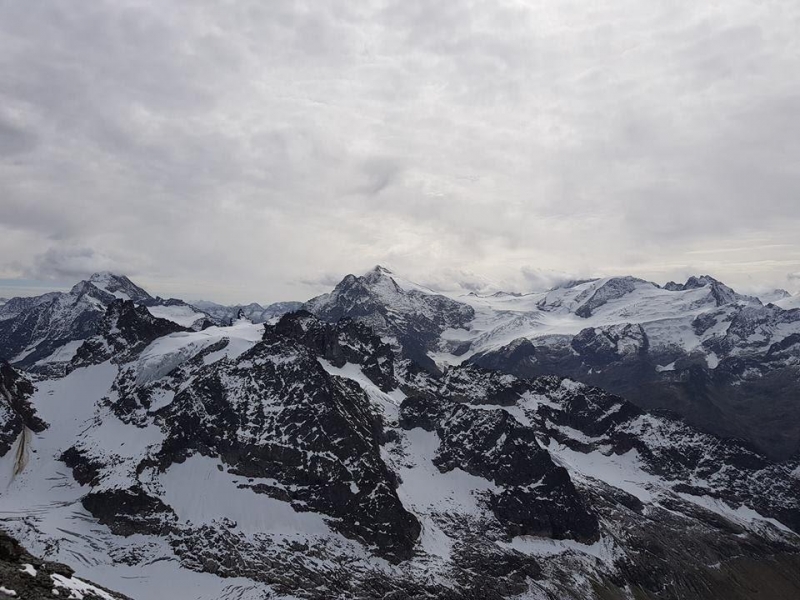 In the afternoon, we went back to Lucerne to roam around Kohnmarkt Old Town which is located beside the Chapel Bridge.
Day 16: Venice, Italy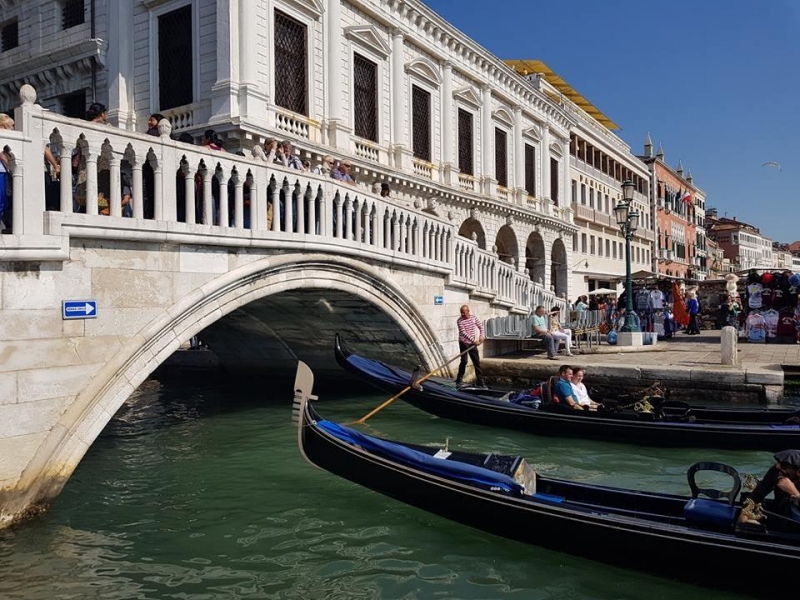 Now we come to Italy. Our first stop was Venice. I can describe Venice as a city of eskinitas or small narrow streets and canals. In short, it is a labyrinth. This means that everywhere you go, you can only get there by foot. This also means that it's difficult to find one's way out and you can easily get lost. But you will actually enjoy getting lost in this beautiful city. We arrived in Venice at night time so for first timers, we had a hard time finding our apartment. Even Google maps is not accurate enough to navigate the small narrow streets of Venice. Luckily, a lot of Kabayans or Filipinos helped us reach our accommodation.
Tip # 23: When lost, ask. If Filipino, ask Kabayan. Asking is the easiest way out of the Labyrinth. And if you are a Filipino just shout Kabayan, for sure a Filipino will approach you to help.
We started our day in Piazza San Marco or St. Mark's Square. From its name, it is an open square plaza. This plaza leads tourist to the Grand Canal.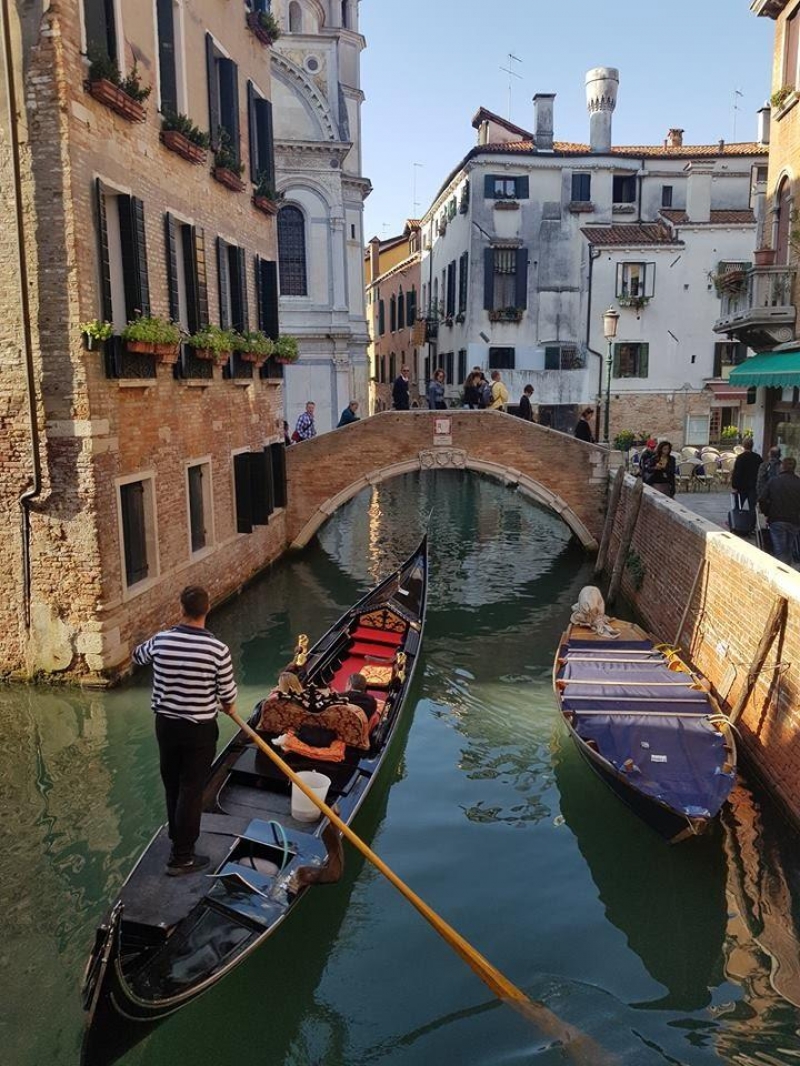 Tip # 24: Wear decent attire and bring only a small bag. The church is free of charge but make sure that you are not wearing a short dress or skirt as they will not allow you to enter. Big bags are also not allowed inside the church so better bring a small bag.
Tip # 25: Gelato is love. You are in Italy. Eat as much gelato as you can. It's cheap and it's delicious. Plus, it helps you beat the hot weather.
Not far from this area is the Rialto Bridge and Rialto Market. The bridge is usually full of tourists on both sides. Souvenir shops are located in the middle of the Rialto Bridge and the Rialto Market on the other side of the bridge.
Day 18: Pisa, Italy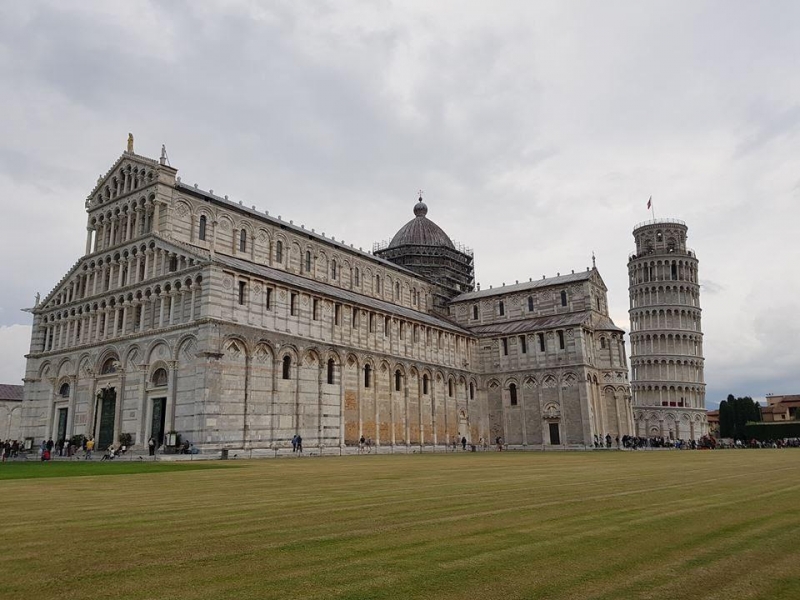 From Venice, we went to Florence to drop off our luggage before heading to Pisa. Pisa is a 50-minute train ride away from Florence. From the station, helpful staff will guide you to buses going to the Leaning Tower of Pisa. They will also remind you of Tip # 26.
Tip # 26: Beware of pickpockets. Since many tourists come to Pisa to see the Leaning Tower, reports have been spreading on the increase of cases on pickpockets. This usually happens in buses. Always put your bag in front of you.
The Leaning Tower of Pisa is located in a wide walled area where two other structures are located. A good 1-2 hours in this area will already satisfy you and all the poses that you want to make with the Leaning Tower.
Day 18-19: Florence, Italy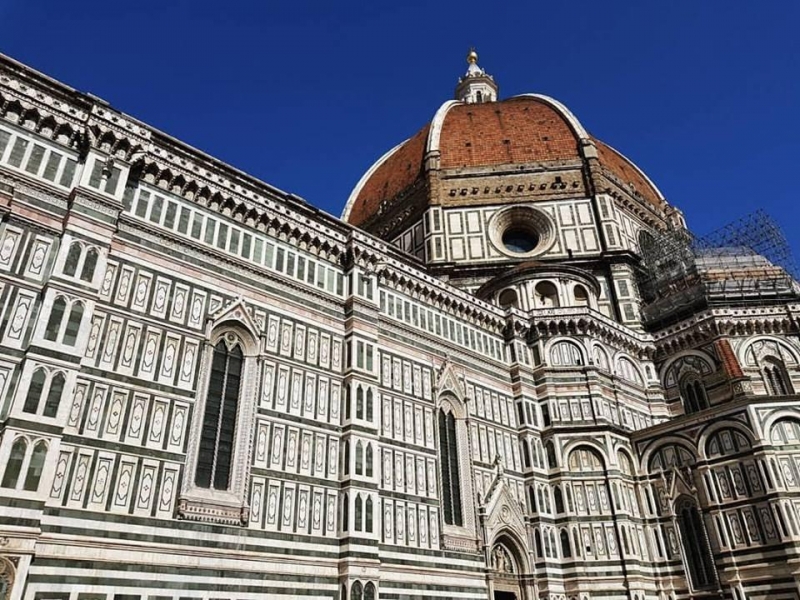 We went back to Florence in the afternoon to rest and just enjoy our apartment.
Tip # 27: Apartments over hotels. In Florence or in Italy in general, more apartments are being rented out by tourists than hotels since its cheaper and nearer the tourists spots. We rented a beautiful apartment five minutes away from Duomo and we had the most relaxing sleep in our entire stay in Europe.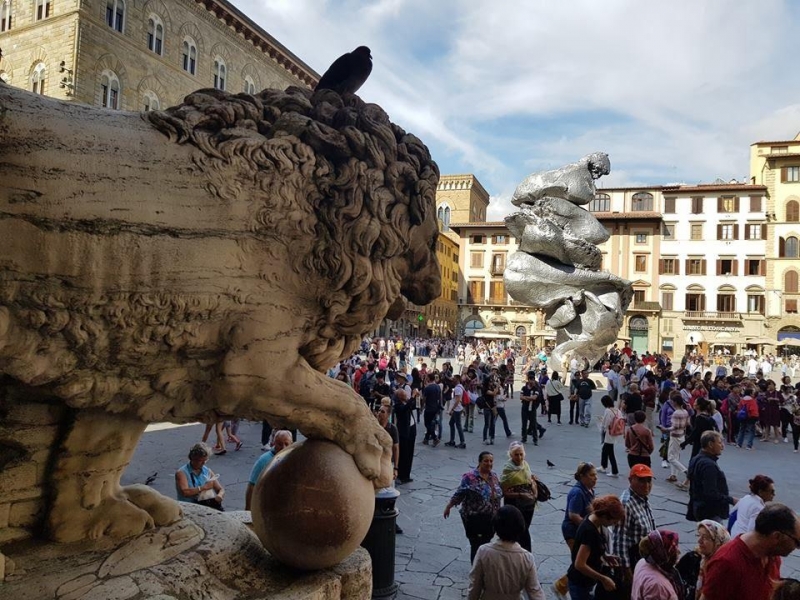 We started our day in Duomo, Piazza de la Signoria, and Brunelleschi's Dome which are all located in the same area. We also visited the Orsanmichele, Loggia Dei Lanzi, Palazza Vecchio, and Church of Santa Croce. Everything is walking distance so you will have spare money to buy more gelatos.
Day 20-21: Rome, Italy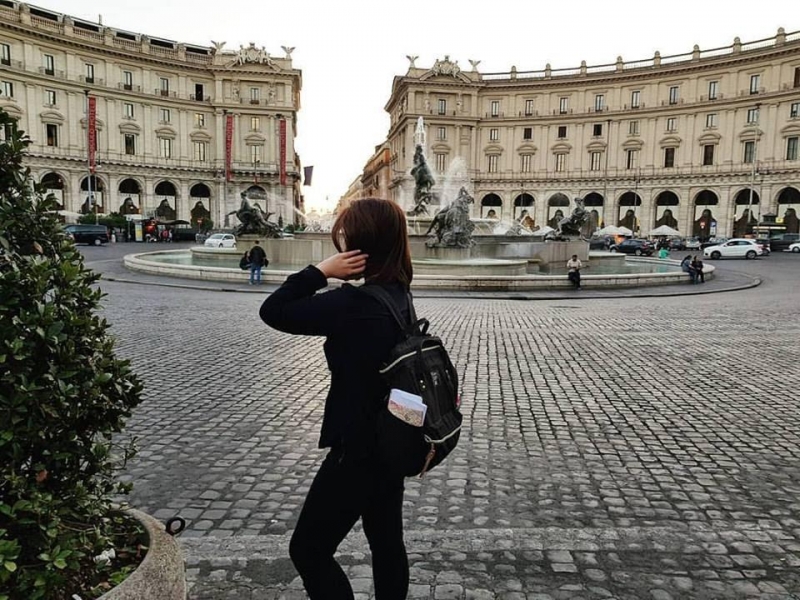 We first visited Piazza De La Repubblica and Santa Maria Maggiore on our first day in Rome as this is near our accommodation. We also went to out to eat gelato before resting.
Tip # 28: G. Fassi is the oldest gelateria in Rome where they sell cheap gelatos with unique flavours and free whip cream. Tourists go to this place to have the taste of the original.
Our real tour in Rome started in the Colosseo. We line up for an hour to buy a ticket. A 16 Euro ticket will give you access to three places: Colosseo, Roman Forum, and Palatino. There is also the Arco di Constantino located in the middle of the Colosseo and the entrance going to Roman Forum and Platino
Tip # 29: Visit the Colosseo in the morning. The line can be really long just to enter the Colosseo, so if you do not have an online ticket, try visiting in the morning to avoid the long lines.
Tip # 30: Skip the line Tours. There are a lot of agents who will talk to you to just buy tickets from them instead of lining up. They will offer free tour that comes with the ticket but with an added cost which is roughly a 40% markup. This is not a scam though.
Tip # 31: There are elevators inside the Colosseo. The stairs going up the Colosseo can be a little steep. Elevators are actually available for those who want to avoid climbing up the stairs.
Tip # 32: Upon entering the entrance, go up to the Roman Forum first, there is a higher ground in that area where you can have a full view of the Palatino and whole of Rome.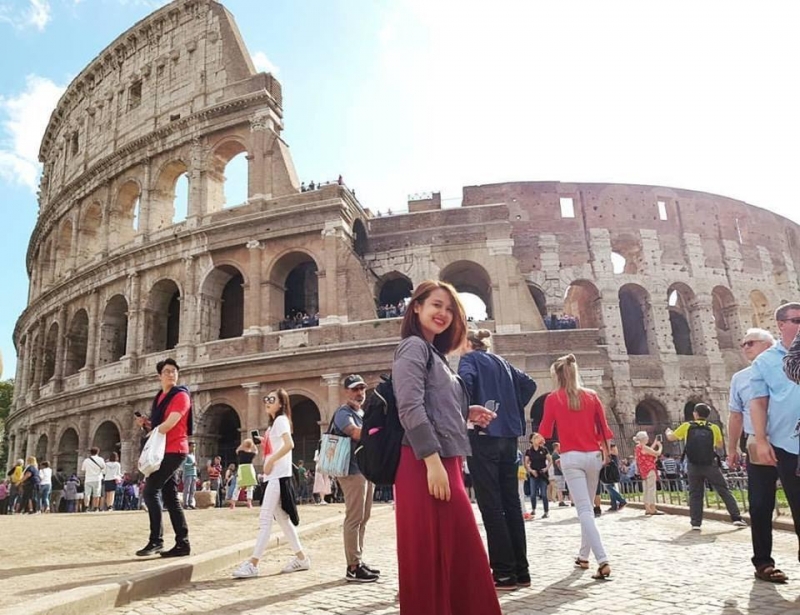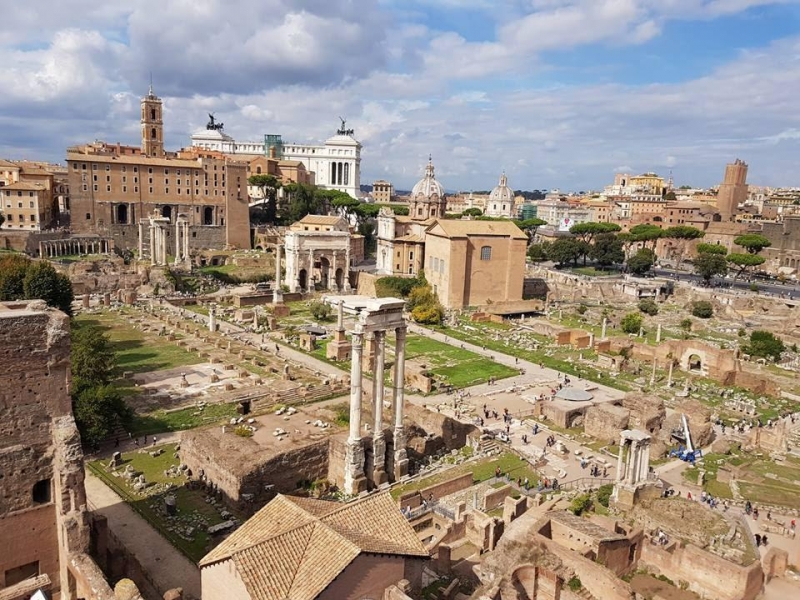 Upon leaving the Roman Forum and the Palatino, there are also ruins (Arco di Tito, Foro di Cesare, Foro di Nerva Foro di Augusto, and Foro Traiano) that you can see along the way before reaching the Monumento a Vittorio Emanuelle II.
In front of Monumento a Vittorio Emanuelle II is long street leading to a small street on the right going to Fontana Di Trevi.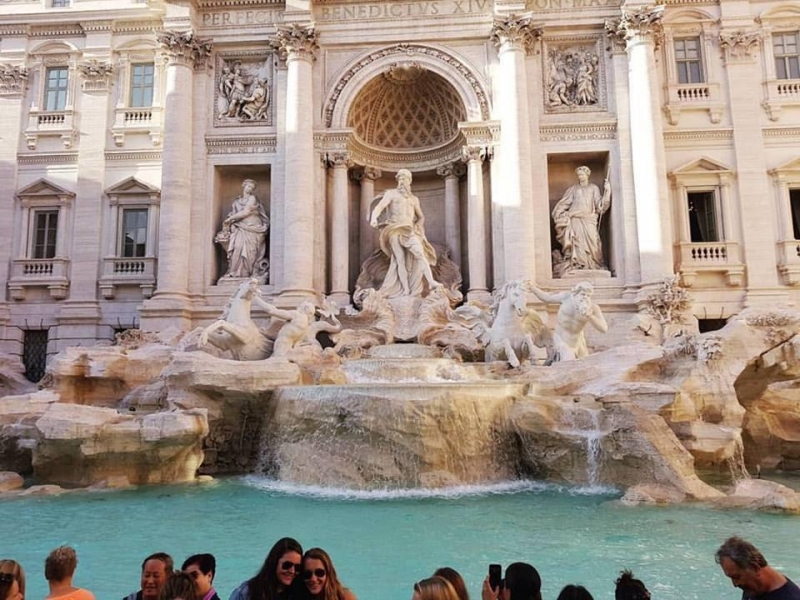 Tip # 33: Take a picture, throw a coin, and leave. This area is overcrowded that policemen or guards stay in the area to ask tourist to leave the area near the fountain after taking a picture so other tourists can take their turn.
Day 22: Vatican City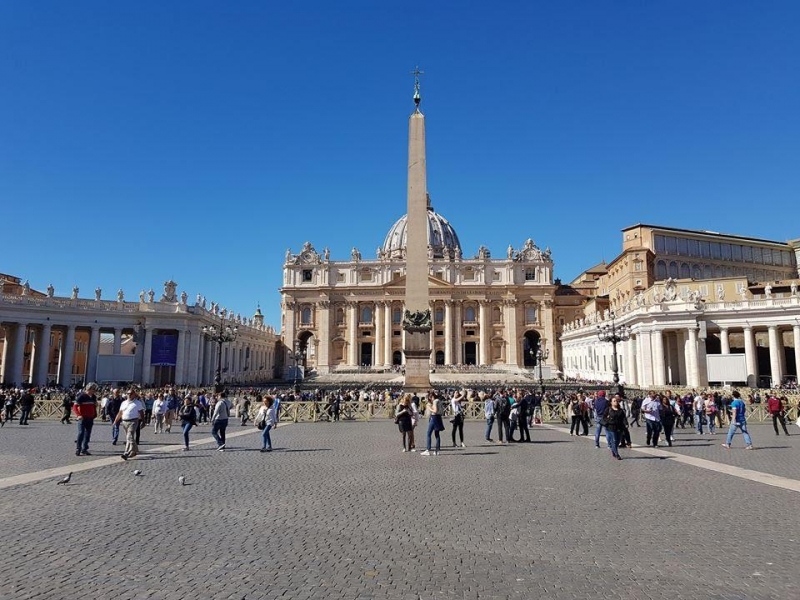 A train or a bus ride from central Rome will bring you to the Vatican City. The tourist area has three main areas: Vatican Museum, Sistine Chapel, and Basilica S. Pietro Sistine Chapel which is inside the Vatican Museum, while the Basilica is on the other side. There are a lot of tourists, both religious and not, who visit this place. It is best to come in the morning to avoid long lines.
Tip # 34: Entrance going to Vatican Museum and Sistine Chapel are different from the entrance going to Basilica S. Pietro.
Tip # 35: Buy a ticket online. It took us a little less than 3 hours just to buy a ticket.
Tip # 36: Entrance to Basilica is free.
Day 23-25: Barcelona, Spain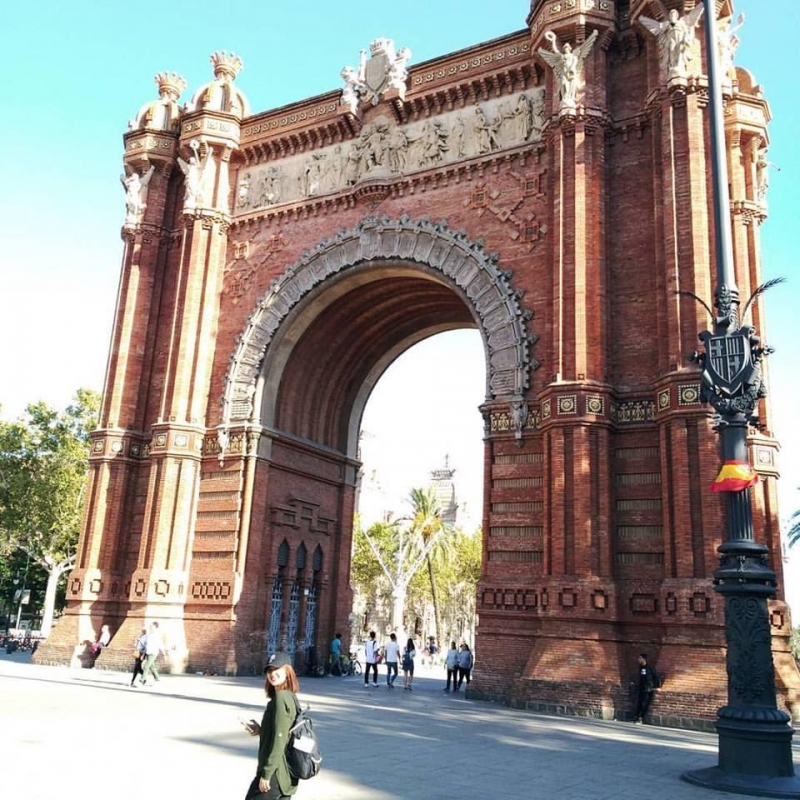 We arrived in Barcelona during the day when an ongoing protest against the Catalan Independence was happening. Because of this, we were not able to tour Barcelona until the next morning. Luckily, Arc de Triomf and Place De Catalunya are near our place.
The next morning, we first visited the Barcelona Cathedral, Placa Reial, La Rambla, Columbus Monument, and the Harbor. Everything is walking distance.
Tip # 37: Beware of pickpockets/thieves. Barcelona attracts a lot of tourists. Cases of lost money, luggage, cellphones, and others are being filed everyday. Be extremely careful with all your belongings to make your Barcelona experience more memorable.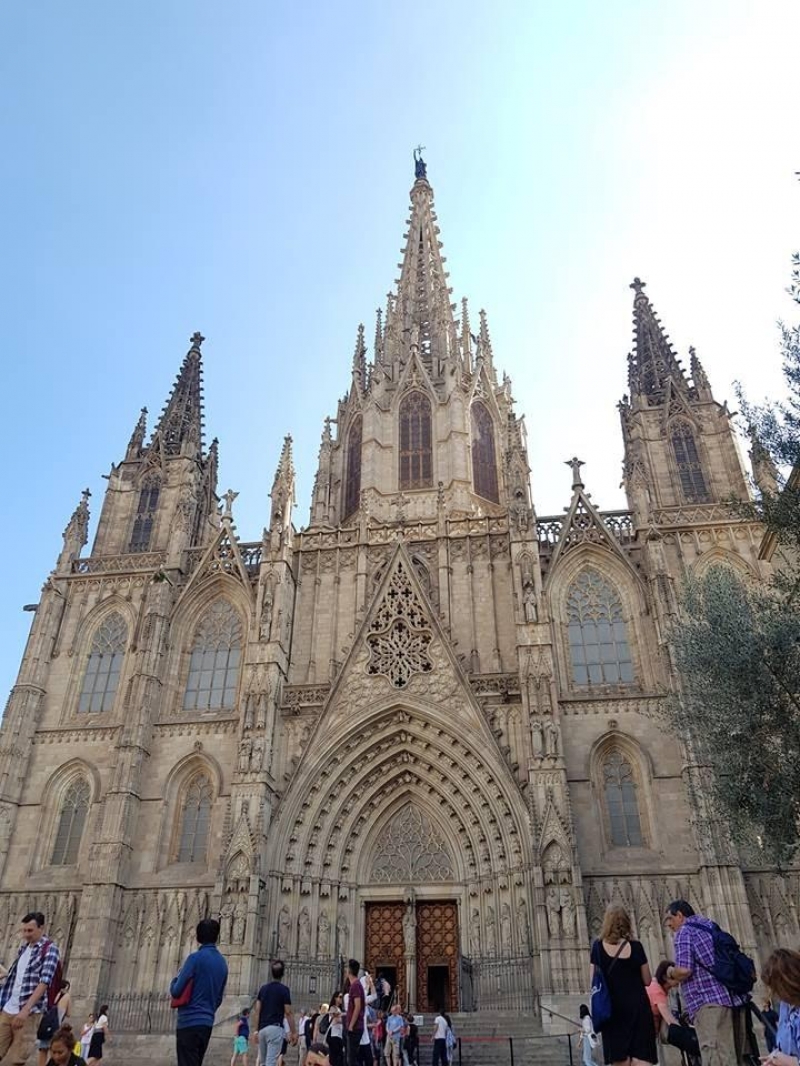 We spent our last day in Barcelona in La Sagrada Familia, Parc Guell, and finally ending our trip by eating in one of the highest restaurants in Barcleona, El Corte Ingles.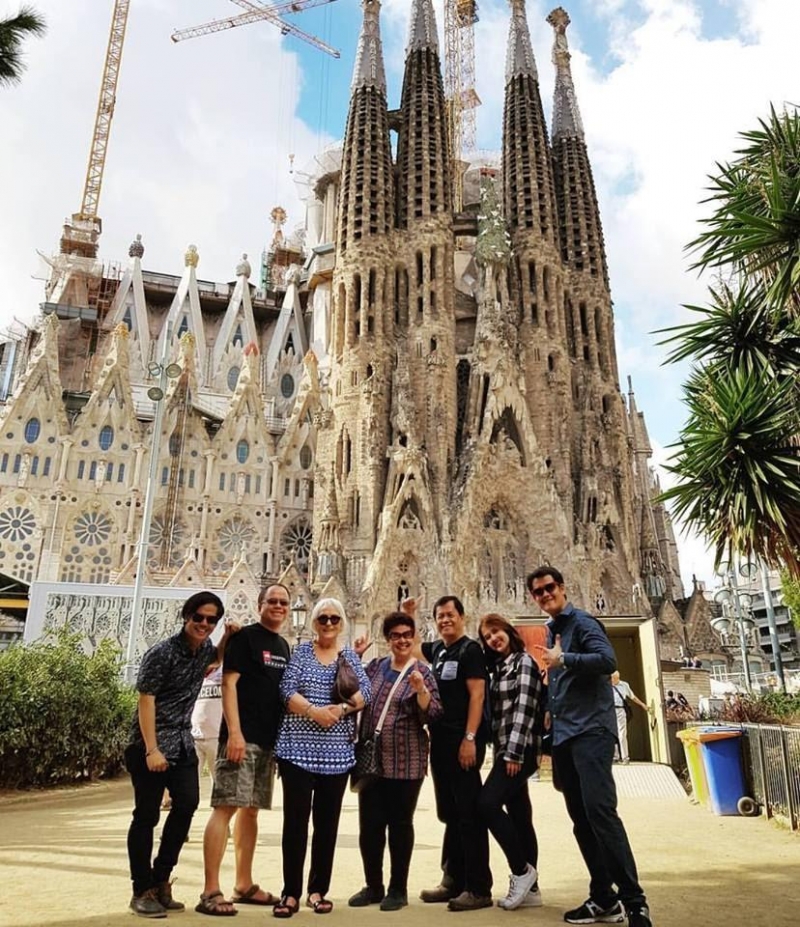 Day 26-27: Paris, France
We went back to Paris the next day and spent our last night in a hotel near the airport to catch our plane back to the Philippines. The hotel is near Aeroville Mall so we had a little time to buy more souvenirs to take home.
Tip # 38: Book hotels with free airport transfer to save from the hassle.
Day 27: Departure from Paris
Day 28: Arrival in Manila
Tip # 39: Plan ahead but be flexible. Planning ahead is key as it saves you a lot of time, money, and energy. But if sometimes your plan doesn't work out or did not go according to plan, always be flexible. Adapt to the situation and think of the best way to make the most out of the given situation.
Tip # 40: Accommodation is your bestfriend. Overall, the best tip that I can give all people who want to travel in Europe is choose an accommodation near the tourist spots. It doesn't have to be expensive. There are a lot of options to choose from, hotels, hostels, and apartments, you just have to be flexible. I think we wouldn't be able to travel to 10 countries and 15 cities if not for the walking distance accommodations that we rented.
Also read: Here's What I Realised From Spending on a European Trip
For those of you wondering, we used trains and planes to transfer from one country to another. We used the Eurail Global Pass the most and we also booked from budget airlines like Easyjet and Vueling. We are a group of 4 adults and 2 seniors. This itinerary is actually for all ages. It might seem much but I can guarantee that this itinerary will give you the best travel experience ever!