Let's take a trip back in time? And by this, we mean a literal trip. To celebrate the bus liner's 78th anniversary, the picturesque Victory Liner vintage bus will take you on a nostalgic journey to the past! While the newly restored old-fashioned bus originally debuted in Baguio, it's slated to make trips to other cities in Luzon in November 2023. Keep reading to find out more.  
Also read: Where to Stay in Baguio: 25 Airbnbs for All Budgets
Meet the Victory Liner vintage bus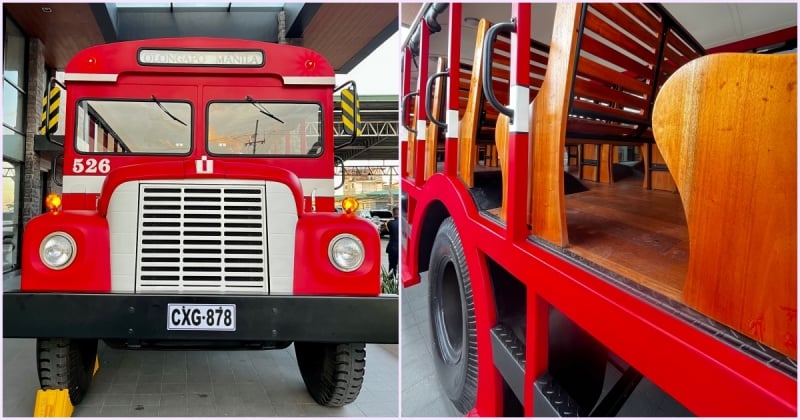 Mere decades ago, passenger buses were a world away from what they are today: no airconditioning, no plush seats, no sleeper bus options. Instead, the red passenger bus features an open-air design, sturdy wooden seats. According to Victory Liner, this vintage bus design known as a Toastrack or Charabanc dates back to 19th-century France!
For the company's 78th anniversary, the bus company brings back the iconic red bus. The restoration project was a meticulous collaboration with Del Monte Motors, from sourcing quality materials to pre-fabricating the wooden seats for utmost authenticity. Unlike modern buses, there's no aisle running down the length of the Victory Liner vintage bus. But it's no problem because passengers can simply hop on and off both sides of the passenger vehicle!
Also read: 7 Premium Buses in Manila and Where They Can Take You
Vintage bus schedule in Luzon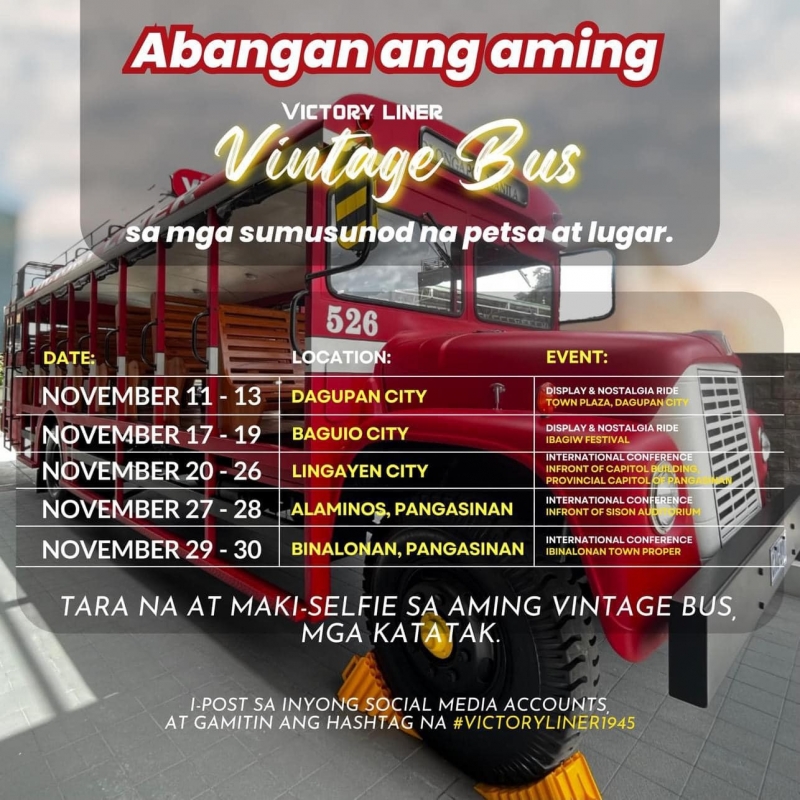 If you're interested in hopping aboard, then you're in luck: Victory Liner is taking the vintage bus on a tour of Luzon. First on the rolling exhibit is Dagupan City (11–13 Nov), Baguio (17–19 Nov), Lingayen City (20–26 Nov), Alaminos in Pangasinan (27–28 Nov), and finally, Binalonan (29–30 Nov). That's it for now — but we're crossing our fingers for more destinations in the future!
The nostalgic Victory Liner tour is a true celebration of the company's heritage: Spot the bus near parks, plazas, and universities. Locals are invited to stop by, snap photos, and get a taste of old-world travel! The first two stops will even include a Nostalgia Ride, so that tourists can actually experience what it's like to commute in the past. 
Also read: 15 Unique Airbnb Rentals in the Philippines for an Epic Vacation
Looking forward to riding the Victory Liner vintage bus? Watch out for additional dates on the company website and Facebook Page. We'll keep you updated on TripZilla Philippines, too!
---
Featured image credit: Victory Liner, Inc. | Official Facebook Page