At 51 years old, Greg Aquinde knows full well how hard it is to stay resilient and consistent in order to provide for one's nearest and dearest. He is the breadwinner of a family of six, and puts them above everything else. For the last 11 years, he's been earning an honest living for his family as a bus driver for Victory Liner, safely transporting commuters to their destination on the Pasay to Baguio route. He faithfully carries out his duty to his family and the public, even when it entails the possibility of getting stranded far from home.
When the Metro Manila lockdown was declared, it was only a prelude to a mountain of problems that bus drivers like Kuya Greg would encounter. "Sa katunayan po, 'di po ako nakapaghanda kasi nasa biyahe po ako nang mag-lockdown. Sa Tuguegarao po ako na-lockdown at sumakay na lang po ako sa kargo para makabalik ng Pasay." [To be honest, I wasn't able to prepare for the lockdown because I was on the road when it was implemented. I was locked down in Tuguegarao and I had to ride a cargo bus to return to Pasay.]
Dealing with the lockdown and joining the frontline
He was stuck in Tuguegarao for two days, forced to sleep at a bus garage while panic and confusion about closed borders ensued. But despite the physical and psychological strain of getting stranded, Kuya Greg was still one of the lucky ones who were able to hop on a cargo bus back to the city where he was based.
After returning safely to Pasay, he had to yet again face the reality of quarantine protocols which obstructed all commuting businesses. To Kuya Greg and his fellow public transportation drivers, this automatically constituted a full stop to their flow of income, eliciting collective fear and anxiety. 
"Dito lang naman po ako umaasa para sa panggastos ng pamilya. Talaga pong mahirap tapos wala pa pong ipon, kaya napilitan po akong lumuwas ulit sa Pasay para may pangtustos sa gastusin po ng pamilya ko," lamented the bus driver, whose family stays in Pangasinan. [My work as a bus driver is my only means to provide for my family. It's really hard and we have no savings, so I had to go back to Pasay just to find money to pay for my family's expenses.]
Fortunately, the bus company Kuya Greg works for optimised their cargo delivery service they call Drop & Go. Now, Kuya Greg finds himself at the frontline during the pandemic by driving packages from Pasay to Baguio. With the government still giving the green light to delivery services, this keeps Victory Liner afloat, with Kuya Greg and his fellow drivers provided for, albeit in smaller financial amounts. 
"Sa ngayon po, kulang na kulang pa ang mga bus na pinapatakbo ng Victory Liner kasi karamihan ay kargo. Fifteen days ang salitan ng mga drayber bago makapagbiyahe ulit. Habang hinihintay 'yung rotation, tumatambay lang kami sa barracks. Minsan nagpo-porter o kargador din para may pangkain." [Right now, Victory Liner has very few buses that we can drive because most of them are just cargo services. We wait 15 days for our turn to drive a bus. While we wait out the rotation, we just stay at the barracks. Sometimes, we volunteer as porters to buy ourselves a meal.]
Aside from Victory Liner's Drop & Go service, there are selected provincial routes where the bus company is authorised to operate. But those are still few and far between compared to their normal commuting routes.
His experience at the frontline and what bus drivers want you to know
Kuya Greg is fully aware of the risks of being at the frontline, yet for those with humble backgrounds and limited resources like him, there isn't much of a choice. When asked whether he was more worried about income or contracting the coronavirus, Kuya Greg gave the most fair-minded answer anyone in a similar situation could give.
"Nagdesisyon po ako na lumuwas kaysa magtambay sa bahay, kahit delikado po. Pero syempre nangangamba pa rin po kami sa aming kaligtasan na baka mahawaan kami ng sakit, lalo na at mas dumarami ang kaso ng COVID-19 sa Maynila." [I made the decision to work instead of just staying at home, even though it's dangerous. But, of course, we worry about our safety and that we might contract the virus, especially now that the COVID-19 cases in Manila are increasing.]
With a pandemic unshackled, it was also disappointing to hear that Kuya Greg and his fellow bus drivers still get passengers who disobey safety protocols on their provincial routes. "Nais po naming ipaalam sa kanila na mahirap ang sitwasyon ngayon at iba 'yung pag-iingat na kailangan kung maibabalik man ang biyahe namin sa Maynila. Bilang drivers, gusto namin mag-resume ang biyahe para makapagtrabaho kami nang maayos para may panggastos sa pamilya." [We want passengers to know that these are hard times and we need to take extra care if we want commuting routes in Manilla to return. As drivers, we want our routes to resume so we can properly earn and support our families.]
That being said, following safety protocols wherever we are is truly the least we can do for our frontliners. Victory Liner bus drivers do their part in implementing their safety protocols to ensure that everybody on their bus has a safe trip. When travelling with Victory Liner, you're reminded to sanitise your hands. You're also required to wear a mask and follow the physical distancing measures, lest you want to be denied entry. "Hindi po namin sila pinapayagang sumakay kung hindi sila sumunod dito," confirms Kuya Greg. [We don't allow passengers to ride the bus if they don't follow these safety protocols.]
How you can support bus drivers like Kuya Greg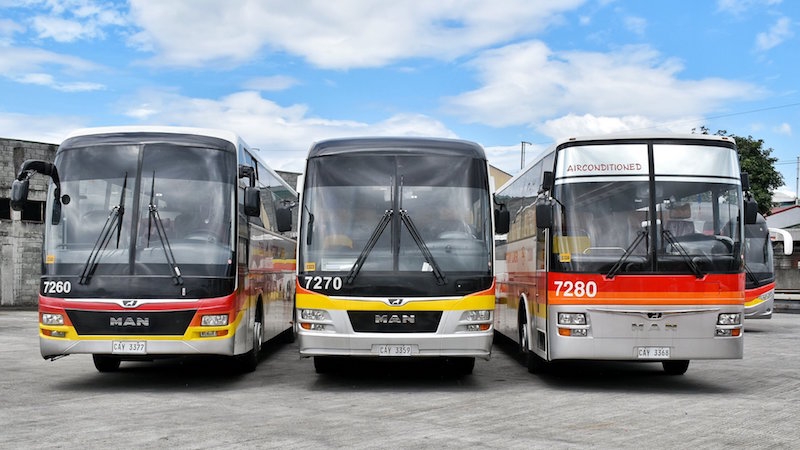 Aside from passengers following safety protocols, Kuya Greg and his fellow bus drivers need our voices to help air out their predicaments so that their needs can be met as soon as possible. He implores those in power to keep bus drivers and their fellow frontliners in mind and to come up with better solutions, so that he and his colleagues can sufficiently provide for their families amidst the pandemic.
So far, Victory Liner has helped their drivers process paperwork for financial aid from the Department of Labor and Employment (DOLE) and The Land Transportation Franchising and Regulatory Board (LTFRB). This assistance would help alleviate Kuya Greg's burden, but it will not be enough should public transport prohibitions continue. 
Nevertheless, he has noted the support and concern that they have received thus far from the public, and credits these as part of the reason why a few of their routes have returned. "Nakatulong po ang simpatya galing sa taumbayan na manumbalik sa normal ang aming biyahe. Unti-unti na pong pinapayagan ang mga ruta ng mga biyahe namin." [The sympathy from the public is helping in returning our bus routes back to normal. Our routes are slowly being allowed to reopen.]
No matter how resilient and hopeful Kuya Greg is amidst the pandemic, we can all do a bit more in lending them a hand in these difficult and uncertain times. We can start by supporting Victory Liner's cargo business, spreading awareness about their reopened routes, and availing of their affordable shuttle services. If it so happens that you're a person under investigation or monitoring for COVID-19, keep our frontliners and those around you safe by staying home. The longer this virus stays with us, the more the livelihoods of frontliners like Kuya Greg are crippled. 
He puts his life on the line to transport goods and people safely to their destinations. Exposing frontliners like Kuya Greg to more danger would only be ungracious. It's time we repay the service that public bus drivers have given us throughout the years by looking out for their well-being while most of us are lucky enough to work from home.
Kuya Greg and his fellow drivers are living proof that being pushed deep into survival mode doesn't have to break you, but it can strengthen your resolve. When we asked him what he thinks is the most important thing to keep in mind during the pandemic, he was, in fact, rather pragmatic. "Magtiyaga at magsumikap. Darating rin po ang panahon na malalampasan natin ito." [Persevere and work hard. There will come a time when we will surpass this.] 
In distressing times when it's easier to throw in the towel and call it a day, Kuya Greg, along with his colleagues, stands fast against struggle and uncertainty. We can't help but look up to their grit and determination when many of us who are better off seem to be disheartened so easily. This, indeed, is what truly makes frontliners like Kuya Greg modern-day heroes. Now, if only they got the backup that they deserve.
For more information about their services amidst the pandemic, visit Victory Liner's official website, Facebook, and Instagram. 
---
Brought to you by Victory Liner. The quotes above have been edited for grammar, clarity, and flow.