As Filipinos, we give high reverence to eating and mealtimes. It's the time of the day to catch up, exchange stories, and get together. A festive Christmas song that's constantly stuck in my head goes like this: "Tayo na giliw magsalo na tayo. Mayron na tayong tinapay at keso. Di ba Noche Buena sa gabing ito, at bukas ay araw ng Pasko." Funnily enough, we'll always find it relatable no matter what the season is. Eating at home will always be the best dining experience. We still prefer home-cooked meals over fancy or fast food take-outs.
Now that we've learned to celebrate the little things in life, we were able to see the importance of surrounding ourselves with what makes us happy. We learned new stuff and developed hobbies that we never really cared for that much before the pandemic. There are people who were drawn to home upgrades and renovation, were converted into plantitos and plantitas, and even transformed into platitas! So, if you still need a little push to ditch your old dinnerware, we've got you covered with a list of shops where you can buy pretty plates, bowls, and utensils online!
Also read: Where to Buy Cute Mugs & Coffee Cups in Manila
Where to buy pretty plates, bowls, and utensils
1. Fab Home PH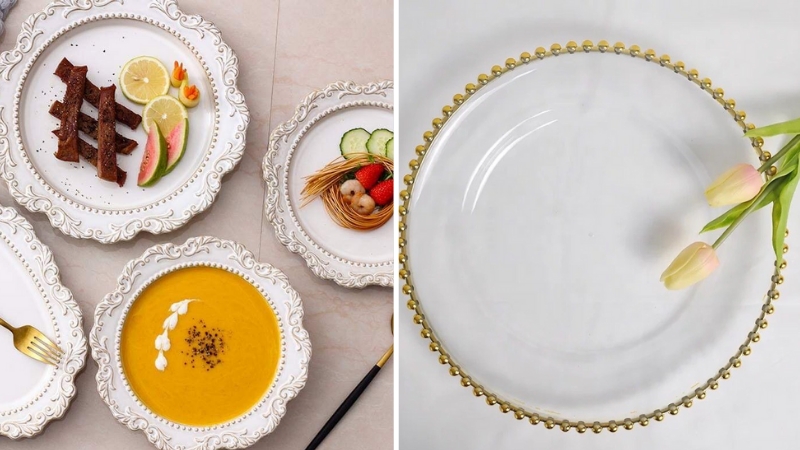 A go-to shop for anything you could possibly need for your tablescape, Fab Home PH sells a variety of classic and elegant items. Not only do they sell utensils and plates online — they also curate gift guides and themes. If you're just starting out with the platita journey, be sure to check out this shop for some easy to follow Table Setting 101.
They sell everything: napkin rings that you'll surely want to collect; classic and unique plates and bowls; irresistible table cloths, and so much more! You may buy from them online through Shopee or Lazada.
2. Bili Bili Kitchen & Dining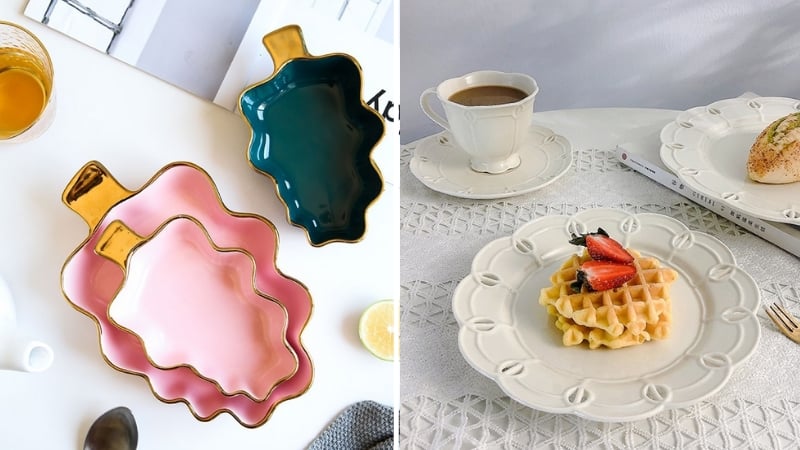 Add more fun to our favourite thing to do — eat! You'll surely have fun browsing the selections from Bili Bili Kitchen, as they've got quite an expansive roster. Whether you're in search of pretty plates or some houseware for a little home upgrade, you'll find it here.
You can even buy placemats and coasters here for as low as ₱23! Now, who says nice table set ups have to be expensive?
If you want to see more of their items, you may visit their store on Shopee.
3. Kitchenfinity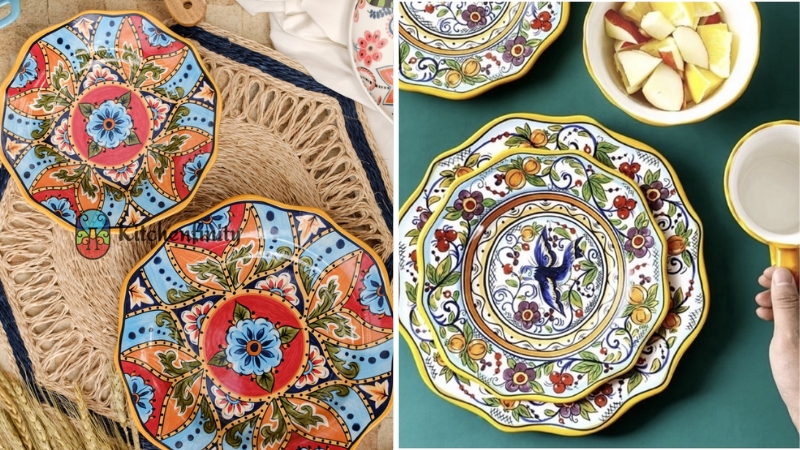 If you are drooling over these Moroccan inspired plates, you're not alone! The playful patterns of these ceramic plates from Kitchenfinity will be a fun new addition to your kitchen. It's going to be really hard saying no to the Instagrammable plates, organisers, and tumblers that you'll find here.
Shop at the convenience and safety of your home and buy your own Moroccan plates online through Shopee.
4. Kitchen Plus PH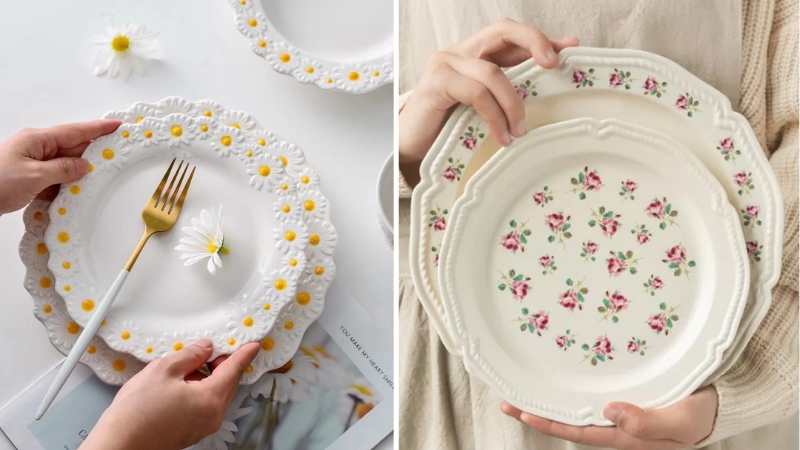 Florals? For the kitchen? Groundbreaking! A fresh and brand new take from your typical floral patterned plates, Kitchen Plus PH surely won't disappoint Miranda Priestly. Who wouldn't fall in love with those intricate details?
Prepare to go beyond your budget, though. This shop sells all things dainty, and they'll captivate even the non-platitas out there! Check their shop on Lazada now.
5. Locaupin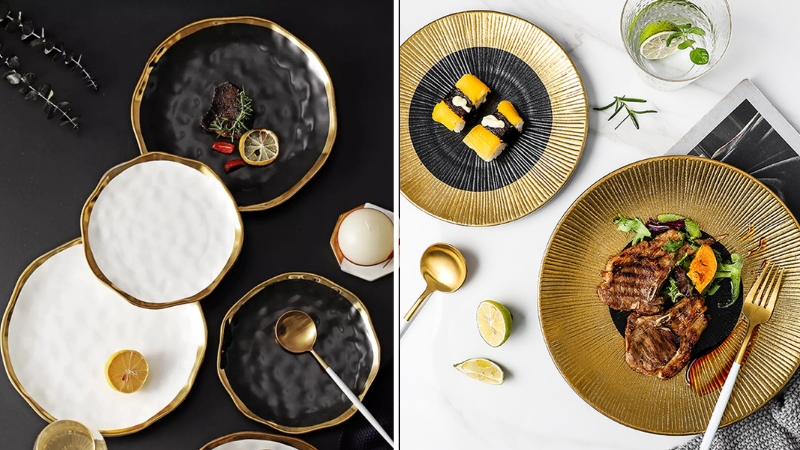 Love to bring a touch of gold to your household items? Locaupin sells surprisingly affordable plates online. Feel like royalty by serving your meals in rice bowls that cost only ₱68 or a three-piece set of porcelain dinner dishes for ₱509! They also offer discounts of up to ₱100 off. Sulit, right? 
An entire day won't be enough to browse through this shop on Lazada that has items for storage, baking, gardening, and a whole lot more.
Also read: 13 Cute Affordable Items to Buy for Budget-Friendly Retail Therapy
6. Sunflower.ph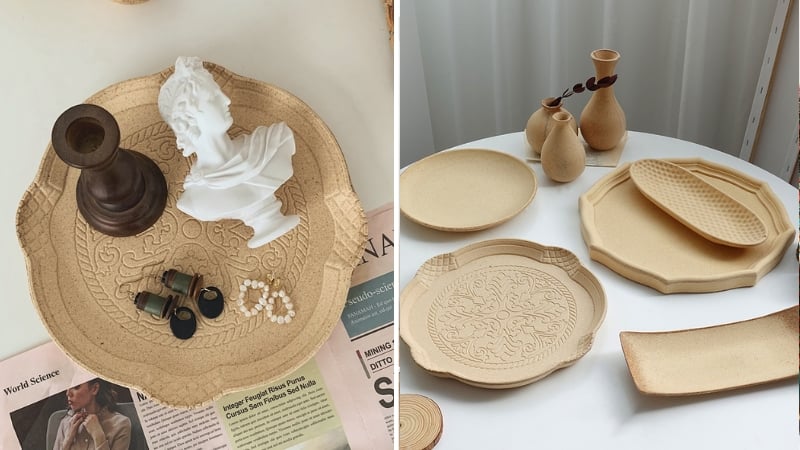 Yes, these plates too! A shop that's very popular for their kawaii, aesthetic and minimalist items, Sunflower.ph is indeed a crowd favourite. Their products prove that plates aren't just for meals, and you'll never go wrong when you buy one of these. Consider yourself warned, as there are tons of budol finds in this shop.
You can buy unique decorative pieces here that are 100% Instagram-worthy. Check out this shop on Shopee — and remember, you heard about it here!
Also read: Aesthetic Items You Should Add to Your Lazada Cart 
7. Housewifery PH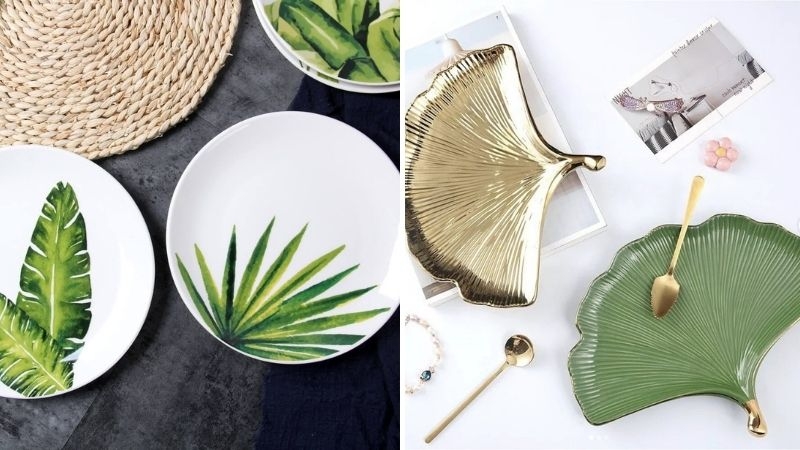 No banana leaf? No problem! Although nothing will ever beat boodle fights on banana leaves, these plates from Housewifery PH still bring a whole new meaning to the farm-to-table experience. That's not all — the shop also sells cute home decors and other practical items for the kitchen!
Satisfy the plantita in you with these pretty plates that you can order on Shopee from ₱350 and up. 
8. Sol and Luna Home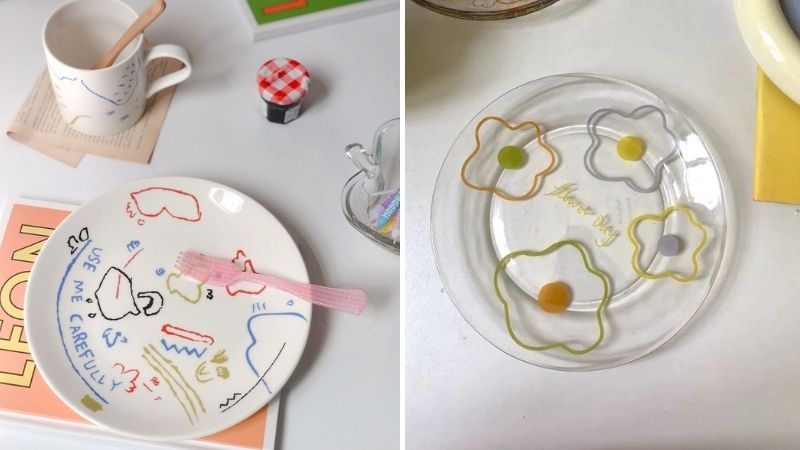 Two words — cuteness overload! These sensational K-Drama-worthy plates will surely be your next budol. With fun doodles and other exciting designs, what's not to love?  Alongside pretty dishes, Sol and Luna Home have other aesthetic items, including mugs, tumblers, and home organising stuff! 
These plates are available on Shopee for ₱169. 
 Also read: 5 Feel-Good K-Dramas You Have to Add to Your Watch List
9. Noomi
Start your day right with these adorable plates from Noomi. There's no guarantee of a good day, but having these as a start is promising, don't you think? Noomi carries a variety of irresistibly cute and unique finds. Don't say we didn't warn you if you end up overspending! 
This cute cloud saucer is available on Shopee for ₱149 apiece. 
Also read: 13 Cute Affordable Items to Buy for Budget-Friendly Retail Therapy
10. VIĆI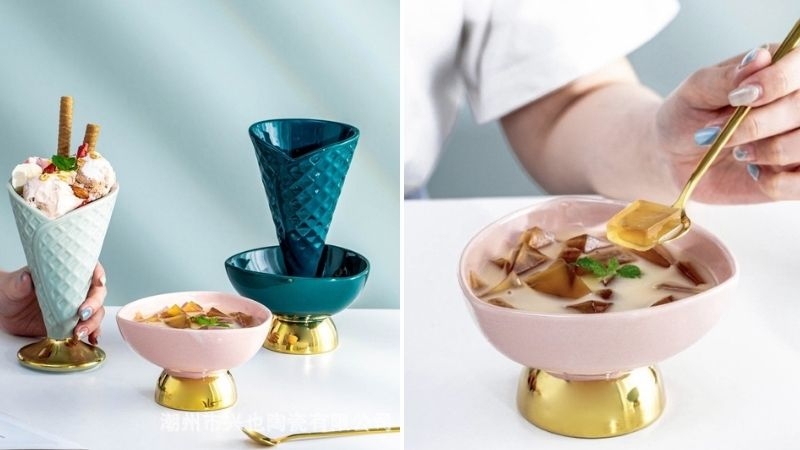 Torn about choosing between elegant and cute cutlery? Thanks to VIĆI and their refreshing dinnerware collection, \we finally have a one-stop-shop that merges both worlds. We're definitely adding these eye-catching ice-cream-cone dessert glasses and bowls to our carts now! 
You can order nice dinnerware items, like these dessert glasses and bowls, on Shopee.
Also read: 12 Aesthetic Items to Decorate Your Room With 
Can't wait to buy these pretty plates online? We get you! We're excited to see the tablescapes you'll come up with — because deep down, we're becoming platitas, too!
---
This article contains affiliate links. When you make purchases through these links, we may earn a small commission at no additional cost to you.