Contributed by Her Brave Soul
It's the beginning of the year again. For sure, your Facebook feeds are full of New Year's Resolutions including saving money. But if you're not convinced enough to make changes to your spending habits, allow me to try. I started doing the 52-Week Money Challenge in 2015 and decided to use part of my savings for my travels in 2016. And this year, I am happy to report that my money challenge savings brought me to six out of the nine countries I've explored: Indonesia, Thailand, Singapore, Vietnam, South Korea, and of course the Philippines.
Also read: Our 6-Day Trip In Bali With A Budget Of ₱16K Each
What is the 52-Week Money Savings Challenge?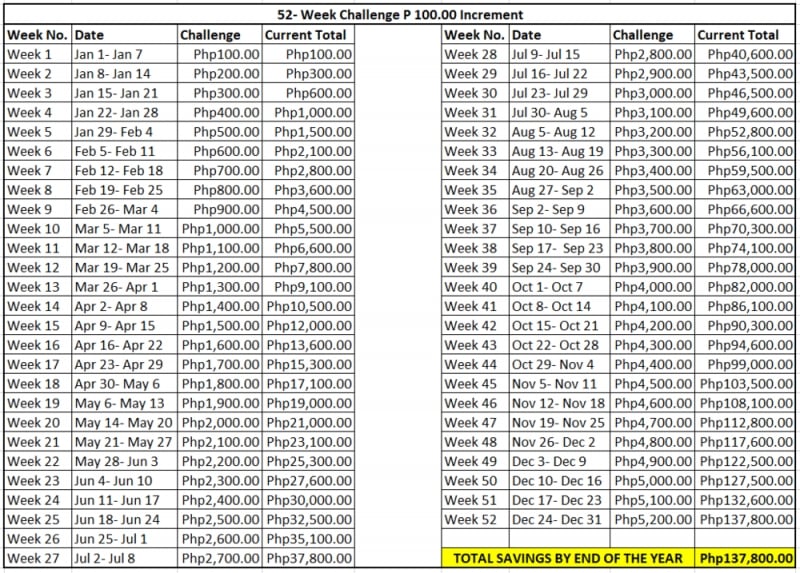 The 52-Week Money Challenge is one of the first money challenges that inspired Filipinos like me to save money. Challengers are supposed to choose from increments of ₱5, ₱10, ₱20, ₱50, or ₱100. The amount of weekly savings will go higher as the weeks go by from the first to the 52nd.
In 2015, I tried the ₱100 intervals, and I was able to save ₱137,800 from that. I was so happy that I decided to do it every year. Now, 2018 has just come to a close, and I've finished my fourth year of doing the 52-Week Money Challenge successfully.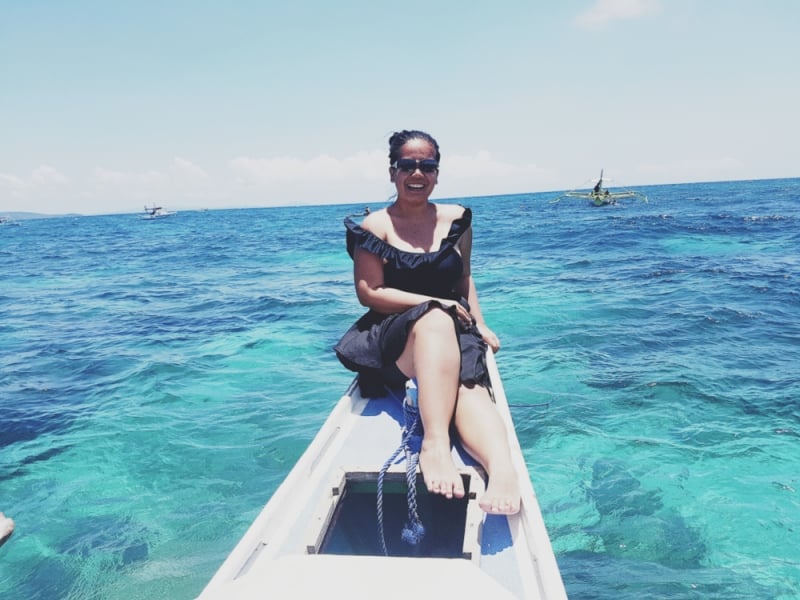 When starting a project or challenge like this, it's essential to have at least one goal. When I first did it, my goal was merely to have more money to use for my investments. But then, I also fell in love with travelling. So now, I usually split my money challenge savings between investments and travels.
For you, it may not be just for travel expenses or investments. It could be for something else, and that's perfectly fine. Just keep in mind that the goal is essential. Because sometimes, it's what keeps you going when the challenge gets hard.
Note: You can find more sample templates of the 52-Week Money Challenge within this post.
52-week money challenge savings as travel fund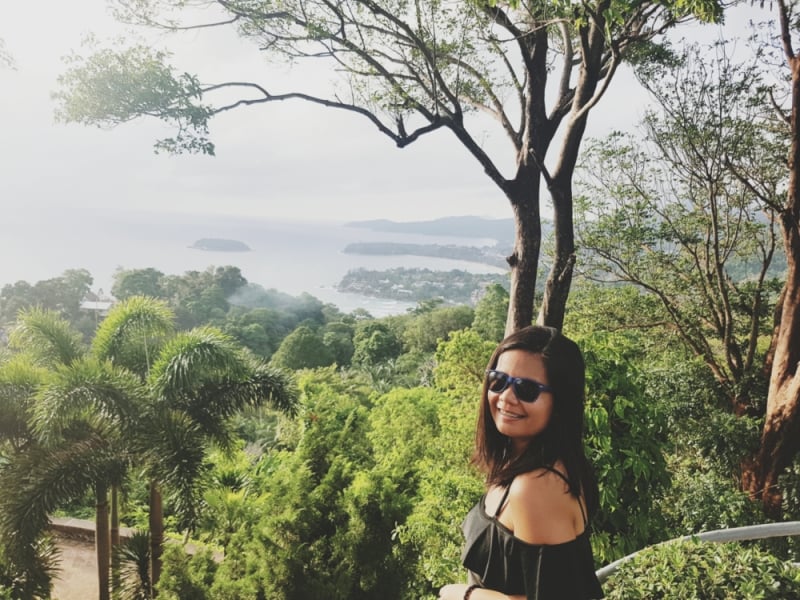 Like I have mentioned in my previous post about this challenge, my system is simple. I save this year and invest some of it at any time. But I only allow myself to enjoy the money for travel a year later. I just let the money work as early as I can.
In 2016, I was able to go to Japan, Malaysia, and Taiwan because of my 2015 money challenge savings.
I was able to go to outside Asia and got to explore Australia in 2017 because of my 2016 savings. In the same year, I also got to visit Cambodia and explored more of the Philippines.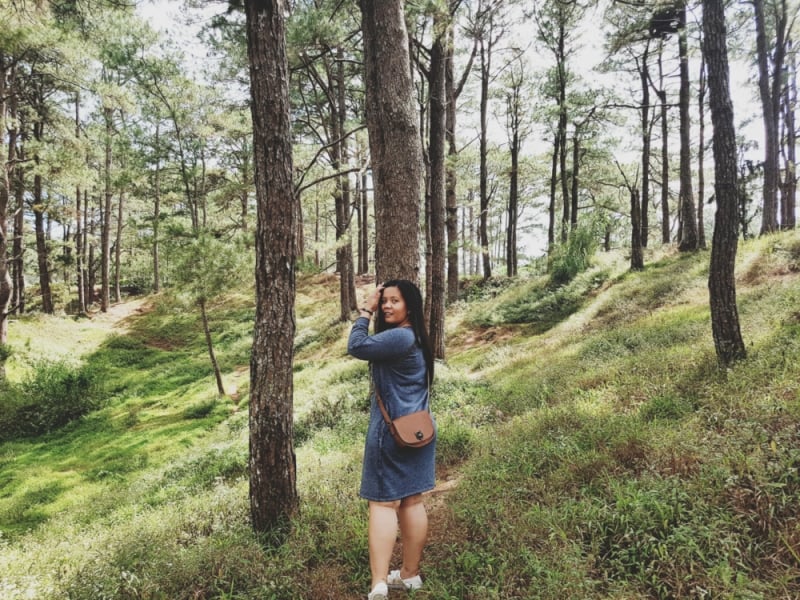 In 2018, I got to go to Baguio, Bali, Bangkok, Phuket, Singapore, Ho Chi Minh, and Seoul with my 52-Week Money Challenge savings. And it was possible because I was able to save ₱144,690 in 2017 through multiple challenges.
Usually, I use my money challenge savings for my pocket money whenever I travel. I book my tickets and most of my accommodation months before my trip and sometimes mark it as my in-year expenses. At the end of each travel, though, I always make an Excel file with all of my expenses. The list allows me to see how much the whole trip cost me from the moment I leave the house until I come back.
Tracking my expenses helps me identify which areas I tend to spend more so I'd be mindful the next time I travel. My usual dilemma is bringing home souvenirs which sometimes cost more than my food allowance! So, I decided to work on that on my next trips.
Is the 52-Week Money Savings Challenge enough to fund all your travels?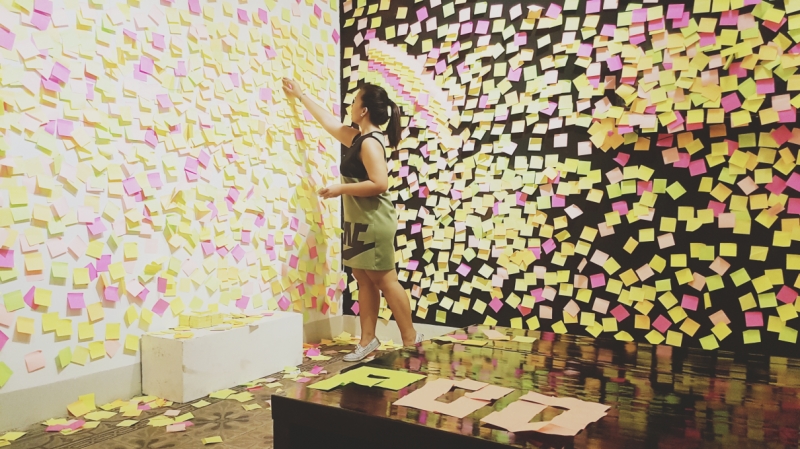 I still have a lot of places on my list. Some remain to be dreams because merely booking the plane ticket will drain the money that I have amassed for an entire year. But since I've been saving and investing, I think that it's eventually possible.
My motto, though, is that I will never spend something that I haven't earned. What's the point of travelling if you're drowning in debt, anyway?
As for now, I make short trips to nearby countries with the budget that I have. In 2017, I was able to save ₱144,690 from two kinds of weekly money challenges. Apart from that were my other monthly savings. Part of this money was used to fund my 2018 travels while some of it went to my investments.
I didn't consume all of my travel funds in the previous years. So, I got to carry them over to my travels this year. That's the beauty of keeping track of your money. You'll know if you can still cover your expenses and when you should stop spending.
Making the most of 52-week money challenge savings as travel fund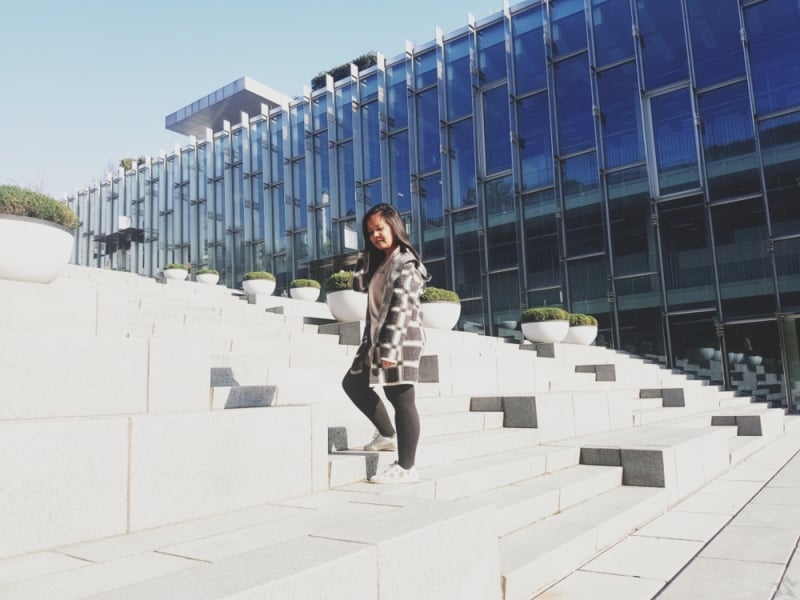 Sometimes, we're overwhelmed with cheap airline prices that we tend to overbook. Unfortunately, this doesn't mean that we're getting steals. Cheap airfares wouldn't be cheap if you end up booking a lot of them anyway.
As for me, I was lucky this year because I still have excess money from the previous years. But what if I didn't? I don't even want to think about it!
This year, I realized that although I always finish the 52-Week Money Challenge strong, the goal shouldn't just be to save an exact amount of money. It should also be to make the most of it wisely.
When planning for your travels, try to make a list of the countries you are planning to visit. Set yourself a budget just like you set an amount to save at the end of the year. Doing this doesn't mean that you have to deprive yourself when you're travelling. It's just another way of being a responsible traveller.
Always remember that your money, whether you earned, saved, or received it, should only be spent on sensible and valuable things.
What else can you do with your 52-week money challenge savings?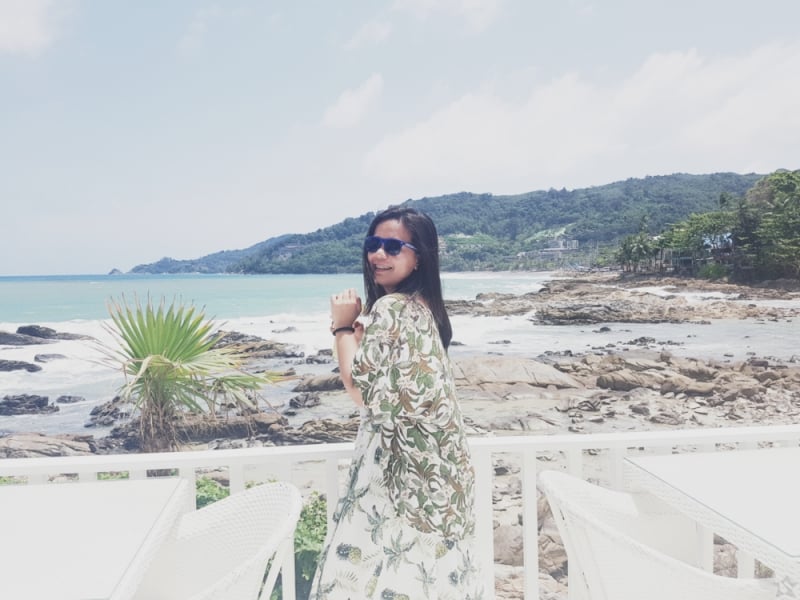 The 52-Week Money Challenge is not just for travellers. Your savings from here may also help you get rid of debt or build your emergency fund. You can get investments like Mutual Funds, UITFs, VULs or Term Insurances. It can also be the down payment for your dream car or house and lot. Don't forget about tithing, too!
You can invest in yourself by enrolling in courses that can help you hone your skills or gain new experiences just like when you travel. It's important that as your money grows, you get to improve yourself, too.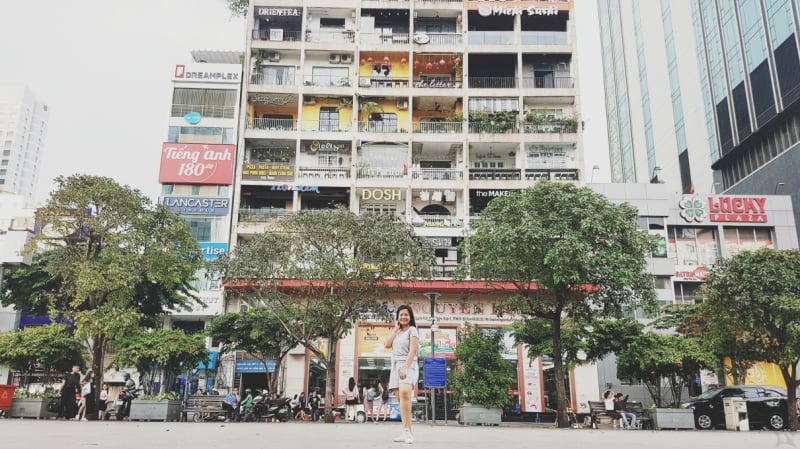 Even though my goal is to have a certain amount of money at the end of the year, I don't use a piggy bank to store my savings throughout the year. Instead, I deposit it to my bank account whenever I go to Manila. That way, I can conveniently use some of it for my investments, so it can start earning as early as possible.
I am content with having an Excel file to keep track of my advances and backlogs. I don't think I have to stare at my money at the end of the year when I can have it working for me ASAP.
52-week money challenge templates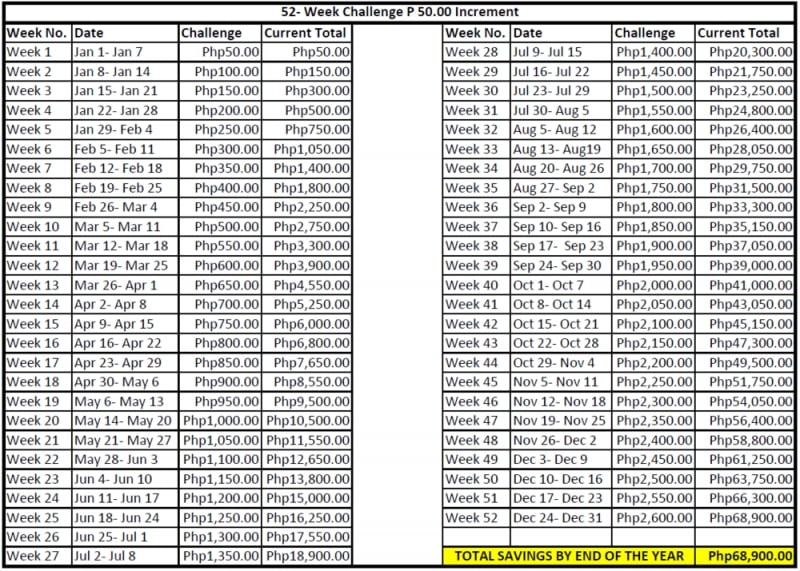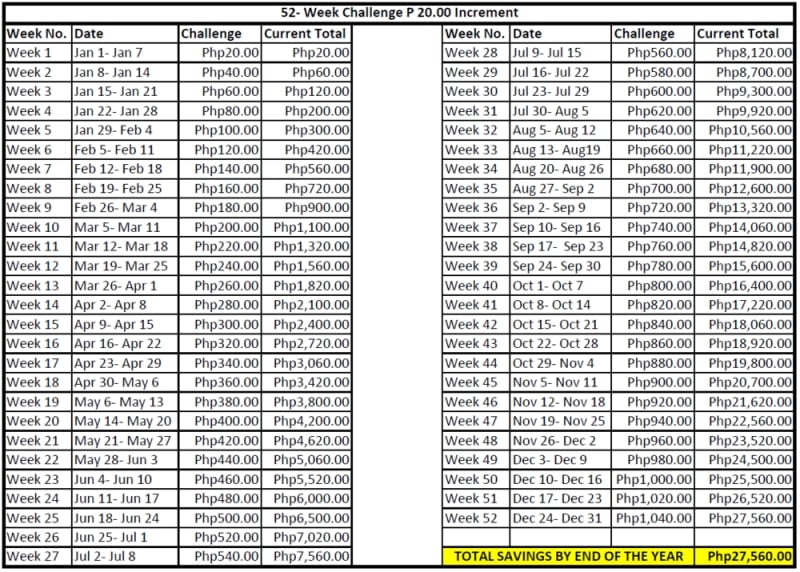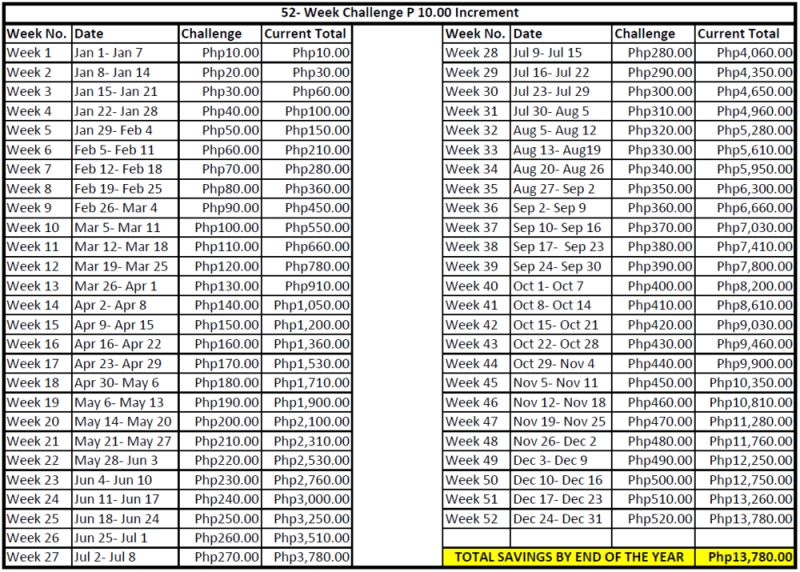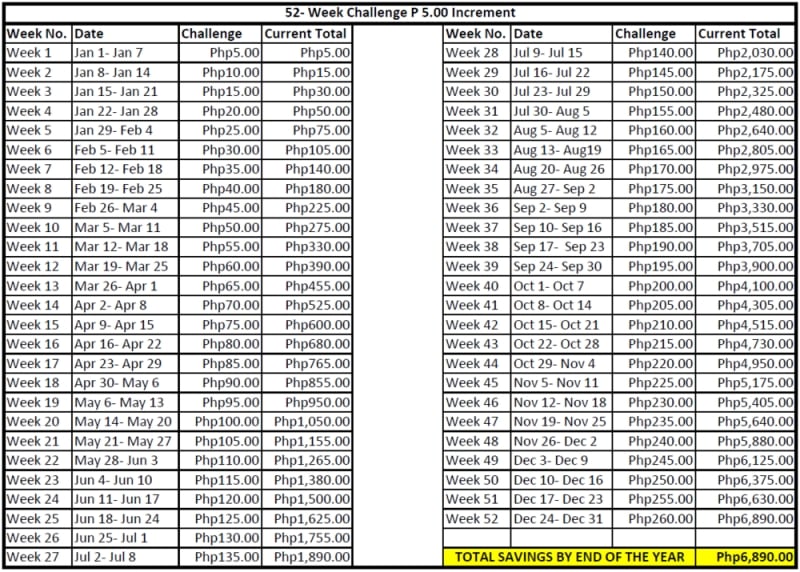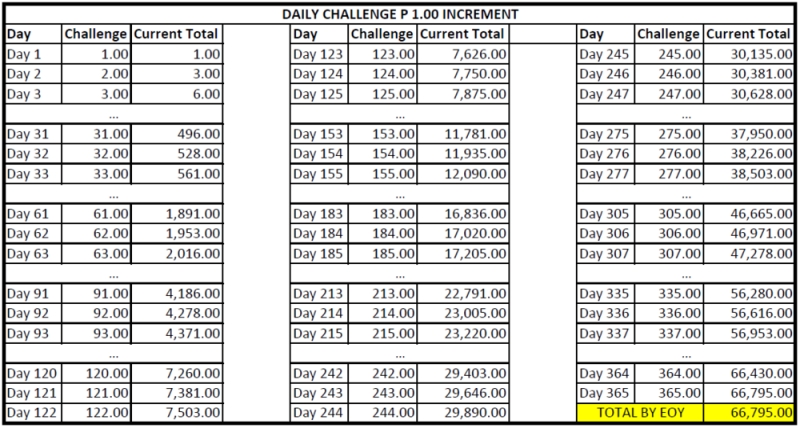 Note: There are also a lot of other templates that you can use to finish the challenge. You can even make your own to align with your cash flow! It's easy to design daily, weekly, or even monthly challenges as long as you know how much you want to save by the end of the year.
Tips in finishing your 52-week money challenge strong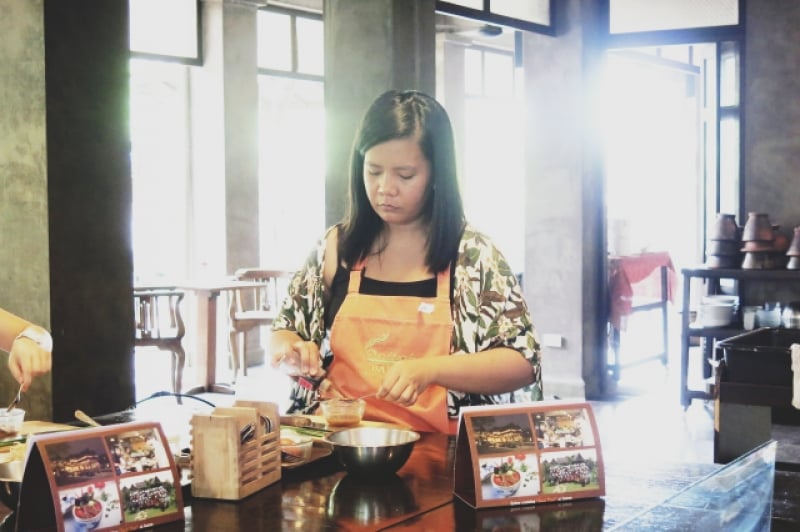 If you are following the standard templates, I suggest doing it in reverse. Based on experience, it's easier to finish it that way. Whenever I do it in reverse, I tend even to complete it earlier that I'm supposed to! You can also make your template and set the weekly figures as random as you want.
It can be challenging (no pun intended), but you have to stay persistent. Missing a week or even a month doesn't mean that you have to stop doing the challenge. You can always backtrack.
The important thing is that you get to finish it no matter how many times you thought you'd give up. Think about delayed gratification! Sacrifice now, enjoy later!
Speaking of sacrifices, keep an open mind about making them while you complete the 52-Week Money Challenge. I sacrificed a lot of books because I had to be practical with my expenses. I don't make random trips to Manila anymore to save myself from Grab fees! And as hard as it may seem, I also don't book every time I see a seat sale.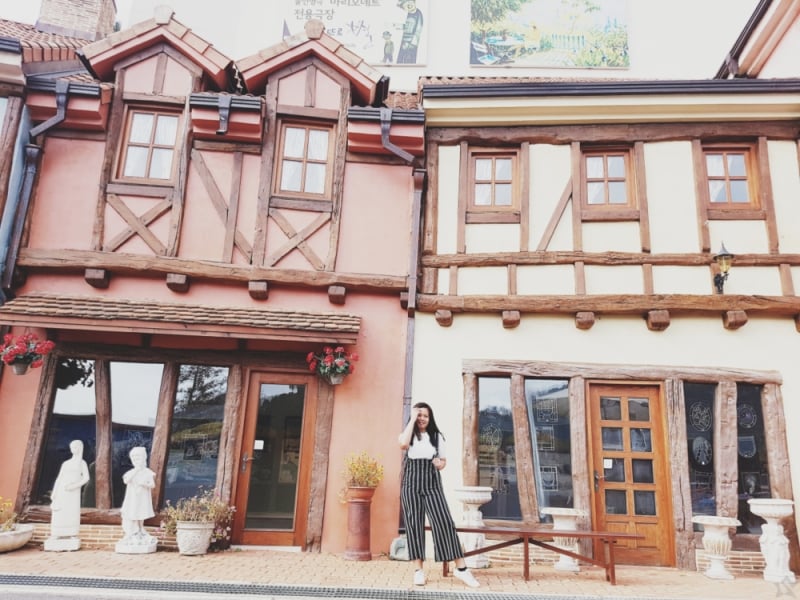 Our financial situations may be different from each other. I may not have as many bills or debts to pay. But it doesn't mean that you can't do it. It's just about how much you want it.
Ultimately, it's up to you if you are going to find ways to make saving money possible regardless of your goals. Sometimes, people who earn less even get to save more money. After all, it's our lifestyle that determines the amount of money that stays in our wallet after every payday.
Travelling the world as your 52-week money challenge inspiration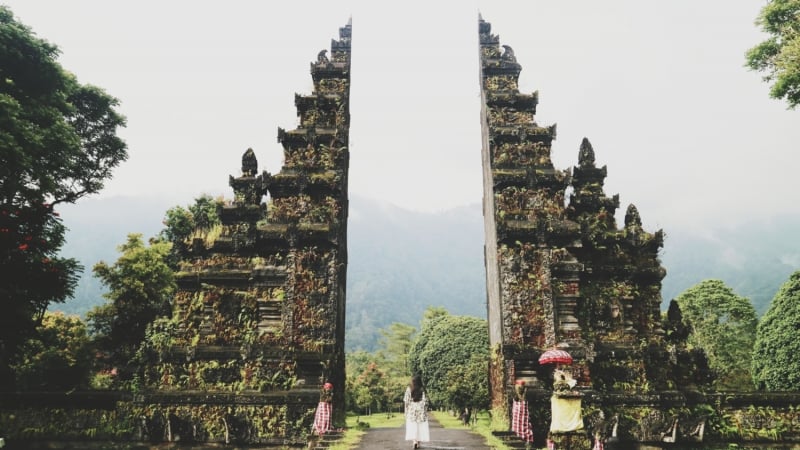 I think because of our obsession with travelling the world these days, it's easier to be inspired to do the 52-Week Money Challenge. Imagine going places because of self-discipline. Isn't it awesome?
But I hope that even with all the things that money can help us afford, we don't lose track of the essence of saving. Indeed, it will take you to places. But don't forget to be watchful of your expenses as you have been when you were saving. Being able to complete the challenge doesn't mean that you have to spend all it until it's gone.
What money can buy should only be our inspiration. We don't have to focus on the figures. We don't have to use up all our savings in just a year. Also, we don't have to book every flight we can just because we have the money to do so.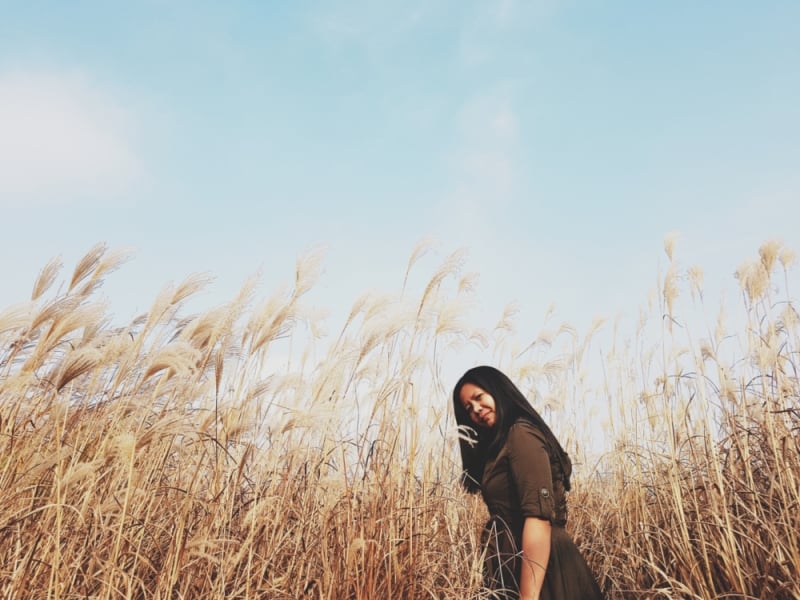 After four years of doing this challenge, I realized that it's even harder to spend something that I've worked hard earning and saving all year. Spending my savings on the things that I value and on the things that matter to me is more gratifying than finishing the challenge.
Whatever kind of money challenge you're doing; no matter how big or small the amount you get to keep doesn't matter. What matters most is that you did it and you finished it until the end. After all, it's not about the amount. It's about your determination. It is about you.
So, are you ready to start 2019 with a challenge?
Also read: 12 Overseas Destinations Filipinos Can Travel To Under ₱20K Budget