The first time I visited Baler, I knew I was going to return frequently. World-class waves and serene views aside, the sleepy town caught my heart through the life that it offered. Ask anyone who's tried it: Living in Baler teaches you how to be fully present, how to enjoy life as it is, and even how to appreciate and take care of what you already have. So once the town opens up again to tourism, don't miss your chance to live like a local in these perfect Airbnb homes in Baler.
Also read: I Spent Two Months at the Beach to Cure a Broken Heart & Here's What I Learned
Best Airbnb homes in Baler for your Aurora getaway
1. This exotic A-frame hut nestled in a tropical forest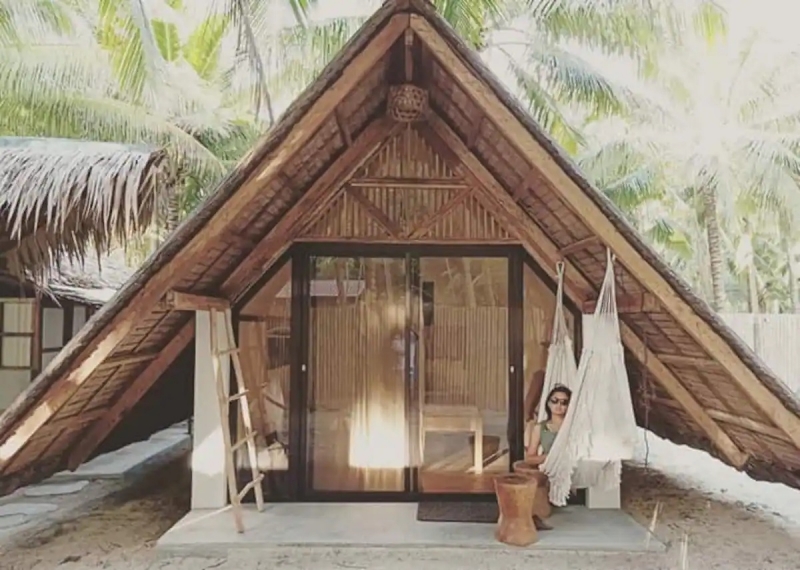 Listing name: Balerfornia Huts – A
Listing type: Private room in hut
Max. no. of guests: 2
No. of bedrooms: 1
Located in a coastal spot by the mountains, this Airbnb in Baler welcomes guests who especially enjoy quiet mornings, chilly nights, and quality surf. Each listing in the Balerfornia Huts is a modern bahay kubo designed to embrace the cool sea breeze of Cemento. Right outside the huts, guests have access to the common area, pool, ping-pong table, outdoor showers, and full kitchen. (Bonus: There's a super cute host!)
2. This modern kubo for your next beach barkada trip
Listing name: Moon Villa: 2-BR Solar Power Wifi Pet Friendly!
Listing type: Entire villa
Max. no. of guests: 4
No. of bedrooms: 2
Another property in Cemento, this hip listing can accommodate up to four guests. So if you're planning your next beach barkada trip or family getaway, then consider this Baler Airbnb. Located away from the crowds, Moon Villa offers quick access to the Cemento beach, fish port, and Ermita Hill.
While having the convenient features of a modern house (i.e. air conditioning units, a refrigerator and a television), Moon Villa maintains the cosy tropical vibe of a traditional nipa hut.
Also read: 12 Airbnbs for Your Next Barkada Staycation Near Manila
3. This surfer hut for the idyllic nature hideaway
Listing name: Surfers Garden Port Barton
Listing type: Private room in nature lodge
Max. no. of guests: 2
No. of bedrooms: 1
Tucked in a secret garden in Baler, this rustic Airbnb is secluded from crowds, but still accessible enough from the town centre. Guests can walk to the popular Sabang Beach whenever they want to; or, they may opt to laze around and enjoy the property's verdant surroundings.
4. This beach villa with a breathtaking ocean view
Listing name: 2 BR Deluxe Beach Villa
Listing type: Entire cottage
Max. no. of guests: 4
No. of bedrooms: 2
Driving to Baler? Definitely maximise your stay in a home with amazing beach views. Eugene's Place is a popular Airbnb in Baler because of its generous amenities, peaceful location, and scenic seascapes.
Since this Airbnb is located reasonably far from the town proper, it's best occupied by guests with a private vehicle. Then, most destinations are just a few minutes drive away! The listing has a free allocated parking space for one.
5. This Bali-inspired bungalow minutes away from Sabang
Listing name: Cowabungalows Kanan Bali Vibes Huge CR Ntflx WiFi
Listing type: Private room in bed and breakfast
Max. no. of guests: 5
No. of bedrooms: 1
Relish in the beach life in this Airbnb that draws design inspiration from Bali and Baler. Sleek with native touches, the Cowabungalow offers spacious interiors and a breezy common area. It also has bonus amenities, including a smart TV, free WiFi, and a coffee maker.
Since the property sits in the town centre, guests can enjoy everything Baler has to offer: from surfing lessons in beginner-friendly Sabang beach to the historical walking tour along Museo de Baler.
6. This bohemian cabana with a refreshing space
Listing name: Ac room w/balcony, view and at Secret Spot Baler.
Listing type: Nature lodge
Max. no. of guests: 2
No. of bedrooms: 1
Nestled in a restful spot five minutes away from both the beach and historical landmarks, this laidback hideaway is your home away from home. Equipped with hammocks, swings, a balcony, and a sprawling garden, Happy Huts Baler ensures that its guests are entertained by the windy, slow provincial life the quaint town offers.
Ready for a long-term Airbnb stay in Baler? Happy Huts allows guests to book for 28 days or more. It has WiFi and a dedicated workspace too, perfect if you're working remotely!
7. This beach shack for the ultimate fun getaway
Listing name: Baler Beachfront House
Listing type: Entire cottage
Max. no. of guests: 10
No. of bedrooms: 4
A private pool, a karaoke machine, a garden area, and a beachfront — what more can you ask for? This sprawling abode in Baler promises its guests an entertaining stay all throughout their trip! Aside from the basic amenities, the home also has WiFi, a workstation, and a cable TV.
The spacious house is conveniently located near Sabang beach, just minutes away from restaurants and other establishments. Guests will surely enjoy their stay in this Airbnb that encourages a good night's rest after a long day of Baler adventure.
Also read: Where to Eat in Baler: 15 Yummiest Bites for the Hungry Surfer
8. This spacious farm resort with a lush garden
Listing name: Baler homestay( farm resort).
Listing type: Entire house
Max. no. of guests: 16
No. of bedrooms: 3
Looking for your next accommodation for team building activity? Big travel groups are welcome in this Baler homestay, which also has everything a big group can ask for: a billiard pool, a volleyball space, a karaoke machine, a barbecue grill, a fire pit, a pool, et cetera.
Aside from its vast space and excellent amenities, this Airbnb is also popular for its super host. Catherine offers her guests free breakfast; and, as she lives next door, she's also always ready to respond to concerns.
9. This riverside homestay for the water junkie
Listing name: Drive & Dock Baler
Listing type: Private room in house
Max. no. of guests: 10
No. of bedrooms: 3
While everyone flocks to the beaches of Baler, the soothing jade rivers can't go unnoticed. Strategically located on the riverside, this homey sanctuary offers activities for guests to fully appreciate the waters!
Aside from the typical surfing lessons, the hosts also offer jet ski, speedboat, and kayak rentals, so guests can cruise through town. Boodle fights and acoustic nights are also available upon request! To top it all off, each room in this Airbnb also has remarkable sunset views — indeed, a cherry on top of a great Baler experience.
10. This peaceful loft for digital nomads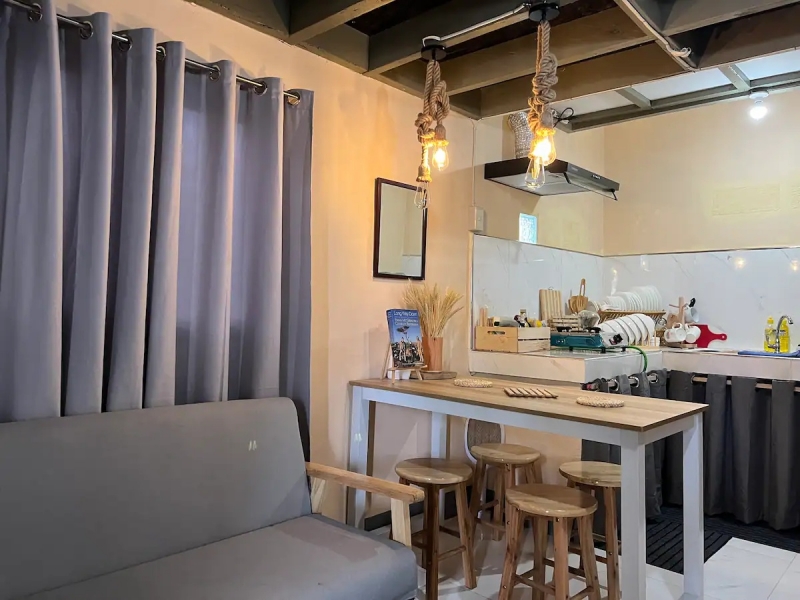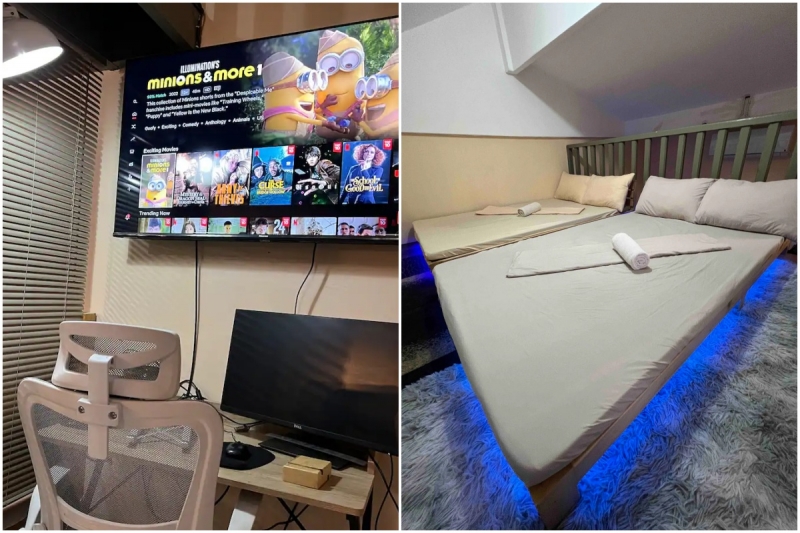 Listing name: Loft Baler ideal for work from home setup
Listing type: Entire loft
Max. no. of guests: 6
No. of bedrooms: 1
Digital nomads, here's a perfect escape: This pristine loft features a work-from-home setup that invites tired employees to take their deadlines on the road. There's a fantastic workspace with a secondary screen; plus, reliable WiFi ensures you can keep working from nine to six. After, chill out in front of the Netflix-ready TV or get a good night's sleep in the comfy loft. And when you're not working, the beach awaits! Sabang Beach is less than 10 minutes away on foot. 
11. This dreamy solar-powered villa near a reef break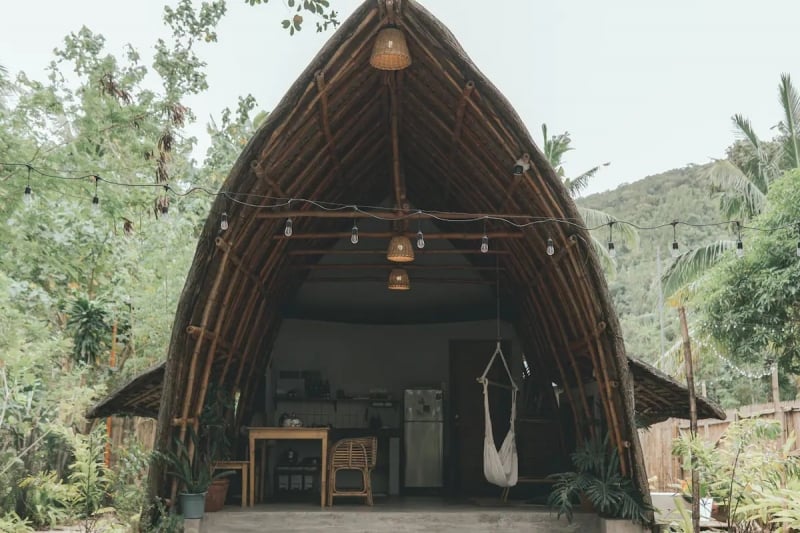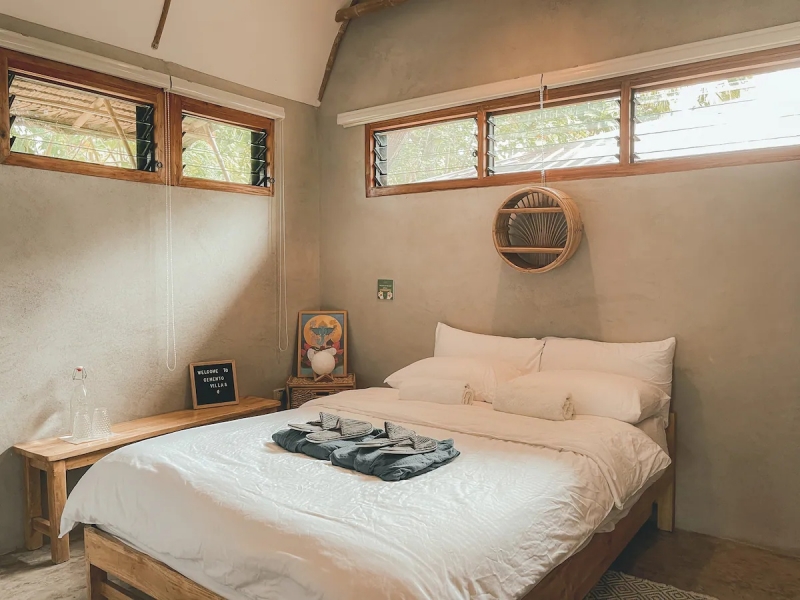 Listing name: Bamboo Villa: Clean 1BR Eco Solar Beach Front!
Listing type: Entire villa
Max. no. of guests: 2
No. of bedrooms: 1
Surfers, we don't blame you if you never want to leave this beautiful solar-powered villa. The Baler Airbnb sits facing a mangrove beach with a pathway leading to the Cobra Reef break, an excellent spot for surfing and hydrofoiling. If you're planning to paddle out, then this rental's ideal.
Not to mention, the bamboo house is a swoon-worthy hideout, too. From the open-air common area to the air-conditioned bedroom, it has all the essentials: a full kitchen, a dining area, complete cutlery, a bathroom with hot and cold water, premium beddings, and cosy indoor-outdoor spaces. When you're not out there catching waves, play chess or sungka or read a book in this Baler Airbnb.
12. This chill Baler Airbnb for a barkada getaway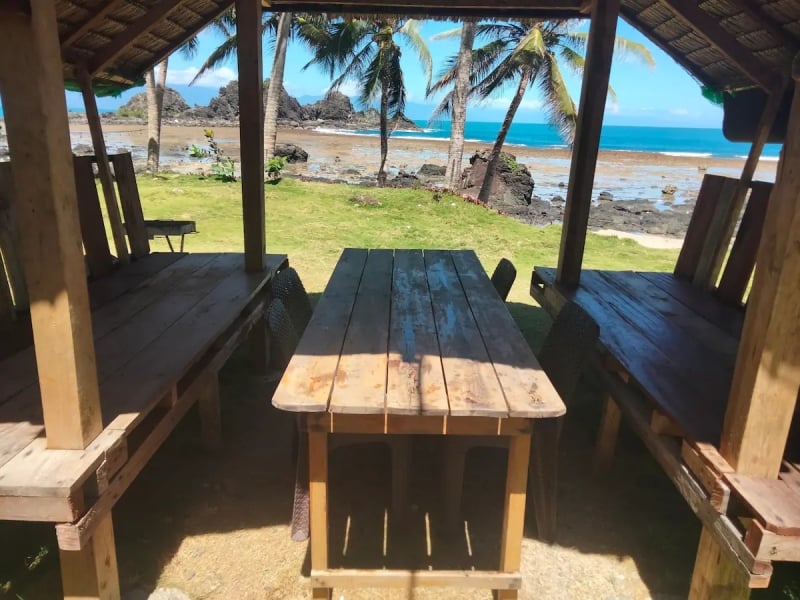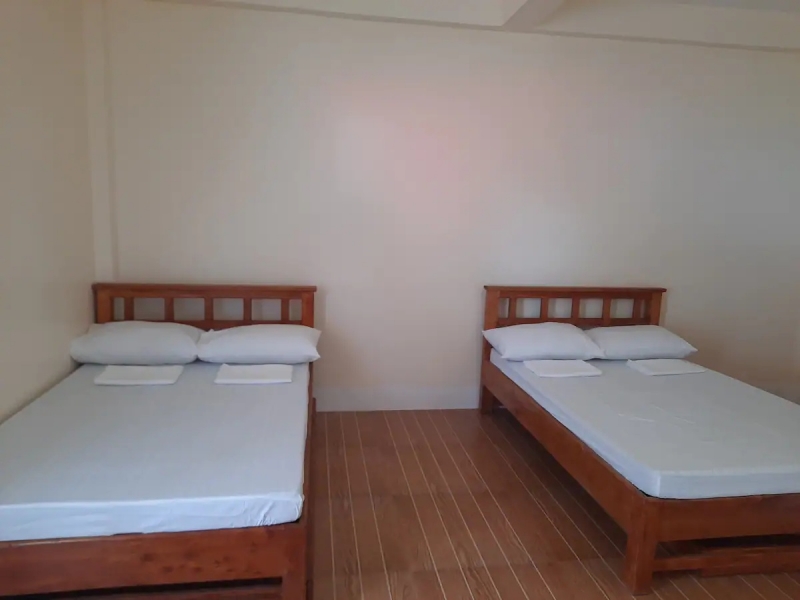 Listing name: Beachfront Twin Rooms w/ Private Kitchen & Cottage
Listing type: Entire guesthouse
Max. no. of guests: 12
No. of bedrooms: 2
Fall asleep to the soothing sounds of crashing waves at this laidback abode in Baler. A stay here promises a rejuvenating coastal vacation with family and friends. It comes with two bedrooms with double beds and pullout mattresses, plus a private kitchen and rustic cottages outside for alfresco dining. Here, we're more than happy to spend the day enjoying sunshine and wading in the shared beach outdoors. 
13. This sunny bungalow near the town centre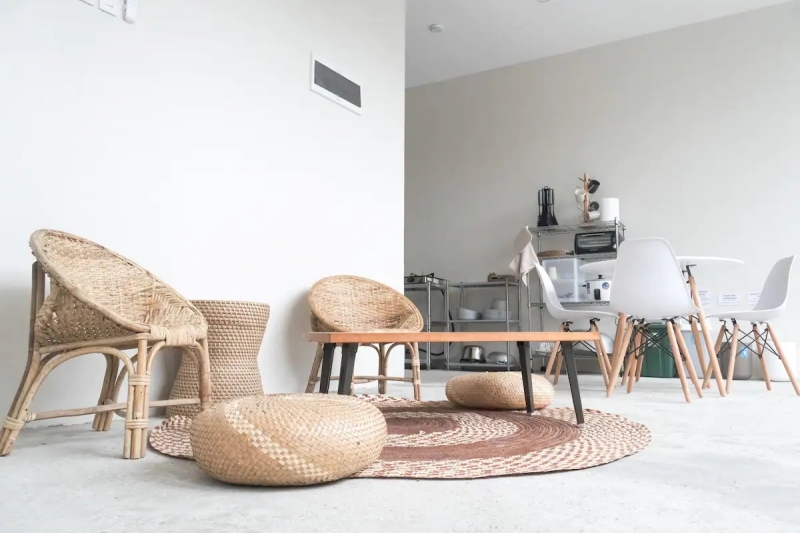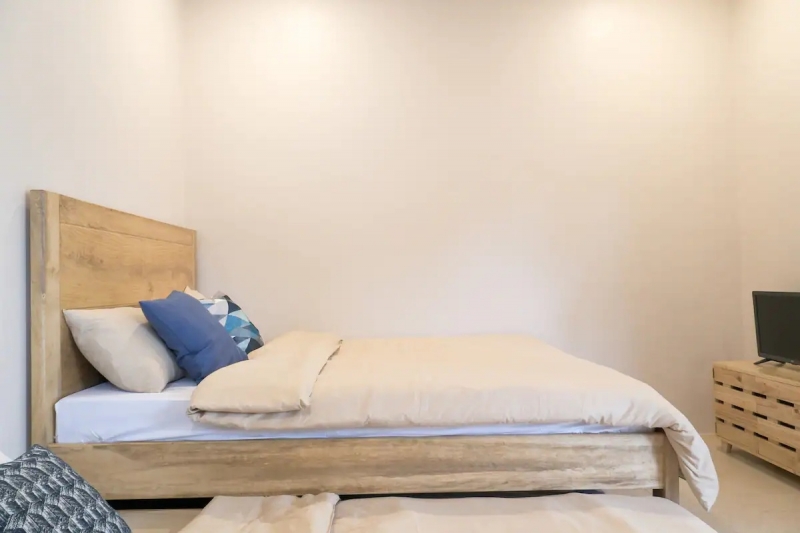 Listing name: Buhangin Bungalow
Listing type: Entire home
Max. no. of guests: 5
No. of bedrooms: 1
It's easy to feel at home in Baler with the right Airbnb. For instance, this cosy sanctuary is an excellent pick, whether you're just staying for the weekend or settling in for a longer vacay. 
Pretty interiors welcome travellers as soon as they step through the door. But it's really the amenities that put it over the top: There's a well-equipped kitchen, comfortable beds, reliable WiFi, and ample parking. Moreover, it's also conveniently located, just a few minutes' drive to Sabang Beach and the market. 
Also read: Baler, Aurora: The Ultimate Travel Guide with Insider Tips!
Staying in Baler is definitely an experience that will change your life for the better. So whether you're planning to visit the town for a weekend or a few months, make sure your experience is made complete with a decent Baler Airbnb!
---
This article contains affiliate links. When you book through these links, we may earn a small commission at no additional cost to you. All images courtesy of the respective property listings unless otherwise mentioned.