Home to some of the most beautiful islands in the Philippines (and the world!), the archipelagic province of Palawan is one that many travellers dream of visiting. Puerto Princesa, in particular, is known to be a popular jumping-off point for visiting the rest of the province. However, travellers have finally seen the light and realised the coastal city is a must-visit destination itself. 
There's a lot to do — go island hopping and see turtles and long-nosed dolphins; explore the Underground River, which is actually a UNESCO World Heritage Site; go firefly watching during a nighttime cruise along the Iwahig River. And that's just scratching the surface! Exciting, right? To help you make this trip happen, we've put together a list of some of the best Airbnb homes in Puerto Princesa. The listings themselves are so gorgeous, you won't want to miss out on the opportunity to make one of them your home away from home!
Airbnb homes in Puerto Princesa for the Palawan vacation you deserve
1. This quiet bungalow not far from the town proper
Listing name: Chambres d'Hôtes Villa Kalachuchi. Puerto Princesa
Listing type: Private room in bed and breakfast
Max. no. of guests: 2
No. of bedrooms: 1
Romantic trip for two? This Airbnb in Puerto Princesa has all the makings of the ultimate couples' getaway: a cosy bungalow, private pool, and spacious garden and terrace. (You can even book a private massage here!) While it's not far from the town centre, this quiet haven still feels quite secluded — offering you and your significant other all the peace and privacy you need. Your stay comes with delicious complimentary breakfasts, too; and trust us, you'll definitely be missing them once your trip is over! 
2. This villa with panoramic beach and mountain views
Listing name: Private villa in Atremaru Nature Park! -Rapitik
Listing type: Private room in nature lodge
Max. no. of guests: 2
No. of bedrooms: 1
If nature views are what you're after, then you won't want to overlook this private villa located in the middle of a 25-hectare jungle park. (Too cool, right?) At this Airbnb, you'll get to enjoy 360-degree views of both the mountains and the sea in Puerto Princesa. Plus, guests will also have access to a secluded beach, pool, spa, and restaurant! 
3. This spacious residence with its very own outdoor pool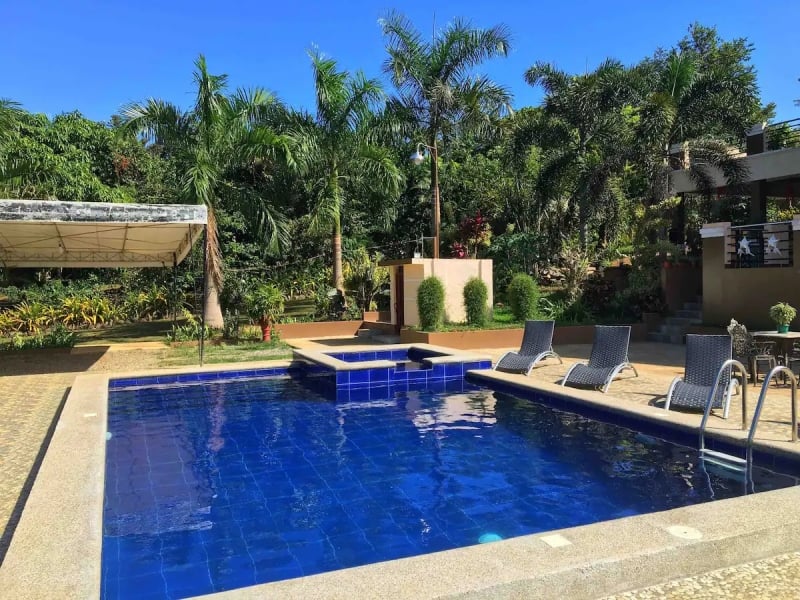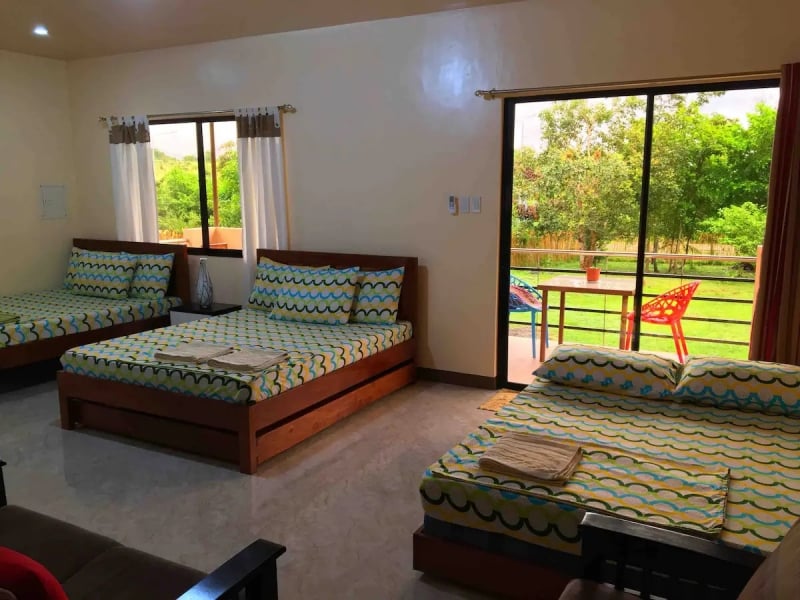 Listing name: VILLA with POOL + 100mbps WIFI + Parking for 8 pax
Listing type: Entire home
Max. no. of guests: 10
No. of bedrooms: 1
We all know how challenging it can be to find a single place that can fit the whole fam or the entire barkada. But fret not, because this Airbnb in Puerto Princesa was specifically designed for big groups!
Located in a safe and exclusive neighbourhood, this studio-style villa offers travellers a private slice of Palawan paradise with majestic views of the mountains. Host Don will give you all the privacy you need, but also goes above and beyond to assist guests — whether it's regarding airport transfers or if you need help organising island tours!
4. This off-grid hut with jaw-dropping sea views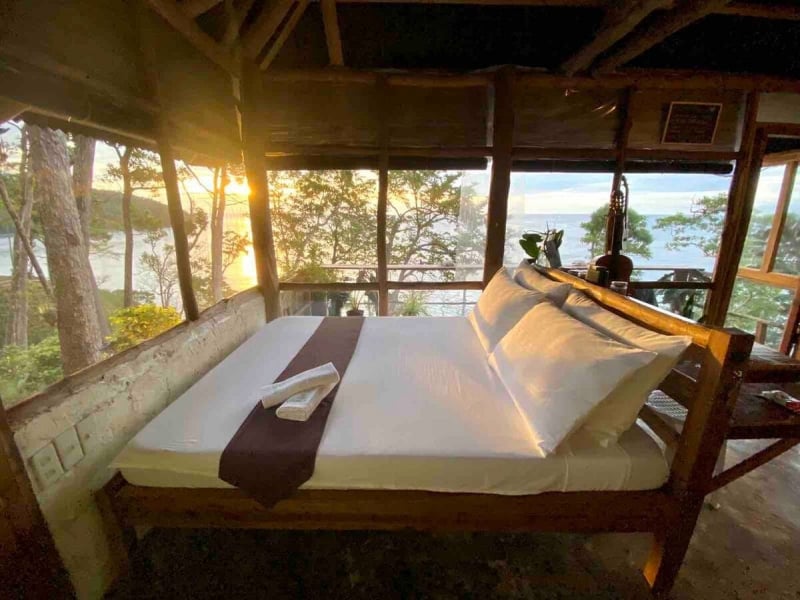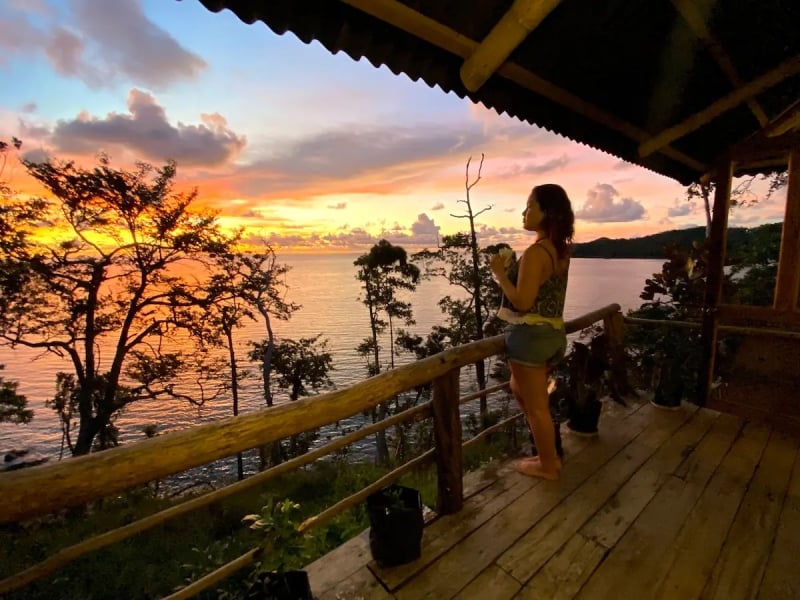 Listing name: Serenity
Listing type: Entire vacation home
Max. no. of guests: 4
No. of bedrooms: 1
Sitting atop a hill overlooking the West Philippine Sea, this Airbnb is your escape of choice if you want nothing around you except the ocean and pure greenery in Puerto Princesa. The name Serenity surely fits; here, you'll wake up to calm and quiet, and end the day with panoramic views of the breathtaking sunset. 
This cosy hut in the wild is truly no-frills, but it comes with all the basics: a comfy queen bed, a full kitchen, and a toilet and bath. Plus, it gets extra points with solar-powered electricity and a backup generator. Nature babies will definitely love unplugging in this self-contained little hideaway!
5. This resort suite for a five-star Airbnb experience in Puerto Princesa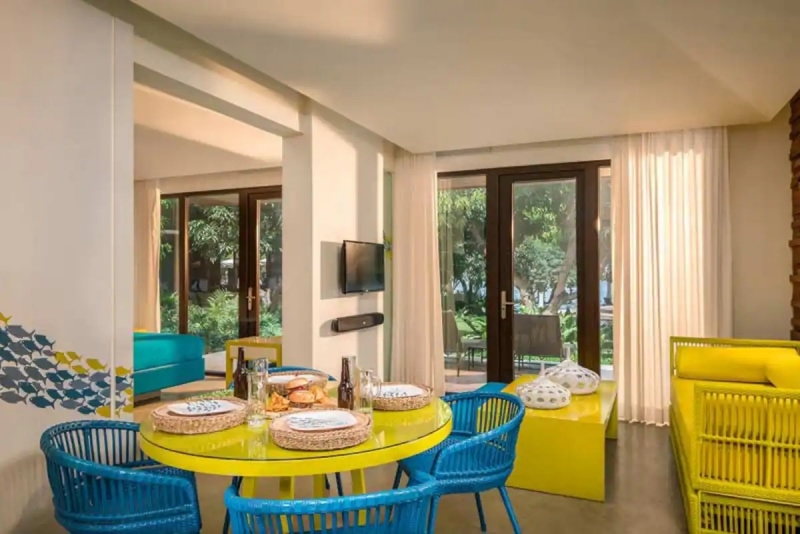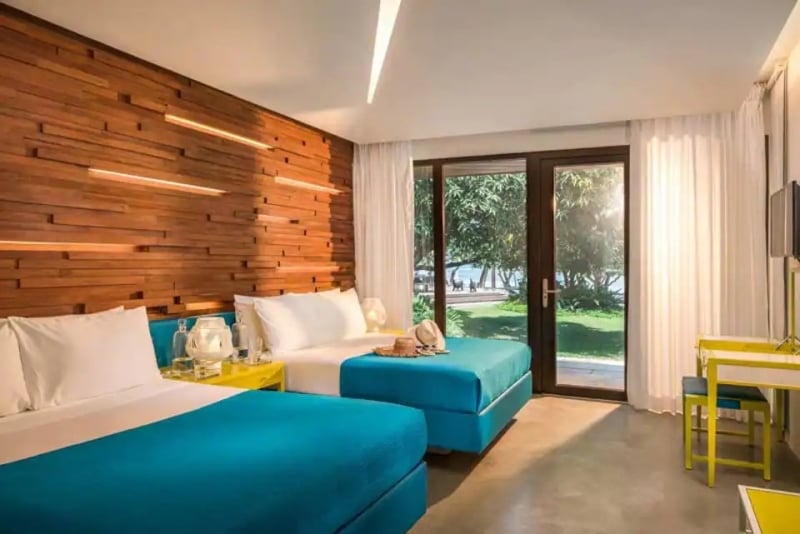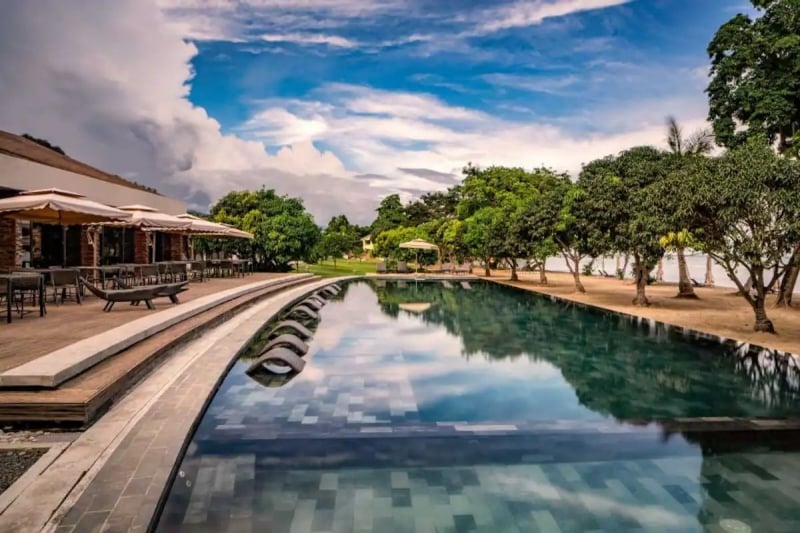 Listing name: Home Away From Home- 2BR Suite- Astoria Palawan
Listing type: Private room in nature lodge
Max. no. of guests: 8
No. of bedrooms: 2
For a dreamy tropical stay, why not go for this two-bedroom suite in Astoria Palawan? A true home away from home, the suite is elegantly appointed with two bedrooms, four queen-size beds, two bathrooms (with a bathtub!), and a kitchenette. And as a guest of Astoria, you're granted access to top-notch amenities, including a 39-metre infinity pool and a recreation area with a karaoke room and game room.
6. This farm stay that promises guests an invigorating experience
Listing name: Authentic Farmstay at a working organic farm
Listing type: Private room in farm stay
Max. no. of guests: 2
No. of bedrooms: 1
There's nothing quite like a good ol' farm stay; and if you haven't had a chance to experience one just yet, then this Airbnb in Puerto Princesa will provide you with a memorable first time. Set within a 7.5-hectare organic farm, this relaxed home offers guests an authentic Palawan farm-to-table experience. Their delicious food is made with fresh ingredients grown right on their farm — and you can even take part in harvesting fruits and veggies for your meals! Pretty awesome, if you ask us. 
Also read: 10 Farm Stays in the Philippines for a Nature Escape
7. This hilltop home in a quiet yet accessible neighbourhood
Listing name: Hilltop Pool and Villa 
Listing type: Entire villa
Max. no. of guests: 10
No. of bedrooms: 5
Prefer to stay away from the hustle and bustle of the city without having to be too far away? This hilltop villa offers guests the optimum location for those looking to enjoy the best of both worlds. Located in a quiet neighbourhood, it's just 30 minutes away from the town proper, along with Nagtabon Beach. The famous Baker's Hill and Iwahig river are just 10 minutes away, while you can reach Honda Bay in just 20 minutes. At the villa, you can enjoy amenities such as a private pool, basketball court, and game room! 
Also read: 15 Airbnb Homes in El Nido Where You Can Live Out Your Island Dreams
8. This forest retreat located in a laid-back setting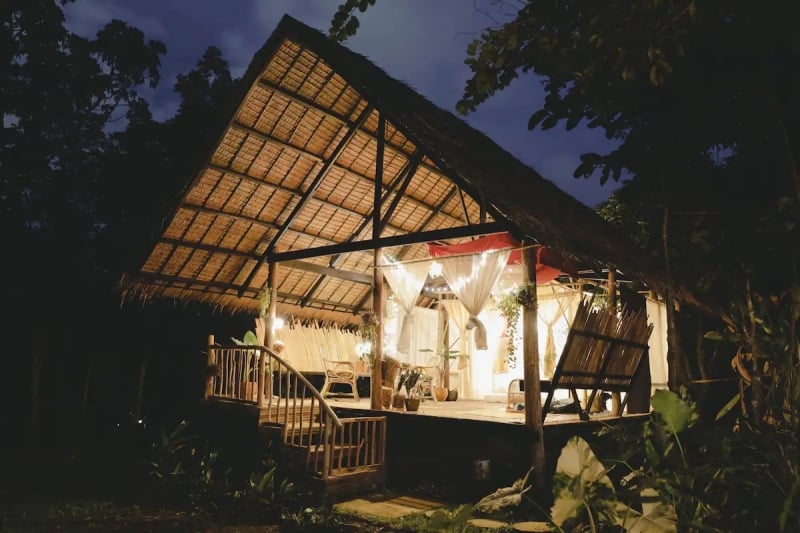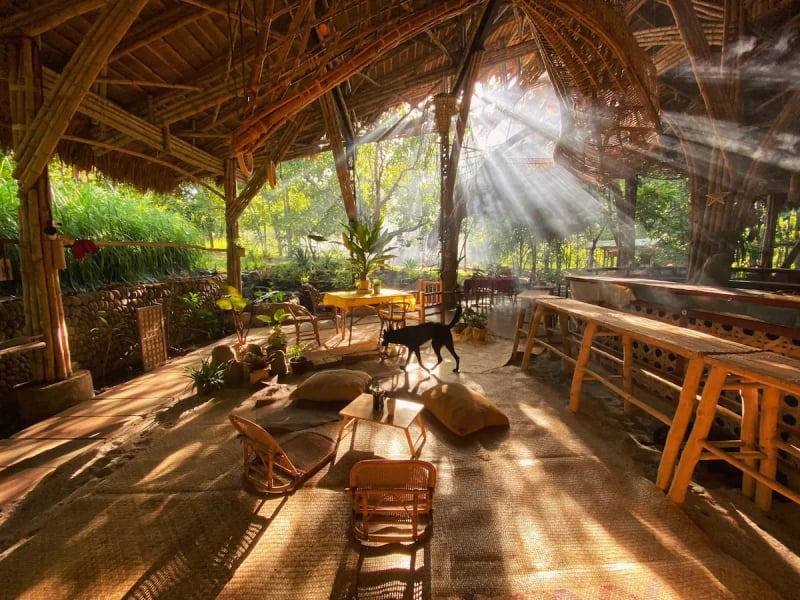 Listing name: Peaceful forest hideaway in Butanding Barrio
Listing type: Hut
Max. no. of guests: 3
No. of bedrooms: 1
Nature lovers, check this one out! A stay at this Airbnb in Puerto Princesa is almost like glamping, minus the need for tents and sleeping bags (or floor mattresses); instead, this beautiful open-air cottage will be your quiet refuge in the heart of the forest. Follow the forest pathways to explore the expansive grounds, then dive into the saltwater pool to cool down. 
Our favourite thing about this Airbnb? Guests can check out the eye-catching bamboo pavilion for guests, a chill lounge area where digital nomads can also hunker down to work! And if you've got a bigger crew, you don't have to split up — a larger cottage is also available on the property.
Also read: 11 Glamping Sites in the Philippines for Your Next Barkada Trip
9. This secret oasis that's just a quick ride away from the city centre
Listing name: Get Rid of Rowdy
Listing type: Room in bed and breakfast
Max. no. of guests: 2
No. of bedrooms: 1
A hidden gem in Puerto Princesa, this Airbnb is a room in a bed and breakfast that's just a quick trike or shuttle ride away from the town proper. Once you get to this delightful hideout, you may even be surprised at how close it is to all the action — it's set within a forest, after all! Ideal for couples, their rooms are good for two; guests also get access to the B&B's shuttle services, making it easy to get around.
10. This lovely cottage surrounded by coffee trees
Listing name: Felice Cafe • Coffee by the coffee trees
Listing type: Private room in cottage
Max. no. of guests: 4
No. of bedrooms: 1
Coffee lovers in particular will love this Airbnb located on the outskirts of Puerto Princesa — for starters, it's surrounded by coffee trees! This charm-filled cottage is commended for its homey atmosphere, friendly hosts, and for serving excellent food and (you guessed it!) coffee.
Treat yourselves to a restful getaway here, where you'll not only meet great people, but the property's adorable dogs, too! Trust the rave reviews — previous guests swear they couldn't ask for anything more during their stay. 
Also read: These Airbnbs in the Philippines Will Inspire You to Travel Local
Well, how gorgeous are these Airbnb homes in Puerto Princesa? Not only do they have us longing to travel there — we'd love to move into each and every one of them! From bungalows in the jungle to villas that ooze tropical vibes, there's definitely something for everyone on this list!
Got a property you'd like TripZilla to feature? Inquire with us here.
---
This article contains affiliate links. When you book through these links, we may earn a small commission at no additional cost to you. All images courtesy of the respective property listings.