They say Sagada is where broken hearts go — and when life gets a little rough, it's safe to say that our hearts all deserve a little mending. That said, we think it's perfectly fitting to set Sagada as the first destination we're heading off to the moment it's time for a break from regular life. After all, how could we possibly say no to this little town that's said to have healing powers?
In anticipation of our great escape to the mountains, we've scoured the web for the best Airbnb homes in Sagada. And let us tell you, tough times or not, we can't wait to book them and explore this picturesque town. If you too are looking to do a little soul-searching, then check out our carefully curated list of Sagada Airbnbs below!
Also read: Where to Stay in Baguio: 26 Vacation Rentals for All Budgets
Airbnb homes in Sagada to bookmark for your next vacation
1. This tranquil local hut at a brewery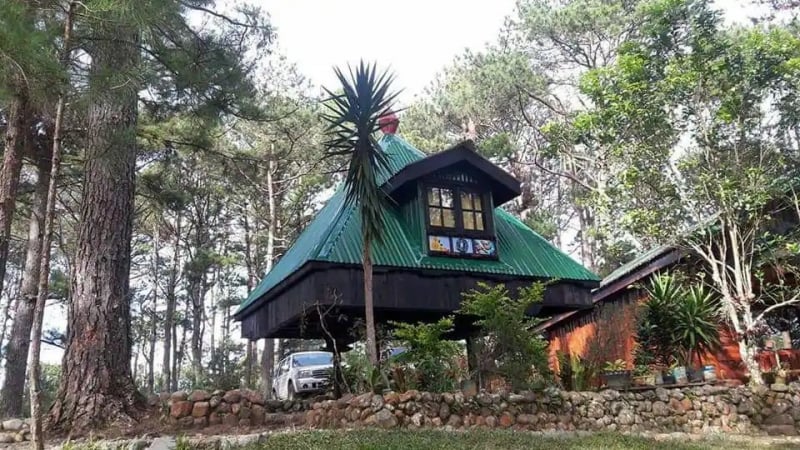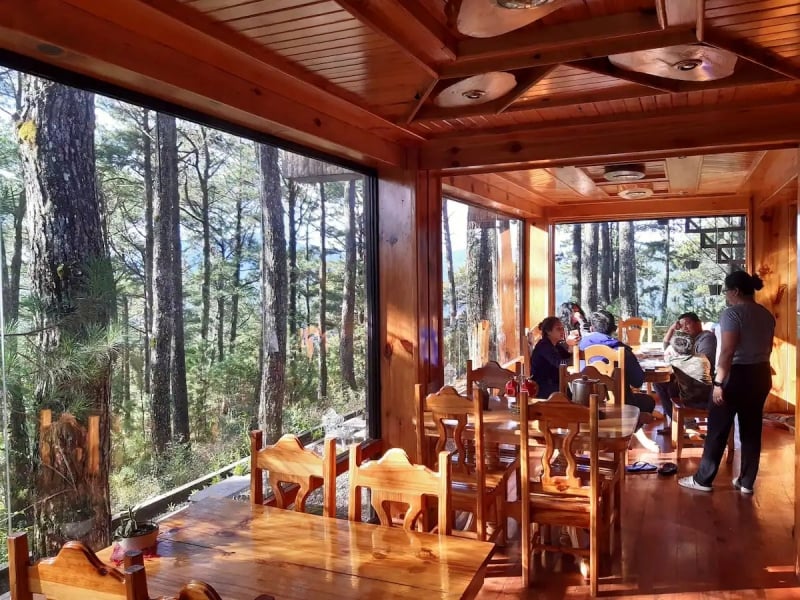 Listing name: The Hut By The Brewpub
Listing type: Private room in hut
Max. no. of guests: 2
No. of bedrooms: 1
If your idea of a relaxing stay involves a serene hut amid the pines, then this Airbnb in Sagada seems like the perfect fit. The Hut, a 130-year-old native house from an Ifugao tribe, sits in a quiet spot in a pine forest, tucked away from the buzzy tourist activities in the town centre. Plus, it's at Sagada Cellar Door, which means delicious local food and home-brewed beer are always on hand!
Besides exploring Sagada's popular attractions, guests are also invited to take advantage of the property's offerings: resting in the hammocks, savouring breakfast in the magical morning light, and gathering around the campfire by night. How could anyone possibly say no to that? Learn more about this Airbnb here.
Also read: Pet-Friendly Airbnbs in the Philippines That Are Absolutely Purr-Fect
2. This peaceful bed and breakfast that serves free-flowing Sagada coffee all day
Listing name: Layad: A private room at Inandako's BnB
Listing type: Room in bed and breakfast
Max. no. of guests: 4
No. of bedrooms: 1
Free-flowing Sagada coffee all day — need we say more? As Sagada is home to some of the best brews in the country, no trip here would be complete without trying the local java. On top of that, a stay at this cosy Airbnb includes sumptuous home-cooked breakfasts that previous guests swear by.  Sounds perfect for travellers on the hunt for a home away from home!
Location-wise, this bed and breakfast is off the beaten path. So, if you're looking for some peace and quiet on your soul-searching place, this is the place to be. The room itself is a sight to behold, too — it's got beautiful wooden interiors, and a little veranda with charming views of Sagada's western mountain range. A serene, heart-mending vacay awaits! Learn more about this Airbnb here.
3. This beautiful country home that's ideal  for you and your BFF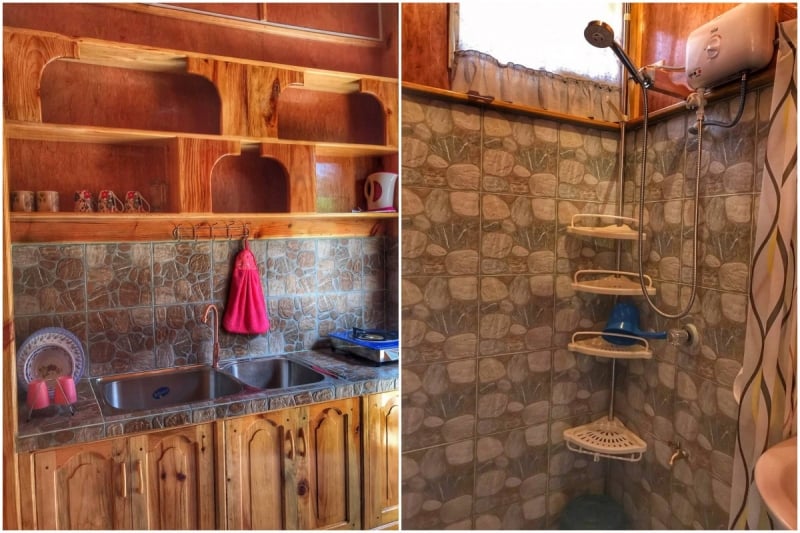 Listing name: Ngali Room
Listing type: Entire cabin
Max. no. of guests: 3
No. of bedrooms: 1
How about a BFF bonding trip? This Airbnb in Sagada is an excellent choice, especially if you and your travel buddy prefer to be in the middle of all the action. The country-style cabin is located right within the town proper, so getting around from here should be a piece of cake!
Previous guests of this cosy home commend the hosts' superb hospitality — from helping them see the best of Sagada, to providing free coffee and homemade bread. Plus, the nearby restaurant is known to serve delicious food and hot chocolate, too. Don't miss it! Learn more about this Airbnb here.
Also read: 11 Glamping Sites in the Philippines for Your Next Barkada Trip
4. This rejuvenating nature lodge with country views
Listing name: Sumaguing Cave Room: Sagada Blue Mountain Cabins
Listing type: Private room in nature lodge
Max. no. of guests: 3
No. of bedrooms: 1
If it's a nature escape you're after, then you should definitely book an Airbnb in Sagada that'll make exploring the natural sights a whole lot easier. This nature lodge is just a 20-minute drive from the central area, so you can easily shuttle to and from the town proper if needed.
The property itself is equipped with a natural mountain spring water pool, plus a bonfire area that you and your travel buddies are invited to make use of. From the room, we recommend taking full advantage of the balcony and its enchanting mountain views. As for those up for a nature adventure, you can trek to Sagada's famed Blue Soil Hills from the nature lodge within just 45 minutes! Pretty cool, right? Learn more about this Airbnb here.
5. This romantic log cabin for two
Listing name: Gasik Room
Listing type: Entire cabin
Max. no. of guests: 2
No. of bedrooms: Studio
Taking a trip to Sagada with the very person who put your heart back together? This log cabin with a view was practically made for a cosy couple's stay — especially given that Sagada's chilly climate practically calls for snuggling up together!
Not only does this Airbnb promise guests the utmost comfort (free bread and coffee included!), it's also favoured for its ideal location. The cabin is situated close to the tourist information centre and the bus terminal, so navigating your way around Sagada with your significant other should be easy as pie! Learn more about this Airbnb here.
6. This rustic cottage fit for a family vacation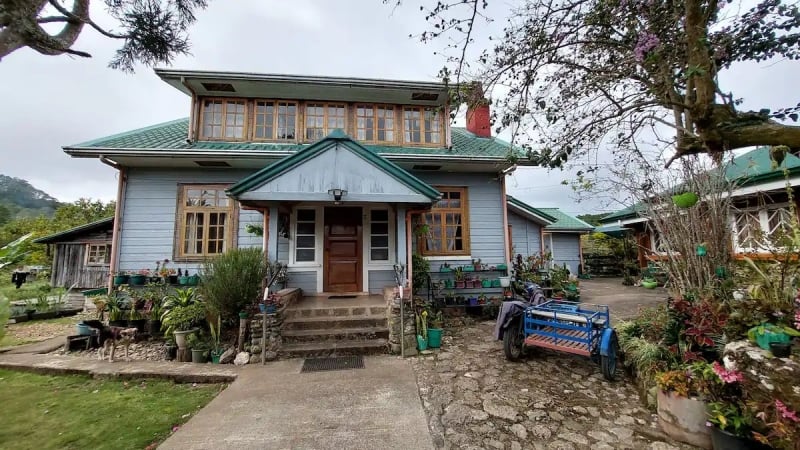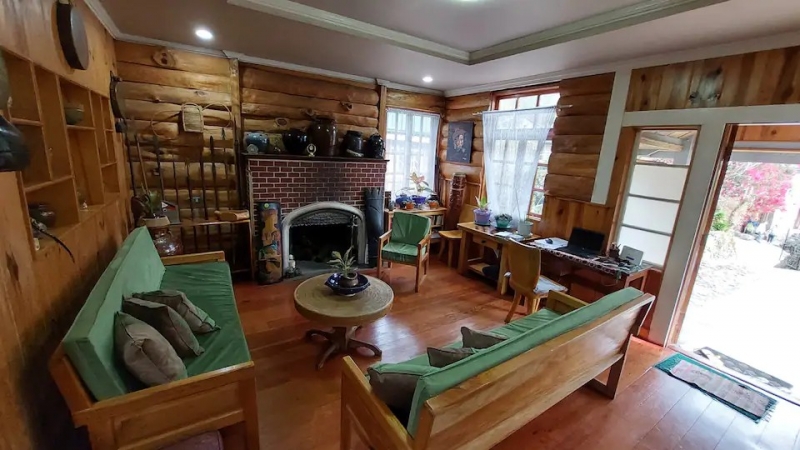 Listing name: Central Sagada w/ Fireplace
Listing type: Entire home
Max. no. of guests: 7
No. of bedrooms: 4
Has your family been putting off travelling? If so, a family trip is more than overdue — and this spacious Airbnb in Sagada is the perfect place to treat yourself and your loved ones, once again, to the gift of travel!
The house has four rooms that you'll have all to yourselves, along with a living room (complete with a fireplace!), a TV room, a dining room, and a kitchen. A stay here comes with free parking, plus free WiFi for anyone who needs to stay connected on the go. Learn more about this Airbnb here.
7. This quaint homestay that can accommodate the whole barkada
Listing name: Labanet @ ina's sagada homestay, near marlboro
Listing type: Private room in house
Max. no. of guests: 6
No. of bedrooms: 1
Oh, how we miss trips with the entire barkada! This sunny Airbnb in Sagada is situated on the outskirts of the city centre — two kilometres away to be exact. But when you're with your best pals, you won't even mind at all!
At the homestay itself, you and your buddies will have a whole room to yourselves, plus common areas you can enjoy together. They've even got books and board games for you to enjoy all day, plus a bonfire at night.
Within the vicinity, there are several restaurants and bars for you to check out. This home also happens to be just a kilometre away from the drop-off point for the Marlboro Country Sunrise Hike — a trek you and your friends should definitely try! Learn more about this Airbnb here.
Also read: 11 Airbnb & Vacation Rentals Near Manila for a Barkada Staycation
8. This cosy room designed specifically for a couples retreat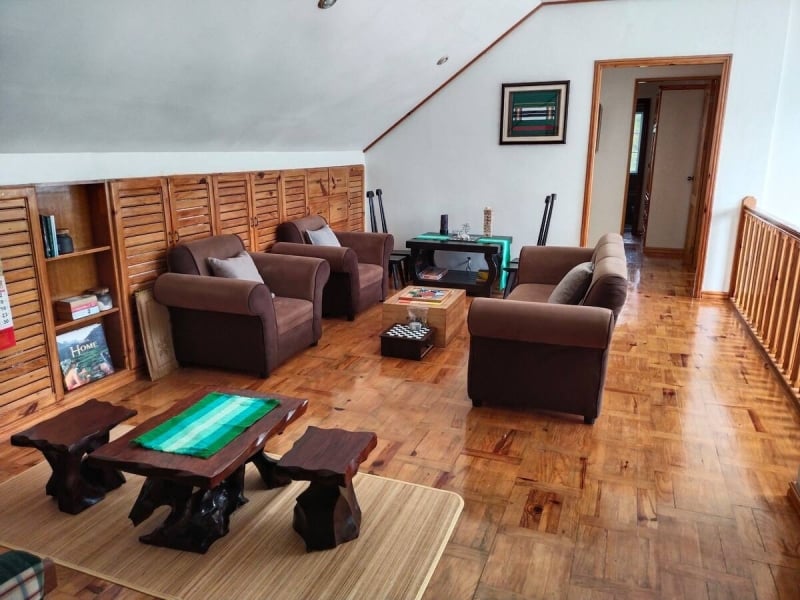 Listing name: Tawid: A Room For couples @ Ina's Sagada Homestay
Listing type: Private room in house
Max. no. of guests: 2
No. of bedrooms: 1
This spacious yet cosy listing was thoughtfully put together with couples in mind — it's pretty much a no-brainer to choose this Airbnb for a much-needed trip with your significant other! After all the madness and challenges that the COVID-19 pandemic has brought about, we can bet you two are in dire need of a change of scenery, and perhaps even a little reconnecting! 
You're sure to love the homey vibe, as previous guests can attest that the hospitable hosts make it a point to make guests feel welcome at this homestay. As it's 20 minutes away from the buzz of the town proper, couples will get to enjoy the less touristy side of Sagada, while still having easy access to popular sights. That said, we particularly recommend this listing for couples visiting for the first time! Learn more about this Airbnb here.
Also read: Romantic Airbnb Homes in the Philippines for Valentine's Day
9. This spacious room in a homey bed & breakfast
Listing name: Namnama: A private room at Inandako's BnB
Listing type: Room in bed and breakfast
Max. no. of guests: 6
No. of bedrooms: 1
How about a single room for the whole barkada? These spacious accommodations are our favourite kinds — they guarantee that no members of the group will miss out on any of the fun! Plus, if it's your first trip with the gang after ages, we can imagine that some quality bonding time is long overdue. Coupled with the long travel to and from Sagada, a few nights together in one room will certainly help make up for lost time.
This homey B&B is located in a quiet downtown area, just about a kilometre away from a bus stop. It's serene, with lots of wide windows and vibrant art on the walls — plus breakfasts are free, and authentic Sagada coffee is available all day! But what truly makes this Airbnb a gem would have to be its host, Alma: She's well-loved by guests for her delicious home cooked meals and her kind hospitality. She'll make you feel right at home! Learn more about this Airbnb here.
10. This quaint country house in the woods
Listing name: Entire 3 Room cottage good for a group or family
Listing type: Entire apartment
Max. no. of guests: 7
No. of bedrooms: 3
Looking for an affordable Airbnb in Sagada? This humble country house in the woods might just be to your liking. Despite its simplicity, this home has a significant amount of good reviews; according to previous guests, it's peaceful, ideal for big groups, and you can even enjoy a bonfire with your travel buddies right on the property. An added bonus: Your furry family members are invited, too!
Location-wise, the house is just a few minutes away from the popular Marlboro Hills. And while you'll get loads of peace and quiet here, you'll find that the town proper is just a quick drive away as well. Learn more about this Airbnb here.
Also read: You Can Now Travel Directly from Manila to Sagada via This Luxury Bus
These Airbnb homes in Sagada are the epitome of "healing," don't you think? We can hardly wait to make our way to the magical town and experience its wonders; until then, we'll keep these Airbnbs bookmarked till we can finally see them in the flesh. Stay safe, and hopefully we can all head to Sagada soon!
Got a property you'd like TripZilla to feature? Inquire with us here.
---
This article contains affiliate links. When you book through these links, we may earn a small commission at no additional cost to you. All images courtesy of the respective property listings.