In the world of jewellery, Swarovski is a household name. Anyone who knows the trade of baubles and trinkets, fine jewels, and glittering gems is well acquainted with the iconic brand, whose storied history spans more than a hundred years now.
A heritage of shaping crystals to perfection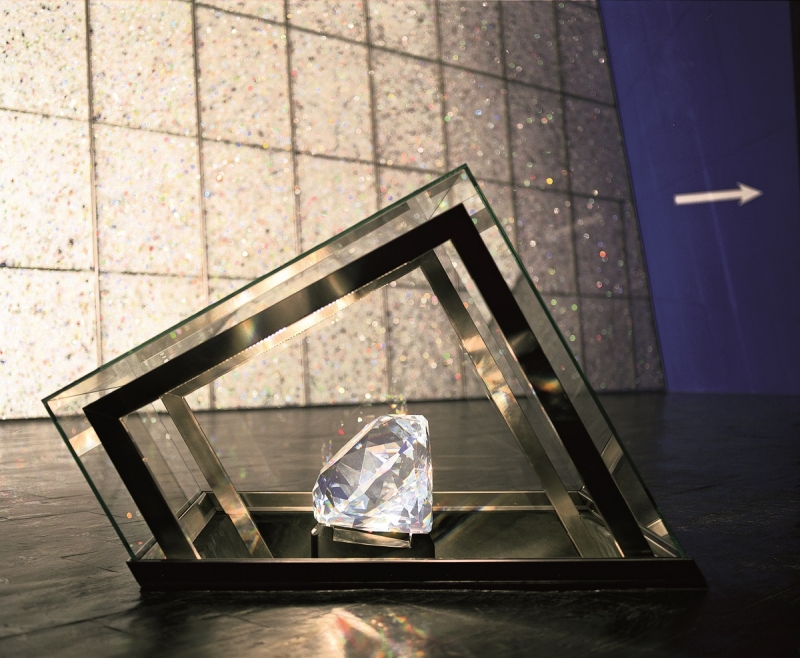 Although Swarovski, the company, was established in 1895, its humble beginnings could be traced back to the dreams of one individual — its founder, Daniel Swarovski. As a boy, Daniel apprenticed at his father's small factory, where crystal was laboriously dressed and smoothed by hand.
This fascination for all things crystal seeped its way into Daniel's adult life, which he would then dedicate to his own crystal-centric business later on. By 1892, he was already securing a patent for a crystal-grinding machine he himself created, and one that would forever change how the world processed crystals to dazzling perfection.
In 1895, Swarovski — the brand — was born. With his partners, Armand Kosmann and brother-in-law Franz Weis, Swarovski set up shop in Wattens, in Austria's Western state of Tyrol. Being near the Alps, the location proved ideal because it provided both water resources and isolation from competitors looking to spy on Swarovski's latest innovations. It was also near enough trade routes to Paris, which was already a known fashion centre by then.
Making Swarovski what it is today
By 1913, with the help of Daniel's sons, Alfred, Friedrich, and Wilhelm, the company was already producing its own high-quality crystals through its own formula and technology. In 1948, Swarovski furthered its reach by manufacturing glass used for optical instruments such as binoculars and telescopes under Swarovski Optik.
The year 1976 was yet another gamechanger for Swarovski, when its "Silver Crystal" line served as its introduction to the ornamental industry. With a wide range of crystal-encrusted animal figurines and other decorative objects, Swarovski won the hearts of collectors all over the world. The first figurine in the line, a tiny crystal mouse, was even a bestseller at the 1976 Olympics in Innsbruck, Austria.
Also read: Welcome to Innsbruck — Austria's Very Own 'Capital of the Alps'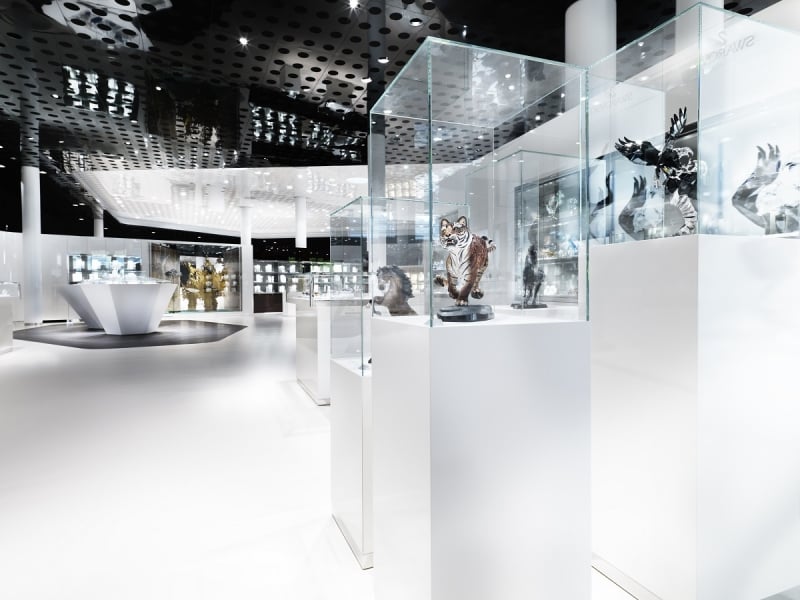 Now, Swarovski is perhaps the most popular manufacturer of man-made crystals, with a history as multifaceted as its products and the markets they reach. Swarovski's presence is felt not only in the jewellery industry but anywhere with a need for brilliant, precision-cut crystals and high-quality glass.
Swarovski Kristallwelten, where all things dazzle and shine
Through the decades, Swarovski has transcended the jewellery and fashion industries, widening the circles it moves in. Today, the label is recognised across the globe even in architecture, interior design, and art. Certainly, Swarovski brings with it a brilliant piece of Austrian heritage and ingenuity each time it opens a store outside of the country.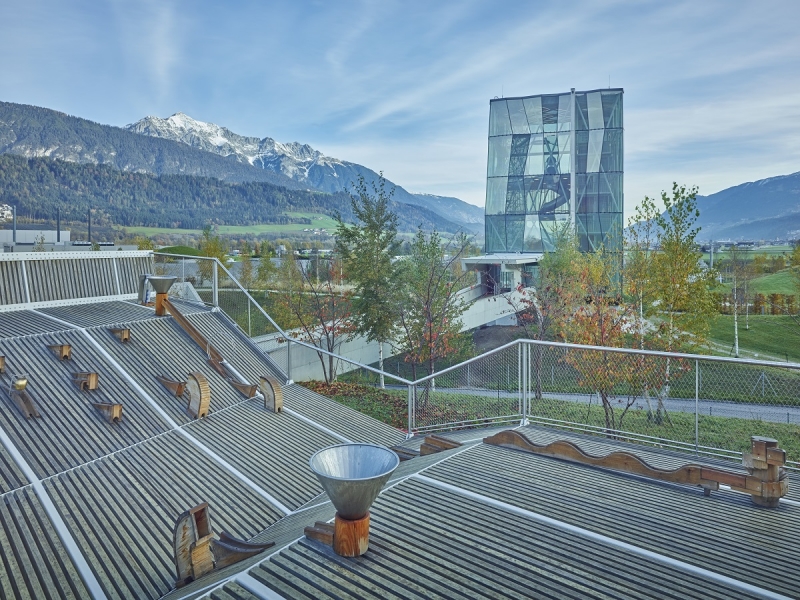 In 1995, Swarovski proudly presented Swarovski Kristallwelten or Swarovski Crystal Worlds in Wattens, Austria to the public in celebration of its centennial anniversary. A museum, exhibition centre, and outdoor theme park rolled into one, Swarovski Kristallwelten sits on a property that covers around 2,000 square metres. Set against its sparkling attractions are the Austrian Alps — truly a sight to behold. The convergence of natural wonders and the glittering masterpieces at Swarovski Kristallwelten makes it a must-visit for travellers touring in Austria. Read on to know more about the sights that await once you step inside the magical multiverse of Swarovski.
What you'll see
1. Crystal raindrops and a lush labyrinth at The Garden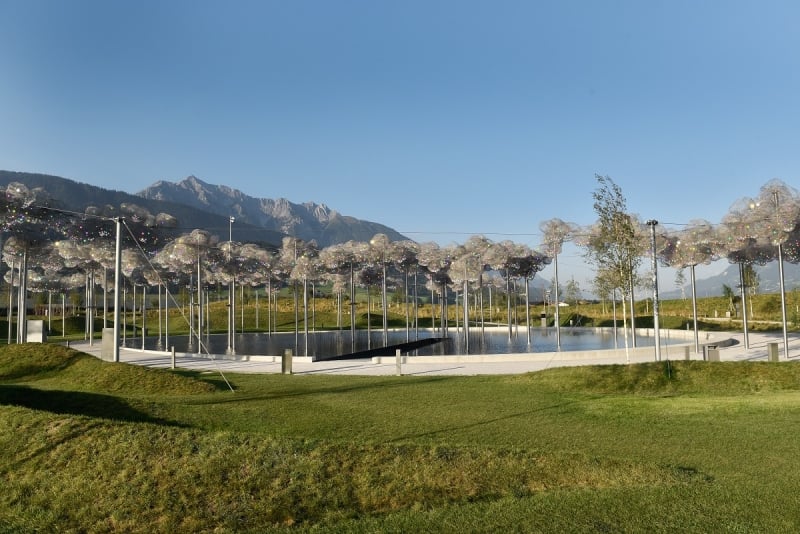 Among the main attractions of Swarovski Kristallwelten is The Garden, which is found at the realm of The Giant and is home to many other sights. Essentially, The Garden is a landscaped park that is dotted with several contemporary art pieces and interactive exhibitions for visitors of all ages. Its 7.5 hectares are dedicated to giving guests a walkable, holistic tour of the Swarovski range as a lifestyle brand, while also showcasing the great Alpine outdoors.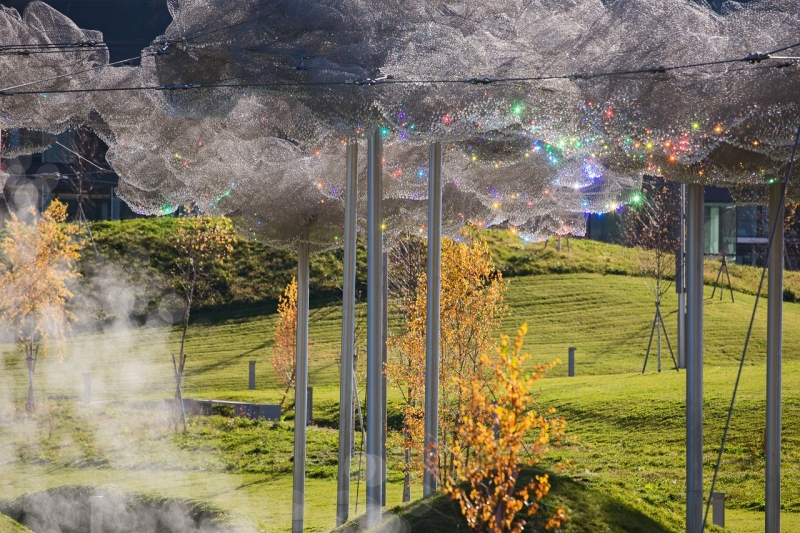 A collaboration between artists Andy Cao and Xavier Perrot, the Crystal Cloud & Mirror Pool looks as mystical as it sounds. With more than 800,000 hand-mounted crystals, you can just imagine how ethereal it is in person. Picture this: tufts of clouds shifting from white to grey that are made more eye-catching with colourful lights and the radiance of nearly a million Swarovski crystals. Below, a glass pool invites viewers to take a closer look, its black mirror surface at once mysterious and inspiring.
Children and kids at heart will also find amusement in The Garden's Playtower, Playground & Labyrinth. The Playtower offers a wide range of age-appropriate physical activities such as climbing, swinging, and sliding for children four years old and above. This gives parents and guardians the chance to lounge around and unwind while the children have their fun. Toddlers may be accompanied in the Playground and the Labyrinth, a hand-shaped hedge maze designed by multimedia artist André Heller.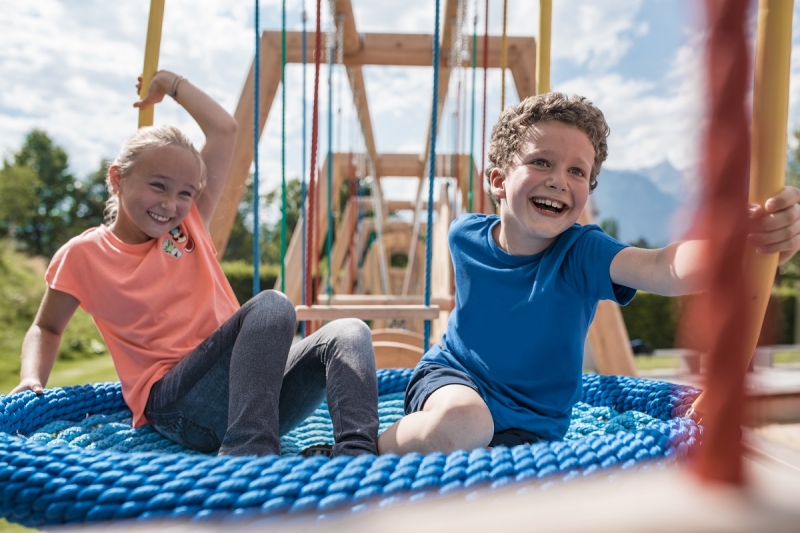 History buffs will surely get a kick out of Swarovski's Roman Excavations. In 2014, extensive reconstruction work gave way to the discovery of ancient wall remains and 702 pieces of Antoninianus or Roman silver coins found within the Swarovski Kristallwelten property. After almost 2,000 years of being buried underneath the earth, the items are now on display.
Other things you can check out at The Garden are the art pieces and the Arrivals Building, a structure that welcomes guests with its many white birch tree trunks.
2. A giant with a penchant for the world's treasures
Often referred to as Swarovski Kristallwelten's thematic centrepiece, The Giant is another one of multimedia artist André Heller's masterful works. Being the entrance to the Chambers of Wonder, The Giant is difficult to miss. It's the enormous green head that serves as both gateway and tourist attraction. Pristine waters flowing from the giant's head make the sight even more majestic.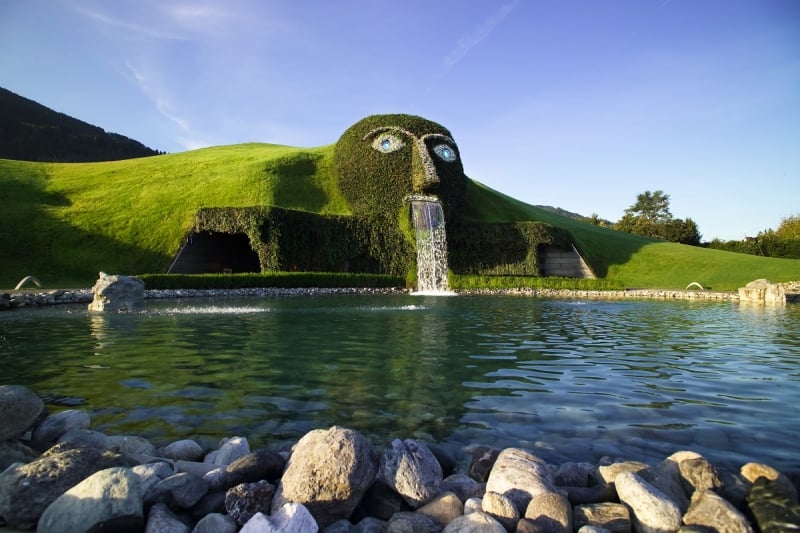 Heller also crafted a story to go with the colossal artwork: Once upon a time, a giant set out to explore the world and all its wonders. After collecting treasures, the giant settled in Wattens to stand guard over his hiding place called the Chambers of Wonder. Now all you have to do to see the giant's treasures is to book a visit to Swarovski Kristallwelten!
3. Artful fantasies at the Chambers of Wonder
In the heart of The Giant's realm are the 16 Chambers of Wonder, which house Swarovski's very own collection of precious items. A theme is assigned to each room, which encapsulates the assigned artist's vision and curation. Every chamber is but a fantasy brought to life by Swarovski and the visionaries who took the time to painstakingly design every concept with creativity that knows no bounds.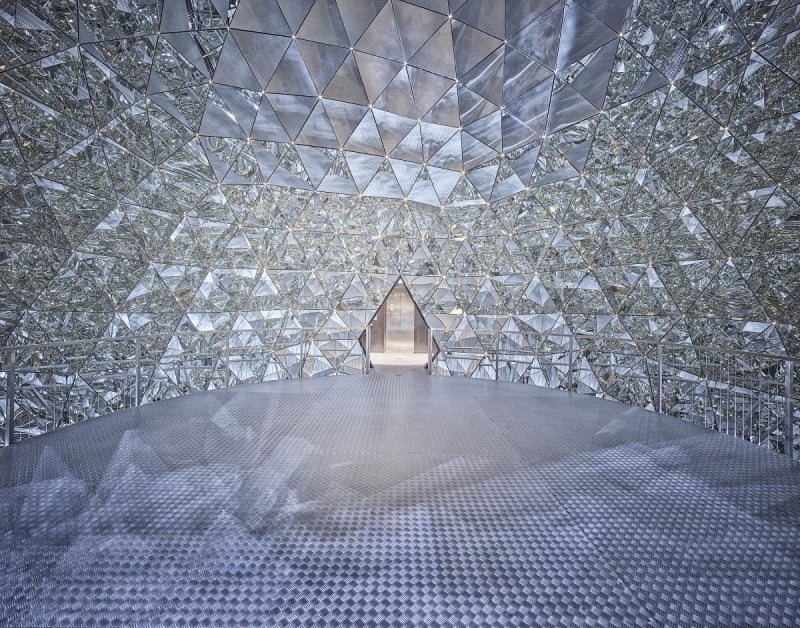 The Crystal Dome, for instance, is a geodesic structure made of 595 mirrors and eight "spy mirrors" that keep hidden treasures out of plain sight. It gives guests a glimpse into what it might feel and look like inside a Swarovski crystal.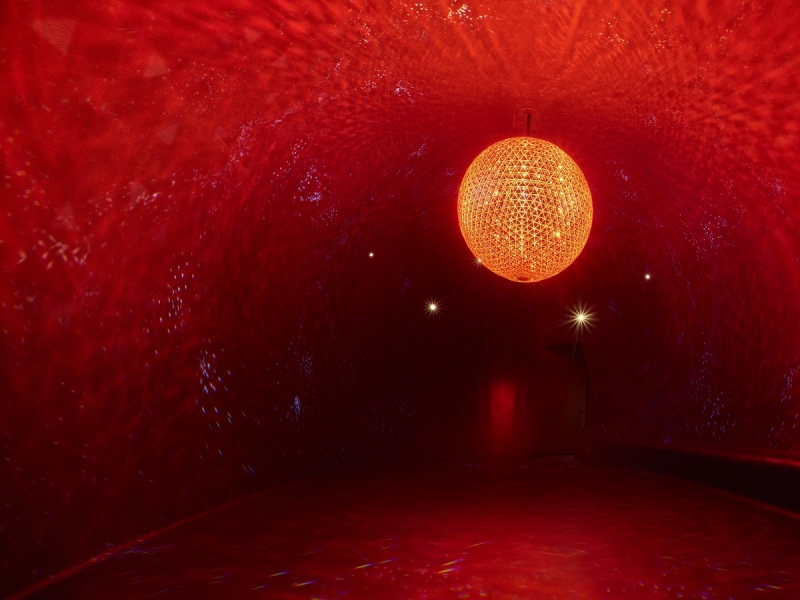 Mexican architect Fernando Romero's installation titled El Sol, on the other hand, is the wonder that's housed in another chamber. The fiery red room "is an exploration of humankind's relationship with the sun" — in Spanish, el sol. The room boasts of 2,880 custom-made Swarovski crystals.
To know more about the other Chambers of Wonder, click here.
What to do
1. Walk around and have your fill of the dazzling attractions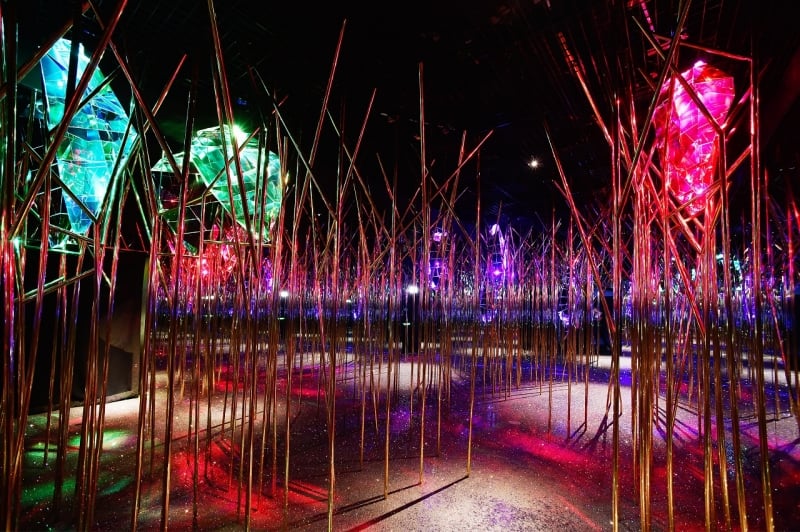 One of the best ways to enjoy the attractions at Swarovski Kristallwelten is to aimlessly wander the grounds while taking in the sights. The exhibitions are so fascinating that seeing them once isn't enough. Ready your cameras to capture every moment, but also be sure to ask which of the artworks can be photographed.
2. Shop to your heart's content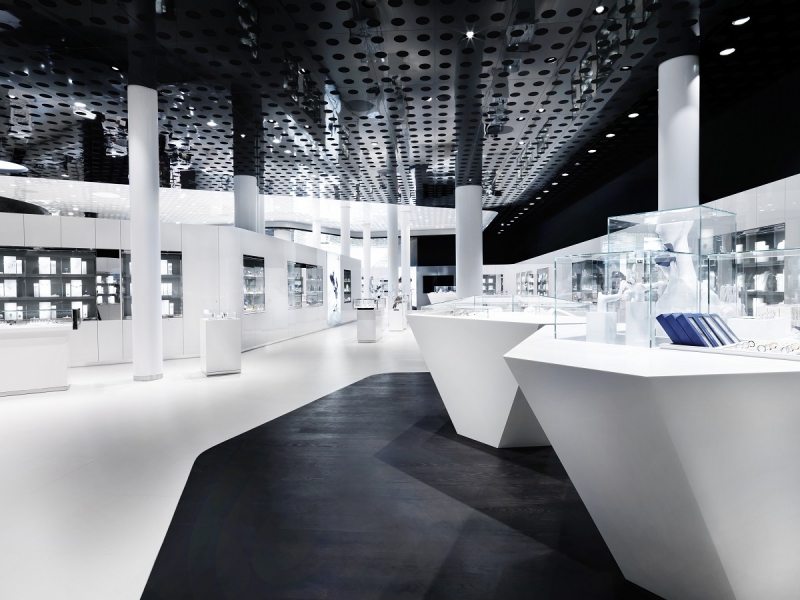 At Swarovski Kristallwelten stores, there are more than just crystals to choose from and bring home. Aside from accessories crafted by Swarovski, Atelier Swarovski, and Swarovski Kristallwelten, there are plenty of glitzy designer pieces for sale under collaborations with Karl Lagerfeld, Versace, and Roberto Cavalli, among others.
And while people always say that diamonds are a girl's best friend, at Swarovski, guys get in on the fun, too. A men's collection and items from Swarovski Optik are also available for any guest's perusal. Those who invest in art may also want to check out which of the pieces at Swarovski Kristallwelten are ripe for the picking.
If you're not looking to purchase anything, you can always window shop. But really, who goes to Swarovski Kristallwelten without even buying a keepsake from the souvenir shop? You should totally do it while you're there! Mark the occasion with a sparkly trinket or a cute figurine.
3. Treat yourself to a hearty meal at Daniels Kristallwelten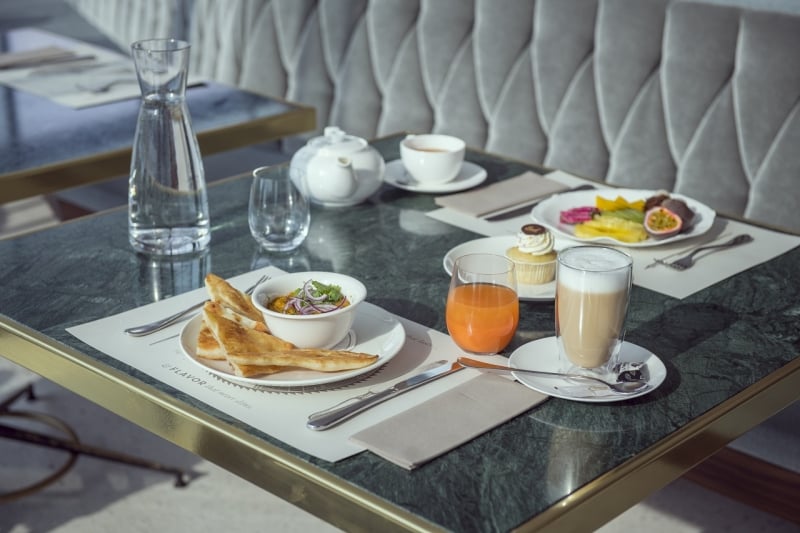 After a full day of exploring, you're bound to get hungry. Luckily, Swarovski Kristallwelten has got you covered with its own restaurant, the Daniels Kristallwelten. With a menu that offers breakfast, lunch, dinner, and drinks, you can bet that the Daniels Kristallwelten can serve all your dining needs. Its menu is a total gastronomic adventure that allows you to choose from international cuisine to regional delights and even seasonal dishes.
If you find yourself eating there on a Thursday, you might want to linger longer for some music courtesy of the Daniels Music Club's resident DJs. The beats drop at 5pm.
Tip: Daniels Kristallwelten is a pretty popular dining place and it's open to all guests — not just those who are visiting the Crystal Worlds. It would do you well to make a reservation in advance. Click here to know more about the restaurant and how you can secure a table. When you're finally enjoying your meal at the Daniels Kristallwelten, sink your teeth into one of their homemade macarons or cupcakes for dessert. You'll thank us later.
4. Be enchanted by sparkling festivals all year round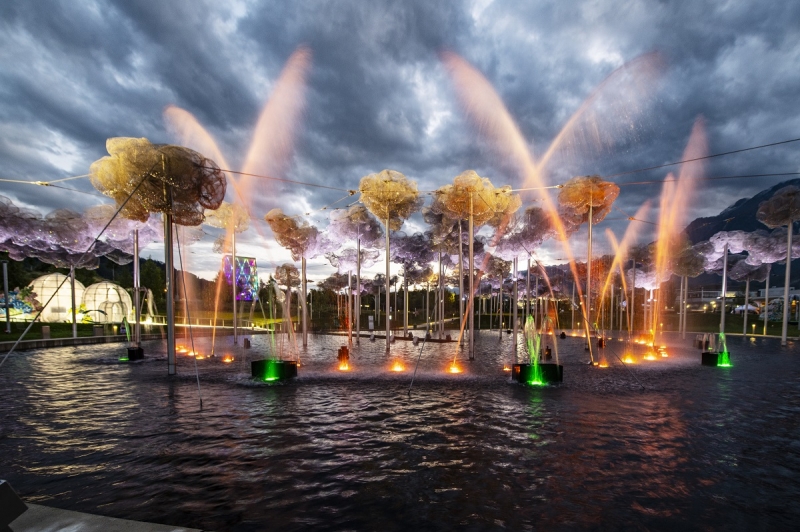 Each season in Swarovski Kristallwelten holds a different kind of magic. From July to end of August, Swarovski Kristallwelten celebrates the season's clear skies and pleasant weather with its very own Summer Festival. Come November, the place begins to transform into a sparkling winter wonderland in time for the Christmas season.
This year, Swarovski Kristallwelten kicks off its end-of-year festivities with a Winter and Christmas Wonderland by Dutch designer Tord Boontje. Beginning 7 Nov 2018, visitors will see magnificent creatures of light scattered across The Garden. Guests will have the pleasure of seeing brightly illuminated figures of their favourite animals amid lush landscaping — something straight out of a fairytale. It could be a luminous moose or an incandescent rabbit; keep your eyes peeled for all the critters you might spot. Boontje's Winter and Christmas Wonderland, along with a traditional 13-metre Christmas tree, will be open to the public until 13 Jan 2019.
Also in line with Swarovski Kristallwelten's winter program is a winter pavilion that aims to give guests a multisensory experience reminiscent of the yuletide season. Visual and acoustic surprises await within a 60 square metre space, which will be open until the end of March 2019.
Swarovski Kristallwelten's winter program will also host a series of kid-friendly workshops like  "A Pumpkin Instead of a Pea" and "A Truly Silent Night" by the end of October. Adults may also join a crystalline workshop on 11 and 18 Nov 2018 and an Advent-themed guided stroll in the Giant's Garden on 16 Dec 2018.
Visitors can witness the lights in Swarovski Kristallwelten come to life every 15 minutes during The Festival of Light from 19 Jan to 18 Feb 2019. The light performance is accompanied by three stories which are told with visual effects and sound. This is a notable treat for animal lovers as the audience will be joined by light figures in the shape of animals. Families with younger children are encouraged to witness this spectacle since the stories are narrated by wildlife creatures such as moose, squirrels, rabbits, and fireflies.
For inquiries, reservations, and a complete list of Swarovski Kristallwelten's winter program, click here.
Indeed, the past decades have been an extraordinary journey for Swarovski. Swarovski Kristallwelten is the brand's warm invitation for people all over to join them on this dazzling adventure and watch its legacy live on.
For more information, please visit Swarovski Kristallwelten official website and Facebook page.
---
Brought to you by Austrian National Tourist Office (ANTO) and Swarovski Kristallwelten.