Before everything else, let's start with an intro, shall we? National Arts Month in the Philippines is an annual event that's been spearheaded by the National Commission for Culture and the Arts since 1991. It aims to celebrate Filipino artists and the Philippine art industry in all its various forms, categories, and genres. In recent years, the Metro Manila art scene has grown rapidly with the abundance of art galleries, as well as international art fairs and auctions. 
If you're an artist or art enthusiast, this is the best time to see some of the most dynamic exhibitions around the Metro! It's brimming with so much creativity, as proven by the number of art events happening in different museums and galleries. That said, here are the top must-see art exhibits in Manila you shouldn't miss this Arts Month 2020! 
Also read: 10 Heritage Tours in Manila That Should Be Under Your Travel Radar
1. Art Fair Philippines

This highly anticipated art show has become an annual tradition for artists and art enthusiasts from Metro Manila and beyond. Since its initial arrival in 2013, Art Fair Philippines continues to showcase the best of Southeast Asia's creative landscape. 
Through the years, it has featured works by different visual artists: from world-renowned interdisciplinary collective teamLab to local sculptor-powerhouse Ramon Orlina. It also furthers its mission to make art accessible through an urban venue — in the Makati Central Business District, no less. Don't miss out on this big event happening from 21 to 23 Feb 2020! 
Address: The Link, Parkway Drive, Ayala Center, Makati
Admission fee: ₱350
2. ALT Philippines

Ten of Metro Manila's leading art galleries have combined creative forces to put together the first-ever ALT Philippines. It's happening this 13 to 16 Feb 2020! With its theme "The Art Show Reframed," it will present works of over 150 contemporary artists. 
Prepare to be amazed by some of the most exciting and innovative local visual artworks — from top veterans to up-and-coming visionaries. Each of the featured galleries has come up with a carefully curated concept for their space. With such an exploratory format, visitors can expect a fully immersive and engaging art experience. 
Address: SMX Convention Center Aura, SM Aura Premier, 26th Street corner 1630 McKinley Parkway, Taguig
Admission fee: ₱250 for regular pass; ₱150 for students
3. Metropolitan Museum of Manila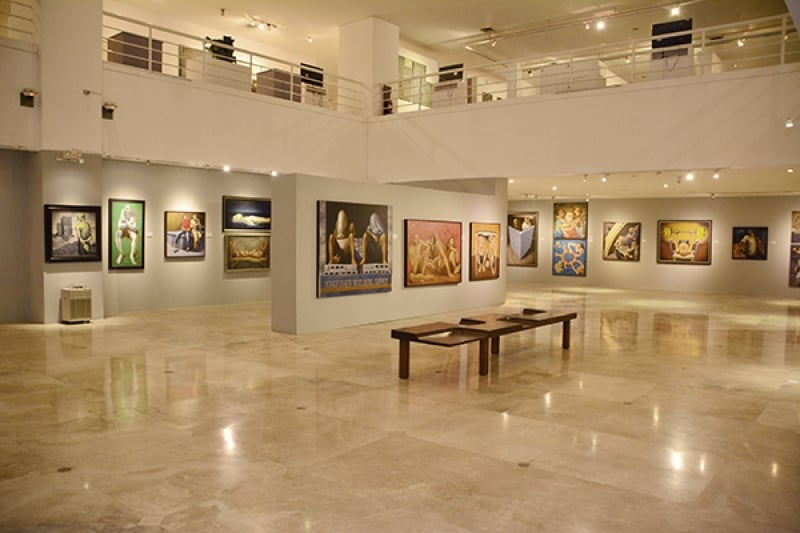 In case you didn't know — yes, we have our own version of a Met museum. The Metropolitan Museum of Manila is the country's premier museum for modern and contemporary visual arts by local and international artists. The second-floor gallery showcases its permanent collection featuring the likes of 19th-century painter Félix Resurrección Hidalgo and National Artist Benedicto Cabrera (A.K.A. BenCab).
The first floor contains the international art collection and temporary exhibits. The Met's ongoing international show is titled Arte Povera: An Italian Landscape. It features works by 12 Italian artists, capturing the history of this contemporary art movement from the 1960s to 1970s. Meanwhile, the local exhibit for Arts Month is called Cue from Life Itself, which opens on 7 Feb 2020. 
Address: Bangko Sentral ng Pilipinas Complex, Roxas Boulevard, Malate, Manila
Admission fee: ₱100 on Monday and Wednesday to Saturday; free admission on Tuesday
4. UP Vargas Museum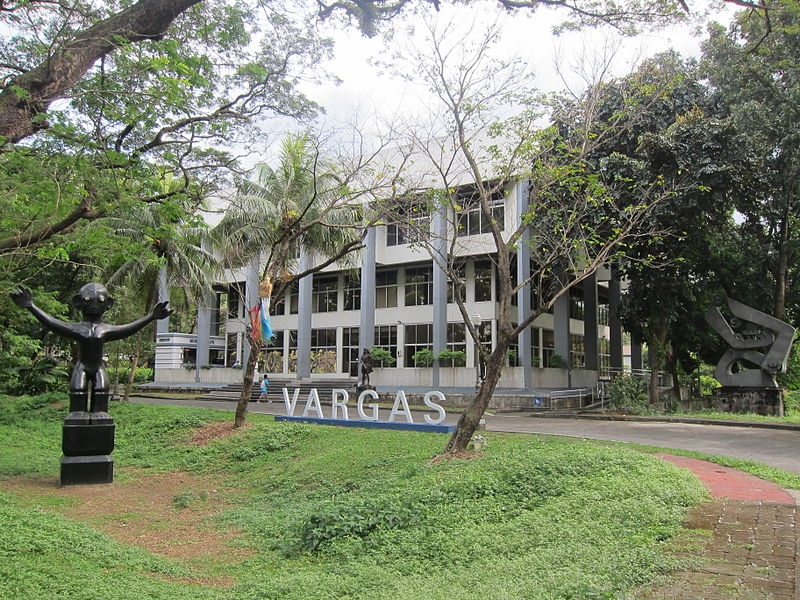 The four-storey Vargas Museum is situated in the University of the Philippines Diliman campus. Its permanent collection features artworks and memorabilia from the 1880s to the 1960s, most of which are donated by Jorge B. Vargas, the country's first Executive Secretary during the Commonwealth period. Surrounding it are several sculptures symbolising the Philippines' pre-colonial past, such as the Lapu-Lapu one in front and the balangay (traditional sailboat) at the back. 
Its ongoing contemporary collection titled Curatorial Development Workshop Exhibitions centres on the idea of 'space': in all its definitions and variations. The curators of this five-man show have put together different art installations. Through photographs, video projections, and sculptures, each curator conveys his/her own interpretation of space. 
Address: Roxas Avenue, University of the Philippines – Diliman, Quezon City
Admission fee: ₱30 for the general public; ₱20 for UP students, alumni, faculty, and employees
Also read: 10 Tour-Worthy Universities in The Philippines You Must Visit
5. Ateneo Art Gallery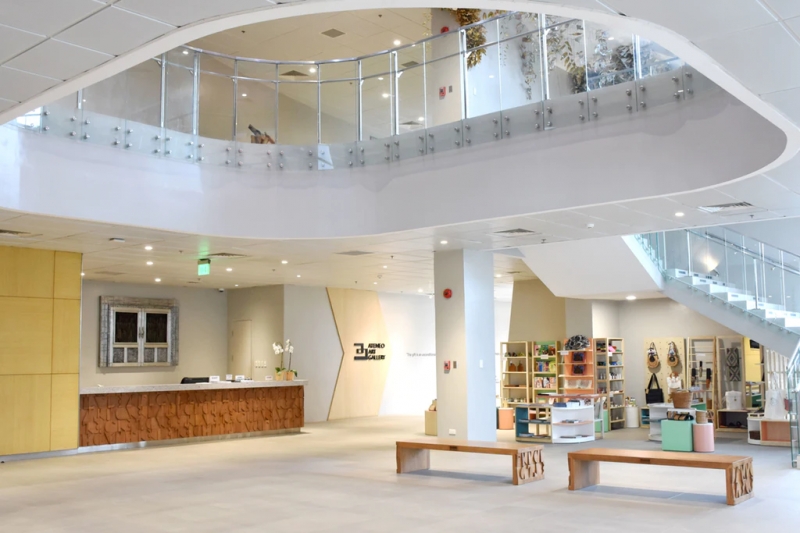 Now housed inside the relatively new Areté building, the Ateneo Art Gallery is the first museum of Philippine modern art. Its permanent collection features works from the post-war era, with distinct styles like neo-realism, abstract expressionism, and post-modern hybridism. Along its massive halls, one can admire paintings by National Artists such as Arturo Luz, Ang Kiukok, and Fernando Amorsolo. 
On the upper floors, you'll find temporary exhibitions for contemporary and experimental art. Yellow Ambiguities features yellow-dominated painting, sculptures, and installations; together, they depict the complexity of this colour in the Philippine context. Not Visual Noise examines the tension between high/low culture and high/low art photography through a series of photographs within the Philippines and Filipino diasporas.
Meanwhile, its newest exhibition, The World According to Charlie Co: Drawings and Works on Paper opens on 9 Feb 2020. It will feature illustrations depicting the artist's life in Bacolod, as well as current environmental and societal issues. 
Address: University Road, Ateneo de Manila University, Loyola Heights, Quezon City
Admission fee: Free
6. Museum of Contemporary Art and Design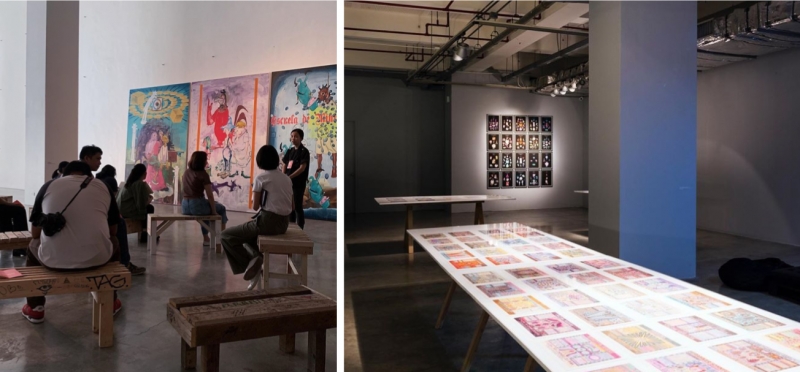 Housed inside the College of Saint Benilde's School of Design and Art, the Museum of Contemporary Art and Design serves as the forefront for Taft's visual arts scene. It aims to make contemporary art as inclusive as it is innovative. Its artworks touch on the historical and socio-political, showcasing the vast ability of technology and new media in influencing modern culture.
Its Arts Month exhibition, Constructions of Truths, delves into the shifting perceptions of reality, thanks to images we encounter every day. It features a series of video projections of the artists' works. These videos encourage the audience to question the authenticity of images — which may or may not be actually closer to fiction than the truth. 
Address: Ground Floor, De La Salle-College of St. Benilde School of Design and Arts, Dominga Street, Malate, Manila
Admission fee: Free
7. MO_Space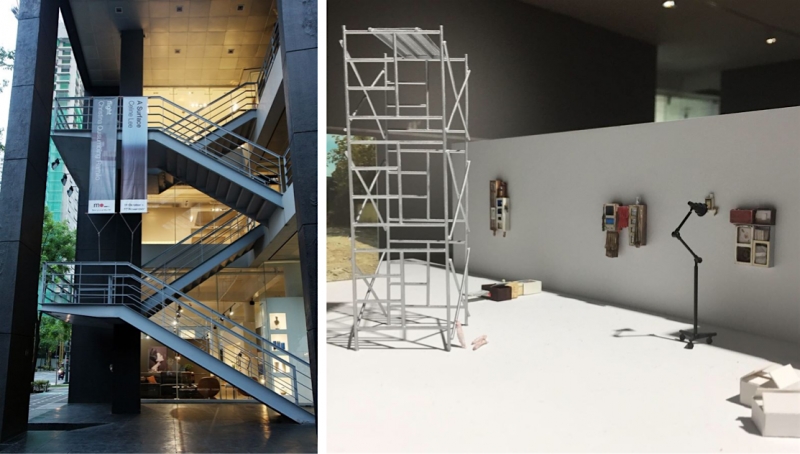 MO_Space is a must-stop, especially when you're strolling around Bonifacio High Street. Situated above a furniture store, this artist-run gallery features ever-changing paintings, sculptures, installations, photography, and videos — all challenging the boundaries of Philippine art.
Its two solo exhibitions for this month will open on 8 Feb 2020. Kitty Kaburo's Residuals is a video installation inspired by the poem Fire and Ice by Robert Frost. It delves into the apocalyptic cycle of structure, inevitable decay, and the eerie aftermath. Meanwhile, Unconscious by Maria Cruz features large-scale paintings depicting the currency of, well, paintings in today's context. 
Address: 3/F MOs Design Building, B2 9th Avenue, Bonifacio High Street, Taguig
Admission fee: Free
8. Artinformal Makati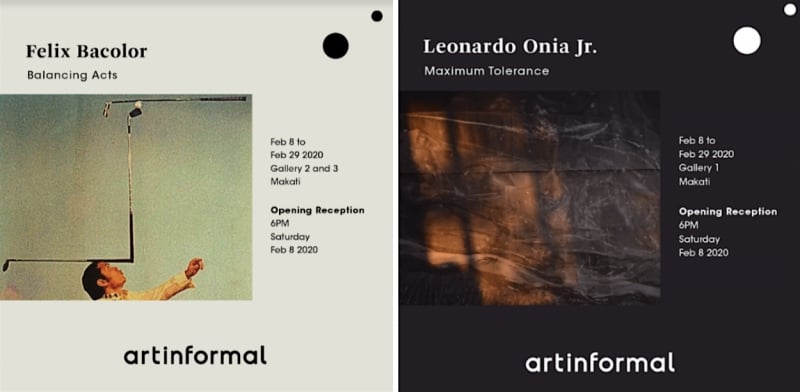 Situated in the vibrant artsy hub that is Karrivin Plaza, Artinformal Makati is an art space that caters to the millennial consciousness. After trying out delicious food from its neighbouring establishments, bask in the quiet company of various contemporary artworks, set amidst the gallery's all-white semi-brutalist interior.
It has two exhibitions slated on 8 Feb 2020. One is Maximum Tolerance, a collection of paintings by Leonardo Onia Jr. The other one is Balancing Acts, a series of video installations by Felix Bacolor, covering different socio-political themes. 
Address: C1 Karrivin Plaza, #2316 Chino Roces Avenue Extension, Makati
Admission fee: Free
9. 1335MABINI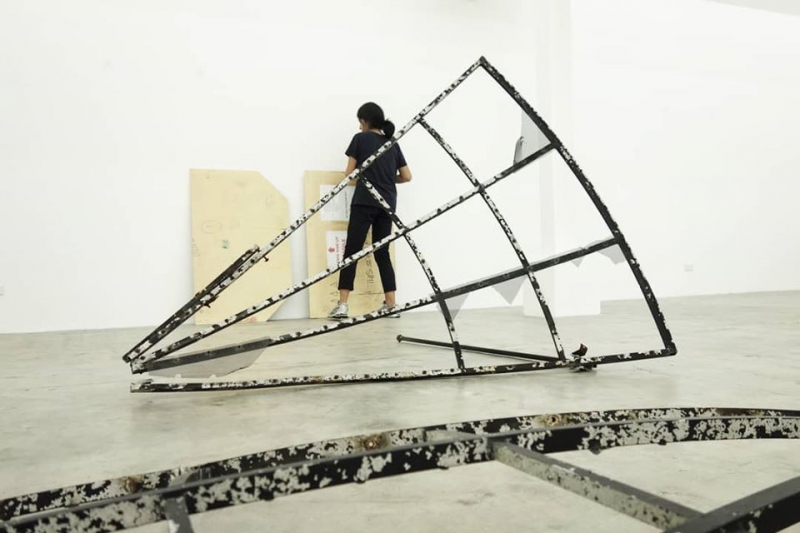 Just right beside Artinformal is the equally enticing 1335MABINI, named after its former address in Ermita. This art gallery in Manila showcases many works by both international and Filipino artists. Some examples of the latter include Poklong Anading and Cian Dayrit.
The ongoing show Untitled Painting #1–∞ centres on the historic Diwata-1, known as the first satellite built and designed by Filipinos. Berlin-educated artist Lizza May David depicts the narrative of an unusual subject: inanimate objects. Her exhibition will run until 22 Feb 2020.
Address: C1 Karrivin Plaza, #2316 Chino Roces Avenue Extension, Makati
Admission fee: Free
10. Silverlens Galleries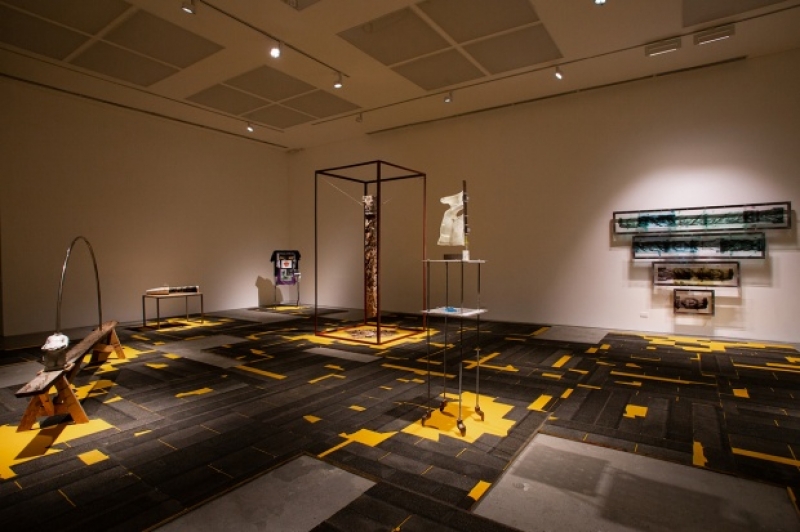 The year was 2004: a time when art galleries in the country were found in either malls or small shops. Silverlens pioneered the concept of warehouse art galleries in Metro Manila. It started out as a small studio for photographic works. Later on, it expanded to showcasing experimental artworks and installations. It is now a full-service gallery with cool facilities like a library, workshop space, private-viewing room, and studios. 
This Arts Month, Silverlens Galleries has five ongoing and upcoming exhibitions. First up is Cosmic Grounds by Eric Zamuco, featuring assemblages made from the most mundane objects that the artist simply stumbled upon — such as a broken vase, termite-eaten pillar, and roof shingles. Sudor by Indonesian painter Syaiful Aulia Garibaldi depicts the landscapes and forms found in microscopic images of sweating human skin. These two shows will run until 15 Feb 2020. 
In A Spectacle of Coming Together, Bernardo Pacquing paints on unusual canvasses like discarded wood and hollow blocks to 'to defy common notions of abstraction.' In Performing My Self-archive, My Other Body: An Autobiographical Installation Art Performance, A Work of Institutional Critique, conceptual artist Judy Freya Sibayan presents an autobiographical archive of her performance art. Meanwhile, Searching Sanctuary features 21 local artists tackling the issue of depleting Philippine rainforests — through paintings, drawings, sculptures and photographs. All three exhibitions will start on 22 Feb 2020. 
Address: #2263 Chino Roces Avenue, Makati
Admission fee: Free
11. Art Underground Manila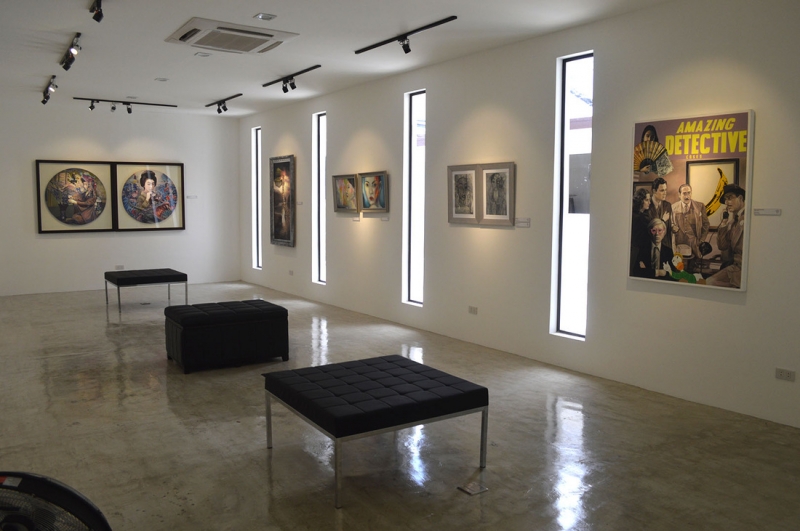 One can find Art Underground tucked away in a quiet side street near the ever-busy Shaw Boulevard. Its featured works reconcile timeless notions with thought-provoking and intriguing artworks of this postmodern age.
This art gallery in Manila has three ongoing shows this Arts Month. In All Things Return to the Sea, Erikson Arcilla conveys, through oil on canvas, the 'sinking realisation' of rising sea levels brought by climate change. Driven by Isadore Lerio juxtaposes tranquillity and chaos through his distinct surrealist paintings that are heavily inspired by the famous Salvador Dalí. Meanwhile, in Portrait of Self, Gelo Narag opens up the conversation on home, self-reflection, and nostalgia — as expressed through his paintings of the three different homes he has lived in. 
Address: #814 Balagtas Street, Barangay Addition Hills, Mandaluyong
Admission fee: Free
12. Arte Bettina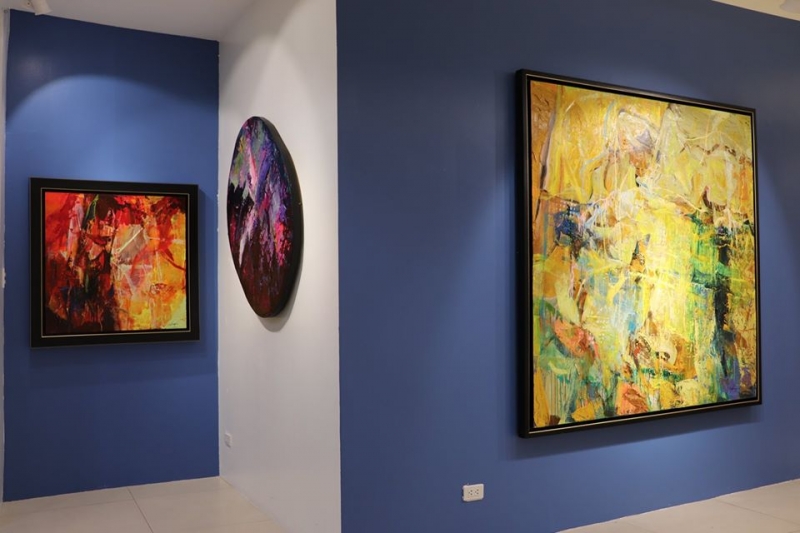 Standing amongst the upscale boutiques of Greenbelt 5, Arte Bettina caters to the burgeoning scene of local art collectors. Appreciate emerging and established Filipino artists' modern and contemporary works mounted on the walls.
Its latest exhibition, Magnificat Opus, opens on 8 Feb 2020 and will run until the end of the month. It places the spotlight on Edwin Wilwayco — one of the pioneers of lyrical abstract painting in the Philippines. He often combines his love for painting and music through his works, which are inspired by the celebrated composer Johann Sebastian Bach. Wilwayco depicts religion and spirituality through a modern abstract style, rather than traditional realism. 
Address: 3rd Level Greenbelt 5, Legaspi Street, Legaspi Village, Ayala Center, Makati
Admission fee: Free
13. Galerie Stephanie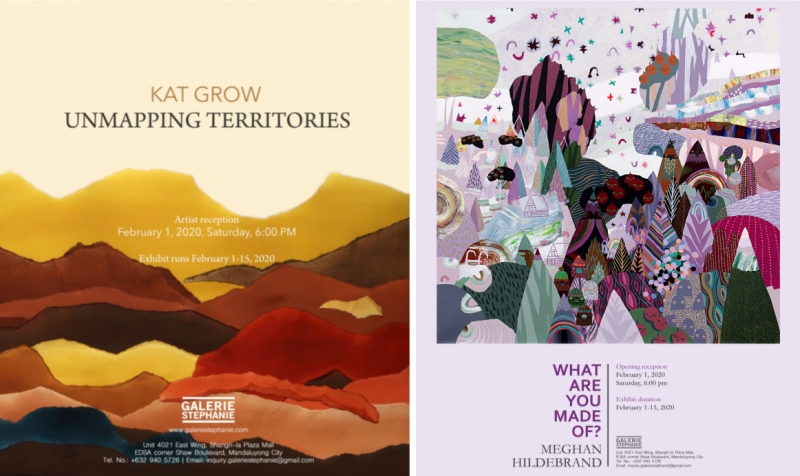 Shangri-La Plaza constantly holds art roadshows that offer a quick respite from shopping. But if you're looking for a quiet space to fully appreciate the art, head over to Galerie Stephanie at the East Wing.
One of its ongoing exhibitions is Unmapping Territories, where watercolour artist Kat Grow depicts identity and lineage, placed within vibrant landscapes in nature-inspired hues. Meanwhile, What Are You Made Of? by Canadian painter Meghan Hildebrand is a child's vivid imagination come to life, with its amalgamation of bright colours, whimsical imagery, and thrilling 'dreamscapes.' Both shows run until 15 Feb 2020. 
Address: 4th Floor East Wing, Shangri-La Plaza, EDSA corner Shaw Boulevard, Mandaluyong
Admission fee: Free
14. Calle Wright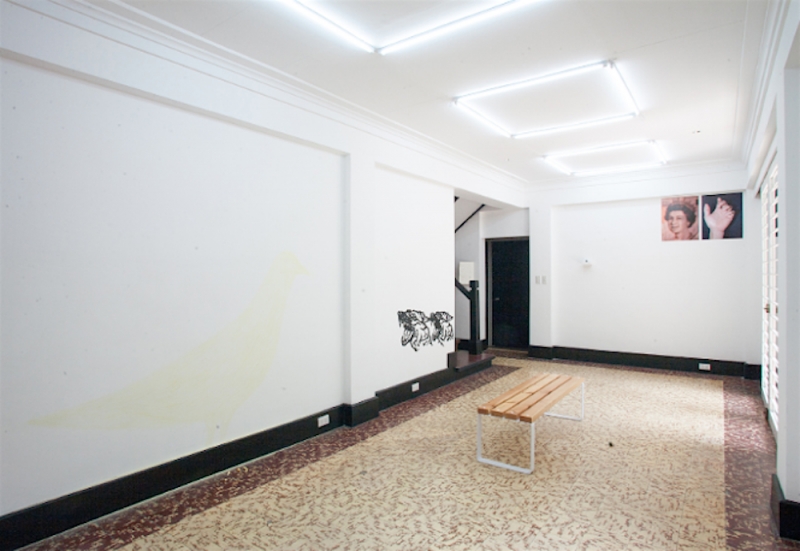 Calle Wright can be found inside a two-storey ancestral house built way back in the 1950s. The owners refer to it as a 'hybrid between a gallery and a museum.' Aside from its interesting location, what sets this space apart are its exhibitions that run for three months! This goes hand in hand with the place's promotion of slowing down and taking one's time, which is how art should be consumed. Another interesting gimmick of Calle Wright is that each featured artist gets to choose the next two to succeed them. 
The next show, which runs from 9 Feb to 9 May 2020, is titled Collecting Space. In a series of collages and installations, Joe Bautista takes us on a journey in time through well-used items — with some parts as early as his humble beginnings, dating back to the 1970s. 
Address: #1890 Vasquez Street, Malate, Manila
Admission fee: Free
15. Limbo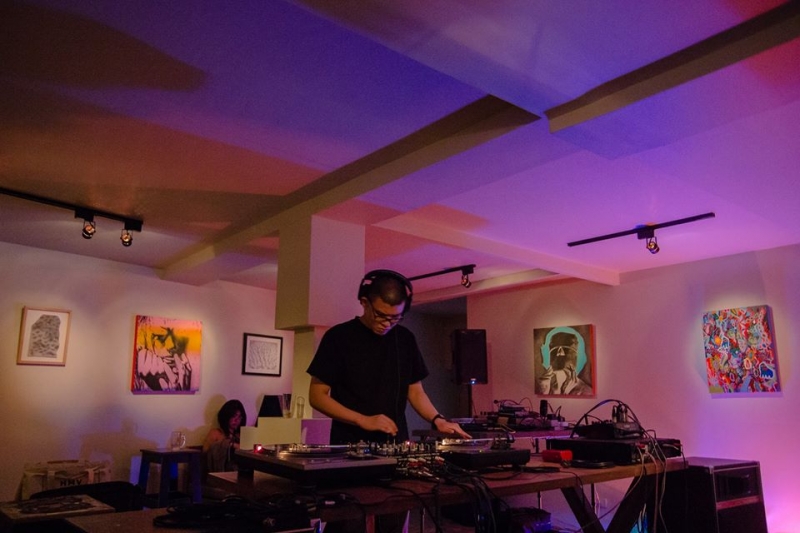 Amidst the countless bar concepts around Makati's Poblacion district, Limbo offers a different experience catering to Metro Manila's niche creative crowd. Grab a drink and take in the impressive works of different up-and-coming creatives. On weekends (and sometimes, even on weeknights), there are DJs playing mixed-genre beats that oddly mesh well with the art-centric atmosphere. 
For Arts Month, this midnight gallery-slash-cocktail bar will showcase different forms of contemporary photography by this month's headlining artists: Gym Lumbera, Neal Oshima, and Rob Frogoso. This photo exhibition starts on 13 Feb 2020. 
Address: #5374 General Luna, Poblacion, Makati
Admission fee: Free
Also read: The New Museo de Intramuros Is Officially Open!
Ready to discover more about the local modern and contemporary art scene? Get #cultured and explore these exciting art galleries and museums in Metro Manila! 
Make the most out of these exciting activities happening this Arts Month! We can't wait to hear and see your stories on art exhibits in Manila after. Don't forget to tag us on Instagram at @tripzillaph, and use our hashtags #TripZillaPH and #MakeTravelHappen!