Contributed by The Jerny
Thailand was our entry point when we went backpacking in four Southeast Asian countries, which covered Thailand, Malaysia, Singapore and Indonesia, for 10 days by land.
People would always mention that travelling is expensive. Yes, it could be expensive but with proper budgeting and planning, you could make your vacation or travel a worthy one without spending outside the budget. Thailand is one of the cheapest countries in the world and along with its rich culture, history and arts, it's also one of the most visited countries. Our budget for 3 days in Thailand is only ₱3,000+ (US$60+) each.
Also read: Backpacking Southeast Asia: 10 Days in 5 Countries with Just ₱25k (All-In)
Here's our itinerary for three days and two nights in Bangkok, just before heading to Malaysia.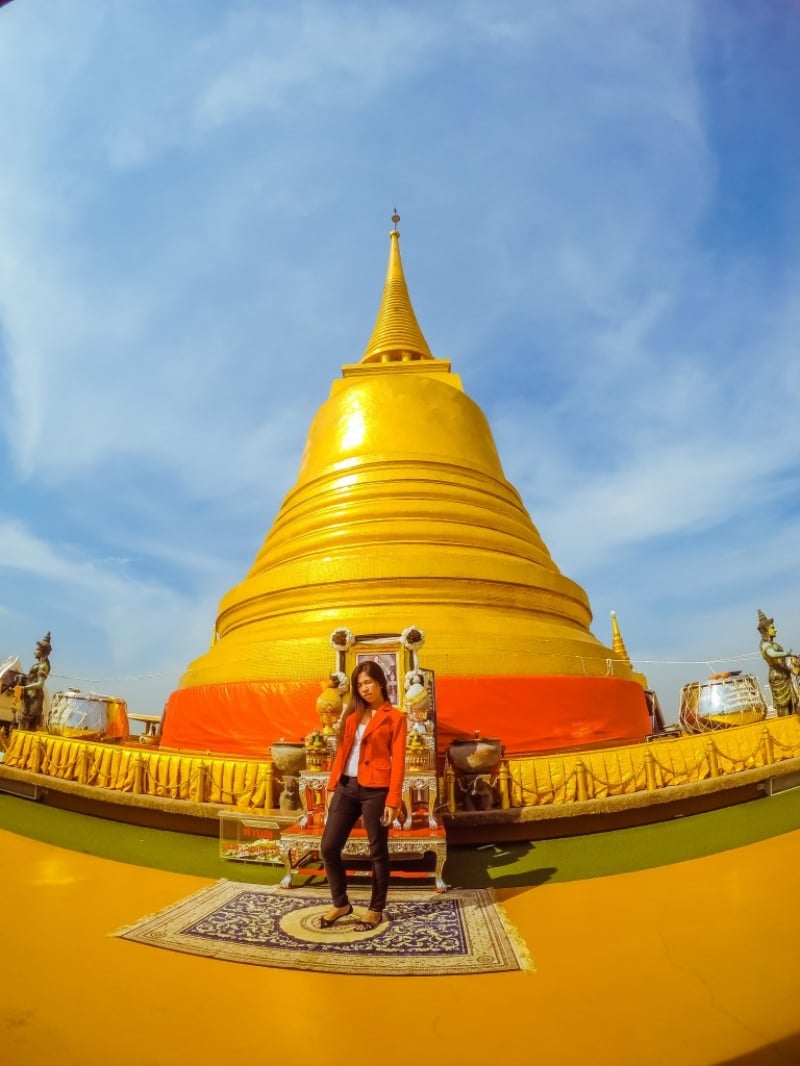 Day 1
12.30am: Arrival at Suvarnabhumi Airport. We stayed in the airport to spend the night until 6am

and bought the Thailand 4G Sim (

฿

49).

6am: Went to Super Rich money changer on the ground floor of the airport to exchange our Philippine Peso to Thailand Baht.
7am: Train to Phaya Thai station (฿45).
8am: Walking tour. Most of these places are just a short walk away from one another.
Democracy Monument
Loha Prasat
Wat Benchamabophit (Marble Temple)
Wat Sunthorn
Wat Saket or Temple of the Golden Mount (฿20 entrance fee)
Wat Ratcha Natdaram Worawihan
Xuantianshangdi Temple
Grand Palace (we didn't go inside anymore)
Wat Phra Kaew
Wat Ratchapradit
City Pillar Shrine Lak Muang
3pm: Tuk-tuk ride to Hua Lamphong Station (฿100)
Hua Lamphong to Sutthisan station (฿39)
Checked in to L.A. Tower Hotel
Sutthisan Station to Hua Lamphong (฿39)
Hua Lamphong to Sutthisan (฿39)
I found out I lost my GoPro when we were in the station on the way to Sutthisan. So I went back to Hua Lamphong to check if I left it somewhere there. I went through all the stops we had and found nothing. Luckily, it was just at the ticket counter and they gave it back to me! Apparently, I left it after inquiring about our possible tickets to Padang Besar for Malaysia. Thank goodness!
7.30pm: We had dinner at Mexicano Restaurante Authentico where the meals are just sumptuous! Don't forget to reserve your seats for dinner.
Sutthisan Station to Sukhumvit (฿25)
Sukhumvit to Sutthisan (฿25)
11pm: Back to the hotel.
Food cost: ฿303 for two
Day 2
11am: Yes, we started our day at this time.
Sutthisan to Hua Lamphong (฿38)
Metered taxi from Hua Lamphong to Wat Arun (฿105)
Wat Pho (฿100 entrance fee)
Wat Arun (฿50 entrance fee)
Two-way Chao Phraya River Ferry river crossing (฿8)
6pm: Metered taxi from Wat Photo to Hua Lamphong  (฿65)
Hua Lamphong to Sutthisan (฿39)
7pm: Swimming at the hotel
9pm: Sutthisan to Hua Lamphong (฿39)
Metered taxi from Hua Lamphong to Khao San Road (฿65)
Taxi from Khao San Road to Hua Lamphong  (฿60)
Hua Lamphong to Sutthisan (฿39)
11pm: Back to the hotel
Food cost: ฿449.50 for two
Day 3
9am: We bought some items in the market
Sutthisan to Chatuchak (฿23)
Chatuchak Market
Chatuchak Park
11.30am:
Chatuchak to Sutthisan (฿23)
Check out from L.A. Tower Hotel
12pm: Tour with our backpacks
Sutthisan to Hua Lamphong (฿39)
Booked our tickets and waited for the train to Malaysia
3.10pm: Departure of sleeper train to Padang Besar, Malaysia
Food cost: ฿315 for two
Our travel tips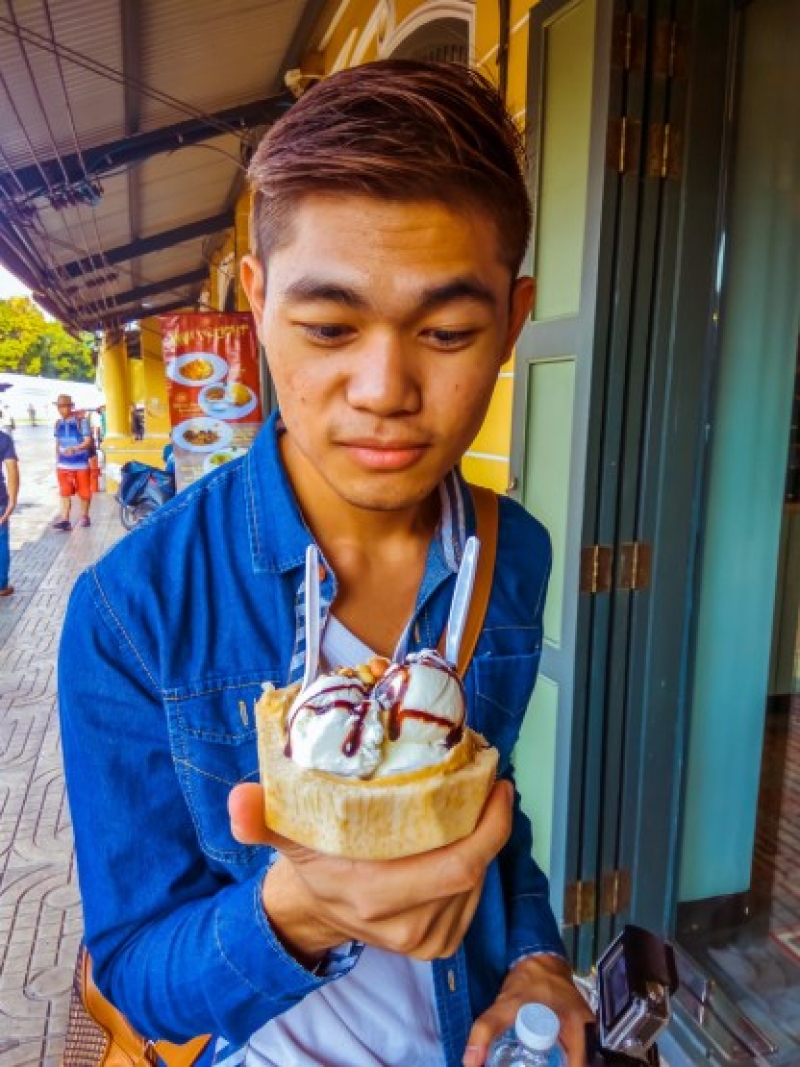 Eat like a local. The best way to save money in Thailand is by eating local street foods, desserts and drinks.
Do more research on places to go and what to do in Bangkok. You'll find that there are even more things not mentioned here.
Accommodations in Bangkok are cheaper than in the Philippines. Our hotel only costs ฿750 (₱1,200) per night with amenities such as swimming pool, king-sized bed, hot and cold shower, etc.
Taxis are cheaper than tuk-tuk. Tuk-tuks are good for the experience, but not for everyday commuting (at least for us).
If you love to drink, make use of the "happy hour" in some restaurants. We didn't do this personally but it's a good thing to remember.
Don't book tours. It's more fun when you discover a place yourself. We were able to see some of the temples as the result of long walks and visits along

the streets.

Use apps like Google Maps or Maps.me. They will definitely help in navigating a place. This is how we knew where to go and were able to explore parts of Bangkok.
Exchange your Philippine Peso to Thailand Baht at the Suvarnabhumi Airport. Super Rich money changer is located on the ground floor and it offers the best exchange rates.
Buy a 4G Sim Card at the airport for data and map navigation in case you don't have offline maps. Make sure your phone is "open line".
There are still many places to visit in Bangkok. I think we walked more than 10,000 steps on our first day and for me, it was a great way to start our Bangkok tour. We really didn't have any idea where to go then. I just said that we go ahead and find out for ourselves. Google Maps was our best friend during that time. We walked with our bags strapped on so it was an extra challenge. We even went to unfamiliar places, like the smaller streets with residential houses, just to make a shortcut. It was crazy yet fun!
Also read: South to North Thailand in Two Weeks for Only ₱17,000
If you have any questions, feel free to comment or send us a message on our Facebook page.