Contributed by The Jerny
Asia is full of wonders! There's just too much to do and we only have a limited time to do all of the things on our lists. We only had nine days to squeeze everything in for our DIY trip to Thailand, Malaysia, Singapore and Indonesia without sacrificing too much of our budget.
A limitation of ₱30,000, or roughly $600, budget was set for this trip without compromising comfort, privacy and food for me and my partner.
On this itinerary, I'll show you how we made our nine-day backpacking trip across Southeast Asia. We started in Thailand, then headed next to Malaysia via train, moved to Singapore via bus, sailed to Indonesia for a day trip and went back to Singapore before flying to the Philippines, the most beautiful country of all.
Also read: Backpacking Southeast Asia: 10 Days in 5 Countries with Just ₱25k (All-In)
First things first, make sure to renew your passport six months before it expires, else your travel plans will be invalidated. Go to the nearest DFA office to renew it. Book return tickets and accommodations prior to leaving the country for a higher chance of not getting offloaded. As for hotels, we booked ours via Agoda.
Also read: A Guide to Renewing Your Philippine Passport
Immigration tips
Before even getting to those countries, of course, one has to pass through immigration. We've heard several horror stories about this part of any travel but don't let it stop you from exploring. Some frequently asked questions will most likely be:
How many days are you gonna be in –insert country here-? Just be honest.
When are you coming back? Tell them your flight schedule back to the Philippines. So it's better if you book roundtrip flight tickets early on.
Where are you going to stay once you're there? Show them your accommodation documents. If staying with a friend, show them the address or the map.
Do you have a companion travelling with you? Girlfriend, boyfriend, best friend, relatives, etc.
What's your job/business? How many years have you been working in the company? Just tell them the truth. Office jobs are more likely to be accepted instantly. Freelancers, however, are being questioned more. Tell them everything they need to know especially if it's your first out-of-the-country trip and just be confident in answering the questions.
People who have passport stamps from before usually gets easier interviews in the immigration. Whatever your reason for leaving the country is, just put a smile and be confident every time. Some officers would really ask you questions pertaining to what type of work you do, how much money do you have, if can you support yourself outside the country, etc. because they need to know if you're going back to your home country.
Also read: How to Avoid Getting Offloaded in Philippine Airports
Major expenses
Flight tickets via Cebu Pacific:
Manila to Bangkok – ₱1,494.88
Singapore to Manila – ₱3,680.55
Philippine Travel Tax: ₱1,620
Accommodation:
L.A. Tower Hotel, Thailand (two nights) – ₱1,849
Hotel Excel Inn, Malaysia (one night) – ₱600
Backpackers Travelers Inn, Malaysia (two nights) – ₱1,394.92
Amrise Hotel, Singapore (two nights) – ₱3,240
Ferry from Singapore to Indonesia: ₱3,078.74
Itinerary
Day 1: Thailand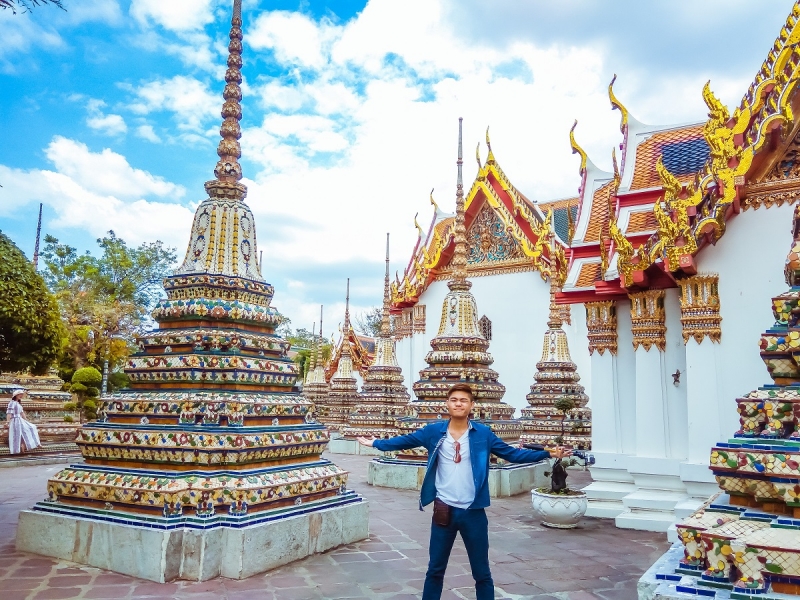 12.30am: Arrival and start of overnight at Suvarnabhumi Airport
Note: Since there are no trains and only taxis are available at these off hours so we decided to stay in the airport for the night.
6am: Went to Super Rich at the ground floor of the airport to exchange our Peso to Bahts
7am: Train to Phaya Thai station (฿45 each)
8am – 2pm: (All by walking)
Democracy Monument
Loha Prasat
Wat Benchamabophit or Marble Temple
Wat Sunthorn
Wat Saket (฿20 each)
Wat Ratcha Natdaram Worawihan
Xuantianshangdi Temple
Grand Palace
Wat Phra Kaew
Wat Ratchapradit
City Pillar Shrine Lak Muang
3pm:
Tuktuk ride to Hua Lamphong Station (฿100 each)
Hua Lamphong to Sutthisan station (฿39 each)
Checked in to L.A. Tower Hotel
I found out I lost my GoPro with me when we were at the station on the way to Sutthisan. So, I went back to Hua Lamphong to check if I left it somewhere there. I went through all the stops we had and found nothing. Luckily, it was at the ticket counter and the staff gave it back to me! Apparently, I left it after inquiring about our possible tickets to Padang Besar for Malaysia. Thank goodness!
7.30pm – 10pm:
Dinner at Mexicano Restaurante Authentico
Sutthisan Station to Sukhumvit (฿25 each)
Sukhumvit to Sutthisan: (฿25 each)
11pm: Back to hotel
Additional expense: Thailand 4G Sim (฿49)
Day 2: Thailand
11am – 5pm:
Sutthisan to Hua Lamphong (฿38 each)
Metered taxi to Wat Arun from Hua Lamphong (฿105)
Wat Pho (฿100 each)
Wat Arun (฿50 each)
Chao Phraya River Ferry river crossing (฿4 each)
6pm:
Metered Taxi to Hua Lamphong from Wat Pho (฿65)
Hua Lamphong to Sutthisan (฿39 each)
7pm: Back at hotel for swimming
9pm – 11pm:
Sutthisan to Hua Lamphong (฿78)
Metered taxi from Hua Lamphong to Khao San Road (฿65)
Taxi to Hua Lamphong (฿60)
Hua Lamphong to Sutthisan (฿39 each)
11pm: Back at hotel
Day 3: Thailand to Malaysia
9am – 11.30am:
Sutthisan to Chatuchak (฿23 each)
Chatuchak Market
Chatuchak Park
11.30am – 12pm:
Chatuchak to Sutthisan (฿23 each)
Check out at L.A. Tower Hotel
12pm – 3pm:
Sutthisan to Hua Lamphong (฿39 each)
Booked our tickets to Padang Besar (฿1,930)
3.10pm: Departure of sleeper train to Padang Besar, Malaysia
Day 4: Malaysia
9am – 12.20pm
Arrival in Padang Besar Station, Malaysia
Malaysia Immigration, ate lunch and exchanged money outside the station
12.25pm: Departure of KTM train from Padang Besar to Butterworth (MYR11.40 each)
2.20pm: Arrival of KTM train in Butterworth
3pm: Departure of bus from Butterworth to Kuala Lumpur (MYR45 each)
9pm:
Arrival at TBS in Kuala Lumpur
Booked a ticket to Johor Bahru from TBS (MYR35 each)
10pm: Departure of Bus 690 from TBS to Pudu Sentral near Chinatown (MYR2 each)
10.20pm: Arrival in Pudu Sentral
11pm: Checked in at Hotel Excel Inn (MYR54)
Note: We originally went to a different hotel but it was already fully booked so we ended up checking in a new one.
Additional expense: Malaysian sim card (MYR8.50)
Day 5: Malaysia
8am: Katsuri Walk
9am – 11am:
Train from Kuala Lumpur Station to Batu Caves (MYR2.5 each)
Batu Caves to Kuala Lumpur Station (MYR2.5 each)
Walked back to Hotel Excel Inn
12pm: Check out from hotel
12.30pm:
Check in at Backpackers Travelers Inn, Chinatown
Explored the areas nearby Chinatown
6pm – 11pm:
Train from Pasar Seni to KLCC station (MYR2.10 each)
KLCC
Petronas Towers
Suria KLCC
KLCC Park
Menara KL (KL Tower)
Bukit Bintang
Walked back to Chinatown from Bukit Bintang
11pm: Back at Backpackers Travellers Inn
Day 6: Malaysia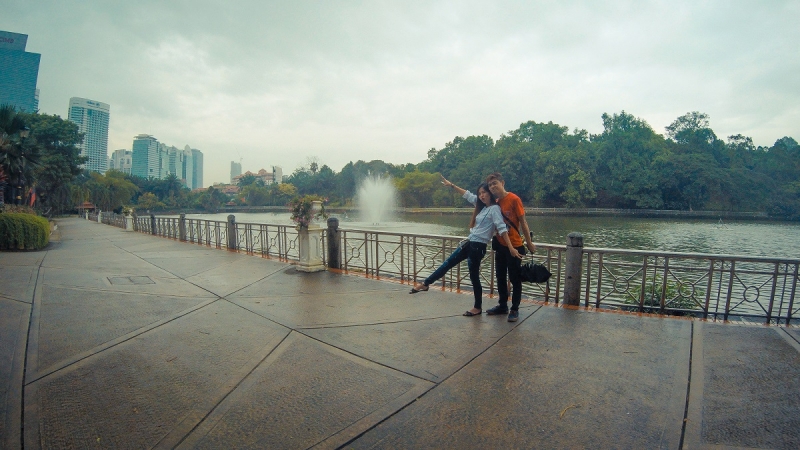 11am – 8pm: (All by walking)
Merdeka Square (Dataran Merdeka)
KL City Gallery
Textile Museum
Botanical Garden
Lake Gardens
Bamboo Playhouse
Amphitheatre at Lake Gardens
It rained hard in the afternoon so we just sat around at the Bamboo Playhouse and waited for the rain to stop.
9pm: We went back to the hotel and walked around Chinatown once more to look for goods.
Day 7: Malaysia to Singapore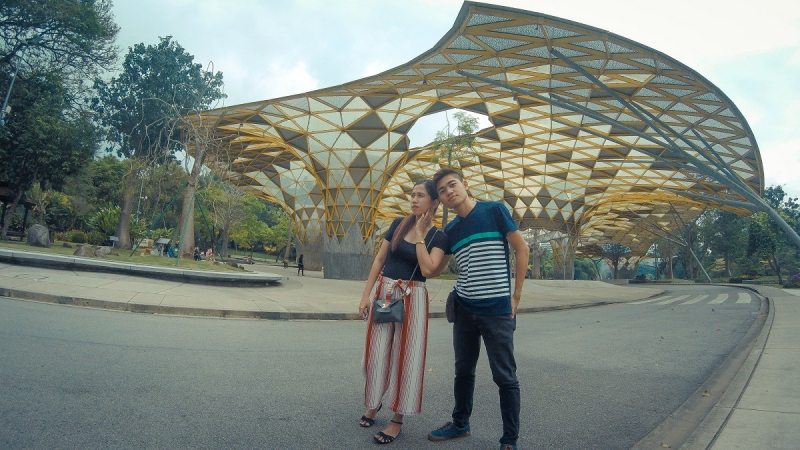 9am – 11.30am:
Walked to Lake Gardens
Planetarium Negara
Stonehenge Replica
Shopping at Chinatown
12pm: Checked out from Backpackers Travelers Inn
1pm: Took bus 960 from Pudu Sentral to TBS (MYR2.50 each)
2.10pm: Departure of bus from TBS to Johor Bahru (JB Larkin terminal) (MYR35  each)
7.20pm: Arrival in Johor Bahru (JB Larkin terminal)
7.40pm: Departure of bus 170 heading to Queen Street, Singapore (MYR2.50 each)
8pm – 9.30pm: Singapore Immigration
10pm – 12am:
Drop off at Sixth Avenue station
MRT from Sixth Avenue to Bugis (S$1.90 each)
Bugis to Aljunied (S$1.60 each)
Walked to and checked in at Amrise Hotel
Also read: Crossing the Malaysia-Singapore Border: My Worst Nightmare
Day 8: Singapore to Indonesia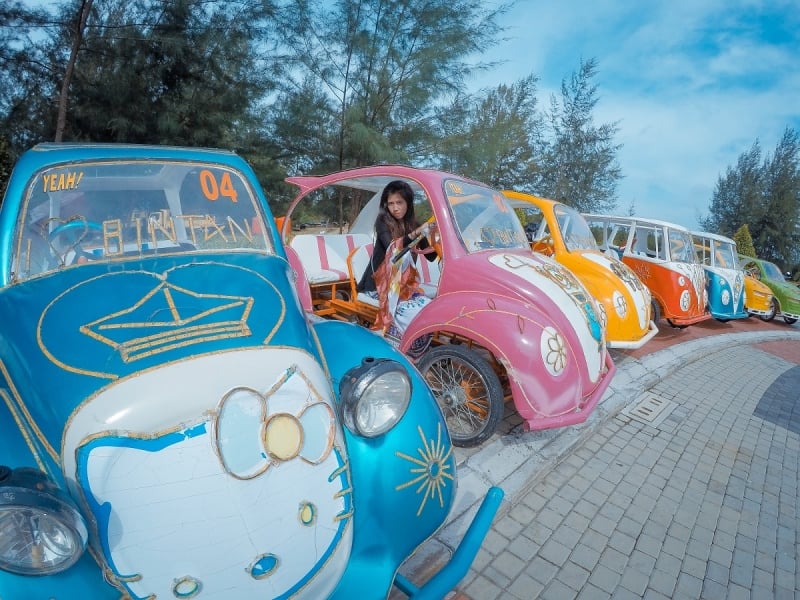 7.30am – 9am:
Aljunied Station to Tanah Merah MRT Station (S$1.70 and S$1.90)
Taxi from Tanah Merah Station to Tanah Merah Ferry Terminal (S$12.50)
Immigration
9.10am: Departure of ferry to Bintan, Indonesia
10.10am: Arrival of ferry at Bintan, Indonesia
There is a money changer at the Bintan terminal and we exchanged our S$50 to Rp440,000.
10.30am – 7pm:
Treasure Bay (Rp100,000 each)
The Canopi
Lagoi Bay (Lagoi Beach)
Lagoi Plaza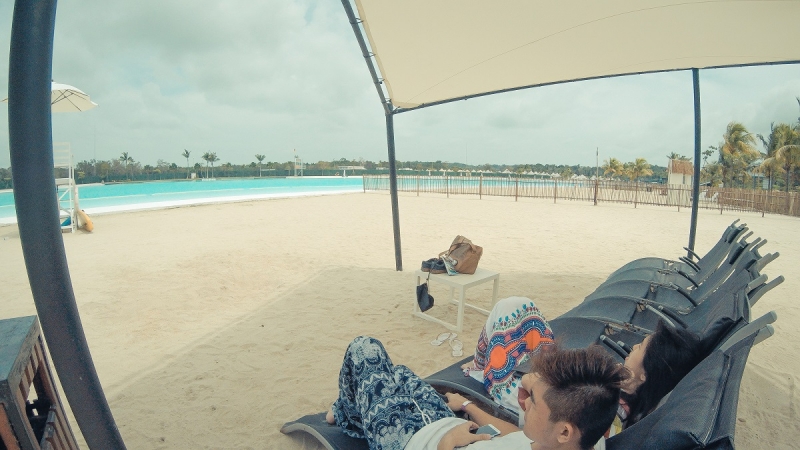 7pm: Checked in at Bandar Bentan Talani (terminal)
8.10pm: Departure of Ferry to Singapore
9.10pm: Arrival of Ferry back at Tanah Merah Ferry Terminal, Singapore
Taxi to from Tanah Merah Ferry Terminal to Tanah Merah MRT (S$8.90)
Tanah Merah MRT to Aljunied (S$1.80 each)
10pm: Back in the hotel
Day 9: Singapore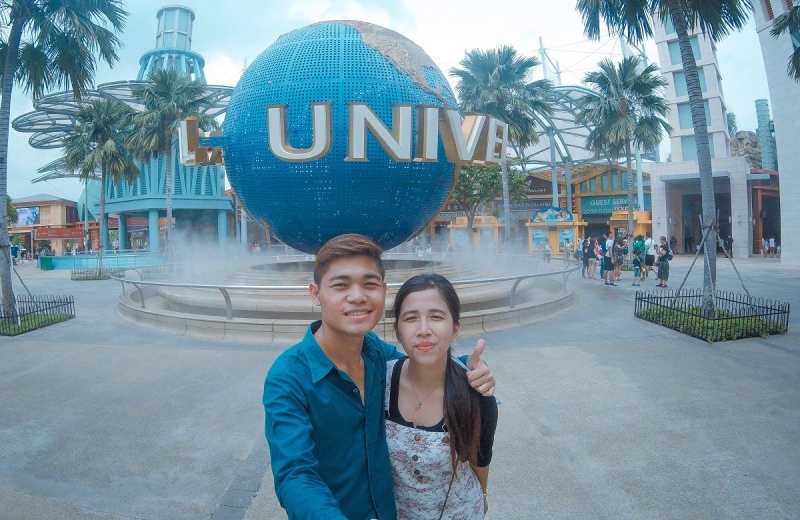 8am: Early check out from Amrise Hotel
Aljunied to Changi Aiport (S$2.10 + S$2.20)
8.30 am: Left baggage at Changi Airport (S$6.40 each bag)
9am – 5pm:
Changi to Marina Bay (S$2.30 + S$2.40)
Lotus Park
Merlion Park
Esplanade by the Bay
Vivo City
Bugis Junction for shopping of cheap goods
Sentosa (S$8 SGD each for day pass)
– Palawan Beach
– Siloso Beach
– Tanjung Beach
– Merlion Sentosa backpacking
– Universal Studios
– Madame Tussauds
– Others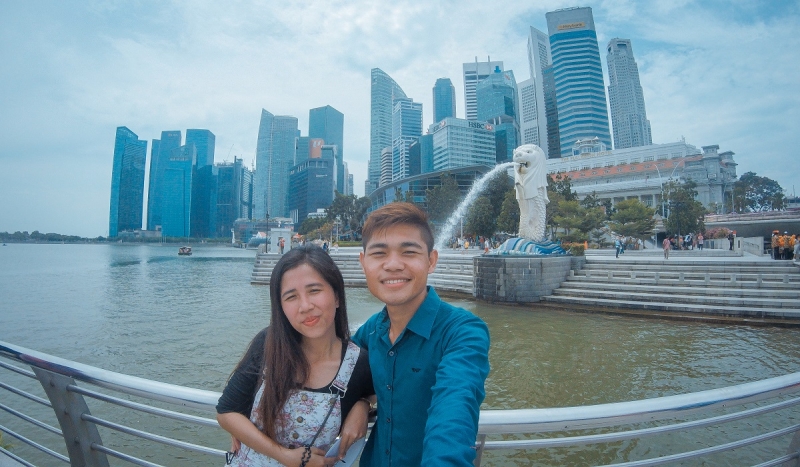 Bugis to Changi airport (S$2.30 + S$2.40)
5.15 pm: Check in at Changi Airport
6.50pm onwards: Departure of plane to Manila
10.30 pm: Arrival in Manila
More notes:
Taxis in Thailand are relatively cheap, while those in Singapore are incredibly expensive.
I only included the costs for the entrance fees and commuting expenses here since food, of course, depends on your own consumption.
If there are no prices indicated on other items here, it means they are free of charge.
This is not a packaged tour.
If you're a couple like us, it's best to book a private room. If you're in groups, it's usually better to book a dorm room wherein the price per head is cheaper.
Also read: Perfect Southeast Asia Backpacking Routes for Filipino Couples