Contributed by Jmademoiselle
We started off our 14-day journey in Bhutan, the "Land of the Thunder Dragon", then passed through Nepal, the only country with a triangle flag, and ended the trip in India, the birthplace of Buddhism. October was a perfect time to visit the Himalayas for clear skies and cool temperatures. The entire preparation lasted for 10 months — from chasing the cheapest airfares to hunting hotels and travel agencies offering the lowest prices. We did everything just to realise our dream of the ultimate barkada trip.
Our sojourn in the three countries was a mix of candid laughter, trite arguments, goofy jokes, surprises, and amusement. It was like we were on cloud nine. So, let me share with you some of our comical photos and the stories behind them.
Also read: 5 Struggles of a Filipino Who Organises a Rare Barkada Trip
Don't take my moment away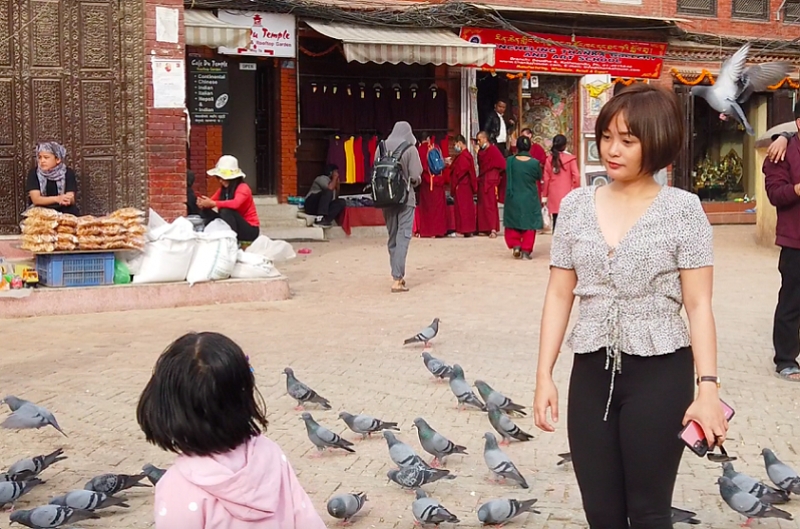 During our trip, my friend Kai always asked me to take slow-motion videos of her using my gimbal. One afternoon, we had a perfect chance with the flock of pigeons around the Boudhanath Stupa in Kathmandu, Nepal. However, just when I clicked play, a child spontaneously went to play at the same spot. Just look at how funny her reaction was after a naive kid just rained on her parade.
After seeing this candid shot, it reminded me of patience. As they say, for everything there is a season. Our goals may not be realised according to our plan, but they're also not impossible with relentless dedication. Life's ebb and flow are inevitable, but how we handle it defines our character. Just like on the image, Kai still managed to give a "hint" of a smile at the little girl despite the fiasco.
Behind those IG-worthy photos is "that friend"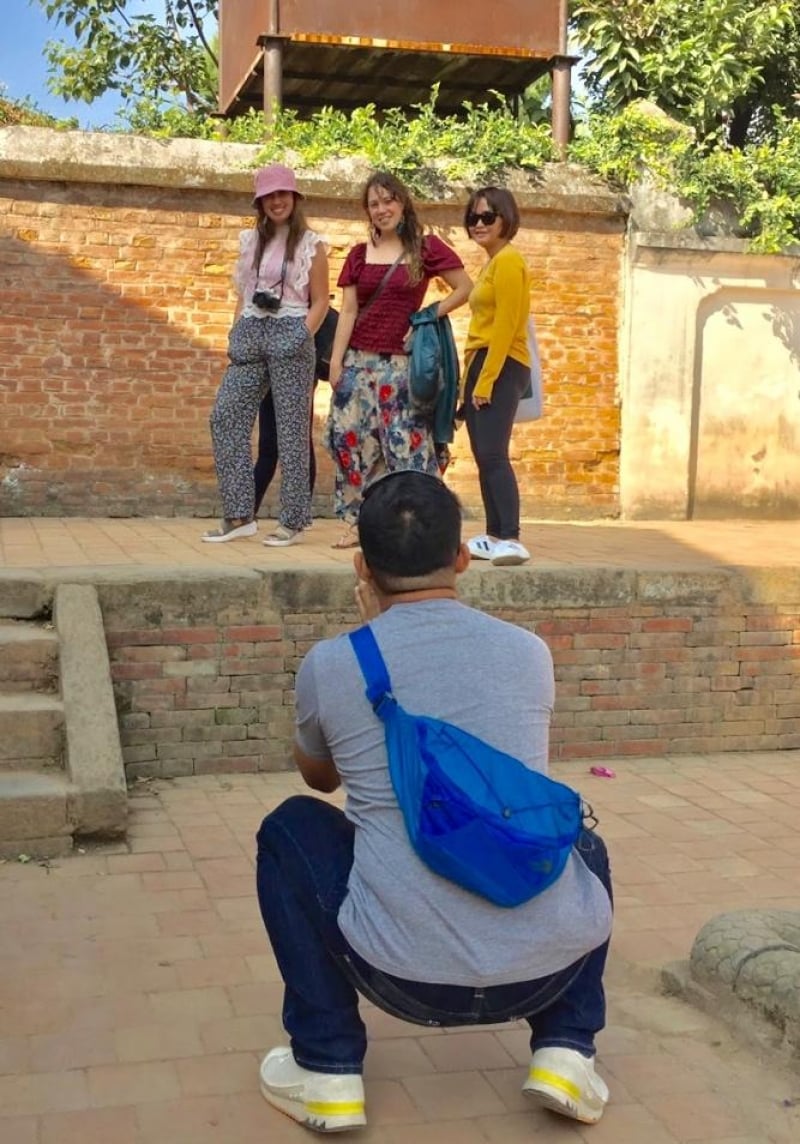 All throughout our multi-country journey, I always caught my other friend June trying hard to take the best photos of his friends. It included bending to the ground just to take the worm's-eye view shot. Hence, let me remind you: Don't ever forget to thank your travel buddies or photographers!
We always have each other's back. That is the gist of these photos. We support our friends from trivial things to the most serious events in our lives, like losing a loved one, encountering challenges in our jobs and going through disappointments within our respective families. That's the kind of friendship that will stand the test of time!
Yolo!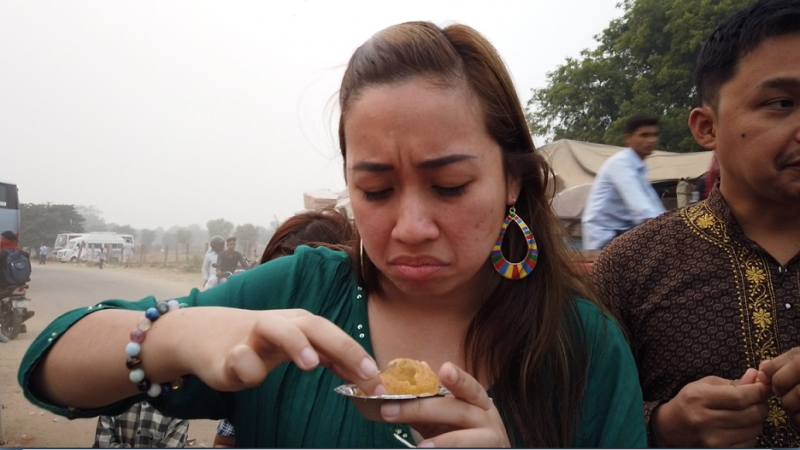 Janine challenged herself to try one of the famous street foods in India called gol gappa, sometimes referred to as panipuri in other parts of the country. It is a round and hollow puri served with a mixture of flavoured water, onion, chickpeas, and other ingredients. I wanted to document it and I'm so glad I did because her facial reaction after the first bite was hilarious (see photo above).
Never restrict yourself from exploring new things. Instead, make it a habit. I have this mindset that goes, "What if I can only visit the place once in my lifetime?" It encourages me to immerse in a foreign culture and make the most out of it. As what Neal Donald Walsch said, life begins at the end of your comfort zone.
Smother her (or him) with new experiences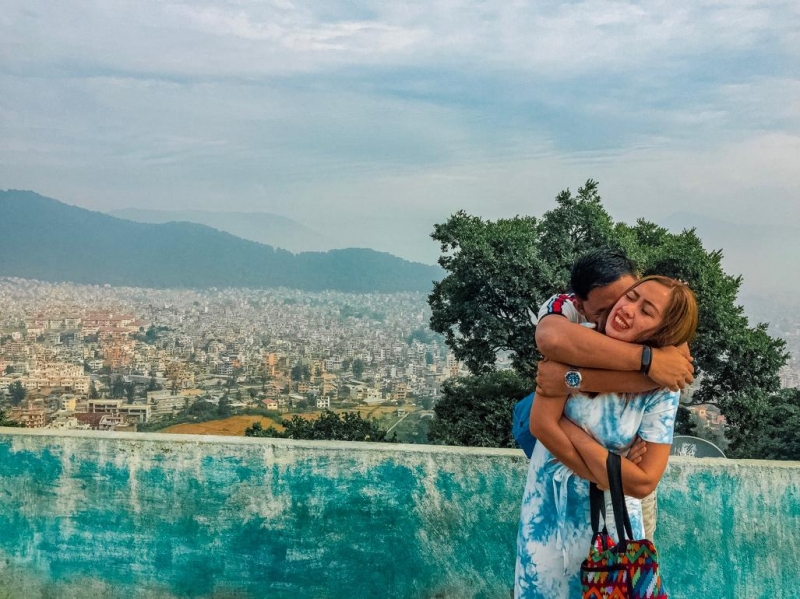 A photo of a couple annoying each other while clearly enjoying the moment of overlooking Kathmandu, Nepal. They have been travelling around the world since they were together. I would call it true "relationship goals". Likewise, for me, I want to collect memories, not things.
Experiences from travelling are timeless treasures. They have positively changed my paradigm in life, pushed me to be more humble, encouraged me to discover things beyond the confinements of my imagination, and amidst the discrimination and inequity I see every day, reminded me that the world is innately good and wonderful.
Also read: Filipino Travel Photos You'll Most Likely See Online
These photos are only snippets of our Himalayan trip but are actual portrayals of the pure bliss we experienced during our adventure.