Bicol Region boasts a wealth of water and land wonders for lovers of the great outdoors. For those particularly interested in a seaside getaway, Bicol's beaches are nothing short of a true tropical oasis. With the region's white-sand beaches and pristine waters home to vibrant coral reefs and marine life, beach lovers can enjoy all sorts of experiences like snorkelling, surfing, and swimming with butanding, the world's largest fish! 
Also read: 10 Must-Visit Snorkelling Spots in the Philippines
Best Bicol beaches for your next tropical getaway
1. Subic Beach – Matnog, Sorsogon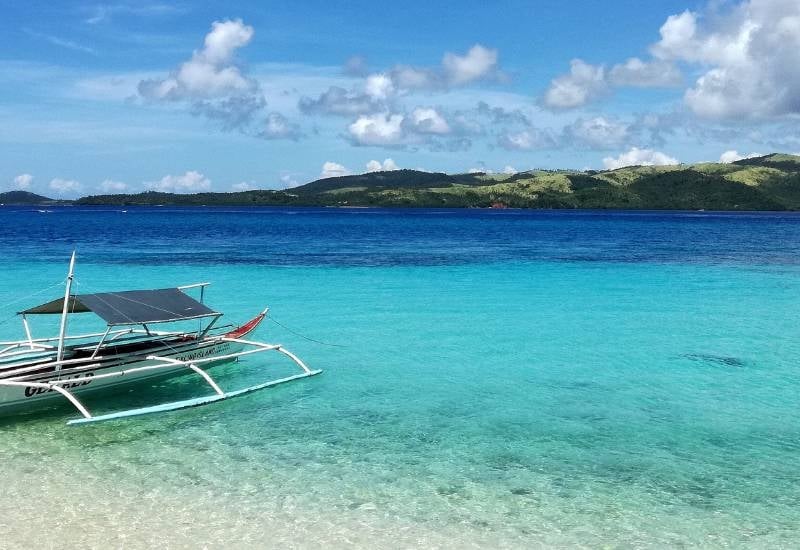 Popular for its pinkish sand, Subic Beach in Matnog has emerged as a unique tropical sight to behold in Sorsogon. Backed by lush greenery and tall trees, it offers a sense of exclusivity for beach bums. Additionally, its calm, turquoise waters make it perfect for a relaxing afternoon dip. Aside from swimming, you can also go snorkelling, boating, boarding, and even camping by the beach.
Also read: The Pink Sand Beaches of Matnog, Sorsogon
2. Bagasbas Beach – Daet, Camarines Norte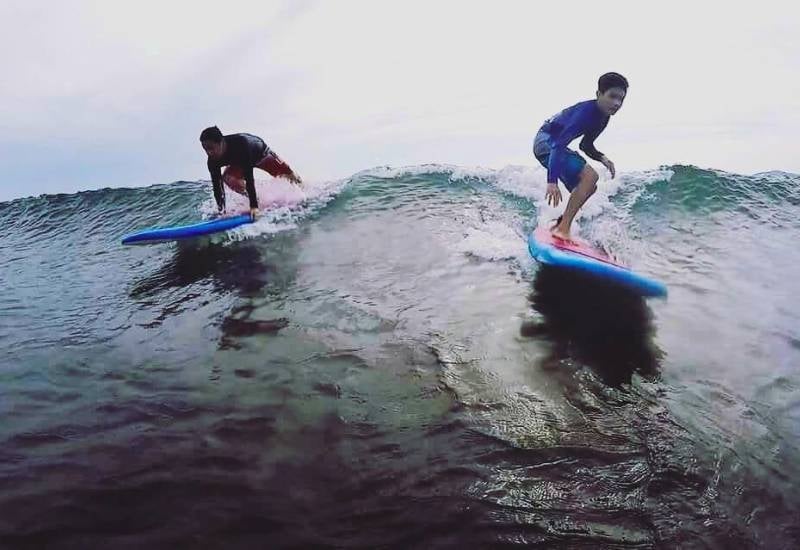 Surfing is definitely what's up at Bagasbas Beach! A top surfing destination in the Philippines, it boasts big and consistent waves rolling in from the Pacific Ocean. Whether you're a beginner or a seasoned surfer, this is one of the most favoured Bicol beaches for an exceptional surfing experience. On top of that, it boasts a quiet and clean environment with fine grey sands — perfect for lazing around! 
Also read: Best Surf Spots in the Philippines & Where to Stay
3. Caramoan Islands – Camarines Sur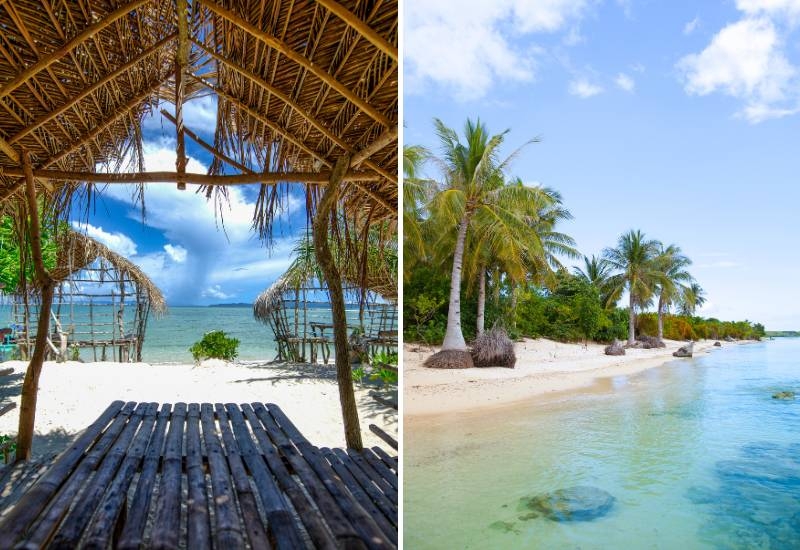 Secretly nestled in Camarines Sur is the quaint peninsula of Caramoan Islands. A coastal paradise teeming with various natural wonders, it features spots for an exciting seaside vacation and nature trip. Lush green hills and mountains, eye-catching limestone formations, and white-sand beaches — there's hardly anything else you could ask for! 
Here, you can enjoy all sorts of thrilling activities like island hopping, hiking, diving, and even caving. Surely, you wouldn't want to miss out on visiting Caramoan Island's main attraction: Gota Beach, popular for its iconic Explorer's Rock landmark. 
Fun fact: Caramoan Islands gained worldwide acclaim and emerged as a popular tropical destination after being featured in the reality TV show Survivor. 
4. Mamangal Beach – Virac, Catanduanes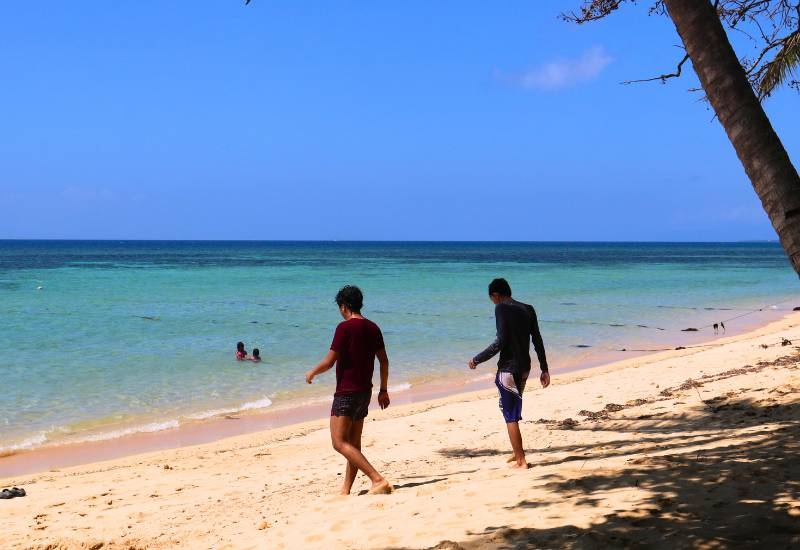 For a laidback seaside getaway in Catanduanes, head to Mamangal Beach in the town of Virac (the biggest on the island). Go beach bumming and picnicking with friends and family along its vast shoreline. Alternatively, if you enjoy water activities, this is one of the best Bicol beaches for skimboarding, snorkelling, and scuba diving. 
5. Ticao Island – Masbate
An unassuming coastal paradise in the Province of Masbate, Ticao Island treats vacationers to a remote and tranquil escape. Moreover, its off-the-beaten-path location, flanked by a blend of emerald and azure waters, offers a respite from the chaos of urban life. 
Ever wondered what it would be like to swim alongside manta rays? Recognised as the Manta Ray Capital of the Philippines, Ticao Island is just the place for that! Not only is it an ideal diving destination, but it's also perfect for an island-hopping trip. Don't miss out on spots like Catandayag Falls, Halea Nature Park, and Borobangkaso Islet. 
Also read: Philippine National Parks & Nature Getaways for Weekend Vacationers
6. Talisoy Beach – Baras, Catanduanes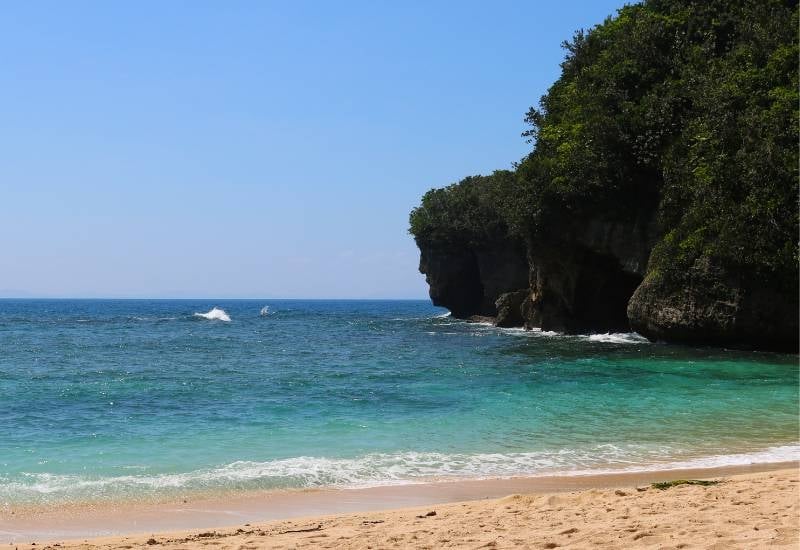 Tampad Beach, more popularly known as Talisoy Beach, is famous for its one-of-a-kind rock formation that resembles the face of Jesus Christ. Although small in size, the beach is well-kept with fine coral sand and crystal-clear waters. An excellent choice for beach bumming, it also features a few small cottages which make for a cosy dwelling place. When in Talisoy Beach, you might as well check out the other neighbouring Bicol beaches like Marilima Beach and Batag Beach.
7. Puraran Beach – Baras, Catanduanes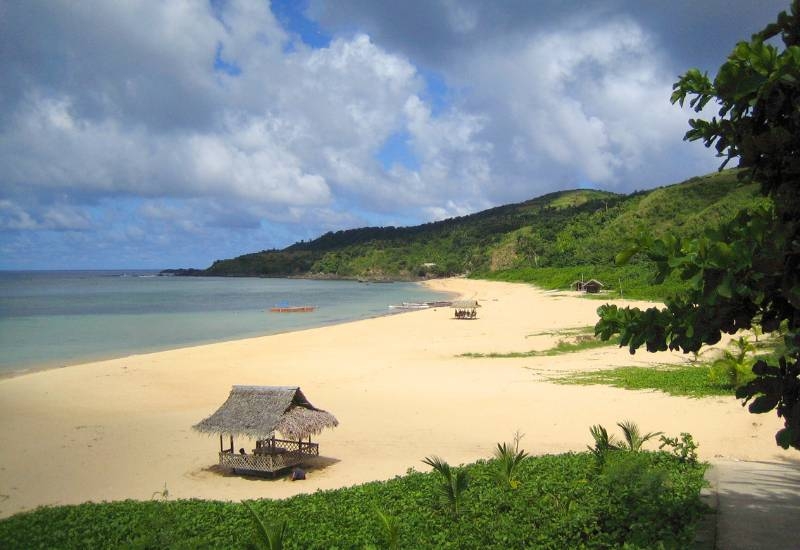 Another top surfing destination in this list of Bicol beaches is Puraran Beach in Baras, Catanduanes. Its idyllic landscape comprises vast golden sands, unique rock formations, majestic mountain views, and perfect swells. Home to the so-called Majestic Waves rolling in from the Pacific Ocean, it has gained the attention of surfers from around the world. Thus, Puraran Beach is known as the surfing capital of Catanduanes! 
8. Pinamuntugan Beach – Bacacay, Albay
Situated off the coast of Cagraray Island in Albay sits the hidden white-sand oasis of Pinamuntugan Beach. Although notably less frequented by tourists, it definitely deserves more attention as it is one of the few white-sand beaches in the province. Aside from its relatively secluded location and intimate atmosphere, its naturally rugged coastline and picturesque landscape draw fearless explorers to the island. What's more? You might just catch sight of the famous Mayon Volcano. 
9. Tikling Island – Sorsogon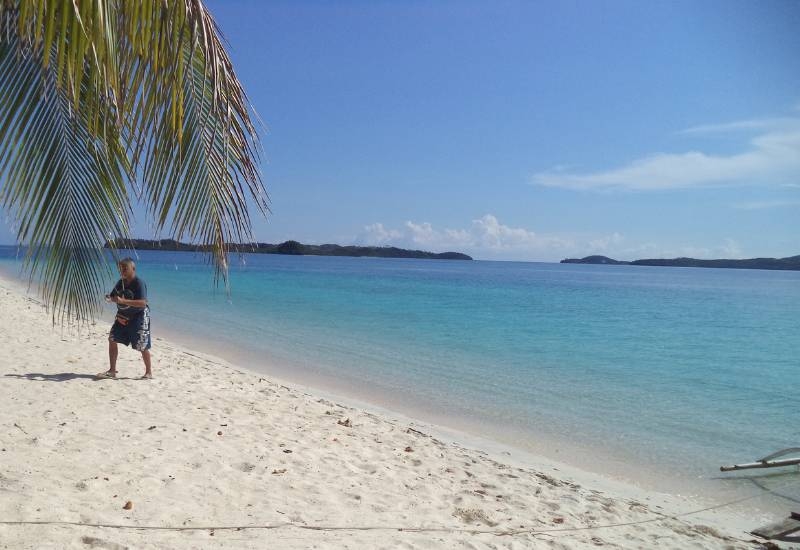 This privately owned island off the coast of Matnog offers a sense of exclusivity for discerning travellers. On your island hopping in Sorsogon, Tikling Island is not one to be missed! As of writing, the island is only open for day tours since it does not have any cottages or resorts. Nonetheless, Tikling's uber-clear azure waters and beautiful underwater scene make for an exceptional snorkelling experience. 
10. Pulang Daga Beach — Paracle, Camarines Norte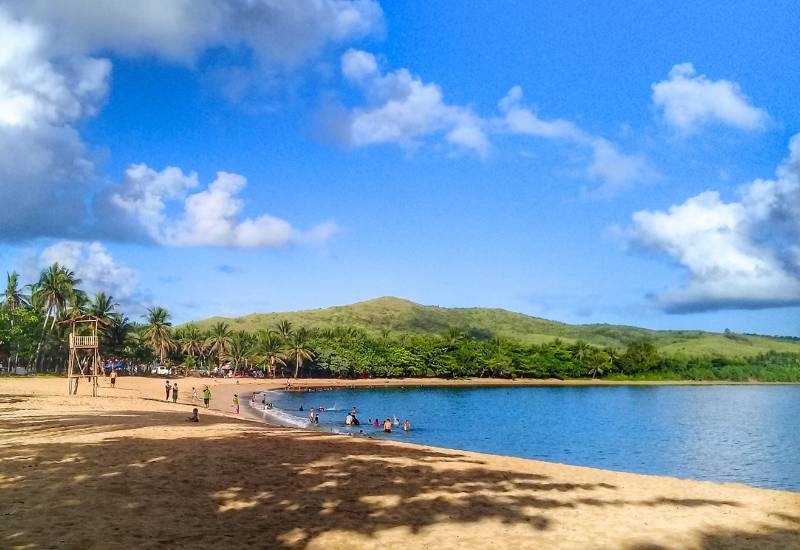 While most of the Bicol beaches on our list are naturally perfect for big-group getaways, Pulang Daga Beach is especially favoured by families with kids. Its clear and calm waters make it perfect for swimming and splashing around. What's more, its strategic location offers fantastic panoramic views of the ocean and marvellous sunset vistas. 
Also read: 10 Underrated Philippine Beaches to Add to Your Bucket List
A region abundant in pristine beaches and unspoiled islands, Bicol definitely deserves a spot on your local travel bucket list. Whether you're on the hunt for off-the-beaten-path destinations or untouched surf spots for your next seaside vacation, these Bicol beaches await! 10 Beaches in Bicol Region for Your Next Seaside Vacay