Contributed by Little Feet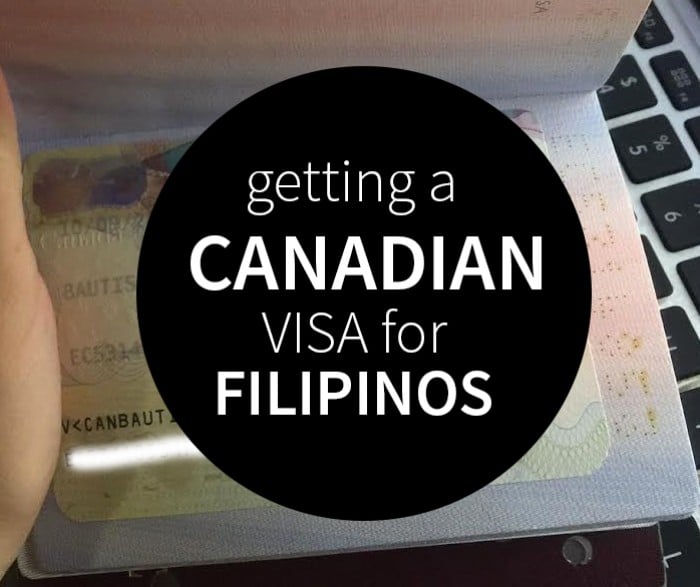 Canada is a beautiful place according to Robby, that's why I opted to go there for a short vacation, especially that I love taking photos and nature trips.
But getting a Canadian visa for Filipino tourists is not easy. But it's manageable.
Due to not being a first world country and some issues of others who work abroad illegally, Philippine passport holders are required to apply for a visa to enter most countries (we are only allowed to visa-free entry to 61 countries). Apart from this, I am 24, single and female, which is considered as a high-risk profile (prone to marrying) and lastly, I will be applying alone as an adult and not being under my mother's financial care. So I was very anxious about it! Plus, I needed immediate results because ticket prices are soaring. So let me share with you how to apply for a Canadian visa for Filipino tourists.
Also read: 10 Countries Filipinos Probably Didn't Know They Can Travel To Without Visa
Anyway, there are 2 ways to apply: 1. Paper 2. Online. Cut on costs from travel agencies and save about ₱2,500.
This is the way to apply online: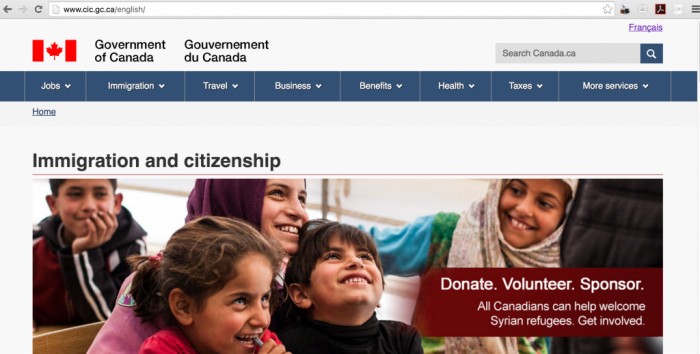 Steps
Visit their official website and determine your eligibility. You will be given a reference code which you will be needing to pursue the application.
Create a MyCIC account here and choose "Continue to GCKey"
Once you log-in after successfully registering, the list of requirements will appear. You must submit ALL required documents and you will not be allowed to submit the application if there are incomplete documents.
Once completed, pay the application fee of CAD 100 (approximately ₱3,500) and wait for the e-mail updates from the consul.
Documentary requirements
Note: Everything must be scanned
1. Valid Passport (at least 1 year before expiration). Scan the front page.
2. Completely filled out application IMM5257 form. You may access the file via INTERNET EXPLORER. Strangely, it won't work on Chrome and Safari. You can access the file here or in your CIC account. This is the main application form which contains all details about your trip.
3. Family form IMM5645 which contains information about your family members.
4. Passport photograph
5. Proof of Funds
Bank Statement for the past 4 months
Certificate of Employment
Income Tax Return or form 2316
Bank Certificate
If another person is paying for your trip, provide an affidavit of support plus bank statements of the sponsor.
6. Purpose of Travel
Itinerary of the places you want to visit from Day 1
Invitation letter (if any) from a citizen plus a copy of their citizen card, payslip
Hotel bookings/Flight reservations
7. Travel History
Entry and Exit Stamps/Boarding passes
Previous visas (valid and expired)
A summary of your travels for the past 10 years. This was what I did: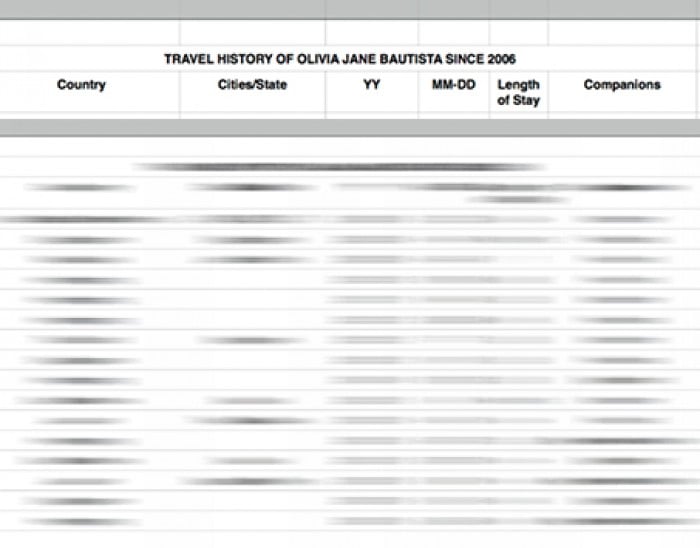 8. Cover letter (optional) A brief explanation why you want to visit Canada, length of stay and places to visit.
What about my passport?
You do not need to submit your passport until the consul has made a decision. If you get approved, you will be shipping your passport to the embassy. If denied, they will just send you an e-mail.
Waiting game and approval
The application approval timeline depends on the number of applicants. Here is my timeline:

Upon approval, the consul will e-mail you a reference code which you will attach to your passport plus instructions. You can send it via LBC to:
VFS Global Services. Mezzanine Floor, Ecoplaza Bldg., Don Chino Roces Ave Ext, Makati, Metro Manila
Attach a manager's check worth ₱890. You can get one from your local bank. I got mine at BDO for ₱50. Wait for 2-3 days (Metro Manila) and your passport will be delivered right to your doorstep.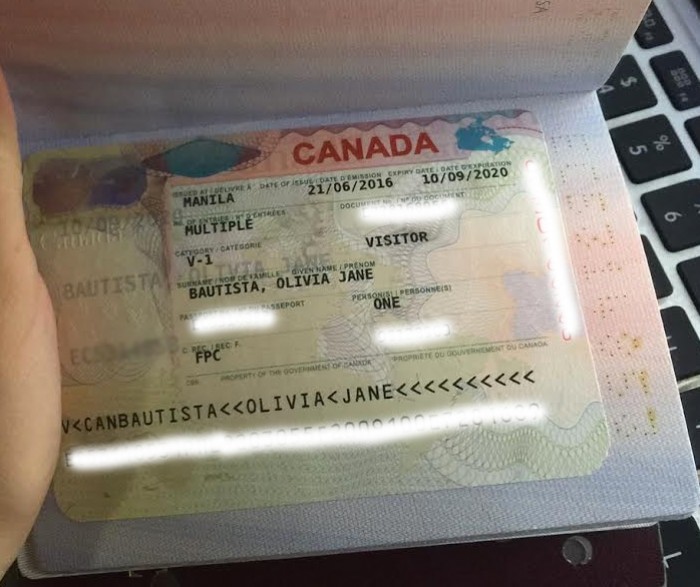 I got mine with a multiply entry valid until my passport expires!
Also read: 12 Things About Canada Every Traveller Will Love
Questions
What is your profile? 24, F, Single. Employed for 2 years. With a valid multiple entry visa to Japan and expired 2 Korea, Japan and a multiple entry US visa. Read the Pinoy Exchange forum to read other applicants' profiles and to get some tips.
What supporting documents did you submit? My travel history, previous visas, itinerary and hotel bookings plus my cert of employment, cover letter and bank statements for the past 6 months. I did not submit a plane ticket.
I have no plane ticket, how do I justify the purpose of travel? You can book a hotel at booking.com at no cost with free cancellations if you decide not to pursue with the hotel booking. Plus, make sure you make a day to day itinerary of your travels. You can search for itineraries online. There are tons of it.
How much money should I have in the bank? There is no given amount but I guess CAD 150 per day is fine. Don't spend all your "bank money" for the trip as this might be a red flag of insufficient funds. Another thing is that make sure your bank statement matches your salary. EG: you have been working for 2 years at an annual salary of 400k. Your bank cannot go beyond 800k unless you have other income, which you can declare in your cover letter.
How do I compile all documents into a single .PDF? You can use Microsoft word and save as PDF files
What are some reasons for denial? As far as I have read: Travel history, family ties and insufficient funds are common reasons for denial.
How do I strengthen possible denial reasons? Well, try to go to nearby countries that require visas like Japan, Korea, China, Taiwan. Attach family pictures if you have to and of course make sure that you really have enough travel fund.
I received a "my application has been updated" email but I did not see any update. Why? It's normal to see such. If the consul opens your file, there will automatically be a message stating that your application has been updated.
How does the embassy assess applicants? That I do not know. Just be truthful with your application. I am quite sure the embassy is already used to fallacious documents. So do not attempt to submit fabricated documents such as fake plane tickets, passport stamps, etc.
Good luck! 🙂