When you search 'Cappadocia travel' on Google, your eyes will instantly feast on otherworldly photos of vibrant hot air balloons flying over a dreamy stone town. As a traveller, I tried to manage my expectations for this Turkish region. "This couldn't be real," I thought. "So, I better be ready to be underwhelmed." But as my family and I reached Cappadocia, I realised that all the pictures I saw on the Internet didn't even manage to do justice to its actual charm.
"It's like a theme park… but real!" was what we were saying the whole time we were there. Its streets are made of cobblestone and its houses are made of stone. During my entire trip, I felt like I was walking in a fairy tale land. As I write this, my mind still can't believe that the place exists in reality. Cappadocia is, hands down, the most magical place I've ever laid my eyes on.
Honestly, travelling to Cappadocia wasn't in our original itinerary. I was prepared to stop at just dreaming of reaching the region because it looked too good — therefore, too expensive — to be true. But to our surprise, travelling to Cappadocia is actually affordable when you're already in Turkey. In fact, my parents and I managed to travel to, from, and around the region for less than ₱10,000 each. 
Disclaimer: Since this is a Cappadocia travel budget article, I'm going to be upfront with you: travelling to Turkey isn't cheap. My visa cost ₱3,000 while my round-trip plane ticket cost me almost ₱45,000. But with my experience, I'd say a trip to Turkey is worth every penny. Time to wait for the best deals!
Also read: Applying For a Visa Takes a Leap of Faith — Here's Why
How to get to Cappadocia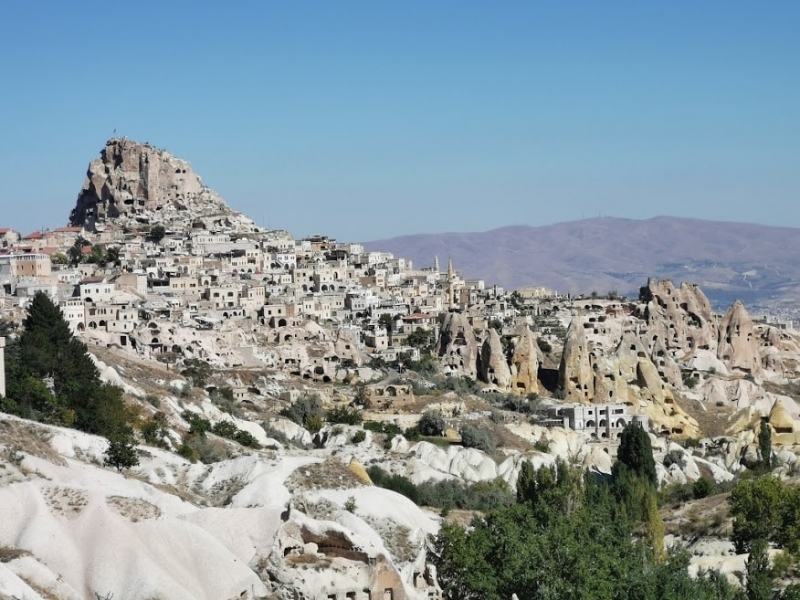 From Istanbul, you can ride either a bus or a plane to Cappadocia. A night bus ride from Istanbul would take about 12 hours. Since we had limited time, we opted to ride a plane. (Also, there wasn't much of a cost difference between the bus ride and the plane ride anyway.) 
From the Sabiha Gökçen Airport (SAW), we booked our flight to the Erkilet Airport (ASR) via Pegasus Air. Even though we booked at the last minute, our round-trip flights caused only 300TL (~₱3,000) each. The flight took about 45 minutes.
Most hotels in Cappadocia are located in Göreme or Nevşehir, which are both an hour's ride away from the airport in Kayseri. Inquire if your hotel offers airport transfers; some offer those for free. If they don't, you may ride a taxi or an airport shuttle. A taxi ride from Kayseri to Nevşehir is quite pricey (140 TL/~₱1,400), so we rode an airport shuttle (50 TL/~₱500) instead. Our shuttle took us directly to our hotel in Nevşehir.
Where to stay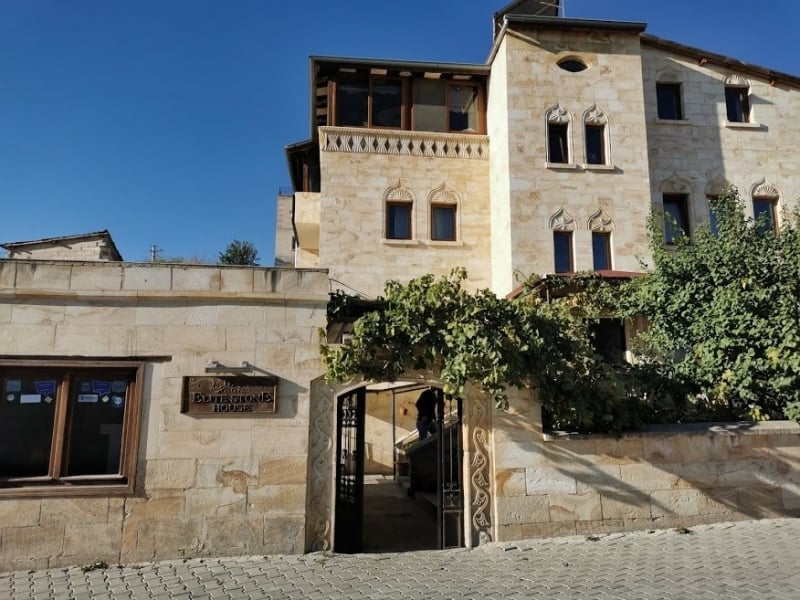 Cappadocia is widely known for its unique cave hotels. As we wanted to see the hot air balloons, we made sure our hotel had a rooftop view. Upon reaching Cappadocia, I discovered that hot air balloons are visible from almost anywhere! As long as your hotel is in Göreme or Nevşehir, you'll have a big chance to have breakfast under this spectacle.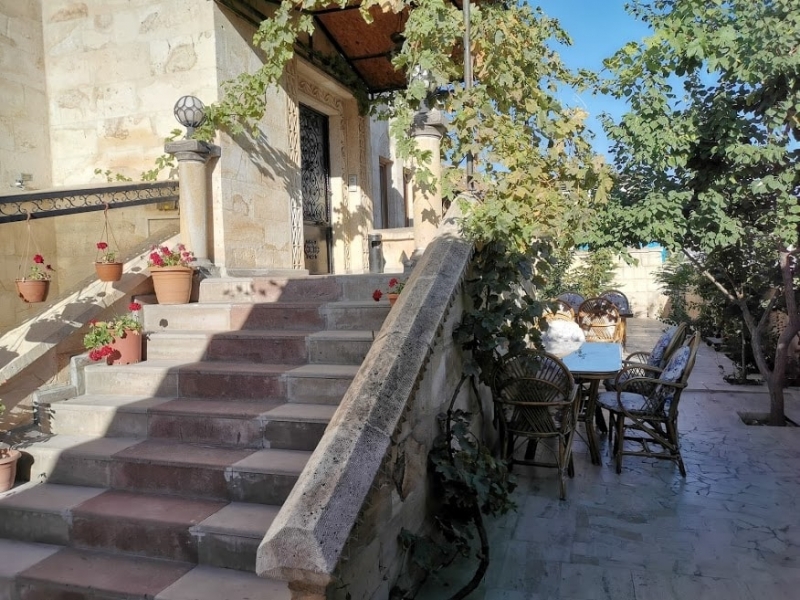 We booked one night at Elite Stone House, which was a minute's walk away from downtown Göreme. Our hotel room cost us 200 TL (~₱2,000) per night for our family of three, inclusive of a local breakfast buffet for all.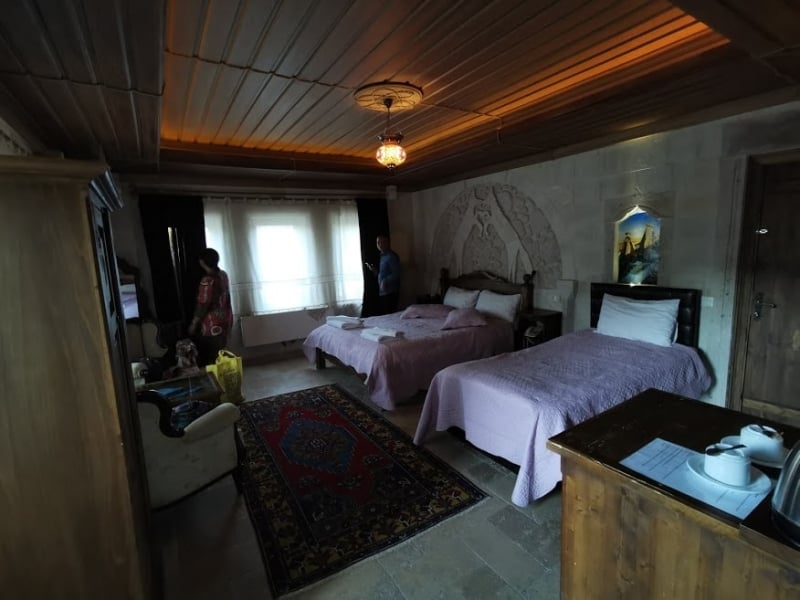 Upon entering our bedroom, we were welcomed by cats lying on our beds! Good news for cat lovers, but bad news for people allergic to felines (me) ⁠— cats are held in high esteem in Turkey. You'll find them everywhere. You'll even see cat houses and cat food in public places! Thankfully, I didn't have any allergic reactions during my stay.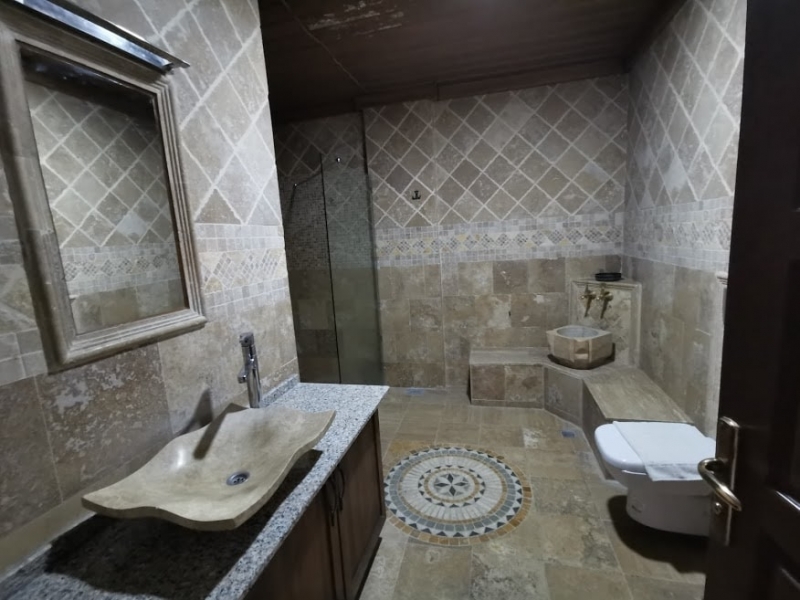 We also found our bathroom interesting. It was as spacious as our bedroom, with a huge shower area and a hammam (Turkish bath) sink in one corner. In Turkey, hammams are common among hotels; but, it was only in this hotel where we found a hammam sink in our own bathroom.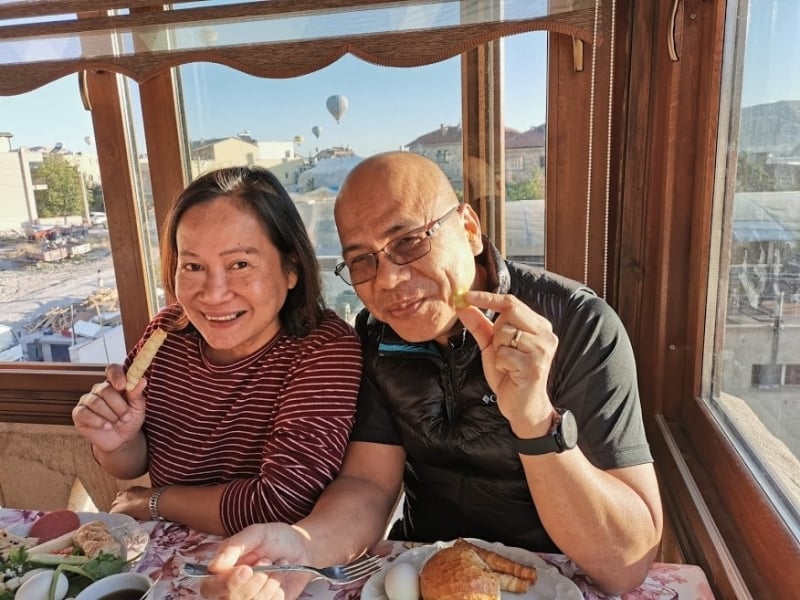 Our hotel didn't have the best rooftop view. What Elite Stone House did offer us was a quaint glass dining room at the top floor. From there, we saw some hot air balloons; but since it was an enclosed space, we didn't have the freedom to witness them from every angle. Anyway, this wasn't a big problem as the hotel is located within walking distance of the downtown area, where there are better viewpoints for the hot air balloons.
Cappadocia 2D1N travel guide
Day one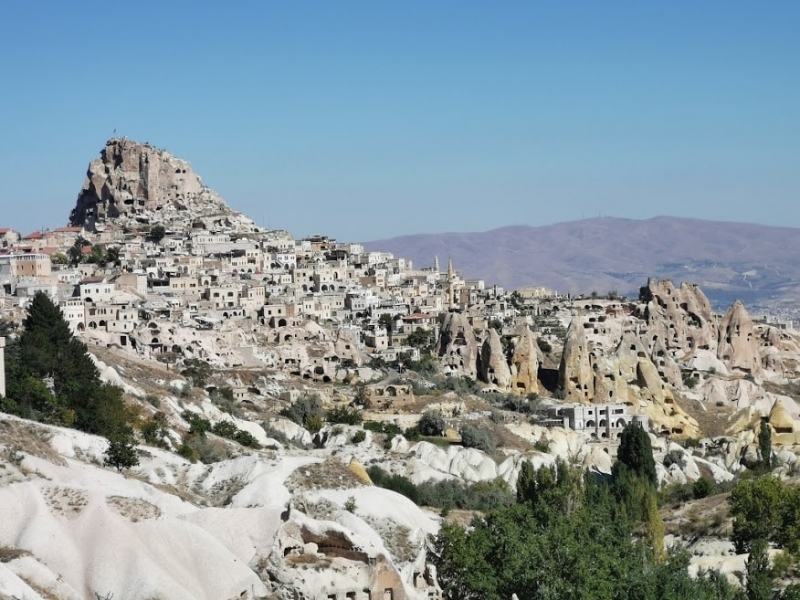 Our flight ETA was at 7am, and we arrived at our hotel at 8am. Thankfully, the receptionist spoke English and he promptly informed us that the tours the hotel offers start at 9.30am. He presented two options: the Green Tour and the Red Tour. The former, he told us, would tour us to the remote areas of Cappadocia. Meanwhile, the latter would bring us around the famous tourist spots in Göreme.
Since we were only staying for two days, the receptionist suggested that we join the Green Tour for our first day, then just walk around the town the next day. He showed us the map of Cappadocia, and we agreed that we could visit most of the sites the Red Tour would cover on foot.
Duration: 9am to 6pm
Cost: €40 inclusive of transportation and lunch
Göreme Panoramic Viewpoint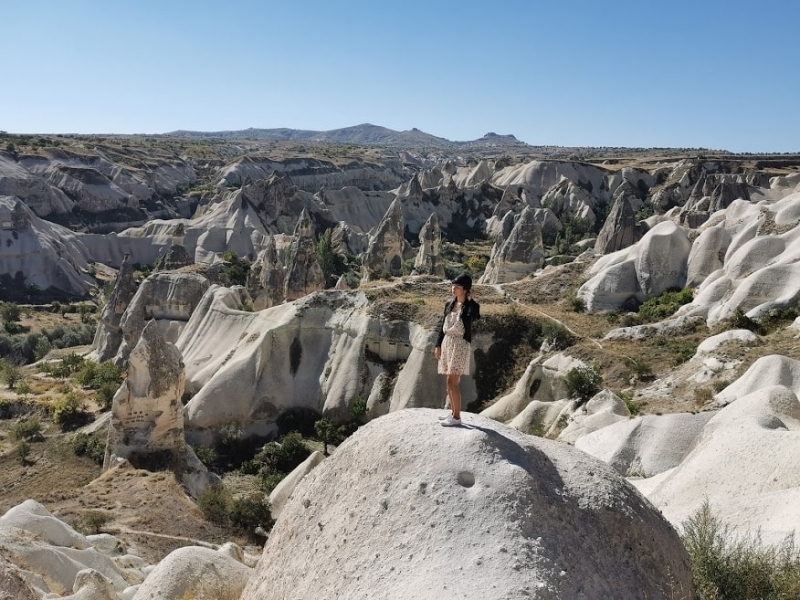 Our first stop was the Göreme Panoramic Viewpoint. Although we were already head over heels for Cappadocia, it was here where we fell in love with the region even more. From this spot, we saw the picturesque sight of Göreme — fairy chimneys, cave hotels, and all. 
There were also stalls that sold very affordable souvenirs. Stingy as I am, I was hesitant to buy souvenirs from a tourist spot. I felt like the items were charged with "presyong turista," even when they were clearly cheap. Later on, I'd discover that the prices of the souvenirs weren't actually higher at all.
Pigeon Valley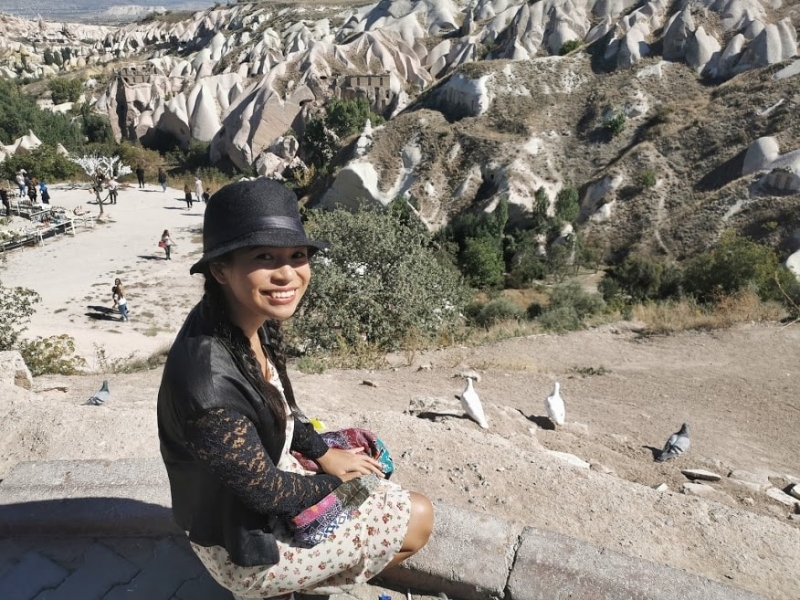 Our next stop was Pigeon Valley — literally, a valley with flocks of pigeons. But while some of our tourmates were busy feeding the birds, I paid more attention to the view. From the valley, I witnessed the centuries-old Uçhisar Castle. Back in time, this natural fortress was used to defend Cappadocia from its enemies. 
Selime Monastery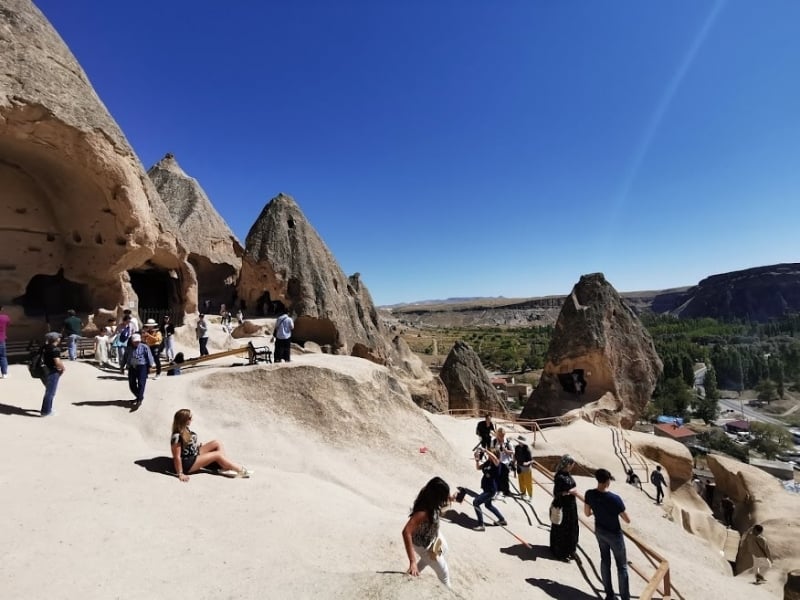 After our photo ops in our first two stops, our group headed to Selime Monastery, a majestic rock cathedral. From its base, we ascended to the huge rock-cut structures atop sandy hills.
The Selime Monastery is breathtaking, not only for its amazing facade, but also for its history. It is said that the monastery dates back to the eighth century. The whole site is overflowing with signs of early civilisation. According to our guide, Christians, Hittites, and Romans were among the first settlers of this place.
Personally, I found it most astounding how the early settlers managed to carve an intricate cathedral out of volcanic tuff. As a Christian myself, I was even more in awe of the dedication of worshippers back in the day.
lhlara Valley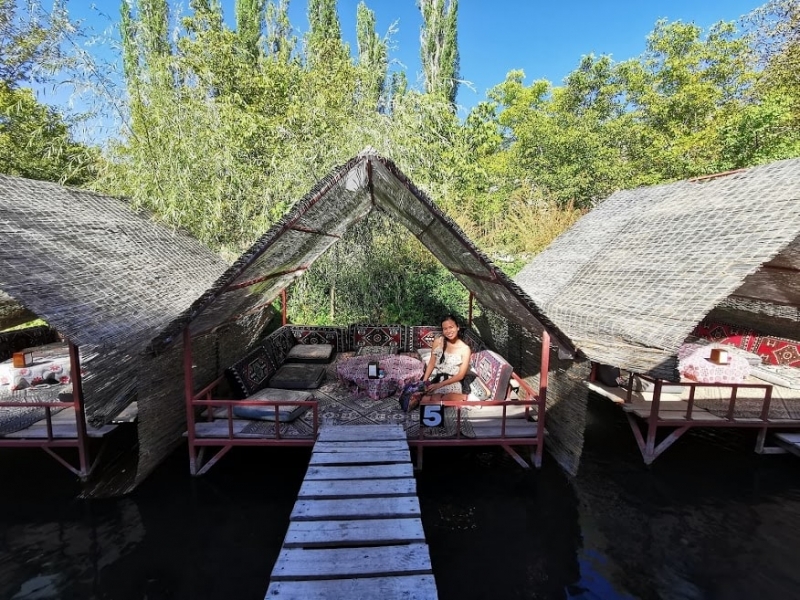 Proceeding our exploration under the heat, we headed to Ihlara Valley. We trekked the green canyon for about an hour until we reached the tea garden. There, we rested for a few minutes. Some travellers had drinks, but my dad and I settled with just dipping our tired feet in the cool river.
After all the spectacular stops we'd had so far, Ihlara Valley was a bit underwhelming for me. The trek actually reminded me of our province in the Philippines; perhaps that was the reason why I wasn't as amazed as the other people in our tour group.
A couple of hours down, we finally reached the riverside restaurant where we had our lunch. Our lunch included lentil soup and salad for all, while the main course was a choice of chicken, mushroom, meatballs, or trout. My parents and I each chose different dishes so that we could taste a variety of flavours. We all agreed on our favourite — the fresh trout.
Derinkuyu Underground City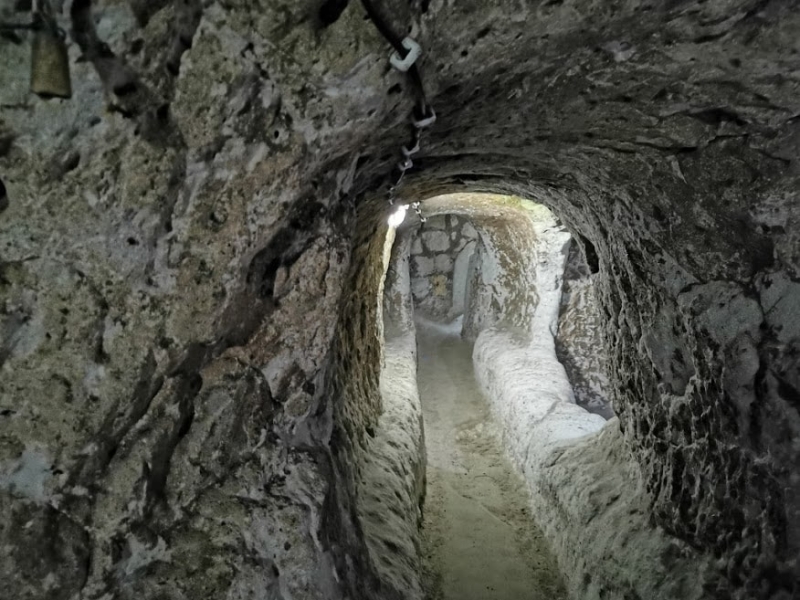 Yet another staggering site, the Derinkuyu Underground City gives a glimpse into the struggles of the first settlers in Cappadocia. To escape their enemies, the people created interconnected troglodytic cities that allowed thousands of residents to hide. Derinkuyu was one of the biggest cities they built, and it is actually located about eight floors below ground. Surprisingly, it includes various facilities — a church, a kitchen, a winery, even a grave!
Day two
Sunset Point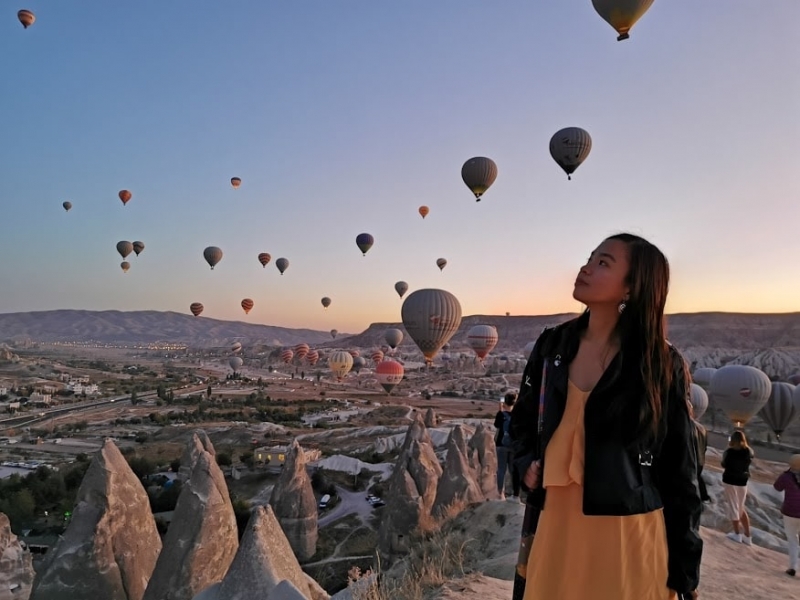 I couldn't afford a hot air balloon ride, because they cost at least €140 (~₱8,000) per person. Some people say it's worth it, others say it's not. Regardless, I knew that kind of luxury just wasn't for me. Still, I enjoyed witnessing the hot air balloons up close.
During the fall season, the best time to catch the hot air balloons is at dawn. There are a lot of viewpoints around Cappadocia. Since our hotel was at Nevşehir, we decided to walk to the nearest and best vantage point. We left the hotel at 5am and took a freezing morning walk for about 10 minutes until we arrived at Sunset Point. We stayed there until 7am, just marvelling at the view. It was all sorts of magical, but that's for another story.
Entrance fee: 3 TL (~₱30)
Souvenir shopping
After that enchanting morning, we were ready to hustle — a DIY walking tour and souvenir shopping were the only things left on our agenda. While we were on our way to the Göreme Open-Air Museum, a merchant enticed us to enter his store. Carpets after carpets welcomed us: They were all colourful, rich, and somewhat royal. The merchant gave us apple tea as he presented his different carpets to us — a tradition, he says, as first customers bring luck.
Because he was selling authentic and handmade silk carpets, it was expected that they were all too expensive for our taste. The prices ranged from 400 TL (~₱4,000) to 2,000 TL (~₱20,000). Still, we managed to score an elegant table runner for 180 TL (~₱1,800).
Aside from carpets, Cappadocia sells affordable lamps, magnets, coasters, soap bars, and wallets. If you won't splurge on big souvenirs, a ₱1,500 budget will suffice for numerous trinkets to bring home for your friends.
DIY walking tour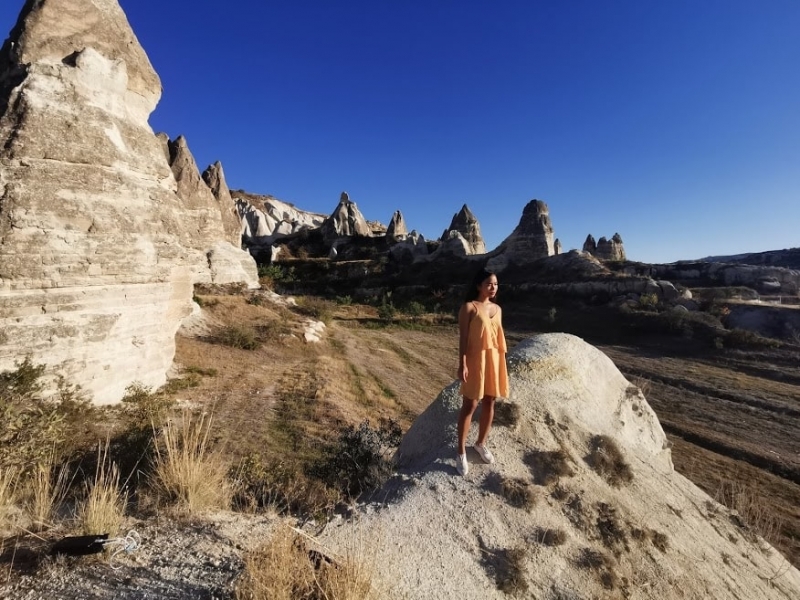 Finally, it was time to explore Cappadocia on our own. We headed to the Göreme Open-Air Museum and the Göreme National Park and the Rock Sites. Eventually, we started walking aimlessly and found an interesting, lone site. It looked exactly like a Star Wars landscape, and so I started geeking out. We had the place all to ourselves for an entire hour!
Our flight back to Istanbul was at 10pm, so we had to leave our hotel at 7pm. Before making our way to the airport, we grabbed cup noodles from the neighbourhood grocery store and some coffee from the hotel! 
Sample Cappadocia travel itinerary + budget breakdown
Day one
7am: Travel to hotel (₱500)
8am: Breakfast at downtown Göreme (₱300)
9am: Green tour (₱2,700)
7pm: Dinner (₱300)
Day two
5am: Sunset Point (₱30)
7am: Breakfast at hotel
9am: Walking tour
12nn: Lunch (₱300)
2pm: Souvenir shopping (₱1,500)
4pm: Walking tour
6pm: Dinner (₱50)
7pm: Travel to airport (₱450)
Round-trip flight: ₱3,000
Hotel per night: ₱2,000 (good for three) 
Also read: 10 Reasons Turkey Should Be On Your Travel Radar
Our Cappadocia travel experience was definitely one for the books. In fact, my well-travelled father claims that it's his favourite place in the world so far! I highly recommend that you add this stunning destination to your bucket list. I promise you won't regret it!