It is common knowledge that the chicharon capital of the Philippines is in one of Bulacan's municipalities — Sta. Maria. The local industry started as early as the 1900s, and the rest is history. Since then, more provinces in the Philippines have produced their own versions of chicharon. Whether for snacks, ulam, or as an ingredient, Filipinos will never run out of ways to eat chicharon! 
Also read: 10 Restaurants in Bulacan You Must Try on Your Next Visit
I'm making this list of where to buy chicharon in the Philippines for everyone who asks me to bring one as soon as they learn that I am a Bulakenya. There are many kinds sold nationwide, and you can order them online now, you know? Bumili kayo ng sarili niyo! Kidding aside, chicharon in the Philippines is the best (no offence to other countries), and honestly, I think they already know that. 
Ihanda ang sawsawan! Where to buy chicharon in the Philippines
1. Obet's Chicharon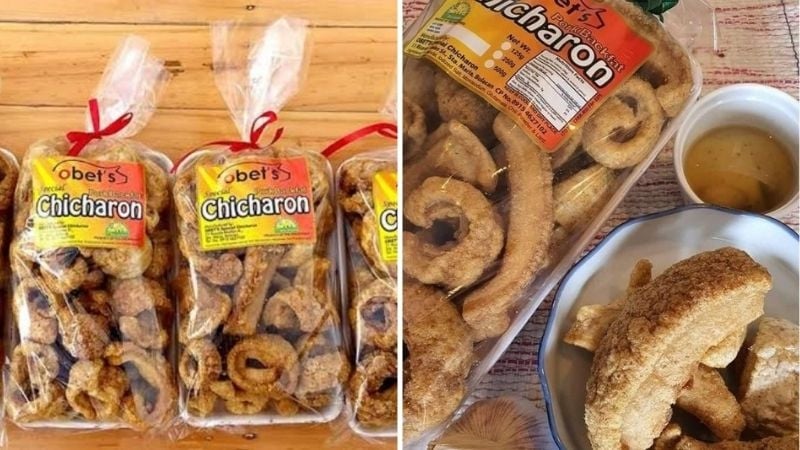 Satisfy your cravings with this keto-friendly chicharon! Obet's Chicharon is a popular snack for people on a low-carb diet. There's no need to deprive yourself of this crunchy and delicious treat, but always remember: The best way to enjoy chicharon is to eat it in moderation! 
Obet's Chicharon is a homegrown brand from Sta. Maria, Bulacan; so, set high expectations because their products surely won't disappoint.
Stop drooling over a photo and just order them on Shopee for only ₱102.
2. Kelvin's Chicharon & Butcheron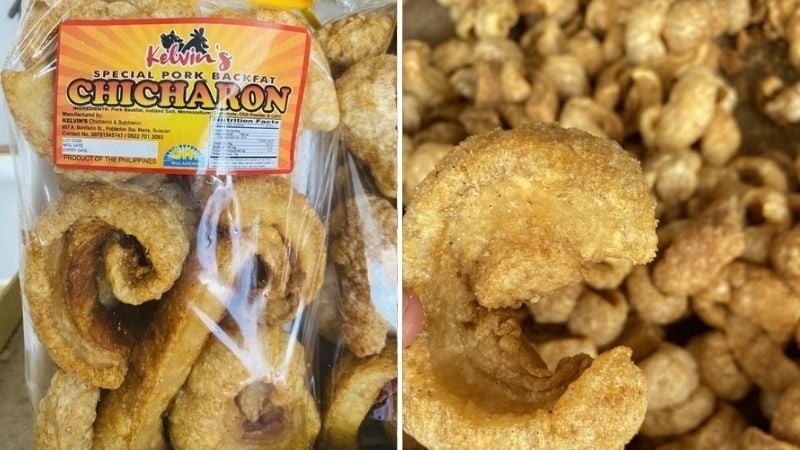 Also a product of the chicharon capital, Kelvin's Chicharon is making a name for itself as a must-try brand. This mouth-watering goodness (which, by the way, makes me want to cook ginisang munggo right now) is also available online.
Don't get overwhelmed with the many options. Calm yourself down — there's a lot of chicharon in the Philippines for everyone!
Still can't stop thinking about that ginisang munggo I was talking about? Order this chicharon on Shopee and Lazada for as low as ₱50 for your favourite Friday ulam!
3. Nonie's Chicharon Bagnet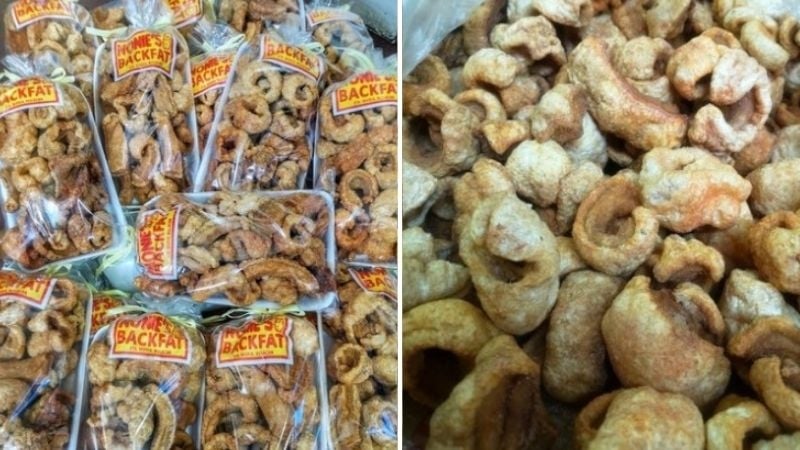 When it comes to chicharon, you can't just have one bite. Nonie's Chicharon Bagnet also offers keto-friendly products at low costs. Resellers can also take advantage of their factory prices for extra income. Who knows? With hard work and perseverance, you might find your fortune in a pack of these savoury snacks!
You can order them on Shopee for ₱65 and up.
Also read: 7 Simple Ways to Earn Money on Top of Your Regular Job
4. RC Special Butcheron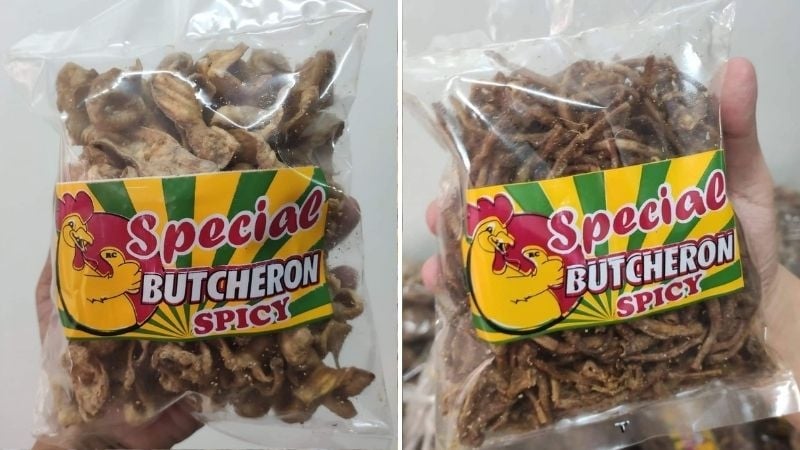 Butcheron is yet another product of Filipino inventiveness and resourcefulness. They make a perfect snack and an excellent pulutan flavoured with the right amount of spices, enough to finish it in one sitting! 
RC Special Butcheron is available on Shopee from ₱109 to ₱209.
5. Ashley's Fried Isaw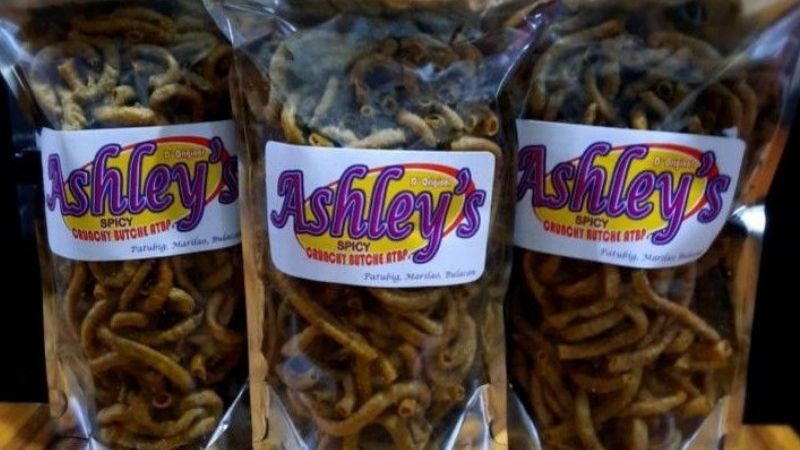 It's always exciting to see our crowd-favourite chicken isaw develop into something we can eat anytime, anywhere. Ashley's Fried Isaw will surely satisfy your street food cravings, while letting you support a local business. 
You can buy this crunchy treat on Shopee for ₱159.
Also read: 5 Ways You Can Support Small Online Businesses
5. Pavia's Chicharon Mushroom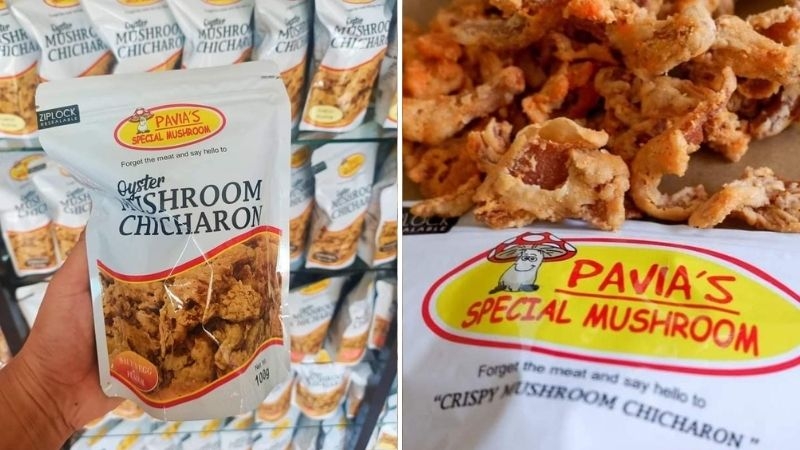 Fun snacks without the guilt? This mushroom chicharon is for you. Pavia's Special Mushroom is FDA-approved and has no preservatives. With each bite, you'll reap the health benefits of oyster mushrooms that contain antioxidants, antibiotics, and other vitamins and minerals! 
Stay healthy with these guilt-free snacks that you can order on Shopee for as low as ₱38.
Also read: Guilt-Free Goodness: Where to Buy Healthy Snacks in Metro Manila
6. Shrimpylicious Chicharon Bulaklak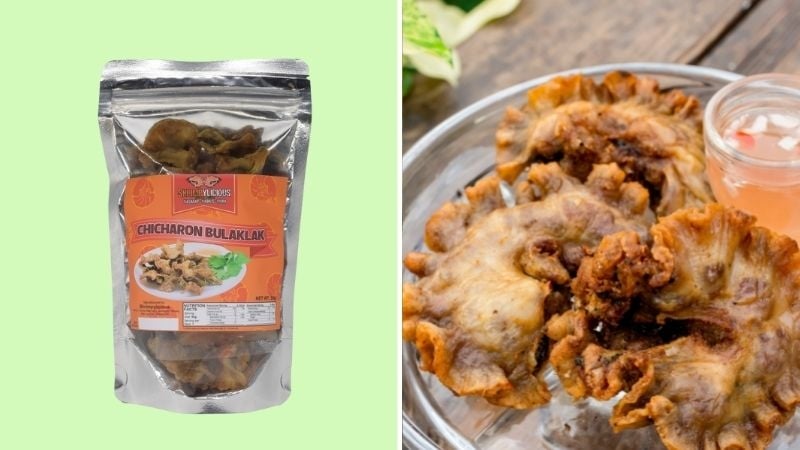 Ready for your next putok-batok meal? Best paired with hot rice and vinegar, this chicharon bulaklak tastes so good that it will make you completely forget your diet. The typical preparation of this snack is a lot of work, making this ready-to-eat product genuinely heaven-sent!
Order this on Shopee for ₱99.
Also read: Canned Goods Recipes: 10 Emergency Dishes You Can Cook
7. VL Tuna Skin Pop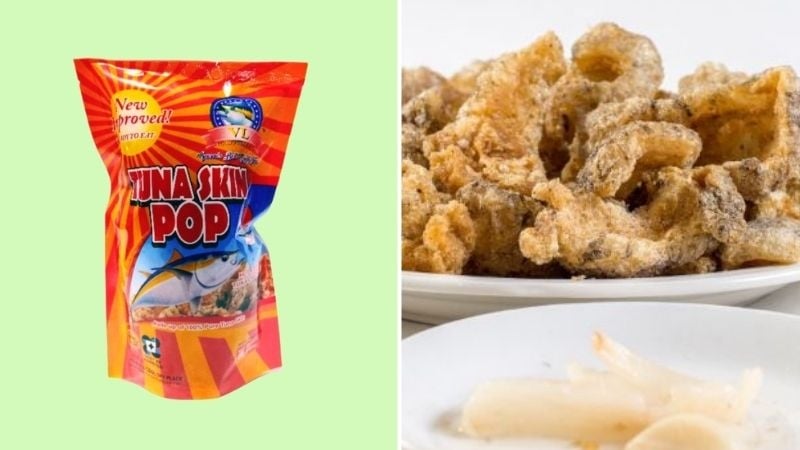 Straight from the Tuna Capital of the Philippines', this tuna skin pop won't disappoint. They're keto-friendly and made of 100% pure tuna skin. The good news? You no longer have to travel all the way to General Santos, because VL Tuna Skin Pop is now available online. 
Curious about how it's going to taste? Order them on Shopee for ₱72.
Also read: 13 Yummy Microwave Recipes That Are Easier Than You Think
It's amazing how creativity, practicality, and resourcefulness paved the way for the popularity of different chicharon in the Philippines. There is no doubt that with our special innovative skills, there will be more local products that we'll all be proud of!