Contributed by Read My Passion
Travelling to Cambodia from Ho Chi Minh City (HCMC) by bus is all worth the trip. We left HCMC at 8.30am with one of those big tourist buses with a 2:1 ratio. There were lots of legroom and the passenger seats had reclining features for both back and feet.
Also read: My DIY Trip To Vietnam, Cambodia & Thailand For Less Than ₱20K
Upon reaching the border, the conductor collected all our passports and we were asked to get off the bus for immigration checks. At first, the idea of a stranger holding on to your passport while undergoing immigration checks is terrible. You are supposed to be holding your passport at all times, but it turns out that this is the way it's supposed to be. After leaving the Vietnam Immigration, we boarded the bus then got off again at the Cambodia Immigration. It was the same procedure. The conductor held on to our passports as we passed through immigration checks.
We were then asked to board the bus. Our driver started driving away from the border which made it more suspicious because we didn't have our passports with us. We still didn't get them even when we reached the stopover area for lunch. When the conductor arrived, he handed our passports to us one by one. I finally felt relieved.
When we reached Phnom Penh, we got off at the bus station and we had to be taken to another terminal where we were going to ride a different bus. I started to become disappointed because the bus became uncomfortable and we had to travel for another six hours. With no decent dinner and a few bucks left, we had to survive with just water. The ride was no longer enjoyable. I wanted to reach Siem Reap ASAP and sleep properly.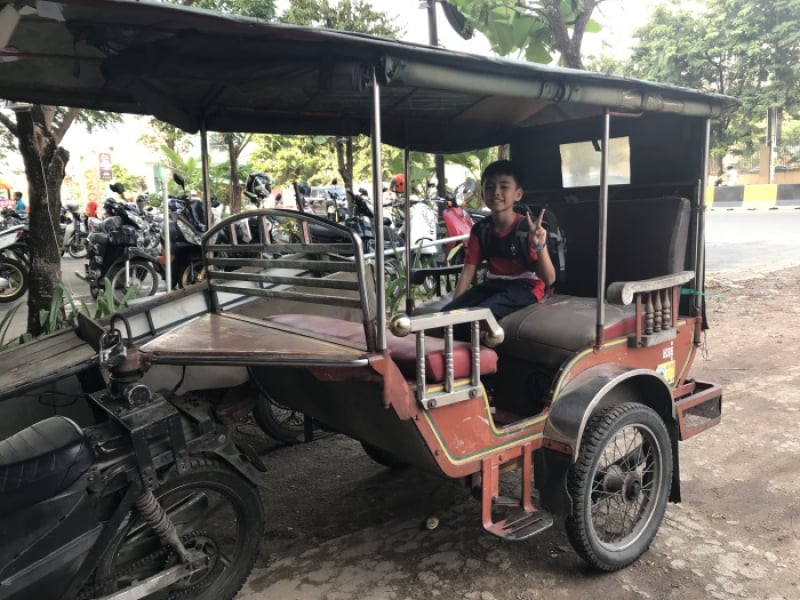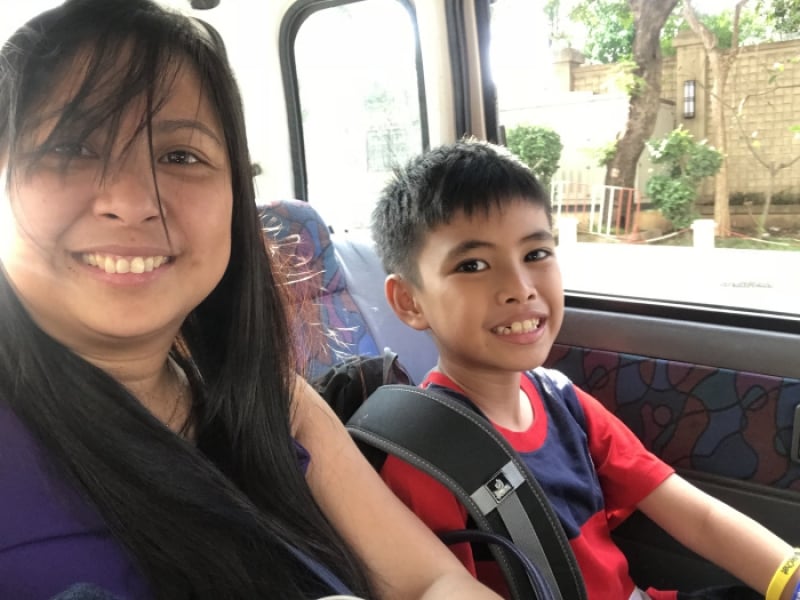 We reached Siem Reap at approximately 11pm. A tuk-tuk was already waiting for us and took us to our hotel which was far from the centre. Although I was pretty sure when I searched for this hotel, it was near the city centre. I was wrong. But to my surprise, the hotel upgraded our room from a Deluxe to a Family room. Thank you Le Chantou Boutique Hotel!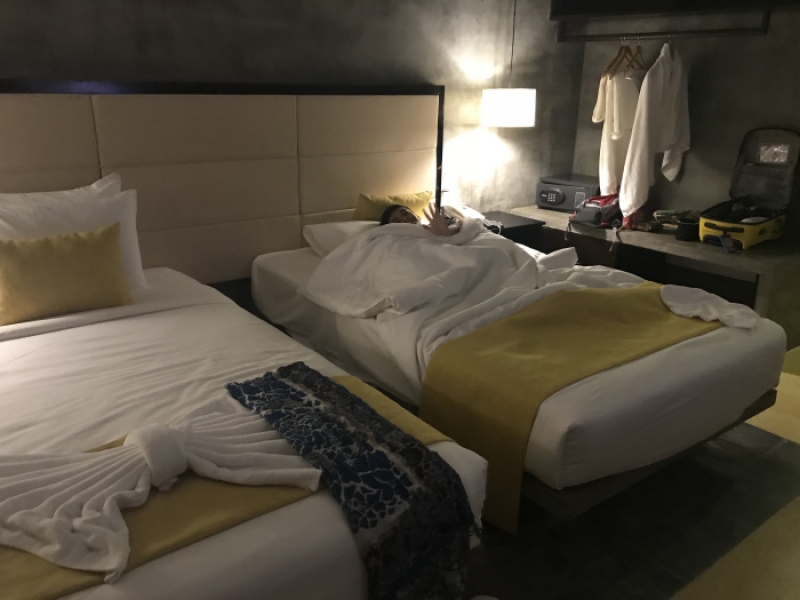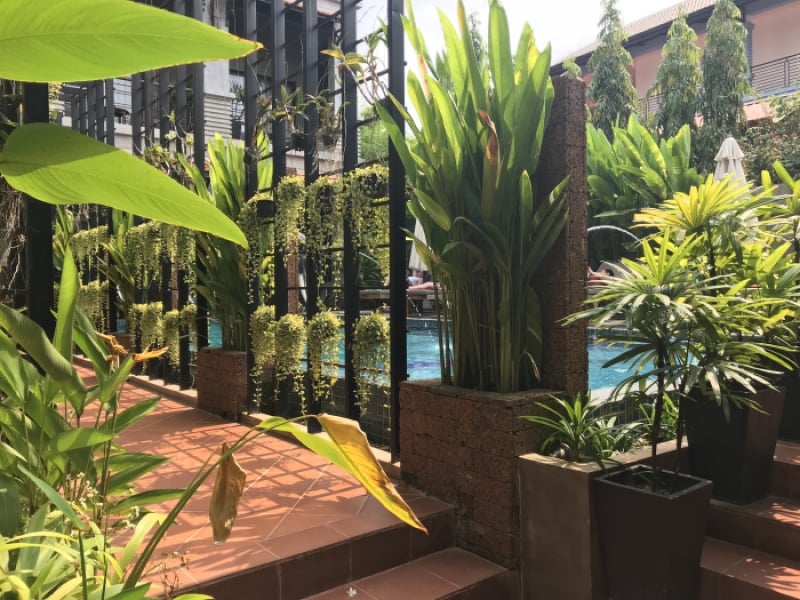 We also asked our tuk-tuk to take us somewhere we could eat decently. The driver took us to Pub Street and it was only then that we had our dinner!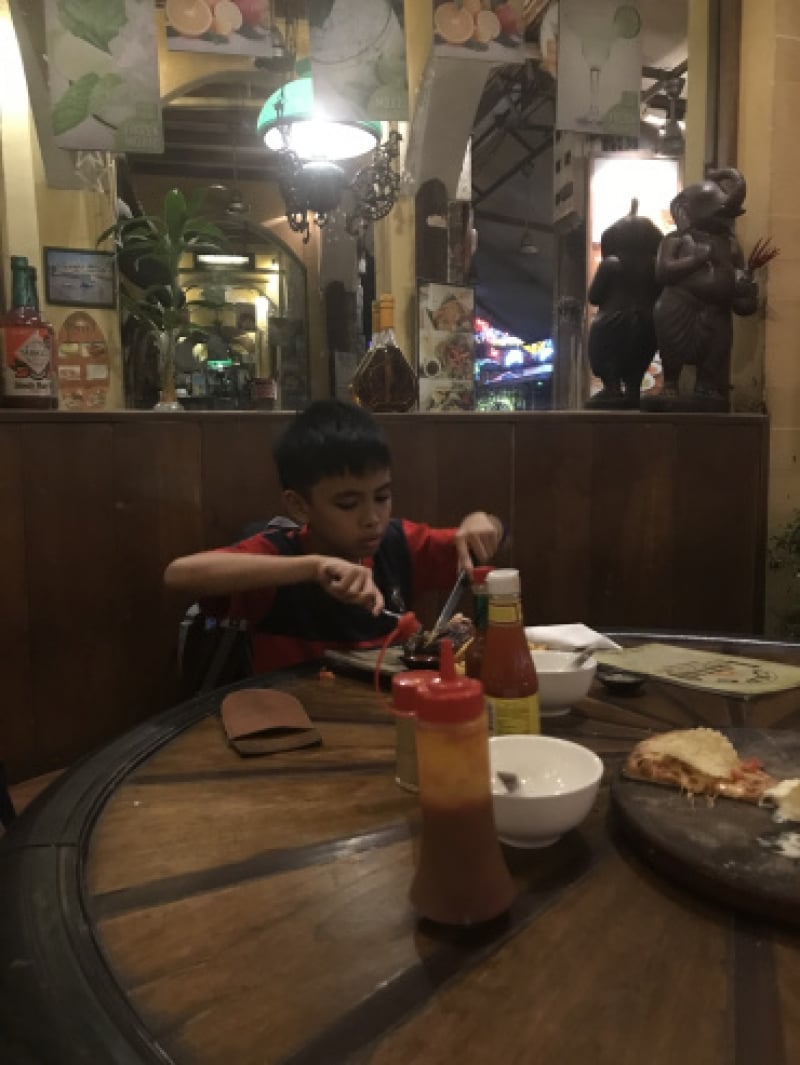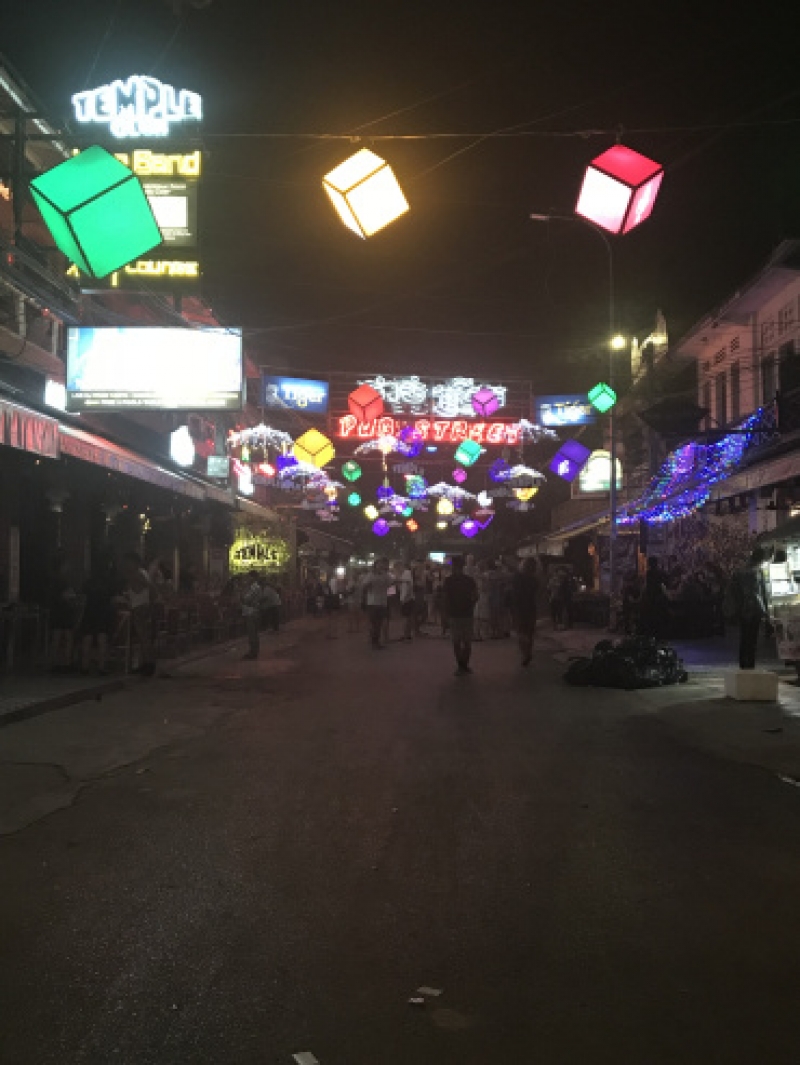 Retired for the night for a big day the next day.
Temple hopping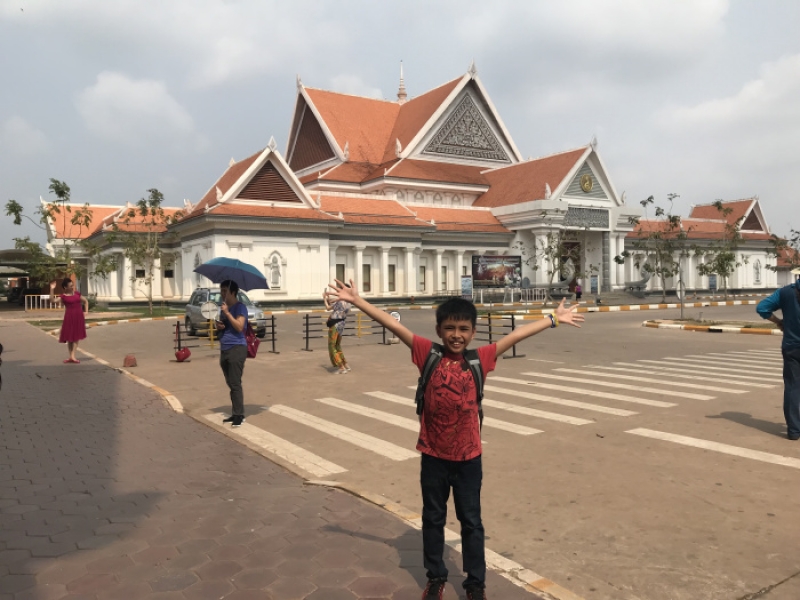 We started our visit to the famous Angkor temples a bit late. We had our own tuk-tuk ride, which I rented for US$45 the entire day. This was inclusive of our tuk-tuk ride from last night from the bus station to our hotel. The driver and I agreed that he take us to three temples for the day, a local night market, a place to have dinner, and to take us back to our hotel afterwards.
You will need at least two days to explore all the temples and we didn't have that much time. Besides, the ticket price to see the temple is around US$37 per head! It's very expensive to see all the ruins.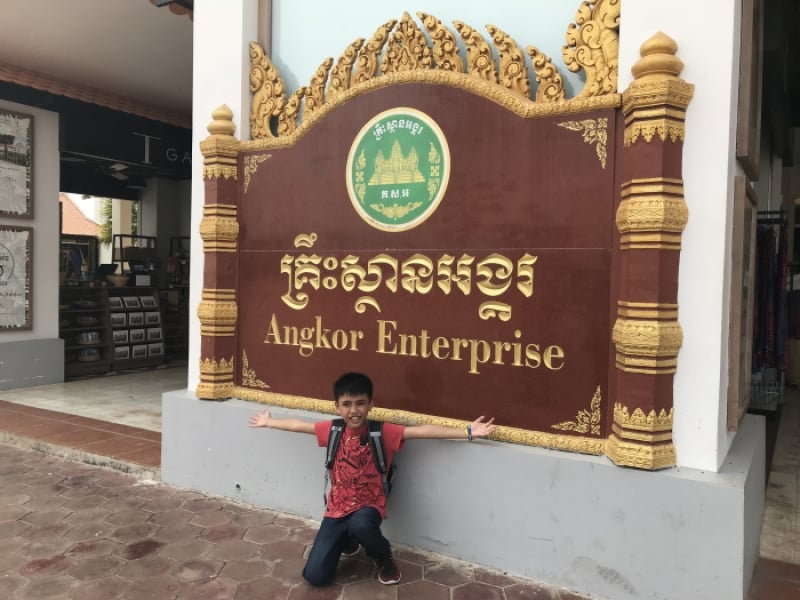 1st temple: Ta Prohm Temple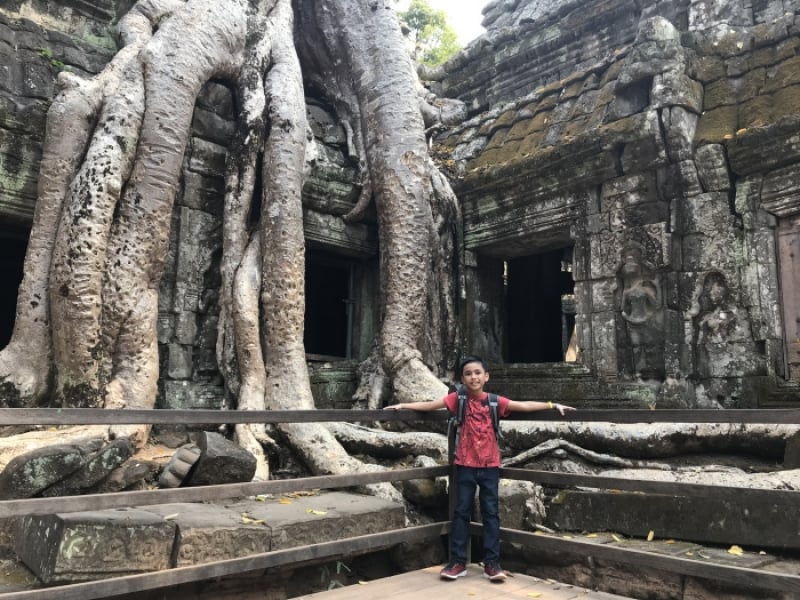 This temple is square-shaped, but basically a flat structure with five enclosures. Ta Prohm was also the shooting location of the movie Tomb Raider featuring Angelina Jolie. The temple has an enclosure where their famous tree, which grows on top of the ruins, is found. It gives the place an eerie feel.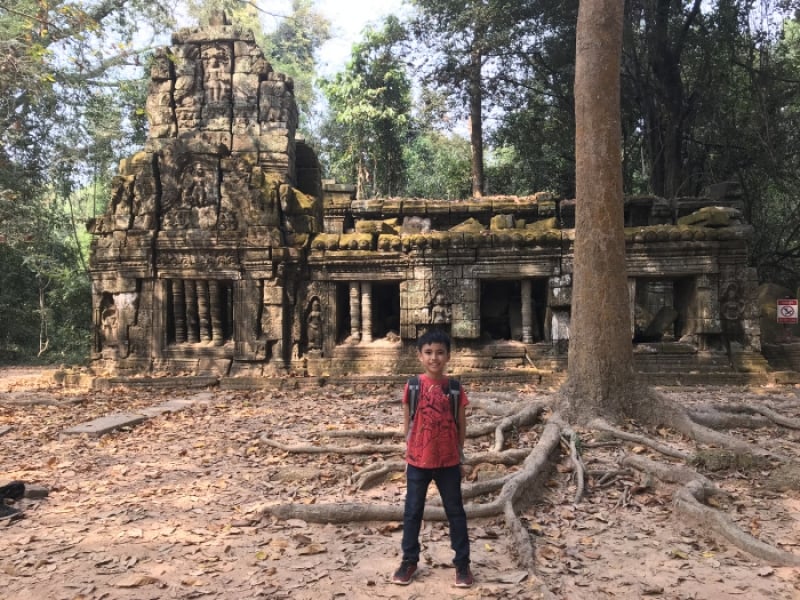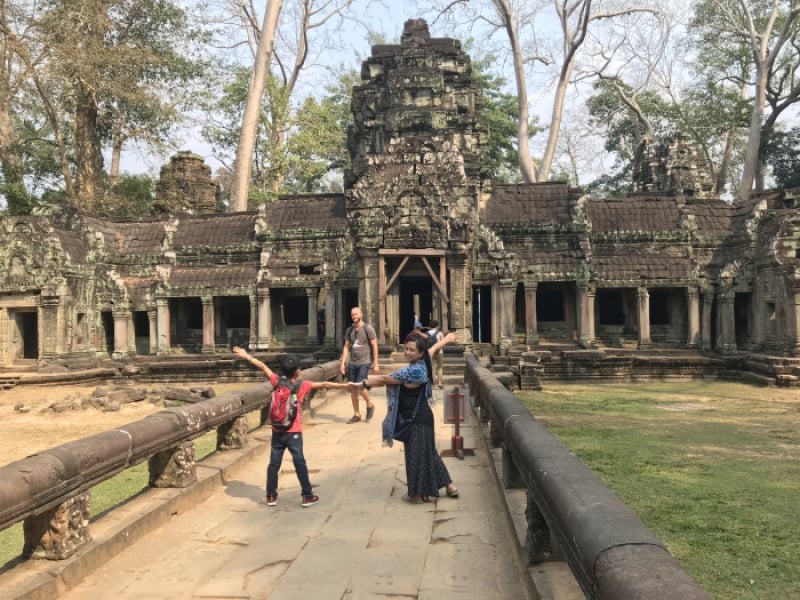 Each of the walls of this temple is carved with different shapes and images. The place was undergoing massive restoration during our visit but we were still allowed to visit many areas. There are four entrances to the temple but only two gopuras (entrances) were working during that time. You can enter one gate and end up in another temple when you exit the other gate.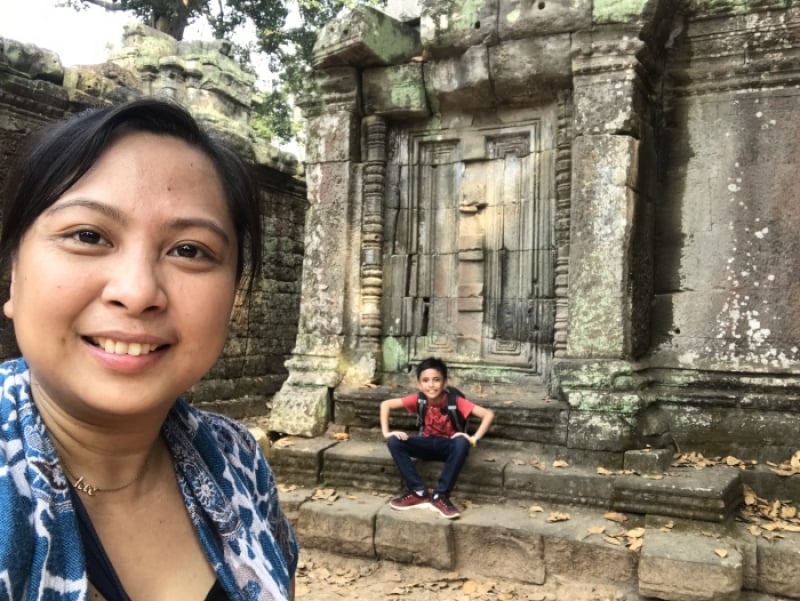 2nd temple: Bayon Temple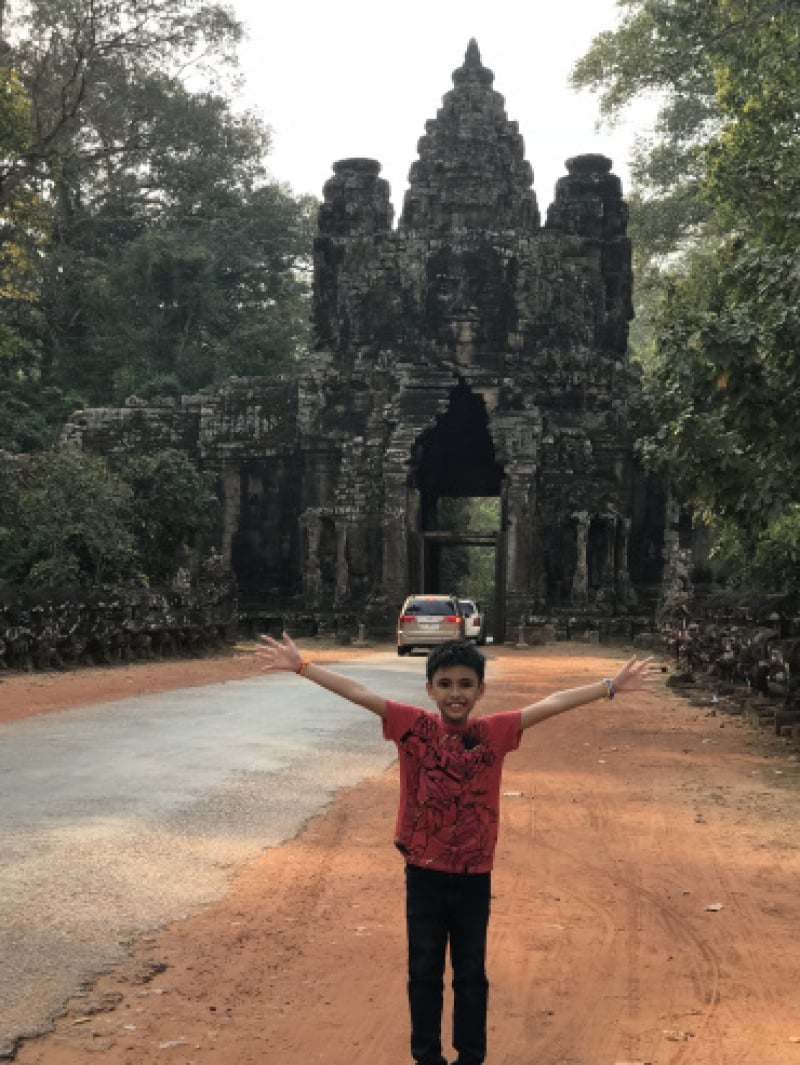 This temple features the smiling stone faces on the top of each tower surrounded by ruins. You are actually allowed to climb some of the towers to get closer to the stone faces, but you'd need to brave the height and the tourists coming from all directions.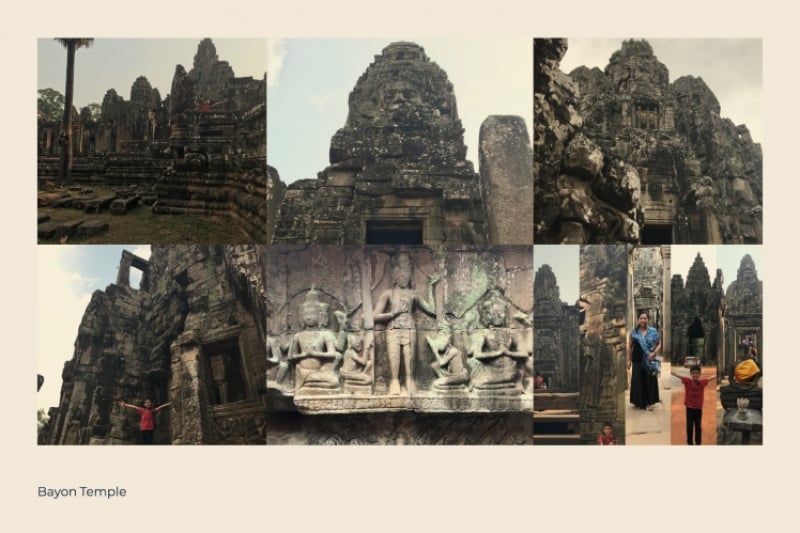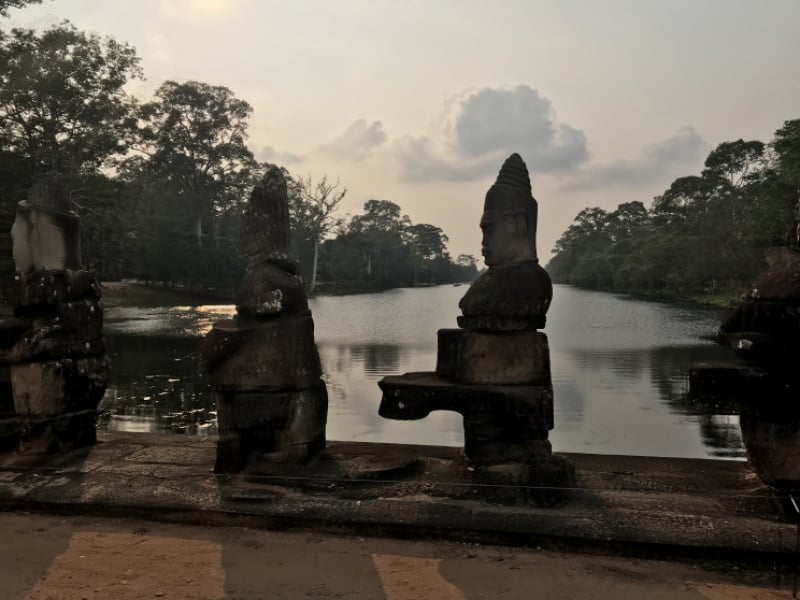 Bayon Temple has an amazing entrance and some good spots for capturing the sun and the smiling stone faces!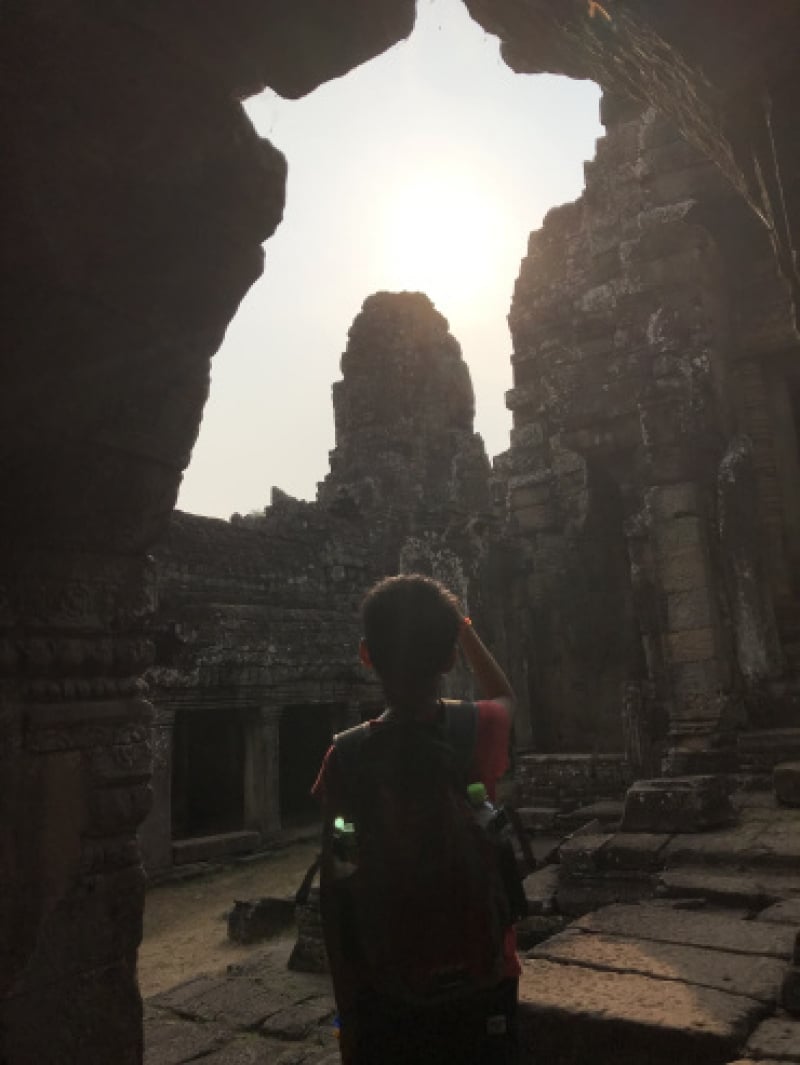 After exploring Bayon Temple, our guide already instructed us to wrap up so we could catch the sunset in Angkor Wat, our third temple.
3rd temple: Angkor Wat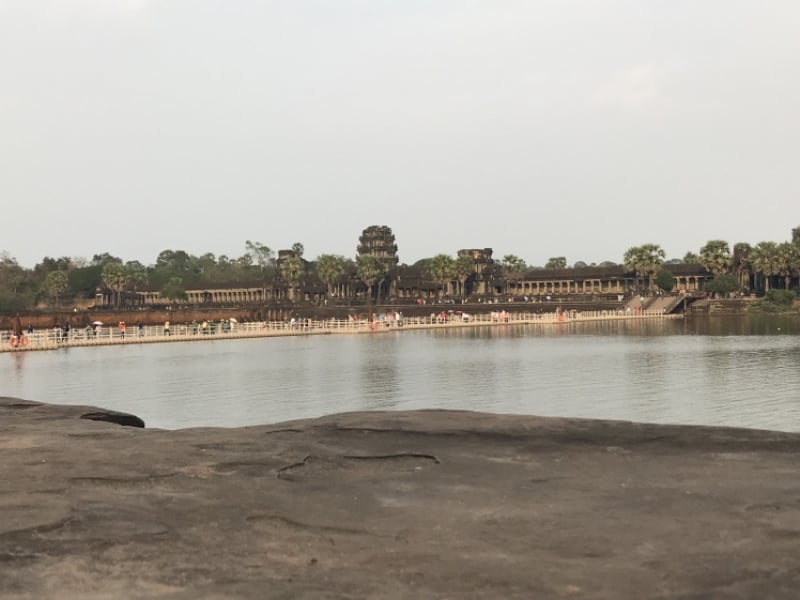 This is the Angkor's entrance.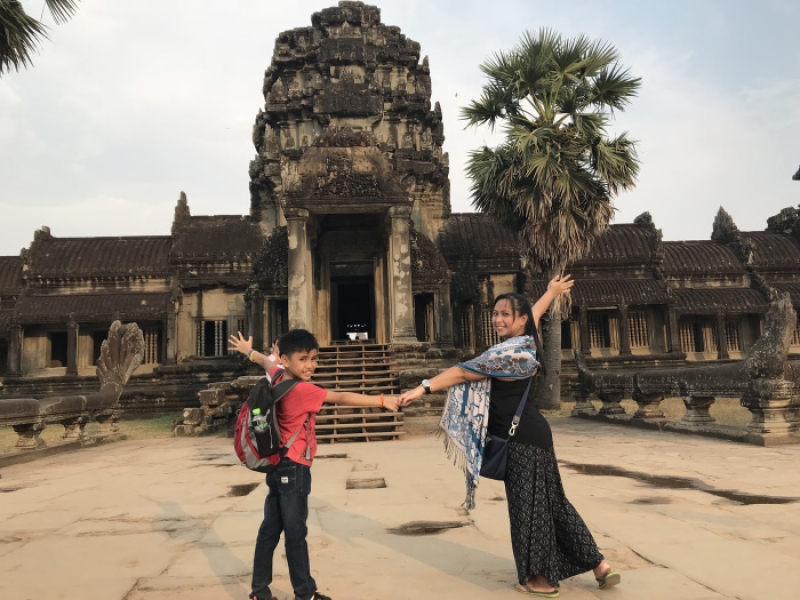 As we moved towards the inner part of the enclosure, this is what lay after it.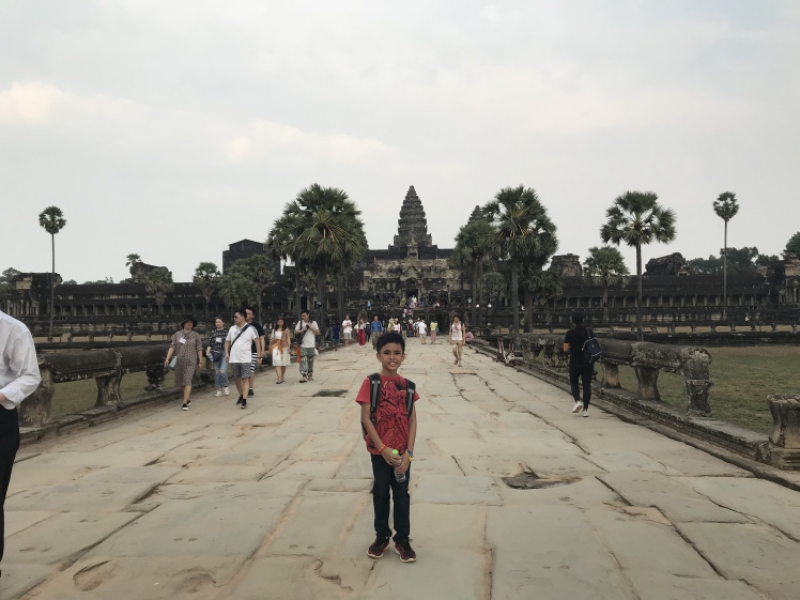 From here, you can see one of the three towers. The three towers are the signature structures of Angkor.
The place is just amazing. Minus the people roaming around, you can actually get a more intimate view of the temple from the side. Here is what it's like inside the temple.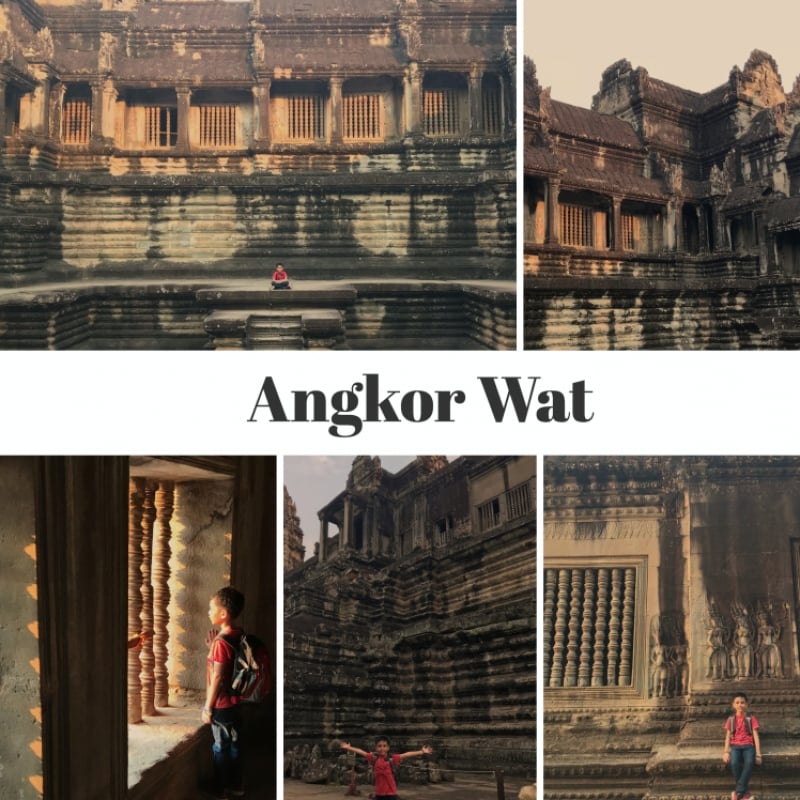 Our time visiting the three temples was enough for us. Though we only got to see three of the many temples, we were fortunate enough to visit the most famous ones. We saw the sunset from the temple as well which was so serene and beautiful. The ancient ruins have a peaceful atmosphere and make you wonder how the place looked like during its days of glory. At this point, I could only imagine.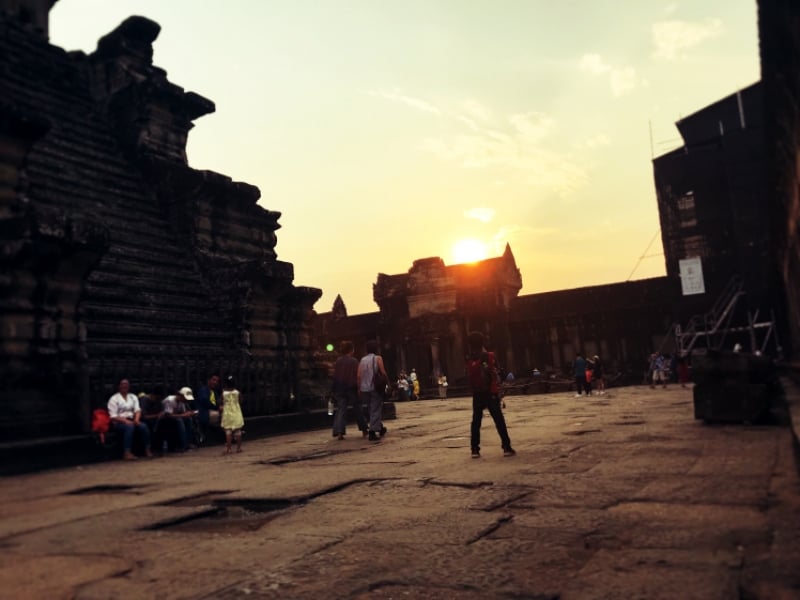 As we were about to leave the temple, we happened to see these locals in their traditional costume. Another photo opportunity of course!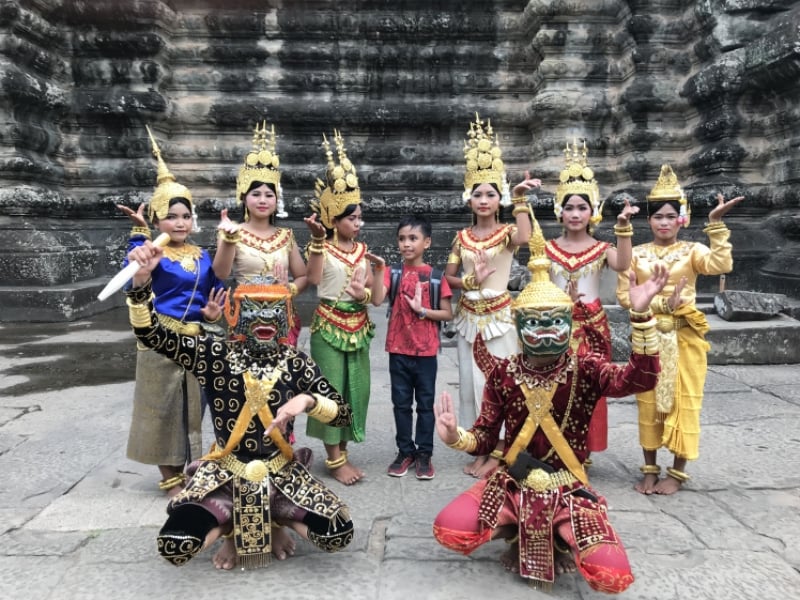 We ended the day by window shopping and dining in the city, and taking a dip in our hotel's warm pool.
I didn't make an itinerary for our last day, so we just roamed around the city and killed time before our flight. We went for a massage and had a relaxing time at the centre. We tried street food, went to dine in a local restaurant and had coffee.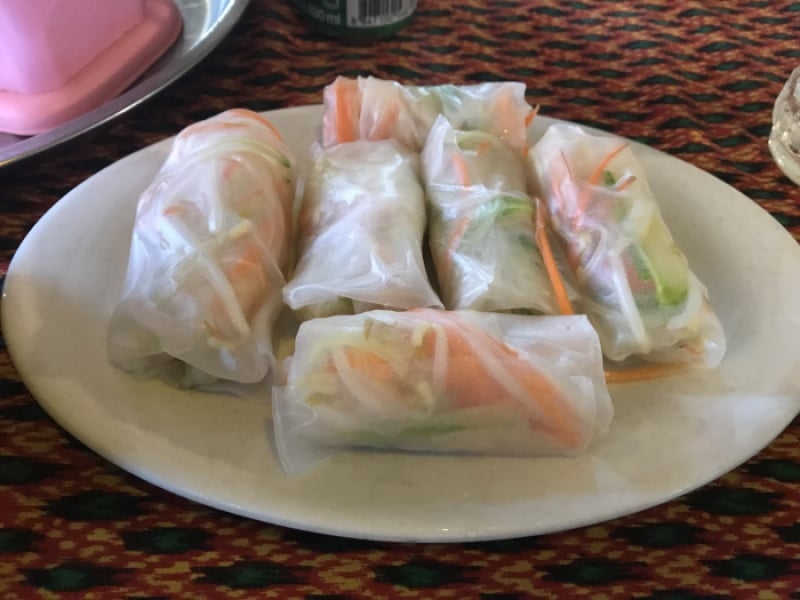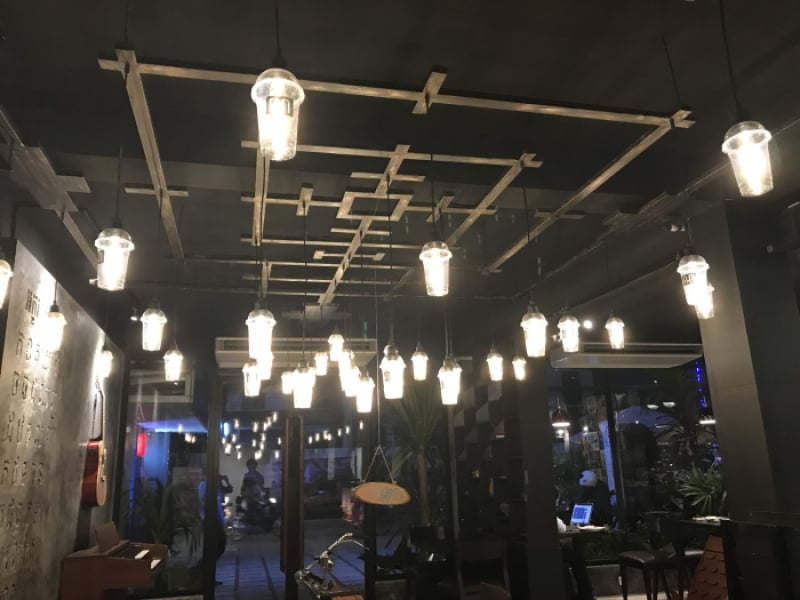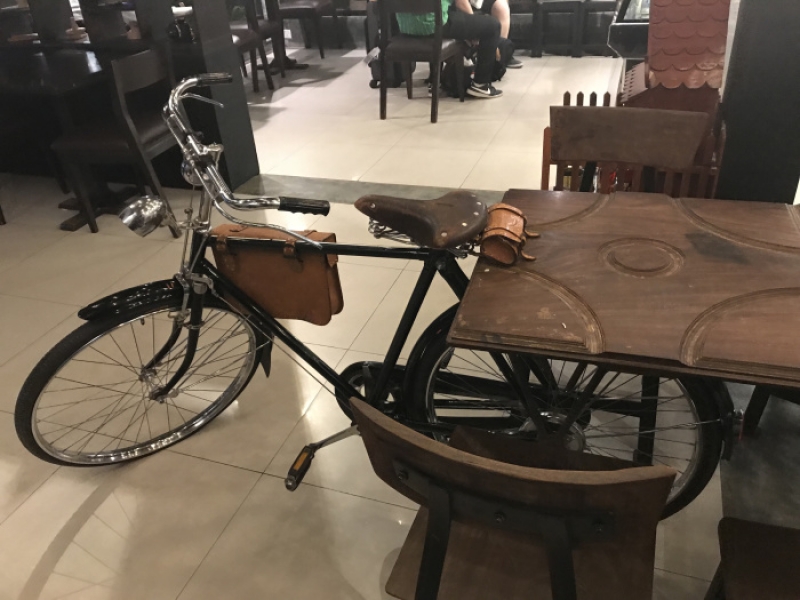 We went back to our hotel, took our luggage and headed to the airport. Back to reality!
Siem Reap is ideal for a one to two-day trip. If you are doing an Indochina backpacking trip, you can schedule Siem Reap on one day and head to Bangkok.
Also read: I Travelled To Australia, Cambodia & The Philippines Using My 52-Week Money Challenge Savings
Book your Siem Reap trip soon!