Filipino passport applicants can now celebrate because the wait for passport releases has been cut short.
The Department of Foreign Affairs (DFA) officially announced that starting 1 Oct 2018, they would shorten Regular Processing of Philippine passports to 12 working days from the original 15 working days. Those who require rushed or Express Processing can have their passports available for release as early as six working days as opposed to the original seven working days. Passport applicants still have to pay a fee of ₱950 for Regular Processing, while a fee of ₱1,200 is required for Express Processing.
According to Foreign Affairs Secretary Alan Peter Cayetano, "We made a promise to the President and to our kababayan that we will work hard to give them fast, efficient, and secure passport services. Shortening the length of time our kababayan would have to wait before they can receive their passports is part of that promise". On the other hand, passport applicants outside of Metro Manila can expect the release of their passports after 12 working days for Regular Processing and seven working days for Express Processing.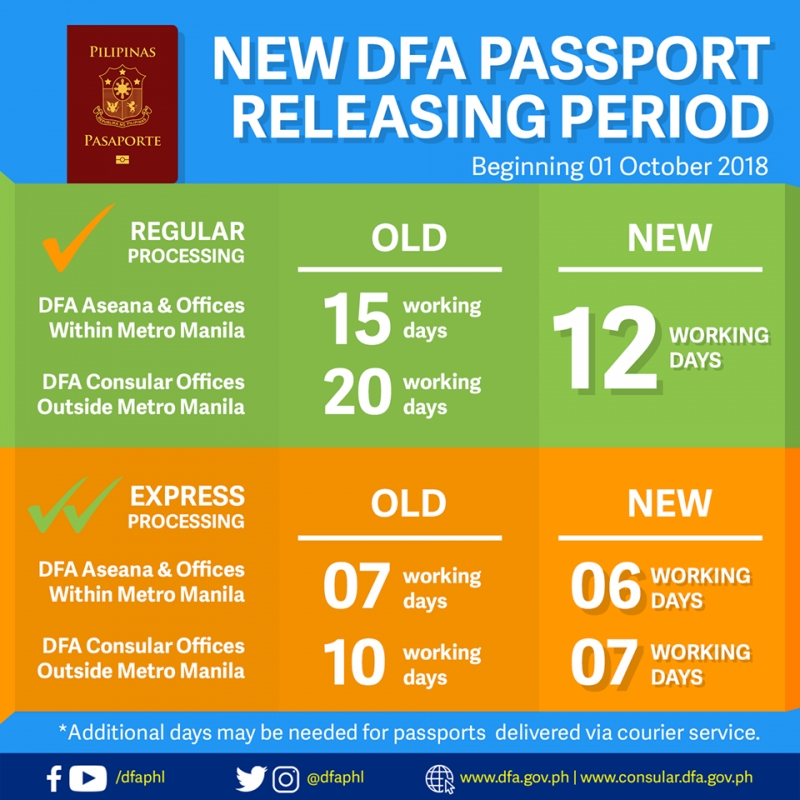 In addition to these improved local passport services, the DFA is in the process of expediting passport processing for applicants abroad who file for their passports in the Philippine Embassies and Consulates in various countries. Other improvements include shortening the wait to secure online appointment slots and increasing the DFA's capacity to process 20,000 passports a day.
---
News sourced from the Department of Foreign Affairs.