Contributed by juliogoessolo
Egypt – the land of pyramids, mummies, and the famed Nile River. Most people have heard of this country from elementary history books, and true enough, everything written about Egypt sounds too good to be true that it seems like a fantasy. You know what else seemed out of reach? Actually going there and experiencing the magic firsthand. Let's face it: since the Philippines is so far from that side of the world, it's easy to think that travelling that far is expensive.
I'm here to break that misconception and make you realize that it IS possible.
I believe in making my travels as sulit as possible while still visiting my must-see destinations and experiencing my must-do things – and that's exactly what I did for this trip. I mean if you're going to spend so much on airfare (spoiler: I didn't), better make the most of it, right? My strategy was to make sure that I see/experience everything I wanted while keeping other logistics costs as low as possible.
Without further ado, here's my eight-day itinerary of Egypt, along with all the cost: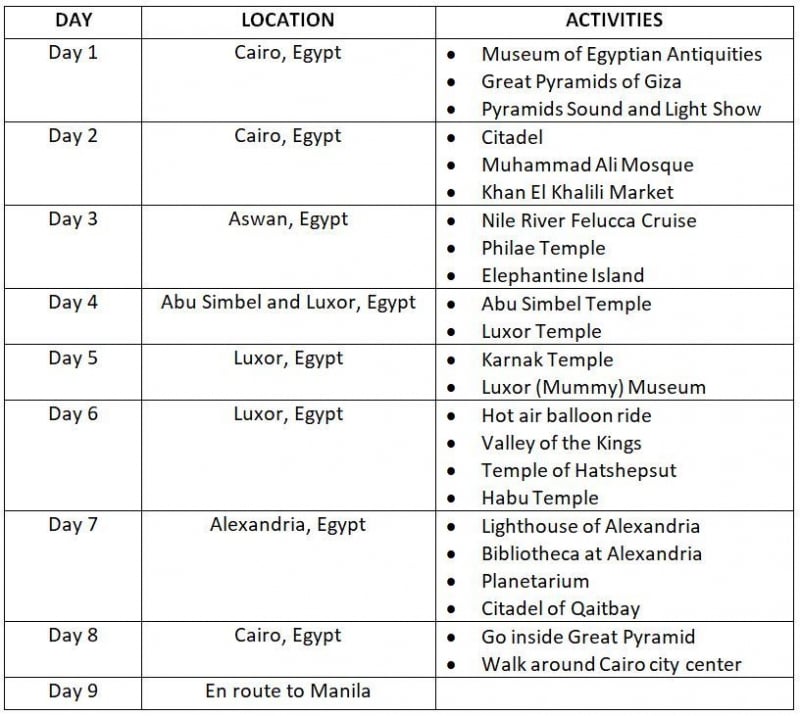 Whew, that's a lot! It includes a lot of bucket list items, but I also made sure to go off the beaten path once in a while to get a more authentic feel of the place. Let me highlight my top 5 experiences during this trip:
1. Hot Air Balloon Ride, Luxor (₱2,550)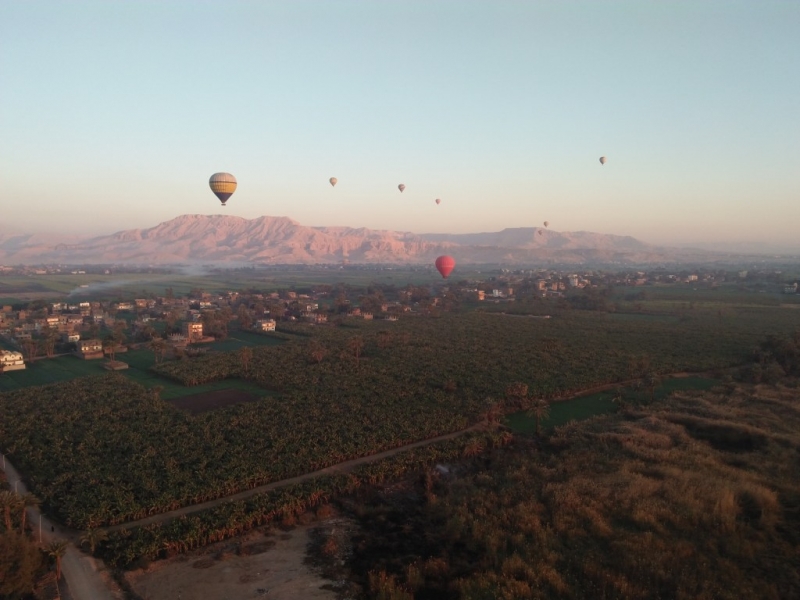 Imagine flying hundreds of meters above the ground, feeling the cool breeze of the wind and hearing the whoosh of the flames, knowing that you're at the mercy of natural forces and the captain (who has only flown five balloon rides prior to this one). Exhilarating! The view of the Valley of the Kings on one side and the lush greenery surrounding the Nile River is something I will never forget. Not to mention that it's really sulit!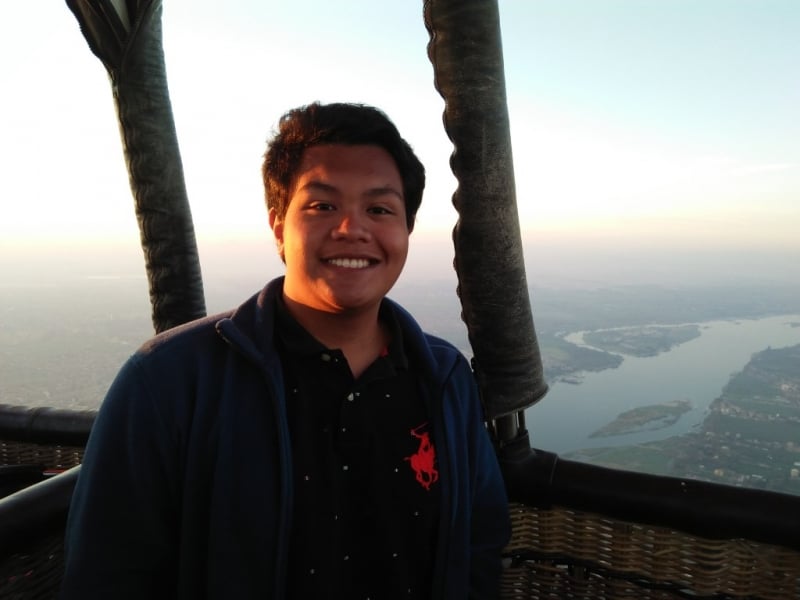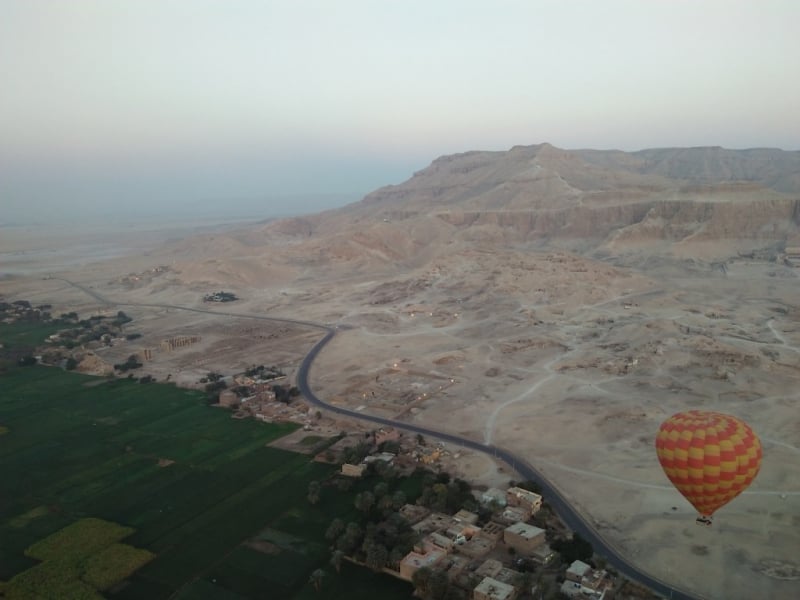 For ₱2,550, I got a round-trip transfer from my hostel to the landing site and had my own compartment – whereas people in the other compartments of the balloon had to pay roughly ₱10,000 for the same service.
Tip: Book with Bob Marley Hostel, as they have connections with balloon operators and can get you special discounts. Read more about my hot air balloon experience here.
2. Private Nile River Felucca Cruise, Aswan (₱159)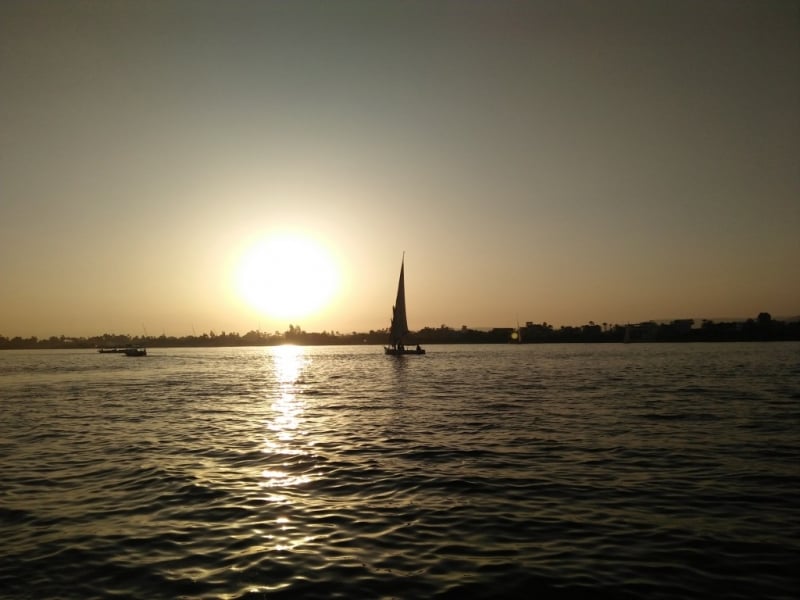 No typo there. It really is ₱159! If the hot air balloon had an amazing sunrise, the Nile River Cruise had an ethereal sunset. Cruising on feluccas or wooden sailboats with sails that could measure up to 20m was such a soothing experience, as you spend about two hours sailing across the Nile. Feluccas are normally run by two people: the captain and another crew member, who helps row the boat in case the wind disappears and the boat gets stuck. The felucca I rode can fit up to ten people, but since the fare was so cheap anyway, my friend (whom I met in the hostel) and I decided to have the entire felucca to ourselves. The crew was so funny and kept making sailor jokes, which made the cruise even more enjoyable! This was, in my opinion, a much more authentic, relaxing, and affordable way of exploring the Nile via watercraft rather than spend thousands of pesos per night for a luxury cruise.
I got the deal as part of a package – we were asked an additional EG£50 because we had another trip to Philae Temple already.
Tip: Schedule a sunset cruise! Much more serene, and water and wind conditions are relatively stable compared to other parts of the day.
3. Abu Simbel Temples, Abu Simbel (₱207)
The four mummy carvings welcoming you to the temple was so grand that it really made me feel like my achievements are nothing compared to what people from the early ages were able to accomplish. This was my favorite Egyptian temple because of its large scale and intricate details. The price above includes a three-hour round-trip van transfer from Aswan, along with the entrance fee.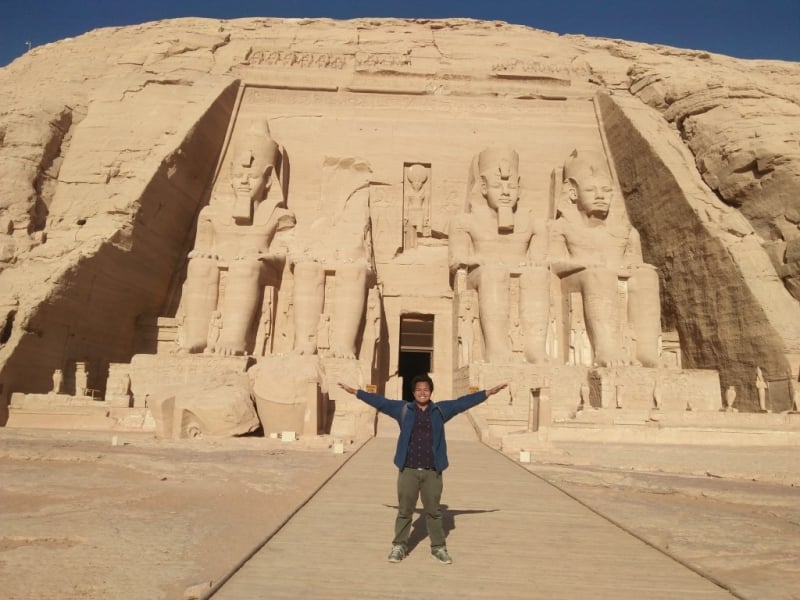 The location was so far south in that the temples were only kilometers away from the border of Sudan. This tends to turn off travellers, but for those who push through with the trip, those hours of travel will be well worth it.
Tip: If you decide to stay the night at Aswan to visit Abu Simbel early in the morning, stay in Aswan city proper. I stayed in Elephantine Island and almost missed the van as I still needed to cross the Nile by boat to get to the van loading site.
 4. Great Pyramids of Giza (₱191 for both site entrance and going inside the pyramid)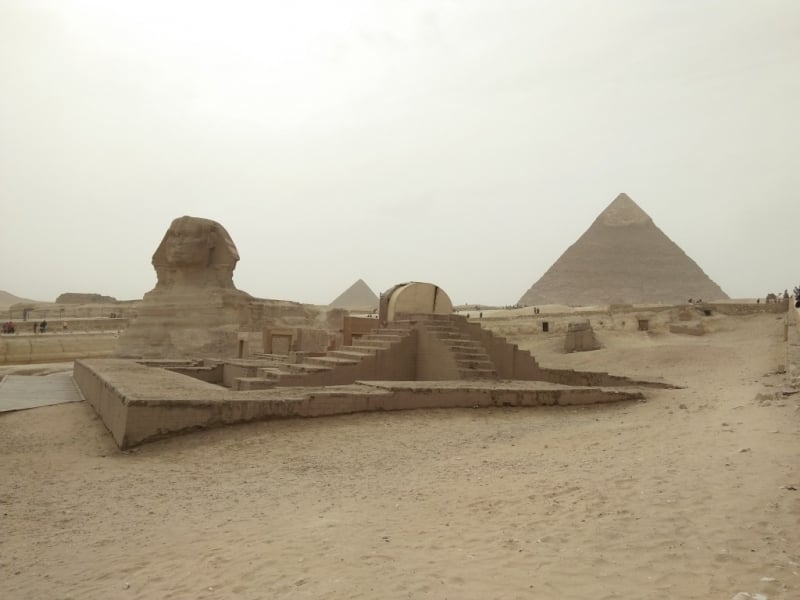 The only remaining Wonder of the Ancient World – need I say more? Being able to see and touch these structures which have withstood the sands of time was more than just checking off items on a bucket list, it's a learning experience rarely captured in history books. You never really get to appreciate something unless you experience it firsthand, and that's what happened here. I even got the chance to go inside the pyramid! There's not much to see inside, but who else can say they've gone inside THE pyramids?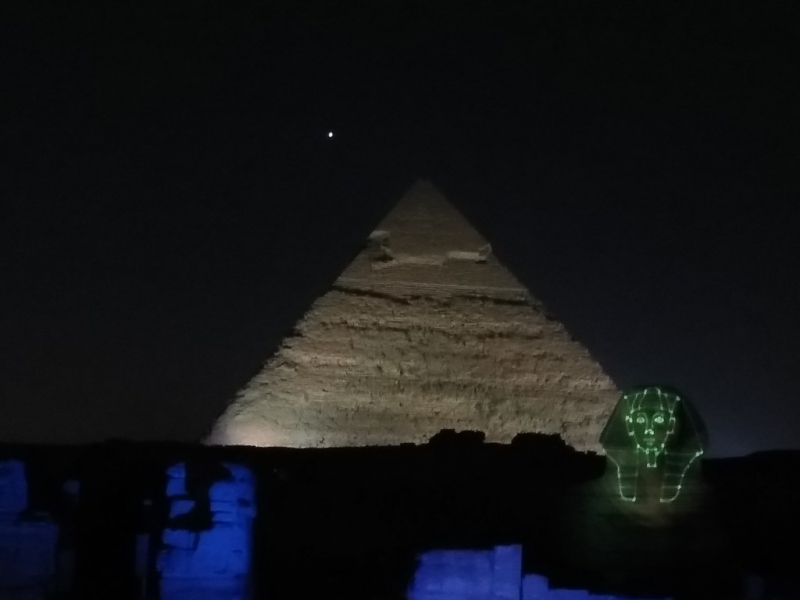 Tip: There's a light show at night where they illuminate the three Great Pyramids and narrate the history of Egypt. A must-watch for me! The show is held near the Sphinx entrance. Read more about my experience in the Pyramids here.
 5. Lighthouse of Alexandria (Free)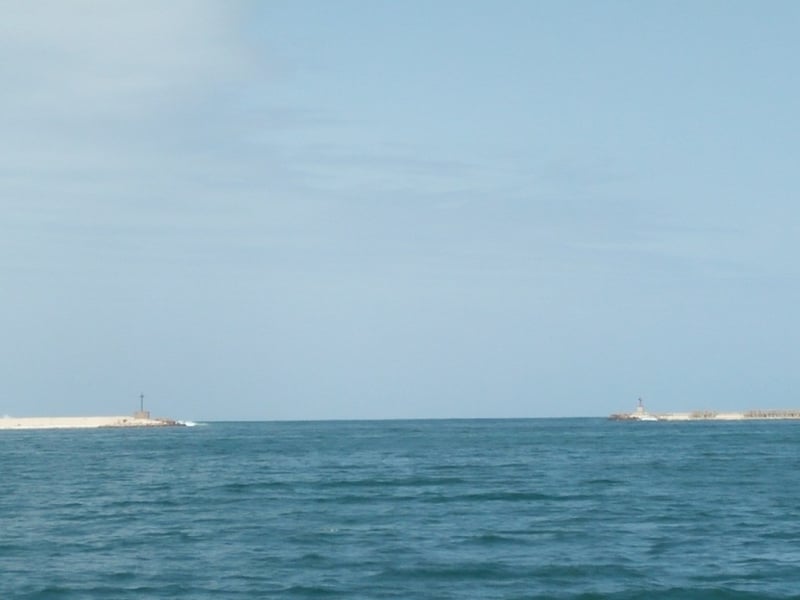 Considered an Ancient Wonder of the World, this lighthouse served as a guide for incoming ships from Europe and the Middle East. It was destroyed by an earthquake, but seeing what could have been from along the coast was something else. Watching strong waves from the Mediterranean Sea crash into a citadel near the lighthouse was so soothing. Imagine waking up to this view every day!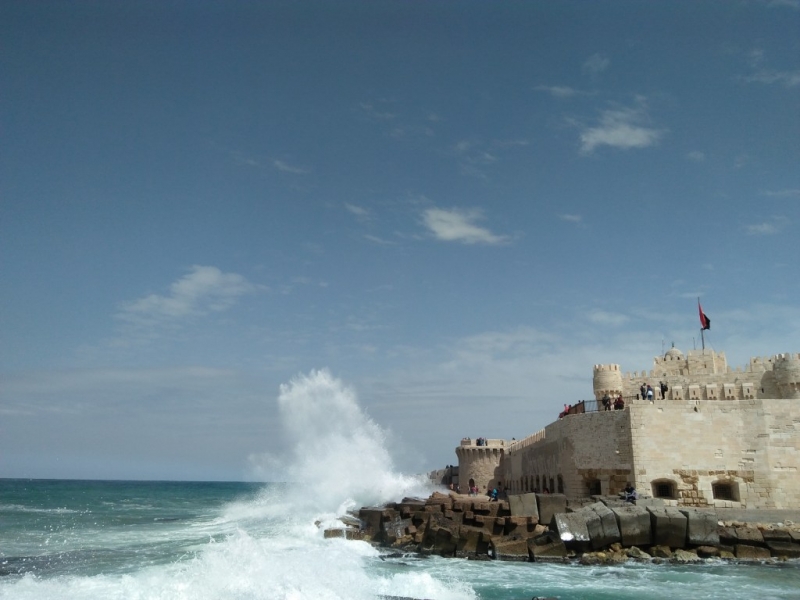 Tip: Book a hotel in front of the coast. Waking up to that view made me feel like royalty!
Budget
Yes, what you have all been waiting for! From the itinerary, it looked like my trip would be expensive, but it wasn't! All-in costs below: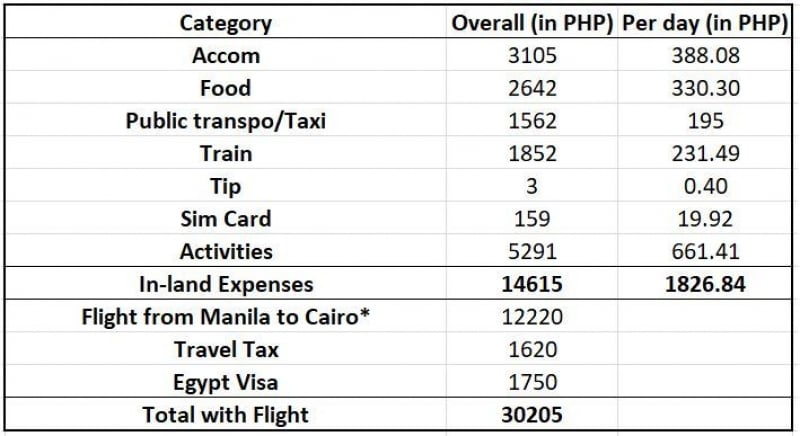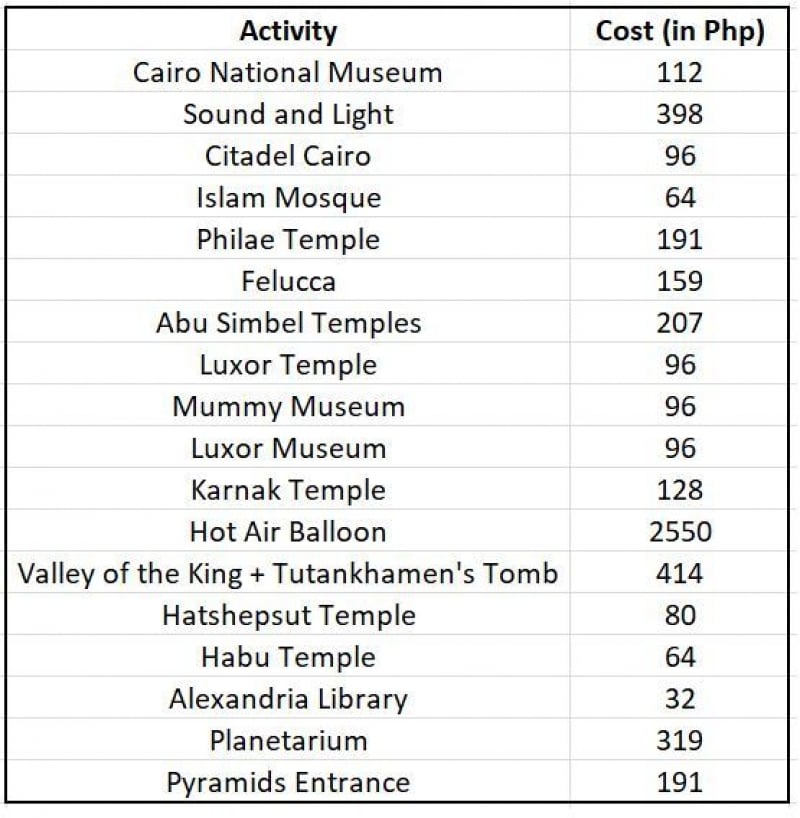 Also read: 5 Ways Filipino Budget Travellers can Save Money on a Trip
Very affordable, right? This is typically how much you spend in nearby destinations like Japan, but if you play it right, it can get you to Egypt for one week! Some explanation on the budget:
Egypt's currency is down right now. Before, the conversion rate was about EG£1= ₱8, but now it's just EG£1 = ₱3.2. This means that basically, things are more than 50% off in Egypt right now! Perfect time to go.
Most activities above have student discounts. Just make sure you're under 26 and have a university ID which has the word "University" in it. I already graduated from college when I did my trip, but I was still young anyway and had a university ID. This, along with the fact that they have difficulty reading English, allowed me to get away with it (not the right thing to do, I know, but I saved a lot because of this!)
You may be thinking that I stayed in dormitory rooms seeing prices above. WRONG! I always stayed in private rooms during my Egypt trip. In fact, I stayed at a hotel in front of the Mediterranean coast, and another on Elephantine Island. It's about being smart when it comes to looking for hotels!
Flight cost was that low because I was able to get Piso Fare from MNL–DXB, which cost ₱3,000 both ways. Full disclosure: My actual flight price above was not ₱12,000 because my trip included Kenya. However, if the only country I visited was Egypt, then the price would have been the one indicated above. The airlines with that price are Cebu Pacific for MNL–DXB and Egypt Air for DXB–CAI. But if you're lucky, Flydubai sometimes has cheaper fares compared to Egypt Air.
Train travel in Egypt is a must! You get to save up on a night's worth of accommodation (I had two overnight trips on the train, which explains why my accommodation cost was so low), but the views are amazing! You get to see rural Egyptian communities and the Nile riverbank along the way.
I'll be creating a separate blog post on how you can get your Egypt Visa. You can follow me on Facebook (fb.com/juliogoessolo) so you can see it once it's published.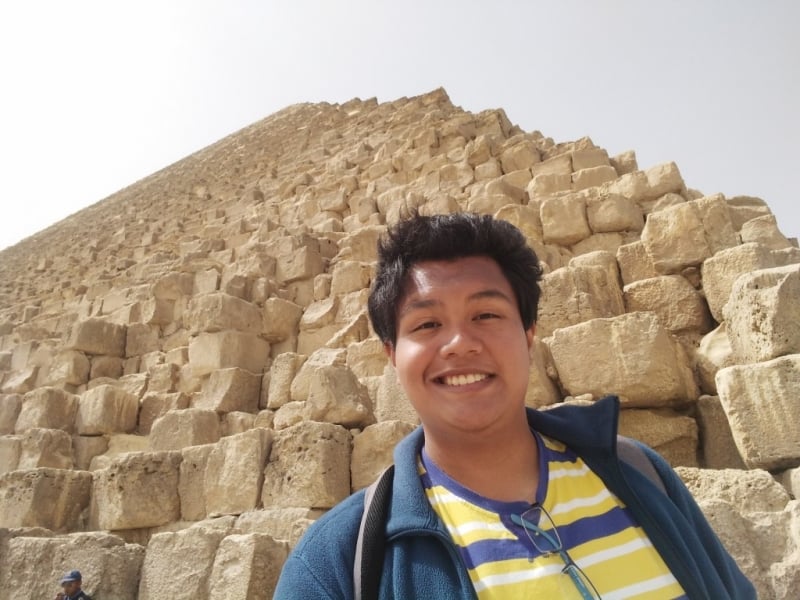 I hope that by reading this, I've convinced you that travelling to Egypt on a budget is definitely possible, and maybe I've even inspired you to take the trip yourself!
 Also read: Solo in Egypt: 7-Day Itinerary and Costs