For travellers, landing a job that lets one fly and see places for free is a dream turned reality. Although there's already a handful you can choose from nowadays, nothing quite beats the excitement of being an airline cabin crew. On the surface, we know them as these tall, fit, well-dressed, fresh-looking boys and girls who welcome us to our flight, give us safety instructions and take our orders while in the air. For all we know, there's a lot more that goes on behind their seemingly perfect profession. If you've watched the 2003 film View from the Top starring Gwyneth Paltrow, you'll get an idea of how it really is. But for now, here are what a couple of Filipino flight attendants have to say.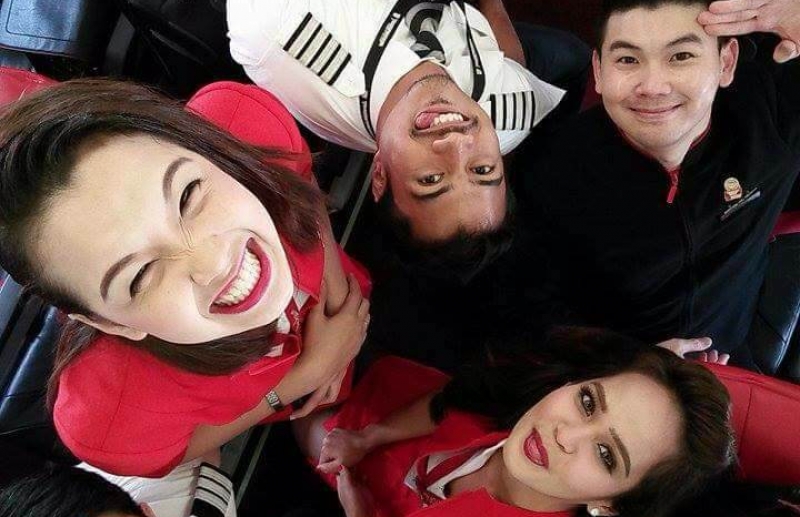 Hailing from Bulacan, Concon Cho started working as a flight attendant when she was only 19 after graduating with a degree in Business Administration major in Human Resource Management. She has worked with AirAsia Berhad Malaysia, Palex and Qatar Airways within the past five years. According to her, she's been to most countries around the world because of her profession, but her favourite place so far is Cape Town, South Africa.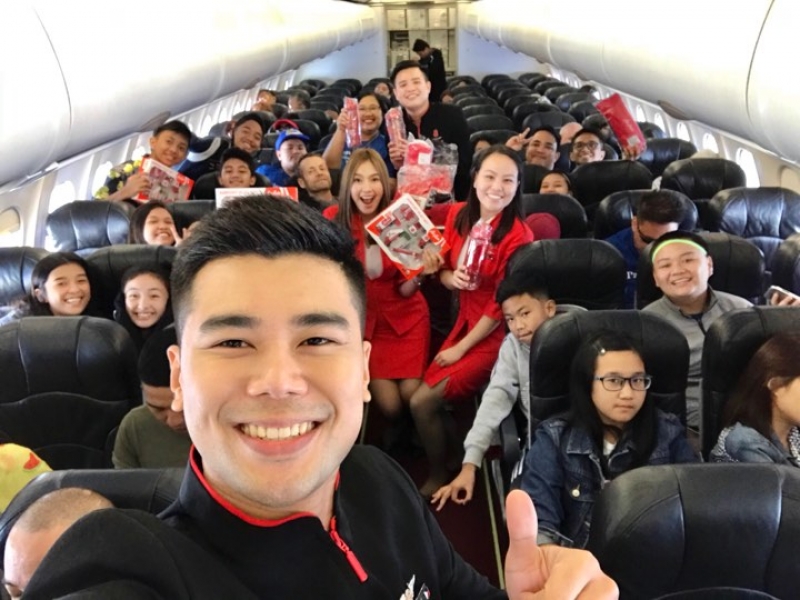 Carl Angeles, on the other hand, has been with his first airline, AirAsia, for two years now. He graduated with a degree in Management and Entrepreneurship from Angeles University Foundation. As a flight attendant, he was able to visit countries such as South Korea, China (Shanghai and Hangzou), Hong Kong, Macao, Malaysia, Vietnam, Thailand, Indonesia and more.
Why did you decide to become a flight attendant?
Concon: I decided to become a cabin crew because it has a unique job description. It helps you experience first hand what life is like in different parts of the world. You will have a better view of everything and everyone because of your job. Hindi na rin ako inosente sa mga magagandang lugar at ugali ng tao sa iba't ibang parte ng mundo kasi I've been everywhere at kaproud-proud yun (I'm no longer innocent when it comes to experiencing beautiful places and characters from different parts of the world because I've been everywhere, and that's something to be proud of).
Carl: Aside from the perks, it's my dream Job. I told myself that I would regret it for the rest of my life if I didn't give it a try. Luckily, I got in.
What's your favourite part about the job? Least favourite?
Concon: Yung favourite part syempre ang sahod and layover or night stop gala time. Yung least favourite naman ay yung time differences and different weather every day. Hirap mag adjust agad-agad ang body (My favourite parts are definitely the salary and the chance to explore during a layover or night stop. My least favourites are the time and weather differences every day. It's difficult for the body to adjust right away).
Carl: My favourite part of being an FA is the fact that we can go from one place to another for free and the travel benefits we have that we can share with our family members. Learning different cultures is part of it. One of the things I always look forward [to] is the people I get to work with on each flight especially when you are flying with your batch mates. And most of all, the satisfaction and good compliments we receive from the passengers each flight. My least favourite part is maybe the unexpected scenarios like delayed flights that make our passengers upset and when you have to handle passengers who complain. Pero syempre hindi naman ma-iiwasan lahat yun (But of course you can't really avoid these things). It's a matter of how you deal with it.
What does your typical working day look like? Do you really have to fly every day?
Concon: Wake up whatever time of the day kasi walang oras ang pasok namin (because we don't have to follow the usual working hours). Then take a bath, put on makeup, mag-ayos na (get dressed), then fly, eat, chika (have conversations), prepare for landing, gala (explore) and lastly, sleep. Repeat. We don't usually fly every day because we also follow civil aviation standards and there is a limit on how many hours we can fly a month. Normally for me, I do have like seven destinations every month so it's like 14 times of flying every month since.
Carl: A flight attendant's working schedule is totally different. Basically, we work different days of the week and different hours of the day. This monthly rotation of our schedules is called "Roster". The entire flight details of the month are stated there, from how many days and hours you will be flying, the date and time of your flight, who you're going to fly with, and your day off.
What do flight attendants do when they're not on a flight?
Concon: Dahil OFW ako, medyo iba ang routine ko (Because I'm an OFW, my routine is a bit different). Usually, I'm with my friends kumakain at madalas tulog (eating and often sleeping). Once I slept for 20 hours because I was just exhausted. Kasi kapag may work, doon yung time nung gala namin kaya pahinga kapag day off. Medyo boring din kasi sa home base lalo malayo sa pamilya (When we have work, that's the time we can explore so we take the day off to really rest. It's a little boring in my home base especially since it's far away from my family).
Carl: Personally, when I'm not on a flight or its my day off, I spend a lot of time sleeping because sleep is life! I'm sure the others do too. After that, I go to the gym to keep myself fit. Sometimes I go for a massage or facial to pamper myself. I also make sure to have quality time with my family, meet some friends and spend time with our dear Lord (church day).
Do you work on holidays? If yes, what do you do about it?
Concon: A cabin crew doesn't have holidays, most of the time. We also don't have a birthday leave, etc. Actually, with me, you can ask me anything about the flight except for what date it is today kasi promise magla-lag talaga utak ko (because I promise my mind will just lag). So lumilipas lang ang araw sa amin ng hindi namin namamalayan (So the days just pass by without us realising it). We work on holidays and before we signed our contract it was discussed with us. Masasanay din (you get used to it).
Carl: Yes, we do work on holidays. During those holiday celebrations like Christmas and New Year, we celebrate it on board with our passengers. Usually after a flight, if time permits, we go home and celebrate with our family.
How do flight attendants train?
Concon: Almost two months of training and we train like it will be the last day of our lives every day. And every six months per year, you will have to refresh your mind and train again. Kasi sa work na 'to, hindi lang sarili namin ang iintindihin namin, pati pasahero or kapwa mo crew (In this profession, it's not just ourselves who we have to take care of, but the passengers or our fellow crew members). We are talking about lives of other people so we can't and we won't joke about it.
Carl: In AirAsia, we were sent to Malaysia. We have a training school which is the Asian Aviation Centre of Excellence (AACE). We stayed there for about two months. We were taught how to do proper grooming, proper service, how to render first aid where the main topic is the Emergency and Safety Procedures. We also went through different paper exams to test our knowledge.
How do you stay fresh (or looking fresh) all the time?
Concon: Water! And the makeup of course.
Carl: Dapat well rested lagi (We have to stay well rested all the time), [have] at least six to eight hours of sleep in spite of different sleeping patterns, eat healthy food, stay hydrated, take care of our hygiene, have a moisturiser on hand. It's a quick way to freshen up anytime, anywhere. This goes for us men as well!
What are some of the biggest struggles of being a flight attendant?
Concon: Sleep ang number one struggle (Sleep is our number one struggle). There are probably more than 300 countries tapos iba iba ang time difference pati weather (and they all vary in time differences and weather). Wala naman kami superpowers para maka-adapt agad sa time lalo kapag 24 hours lang layover (We don't have superpowers to instantly adapt to time especially when the layover is only 24 hours). The struggle is real. #taboofcoffeeislife
Carl: Being away from home when we are based outstation, wherein we have to do things by ourselves, from cooking our own food, doing laundries, etc.
What's the scariest thing about your job?
Concon: This job prioritises the safety of others before yourself. So if there will be a life or death situation, I'd be afraid if I can't bring all my passengers safely to their destinations. Scary yung ikaw ang hindi mailigtas mo kasi sayo nila pinagkatiwala mga buhay nila (It's scary when you can't save yourself because the passengers have entrusted their lives to you).
Carl: Probably dealing with emergency situations.
How do you deal with homesickness or other flight-related fears?
Concon: Homesickness madali lang, kasi for us hindi naman kami tinitipid sa vacation leave and hindi ako pinagdadamutan ng Manila flight every month… at wala akong boyfriend (With homesickness, it's easy because we're not deprived of vacation leaves and a Manila-bound flight every month… and I don't have a boyfriend). It's really an advantage.
Carl: Dealing with homesickness is really hard especially when you're close to your family, but thanks to social media and technology, we still manage to communicate with them regularly.
What is the most outrageous experience you've experienced on a flight? How did you deal with it?
Concon: Maybe that time when somebody died in front of me and I gave my best shot for him to survive but it wasn't good enough. It was a traumatic experience but it also has a valuable lesson that I will carry my entire life. I trained harder after that incident and promised myself that he will be the last person that will die on the flight where I'm in.
Carl: So far wala naman. Mga turbulence lang siguro during cruising, pero we make sure everyone is secured naman pag ganoon (So far I don't have one, except maybe the turbulence during cruising but we make sure everyone is secured when that happens).
What's one thing you wish others to know about your life as a flight attendant?
Concon: We're here to ensure people's safety, not just help with their bags. We smile even though we're not really feeling fine because it's our job to make passengers feel comfortable. Being a cabin crew member is not an easy task. If ever we're firm, just bear with us and ask nothing.
Carl: Being an FA is not an easy job because the passengers' safety depends on us. From the moment the passengers enter the aircraft, it's our duty to serve and bring the passengers from point A to point B safely. Also, being away from our family is not easy.
Do you see yourself being a flight attendant all your life?
Concon: Honestly, once na maging cabin crew ka hindi ka na makakaalis dahil mamahalin mo nang sobra ang trabaho. But for me and sa iba siguro, hindi pang habangbuhay ang pagiging cabin crew (Honestly, once you become a cabin crew member, you will find it hard to leave because you'll love the job so much. But for me and others as well, I don't see it as a lifelong career). I can see myself as a normal person with my own business.
Carl: Maybe, yes. Basta ang promise ko (I just promised myself that) for as long as I'm still capable to do the job, I will be an FA. As a graduate of Management & Entrepreneurship, I would also want to engage myself in business. I would love to have my own business in the future.
What kind of advice would you give to Filipinos who aspire to have your job?
Concon: This job is not an easy money job. You'll risk your life every day but at the same time, you will learn the value of life through experience. If you get this job, always remember the feeling that you had during your first flight because that feeling will encourage you to pass all the not-so-good things that you will encounter. And lastly, remember that health is your true wealth. Value your health more than anything in this world!
Carl: My advice to the future flight attendants there: always be at your best when applying! There are several different airlines you can apply for and it all depends on your personal preferences. Decide where you would like to be. Thousands upon thousands of people will be applying for the glamorous flight attendant positions each year. Don't get discouraged if you get turned down by one airline. Simply keep applying! It may take time but if you put in the effort and stand out, an airline is sure to benefit from hiring you.
Also read: How to Travel Long-Term Without Sacrificing Your Job
Based on these insights, I say being a flight attendant is a more difficult profession than I could've ever thought, don't you? While experiences still vary from airline to airline, and from person to person, a common fact about it is that it's not always about glamour and there are definitely bigger risks involved. So the next time you're on a flight in the country or abroad, treat your flight attendants with respect. They, out of most people you know, deserve it.